How to Get a CyberGhost Free Trial – Easiest Hack for 2020
Updated on 5th January 2020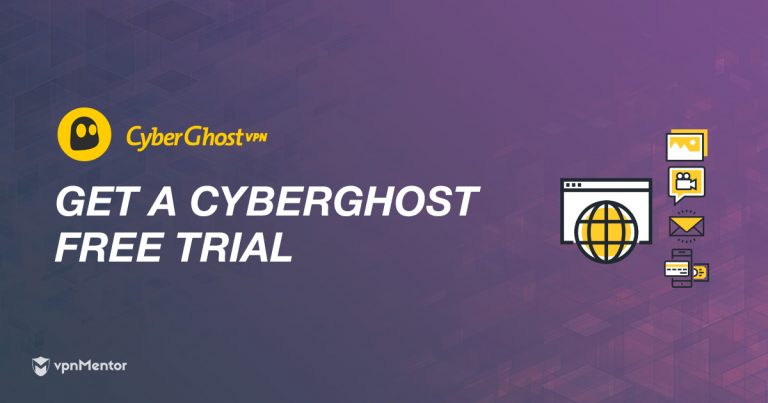 Choosing the best VPN for your needs can sometimes be a bit more complicated than just reading reviews or checking out features.
That's why it's always a good idea to try before you buy. Testing a VPN with a free trial is one of the only risk-free ways to find out if it's the right fit for you.
If you've been hearing good things about CyberGhost but want to give it a test run before you commit to a subscription, we have some good news and some bad news.
The good news is that CyberGhost does offer a free trial. The bad news is that the trial is only for 24 hours.
CyberGhost Free Trial: Overview
Considering that other VPNs usually offer a 7-day free trial, one day does seem very short.
One upside is that CyberGhost gives you full access to all Premium features during this time.
Some VPNs limit their services for free trials. With CyberGhost, you really will get to test out all of its features before you commit to making a purchase — even if it's only for 24 hours.
That's still enough time to make sure it has servers in the right locations and is capable of unblocking content or bypassing any geo-restrictions you need to get around.
And we do think that CyberGhost's features are worth checking out. It's one of the rare VPNs that we found were able to unblock Netflix, Hulu, HBO GO, and BBC iPlayer.
CyberGhost also has 5,700+ servers around the world, highly impressive speeds, dedicated streaming and torrenting servers, ad and malware-blockers, and military-grade security.
Another bonus point for the CyberGhost free trial is that you don't have to input any card details to use it. That means you won't get charged with automatic payments when your trial expires.
Sound good? Start your free trial now with our quick setup guide.
Start Your Free CyberGhost Trial Now
CyberGhost Free Trial: Quick Setup Guide
1. Head to the CyberGhost free trial page and click 'Start your free trial'.

2. CyberGhost will automatically download on your device.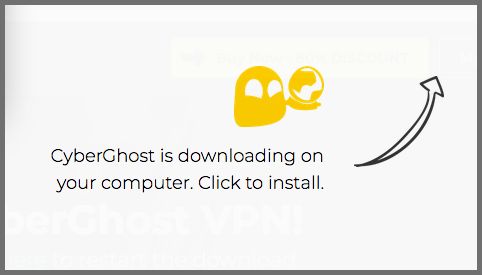 3. Once it has downloaded, open CyberGhost, click 'Sign Up', and fill out the form to create an account.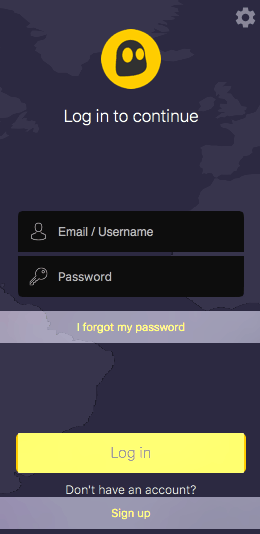 4. You'll need to confirm your email address to activate your account. Go to your email account, open the email from CyberGhost VPN, and click 'Activate Trial'.
Note: our activation email went into our Junk folder so, if you don't see yours, check there.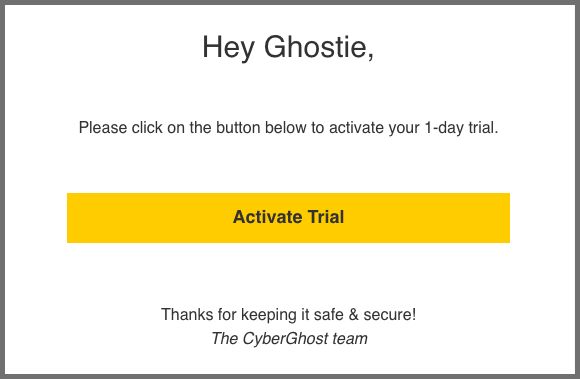 5. Go back to your VPN app and click the power button. You'll need to give the app a few permissions to get started, so follow the on-screen instructions and click 'Allow' when prompted.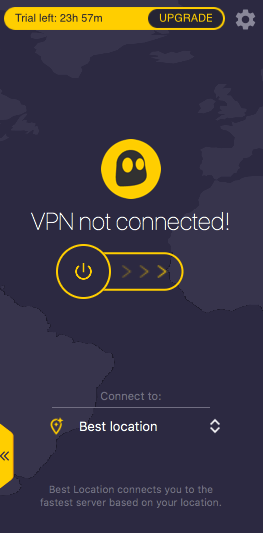 6. And that's it! You're ready to go. You'll be automatically connected to the best server and the app gives you a handy countdown to the end of your free trial so you can keep track.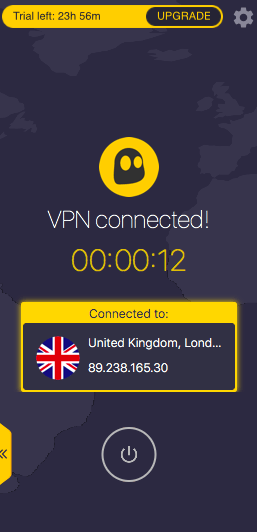 You've Used Your CyberGhost Free Trial – What's Next?
Since you don't have to input any payment details to download your free CyberGhost trial, you don't have to worry about cancelling any automatic payments when it runs out.
If you enjoyed using CyberGhost and want to continue subscribing, simply click 'Upgrade' at the top of the app.

This will take you to CyberGhost's pricing page where you can choose a plan that suits you.
However, if you feel like 24 hours just isn't enough time to make a decision, there is another option. As well as the free trial, CyberGhost also offers money-back guarantees with all its subscriptions.
These guarantees are different lengths depending on which plan you choose. The month-long plan offers a 14-day money-back guarantee. The one-year or three-year plans both offer a generous 45-day money-back guarantee.
That gives you an extra month and a half to test out the VPN's capabilities.
If you still don't want to carry on using CyberGhost after that, getting your money back is a fairly simple process. Just follow our guide to canceling CyberGhost and getting a refund.
Start Your Free CyberGhost Trial Now
Summary
CyberGhost might not offer a very long free trial but, as one of our top-rated VPNs, it really is worth checking out. Plus, money-back guarantees make testing this VPN even easier.
If you'd rather try a VPN that offers a longer free trial period, here's our rundown of some of the best.
Or, get more insider information with a list of the best VPNs according to Reddit.