How to Download and Install HotSpot Shield on Windows
Hotspot Shield is a VPN service with relatively good reviews, but like any online service, reviews aren't always enough to make the right choice. As your loyal VPN mentor, I went over the process of purchasing and installing Hotspot shield to find out exactly what it's all about. Share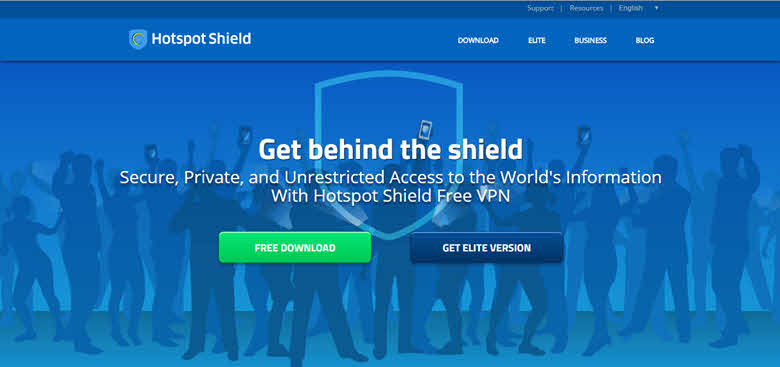 Purchasing your Hotspot Shield license
First, go over to the HotSpot shield website . Personally, I tend to be suspicious about free VPN services, so I just went ahead and clicked on "Get elite version".
Next, I selected the most popular plan of $2.5 per month, which seemed as a reasonably good price, compared to some of the competitors. Having clicked on purchase, I was taken to a secure checkout process, during which I was offered some extra features for an additional cost, but I ignored and skipped them. At the end of this process I got an email approving that my account has been redeemed. So far so good!
Installing Hotspot Shield on Windows
Although hotspot shield has apps for all sorts of devices, I will focus on Windows for this article.
From the email I clicked on "Get Started", which brought me to my dashboard on the Hotspot Shield website. Under "my Elite devices" I selected the Windows button. I downloaded and installed the Windows version of Hotspot shield and expected to see the interface open automatically on my desktop, but nothing happened.
By this stage I couldn't tell whether my connection has changed at all or was it still pending redemption, so I searched all over my computer, looking for a sign to know my connection is safe, but all I could find was this annoying screen, where I was asked to pay some more money for some extra features.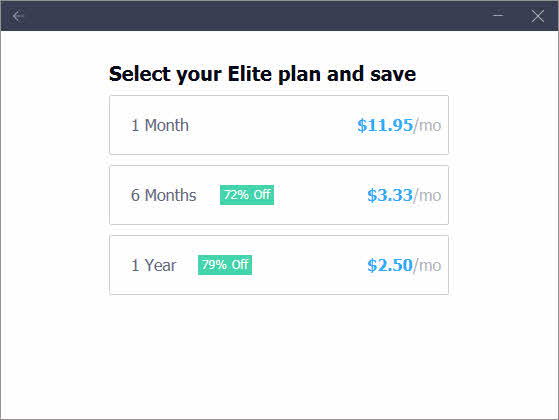 Now that's what I call annoying.
I went back to the user dashboard to see if any actions were needed on my part, but everything seemed to be set up properly. It took some digging through support docs and searching all over my computer before I found that tiny back button at the top left corner of the screen, which finally took me over to the actual interface. Call me stupid, but I would have expected them to make it clearer if they want to claim for ease of use.
Using the interface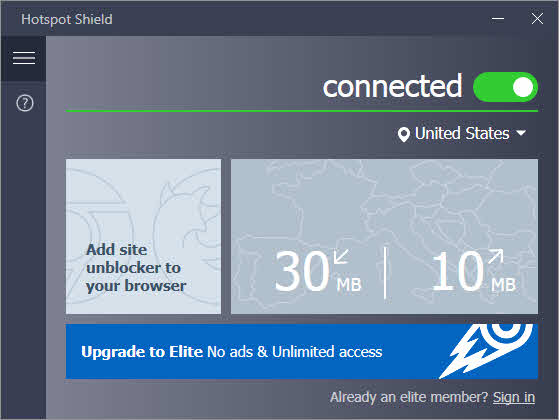 I clicked on sign in and entered my username and password.
Clicking on settings showed the following options: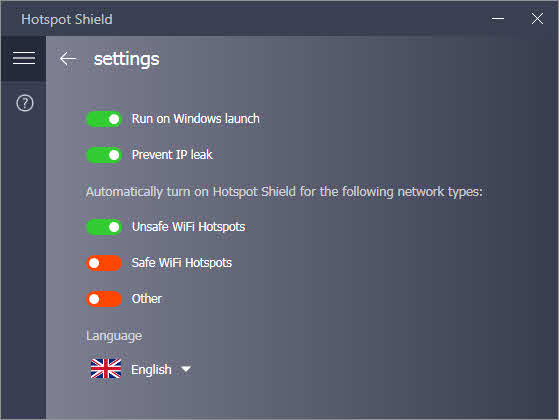 I enabled the Safe WiFi hotspots and the Other options, but no difference was made visible.
To sum things up
Although the interface isn't too complex, Hotspot shield still has a long way to go in terms of ease of use. At the same time, I couldn't find any advanced options and generally, I see no reason to chose Hotspot shield over leading VPN's like Nord and Express.
For more info, please check out our user reviews on Hotspot shield.