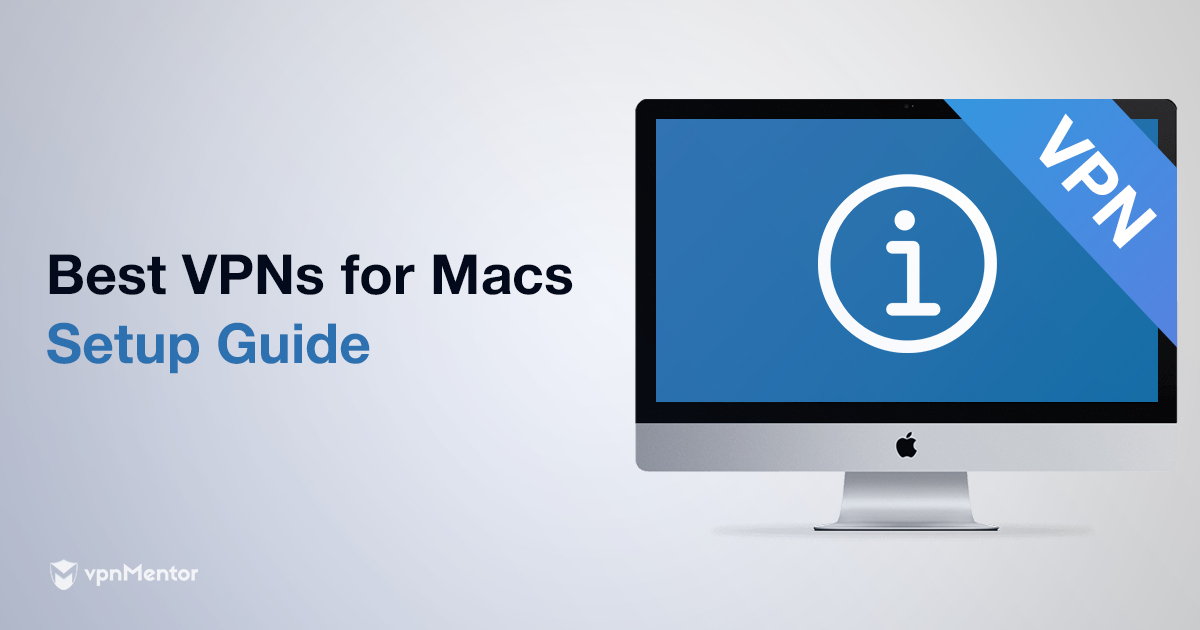 How to Set Up a VPN on Your Mac & Easiest VPNs for Mac 2023
Mac users face the same risks online, and the same annoying content geoblocks, as users of any other device. But for a long time, there were few options to protect your Mac and unlock restricted sites and services.
As is often the case with new software, the first VPN clients offered for casual users were developed for Windows and Android platforms – and Mac users were left out in the cold. If you wanted to use a VPN on your Mac, you had to configure the VPN protocols yourself.
The VPN world has come a long way in the last few years, however. Premium VPN providers now offer user-friendly, intuitive VPN apps for Mac OS that are easy to install, launch, and use. We'll highlight the best of those apps in a moment.
So that's the good news. The not-so-good news is that if you run an old version of OS X, it might be incompatible with your chosen VPN provider's preconfigured app. In that case, you'll still need to use your Mac's unique capabilities for manual installation.
Don't worry, we'll walk you through the whole process step by step.
So whether you're a master of the Mojave or an old-fashioned Leopard trainer, here are the VPNs you can count on to protect your Mac and bypass geo-restrictions, along with everything you need to know to get your Mac VPN set up and running in minutes.
Best VPNs with Native Apps for MAC – Quick List
ExpressVPN ExpressVPN offers a dedicated VPN client for Mac supported by 10.6 (Snow Leopard) and newer. The automatically configured app will select the most appropriate protocol for your use.
CyberGhost The native CyberGhost Mac app runs on OS 10.7 (Lion) and newer. It uses the OpenVPN protocol by default, and PPTP and L2TP/IPSec protocols can be manually configured.
Why You Need a VPN for Your Mac
At its most basic, a VPN encrypts your traffic and hides your IP address from websites you visit. As your IP address can be thought of as your digital fingerprint, masking it is one of the simplest ways to use the internet privately and anonymously.
This process, known as VPN tunneling, protects you from spying or data collection by your ISP, government agencies, or third-party advertisers, and means you can avoid detection when torrenting.
And because a VPN reroutes your traffic (the data you send and receive) via a remote server, it is also an ideal way to bypass geoblocks that restrict online content to specific locations – such as the US for Hulu or the UK for the BBC iPlayer.
The IP address of the server you choose will make it look like you're in a country where the service you want to reach is available. A few years ago, that was all you needed to unblock geo-restricted sites. These days, however, sites like Netflix screen for VPNs, so you'll need the enhanced obfuscation that top-rated providers offer.
The best VPNs can also break through the Great Firewall of China and get you past website access restrictions in other countries where the government censors or bans content.
And while your VPN helps you get to new places on the web, it stops hackers and web spies from getting to you. That's why we especially recommend a VPN anytime you use public wi-fi, which can be easily hijacked by hackers and malware planters.
All in all, a high-quality VPN is one of the best anonymity, security, and global content access tools available to Mac users – if you know how to set it up. Here are our comprehensive guides to both native app and manual installation.
How to Install and Set Up a Mac VPN App
We are using our best-rated VPN – ExpressVPN– as our example. The setup process for other premium VPNs that offer dedicated Mac OS clients – including CyberGhost and TorGuard– will be similar.
Choose an ExpressVPN subscription plan and sign up.
When your payment has been confirmed, you will get a link in your email inbox inviting you to choose a secure password and set up your account.
Get the ExpressVPN Mac app from the downloads section of the ExpressVPN website.
Open the.dmg package and install the software.
Launch the app and log in with the username and password you previously set up.
Familiarize yourself with the preconfigured settings. Next, choose a location from the country list. Then just click "connect" to encrypt your connection and mask your identity.
If you don't have OS X 10.10 or higher, you will not be able to install an ExpressVPN native app. However, you can still get the benefit of the provider's industry-leading security and massive global server network by performing a manual installation.
Manual installation requires use of a third-party app like Tunnelblick or Viscosity. You'll find an easy-to-follow guide for each of them below.
Advantages & Disadvantages of Manually Installing a VPN for Mac
Manually configuring your Mac VPN has one major drawback: you might need to input your settings each time you change servers, which can be time consuming.
To be sure that you have the best protection possible, make certain that the settings and configuration are correct each time you connect. Even a small error can leave you exposed.
For this reason, if your OS X version is supported, ExpressVPN and other premium VPNs strongly recommend that you use their preconfigured Mac VPN apps.
However, we understand that every user is unique, and even if your OS would allow you to use a native Mac client, you might have your own reasons for setting up your VPN manually. For example, you might simply want additional control in choosing your server and protocol.
As supporters of internet freedom, we support freedom of choice. So whatever your reasons are for manually installing a VPN on your Mac, here's everything you need to know.
How to Manually Install a VPN on Your Mac
Keep in mind that even if you plan to set up your VPN manually, you still need to subscribe to a VPN provider to gain access to its secure network of servers. We will again use ExpressVPN, but the installation and setup process will be more or less the same with many other VPNs.
We will use OpenVPN for our manual setup. OpenVPN is an open-source protocol with excellent security that uses multiple encryption methods. It remains the industry standard and is used most frequently in native apps offered by premium VPNs.
To connect via OpenVPN manually, you will need to use a client such as Tunnelblick, specially designed for Mac users, or Viscosity, which can be used on Windows and Mac platforms. Here are the steps for both methods.
Manual Installation Using Tunnelblick
Download Tunnelblick and the Mac OS Configuration files package available on the ExpressVPN website.

Just search for Tunnelblick in the Mac OS area of ExpressVPN website

Unzip the VPN configuration files.
Open the Tunnelblick.dmg file package and follow the prompts to install the application.

The instructions were easy to follow and I had it running in minutes

Enter your system password into the dialogue box to continue.
Find VPN Details in the drop-down when you click the Tunnelblick icon in your menu bar. When prompted by Tunnelblick, drag and drop the ExpressVPN configuration files to add them to the VPN Details window.
Select a server from the drop-down list and enter your ExpressVPN account details to connect. Note that you will have to repeat this process each time you switch servers.
You've done it! Manual configuration is complete, and you are running ExpressVPN on your Mac, regardless of your version of OS X!
Manual Installation Using Viscosity
Download Viscosity (OS X 10.7 or newer is required) and the Mac OS Configuration files package available on the ExpressVPN website.

Just follow the simple instructions to install Viscosity

Unzip the configuration files package.
Open the Viscosity.dmg file, install the application, and follow the prompts to launch it from your applications folder.
Allow the Viscosity Helper Tool Installation when prompted.

The Helper Tool gives you everything you need to manage your VPN connections

Click on the Viscosity icon in the menu bar, then click Preferences.
Click the plus sign in the preferences window, then click Import Connection and then From File…

Importing files was straightforward and didn't take very long

Choose the unzipped configurations folder.
When the files are successfully imported, navigate to the Viscosity icon in the menu bar and choose a server from the drop-down list. Manual installation is now complete and you are running ExpressVPN for Mac!
Additional Manual Setup Options for Mac VPNs
ExpressVPN also offers manual set up of the PPTP and L2TP/IPSec VPN protocols, but both should only be used in very specific circumstances, as they are not considered secure by today's standards. In fact, ExpressVPN has discontinued support for L2TP because of its weaknesses.
Manual setup of IKEv2 is another viable option, however. The IKEv2 protocol is an up-and-coming VPN protocol that offers high speeds, high levels of security, and strong encryption.
While we still favor OpenVPN overall for most devices, you might want to consider manually configuring both OpenVPN and IKEv2 on your Mac for flexibility. Detailed manual installation guides for IKEv2 are available on the ExpressVPN website.
Best VPNs for Mac – Detailed List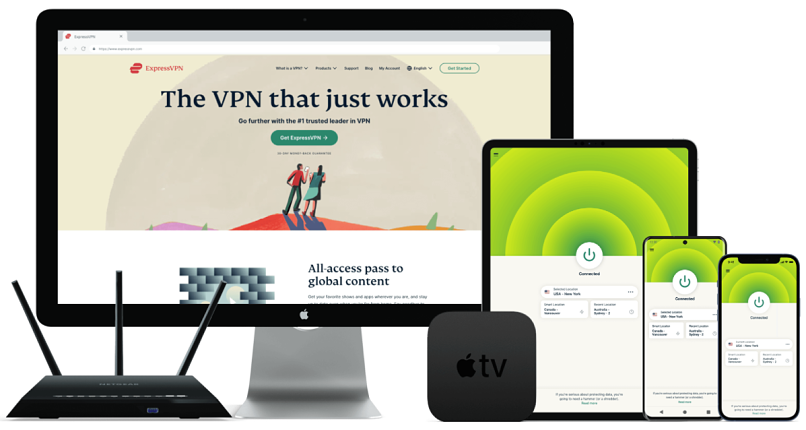 Editor's Choice
Editor's Choice

Tested February 2023
Try Risk-Free for 30 Days
Available on:
Chrome
Router
Smart TV
More
www.ExpressVPN.com
Among top VPN providers, ExpressVPN's Mac app is compatible with the broadest range of OS X versions – 10.6 (Snow Leopard) and above.
The application will automatically choose the best protocol for your purpose (usually OpenVPN), but other protocols – such as PPTP and L2TP/IPSec – are also supported and can be chosen and configured from within the native app.
Native ExpressVPN applications for Windows, Android, and iOS are also available, and you can protect up to 5 devices with one subscription.
ExpressVPN offers military-grade encryption with AES and a built-in kill switch. The provider doesn't keep user logs and offers a 30-day money-back guarantee for all installations, along with a 7-day free trial for mobile apps.
It's not the cheapest VPN, but it does offer serious discounts when you purchase longer subscriptions, and the level of service adds up to good value for your money.
ExpressVPN has proven again and again that it lives up to its claims as the fastest premium VPN on the market, and a subscription includes access to its unique media streamer, which makes the service a favorite for streaming.
ExpressVPN can unblock:
Netflix, Hulu, HBO, Amazon Prime Video, Showtime, Sling TV, DAZN, and BBC iPlayer.
Supports torrenting:
Yes, all servers support P2P activity.
ExpressVPN works on these devices:
Windows, macOS, Android, iOS, Android TV, Linux, Chrome, and Firefox. It also offers an app for use with certain routers.
CyberGhost's native Mac app is supported by OS X 10.7 (Lion) and newer, so it's a great choice if your system isn't new enough to run ExpressVPN's apps.
The app uses the OpenVPN protocol as its default, but other tunneling protocols are supported with manual installation.
CyberGhost uses 256-bit encryption technology and has a strict no-logs policy to keep your activity anonymous. The list of servers is impressive (9,753 and counting) and you can protect up to 7 devices with one subscription.
In addition to a 7-day free trial for mobile apps, CyberGhost offers a generous 45-day money-back guarantee to new subscribers, so you can test out the service with peace of mind before you commit. However, judging by the reviews, we doubt you will ever want to give it up.
CyberGhost can unblock:
Dedicated streaming profile with servers optimized for: Netflix, BBC iPlayer, Sky Go, Comedy Central, Eurosport, ESPN, and others.
Supports torrenting:
Yes; dedicated profile shows countries and number of users.
CyberGhost works on these devices:
Windows, macOS, Android, iOS, Amazon Fire Stick, Android TV, Linux, and Chrome.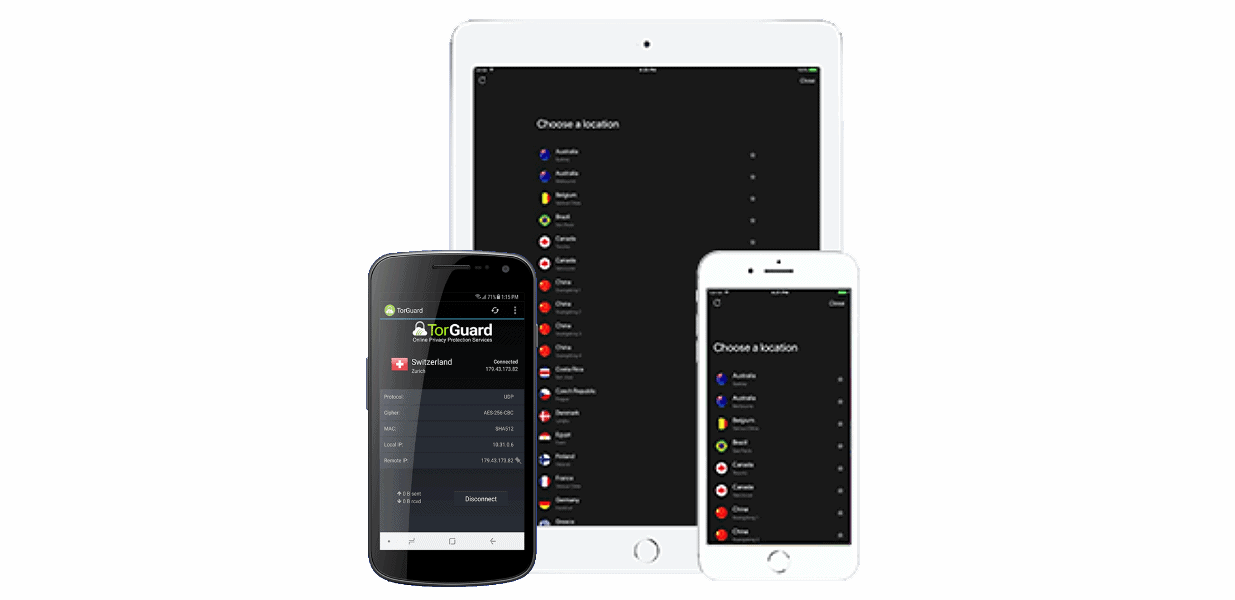 TorGuard has offered its servers via manual installation with Viscosity and the TorGuard Lite client for a while, but its recently released native Mac VPN app is impressive, and worth considering if you are looking for a combination of security, value, and user-friendliness.
The native app uses the OpenVPN protocol, and users can protect up to 8 devices at once. Customer support is available 24/7, and the service comes with a 7-day money-back guarantee.
TorGuard is a newer entry onto the VPNs for Macs market, but users love it – check out their reviews to see for yourself.
Private Internet Access (PIA) has a native VPN client for Mac OS that is easy to install and designed with the Mac user in mind. It uses the secure OpenVPN protocol by default, but you can navigate to the L2TP and PPTP protocols if you wish.
The app has a range of features we love, including a kill switch, auto-start, IPv6 leak protection, and the strongest encryption technology: 256-bit with AES. Private Internet Access has a network of more than 29,650 servers worldwide.
PIA only offer a 30-day money back guarantee, but that should be plenty of time to give the service a try and decide whether it's right for you. Or you can head over to our user reviews archive to find out what others have to say about the service.
Summary
A VPN remains the best way to browse the internet freely, privately, and securely, which is why it's great news that installing and setting one up on your Mac is way easier than it used to be.
Mac users were once an afterthought when developers dreamed up slick VPN apps. Now that the top-rated VPN providers all offer great clients for Mac OS users, you have your choice of several secure, fast, and user-friendly services that you can set up almost instantly.
To learn more about the differences between OpenVPN and IKEv2 and see side-by-side comparisons of all the major protocols offered by VPNs today, check out our experts' guide to protocols.
Try ExpressVPN Risk-Free Today!
To summarize, the best VPNs for Mac are...
Privacy Alert!
Your data is exposed to the websites you visit!
The information above can be used to track you, target you for ads, and monitor what you do online.
VPNs can help you hide this information from websites so that you are protected at all times. We recommend ExpressVPN — the #1 VPN out of over 350 providers we've tested. It has military-grade encryption and privacy features that will ensure your digital security, plus — it's currently offering 49% off.