How to Watch Tour de France for Free from Anywhere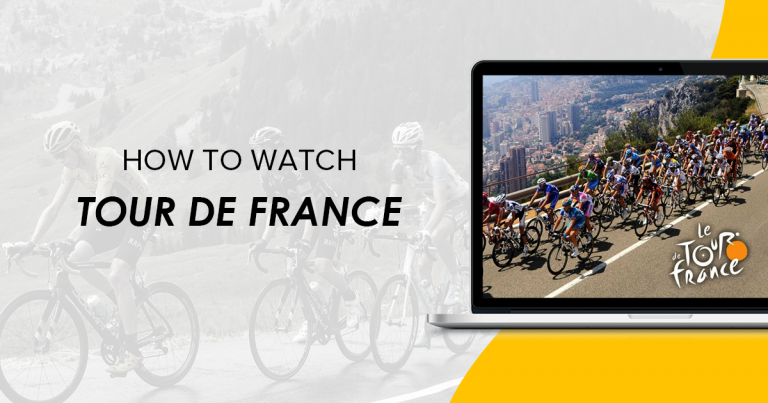 The clock is ticking for Tour de France 2018, the biggest cycling event on the calendar this year and the pinnacle of any cycling racer's career.
The 105th Edition of the Tour De France will kick off on July 7th divided into 21 stages from Noirmoutier-en-l'Île and wind up in the Houilles to Paris stage in Paris on the July 27th.
Millions of fans from all over the world (eighty million viewers from the US alone) will tune in to watch Tour de France, and several broadcast channels will stream the races live online.
Some channels will stream Tour de France online for free, while others require a paid subscription. However, due to geo-restrictions, free or not, it'll be difficult for non-native viewers to watch their favorite races online.
Luckily, there's a way to watch Tour de France online from anywhere in the world with a VPN and we'll show you how!
How to Watch Tour de France in English for Free
While NBC is also broadcasting the event, it costs money. iTV, on the other hand, will give you English commentary and coverage for free.
Get a VPN (We highly recommend ExpressVPN , but there are other great options below.)
Connect to a UK server.
Go to iTV4 and start watching!
For more details on how to do this, check out our explanation below.
If you want to watch the Tour de France in other languages, the following sites are streaming the event for free:
You Need a VPN to Stream Tour de France Online
To bypass annoying geo-restrictions such as Netflix proxy error and unblock your favorite site to stream Tour de France or any other content, you need to change your current location online with your IP address.
A VPN is a highly encrypted geo-altering tool that can conceal your real location online and replace it with a different IP address. You appear as if you're browsing from somewhere else and have better chances in accessing more blocked web content.
That's just a one-dimensional detail. There's a lot more to a VPN than just unblocking restricted websites such as securing and anonymizing your personal data online. To learn more about VPNs and why they're essential online tools, you can start with this article.
With more VPN providers joining the market every day, picking the right VPN to stream Tour de France is an exhausting journey. You need a highly encrypted provider with a stout server network, fast speeds, and which offers unlimited bandwidth.

This VPN Hack Can Get You a Premium VPN for FREE
While there are some free VPNs available, not all of them will be able to access the website you need. On top of that, free VPNs have limited bandwidth and data, and your speeds might be too slow to stream.
However, there is a way to use a premium VPN for free.
Reputable VPNs come with a money-back guarantee, so you can sign up, use the VPN to watch Tour de France, and then ask for a refund.
These VPNs all come with a free trial or money-back guarantee, and they are all optimized for streaming Tour de France online:
The Best VPNs to Watch Tour de France
This VPN is the top VPN to stream all of your favorite content. Besides for having servers in over 90 locations (including any of the countries listed above), ExpressVPN is a force to reckon with when it comes to unblocking content. Not to mention that there are apps for every device you might want to watch Tour de France with, and you can connect up to three devices at once.
ExpressVPN also comes with a 30-day money back guarantee, so there's no reason not to try it out.
Another top contender when it comes to streaming content, NordVPN has over 4,000 servers in 62 countries. That means you can watch Tour de France from almost any country.
In addition, NordVPN has outstanding security, and it comes with both a 3-day trial and a 30-day money back guarantee.
For anyone who is new to VPNs, CyberGhost is the VPN you want. Their interface is extremely user-friendly and comes with preprogrammed profiles so you can get the best settings for your VPN activity.
If you want to stream content, CyberGhost's "Unblock Streaming" profile will get you the fastest speeds in the location you need. Add on top of that the 2,400+ servers to choose from and a money-back guarantee, it's no wonder CyberGhost is becoming a favorite among many.
Stream Tour de France Live for Free on iTV with a VPN
iTV is a free UK station that will provide full live coverage of Tour de France on its iTV Hub. The only pickle is that it's restricted to UK residents only. If you live outside the UK, that's the message you'll get when you visit their website: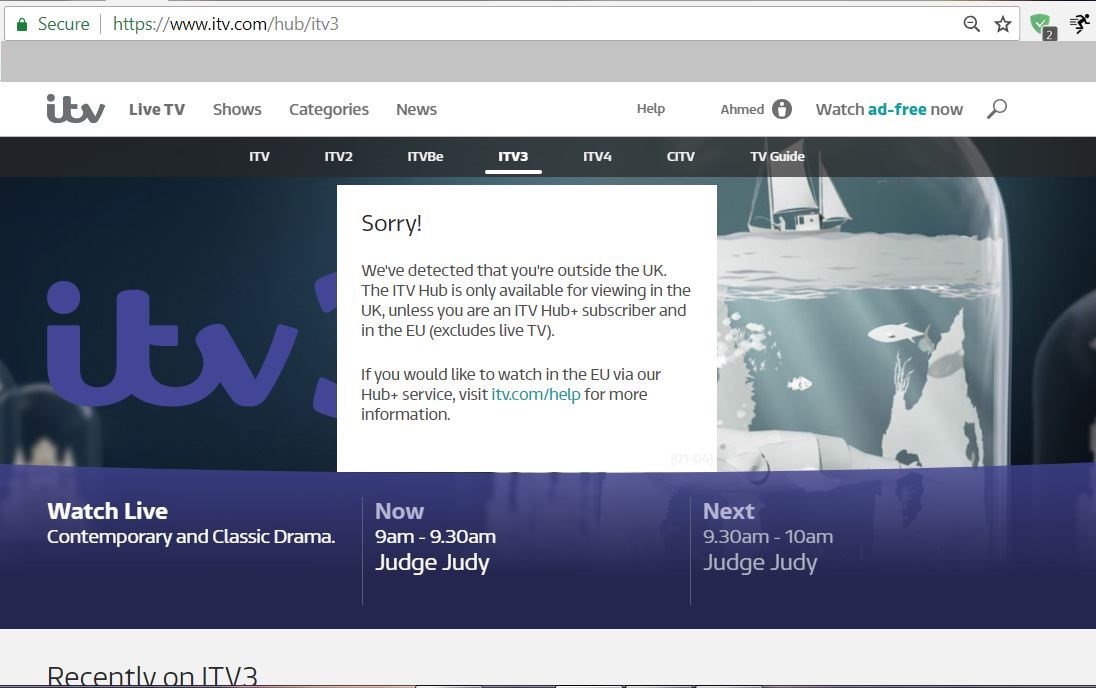 Luckily, with a VPN, you can access this website without any hassle.
Here's how to do it:
Voila! You got access to iTV in less than 5 minutes! Now you can definitely watch Tour de France online on iTV for free.
Stream Tour de France Live on Rai TV for Free
Rai TV (Radiotelevisione Italiana S.p.A.) is the national public broadcasting company in Italy.
Rai TV will also deliver extensive live coverage of Tour de France for free on RaiPlay, but it's exclusive to residents in Italy.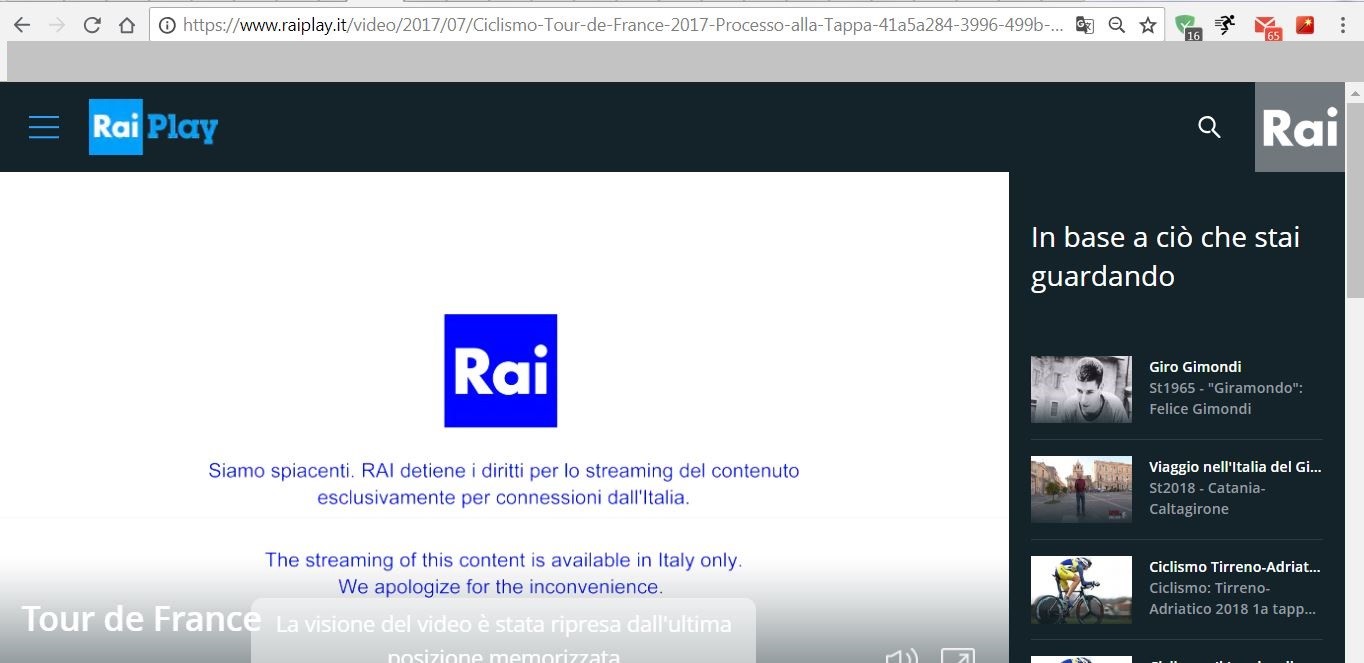 Using your VPN, you can easily access RaiPlay and stream Tour de France live for free. Similar to the steps above, all you need to do is to change your server location and connect to a server in Italy as shown below:
Launch your VPN app and click on "Choose Location" to open the server list.
Hit "Connect" and wait for a few moments until it connects.
Go to RaiPlay website and choose Tour de France program.

That's all! You unblocked RaiPlay and are now ready to stream Tour de France online for free within seconds.
No matter where you are, you can watch Tour de France with a VPN.
Interested in watching other sporting events this summer? Here's how to catch the final games of the FIFA World Cup and here's how you can watch the US Open.