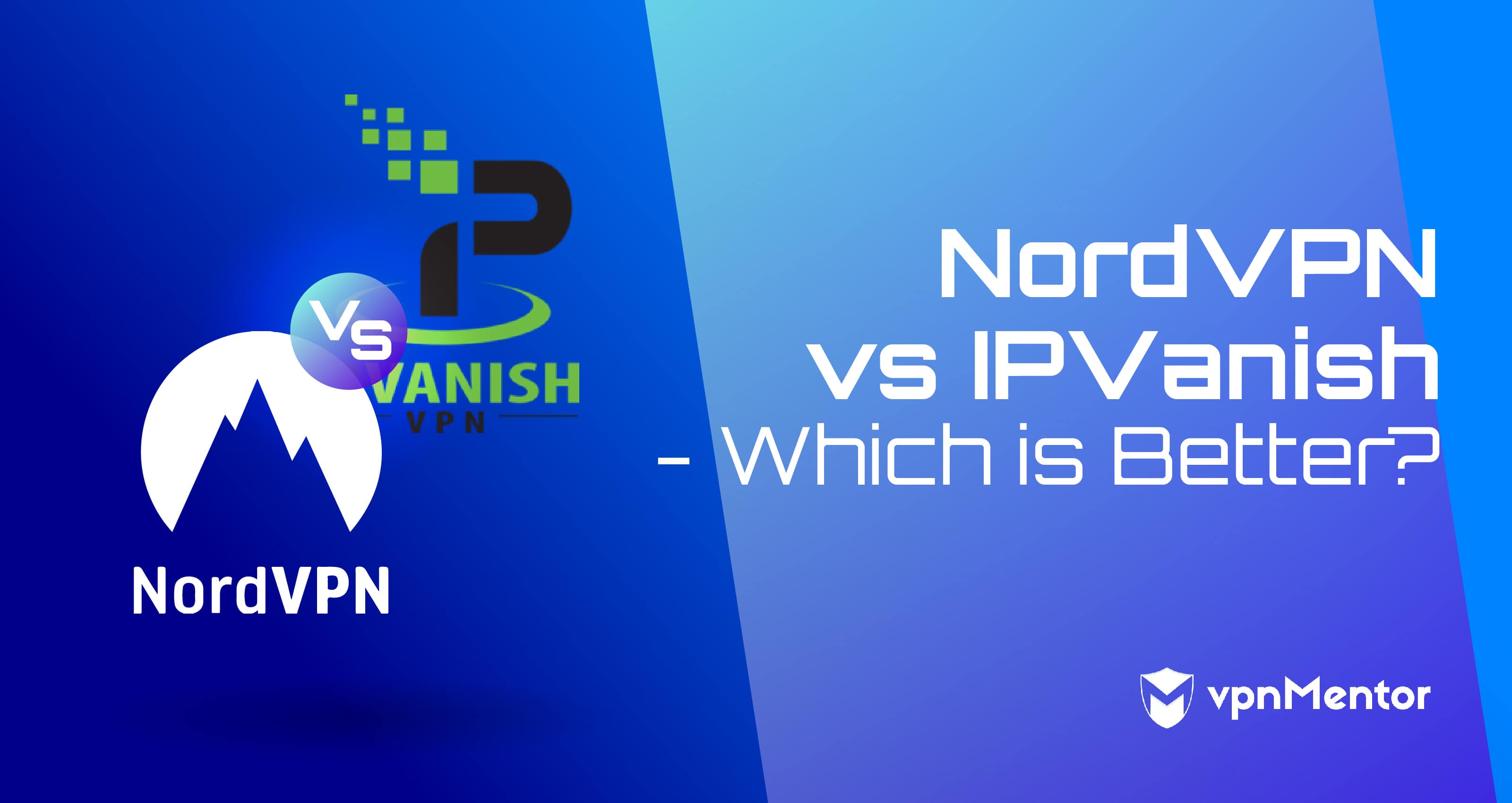 IPVanish vs NordVPN Comparison – Which is Best for You in 2021?
Updated on 29th April 2021
IPVanish and NordVPN are two well-known VPN services that have earned their place in our best overall VPN rankings. Each of them claims to be fast, flexible, and secure – but which one will emerge victorious in a head-to-head comparison?
If you're here, you're probably asking yourself just that. We're happy to answer that question for you – stick around as we put IPVanish and NordVPN against each other in a battle across several important categories.
To find everything you need to know about these popular VPNs, take a look at our detailed IPVanish review and NordVPN review.
IPVanish vs NordVPN – The Categories
For this comparison, we picked eight make-or-break VPN aspects.
We'll start off with the streaming and torrenting categories, to find which VPN is better at bypassing regional restrictions and downloading torrents.
Next, we'll look at cost, ease of use, and compatibility. This is where we'll compare IPVanish and NordVPN's price points, user-friendliness, and overall platform support.
We also ran thorough speed tests to find the faster VPN between the two. You'll find the final results in the speed category.
Lastly, we'll take a look at server networks, privacy, and security. With both VPNs boasting thousands of servers and bulletproof encryption, these categories will definitely be contested.
Close call, or convincing victory? We're about to find out – let's see which VPN comes out on top!
1. Streaming
In today's age of geographical restrictions, reliable access to your favorite content is a must for many VPN users.
NordVPN is one of the best picks for streaming, if not the best. It earns a perfect score in our detailed Netflix tests, managing to bypass the blocks for US Netflix, UK, Canada, France, Japan, and even Brazil.
Other popular streams you can watch freely with NordVPN include BBC, Hulu, HBO GO, Amazon Prime Video, and the list goes on. Can IPVanish compete with this long list?
Unfortunately not. While the US Netflix catalog should work on a few IPVanish servers, the overall unblocking potential is pretty low with this VPN. During our tests, we couldn't access too many streams – BBC was off limits, and so were Hulu, Amazon Prime Video, and HBO GO.
Streaming with a VPN is a constantly changing landscape, and we aren't saying either VPN never works – but based on the results, IPVanish isn't able to grant consistent access to the best sites out there. On the other hand, NordVPN has a stellar performance in this category. What's the reason behind this?
Simply put, NordVPN puts in the extra effort for hassle-free streaming. Between the 5,100+ servers and the automatic SmartPlay DNS feature, this provider has the tech and versatility you need to watch almost anything from anywhere.
Compared to that, IPVanish doesn't really offer any streaming-oriented servers or features and has a smaller network to play around with. 1,300+ servers isn't a bad number, but with most of them already blocked by popular streams, you can see why IPVanish struggles in this category.
Winner for Streaming: NordVPN
IPVanish shouldn't be your first choice for streaming – that said, US Netflix is still within reach of this VPN. For effortless access to your favorite content, NordVPN is the better (and cheaper) choice.
2. Torrenting
While both IPVanish and NordVPN support P2P traffic, there's a major difference in how the two approach this.
IPVanish doesn't have a dedicated torrenting profile, instead allowing P2P connections on all servers. This makes things slightly easier, as secure torrenting sessions require you simply connect the VPN as you normally would.
NordVPN goes the opposite route, with a separate P2P tab where you can choose servers optimized for torrents. The best part – you get over 4,400 of them, which is far more than IPVanish's entire server roster.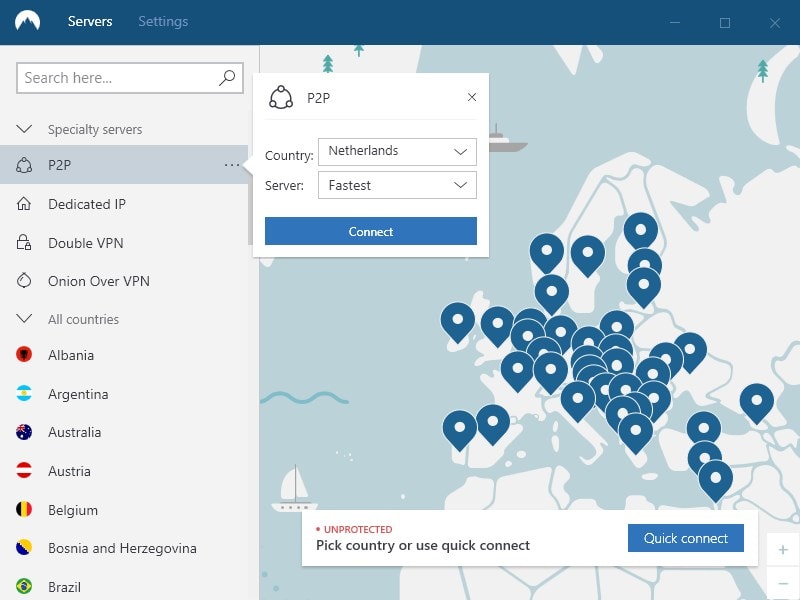 For extra features, both VPNs provide SOCKS5 proxies which can be set up with your torrenting client. These proxies are usually faster, as they aren't slowed down by encryption – but there's an extra security layer thanks to advanced authentication. Port forwarding isn't supported by either VPN.
One drawback to IPVanish is the DMCA (Digital Millennium Copyright Act) policy. As a US-based VPN, it has to take copyright infringement seriously and act on DMCA notices.

The lines between legal and illegal torrenting are often blurred and easy to abuse by copyright trolls, which sadly run rampant in the US. As such, using IPVanish for torrenting can lead to headaches and even account suspensions if you aren't careful.
The Panama-based NordVPN has a major advantage in that regard, as it doesn't have to comply with DMCA requests.
Winner for Torrenting: NordVPN
Both VPNs make torrenting fast and easy for beginners and experts alike. That said, NordVPN has the edge with its dedicated torrenting profile and P2P-friendly jurisdiction. IPVanish performs very well, but legal issues can (in theory) shut BitTorrent users down even if they aren't in the wrong.
3. Cost
Value for money is an important aspect when choosing your next VPN. Both IPVanish and NordVPN have plenty to offer, but which one has a better price tag?
As usual with VPN pricing, you won't find a bargain if you're looking for a monthly subscription. Both contenders are equally pricey here, but IPVanish is a little lighter on your wallet thanks to the added discount (usually around 15%).
Things change with longer plans. NordVPN's two-year subscription will shave 68% off the final price, and it's six-month plan will save you 24%. IPVanish has a similar deal on its annual plan (currently 46% off), but that's the best you'll get.
Meanwhile, you can benefit from NordVPN's excellent two-year offer with a 68% discount – just use our special coupon code! With such a great deal, you're basically getting one of the leading VPNs on the market for pocket change.
Still, not everyone wants a VPN for super long periods of time. If you want some middle ground between a month and a year, IPVanish has a three-month plan at 25% off – not the best deal you can get, but a little more flexible than the yearly alternative.
Winner for Cost: NordVPN
With regular big discounts on its longer plans, NordVPN is the service to buy if you're planning on using a VPN for a while. Overall, IPVanish is more expensive and offers less value for streaming, but the three-month subscription may be a decider for some.
4. Ease of Use
As two of the best premium VPNs, IPVanish and NordVPN are focused on giving users an easy, trouble-free time. But which one does a better job here?
Both VPNs go for a stylish, yet functional design. Choosing servers is easy thanks to the quick connect menu – IPVanish also gives you several drop-down lists if you want a specific country or city.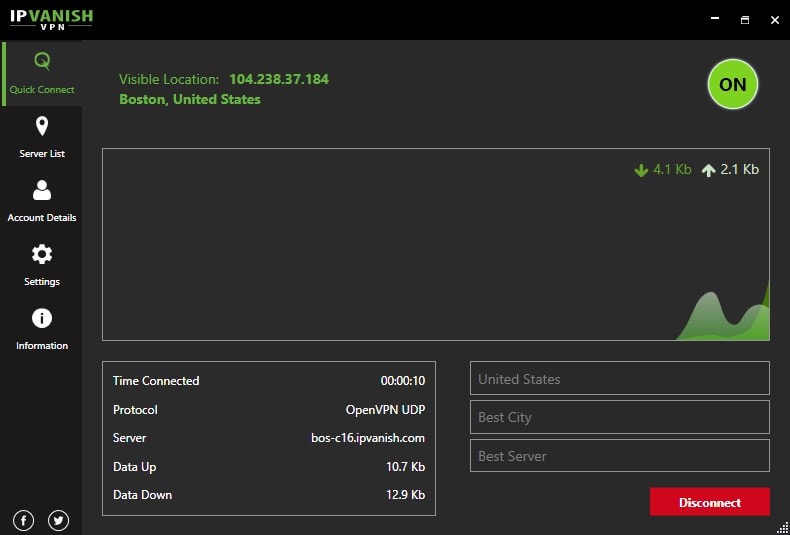 NordVPN offers similar utility, but you get a compact server list on the left side of the app, too.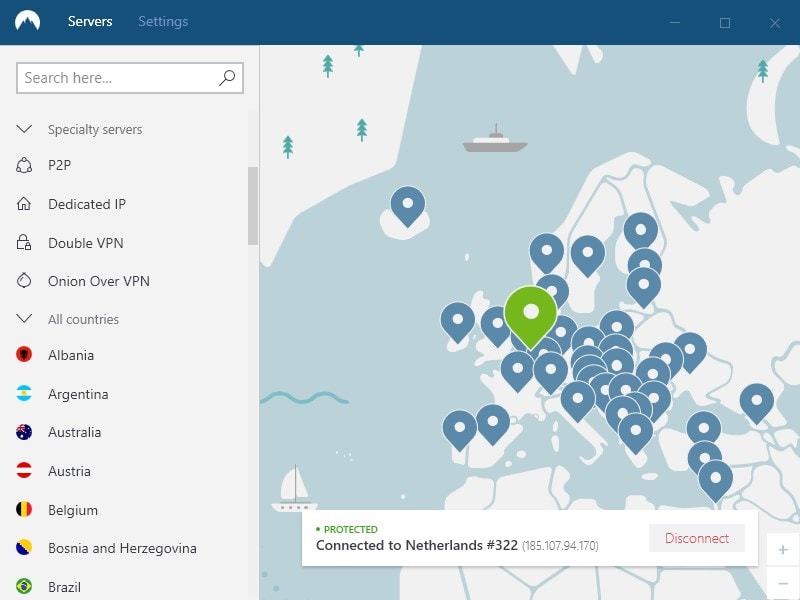 From the list, you can quickly select the fastest server (determined by the app) or choose one manually. You can also avoid crowded servers thanks to the additional server load info.
The IPVanish server list is in a separate tab, but it comes with some very useful filters. These allow you to sort servers by country, response time, server load, and favorites.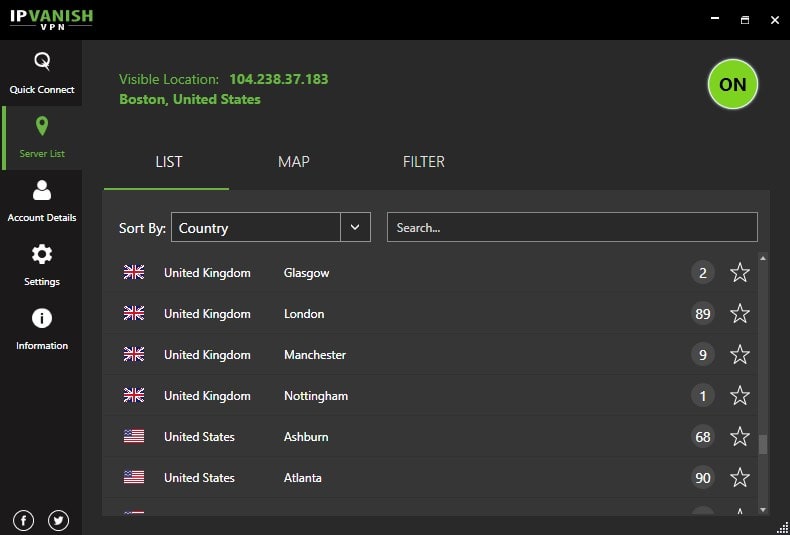 Both VPNs take you to the settings menu with just one click. NordVPN's list is a little longer, as there are more features to enable or disable.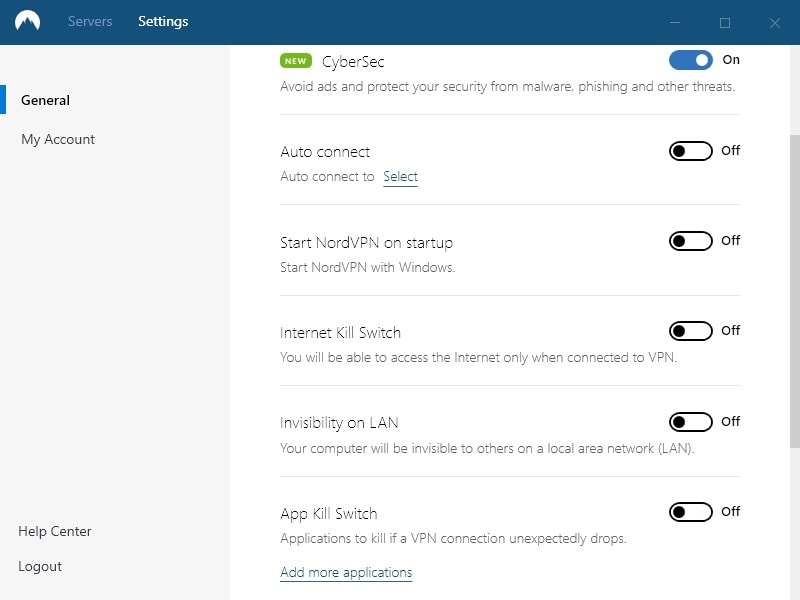 IPVanish has two separate menus for general and connection settings. However, the total number of options isn't as great, making this VPN slightly more basic in this department.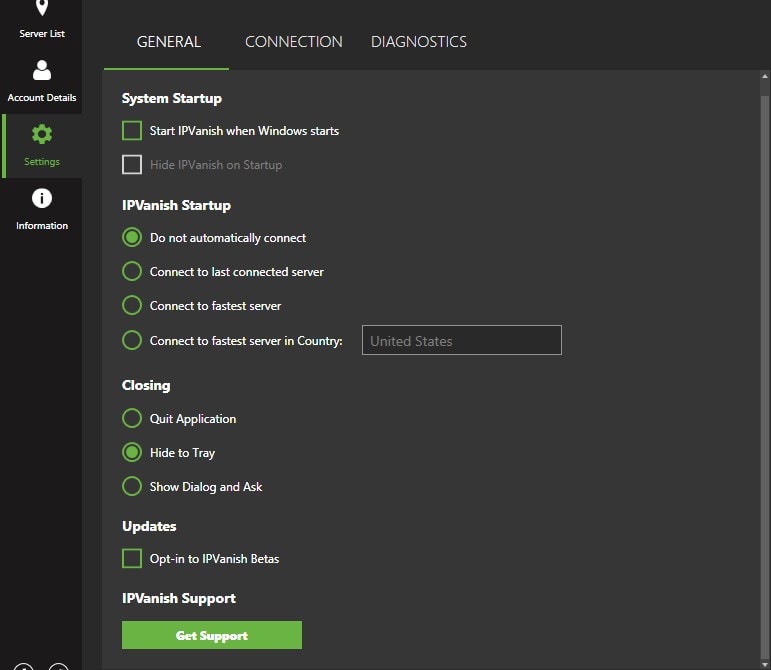 Lastly, both VPNs provide OpenVPN configuration files on their websites, if you'd rather run a custom setup with a third-party interface.
Winner for Ease of Use: NordVPN
You won't be disappointed with either VPN when it comes to ease of use. Both are simple, stable, and pretty to look at, but NordVPN offers a tidier interface with plenty of great settings.
5. Compatibility
IPVanish and NordVPN can be installed on a wide array of platforms. With excellent apps for all major platforms and plenty of options for manual setups, we'll have to take a closer look to find the winner here.
Windows
If your VPN's Windows app is giving you trouble, it probably isn't worth it. Fortunately, neither provider in this comparison drops the ball here.
Windows support starts from Windows 7 for both IPVanish and NordVPN. However, NordVPN has a slight advantage for older versions, allowing a manual configuration on XP and Vista. IPVanish doesn't.
Mac
Mac compatibility is equal between IPVanish and NordVPN. In order to use their apps, you need at least the Yosemite (10.10) version.
Android
Both VPNs offer a dedicated app for a variety of Android versions. IPVanish is slightly better, going as far back as version 4.0.3, so it may be the better choice if you have an older Android device.
iOS
Your iOS device needs at least version 9.0 to run either VPN's apps. Another draw!
Linux
Both VPNs can work on Linux, but they're centered around different distributions. Choose IPVanish if you're running Ubuntu; NordVPN is suitable for Debian users. Overall, Linux support is rather limited between these two services.
Routers
Both VPNs have great tutorials for DD-WRT and Tomato routers, but NordVPN offers support for a few extra firmwares. These guides can be very useful if you're interested in setting up a VPN router on your own.
Pre-configured routers with either VPN are also available on third-party websites.
Other Platforms
IPVanish works on the following additional platforms:
NordVPN supports the following additional platforms:
Browser extensions (Chrome, Firefox, Opera, Safari, Internet Explorer)

Blackberry

Kodi

Media and gaming consoles (via router)

Smart TVs (via router)
Winner for Compatibility: NordVPN
As long as your software isn't too outdated, you'll have zero trouble with either service. NordVPN supports more platforms and also has browser extensions, making it the more versatile pick in this category.
6. Speed
Encryption keeps you safe online, but it also takes away from your speed. This is why it's important to have a consistently fast VPN.
VPN speeds can vary greatly depending on the server you've chosen. What's more, things can get unbearably slow if you add distance to the equation.
Are IPVanish and NordVPN swift or sluggish? And which one performs better? We tested servers in 10 locations around the world to find the answers to these important questions.
Our tests were conducted from Eastern Europe. For reference, here are our download and upload speeds without a VPN:

Below, you can see how IPVanish and NordVPN scored.
Server
Download speed (Mbps)
Upload speed (Mbps)
IPVanish
NordVPN
IPVanish
NordVPN

Auto (closest)

69.54
70.05
32.63
32.61

Romania

64.38
55.90
30.81
34.15

Germany

69.33
63.95
30.90
34.53

United Kingdom

68.25
53.72
35.67
24.44

Portugal

50.54
33.93
24.13
30.00

Israel

53.14
34.52
31.09
11.62

United States (New York)

43.44
54.35
22.91
27.61

United States (Los Angeles)

21.39
51.12
15.21
7.77

Japan

0.53
28.09
1.16
2.02

Australia

10.67
24.56
0.35
1.97
The final results are definitely impressive. Both VPNs were seriously fast in Europe – IPVanish has slightly better download speeds, while NordVPN takes the lead in upload. All in all, the differences are negligible.
IPVanish also takes a convincing win on the Israel server, but things take a turn for the worse after that. NordVPN has better results on both US servers, and dominates in the Japan and Australia tests.
The major takeaway – NordVPN performs much better than IPVanish on distant servers. We were able to get excellent speeds with this VPN, even though our test location was thousands of miles away.
Still, IPVanish isn't too disappointing, with the exception of the Japan server. We tried switching servers and testing at different times, but the connection remained terribly slow in that location. Bad luck or bad servers? Either way, IPVanish wasn't as consistent as NordVPN.
Winner for Speed: NordVPN
NordVPN stands out with amazing speeds on servers near and far. IPVanish's European servers blazed through our tests, but this VPN became less and less efficient with distance.
7. Servers and Network
Thousands of servers and global coverage are great news if you need your VPN to be flexible. There's a strong case to be made for either VPN in this comparison, but one of them is the clear winner here.
NordVPN provides close to 4,600 standard servers, 4,400 of which support P2P. In addition, you get 460+ Obfuscated servers, 30 Double VPN servers, 3 Onion-over-VPN servers, and 70+ with dedicated IPs, bringing the total number to a whopping 5,100+ servers in 60 countries.

Not many providers have the resources to beat this package. NordVPN's US roster is particularly impressive – with 1,750+ available servers in that region, it's no wonder this VPN is one of the best picks for accessing US content.
Normally, we'd give praise to IPVanish for its decently-sized network.

But when compared against NordVPN, you can see how 1,300 servers in 50 countries suddenly don't seem like a big deal. Moreover, IPVanish lacks the specialty categories you can find in NordVPN's server list.
Still, we have to give props for the overall coverage. IPVanish is on par with NordVPN, at least here.
Winner for Servers and Network: NordVPN
NordVPN has one of the most thorough server networks on the market, and it shows. IPVanish is decent on its own, but takes a step back in this comparison.
8. Privacy and Security
On the surface, both VPNs take security and privacy very seriously. Encryption is on point, and zero data logging is promised in the privacy policies.
Yet again, we'll need to go deeper to find which VPN takes the win.
Logging Policy
NordVPN has a clear advantage when it comes to jurisdiction. It's registered in Panama – a safe haven with no draconian data retention laws. This allows NordVPN to guarantee a no-logs policy.
There's more – Panama isn't part of the 5/9/14-Eyes surveillance alliances, which keeps users safe from potential government spying. Sadly, this isn't the case with the US-based IPVanish.
Now, this shouldn't be a huge issue, right? After all, IPVanish also operates under a strict zero-logging policy – but its record isn't clean.
Back in 2016, IPVanish handed over sensitive user data to the Department of Homeland Security. The information proved to be very useful in an investigation into child abuse and pornography that was ongoing at the time. Justice was indeed served, but in the end, IPVanish had lied about their zero-logs claim. Needless to say, people weren't happy.
The good news is StackPath (the new IPVanish owner since 2017) introduced some much-needed changes to the service, and today this VPN should offer truly spotless privacy. This guarantee has yet to be tested, though.
Encryption and Protocols
Both VPNs implement AES-256 encryption, which is great news for those concerned with security. 256-bit encryption is considered extremely strong and virtually unbreakable.
NordVPN takes an extra step by adding Perfect Forward Secrecy to the mix. In short, this means your VPN sessions are even more secure with dynamic encryption keys instead of static ones.
The OpenVPN protocol is heavily used by both services. As the industry standard, you can find native support for it in the Windows, Mac, and Android apps. IKEv2/IPSec is also available.
In addition to OpenVPN and IKEv2/IPSec, IPVanish works with PPTP and L2TP/IPSec.
Security Features
NordVPN has a whole arsenal of security features. The proprietary CyberSec suite provides ad blocking and anti-malware protection. You also get two different kill switches and custom DNS settings, with the option to use your preferred DNS or the ones provided by NordVPN. Double VPN servers are included as well.
IPVanish isn't too far behind, but doesn't offer the same level of depth. The kill switch is there, but you only get one for your entire connection – NordVPN has a second one for specific apps. The DNS leak protection is also basic compared to NordVPN's offering, since you can't input your own DNS settings.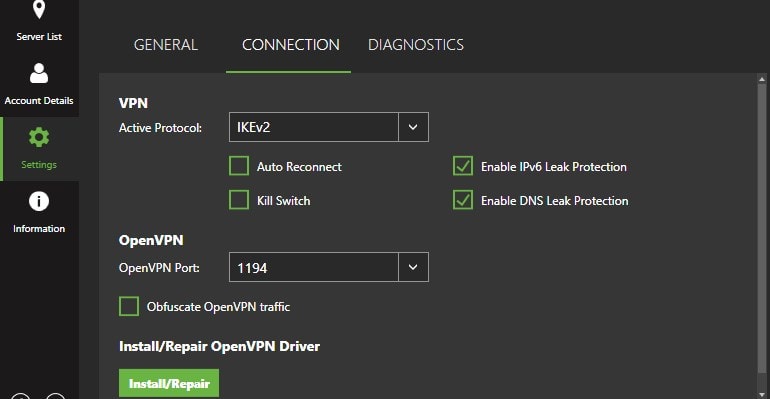 On the upside, IPVanish lets you easily switch OpenVPN port numbers, and there's an obfuscation feature. Extra stealth is often needed in countries with heavy internet censorship – that said, keep in mind IPVanish is currently blocked in China.
If you want a VPN that also works in China, NordVPN is the perfect choice. Like IPVanish, it also offers extra obfuscation – but here, you get hundreds of special servers.
This advanced setting should only be used when you need it, as the standard servers won't be available during Obfuscated mode.
Winner for Security and Privacy: NordVPN
IPVanish has robust encryption and plenty of security features, but the US jurisdiction may be a problem for the privacy-conscious. NordVPN comes out ahead in every aspect of this category, earning a convincing win.
9. Final Verdict
A clean sweep for NordVPN – IPVanish puts up a decent fight, but it falls behind in each of our eight comparisons. No matter what you're looking for, NordVPN will probably do a better job than its competitor.
NordVPN has a significant lead for streaming, with a massive server network and consistently high speeds. It also leaves zero doubts as to privacy and security – something IPVanish fails to achieve.
It's difficult for any provider to go against NordVPN. IPVanish isn't necessarily a bad service – it's fast, polished, and has a lot to offer. All in all, a great alternative to consider if you aren't too interested in streaming.
But the bottom line is clear. NordVPN proves the bigger and better service in this comparison, giving you much more value for your money.
Privacy Alert!
Your data is exposed to the websites you visit!
The information above can be used to track you, target you for ads, and monitor what you do online.
VPNs can help you hide this information from websites so that you are protected at all times. We recommend ExpressVPN — the #1 VPN out of over 350 providers we've tested. It has military-grade encryption and privacy features that will ensure your digital security, plus — it's currently offering 49% off.