Is OnlyFans Safe to Use for Users and Creators in 2023?
While OnlyFans now holds all types of interesting content, it's still banned by many countries, firewalls and network. However, there is one easy way to access the platform from anywhere and stay on top of the latest trends.
The best way to use OnlyFans safely is with a VPN. A VPN masks your personal IP address and encrypts your online traffic so both your activities and your true location remain private. This way, a VPN not only keeps you safe but also helps you bypass blocks that prevent you from using OnlyFans in the first place. With a VPN activated, you can enjoy all your favorite content safely both as a user and as a creator.
My team and I tested around 60 VPNs, and my recommendation is ExpressVPN. Try it for yourself risk-free — it has super fast speeds for bufferless streaming and strong security features to keep your identity safe online. You also get a 30-day money-back guarantee, so you can claim your money back if you find it is not the VPN for you.
Important! This article is for information only. Using a VPN will help users and creators be safe while using OnlyFans. My team and I do not condone using VPNs to illegally bypass firewalls, so make sure to check the rules and regulations of the country you're in to stay on the safe side.
Quick Guide:
How to Stay Safe on OnlyFans in 3 Easy Steps
Download a VPN. I recommend ExpressVPN as it offers fast speeds and a reliable and secure connection to safely use OnlyFans.
Connect to a server in any country. You can use servers close to your real location for the best possible connection.
Use OnlyFans safely. Head on to OnlyFans and browse your favorite content.
Why You Need a VPN to Use OnlyFans Safely
You can't use OnlyFans in many places because it's regularly blocked due to censorship. It is also a known target for cyber attackers, meaning your data and content could be at risk. That's why if you want to use OnlyFans safely, you need to get a VPN.
A VPN protects you by encrypting your traffic and giving you a new IP identifier that makes it seem like you're somewhere else. It allows you to get around any web-filtering methods your ISP or network administrators have put in place. This way, you can access OnlyFans even using WiFi hotspots, or in countries where it's normally banned.
When you use a VPN you can bypass any blocks preventing you from accessing OnlyFans. Just connect to any server close to you to use OnlyFans safely and smoothly.
Best VPNs to Stay Safe on OnlyFans – Updated in 2023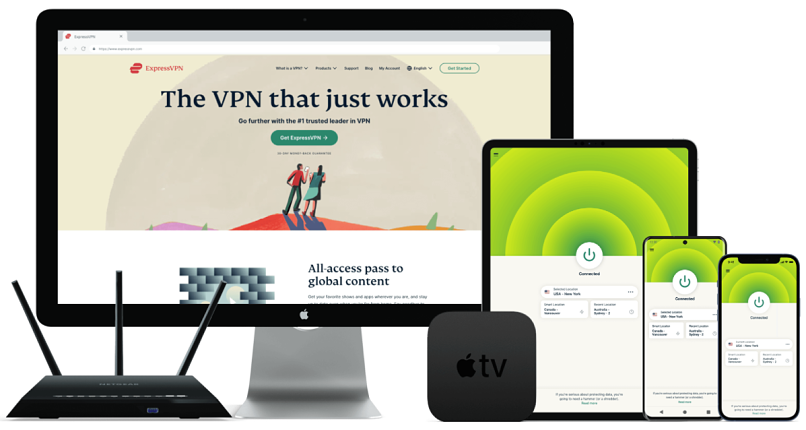 Editor's Choice
Editor's Choice

Tested February 2023
Try Risk-Free for 30 Days
Can access:
Netflix
Disney+
APV
HBO Max
Hulu
BBC iPlayer
Sky
More
www.ExpressVPN.com
Lightning-fast speeds
3,000 servers in 94 countries
5 simultaneous device connections
Can unblock: OnlyFans, FanCentro, Justfor.Fans, AVNStars, IsMyGirl, Loyalfans, and more
Compatible with: Windows, Mac, iOS, Android, Linux, routers, Apple TV, and more
ExpressVPN offers a blazing-fast connection that allows you to use OnlyFans without any glitches. I tested multiple servers, and the speeds always averaged around 70 Mbps, thanks to its Lightway protocol. You only need 25-30 Mbps to watch content in 4K, so this was more than enough. Plus, you won't have long waiting times when uploading images or videos on OnlyFans.
It also has a large server network, so you can safely access OnlyFans from anywhere in the world. The servers I tried connected in just a few seconds, and I never experienced any sudden drops or stuttering. This is great as having plenty of servers in each location means you can easily connect to a different server if one malfunctions.
You're protected with military-grade encryption, so no one can access your data or snoop on you. ExpressVPN also has great security and privacy features, including a kill switch and a no-log policy. Plus, all its servers run on RAM, which means there is no stored data — it loses all information when it resets each night.
The only con to using ExpressVPN is its expensive price tag — $6.67/month. But, you can counter it with a 49% off discount when you first sign up. Plus, it offers 3 months of free service as a bonus, which makes it a great deal overall.
Try ExpressVPN risk-free. It also offers a reliable 30-day money-back guarantee, so you can get a refund if you don't like using it. I contacted its support team to test out the money-back claims. The executive asked me a few questions on my overall experience with the VPN and why I was leaving. After 5 minutes, my request was approved, and I got my money back within 3 days.
Great security features
9,753 servers in 91 countries
Solid speeds
Can unblock: OnlyFans, FanCentro, Justfor.Fans, AVNStars, IsMyGirl, Loyalfans, and more
Compatible with Mac, Windows, Linux, Android, iOS, Roku, gaming consoles, and more
CyberGhost offers strong encryption for all major platforms, ensuring your OnlyFans activity is always private. Your data is protected with an AES-256 encryption technique, which is basically impossible to hack. It also has a kill switch, so if your connection should fail for any reason your internet will shut down completely. This stops your ISP and any other prying eyes from seeing the sites you're accessing.
It has a vast server network. I didn't have any problem using OnlyFans with any of the servers I tested. Like ExpressVPN, the servers all connected in around 5 seconds. CyberGhost also has privately owned NoSpy servers that offer improved security. This helps you get a secure and reliable connection to access OnlyFans, regardless of your location.
You can access OnlyFans without any lags or stutters thanks to its fast speeds. I tested its US and UK servers and got average speeds of 65 Mbps. Aside from OpenVPN, it also supports WireGuard protocol, so you can use OnlyFans smoothly. You'll be able to upload images and videos without any annoying slowdowns.
The slight problem with using CyberGhost is its expensive monthly subscription. However, you can bring the price down to $2.19/month by opting for a long-term subscription plan. Plus, all the plans have the same features so you can decide without any downside. I got 84% off when I subscribed.
Try it risk-free with its 45-day money-back guarantee. I tested it by contacting customer support and requesting a refund on the final day. The agent asked me about my experience with the VPN and approved my refund in just 10 minutes. My money was back in my account within 5 days.
29,650 servers in 84 countries
Good speeds
10 simultaneous device connections
Can unblock: OnlyFans, FanCentro, Justfor.Fans, AVNStars, IsMyGirl, Loyalfans, and more
Compatible with Mac, Windows, Linux, Android, iOS, Roku, gaming consoles, and more
Private Internet Access offers a massive server network that allows you to use OnlyFans safely from anywhere. Its huge number of servers means there won't be any overcrowding, so you can post images, watch videos and browse without interruptions. I tested its US, UK, and Canadian servers and didn't have any connection issues.
It offers military-grade encryption and up-to-date protocols so you can access OnlyFans with full privacy and security. You can even adjust your VPN settings to switch protocol and encryption options depending on your preferences. If you are not comfortable making these changes, the interface is pre-set, so you don't have to worry about it. Thanks to PIA's strong security features, you can upload videos and watch content on OnlyFans without any data breaches.
A problem with PIA is that it's US-based. This is a bit concerning as the US has strict data-sharing laws meaning that PIA would have to comply with all government requests about user data. However, it comes with a robust privacy policy — so even if the government asks for your information, PIA is unlikely to share.
Try PIA for $2.19/month with its long-term plan. All its plans come with the same features, so the long-term plan presents the best value. I even got 3 months of free service.
You also get a 30-day money-back guarantee with it. So, you can request a full refund if it doesn't suit you. I put this claim to the test by requesting a refund. The rep asked me about my experience and processed my request after a 5-minute chat. The money was back in my account in just 5 days.
FAQs on Using OnlyFans With a VPN
Do I really need a VPN for OnlyFans?
Using a VPN with OnlyFans is the only way to keep your ISP and data secure. While you may be able to access OnlyFans without a VPN, I wouldn't recommend doing so. OnlyFans has already been under attack many times. It's also blocked in a number of locations, so you may not be able to access it if you travel. To avoid security risks, always use a quality VPN to unblock OnlyFans and keep you safe.
How does OnlyFans protect its users?
OnlyFans doesn't have many security measures set in place to protect its users. It's a platform that offers content, but you need to be able to protect yourself. So, I suggest using a VPN to keep yourself safe while browsing and uploading content. A good VPN offers strong encryption and privacy, so you can rest assured you're using OnlyFans safely.
Can I use a free VPN to access OnlyFans safely?
Yes, but I don't recommend using them to keep you safe while you access OnlyFans. Free VPNs don't invest in safety and privacy measures in the same way that other VPNs do. Additionally, most free VPNs are slow and it can get frustrating just connecting to a server, let alone uploading video content. To keep yourself really safe while using OnlyFans, choose a VPN with outstanding security, fast speeds, and a vast server network. You can protect yourself for just a couple of dollars a month.
Start using OnlyFans safely
Using OnlyFans safely is easy if you use a premium VPN. The VPNs that I have shortlisted above help you reliably and safely access OnlyFans. You'll be able to scroll your favorite creators and posts and upload your own content without interruptions.
I recommend trying ExpressVPN — it offers reliable servers worldwide, blazing-fast speeds, and strong security features. You can try ExpressVPN risk-free. It also has a reliable 30-day money-back guarantee. So, if it's not working for you, you can get your money refunded back without any issue.
To summarize, the best VPNs for Staying Safe on OnlyFans are…
Privacy Alert!
Your data is exposed to the websites you visit!
The information above can be used to track you, target you for ads, and monitor what you do online.
VPNs can help you hide this information from websites so that you are protected at all times. We recommend ExpressVPN — the #1 VPN out of over 350 providers we've tested. It has military-grade encryption and privacy features that will ensure your digital security, plus — it's currently offering 49% off.