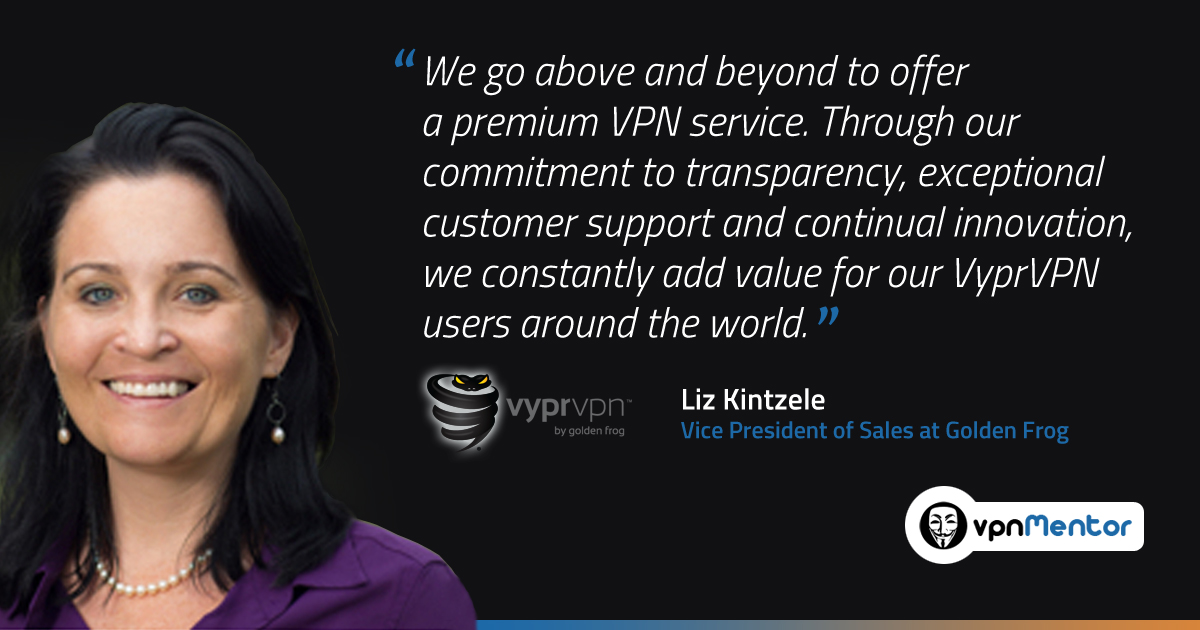 Providing people with privacy, security and access to a free and open Internet
I recently had the pleasure of speaking with Liz Kintzele, VP of Sales at Golden Frog. We spoke about Golden Frog's mission, their products, and their stance on the Open Internet. Share
Interview with Liz Kintzele at Golden Frog  on VyprVPN and the industry.
Tell us about how you started Golden Frog and why it came to be?
Golden Frog was founded in response to room 641a, an infamous room in San Francisco where the NSA was conducting surveillance on AT&T's networks. We brought this alarming activity to the FCC's attention, but they failed to address it. We found this very disturbing, so our founders felt it was time to start creating tools for consumers and businesses to protect themselves. In 2009, we founded Golden Frog.
'Golden Frog' is such a poetic name; can you explain the meaning or origin of the name?
Our founders were in the Peace Corps, and spent a lot of time in Brazil and Panama. In Panama, they visited a coffee bar called Golden Frog. In 2008, as they discussed starting the company, they were back in Panama and decided it would be a great way to honor their good times by naming the company "Golden Frog."

The Golden Frog Team
What a great story. Moving on, can you tell us where you are based?
Golden Frog is incorporated in Switzerland because of their favorable privacy laws. Their approach to privacy really reflects our mission as a company in respecting the rights of Internet users. Switzerland has a long history of respecting privacy and they have built a legal framework to protect it.
Can you tell us about your product and services offerings?
Our flagship product is VyprVPN, our personal VPN service. It's the world's fastest VPN and provides internet privacy, security and freedom anywhere and on any device. We also offer VyprVPN for Business, which provides consumer-level service with a front end interface. This design allows businesses to get in and more fully manage the service themselves.
We recently launched a new product, VyprVPN Server, which is currently in beta and will be available soon. VyprVPN Server allows users to set up their own VPN server implementation, which then populates into our easy-to-use applications. Businesses can use VyprVPN Server to lock down their infrastructure as well as connect into their internal network. And for consumers, VyprVPN Server offers the ability to spin up their own server at their home, and to access their home network safely while on-the-go.
Finally, we've got our Cyphr product for secure messaging. It simplifies encrypted mobile messaging. Cypher is a zero-knowledge app so only the user can read the messages. It works with any of the popular messaging apps.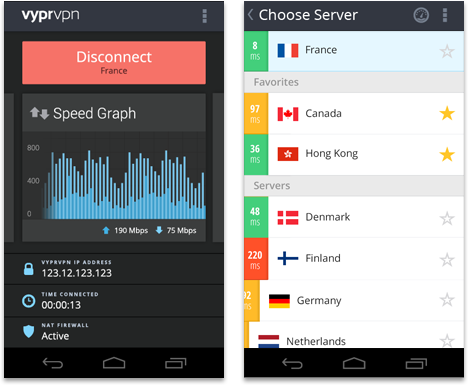 VyprVPN Android App
Who would typically use your services?
On the business side, our customers are global companies who have employees on the go or employees located all over the world. They use our services to provide their employees with encrypted connections to corporate resources and enhanced security while using public Wi-Fi networks so they remain protected while on the go.
We have many users in China, who use VyprVPN with our proprietary Chameleon protocol that prevents VPN blocking and throttling. Chameleon enables employees to access the international Internet without restrictions and use the Google applications and other resources needed to do business. These customers use our VyprVPN services because of our speed, reliability and commitment to taking care of our customers in China.
On the consumer side, we tend to attract users willing to pay a little bit more for an inclusive, premium service. Users are looking for a product that offers security and ensures they can be online when they need it. We tend to attract customers who are really serious and want to work with a company that has a quality service and reputation.
Some reviewers mention your higher pricing model. Can you explain the value of VyprVPN to support that model?
We are the only VPN provider on the market that owns their entire infrastructure. Due to our experience in the Internet space since 1995, we established a private company to handle everything. We set up our own servers; we run them; we maintain them; we own the IP addresses – all without third parties. None of our competitors can say that. We created a service with better reliability and speed for our customers, and established our services so they scale.
As far as innovation, we recently came out with Chameleon. This proprietary technology scrambles OpenVPN packet metadata to ensure it's not recognizable via deep packet inspection while still keeping it fast and lightweight. This means our customers can bypass restrictive networks put in place by governments, corporations and ISPs and have an open internet experience without sacrificing the proven security of VyprVPN.
I also want to point out our software development. We are continually investing in adding functionality to our services, so we aren't just running a VPN service, but constantly adding value to that service.
Can you explain "Data retention"? What is your policy?
Data retention is the act of storing customer data. It is becoming more and more widespread around the world. One of the things we really focus on as a company is transparency. We see a trend in the industry where more and more VPN providers are promising an anonymous VPN service. But reviewing this, there is zero transparency in how they actually handle data. So there are two types of anonymous VPN services. The first is the service that advertises an anonymous VPN, but their privacy policy simply says 'we don't log' so you can't be sure exactly what they really are doing. The second type advertises  an anonymous VPN, but when you read their privacy policy they are absolutely logging.
One thing you will find when you visit our website is we never use the word anonymity. We don't like to create false promise, so we state that we greatly increase privacy (a more realistic goal than anonymity). We are very clear in our privacy policy that we log a minimal amount of data for 30 days. These logs are absolutely not about what the customer is doing online; we are simply logging the IP address of the connection, the time of disconnection, etc. We do this in order to deliver the best service to users. It enables us to actually help the customer to see what happened if there were issues with their connection and help with network problems so we can offer top speed and performance.
You have an Affiliate program, how does it work and how do partners sign up?
Our program provides a dedicated in-house service referral with an affiliate marketing web portal with transparent reporting on clicks, sign-ups, and conversions.
You sign up on the website to be contacted by one of our affiliate managers who will reach out to establish the relationship, discuss the program with you, and discuss what you would like to do. Then you would have an on-site dedicated affiliate manager who will work with you on an ongoing basis to provide content, marketing banners, etc; and assist in running the program.
Our affiliate partners join because they have customers who are looking for privacy, security and freedom online. You have the ability to create content and drive those customers to sign up for our services.
Certainly VyprVPN gets high grades for support; can you explain your philosophy on customer support?
We believe that customer support equals customer success. We don't outsource our support, it is all internal. Our support is 24x7 with fast response times. We definitely have a tight-knit team, and support is integrated into our product team. The sales team is very committed to having customer support as an important front-end to our customer funnel. We are focused on giving our customers the best support they can get.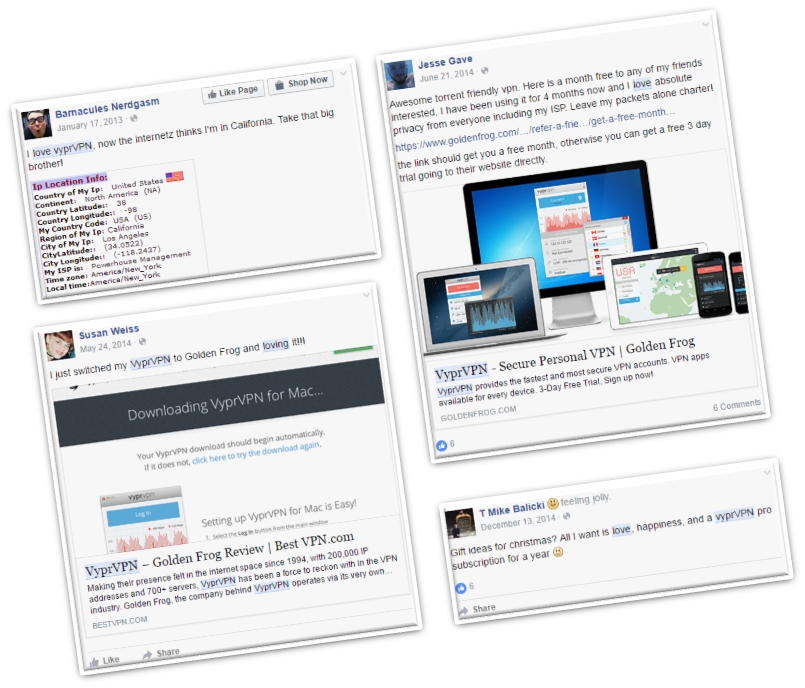 Facebook users seems to really love VyprVPN
What is the Open Internet and how did you get involved in it?
We started as an internet service provider in 1995, and since then our founder has been involved in the conversation around open access --- we actively lobby on behalf of it; we are at the forefront of advocacy and work closely with advocacy groups. Part of this work is discussing maintaining an open internet with government officials. You might be talking about the Open Internet Order which was passed in 2005 and tries to prevent access providers from restricting content, user access or limiting the services that can be used.
So what can the average Internet user do to advance the Open Internet?
If you are concerned I recommend you educate yourself. Learn where the internet is being censored and how it is being censored; where it is being surveilled and how it is being surveilled. It is such a growing phenomenon - if you look at the news you see these threats to internet freedom are increasing on a daily basis. Everyone should be aware of it, and everyone should be speaking out about the importance of the open internet. It's not something that is going away.
Based on your long experience with the Internet, what advice do you have for anyone thinking of starting a web technology company
In the beginning, really find your mission and then build a team to deliver that mission. Make sure everyone is focused on delivering that mission. This is one of the things we learned early on. We hire only people that believe in an open internet and privacy and security. They really want to make that available to everyone through an easy-to-use application and service. Take a look at who is out there, hire the best you can and make sure your team is focused on providing the solution you are selling.
That is really good advice. Having worked for several startups myself, it is really important to make sure everyone is on mission.
To wrap up, what does the future hold for VyprVPN and Golden Frog?
We are focused on continuing to evolve VyprVPN functionality and continuing to service our customers wherever they are around the globe on whatever product platform they are using. We will be focused on rolling out VyprVPN Server and staying in front of small businesses, medium and large businesses and consumers who have a need for a simple platform and for setting up their own internet server with products and services that help them.
Add your review on VyprVPN here >>

The interview was conducted by Shifra Stearman
"After 20 years doing product marketing in Silicon Valley, Shifra is now bringing her expertise in product messaging, content strategy and blogging to clients near and far. Shifra is passionate about using her love of words and awesome project skills easing her clients needs to produce helpful, findable content that converts prospects to customers."