VyprVPN is a popular VPN service created by Switzerland-based Golden Frog. This VPN has worked hard to establish itself as a trusted provider and advocate of internet privacy.
The provider has also been taking steps to improve its reliability, security, and quality of service based on customer requests. However, does VyprVPN really make the cut? Here's a preview: when it comes to privacy, geoblocking, and price, VyprVPN makes the cut. It can unblock Netflix, BBC iPlayer and Hulu, but where it falters is speed (read on for specifics). It's a good idea to familiarize yourself with some of the popular VPNs out there so you have something for comparison.
Short on Time? Here Are My Key Findings
VyprVPN Features — Updated in October 2021
💸

Price
$1.81/month

📆

Money Back Guarantee
30

📝

Does VPN keep logs?
No

🖥

Number of servers
700

💻

Number of devices per license
30

🛡

Kill switch
Yes

🗺

Based in country
Switzerland

🛠

Support
24/7 Live Chat Support

📥

Supports torrenting
Yes
Streaming — Quickly Unblocks Major Platforms
If you're buying a VPN to bypass geoblocks on popular streaming services like Netflix, VyprVPN is a great choice.
The provider has been working on a big overhaul of their streaming service in an attempt to improve the VPN's access to popular streaming sites in different parts of the world. In fact, it offers support for 45+ streaming libraries — giving you access to countless movies and TV shows.
VyprVPN's proprietary Chameleon™ technology prevents Deep Packet Inspection (DPI), which helps it escape geo-restrictions and VPN bans on popular streaming sites.
Unblocked: Netflix, Hulu, BBC iPlayer, Amazon Prime Video, HBO Max, Disney+, and more
I was able to access US Netflix on multiple servers without a problem. VyprVPN also gave me excellent speeds on the US servers, which is perfect for HD streaming. The VPN was also able to successfully access other popular US streaming sites like Hulu and Amazon Prime.
VyprVPN's UK server was able to access Netflix UK, ITV, Eurosport, and BBC iPlayer during my tests.
Its Canadian server allowed us to stream Netflix Canada, DAZN, MuchTV, and NHL.TV.
VyprVPN has made some recent upgrades to its German server. I was able to unblock Netflix Germany, Eurosport, RTL, Sky Go Germany, ARD, ZDF, and Pro 7.
Blocked By: DAZN, France.tv
With other server locations, I had mostly positive results, but also found room for improvement. The majority of countries I tested were able to access Netflix, but some popular locations like France were caught by the VPN ban. France.tv was blocked, and I couldn't access DAZN using an Italian server. I also wasn't as impressed with the speeds I got on European servers. If you're looking for a more global streaming experience, try one of the best VPNs for streaming instead.
In addition, I was able to access Twitch, and where available I could stream in 4k on most platforms. Overall, VyprVPN was more than suitable for most streaming.
Speeds — Impressive but Sometimes Inconsistent
VyprVPN claims to offer "blazing fast speeds" on its network of 700+ servers in 70+ countries around the world. I ran my own speed tests with a starting speed of 70 Mbps.
I first used VyprVPN's fast connect option to automatically connect to the fastest available server near my location. I got very impressive speeds of 50-60 Mbps.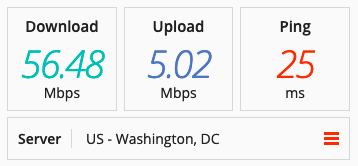 However, not all servers in my area gave me the same speeds. I only got 10-15 Mbps on the Canada server.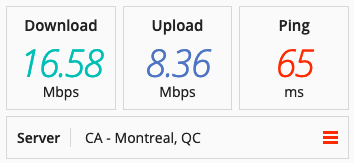 My speed tests in the UK and Germany both resulted in average speeds less than 15 Mbps.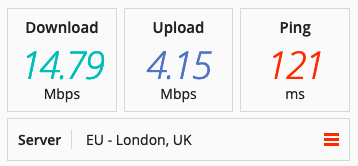 Overall, I was extremely impressed with VyprVPN's US servers, but I found inconsistencies in server speeds throughout the network. The Wireguard feature in theory helps to increase speeds. It includes a much slimmer codebase – which should make VyprVPN faster and more responsive. However, it's difficult to determine if this truly made a huge difference as the results were quite varied.
Are VyprVPN's Speeds Fast Enough for Gaming? Yes
VyprVPN delivers speeds fast enough for gaming, but the nearby servers perform better. You'll get lower ping (the response time of the servers) when connecting to closer locations, and speeds much more suitable for competitive gaming. I had a ping of 25 on my local server, which is good for most casual gamers. If you need the edge on other players though, you may also want to consider these top gaming VPNs.
Server Network — Extensive and Reliable
VyprVPN has 700 servers in 70 countries, and these are strategically placed for effective unblocking. I didn't have any issues connecting to servers in the US, France, Germany, or anywhere else I tried. The connections remained stable throughout all of my tests.
It's reassuring to know that VyprVPN has self-ownership of all of its servers. This means that another layer of security is added, as they are less susceptible to any 3rd-party influence. In addition, it adds extra reliability knowing that the provider has full control over the functionality of its network.
Security — Robust Features and Strong Encryption
VyprVPN protects your internet connection with secure military-grade AES 256-bit encryption. The VPN also offers additional protection with extra security features like an automatic kill switch and a NAT Firewall to block malware.
One of VyprVPN's best features is its proprietary Chameleon™ technology. With VyprVPN, not only do you get a choice of OpenVPN, WireGuard, and L2TP/IPsec protocols, but you can also select the unique Chameleon™ protocol.
Chameleon™ offers all the security benefits of OpenVPN, but also scrambles your metadata to prevent DPI, VPN blocking, and throttling. That makes it useful at overcoming restrictions in censored regions such as China.
The kill switch isn't activated by default, so you'll need to manually turn this on. It effectively blocks web traffic should your VPN connection fail. It's not available in the iOS app.
I detected no leaks during my security tests, which is good news for VyprVPN's protection. There were no IP, DNS, WebRTC, or IPv6 leaks, stopping any chances of your real location or personal data being exposed.
In addition, I ran the VyprVPN installation file through VirusTotal and it didn't show any malicious content. There were no hidden viruses or malware lurking in the file, so it's safe to install.
I was able to determine the encryption was fully working using Wireshark. When I followed the WireGuard UDP stream, all I could see was gibberish. This indicates that VyprVPN is doing its job to keep your data safe and secure. The new WireGuard protocol provides extra security at higher speeds.
Browse Safely With VyprVPN Today!
Privacy — Publicly Audited
VyprVPN is owned by Golden Frog and has a transparent privacy policy, so your data won't be sold on or leaked to 3rd parties. I scrutinized the policy to see exactly what their stance is on logging.
VyprVPN has a strict no-log policy. It also hired independent cybersecurity company Leviathan Security to perform a thorough privacy audit.
The results of the audit confirmed that VyprVPN does not collect any Personally Identifiable Information (PII) through its VPN service. With this move for transparency, VyprVPN became the first publicly audited No-Log VPN Provider.
In addition to this great privacy policy, VyprVPN is incorporated outside the jurisdiction of the 5/9/14-Eyes Alliance in privacy-friendly Switzerland and also adheres to the Safe Harbor Privacy Principles to provide maximum transparency when it comes to customer data.
Torrenting — Allowed
VyprVPN has never banned torrenting, but in the past it wasn't strongly encouraged. However, some recent policy changes have made this VPN much more torrent-friendly.
The provider's recent transition to a strict no-log policy means that VyprVPN is now able to offer a much stronger claim of privacy and anonymity than in the past — especially since the policy has been independently audited.
With no usage or connection logs on record, VyprVPN is unable to provide any information in response to DMCA requests.
While VyprVPN doesn't review the traffic on its service, you should not engage in downloading files that infringe copyright laws. Also, you should check that torrenting is allowed in your location first.
Does VyprVPN Work in China? Yes
If you're looking for a VPN that can give you access to the free web during a trip to China, VyprVPN is an excellent choice.
The VPN's proprietary Chameleon™ technology provides all of OpenVPN's security but also scrambles your metadata to prevent your VPN use from being identified. This protocol is great for bypassing restrictive censorship in China and other countries that don't allow free access to the internet.
In early 2021, VyprVPN introduced an extension of this technology, Chameleon™ with Smart IP. It works by changing the server IP periodically throughout your session without dropping the connection. This makes the VPN even harder for governments to detect.
That said, you should always exercise caution when using a VPN in China. Even with such advanced features, connectivity in China can't be guaranteed. Download the newest version of the app before traveling there, and enable the beta updates in the settings menu.
This also applies to other countries with higher censorship, like the UAE, Turkey, and Russia for example.
Simultaneous Device Connections — Up to 30
The VPN's features are similar across platforms. You can connect up to 3 simultaneous devices with a basic plan, and 30 simultaneous devices with a premium subscription.
Device Compatibility — Multi-Platform Support
VyprVPN is compatible with all major platforms. The provider offers a generous number of dedicated apps, and there are also set up guides to manually configure the VPN on a variety of other platforms.
VyprVPN is fully compatible with the following devices:
Windows
MacOS
Android
iOS
Linux
QNAP
Blackphone
Smart TV
Anonabox
Tomato, DD-WRT, OpenWRT, and ASUSWRT routers
Boxee
Synology NAS
Blackberry
Amazon Fire Stick
Fire TV
Unfortunately, VyprVPN doesn't offer any browser extensions. Sometimes these are handy to use whilst you're browsing, but they're not essential and I'd advise installing the full app. Take a look at these VPNs with extensions if this is something that you need.