VyprVPN Review & Test (2020) - Surprisingly Better than Others
| Features | Details |
| --- | --- |
| Number of countries with servers | 65 |
| Number of servers | 700 |
| Number of IP addresses | 20000 |
| Does VPN keep logs? | No |
| Does VPN include a kill switch? | Yes |
| Number of devices per license | 5 |
VyprVPN is a popular VPN service created by Switzerland-based Golden Frog. This VPN has worked hard to establish itself as a trusted provider and advocate of internet privacy.
The provider has also been taking steps to improve its reliability, security, and quality of service based on customer requests. However, does VyprVPN really make the cut? Here's a preview: when it comes to privacy, geoblocking, and price, VyprVPN makes the cut. It can unblock Netflix, BBC iPlayer and Hulu, but where it falters is speed (read on for specifics). Speedier VPNs like NordVPN could be a better choice for streaming and P2P sites.
Read on for a detailed review of VyprVPN's features and performance:
Streaming - Does VyprVPN Work with Netflix?
If you're buying a VPN to bypass geoblocks on popular streaming services like Netflix, VyprVPN is a great choice. The provider has been working on a big overhaul of their streaming service in an attempt to improve the VPN's access to popular streaming sites in different parts of the world.
VyprVPN's proprietary Chameleon technology prevents Deep Packet Inspection (DPI), which helps it escape geo-restrictions and VPN bans on popular streaming sites.
We were able to access US Netflix on multiple servers without a problem. VyprVPN also gave us excellent speeds on the US servers, which is perfect for HD streaming. The VPN was also able to successfully access other popular US streaming sites like Hulu and Amazon Prime.
VyprVPN's UK server was able to access Netflix UK, ITV, Eurosport, and BBC iPlayer during our tests.
Its Canadian server allowed us to stream Netflix Canada, DAZN, MuchTV, and NHL.TV.
VyprVPN has made some recent upgrades to its German server. We were able to unblock Netflix Germany, DAZN, Eurosport, RTL, Sky Go Germany, ARD, ZDF, and Pro 7.
With other server locations, we had mostly positive results, but also found room for improvement. The majority of countries we tested were able to access Netflix, but some popular locations like France were caught by the VPN ban. We also weren't as impressed with the speeds we got on European servers. If you're looking for a more global streaming experience, try one of the best VPNs for streaming instead.
VyprVPN Speeds
VyprVPN claims to offer "blazing fast speeds" on their network of 700+ servers in 60+ countries around the world. We ran our own speed tests with a starting speed of 70 Mbps.
We first used VyprVPN's fast connect option to automatically connect to the fastest available server near our location. We got very impressive speeds of 50-60 Mbps.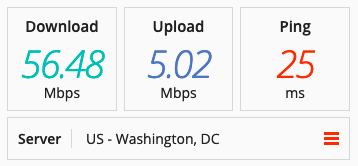 However, not all servers in our area gave us the same speeds. We only got 10-15 Mbps on the Canada server.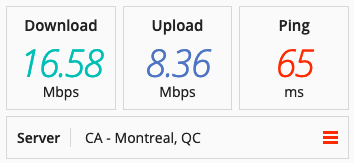 Our speed tests in the UK and Germany both resulted in average speeds less than 15 Mbps.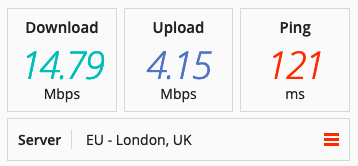 Overall, we were extremely impressed with VyprVPN's US servers, but we found inconsistencies in server speeds throughout the network.
Is VyprVPN Good for Torrenting?
VyprVPN has never banned torrenting, but in the past it wasn't strongly encouraged. However, some recent policy changes have made this VPN much more torrent-friendly.
The provider's recent transition to a strict no-logs policy means that VyprVPN is now able to offer a much stronger claim of privacy and anonymity than in the past. With no usage or connection logs on record, VyprVPN is unable to provide any information in response to DMCA requests. We will discuss this policy change in more detail below.
Security - Is VyprVPN Safe?
VyprVPN protects your internet connection with secure AES 256-bit encryption. The VPN also offers additional protection with extra security features like an automatic kill switch and a NAT Firewall to block malware.
One of VyprVPN's best features is its proprietary Chameleon technology. With VyprVPN, not only do you get a choice of OpenVPN, L2TP/IPsec, and PPTP protocols, but you can also select the unique Chameleon protocol.
This feature offers all the security benefits of OpenVPN, but also scrambles your metadata to prevent DPI, VPN blocking, and throttling.
We detected no leaks during our security tests, which is good news for VyprVPN's protection.
Does VyprVPN Keep Logs?
Near the end of 2018, VyprVPN announced its transition to a strict no-logs policy based on customer feedback. However, the provider didn't stop there. VyprVPN also hired independent cybersecurity company Leviathan Security to perform a thorough privacy audit.
The results of the audit confirmed that VyprVPN does not collect any Personally Identifiable Information (PII) through its VPN service. With this move for transparency, VyprVPN became the first publicly audited No-Log VPN Provider.
In addition to this great privacy policy, VyprVPN is based outside the jurisdiction of the 5/9/14-Eyes Alliance in privacy-friendly Switzerland and also adheres to the Safe Harbour Privacy Principles to provide maximum transparency when it comes to customer data.
Does VyprVPN Work in China?
If you're looking for a VPN that can give you access to the free web during a trip to China, VyprVPN is an excellent choice.
The VPN's proprietary Chameleon technology provides all of OpenVPN's security but also scrambles your metadata to prevent your VPN use from being identified. This protocol is great for bypassing restrictive censorship in China and other countries that don't allow free access to the internet.
VyprVPN has also been working to improve their server reliability in this part of the world after some recent problems with their Hong Kong server. They have significantly improved the speed and reliability of many of their Asian servers.
Price and Value for Money
The premium tier allows you to take advantage of Chameleon technology, one of VyprVPN's best features, you also get a total of five simultaneous connections. Standard tier offers three simultaneous connections and you don't get access to Chameleon.
The premium tier offers unlimited bandwidth and access to all server locations around the world. You can choose between monthly, yearly, and bi-yearly subscription plans too.
VyprVPN offers a 30-day money-back guarantee on its plans. You can pay using: credit cards, Alipay, and PayPal. There is no option for Bitcoin, so if you're particularly concerned about maintaining your privacy, this could be a problem for you.
Is VyprVPN Compatible with my Device?
VyprVPN is compatible with all major platforms. The provider offers a generous number of dedicated apps, and there are also set up guides to manually configure the VPN on a variety of other platforms.
VyprVPN is fully compatible with the following devices:
Windows
MacOS
Android
iOS
Linux
QNAP
Blackphone
Smart TV
Anonabox
Tomato, DD-WRT, OpenWRT, and ASUSWRT routers
Boxee
Synology NAS
Blackberry
The VPN's features are similar across platforms. You can connect up to three simultaneous devices with a basic plan, and five simultaneous devices with a premium subscription.
VyprVPN Customer Service
In the past, we have had complaints about VyprVPN's lack of live chat service and slow response times. However, we were pleased with the improvements that VyprVPN has made to their customer service.
You can now contact support through an email request form or their 24/7 live chat service. We had positive experiences with the VyprVPN customer support team on both platforms. Our email request through the website was answered within 20 minutes, and we got a response from the live chat service within several minutes. Both methods are responsive, polite, and helpful.
The VyprVPN website also provides some great resources to help with common issues. You can find an FAQ page, troubleshooting guides, set up tutorials, and some general information about VPNs and online privacy.
User Experience
The VyprVPN native Windows app is simple to install and straightforward to use. When you open the app for the first time, it automatically selects the fastest server for you to connect to.
The app's main screen displays your location and connection status at the top. Below this, there is a simple interface that allows you to open the server list or settings menu.
Options include the ability to autoconnect when you connect to untrusted wifi, an automatic kill switch, and advanced malware protection.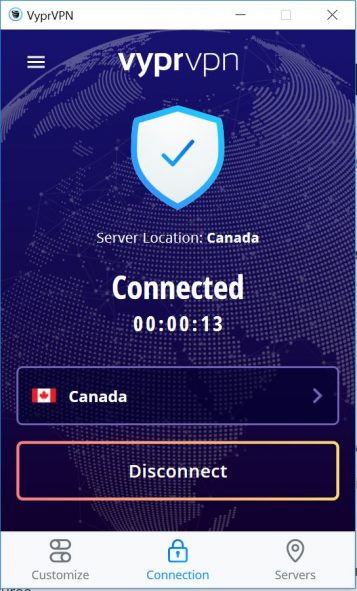 At the bottom is a large connect button that is blue when you are disconnected and transparent while you are actively connected. Pressing this button will automatically connect you to your most recent server location.
You can also click on the location directly above the connect button to manually select your server from a list of locations. There is also an option to quickly connect to the fastest available server.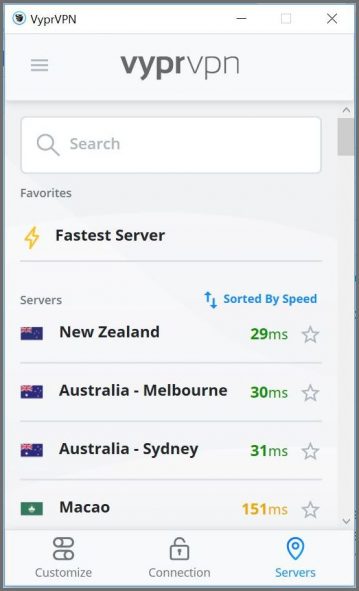 One convenient feature is the way that the server location list displays a measure of connection speed for each location, so you know what servers will give you better speeds. A smaller ping means faster speeds.
The VyprVPN interface is user-friendly and set up in a way to provide easy access to important features.
Conclusion
It's clear that VyprVPN is a great VPN provider that is committed to constantly improving their quality of service. We were impressed with the recent changes that the provider has made to their performance, privacy policy, and customer service.
After these recent changes, we can now recommend VyprVPN for anyone looking for online privacy, torrenting support, and the ability to bypass censorship and streaming geo-restrictions.
VyprVPN can unblock Netflix. However, when it comes to speed there is a lot of room for improvement. Ideally, we would like to see more consistent fast speeds across servers and anonymous payment options. We tested and rated the top 5 fastest VPNs, and concluded that ExpressVPN won out in that category.
| Features | Details |
| --- | --- |
| Number of countries with servers | 65 |
| Number of servers | 700 |
| Number of IP addresses | 20000 |
| Does VPN keep logs? | No |
| Does VPN include a kill switch? | Yes |
| Number of devices per license | 5 |
VyprVPN is easy to set up no matter what device you're using. The provider offers dedicated apps for a number of platforms, including Windows, Mac, Android, iOS, Smart TVs, and routers. There are also setup tutorials available for many other popular platforms.
The installation process is straightforward. When you first open VyprVPN's app, a brief tutorial appears that walks you through the settings and helps you set up the VPN to match your preferences.
The main app interface displays your connection status, important settings like whether the kill switch is enabled, and a graph of your current upload and download speeds. The kill switch is turned off by default.
Clicking Connect will direct you to your most recent server location. You can also click the location button on the bottom right to manually select your server location or auto connect to the fastest available server.
VyprVPN has a standard and premium tier, and you can choose to pay monthly, yearly, or bi-yearly. VyprVPN also offers a 30-day money-back guarantee if you're not satisfied with the service, and you can pay using a credit card, PayPal, or Alipay.
Bitcoin and other anonymous payment methods are not currently accepted.
Reliability & Support
4.7 / 5.0
There are several ways to reach out to VyprVPN's customer support if you run into any problems. You can use the website's 24/7 live chat feature or submit an email request form through the support section of the website.
We were pleased to see that VyprVPN has made some recent improvements to the quality of their customer support. With both contact methods, we found VyprVPN's customer support team to be fast, responsive, and helpful.
With their Chameleon technology and strong commitment to privacy, Vypr has a lot to offer.
VyprVPN is a really easy-to-use VPN with a ton of attractive features for users of all experience levels. This is a great VPN for travel to China, streaming US Netflix, and torrenting.
Recent updates to VyprVPN's privacy policy have improved the VPN's ability to provide privacy and anonymity. However, we would like to see speeds more consistent across servers.
Apps for all major platforms
Fast speeds with 700+ servers in over 70 locations
Bypasses the great firewall of China
Unblocks US Netflix
Unlimited bandwidth and server switching
Up to five simultaneous connections
30-day money-back guarantee
Money Back Guarantee (Days) :
30
Mobile app :
Number of devices per license :
5
Watch the short video review and tutorial below of VyprVPN
Jack G
Works alright, many servers, bad for Linux
I wanted to pay Premium, but Chameleon does not work on Linux Mint (so they say), so there goes any added security... I will be switching out soon, Very hard to setup on Linux via Terminal, although they have instructions and suggestions--adequate at best---took a couple of months to get it to work. Customer service is responsive after a few days...There are very slight delays if accessing other geo location away from your own (milliseconds). I came here, and was not aware they were logging and reporting back to ISPs and others. I hate being lied to, especially when I'm paying good money for privacy (banking and bookkeeping clients) --that alone is sufficient to let them go. This is probably a good starter VPN to learn the industry--better then most--(I've had Nord, kept dropping connection, and less servers thus far--unless they've expanded)...At this point, I just want the ultimate in privacy and speed---and oh yea, I hate my ISP too (Frontier)
---
See Plans
Reply to this review
Did you know? We approve all user reviews. Companies can't pay to include or exclude any.
Bob

Jan 7, 2020

They were audited in 2018 to prove they do not log so they are not reporting back to your ISP or others, so they are not lying to you.

---

See Plans

Reply to this review
Anonymous
Unreliable service, horrible customer service
I emailed them to cancel and receive a pro-rated refund after their service,I had not worked for at least a full month, but they failed to even cancel my account, and now claim that I owe them for the next billing cycle. By email, in our conversation, they repeatedly failed to professionally comply, and are still dishonestly pretending that I owe them.
---
See Plans
Reply to this review
D. Kanellos
Beware of VyprVPN business practice
Based on positive reviews, I tried VyprVPNs risk free trial. As is customary amongst many providers, they charge your credit card on enrollment. The IP address assigned geolocated to three different countries, apparently had not completed transition. My streaming traffic was blocked for in-country restriction., Contacting support was no help of course so I canceled the service. Three inquiries and several weeks later, no refund. Doing my part to inform the public. Buyer beware.
---
See Plans
Reply to this review
Compare VyprVPN with the top alternative VPNs