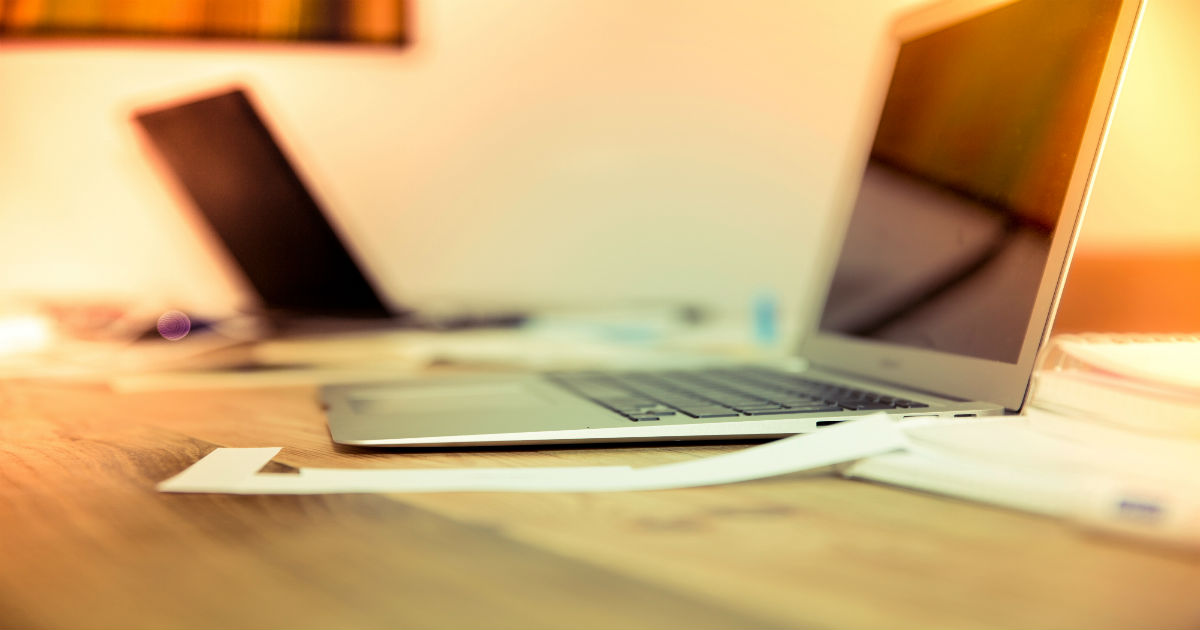 We Tried NordVPN's Customer Service – This is What We Learned
My favorite way to spend the weekend is on my couch, having food delivered and binge-watching Netflix – I'm sure many of you can relate! Unfortunately for me, I currently live outside the US, so every time I try to access Netflix USA, I keep getting that frustrating proxy error message and find myself blocked out.
Finally, a friend told me I could use a VPN to access Netflix USA. In the past, almost any VPN could access all the awesome USA content. But then, Netflix started implementing anti-VPN measures. As time went by, every VPN I tried eventually stopped working with Netflix.
This was until I stumbled upon NordVPN, one of the most popular names on the VPN scene. Due to my bad past experience with other VPNs, I decided to be very cautious this time, and contact their customer support to make sure that NordVPN could, in fact, work with Netflix.
When I visited the NordVPN website, I learned that they offer three different forms of customer support:
Email support through a ticket system
Live chat, available 24/7
The FAQ section on the website, which I found easy to navigate through and very informative
My questions were simple and to the point:
Can your VPN unblock Netflix?
Which protocol should I use if I want to access Netflix USA?
From previous experience, I knew that the support ticket system through email works at a snail's pace, and it would take days to receive a reply. However, it's clearly stated on the website that the reply could take up to 48 hours to come through.

I sent the request with both my questions at 6:59 pm and set my expectations to 2 days later.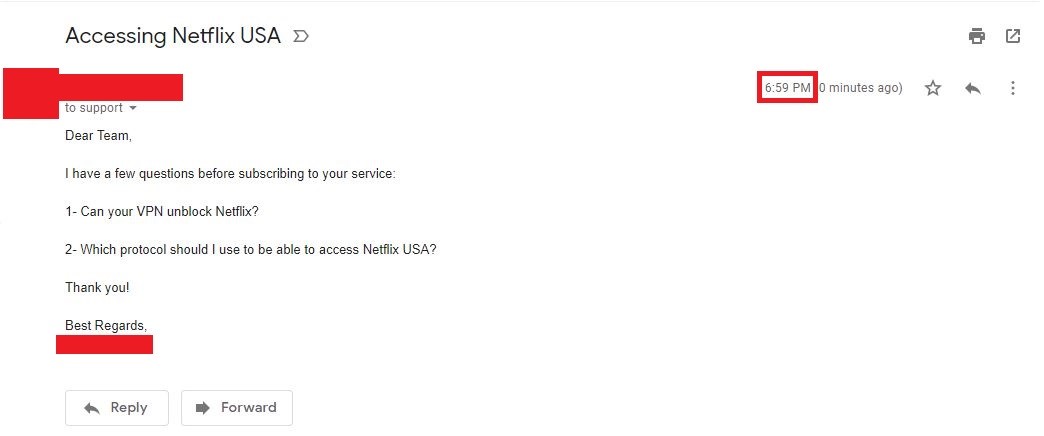 In the meantime, I decided to try out their live chat channel, which was supposed to be much faster. Well, NordVPN met my expectations and replied instantly. The moment I pressed enter to submit my question, I was connected to the agent. The answer to my first question was very informative and the support agent I spoke to was extremely professional and polite.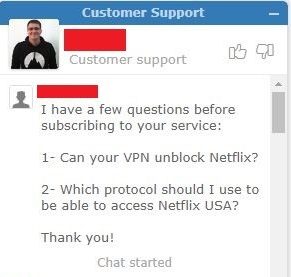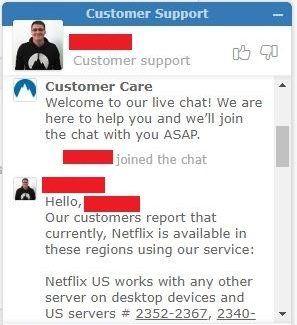 However, my second question about the protocols I should use was not answered. Instead, I was given a link to a detailed article regarding the updated availability of Netflix access. Fortunately, the article was very helpful, easy to understand, and gave me the answer I was looking for.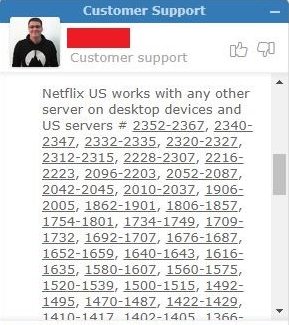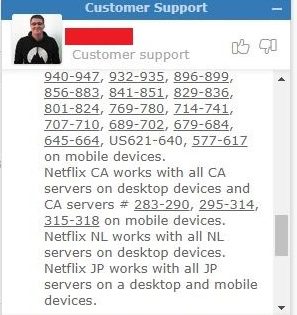 They also gave me a list of US servers that can access Netflix USA and told me which servers to use on different devices.
At the end of the conversation, I was told that it isn't fully guaranteed that I'll be able to access all geo-blocked services 24/7, but they are constantly working to improve that.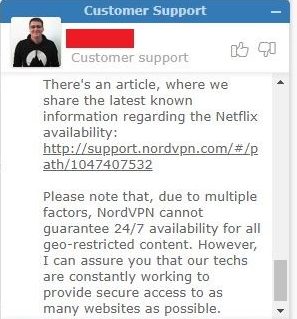 I consider this to be one of the most honest and transparent ways to approach the issue. As a customer, this builds trust between me and NordVPN. Hands down, this was definitely one of the best live chat customer support experiences I've ever had.
On the other hand, the very next day I received the email reply from the NordVPN support team. To be precise, the response came at 10:49 pm - less than 24 hours after I sent them my questions.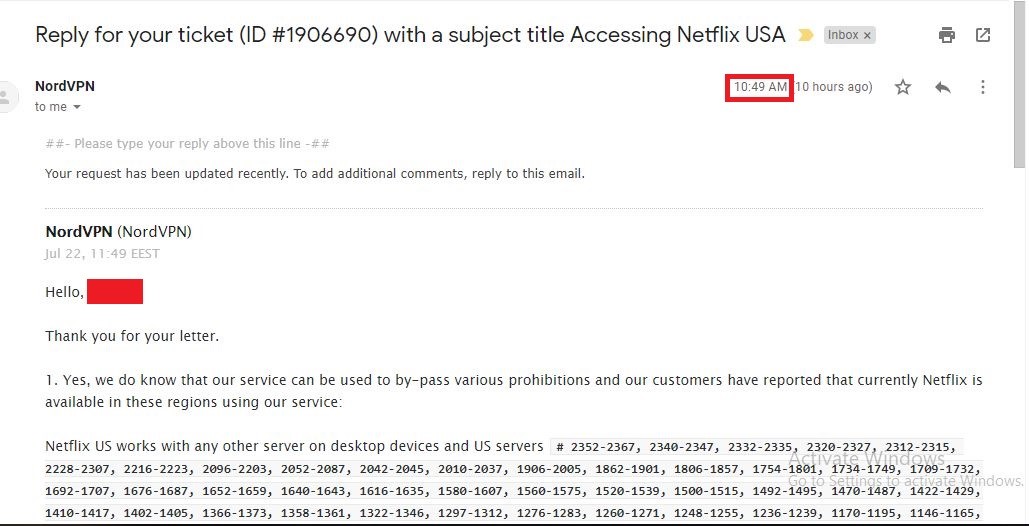 The response itself was identical to the one I got through the live chat, meaning it's probably an automatic response to a commonly asked question. Either way, it provided me with the information I needed within a convenient time frame.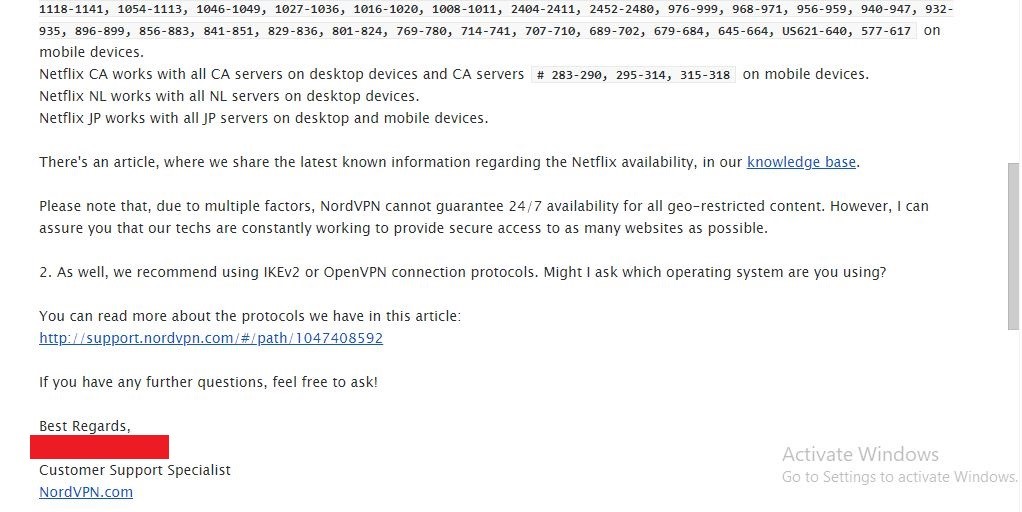 While the live chat support gave me a very comprehensive answer to my first question, they failed to provide me with a direct answer to my question about the protocols I need to use for Netflix.
The email response provided me with a more informative answer about the recommended protocols for Netflix access.
From my experience, if you're looking for an automatic answer for a quick issue you need to be solved, then I would recommend contacting NordVPN's live chat support team. However, if you have a slightly more complex issue and need a more informative and detailed answer, and you don't mind waiting a bit longer, then it would be wiser to get in contact with the support team via email.
All in all, I'm happy to say that NordVPN successfully won my trust when it comes to proficiency, efficiency, and a great overall customer service experience. I'm also happy to tell you I'll be spending this weekend on the couch watching some of my favorite movies, thanks to NordVPN. Now, my only question is, what should I order first – pizza or Chinese?
If you'd like to read a more detailed opinion about NordVPN's overall performance, then check this full review. But if you find that NordVPN isn't for you, then I recommend you check out one of our other top-rated VPNs instead.
Have you ever contacted NordVPN's customer service? What was your experience like? Please leave a comment below, and let me know what you think!