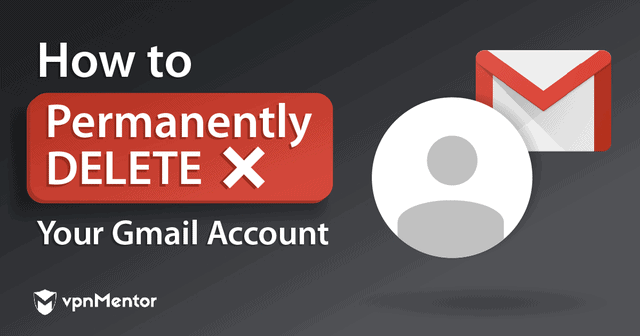 How to Permanently Delete Your Gmail Account
While many would argue that Gmail is the best email platform there is, there are those who disagree. Whether it's the promotional emails, the different labels and tags, or you're worried about your security, Gmail might not be the best email option for you.
Luckily, there's a simple way to delete your account, but since you're most likely using Google services on other platforms (like Youtube or Google search), it's best to double check that the rest of your information won't be deleted too.
(If you want to delete all of your Google accounts, rest assured, you can do that, too. However, this article is geared towards those that simply want to delete their Gmail account.)
BE AWARE:
Every click, every share, and every download can be and is tracked, stored, and sold by app creators, internet service providers, and telecom companies.
Only a VPN like ExpressVPN can protect you
 and prevent these third parties from collecting and selling your sensitive data.
Before permanently deleting your Gmail account, there are a few things to consider and checkoff:
If your Gmail account is associated with any social media accounts, you won't be able to recover or reset your social media account information. This includes Facebook, Youtube, iTunes, Instagram, etc. Before you delete your account, create an alternative email account to switch everything to.
If you receive any email subscriptions that you want to continue reading, you will have to change your account information there, too.
Any contacts or information stored on with Gmail will be lost. It's a good idea to download your data and file it somewhere else.
Deleting your Gmail account will not free up your username. So, if you ever want a new Gmail account, you will need a complete new username.
Deleting your Gmail account does not delete your Google account, so you will still be able to access Drive and other Google features, if you still want to.
Now that you're all ready, here's how to delete your Gmail account. (You can complete the same steps on your phone.)
How to Delete Your Gmail Account
Step 1 - Sign into your account
Sign into your Google Account by using myaccount.google.com and click Sign in. Enter your Gmail details and click Sign in.
Step 2 - Go to your account setting
On the Accounts page, find Data & personalization. This is usually towards the left-hand side of the page, along with other settings.
Step 3 - Choose Delete Products
Next you'll need to select Delete a service or your account.
Google gives you two options, to delete a Google service or your entire Google account. If you only want to get rid of Gmail click on Delete a service, if you want to delete your account click on Delete your account.
You will be prompted to re-enter your password and sign in.
Step 4 - Delete Your Gmail Account
Before you proceed, you will receive a final warning on what deleting your account entails
If you are ready to continue, click on Delete Account.
Step 5 - Open up your new account
There will be a message instructing you to open an email that was sent to your new primary email address. At the bottom of the memo, click the "OK, Got it" button.
Step 6 - Confirm your status
You will receive a confirmation email. Check the details and click on the confirmation link. A page will open asking if you want to confirm that you want to delete your Gmail account.
Enter your password and click "Confirm." Finally, you will receive a confirmation message that your account has been deleted.
It takes some time and a bunch of pages to click through, but deleting your Gmail account isn't difficult at all.
Privacy Alert!
Your data is exposed to the websites you visit!
The information above can be used to track you, target you for ads, and monitor what you do online.
VPNs can help you hide this information from websites so that you are protected at all times. We recommend ExpressVPN — the #1 VPN out of over 350 providers we've tested. It has military-grade encryption and privacy features that will ensure your digital security, plus — it's currently offering 49% off.