PureVPN Now Works with Netflix – Here's How! (2020 Update)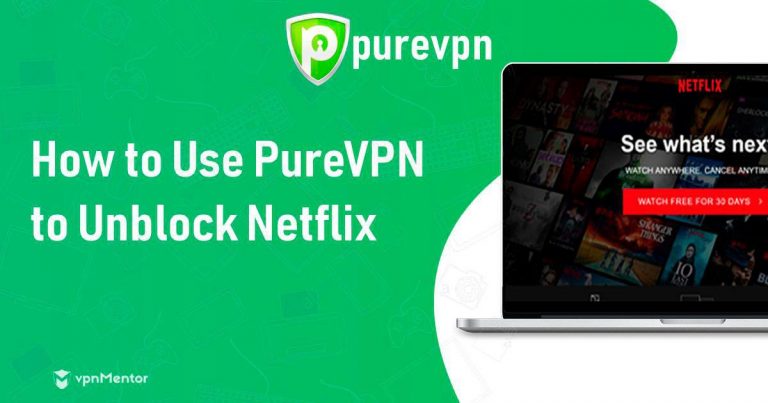 Netflix is a crowd favorite for streaming the shows and movies you love. That is, unless you can't actually stream them.
Unfortunately, licensing and distribution deals are a big issue for those who want to access the full range of Netflix content from anywhere.
Because your Netflix library depends on your current location, you may miss out on some great titles. For example, classic series like Parks and Recreation, House M.D., and The West Wing are all available on Netflix US, but you won't find them in the UK version (and others).
Even worse, if you're visiting a different country, you'll have to use the Netflix catalog for that location. This means you may lose your favorite movies, or the series you're binge-watching, during your stay abroad.
Many smart users have chosen to avoid these annoying restrictions and deal with the Netflix geoblocks by using a Virtual Private Network (VPN). However, not all VPN services are equipped to deal with Netflix's advanced restrictions.
PureVPN used to be an example of this in the past. It struggled with Netflix's strict detection software until recently. Not anymore! PureVPN once again gets past the Netflix blocks with ease. All you need is the right servers – and this VPN makes it super easy to find them. Plus, PureVPN's other great features make it a user favorite.
Quick Guide: How to Unblock Netflix with PureVPN
Sign up for a PureVPN subscription.
Install the PureVPN app (or browser extension) and select Stream mode and choose Netflix from the Channels tab (for the browser extension, choose Netflix from the Popular Websites tab).
Log into your Netflix account and enjoy all the fresh titles!
Unblock Netflix with PureVPN Now!
Using PureVPN to Access Netflix US
Netflix has many different versions for its supported regions. This is nothing new – however, VPN users had a much easier time unblocking the content they wanted in the past.
This changed in 2014, when the popular streaming platform was pressured into coming up with new detection measures to limit access via VPNs or proxies. As a result, many people who traveled frequently (or wanted a bigger Netflix library in their own country) began running into advanced VPN blocks when trying to load Netflix.
Today, the cat-and-mouse game between Netflix and VPN providers continues in full force. Some VPNs are determined to keep bypassing the strict Netflix blocks. After making some improvements, PureVPN is back on the list of services that work with the streaming giant.
Currently, PureVPN promises unblocking for Netflix US and UK, which have two of the biggest catalogs available. If you like to travel a lot, PureVPN can give you smooth access to the full Netflix library in your home country, no matter where you go.
During our research, we came across an interesting piece of information. In their FAQ for Netflix VPNs, PureVPN recommended pairing their service with an extra dedicated IP address to guarantee access to Netflix:

To see if that was really the case (and to make sure we could still unblock Netflix) we contacted PureVPN's customer support. Here's what they had to say: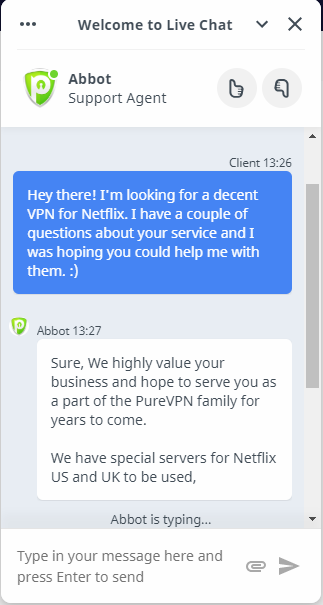 Support confirmed that we could use the special servers for Netflix US and UK, which are easily found in the PureVPN apps and browser extensions. We also asked about dedicated IPs: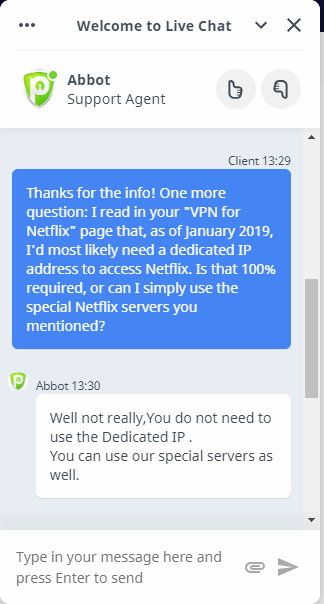 As you can see, getting an additional dedicated IP with your PureVPN plan isn't needed for access to Netflix. That said, PureVPN is one of the cheaper VPNs when it comes to static IPs, and if you'd ever need one for something else (such as online banking) you won't have to spend a small fortune.
In our tests, PureVPN worked flawlessly when we connected to its Netflix servers for the USA and UK. But keep in mind this may change – we recommend getting in touch with support to make sure everything's working before you commit to a PureVPN subscription.
Looking for a VPN that reliably unblocks a bunch of Netflix libraries around the world? NordVPNis our top pick in user and expert reviews.
What to Look for in a VPN for Netflix
If your top priority is streaming without geoblocks on Netflix and other services like Hulu, BBC iPlayer, and HBO GO, there are a few important features you need out of your VPN.
First, make sure it offers unlimited bandwidth. Streaming eats up a lot of data, and you don't want any annoying limitations here.
Second, take a look at how fast your VPN is. We know testing speed before purchasing a VPN can be tricky, so we recommend doing a bit of research and reading user reviews to find accurate information.
Last but not least, you'll need servers in the region you're trying to access – the more, the better. For example, accessing the Netflix US library requires a VPN server that will assign you an IP address in the USA.
PureVPN gives you all of that – with 2,000+ servers in over 140 countries, you won't have to look long to find the perfect server for your needs. And if streaming is all you care about, you have special streaming servers for many popular websites and services – including Netflix!
If that's not enough, take a look at what else PureVPN has to offer:
Fast server speeds for high-quality streaming without any buffering
Unlimited data so you can enjoy long streaming sessions
Built-in speed test tool to find the best-performing servers straight from the app
Split tunneling which allows you to choose the traffic you want your VPN to cover
Strong 256-bit encryption to protect you online
Apps for all major platforms including Windows, Mac, Linux, Android, iOS, browser extensions (Chrome and Firefox), router applets, and more!
Five simultaneous connections so you can get the full Netflix experience on all your devices at home
Responsive 24/7 customer support for help with all your server questions (or issues)
Overall, PureVPN is a great way to avoid geoblocks and enjoy your favorite entertainment without restrictions.
Not sure this is the VPN for you? Try it out for up to 31 days and get your money back with the refund guarantee, or check out how real users rate it in their reviews.
VPNs Aren't Just About Netflix
PureVPN is most impressive when it's used for streaming, but there's more.
In addition to easy access to geoblocked content worldwide, you get solid 256-bit encryption and support for all major VPN protocols (including OpenVPN). This makes PureVPN a great pick for protection from hackers, whether at home or on public wi-fi.
Not only will you enjoy an extra layer of security, but you may even get to save some money with your VPN! Some services (such as VoIP providers) love charging different prices depending on your location – with a VPN, you can get the best deal every time by "changing" your country. Super useful when traveling!
That said, PureVPN isn't the perfect pick for those who want full privacy. This provider does keep connection logs (although your real IP and VPN IP aren't collected), and it's been known to hand over user data to authorities in the past.
The bottom line? PureVPN works very well for streaming and protection, but you won't find a true zero-logging policy here.
Get the Most out of Netflix with PureVPN
Thanks to its newest updates, PureVPN will help you enjoy Netflix in all its glory. You won't have to worry about any limitations to your Netflix subscription, even while you're on the road – with easy and secure access to its US and UK catalogs, you won't be missing out on much entertainment.
If you're still having doubts about PureVPN, remember you can try before you truly buy! In addition to a 31-day, full-satisfaction money-back guarantee, PureVPN also offers an affordable three-day paid trial with the full range of features.
Privacy Alert!
You are exposing yourself to the websites you visit!
The information above can be used to track you, target you for ads, and monitor what you do online.
VPNs can help you hide this information from websites so that you are protected at all times. We recommend NordVPN — the #1 VPN out of over 350 providers we've tested. It has military-grade encryption and privacy features that will ensure your digital security, plus — it's currently offering  68% off.