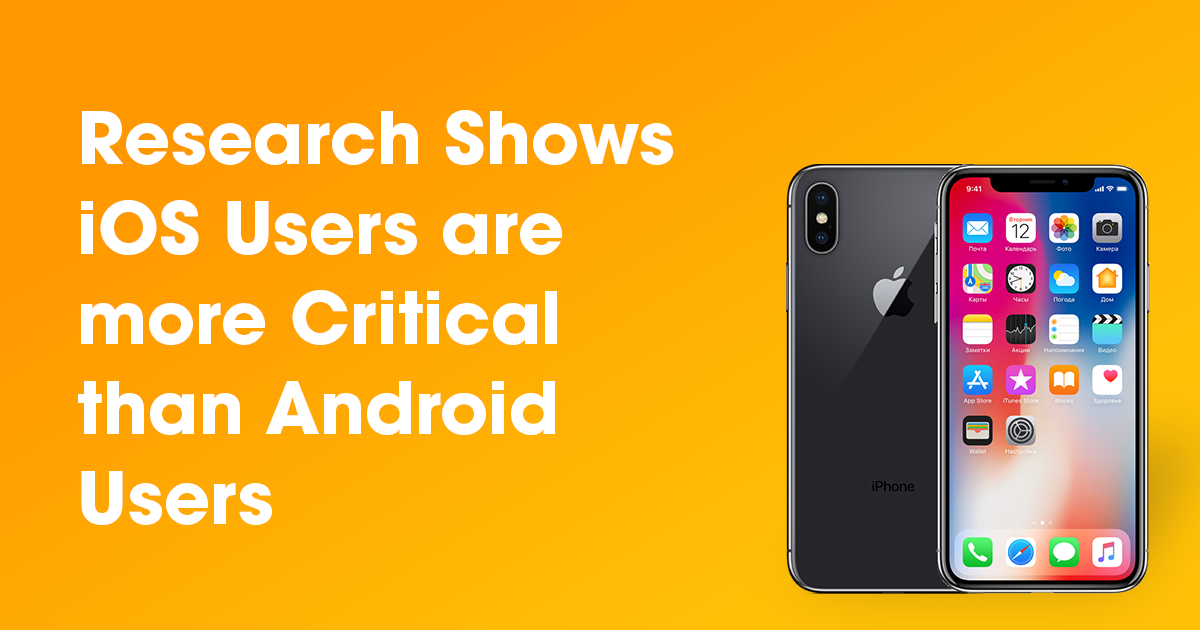 Research Shows iOS Users are more Critical Than Android Users
Have you ever wondered why you have an iPhone, but your friend will only use an Android, or vice versa? It's more than just which one has the prettier box or better ads.
According to multiple studies, the smartphone you choose reveals a lot about your personality, which draws certain people to pick one over the other.
iPhone users are generally better off financially and have extroverted personalities, while Android users are typically more humble and prefer the uniqueness that comes with each Android-powered device.
How Does This Affect App Ratings?
One of the more interesting places that we saw this manifest was in the App Store and Google Play rating systems.
We took a look at some of the top-rated apps in both the App Store and Google Play and went to the reviews and ratings to see how they stacked up against each other.
For this test, we selected a range of apps that included social media, file sharing, VPNs, browsers, and more. The apps we looked at run in both operating systems and have similar features and functionality for all their users. Essentially the only difference was the device itself and the end user.
Based on the star systems, and the actual reviews that we read, it was clear that overall, Apple users are far more critical of the apps than their Android counterparts. One interesting exception to these findings were Google products, Gmail and Google Drive, both which received a higher score in the App Store than they did in Google Play.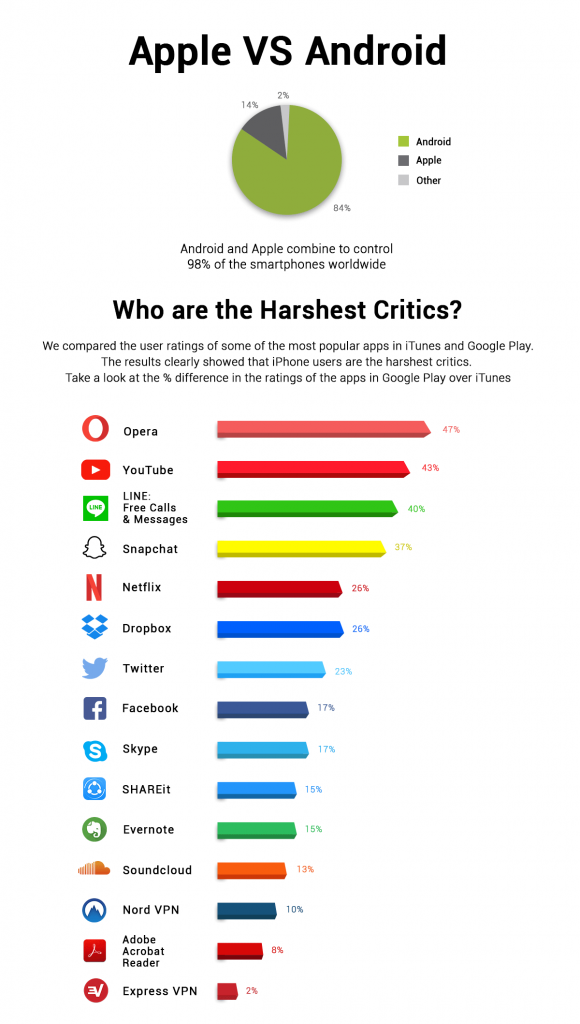 One of the largest differences we saw was with the Opera Mini Browser that had nearly a 2-star difference, with Android users loving the app and Apple users barely tolerating it. There were some apps, like ExpressVPN, that had a matching rating among all users.
A Deeper Look at Some Apps
Opera Mini Browser
As we mentioned above, Opera has a 2-star difference – that's 47%!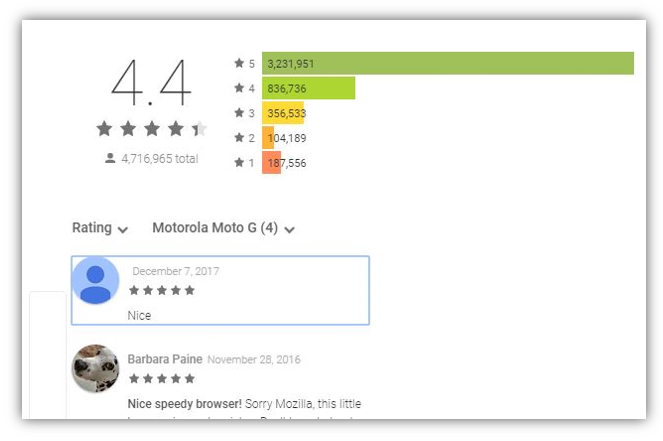 Opera Mini Browser Android Rating

Opera Mini Browser iTunes Rating
So what can cause such a huge discrepancy between the two apps? Can you spot a design difference in the two screenshots?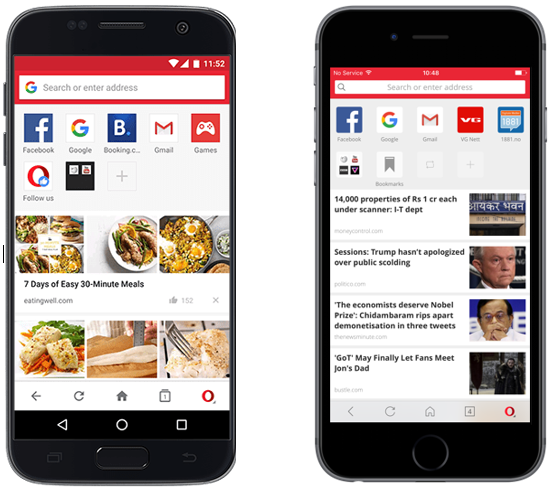 Opera Mini Browser's Android and iPhone App
Unfortunately, Opera discontinued its iOS and Android apps in early 2018. If you're looking for an app with similar features, our experts have written a comprehensive guide to the top 5 free alternatives to Opera.
Facebook
It may come as a surprise, but Facebook – the popular social media site – has fewer than 3 stars for their iPhone app and 4.1 stars on their Android app.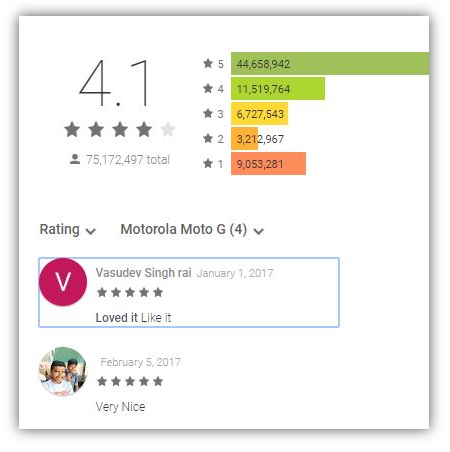 Facebook Google Play Rating

Facebook iPhone rating
As of January 2018, 95.1% of Facebook users login with their mobile devices, verses only 31.8% who browse Facebook on a computer.
Both Android and iOS Facebook apps are nearly identical and offer the same benefits and ease of posting. Looking at the two images below, the only real difference is the blue header on the iPhone profile page as opposed to the search bar going across the cover image in Android, and the font. Can minor differences like that cause such a big 17% shift in ratings?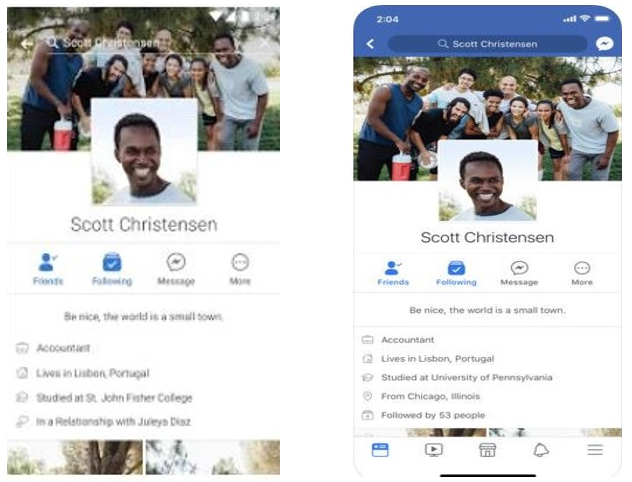 Facebook Android and iPhone apps
It's easy to just call iPhone users "snobs" or "elitist" when looking at this kind of data, but the truth might be slightly deeper than that.
What Does This Mean
Studies show that iPhone users come from wealthier backgrounds, have advanced degrees, and come from higher social classes than Android users.
This is probably due to the iPhone's exorbitant cost, which isn't affordable to many in developing countries. In places like Russia, Iran, South Africa, Argentina, and Brazil, Android is the popular choice. Whereas in the USA, Canada, and Australia, iPhones lead the market.
Many iPhone users actually look down on their Android counterparts, since they often use discount phones or cheap services that aren't available for the iPhone.
Of course, this kind of elitist attitude comes with the expectation that their products should be perfect or close to it. They aren't paying top dollar for something that would be good enough for an Android. It must meet the high standard that Steve Jobs set when he marketed the iPhone.
So, if you're ever being criticized by a loved one, first check which phone they have before deciding if your feelings should really be hurt or they are just iPhone users lashing out.
Further Reading: