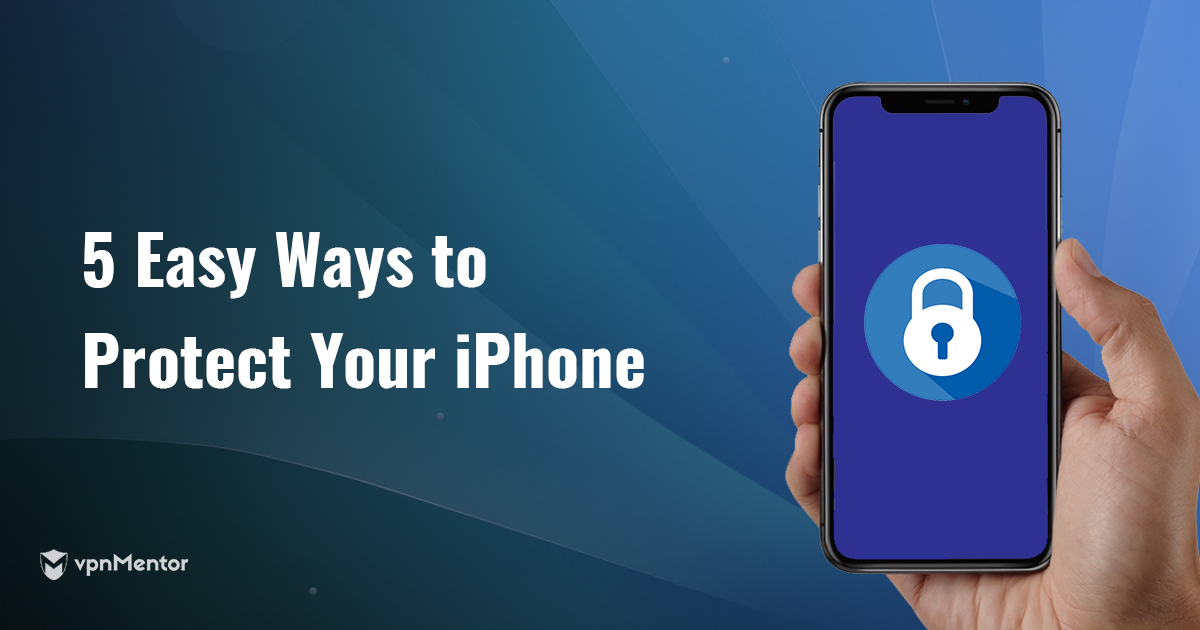 5 Easy Ways to Protect Your iPhone and Privacy in 2023 FREE
Apple prides itself on setting a high standard for user privacy and data security on every device it produces. However, your iPhone might not be as secure as you think.
It's true that iPhones are more difficult to hack than other mobile devices, as they are produced by one manufacturer dedicated to keeping them secure. Dozens of companies produce Android devices, which means greater risk of vulnerabilities.
However, hackers have found creative ways to steal your sensitive data from the iPhone apps collecting it on a daily basis. They could grab your browsing history, personal images, current location, and even passwords without you ever knowing it.
What's more, Apple has no control over where your information travels once it's collected by apps. Some app providers harvest and sell your data, which means that iPhone privacy concerns go well beyond the risk of hacking.
Luckily, there are many steps you can take to minimize your risks, and they are all FREE or very cheap. Below, we'll detail the best ways to protect your privacy on your iPhone, so that none of your sensitive data gets into the wrong hands.
Why It's Important to Keep Your iPhone Private
The possibility of someone watching you or sharing pictures and videos of you without your knowledge is disturbing at the least, and dangerous at worst. Unfortunately, it can happen, and it's just one of many ways your iPhone can put your privacy at risk.
Hacking and Malware Risks
Security researcher Felix Krause discovered that hackers can spy on you through your iPhone camera, thanks to apps they create by abusing iOS permission settings.
When you download an app, it asks your permission to access different components of your iPhone – your camera, photos, location settings, etc. Once you grant permission to the app, it can access those components every time the app runs.
That means an app compromised by hackers can silently snap photos and record videos of you, or even run facial recognition software in an attempt to steal your identity.
In addition to making you vulnerable to spying, compromised apps could infect your iPhone with malware. "Jailbreaking" your iPhone to download third-party apps not offered by the Apple Store increases the risk of a hacking or malware attack enormously.
Here, the first step toward securing your data and device is simple, since all you have to do is nothing: Do not jailbreak your iPhone.
Device Theft
We've all had those moments of distraction, not realizing we left our cell phones at the coffee shop or grocery store until hours later. Then terror sets in. Passcodes and a fingerprint touch ID should prevent a phone thief from accessing your data, but will they, really?
In spite of these security measures, there is a chance a dishonest person who finds your iPhone could get into everything – your contact lists, your messages, and so much more.
Data Harvesting and Other Privacy Concerns
Even if your iPhone's security features do their job and no one ever accesses your phone without your permission, your privacy is still at risk any time you use an app. App providers and your ISP continuously harvest your data, often selling it to third-party data brokers.
At a minimum, the sale of your data means you'll be dealing with the annoyance of targeted marketing – and remember, these advertisers know your phone number. But the effects of data harvesting could be far worse than that.
Much of the data collected about you makes its way to agencies that run background checks. So whether the information is accurate or not, your data can be used against you when you make critical life decisions, such as buying a home or finding a new job.
Some websites suggest that the best way to protect your privacy is to delete all your iPhone apps, but doing that basically turns your $800 device into a flip phone. Here are some more practical tips to secure your iPhone and your data.
The Five Best Ways to Keep Your iPhone Protected
So the hard truth is that although we'd like to imagine iPhone security risks as far-fetched scenarios, iPhones have very real vulnerabilities. Fortunately, there's no reason to panic.
These five simple tips will give your iPhone the boost of protection it needs to combat almost any security threat.
1. Tweak iOS Settings for Maximum Security
Your iPhone's default system settings aren't set up to completely protect you. Here's what you need to do to improve them.
Choose your home screen widgets wisely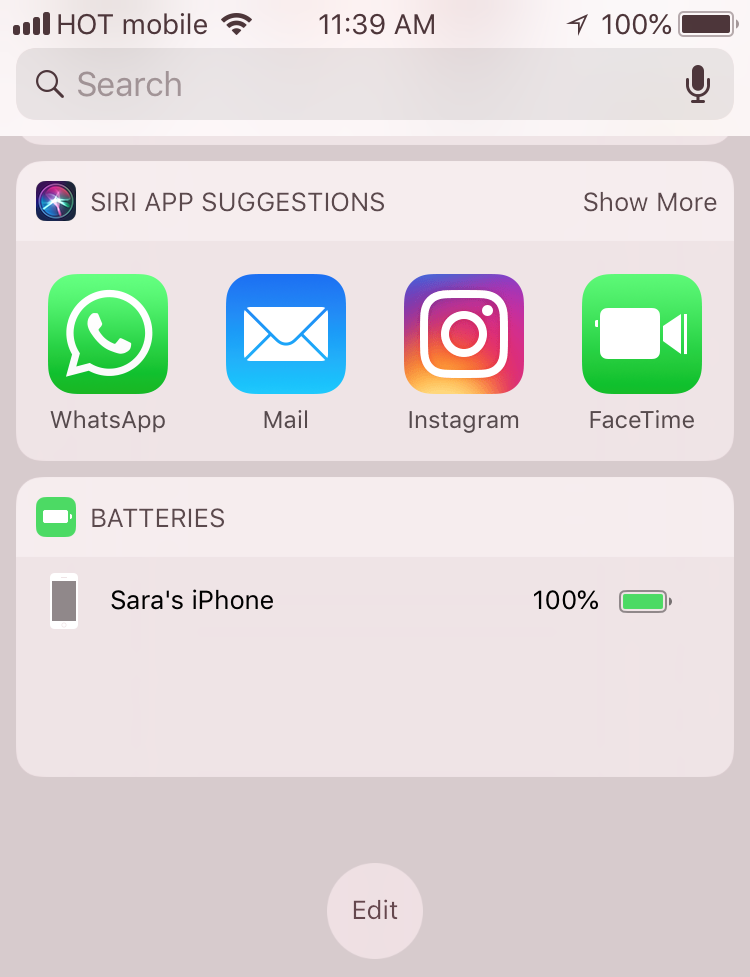 Recent iOS updates have introduced home screen widgets you can access without typing in your passcode. The feature is great for convenience, but not so great for security.
To remove widgets you don't want someone accessing without a password, swipe right on your lock screen and tap Edit to remove widgets.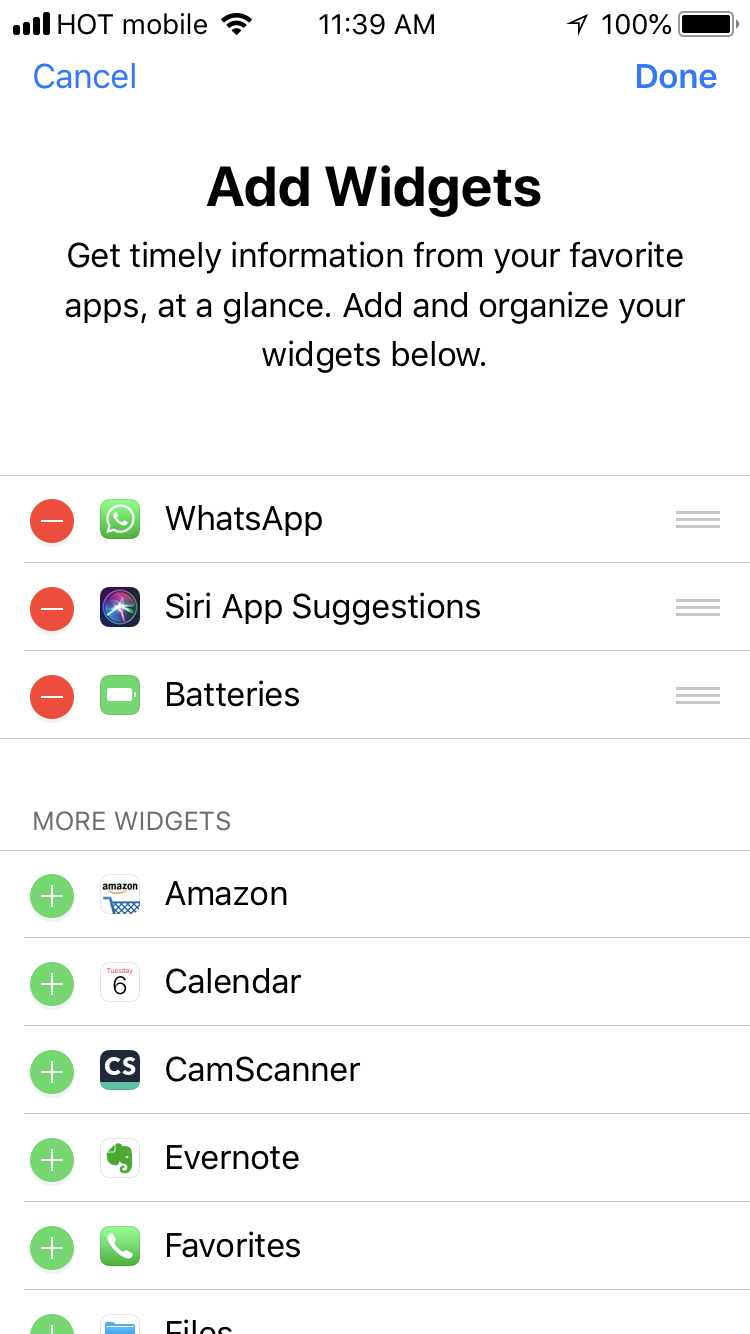 Set a stronger passcode
The best passcodes contain both numbers and letters and are more than 6 digits long.
To update your passcode, go to Settings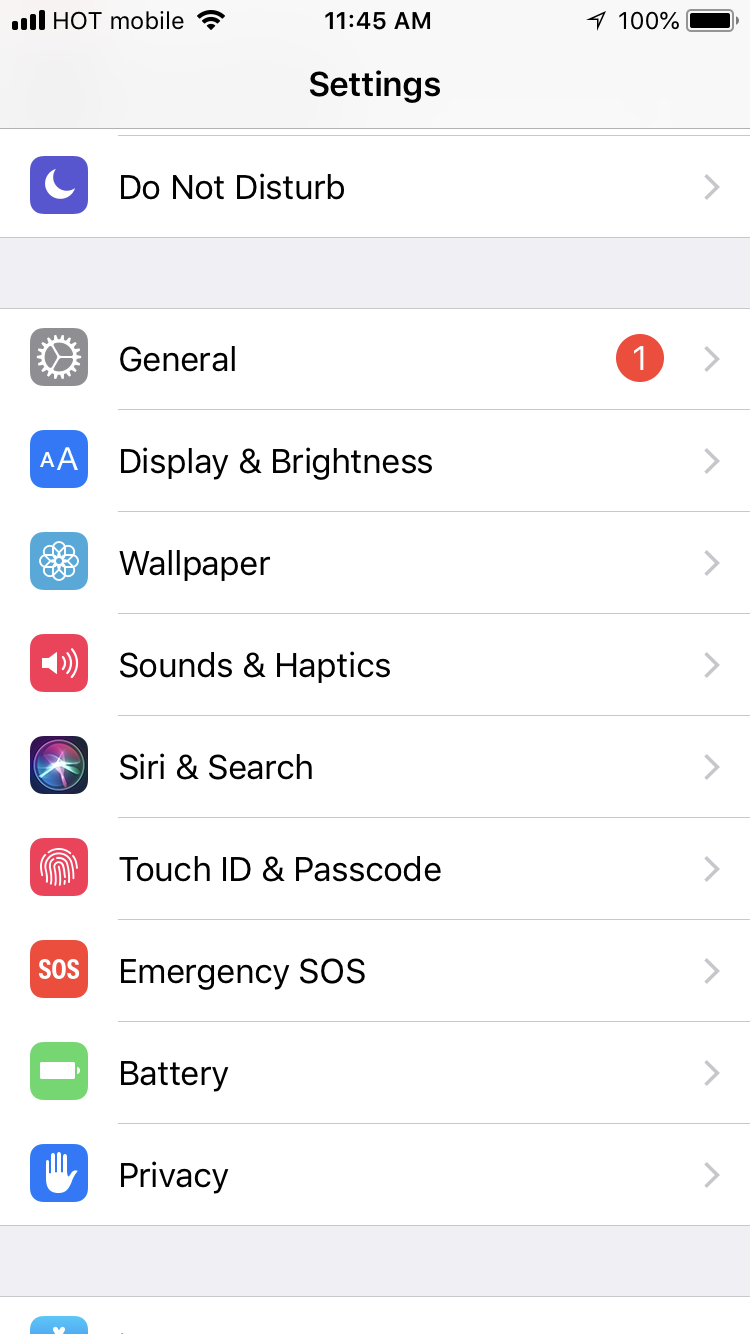 then Touch ID & Passcode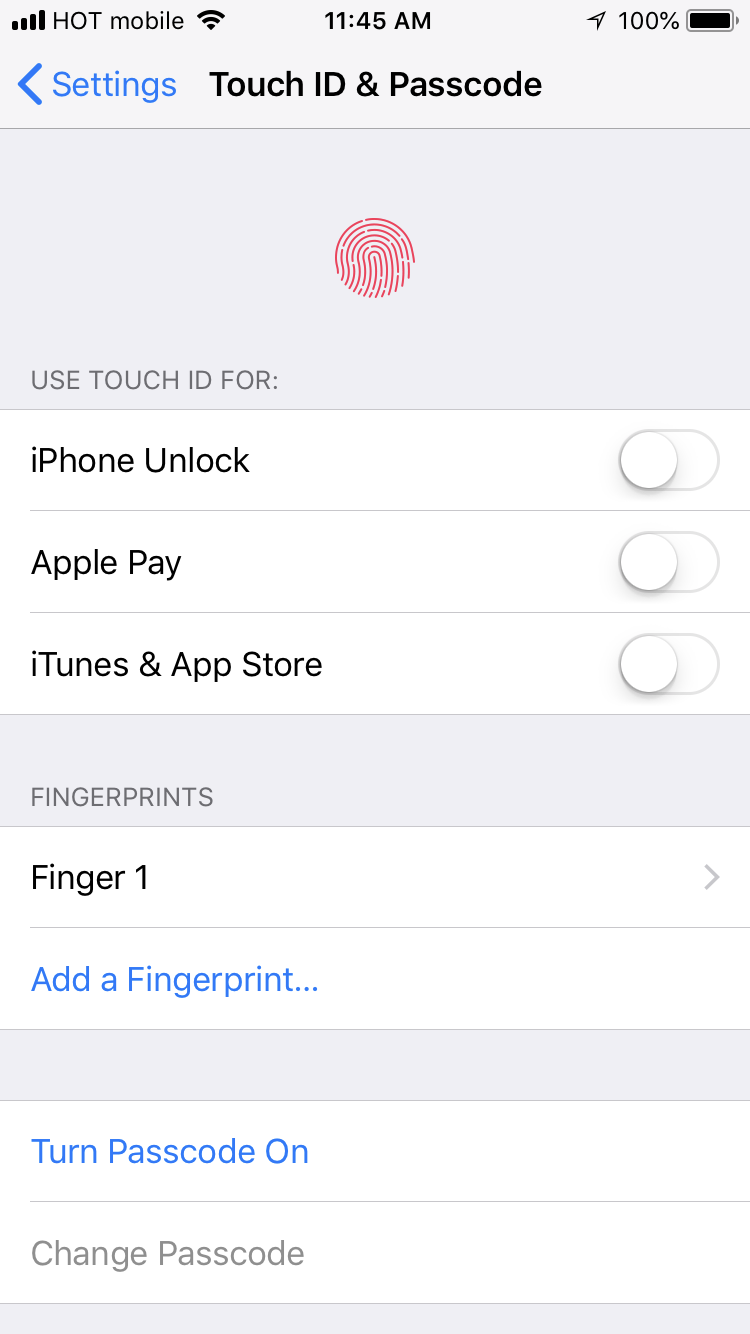 then Turn Passcode On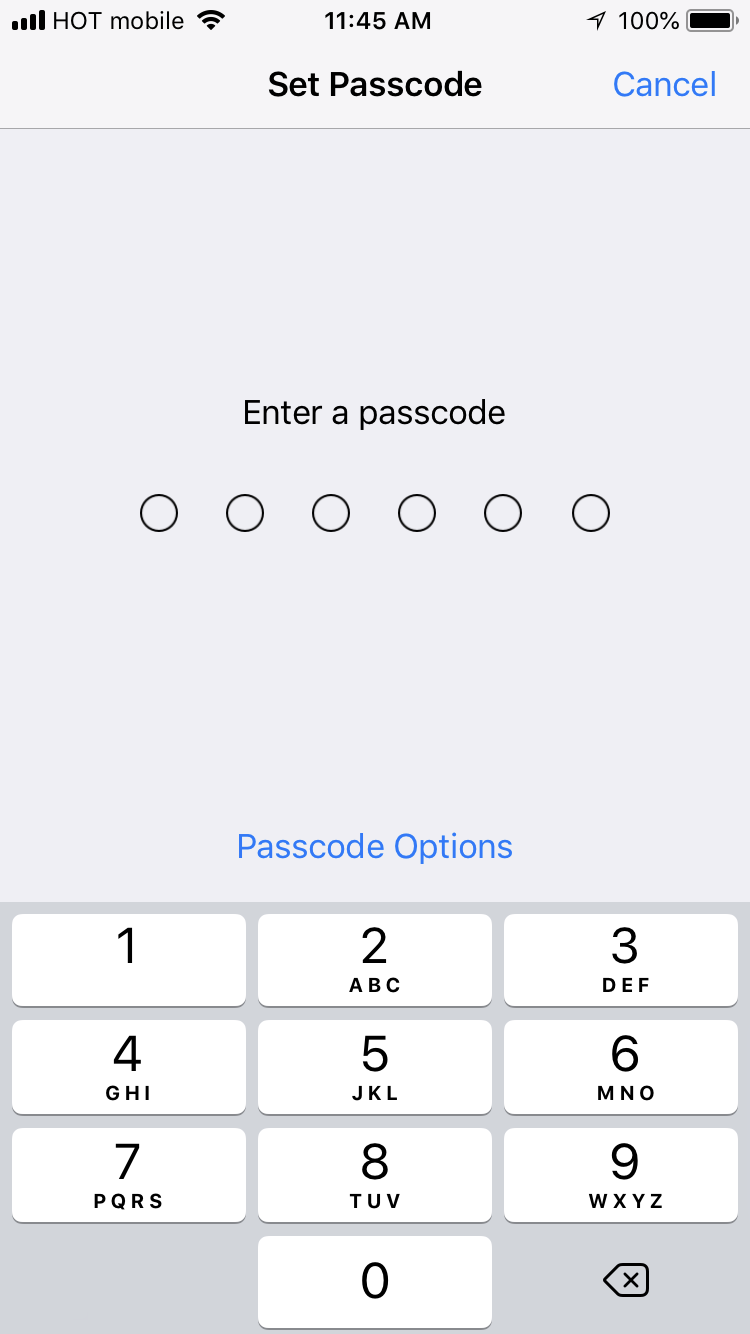 then choose Passcode Options → Custom Alphanumeric Code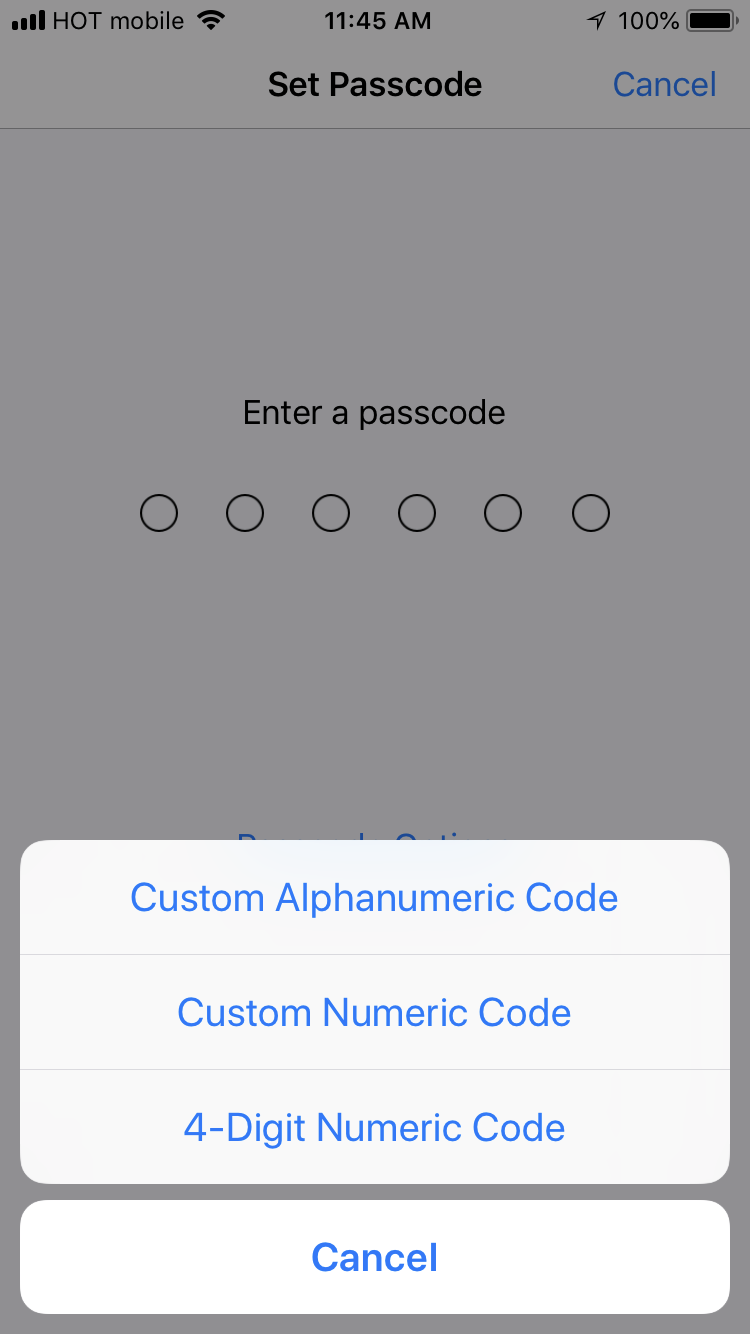 then enter your new passcode.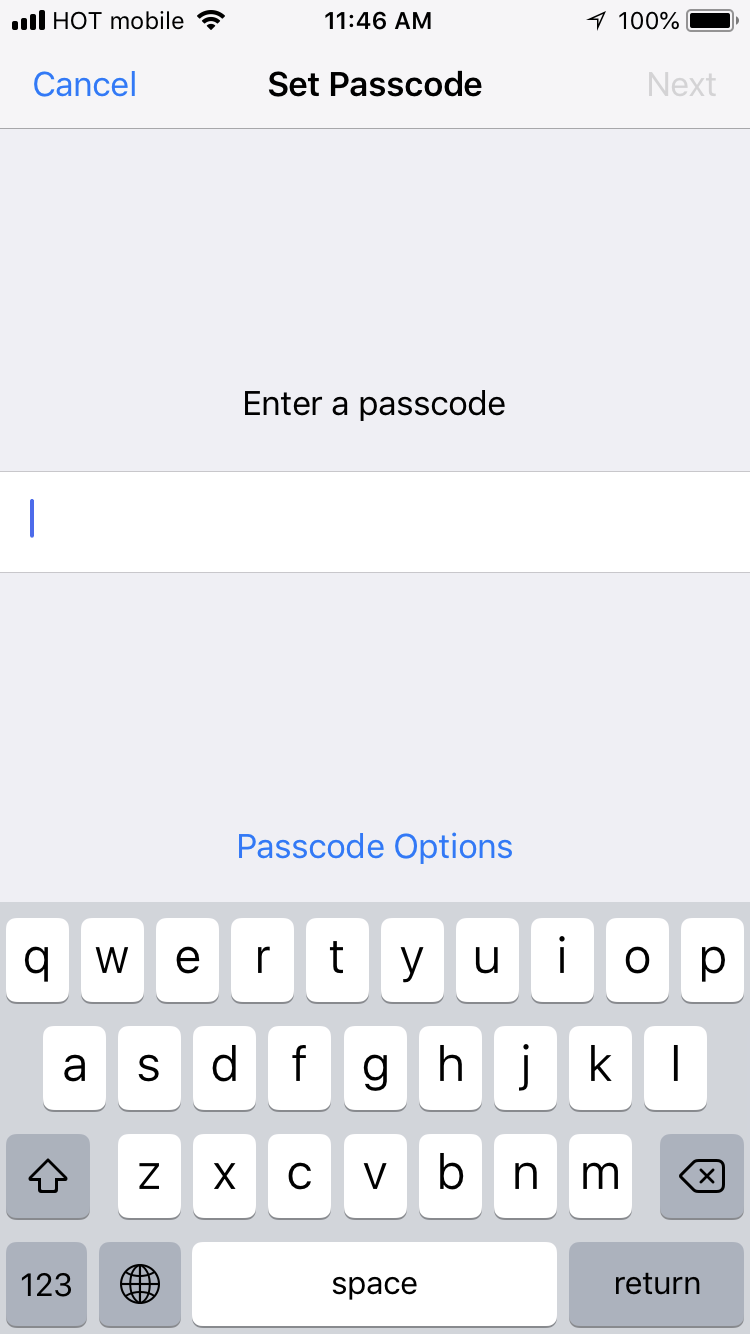 Enable two-factor authentication
Even a really strong passcode can be cracked by a skilled or patient hacker. Two-factor authentication locks down your accounts further, so that strangers can't access them even if they guess your passcode.
Go to Settings → Your Apple ID → Password & Security. Enter your Apple ID password and then choose Turn Two-Factor Authentication On.
Disable location tracking
When location tracking is active, all apps with access to the feature know exactly where you've been. That's a lot of personal information you don't want out there on the data-selling market.
To disable location tracking on your apps, go to Settings → Privacy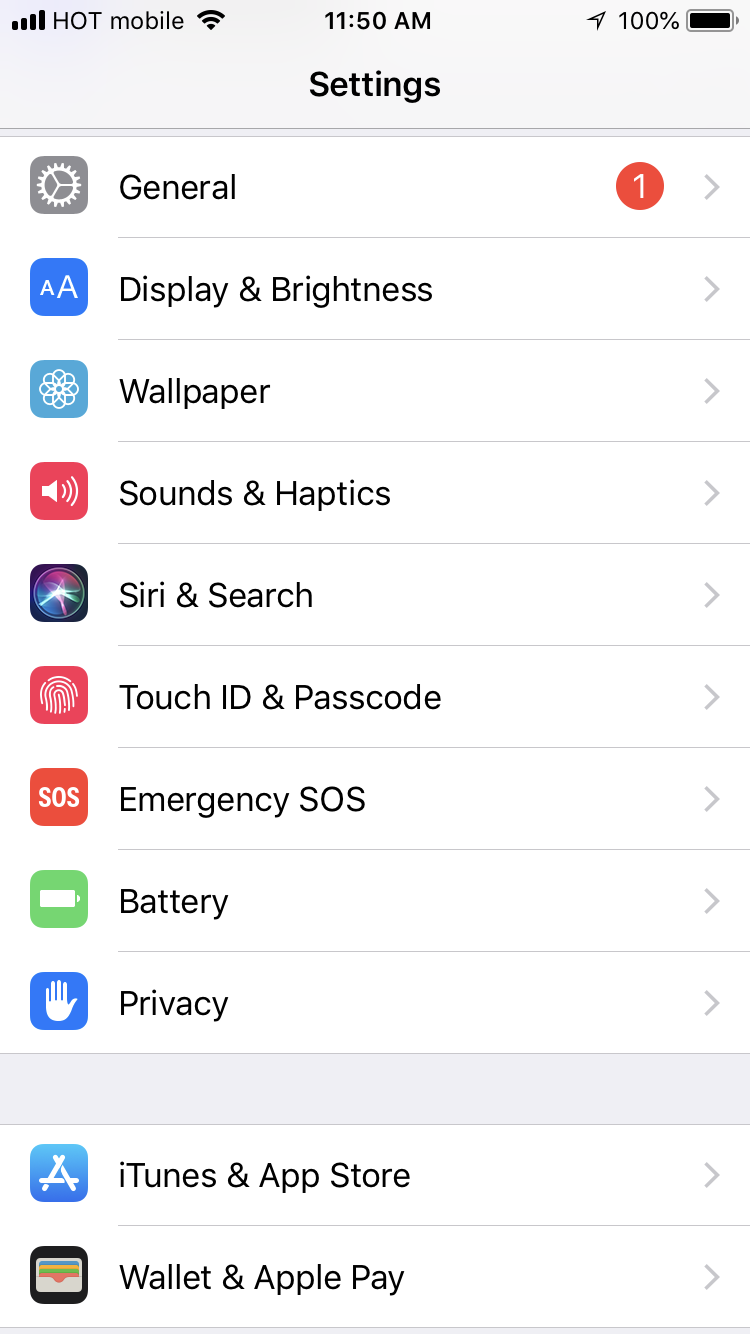 then Location Services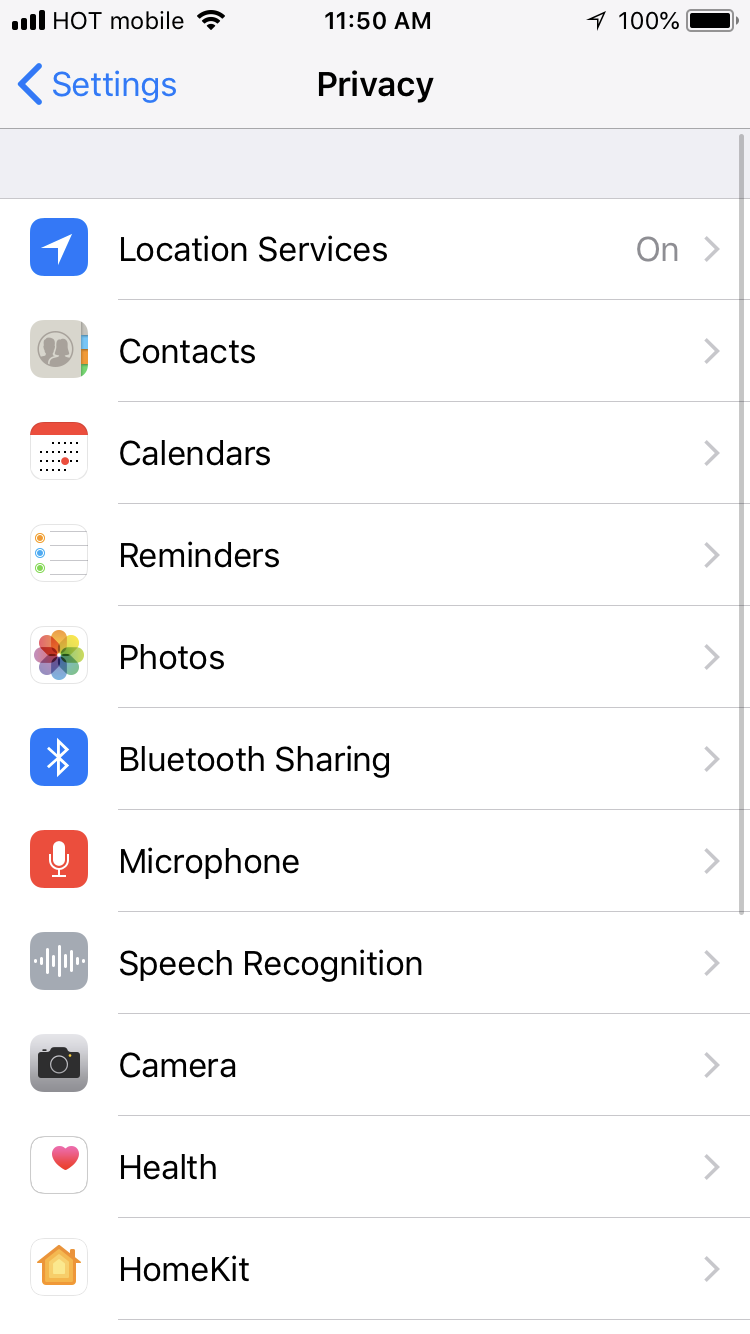 then Choose Apps. Select which apps will have access to location tracking and which won't.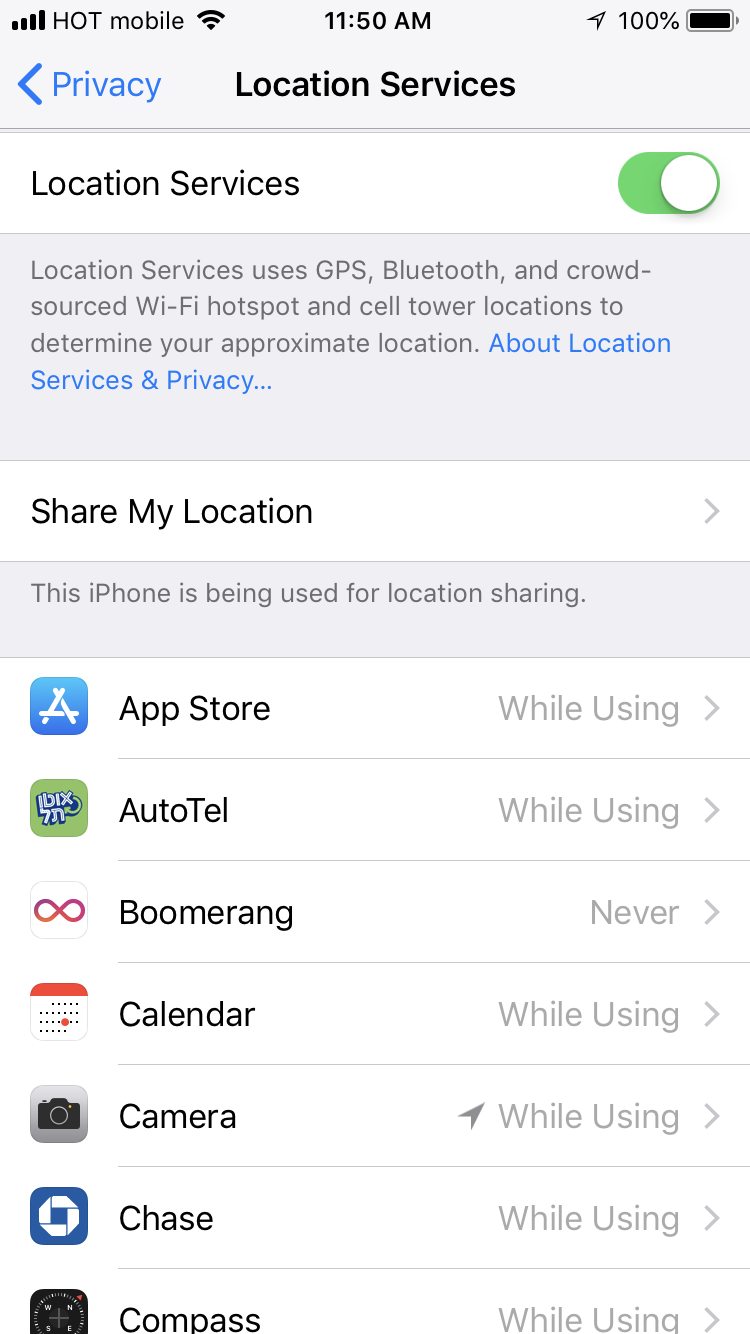 Review app permissions
A great way to take control of your personal information is to review all your app settings to see which of your iPhone's features each app can access. This will give you an idea how much data each app provider could potentially collect.
To review app permissions, go to Settings → Privacy. Browse through features like Contacts, Microphone, Photos, etc. Disable permissions for any apps that you don't want to access a particular feature like your cameras.
2. Activate Find My iPhone
Find My iPhone is a lifesaver if your iPhone gets lost or stolen. When you enable Find My iPhone, you'll be able to delete all your iPhone's data remotely so that no one who steals or finds your phone has access to sensitive information.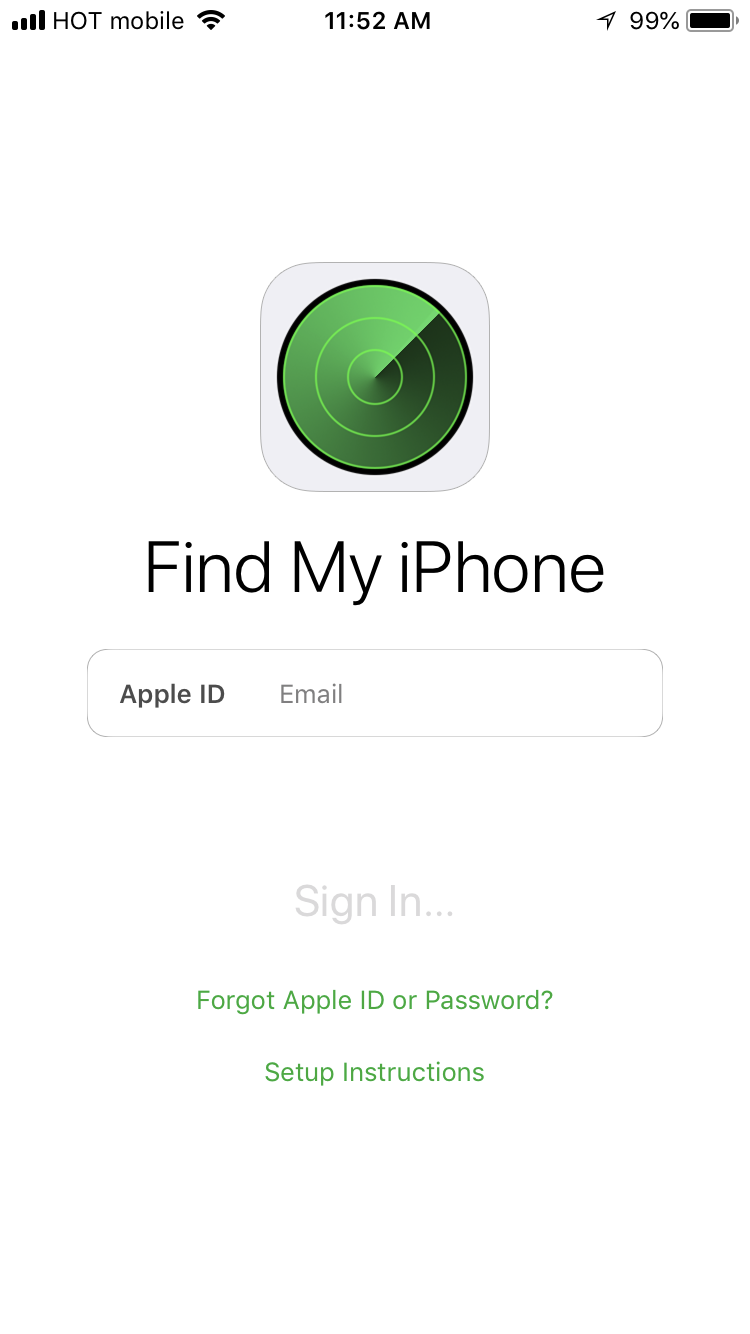 With Find My iPhone, you can use any computer to track your iPhone and clear data from it. To wipe out your phone's data, log in to the Find My iPhone app and choose Select your iPhone → Actions → Erase iPhone. Confirm your selection.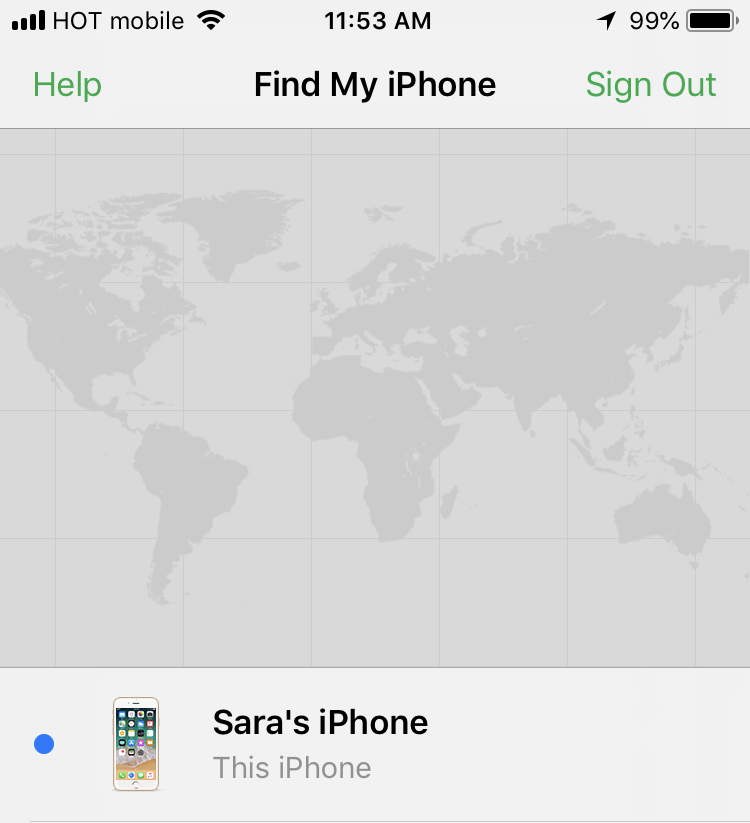 The next time your iPhone connects to the internet, it will automatically erase all your data, keeping it safe no matter who finds your phone. That will give you much-needed peace of mind as you struggle with all the hassles of replacing a lost device.
3. Keep Your Photos and Videos Safe
One of the iPhone safety issues that hits closest to our hearts is the fact that a hacker can enter your iCloud account and access your private photos and videos. There are several things you can do to prevent this nightmare.
Disable Photo Sharing
Your iPhone allows you to share photos with a select group of people via Photo Sharing. However, there are far more secure ways to share photos with your friends and family, so it's important to disable this feature.
Go to Settings → iCloud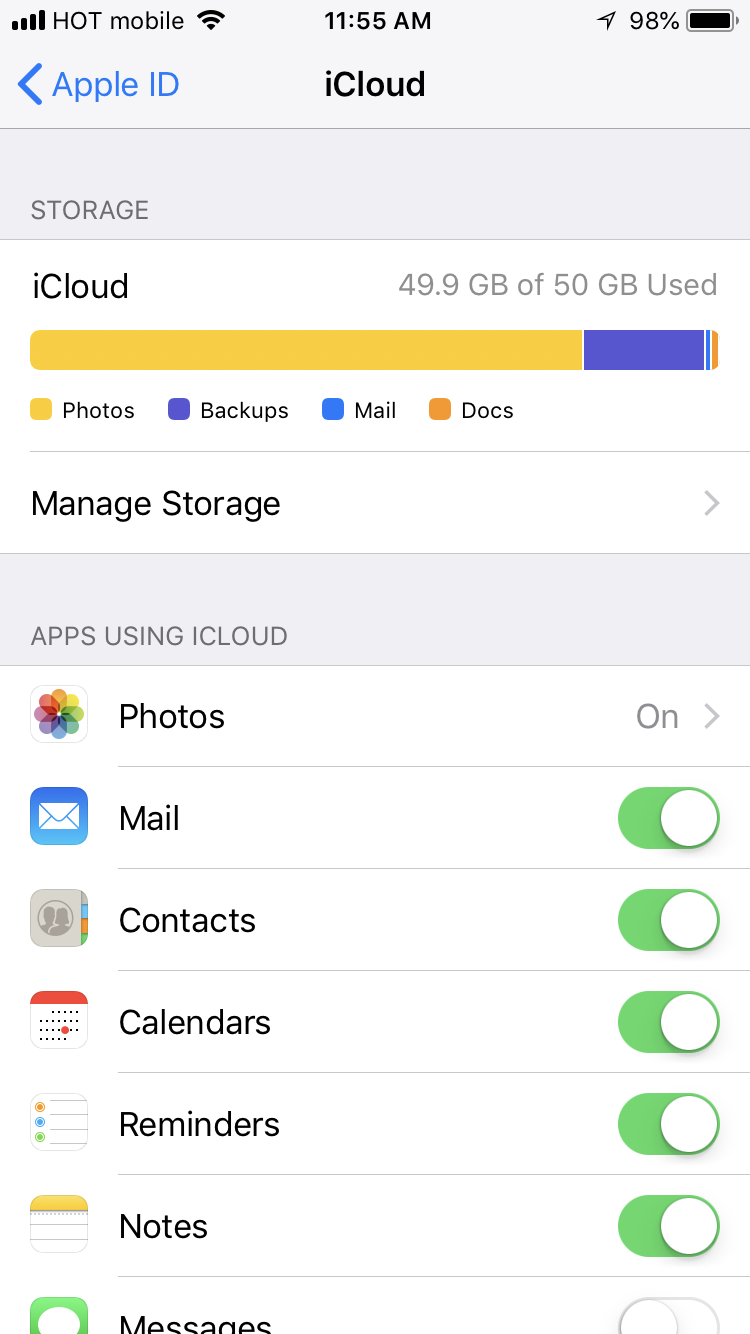 then Photos. Turn off iCloud Photo Sharing.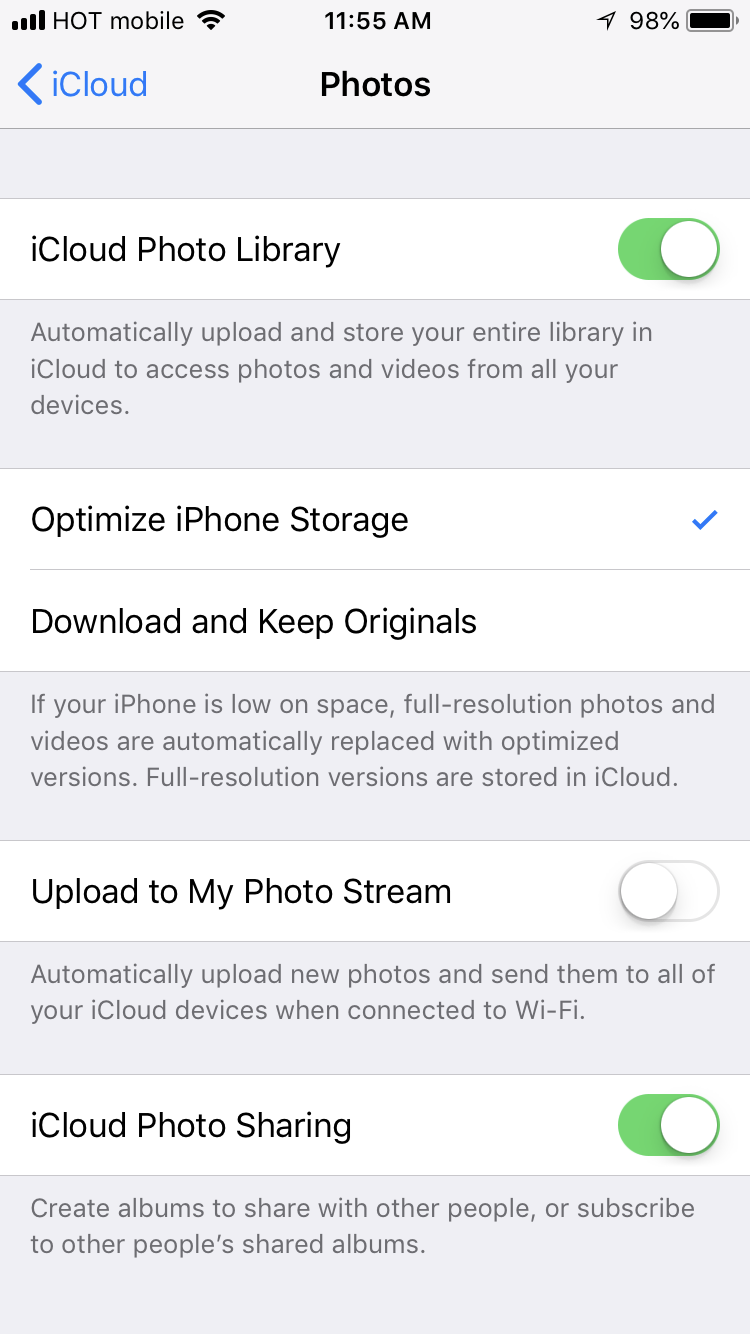 Disable Image Backups
Backing up your images on the iCloud is a super convenient way to make sure you can recover them if you lose your iPhone or get a new one. Unfortunately, it also makes them available to hackers.
Instead, back up your photos to your computer and keep them off the cloud.
To disable iCloud image backups, go to Settings → iCloud → Manage Storage → Backups. Select the relevant backup and choose Disable Camera Roll.
4. Install Ad-blocking and Malware Protection Software
The fact that very few antivirus programs exist for iPhones is a good thing – it shows how unlikely a malware infection is as long as you don't jailbreak your phone. (Did we mention that you absolutely should not jailbreak you iPhone?)
However, it's still critical to protect your iPhone from third-party ads that may carry viruses, spyware, or ransomware. Ad blockers can detect and block suspicious ads before they hijack your iPhone. Some are free, but the industry-leading app Purify is a bargain at about $2.
Remember, however, that ad-blocking and anti-malware apps offer very limited protection. To completely secure your iPhone, you need a VPN working alongside these apps.
5. Install a VPN
To get the highest level of protection for your data, you need a VPN for your iPhone.
Be careful which VPN you choose, however. Many free VPN services actually collect your data and share it with third parties. That's the last thing you want if privacy is your goal.
A reliable VPN will never harvest your data, and will protect your iPhone by encrypting all your traffic, which is especially important when you use public wi-fi. As a major bonus, you'll also get access to geo-restricted content like US Netflix and the BBC.
There are two ways of installing a VPN on your iPhone: downloading a native VPN app for iOS and manual configuration. Native apps from top VPN providers allow you to fully protect your iPhone and your data with just a few clicks.
Manual configuration gives you a little more control, but it means giving up the security provided by a kill switch and DNS leak protection. These important features ensure that your data never becomes visible to internet spies, even if your VPN server connection drops.
For that reason, our top-rated VPN providers recommend using their native VPN apps for iPhone. However, if you have an old version of iOS that doesn't support the apps, our manual installation guide will walk your through the VPN setup process.
For maximum security for your iPhone, ExpressVPNis hard to beat. Military-grade encryption and a strict zero-logging policy ensure that your data and internet activity are kept private at all times. On top of that, ExpressVPN's blazing-fast connections are ideal for streaming video.
ExpressVPN's native app for iOS is easy to install and uses the ultra-secure OpenVPN as its default protocol (your choice of UDP or TCP connection). You can also instantly switch to IKEv2 or other protocols with no manual configuration required.
Equipping your iPhone with a top-quality VPN is the most powerful step you can take to protect your valuable phone and even more valuable data. Best of all, ExpressVPN offers a 7-day FREE trial of its iOS app.
Start Your Free ExpressVPN Trial NOW!
Summary
When it comes to iPhone security issues, it's easy to think, "That'll never happen to me." But as Felix Krause and others have shown, Apple's default security settings aren't enough to keep you safe from the privacy threats we all face today.
To fully protect your iPhone and privacy, follow the steps above and most importantly, install a high-quality native VPN app. The best VPNs offer free trials and money-back guarantees, so you have nothing to lose.
ExpressVPN provides the best possible protection of your iPhone, but all of the top VPNs we recommend have excellent iPhone apps to ensure that your data never ends up in the hands of anyone you don't trust.
Privacy Alert!
Your data is exposed to the websites you visit!
The information above can be used to track you, target you for ads, and monitor what you do online.
VPNs can help you hide this information from websites so that you are protected at all times. We recommend ExpressVPN — the #1 VPN out of over 350 providers we've tested. It has military-grade encryption and privacy features that will ensure your digital security, plus — it's currently offering 49% off.