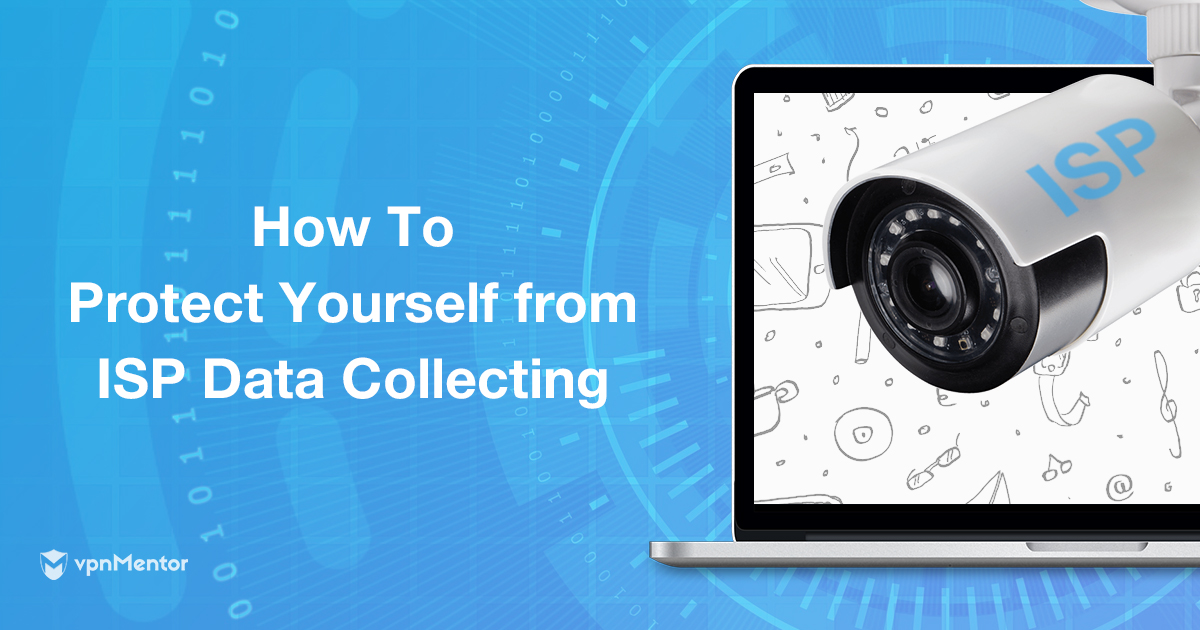 What Your ISP Can Learn About You & How to Protect Yourself
If all the news stories about internet service providers (ISPs) spying on users have you worried, we wish we could tell you that there's no cause for concern. Unfortunately, the reality might be even worse than the rumors.
Everything you do online is saved on a server somewhere. That means that every bit of data that passes through your router is collected and stored by your ISP.
Your ISP knows exactly what websites you're browsing, what apps you use, and what you're reading. ISP bots know what videos you've watched and for how long, along with every other detail of your internet activity.
Over time, your ISP uses your surfing and search histories to create a profile that includes private, personal information – information you would never willingly share.
The best way to prevent ISP data harvesting is to protect everything you do online with end-to-end encryption, also known as tunneling. And the best way to get that encryption is to use a good VPN.
Best VPNs to Protect You from ISP Spying – Quick List
It's important to know that not all VPNs are dedicated to protecting your privacy. Many free services actually store what you do online and share your data with third parties, just like ISPs do.
That's why we've tested hundreds of VPNs and studied their privacy policies to find the best services to protect you from ISP spying. These VPNs do not store any information that links your traffic to you, and have no history of privacy breaches.
What Information Does Your ISP Gather About You?
Your ISP can see and analyze all unencrypted traffic that goes through your router. That data includes every URL you visit, all the content on the pages you're reading, how long you stay on any site, and what devices you use.
ISPs sell the information they gather to marketing companies, and those companies in turn feed you targeted ads. In countries with data retention laws, ISPs also store your data for possible review by law enforcement authorities.
Privacy advocates worldwide are fighting daily to reduce or eliminate ISP data harvesting, but ISPs are fighting just as hard to maintain their power to use and abuse your information.
In fact, ISPs in many countries want to expand their reach and collect even more information about their users. They put intense pressure on governments, and lawmakers too often obey their commands.
Former US Federal Communication Commission (FCC) chairman Tom Wheeler pointed out that American ISPs can paint an accurate picture of your private life, including even "a chronic medical condition or financial problems."
In response, the FCC proposed rules requiring ISPs to ask your permission to share your data with third parties. But ISP lobbyists persuaded the US Congress to reject the new privacy rules.
Several US states, including Delaware and Minnesota, have rebelled by enacting their own laws protecting citizens' privacy. However, most internet users in the US – and throughout 14-Eyes territory and far beyond – remain completely exposed to ISP spying.
In short, some governments require ISPs to respect your privacy choices, but far too many don't. And that's the way ISPs want things to stay.
What If I Don't Put My Personal Information Online?
Perhaps you avoid putting personal data on your Facebook profile, and use Chrome's incognito mode so Google doesn't store your browsing history. Unfortunately, these strategies won't keep your ISP out of your data or your life.
Unless your data is encrypted before it leaves your router, your ISP gets it ALL.
They store it, they categorize it, and they sell it. And even if they don't sell it, ISPs in many countries are required to turn everything they know about you over to authorities or intelligence agencies if they're asked to do so.
The most convenient, affordable way to protect yourself from these constant privacy invasions is to encrypt all your activity by using an excellent VPN service.
What to Look For in a VPN to Prevent ISP Monitoring
There are hundreds of VPNs out there, and many of them claim to have the same features. However, only a handful of them offer the security and privacy protection you need to shield your activity from your ISP.
You'll want a VPN with a strict no-logs policy, meaning that it does not store any data from your browsing sessions. Military-grade encryption is essential, along with the highly secure OpenVPN and IKEv2 protocols.
Another critical feature is an automatic kill switch, which stops all your traffic anytime you lose your VPN connection, preventing any leaking of your data onto your ISP's servers.
Speaking of servers, you'll also want a VPN that has a vast server network to give you stable connection speeds no matter where you are. The overloaded servers on small VPN networks will slow your surfing down to a crawl.
Best VPNs to Keep Your Traffic Hidden from Your ISP
Taking into account network security, privacy safeguards, and overall performance, our experts have prepared a list of VPNs you can trust to keep your ISP out of your internet business.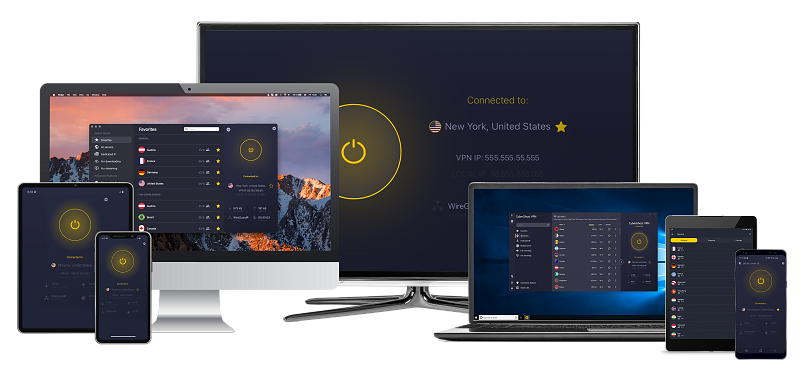 Editor's Choice
Editor's Choice

Tested February 2023
Try Risk-Free for 30 Days
Available on:
Chrome
Router
Smart TV
More
www.cyberghostvpn.com
In 2009, the Constitutional Court of Romania declared the EU's Data Retention Directive unconstitutional, at the cost of large fines assessed on the country. The court did it again in 2014.
Why is this important? Because CyberGhost chose Romania for its base of operations specifically to take advantage of the country's commitment to internet user privacy.
CyberGhost's users appreciate its verified zero-logs policy, along with AES-256 encryption and a kill switch to ensure that you can travel the internet as a virtual ghost.
You'll also find CyberGhost is incredibly user-friendly, with a visual interface that even first-time VPN users navigate with ease.
CyberGhost offers excellent defense against ISP spying with features like:
Over 9,753 servers in 91 countries, with further expansion coming soon
Zero-knowledge servers that don't record who or where you are, or where you go on the web
Anonymous torrenting
Preset profiles for accessing popular streaming sites like Netflix
7 simultaneous device connections per subscription
Free trial for Windows and mobile apps and a 45-day money-back guarantee
Science says that strong encryption of your data will slow down your connection, but ExpressVPN apparently didn't get the note. In spite of its military-grade AES 256-CBC encryption, this VPN shines in our speed tests time after time.
The provider never keeps any logs of your use, and offers servers in 94 countries.
Users rate ExpressVPN as one of the best VPN options for streaming, torrenting privately, or Tor browsing. The service costs a little more than our other top VPNs, but its combination of speed and security is hard to beat.
If you find it more convenient to connect to some sites directly, ExpressVPN has you covered. Its split tunneling feature allows you to choose which traffic you send through the VPN tunnel and which you send through your normal ISP connection.
ExpressVPN let's you try it out with its money-back guarantee; if it's not for you, you have up to 30-days to ask for a refund.
Name any country, and it's a safe bet that HMA has a server there. This VPN puts user privacy above all else, with strong encryption and preset modes that ensure your anonymity.
For example, to safely bypass government censorship in your country, simply switch on Freedom Mode to reach a server in the nearest country with free speech. To immediately connect to the fastest available server, choose the Instant Mode.
HMA's vast network gives you ultra-fast, stable connections that are great for streaming, and you can connect up to 5 devices at once.
HMA acknowledges that it does keep partial logs. However, the limited data recorded for diagnostic purposes, such as connect/disconnect times and bandwidth usage, would never enable anyone to trace your activity back to you.
In other words, your ISP will have no idea what sites you visited, what movies you watched, who your contacts are, or anything else about what you did online.
See what HMA can do for you with a free 7-day trial, or subscribe with confidence thanks to a 30-day money-back guarantee.
PrivateVPN is another great option to keep your ISP off your trail on off your back. The provider combines 256-bit and 2048-bit technologies to encrypt everything you do, all while giving you impressive speeds and unlimited bandwidth.
PrivateVPN users love that one subscription allows up to 10 simultaneous connections and that the provider doesn't keep any logs of their activity.
PrivateVPN's apps are simple to use, and setup is as easy as it gets thanks to the Remote Help Team Viewer, which directly connects you to a tech team that installs the software for you.
Although PrivateVPN's array of 200 servers is small compared to our other top VPN picks, the network spans 63 countries. A fast, secure connection in almost any region you want to reach is just a click away.
All subscriptions to PrivateVPN are backed by a 30-day refund policy.
Summary
Where your data goes and who can access it should be your choice, not your ISP's. Yet most of us live in regions where ISPs hold all the power. A quality VPN is the best tool available to blindfold your ISP whenever you're online.
Awareness of the huge problem of ISP data harvesting continues to grow around the world. We believe this awareness will ultimately lead to new laws that prevent your ISP from storing and/or sharing your data without your consent.
For now, however, ISPs continue to win lobbying battles and expand their power, making online privacy virtually nonexistent. The only thing we can do is to take matters into our own hands by using trustworthy VPNs.
To help you do that, we always give you access to the best current deals offered by VPN providers.
Privacy Alert!
Your data is exposed to the websites you visit!
The information above can be used to track you, target you for ads, and monitor what you do online.
VPNs can help you hide this information from websites so that you are protected at all times. We recommend ExpressVPN — the #1 VPN out of over 350 providers we've tested. It has military-grade encryption and privacy features that will ensure your digital security, plus — it's currently offering 49% off.