5 Best VPNs for Multiple Devices: Fast and Reliable in 2020!
Updated on 14th January 2020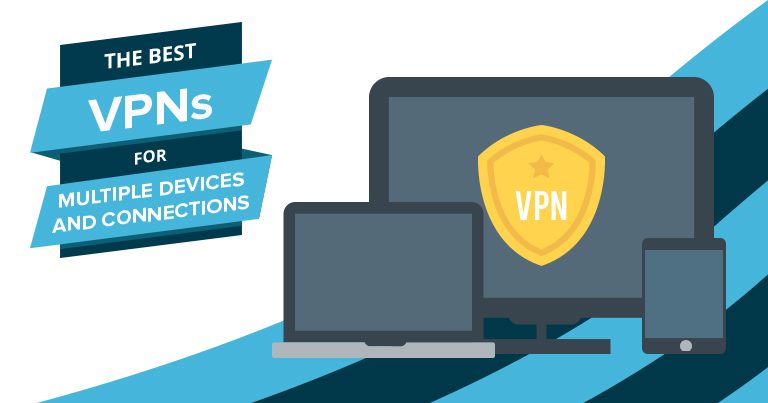 Most people go online on at least two devices every day: your phone and your computer. You can probably add a tablet, laptop, and many more devices to this list. 
If you are concerned about keeping you and your family safe online, you hopefully know that a VPN is the absolute best way to do this. However, most people only use a VPN on their main device, thinking that is enough protection. It's not. If you're not protecting every single device you use, a VPN cannot give you 100% protection.
Take email as an example. You probably access yours on your phone and your laptop, checking both numerous times a day. If you only protect your laptop with a VPN, but your phone is hacked, your email is not safe. The same is true for online banking, shopping, your credit card details, etc. 
The good news is that most VPN providers allow for several simultaneous connections. Using one VPN provider on all your devices is the quickest, easiest, and cheapest way to stay safe online.
Every VPN offers different restrictions on the number of devices you can protect. So we've researched and tested the leading providers on the market to help you choose.
The five best multi-device VPNs are listed below. But first, a quick guide using multi-device VPNs.
Quick Guide: How to Get a Multi-Device VPN
Choose a premium VPN with plenty of simultaneous connections. Surfsharkis our top recommendation—scroll down to learn why.
Download and install the VPN for your desired devices.
Launch the VPN on your devices. If there's a device cap, pay attention to the number of connections allowed.
Enjoy better security and privacy on all your devices, at the same time!
Why You Need a VPN for Multiple Devices
Bottom line, if you're using multiple devices, you need protection on all of them.
Buying a separate VPN license for every device can add up, though. A multi-device VPN is a much better value and safer option. You'll get better protection, for cheaper, with considerably less hassle.
Say you're working on your laptop in a café, but you take a short break to check WhatsApp on your phone. With a multi-device VPN, you can protect both devices on public wi-fi—your data will be private and encrypted.
Aside from price, there's another big advantage—convenience. You can easily configure all devices with the same settings, usually from a single dashboard. This means not only better security and privacy, but also easy streaming and access to your favorite geoblocked content on all devices.
Overall, a reliable VPN with simultaneous connections is the best tool to stay safe from hackers and other online threats.
Multi-Device VPNs for Small and Medium Businesses
A VPN is absolutely essential for businesses, no matter their size. Protecting both your company's private data and your customers' should be any responsible business owner's number 1 priority. Recent statistics show that most online criminal attacks target small and medium-sized business.
If you own or manage a business and are concerned about privacy and data protection, you need a multi-device VPN. Every workplace uses a huge number of devices, including office desktop computers, employees' phones, laptops, home computers, and tablets. All of these are vulnerable and a single hacked or stolen device could give hackers access to your company's entire online infrastructure.
By installing a single, shared VPN across every device used by your workforce – in the office(s), at home, or remotely – you create a single, impenetrable shield around the entire company. Using one VPN for every device is not just the best way to protect your business, it's also the most efficient, cost-effective, and convenient method for your employees.
What to Look for in a Multi-Device VPN
The ideal multi-device VPN is an all-purpose service with a good balance of security and performance.
First of all, pay attention to the number of simultaneous connections. Some VPNs advertise as multi-device services, but offer a very limited number up front and charge extra for additional connections.
You'll want 256-bit encryption and OpenVPN or IKEv2 protocol support for robust protection. If you'll be using your VPN on your phone, make sure these features are available on mobile as well.
Your VPN provider must have a strict no-logging policy, if you want your privacy guaranteed. Avoid services that admit to collecting sensitive user data, or ones with sketchy privacy policies.
If advanced protection is your priority, look for security features like double encryption, anti-malware, and adblocking. A kill switch is essential as well, since it ensures you don't expose yourself if the VPN suddenly stops working.
Power users who stream and torrent frequently should also look for special servers for streaming and P2P connections. These activities use up a lot of bandwidth, so you want optimized speeds and stable uptime.
With all this in mind, finding the perfect VPN can turn into a lengthy and difficult process. That's why we did it for you! To save time and make a more informed decision, check out our top-five list below.
The Best VPNs for Multiple Devices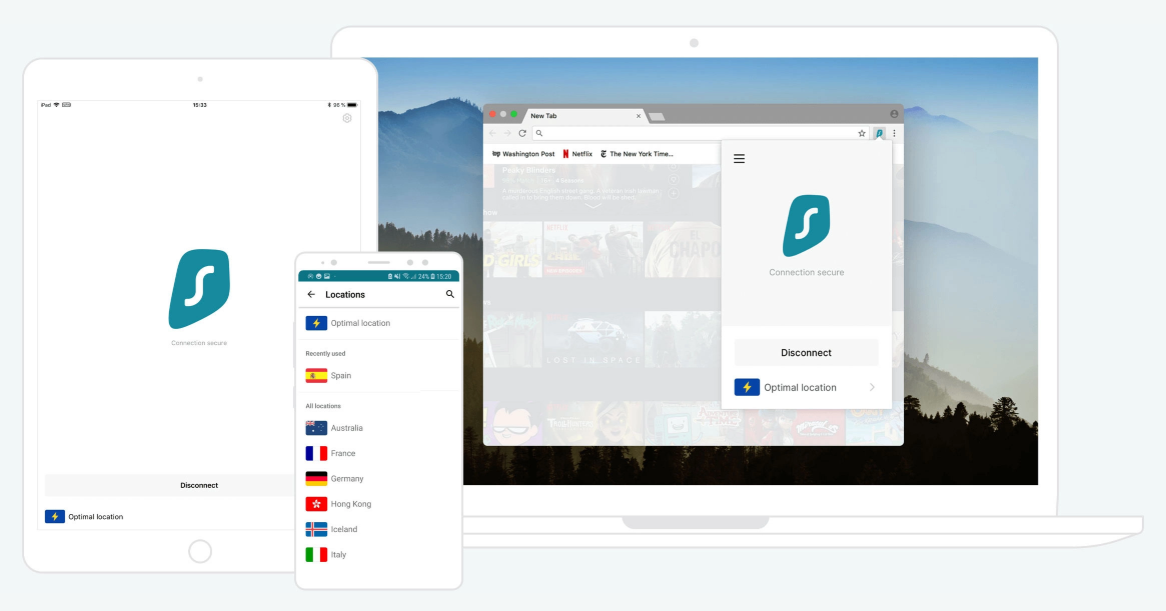 Unlimited simultaneous connections
800+ servers in 50+ countries
No-logs policy
Premium features at a budget price
Surfshark can be used on as many devices as you want, making it a clear favorite if you need a large number of simultaneous connections.
Super fast speeds, unlimited bandwidth, and high-end AES-256 encryption make this VPN a great choice for browsing, downloading, and streaming (even US Netflix!).
The intuitive apps offer adblocking and anti-malware, as well as obfuscated servers to bypass internet restrictions and split tunneling so you can access the various foreign and local internet services you need at the same time.
In short, Surfshark delivers on the essentials of a dependable VPN. It's no surprise this affordable new provider is enjoying positive reviews from real users. 
Surfshark can unblock:
Netflix, Hulu, CBS, ESPN, Amazon Prime Video, and others.
Supports torrenting:
Yes, all servers support P2P activity.
Surfshark works on these devices:
Windows, macOS, Android, iOS, FireTV, Linux, Chrome, and Firefox.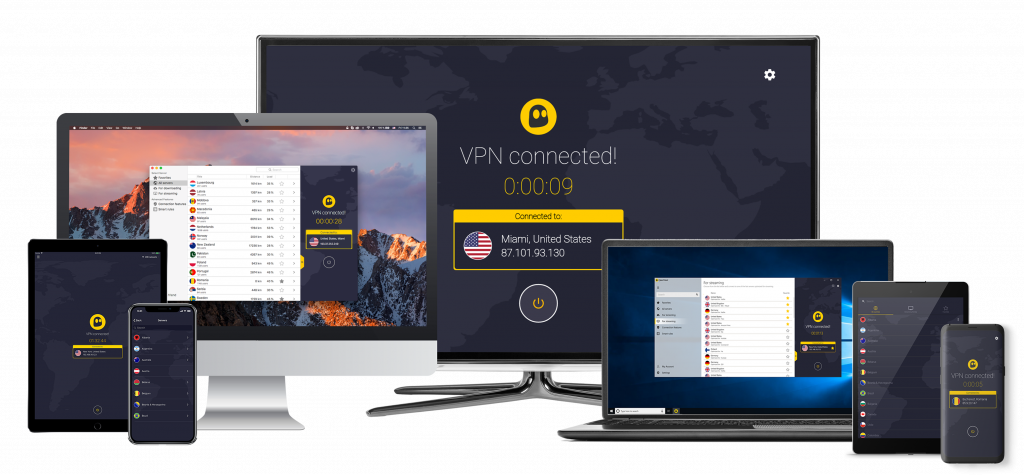 Can run on 7 devices simultaneously
6,000+ servers in 90+ countries
Dedicated profiles for streaming and torrenting
45-day money-back guarantee
With a huge number of servers and reasonable pricing (especially for the two-year plan), CyberGhost has a lot to offer.
Ease of use is also a big highlight of this VPN—with detailed tabs for streaming and torrenting, even newbies can get started right away. CyberGhost is also leak-proof, thanks to the connection kill switch and DNS leak protection.
The military-grade encryption and extensive protocol support complete this impressive all-purpose VPN. See why CyberGhost is one of our top-rated providers in user reviews.
CyberGhost can unblock:
Dedicated streaming profile with servers optimized for: Netflix, BBC iPlayer, Sky Go, Hulu, Comedy Central, Eurosport, ESPN, and others.
Supports torrenting:
Yes; dedicated profile shows countries and number of users.
CyberGhost works on these devices:
Windows, macOS, Android, iOS, Amazon Fire Stick, Android TV, Linux, and Chrome.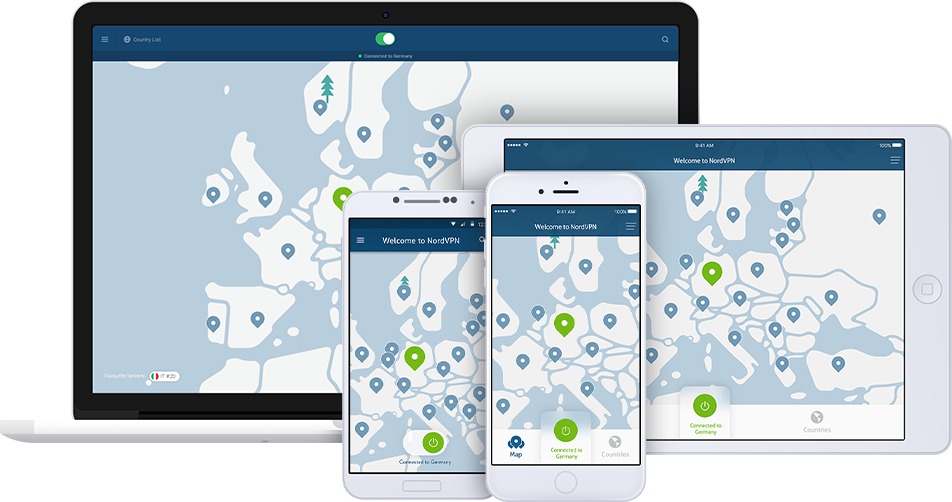 Runs on up to 6 devices at once
5,100+ servers in 60+ countries
Proprietary features for security and streaming
Elegant apps for all major platforms
With its easy installation and amazing value for money, NordVPN is one of the most popular VPNs out there. It comes with specialty servers for double encryption, streaming, torrenting, and much more. The server recommendation tool helps you pick the best option in just a few seconds.
This provider is based in Panama (where none of your data is retained) and operates under a zero-logs policy. It runs a few custom-made features: the CyberSec suite blocks ads and prevents malware, while the SmartPlay DNS feature automatically switches to optimized streaming servers for easier access to Netflix, Hulu, BBC iPlayer, and many others.
You also get custom DNS settings if you want them, as well as two different kill switches for extra protection. If six simultaneous connections are enough for you, NordVPN is an excellent choice and a long-time crowd favorite.
NordVPN can unblock:
Netflix, HBO, Hulu, Showtime, BBC iPlayer, Amazon Prime Video, and Sling TV.
Supports torrenting:
Yes, P2P specialty servers available.
NordVPN works on these devices:
Windows, macOS, Android, iOS, Android TV, Linux, Chrome, and Firefox. It's also compatible with routers.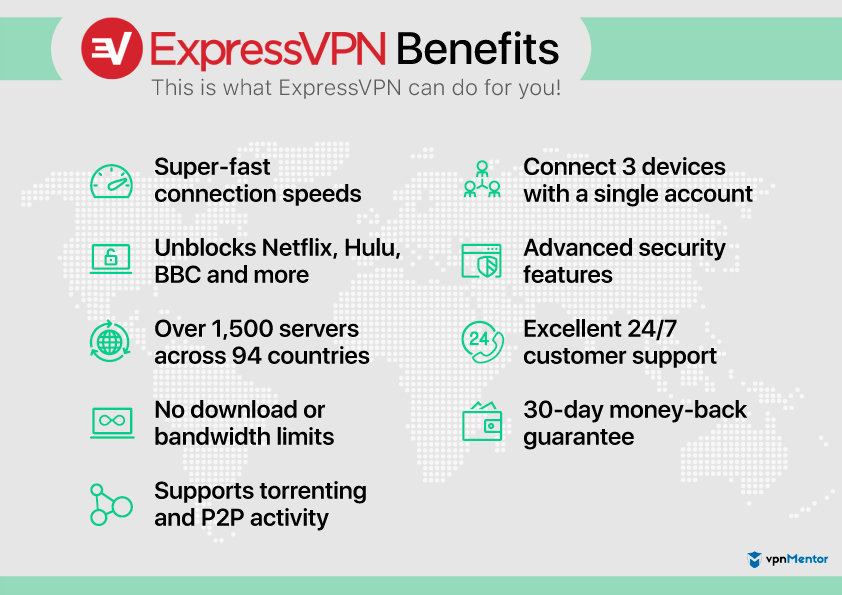 Up to 5 devices allowed simultaneously
3,000+ servers in over 90 countries
Doesn't keep any sensitive user logs
Blazing speeds for streaming and torrenting
If you don't need too many simultaneous connections, ExpressVPN is a great pick. This VPN boasts a global network and top-shelf performance.
With ultra-fast servers and helpful features like quick-connect and an in-built speed test, ExpressVPN gives you fast and easy access to your favorite streams, including torrents. The split tunneling feature gives you extra control over which apps are protected.
ExpressVPN also includes native OpenVPN support for all its apps—meaning you get the best security even on mobile. Swift and secure, this VPN is definitely worth the price. But don't just take our word for it, see what real users are saying in their reviews!
ExpressVPN can unblock:
Netflix, Hulu, HBO, Amazon Prime Video, Showtime, Sling TV, DAZN, and BBC iPlayer.
Supports torrenting:
Yes, all servers support P2P activity.
ExpressVPN works on these devices:
Windows, macOS, Android, iOS, Android TV, Linux, Chrome, and Firefox. It also offers an app for use with certain routers.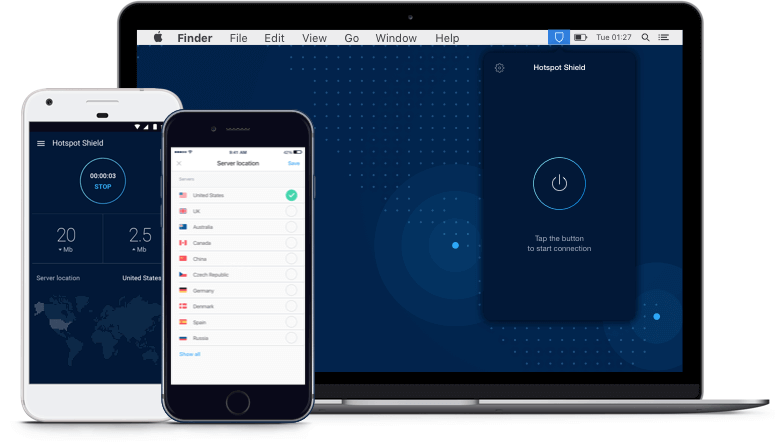 Connect up to 5 devices at the same time
2,500+ servers in 25 countries
Proprietary VPN protocol
Simple, elegant apps
Hotspot Shield uses its own Catapult Hydra protocol for better encryption. This VPN also offers clean and intuitive apps for all major platforms, making it a solid pick for one-click protection on public wi-fi.
With plenty of servers and enough connections for all your devices, a single Hotspot Shield account gives you a lot of value. While not as fast or feature-packed as other VPNs on this list, this service is easy to use and more than sufficient for casual users.
There's also a free version you can try out before you go premium. Overall, Hotspot Shield is a popular VPN for a reason—check out the expert and user reviews to see why.
Hotspot Shield can unblock:
 Netflix, Hulu, BBC iPlayer, Amazon Prime Video.
Supports torrenting: 
Yes, P2P allowed on all servers.
Hotspot Shield works on these devices
Windows, macOS, Android, iOS, Chrome.
Summary
You're using more than a single device to browse the web, so to stay safe and private, you need a leading VPN that can protect all your devices at once.
We hope our list has helped you find the right service for your needs. Still finding it hard to choose? We recommend going straight for Surfsharkand using it on as many devices as you wish!
Further Reading
Get the best VPN deals around by checking out our exclusive VPN coupons!
New to VPNs? Learn the basics with our VPN guide for beginners.
Looking for a Netflix VPN that works? Take a look at the best services for Netflix in 2020.
Your digital privacy is important. Find out how to preserve it with our list of best no-log VPNs.