HideMyAss! VPN Review 2019 - Good Overall, But Some Drawbacks

Katie Kasunic
(Technology Researcher)
HideMyAss! is a popular VPN provider with a large network of 940+ servers in 190+ countries.
Some of this VPN's biggest strengths are its user-friendly interface, impressive speeds, and ability to access Netflix.
HideMyAss! also offers robust security and a unique Freedom Mode that makes it easy to escape government censorship.
Downsides include HideMyAss!'s collection of partial connection logs, UK headquarters, and the VPN's inability to access some popular streaming sites like Hulu and Amazon Video. For a VPN that has higher privacy standards with the same or better global server network: check out a provider with a guaranteed no-logs policy like NordVPN .
Streaming - Does HideMyAss! VPN Work with Netflix?
HideMyAss! claims to be a great VPN for bypassing geoblocks on streaming content. The VPN's network even has four specialty servers optimized for streaming, so you can watch your favorite content in HD without buffering delays.
We started our streaming tests by connecting to HideMyAss!'s US servers. Three of HideMyAss!'s specialty streaming servers are located in the US, which is great for accessing US streaming content.
The good news is that HideMyAss! was able to access Netflix on each of the US servers that we tested.
The downside is that HideMyAss!'s US servers were unable to access Hulu and Amazon Video. Each time we tried, we were caught by Hulu and Amazon's VPN bans, which blocked from streaming content.
Next, we connected to HideMyAss!'s fourth server optimized for streaming, which is located in the UK. We were successfully able to watch streaming content on UK Netflix and BBC iPlayer while connected to HideMyAss!'s UK streaming server.
In fact, every server location that we tested was able to stream Netflix content without being flagged by Netflix's proxy ban, which is a big positive for HideMyAss!.
HideMyAss! VPN Speeds
We were very impressed with the results of our speed tests on HideMyAss!'s server network. Before connecting to HideMyAss!'s servers, we started out with a connection speed of 70 Mbps download and 10 Mbps upload.
Using HideMyAss!'s instant mode, which automatically connects you to the best nearby server, we connected to a local HideMyAss! server in the US. The server gave us 62 Mbps download speed and 8 Mbps upload speed.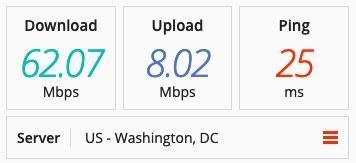 Next, we tested the speed of HideMyAss!'s streaming optimized UK server. Even though this server was much farther away than our physical location, there was barely any decrease in our download speed, with 56 Mbps.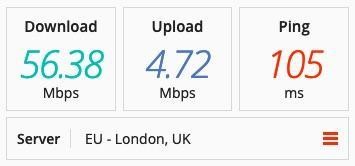 Even across the world in Japan, we were surprised to see that we averaged over 50 Mbps.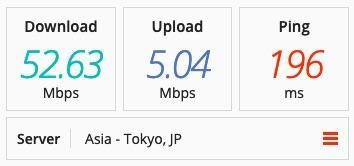 These speeds are excellent. It's rare that a VPN can achieve such consistently fast connection speeds across its network.
One of the biggest challenges for a popular VPN like HideMyAss! is maintaining fast enough connection speeds to meet growing customer demands. On the other hand, while running our speed tests, we did encounter connection errors while trying to connect to HideMyAss!'s servers in Mexico and Germany.
Although we had no problems with any other server locations that we tested, we would have liked to see better reliability across all server locations in the network.
Is HideMyAss! VPN Good for Torrenting?
HideMyAss! offers good support for torrenting. P2P traffic is allowed on designated high-speed servers that are optimized for P2P activity.
To make things easier, HideMyAss!'s interface for manually selecting your server location allows you to quickly navigate to a list of designated P2P servers.
Although HideMyAss!'s strong security features do a great job safeguarding your privacy, you should be aware that HideMyAss! does keep partial connection logs. This may not be ideal if you are looking for completely anonymous torrenting.
Security - Is HideMyAss! VPN Safe?
When you connect to HideMyAss!'s server network, your IP address is hidden and your data is protected with military-grade AES 256-bit encryption. There is also a choice of secure protocols, including UDP and TCP OpenVPN, L2TP/IPsec, and PPTP.
HideMyAss! offers strong security even if you are looking for a VPN that you can start using right away without messing around in the settings.
An OpenVPN connection with a UDP port is the default protocol on all platforms except iOS, which uses an IPsec protocol.
It's generally a good idea to use OpenVPN protocols whenever possible since they offer the most robust security without the vulnerabilities of older protocols.
Depending on your device, the IPsec protocol can sometimes offer better connection speeds than OpenVPN, so it's always good to have the option of switching protocols. We would recommend avoiding PPTP in most cases since it's an older protocol that has more security vulnerabilities.
HideMyAss! also offers an automatic kill switch on its Mac and Windows apps. This is a great security feature that will keep your data safe even if your VPN connection suddenly drops.
Another useful security feature available with HideMyAss!'s Mac and Windows apps is IP shuffling, which will automatically switch you to a new IP address after a specified period of time. This can help you avoid tracking and surveillance.
If you plan on using the IP shuffle feature, it's a good idea to make sure the kill switch is turned on as well so that your data isn't leaked while you switch between servers.
When we tested HideMyAss!, we didn't detect any DNS leaks and we were pleased overall with the safety and security of this VPN.
Does HideMyAss! VPN Keep Logs?
HideMyAss! is based in the UK, which is one of the founding members of the 5/9/14-Eyes Alliance. This isn't ideal from a privacy perspective.
The UK government is known to spy on its citizens online, and any surveillance gathered by the UK can be shared with other countries in the 5/9/14-Eyes Alliance as part of the intelligence-sharing agreement.
Fans of total anonymity also may not like the fact that HideMyAss! does keep some logs.
However, even though HideMyAss! does not have a strict no-logs policy, it's important to note that the provider does not log any user activity.
HideMyAss!'s logging policy states that they do not collect any of the following information:
The IP address you use to connect to HideMyAss! servers
Websites you access through HideMyAss! servers
Data sent or received through the HideMyAss! network
Some information is logged by HideMyAss! for diagnostic purposes, as well as to help prevent fraud and abuse. The following information is retained by HideMyAss! for 30 days:
Your VPN license ID
A time stamp indicating when you connect and disconnect to HideMyAss!'s network
The amount of data downloaded and uploaded each session
The subnet of your real IP address, which includes everything except for the last 4 digits of your IP address
The IP address of each HideMyAss! server you connect to
After 30 days, this information is deleted on a rolling basis, although, HideMyAss! has the right to retain the information for longer if your account is suspected of fraud or abuse.
Does HideMyAss! VPN Have an Adblocker?
HideMyAss! does not include an adblocker in its VPN service.
Does HideMyAss! VPN Work in China?
Although HideMyAss! has worked in China in the past, it does not reliably provide service to customers in China. Many users in China may find that HideMyAss! is blocked.
HideMyAss! has stated in their website's knowledge base that they will continue to look for ways to provide better access to customers in China, but currently, they are not able to guarantee that HideMyAss! will function in China.
Price and Value for Money
HideMyAss! offers three pricing plans, each with the same features. As is common with VPNs, HideMyAss!'s longer subscription plans offer a better value for your money.
The subscriptions are a bit on the pricey side, but still reasonable for HideMyAss!'s quality of service. However, the discounts offered on HideMyAss!'s longer plans aren't as big as those offered by some other high-quality VPNs.
HideMyAss! also has a 7-day free trial and a 30-day money-back guarantee, so you can try out the service risk-free. This is a great option if you can't decide if HideMyAss! is the right choice for you.
You can pay for HideMyAss! through PayPal, Visa, Mastercard, American Express, and UnionPay.
Is HideMyAss! VPN Compatible with my Device?
HideMyAss! is compatible with all major platforms. There are native apps for Windows, MacOS, Android, and iOS, as well as user-friendly manual installation guides for Linux and routers.
There are a few differences across devices. HideMyAss!'s native Windows and MacOS apps include an automatic kill switch, but this feature is not available on HideMyAss!'s mobile apps.
The native Windows app also gives you the ability to choose which apps are covered by the kill switch.
You can connect up to five simultaneous devices with one HideMyAss! subscription.
HideMyAss! VPN Customer Service
There are several ways to get in touch with HideMyAss!'s support team if you run into any issues.
You can submit a request ticket on the website or reach out through HideMyAss!'s 24/7 live chat support. You can also get in contact with the support team through social media.
When we reached out through HideMyAss!'s chat feature, there wasn't a support agent immediately available.
We didn't have to wait long though. Within a few minutes, a support agent reached out to us. We were pleased with the team's friendly, helpful assistance.
There are also some helpful resources to turn to on HideMyAss!'s website. One of this VPN's biggest selling points is the provider's fun, quirky personality.
The website has a series of guides on topics, like cybersecurity, geo-spoofing, and online privacy that are not only informative, but also funny and engaging.
You also have access to HideMyAss!'s detailed installation guides, FAQs, knowledge base, and a community forum.
User Experience
HideMyAss!'s interface has one of the most attractive, user-friendly designs that we've tested. The VPN's three simple modes allow you to customize your connection without the hassle of opening the settings.
After a fast and easy installation process, you can connect to HideMyAss!'s servers with a single click using its Instant Mode. The Instant Mode automatically connects you to the best nearby server.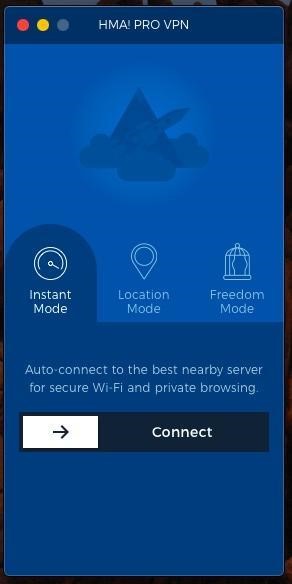 If you want to manually select your server location, you can switch over to Location Mode. Here, you can browse a list of all server locations. Connecting to any server is as simple as clicking on it.
You can also use the drop-down menu to navigate to your saved favorites or view a list of servers optimized for streaming or P2P traffic.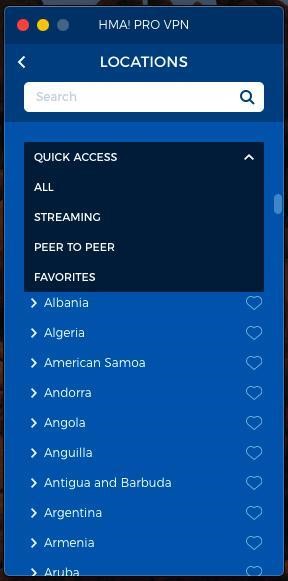 Finally, HideMyAss!'s Freedom Mode is perfect for escaping government censorship. It will automatically connect you to a nearby country that protects free speech.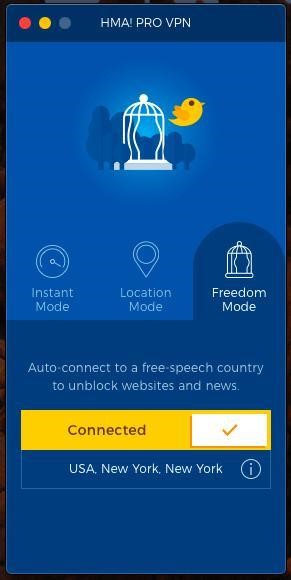 If you do want to manually customize your experience, the settings are straightforward to navigate. Most features can be enabled with a single click.
The automatic kill switch is disabled by default, so make sure to turn it on before connecting to a server if you want to be protected by this feature.
HideMyAss! offers some additional settings that can streamline your VPN experience, like the ability to automatically connect to the VPN when connecting to an unfamiliar wifi network.
Conclusion
With a large network, fast speeds, robust security, 24/7 live chat support, and reliable access to Netflix, it's clear that HideMyAss! has a great service to offer. Whether or not HideMyAss! is right for you depends on what you're looking for.
If your main goal with a VPN is geo-spoofing to escape censorship or access geo-restricted Netflix content, HideMyAss! could be a great option for you.
HideMyAss!'s robust security also has your back if you are looking to stay safe while connecting to unsecured public wifi networks.
On the other hand, if your goal is total anonymity, you may want to look elsewhere because of HideMyAss!'s UK headquarters and partial logging policy. Our reviewers have tested and vetted nearly every VPN and have rated them for issues like privacy and, of course, speed. For those of you who want--or need--complete security and privacy from any prying eyes, use a service with a stated no-logs policy like NordVPN .
| Features | Details |
| --- | --- |
| Number of countries with servers | 190 |
| Number of servers | 880 |
| Number of IP addresses | 110000 |
| Does VPN keep logs? | Yes |
| Does VPN include a kill switch? | Yes |
| Number of devices per license | 5 |
Downloading and installing HideMyAss! on your device is incredibly easy and only takes a few minutes.
After you choose your subscription plan, complete your payment, and open an account, you will be automatically directed to the correct download link for your device. When the quick installation is complete, you can start using the app by either providing your login credentials or entering the license key that was emailed to you.
The HideMyAss! app has an attractive, user-friendly interface. You can navigate to the app preferences to adjust your settings or get started right away with one of the VPN's pre-configured connection modes.
You could easily use HideMyAss! without ever manually adjusting any settings, but just be aware that the automatic kill switch is turned off by default. It can easily be turned on within the app's preferences.
HideMyAss! offers three subscription pricing plans, with longer plans offering better value for your money. Each of the plans includes the same premium features.
You can take advantage of a 7-day free trial and a 30-day money-back guarantee to test out the service.
HideMyAss! accepts payments through PayPal, Visa, Mastercard, American Express, and UnionPay.
Reliability & Support
4.5 / 5.0
Although HideMyAss! is easy to install and use on all major platforms, there are several ways to get help if you run into any issues. The provider's website has some useful resources, including detailed installation guides, FAQs, and a knowledge base.
If you still need help, you can visit the website's community forum to post your question or browse questions submitted by other users.
You can reach out to HideMyAss! support by submitting a request ticket or contacting the team on social media. The website also features 24/7 live chat support.
Although you may have to wait for a support agent to become available, we received helpful assistance from a live chat support agent within a few minutes of reaching out.
Fast, user-friendly VPN that is great for streaming Netflix and escaping censorship
HideMyAss! offers a sleek, powerful service with a user-friendly interface and excellent server speeds. The VPN's one-click Freedom Mode makes it easy to escape government surveillance and censorship. On the other hand, privacy lovers may not like the fact that HideMyAss! keeps some connection logs.
World's largest network of servers
Often has sales with significant discounts
Cross-platform capabilities
2 simultaneous devices
Great website
No data restrictions
Money Back Guarantee (Days):
30
Mobile app:
Number of devices per license:
5