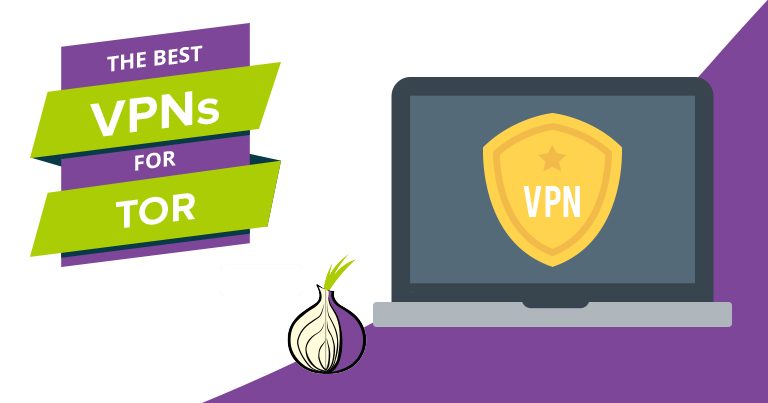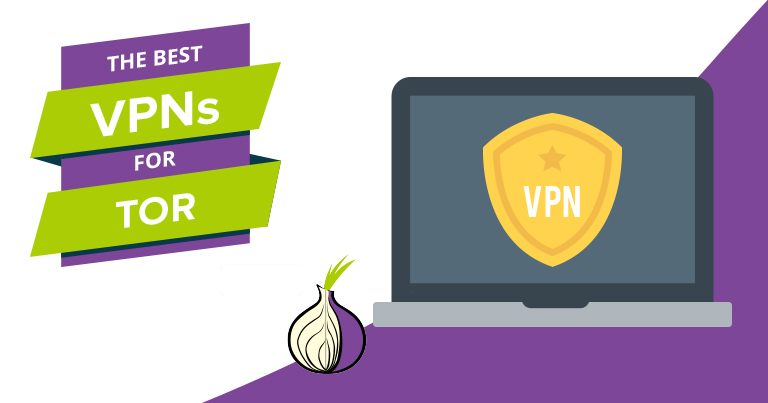 8 BEST VPNs for Tor Browser (& Onion Over VPN) in 2021
Updated on 23rd September 2021
When you're using Tor, you need a quality VPN to protect you from malicious Onion exit nodes and to hide your Tor usage from your ISP. The problem? There are only a handful of reliable VPNs that work seamlessly with Tor.
It's tough and time-consuming to dig through the pile to find a reliable provider that just works. I know this because I've tested 33 VPNs to find you the 8 best services for Tor. 
My top choice is ExpressVPN. It's secure and it has a unique built-in Onion over VPN feature that lets you connect to the Onion network with any browser. ExpressVPN is also super-fast, so you can navigate through the notoriously slow Tor network without additional delays.
Ready to find out which VPNs I recommend for a quick, secure, and private Tor session? Let's peel back the layers!
Start Browsing Tor With a VPN Now!
Get Started Using Tor Browser With a VPN!
The Best VPNs for Tor Browser – Full Analysis (Updated November 2021)
How do you know which VPN is best for Tor? I've made it simple for you. I extensively tested 33 VPNs to find the top 8 that offer advanced security, compatibility, speed, and most of all, features that make it easy for you to direct your internet traffic through the Onion network. All you need to do is decide which one is right for you.
If you have issues accessing your VPN, disconnect from the server that's giving you difficulty and then reconnect to another server. Once you're successfully on the VPN, then you can open up the Tor browser.
ExpressVPN is another great choice for Tor. It has its own.onion site in the Tor network. This gives you a safe, anonymous way to access ExpressVPN's homepage and download the VPN app, even if you're in a country that censors VPNs.
ExpressVPN's 256-bit encryption hides online traffic so you're secure and anonymous at all nodes in the Tor network, including the entry and exit nodes. Its TrustedServer technology takes it one step further by ensuring that all of its servers are loaded with the most up-to-date software at all times. This includes its RAM-based servers, which wipe all the data stored on them each time they reboot. This means that ExpressVPN can't store any of your information.
There are plenty of security protocols for you to choose from, including OpenVPN. With this protocol, you have the most advanced security features with minimal impact on your speed.
It offers a strict no-logs policy, and the automatic kill switch steps in to disconnect you from the internet if your VPN server connection is ever compromised. This prevents accidental leaks, like exposing your real IP to Tor's entry nodes.
ExpressVPN has blazing speeds, which is important because browsing through Tor slows down your connection quite a bit. But having a fast VPN minimizes the slowdown. For the quickest connection, use a server that's close to your physical location.
You can choose from over 3,000 servers in 90 countries. You always have a nearby server when you're traveling or working from different global locations.
You also have up to 5 simultaneous connections so you can protect all of your devices without signing up for multiple subscriptions.
Take advantage of the 30-day money-back guarantee and try it risk-free.
Don't worry if you're having connection issues or other complications, 24/7 live chat support is always ready to help.
Want to know more? Explore our ExpressVPN review to see the full results of our research and testing.
Looking for a no-fuss, easy-to-use VPN that you can customize later if you want to? CyberGhost might be the best solution for you.
CyberGhost offers you high-end security, including 256-bit encryption for maximum privacy and anonymity. This level of encryption keeps what you do online hidden from hackers or spies who may try to see what you're up to.
CyberGhost also provides DNS and IP leak protection. This is useful if you also want to protect traffic from your regular browsers. DNS leak protection stops security flaws in your device from accidentally routing your DNS requests back through your ISP. IP leak protection stops IPv6-enabled sites from garnering your real IP address when you're using your VPN.
Alongside these top-notch features, there's an automatic kill switch to protect you, your location, and online activity if your connection ever drops unexpectedly.
Since CyberGhost is based in Romania, it sits outside the surveillance alliances. It's under no obligation to store your data with government surveillance agencies or your ISP. CyberGhost also offers a strict no-logs policy, which means no data or activity stays behind on the servers.
There are also multiple security protocols to choose from, but OpenVPN is the default protocol. With OpenVPN, you have top security and speed without needing to configure the settings yourself. If you need to change your security protocol, you can do so with minimum hassle.
Want even more privacy? CyberGhost offers access to NoSpy servers with extended bandwidth and faster speeds, plus the strongest encryption, so you can keep your activity truly hidden. These servers are locked in secure data centers in Romania and are maintained by CyberGhost directly. This cuts of the potential of a middleman or third party interfering with your data.
You can choose from over 7,450 servers in 90 countries. Each server comes with reliable connections and lightning-fast speeds, so you can browse Tor seamlessly. When you access the Tor network through CyberGhost, however, your speeds may decrease significantly, but with the fast speeds of CyberGhost, this will be minimal.
If you want to explore CyberGhost first, use the 45-day money-back guarantee. With this generous money-back guarantee, you have a month and a half to really experience all it has to offer and you can try it out on up to 7 devices.
Questions about the servers? Want to find out if it covers all of your devices? CyberGhost has answers. Get in contact with 24/7 live chat support for help.
Want to know more? Explore our CyberGhost review to see the full results of our research and testing.
Private Internet Access uses military-grade encryption for top-notch security while you're browsing or navigating through Tor Browser. Your Tor use stays hidden from your ISP, while the entry node can't see your IP address.
Its zero-logs policy assures you that it doesn't log any traffic or DNS request logs, keeping what you're doing online completely private from third parties.
There's a built-in ad, malware, and tracking blocker called MACE. You turn it on and off as you need to stop dangerous sites from potentially downloading malware that could compromise your device. It also keeps ads from your browsing sessions.
When I tested Private Internet Access, I experienced reliable connections and acceptable speeds to support my Tor browsing needs, with similar slowness expected in the Tor network.
Choose from 29,650+ servers in 70 countries, and make the connection on up to 10 simultaneous devices.
You have the opportunity to take it on a short test drive with Private Internet Access's risk-free, 30-day money-back guarantee.
When you have questions, you can turn its live chat feature or create a help ticket.
Want to know more? Explore our Private Internet Access review to see the full results of our research and testing.
Try Private Internet Access Today!
If you're looking for support to help you set up Tor with a VPN, then PrivateVPN is a great contender. You can use the helpful step-by-step guides on its website to easily configure Tor. Another option is to take advantage of its TeamViewer service and allow support staff to access your device and set up PrivateVPN with Tor for you.
PrivateVPN has 200+ servers in 60 countries. While you might be thinking it's not quite as impressive as other leading services, I was still able to make a secure connection to Tor at a comparable speed to the other VPNs I tested.
PrivateVPN uses AES 256-bit encryption with a 2048-bit DH key, which makes it's extremely difficult for hackers and snoops to crack this encryption stronghold to see your internet activity.
Worried about giving away too much? PrivateVPN has a strict no-logs policy, so none of your data or online history is retained on the servers. There's also an automatic kill switch, plus DNS and IP leak protection, which ensures that your private data is secure, even if you unknowingly lose your VPN connection.
You can connect up to 6 of your devices at once. And if you need help configuring PrivateVPN with Tor on your devices, use live chat for immediate support.
The app itself is easy to use with a one-click setup and user-friendly interface.
You can try it out risk-free with the 30-day money-back guarantee.
Want to know more? Explore our PrivateVPN review to see the full results of our research and testing.
IPVanish uses obfuscated servers to add another layer of security when you browse through the Tor network. This is particularly useful if you're in a location with high digital censorship, as it means your ISP can't actually see you're using a VPN. And no, it won't know you're using Tor, either.
You can select from 1,900 servers in 70 locations, giving you convenient, nearby server choices no matter where you're traveling.
It offers compatibility with several VPNs protocols, including the most secure: OpenVPN. There's 256-bit encryption for maximum security to ensure your online activity remains private and anonymous.
IPVanish has a strict no-logs policy, so there's no need to worry about your data trail.
Its speeds are reliable, but like all the VPNs I tested, I experienced slowdowns while browsing through Tor. Using a regular browser, I found it to be fast, but not as fast as ExpressVPN.
You're allowed up to unlimited simultaneous connections, so you can share your access with everyone in the household.
You may have questions when you first begin with IPVanish. Not a problem. Contact support 24/7 through its live chat feature.
Ready to sign up? It has a 30-day money-back guarantee so you can give it a try risk-free for a week before making a long-term decision.
Want to know more? Explore our IPVanish review to see the full results of our research and testing.
SaferVPN supports the OpenVPN protocol, which gives you the highest level of encryption for your Tor Browser experience.
The VPN also uses 256-bit encryption, alongside a zero-logging policy and automatic kill switch to ensure your data and activity are anonymous.
Protect yourself even further and sign up for SaferVPN with cryptocurrency rather than exposing your credit card details. All you need to pay for the service with Bitcoin is an email address – no other identifying or personal details. My tip? Create a new email address just for this purpose, so you don't need to give away your private contact details.
Want to move around the globe? SaferVPN offers unlimited server switches, so you can choose from any its 950 servers in 35 countries and move as you like. It also selects the server that's right for you, measured by latency, distance, and speed.
You're allowed to use up to 12 devices at a time with a single subscription.
You're protected by a 30-day money-back guarantee when you sign up. This means you take your time in the first month to explore it completely and get a refund with no hassles. You can also turn to live chat for help, which is available day and night.
Want to know more? Explore our SaferVPN review to see the full results of our research and testing.
When you access the Tor network with Hotspot Shield, you get to use its patented Catapult Hydra protocol. This exclusive VPN protocol boosts your security and speed, particularly over long distances. It's twice as fast as OpenVPN.
In my tests, however, I experienced some slowness in Tor Browser, which I expected since using Tor always comes with slowdowns. But the Hydra protocol curtails some of the sluggishness.
Hotspot Shield follows a strict no-logs policy and includes military-grade encryption for top-level security that masks your private data, keeping it from prying eyes.
It also provides malware protection to safeguard you against potentially harmful sites. This is a convenient feature, but you still need an antivirus program as malware protection doesn't detect or clean infections.
Hotspot Shield has an easy-to-use interface and it's quick to set up with one-click steps.
You can also connect anywhere in the world by choosing one of Hotspot Shield's more than 1,800+ servers in over 80 countries.
You have access to a lengthy 45-day money-back guarantee, which allows you to test out every feature risk-free on up to 5 devices simultaneously.
If I've not answered all your questions about browsing with Tor using Hotspot Shield, you can get in touch with the service any time with its responsive 24/7 live chat support staff.
Want to know more? Explore our Hotspot Shield review to see the full results of our research and testing.
Windscribe is highly secure, offering 256-bit encryption with SHA-512 authentication and a 4096-bit RSA key, so your online activity is safe from the moment you enter the Tor network.
It uses multiple security protocols, including OpenVPN, which is the most secure protocol. Windscribe doesn't store identifying logs, either. Although it uses your IP and timestamp, it can't actually identify you, so you're completely invisible to Windscribe and your ISP.
There's a built-in ad blocker, R.O.B.E.R.T., which blocks trackers and ads, and also blocks dangerous sites. It allows you to customize a list of sites you want to block, such as gambling sites or others that you deem dangerous.
You can connect to a host of servers in 60 countries and 110 cities.
To answer the last question on your mind about simultaneous connections, there's no limit! You have Unlimited device connections at your disposal.
If you're looking to test it out with a full refund as an option, Windscribe has a 3-day money-back guarantee. 
You may have some questions along the way, and Windscribe's chatbot can answer many of them for you, but if not, live chat support will take over.
Want to know more? Explore our Windscribe review to see the full results of our research and testing.
Why You Need a VPN for Tor Browser
When you use a VPN in conjunction with Tor, you have all the security and privacy you need to keep your activity from snoops, hackers, your ISP, and government surveillance.
Even if your internet traffic is anonymous with Tor Browser, hackers could intercept your traffic at the entry or exit nodes and see what you're doing. A VPN keeps you completely invisible with military-grade encryption.
Tor Browser only encrypts your online traffic that routes through the browser. Any apps or sites you access outside of this risk your privacy and security. A VPN applies system-wide encryption that provides anonymity and security whether you're browsing, streaming, or just flipping through social media.
Start Using Tor Browser With a VPN Now!
How We Tested the Best VPNs for Tor Browser
I looked closely at every VPN's overall security features, including encryption, authentication keys, and protocols.
I was particularly looking for compatibility with the most advanced security protocol, OpenVPN, which offers the best balance of speed and security.
Since your traffic routes through several nodes before it reaches your destination, it's no surprise that using Tor can slow down your speeds.
Adding a VPN on top of that can also cause even more lag. Who wants that? Unless you use a powerful VPN that offers great speeds and reliability, this will happen. So of course, speed was high on my list.
I also reviewed ease of use, to find you the best VPNs that are simple to set up with Tor, so you can start browsing anonymously and securely without delay.
FAQs
Is using Tor and a VPN legal?
Yes. Tor is legal to use and using a VPN with Tor is also legal. Some countries impose VPN restrictions or even ban the use of VPNs. If you want to ensure the country you're in allows VPN use, then take a look at our blog on VPN legality.
What's the difference between Tor and a VPN?
Tor is a relay network that passes your data through three or more nodes before it leaves the network and reaches the site you're trying to use. It encrypts your data to start with, though your IP address is exposed at the entry node. Each node decrypts a layer and the data is completely decoded by the time it leaves the exit node. But the exit node, and its operator, can see your data request.
A VPN is a program that encrypts your data so your ISP, hackers, and government surveillance can't see what you're doing. It also masks your IP address so nobody can see your real location.
When you use the two together, you add an extra layer of protection and security to the entire process, as your data is encrypted and your IP address is hidden from start to finish.
Is Tor over VPN or VPN over Tor better?
With Tor over VPN, you connect to a VPN first and then Tor. This method has more advantages than the reverse. For one, it's much easier to connect to, since you simply choose a server and then launch Tor Browser. It also means all of your data is encrypted before you enter the Tor network.
The Bottom Line
After hours of testing the best VPNs for Tor, only 8 truly offer compatibility and security while giving you the fastest speeds possible with the natural slowdowns that result from browsing the Tor network. Each VPN maintains your privacy before you enter the Tor network, so you're safe from prying eyes, whether that's your ISP or a potential hacker.
ExpressVPN is my top recommendation, due to its dedicated Onion over VPN feature, encryption that guarantees the best in security, and lightning-fast speeds.
To summarize, here are the best VPNs for Tor browser in 2021…