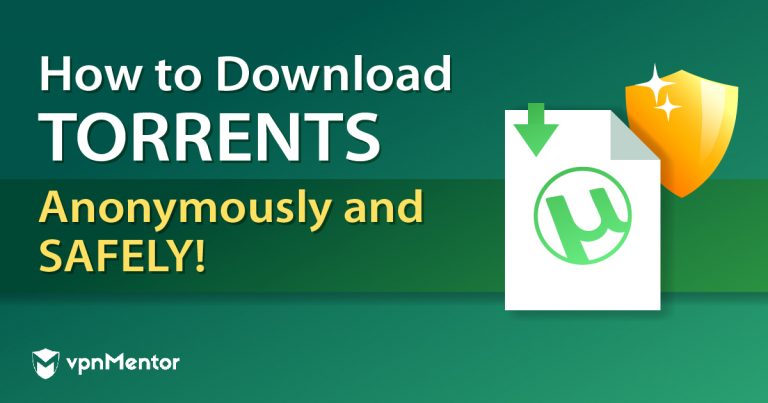 How to Torrent Safely (& ANONYMOUSLY) in June 2021
Updated on 16th June 2021
Downloading torrents can be dangerous. Every time you torrent on an unprotected internet connection, you're taking a huge risk.
While it's a fast and easy way to share files, torrenting can expose private information from personal files on your computer that hackers can exploit. Torrent files often contain dangerous malware that can infect your device. Even if you don't intend to download copyrighted material, you could accidentally breach copyright laws and end up being fined or worse.
In other words, if you're going to torrent, you need to protect yourself. A good VPN is the easiest way to torrent anonymously and securely, without putting your device and your privacy at risk.
VPNs encrypt your internet traffic and anonymize your connection. This means no-one – including hackers, the government, and even your own ISP – can see what you're up to online.
I recommend ExpressVPN for safe torrenting. Its powerful security protocols will protect your data while you torrent, and it has lightning-fast download speeds. You can try ExpressVPN out totally risk-free (it comes with a 30-day money-back guarantee).
Torrent Safely With ExpressVPN!
Quick Guide:
How to Download Torrents Safely
Download a VPN. I recommend ExpressVPN for total anonymity and advanced security.
Connect to a server. All of ExpressVPN's servers are P2P-friendly and will keep you safe.
Pro tip: check your VPN's security settings to ensure that you've got the best protection possible.
How to Torrent Safely and Anonymously – The Ultimate Guide
Follow this step-by-step guide to make sure you're fully protecting your device and your data when you torrent.
Why Are Torrents Dangerous?
Torrents come with five main risks:
Malware. Torrent files are reliable sources of malware. It only takes one dangerous download to install viruses, spyware, ransomware, or other forms of malware on your device without you even knowing. Unfortunately, torrents are an easy way for hackers to infect and even shut down your computer or network.
Hacks. When you connect to a torrent client and start downloading a file, your IP address is visible to everyone sharing that file. This leaves you exposed to hackers who can find your real location, monitor your activity, attack your device, or even steal your identity.
Data safety. File sharing leaves gaps in your security, especially if you don't have designated folders for your downloads. These gaps can expose personal or business information you'd prefer to keep private, like your bank details.
Copyright issues. Many torrent files contain copyrighted information, and if they're mislabeled or you're in a rush, you may not realize that you're actually downloading stolen material. P2P file sharing means the IP addresses of everyone downloading a certain file are visible. Theoretically, if your IP address is caught downloading copyrighted material (even accidentally), a copyright holder could demand that your ISP hand over your data. You could then face fines (or more severe legal consequences, depending on where you live) for breaching copyright laws.
ISP throttling. Sharing large files like episodes of TV shows, music albums, or movies uses a lot of bandwidth. If your ISP sees that you're torrenting, it may "throttle" you by reducing your bandwidth and speeds. This will impact everything you do online.
Torrent Safely With ExpressVPN!
How a VPN Protects You
Using a VPN (Virtual Private Network) is the easiest way to stay safe when you torrent. The best VPNs for torrenting work by routing your internet connection through a secure tunnel across a network of private servers.
These VPNs use powerful AES-256 encryption to secure your data. This makes it completely undecipherable, protecting you from hackers and anyone else (like your government, your ISP, or annoying advertisers) who may try to spy on what you're up to.
The best VPNs have servers in multiple global locations. When you connect, you're assigned a new IP address, which makes it look like you're connected from somewhere else. This masks your real location, and protects your identity and privacy.
Connecting through other countries has other benefits, too. VPNs let you bypass censorship and content restrictions so you can access torrenting sites and services, even if they're blocked in your home country. You just need to connect to a server in a country with access. (This trick also works with geo-restricted streaming services like Netflix!)
Torrent Safely With ExpressVPN!
How to Choose a VPN for Safe Torrenting
Many VPNs claim to be safe for torrenting, but not all of them are actually good enough to protect you. When choosing a VPN for safe torrenting, look out for the following features:
P2P support. Not all VPNs support file sharing, so the first thing you need to do is make sure that your provider has P2P-optimized servers. For example, ExpressVPN is easy to use for torrenting because it supports P2P connections across its whole network (other VPNs have special servers for torrenting).
Zero-logging policy. A no-logs policy ensures that your VPN won't monitor or store any of your session data. Everything you download and do online will remain private. It also guarantees that if a copyright troll or government demands information about your activity, your provider will have nothing to hand over.
A kill switch. Kill switches cut your internet connection if your VPN connection drops. This prevents unencrypted information from leaving your device and keeps your identity private.
Unlimited bandwidth. File sharing is heavy on your bandwidth, so make sure your provider doesn't use data caps. (This is also a reason to never use a free VPN for torrenting: most free providers limit your bandwidth usage, effectively preventing file sharing.)
Fast speeds. Connecting to a VPN can slow you down as your data has to travel further. Torrenting can slow you down because heavy files transfer slowly, especially when they're being shared by lots of people. The best VPNs are fast enough to overcome these issues so you can torrent without any lags or buffering.
Full apps. Some VPNs only offer browser extensions instead of full apps. Browser extensions won't protect your torrent client because it's an external program – they only protect data leaving your browser. Make sure your VPN offers complete, functional apps for all your devices.
ExpressVPN is my top choice for safe torrenting because it's the fastest VPN I've tested, comes with an automatic kill switch, and protects you with a watertight no-logs policy. It also has apps for most devices and operating systems.
How to Configure Your VPN for Safe Torrenting
Once you've chosen a VPN provider, you'll need to download and install the software onto your device. VPNs are designed to keep you safe, so most come pre-configured with the most protective security settings enabled. If you've had your VPN for a while, you may want to double-check that you're using the most secure settings. Here's how:
1. Download your VPN software.
2. Install the software and sign in.
3. Open the settings menu and adjust the following settings if necessary:
Encryption. While most VPNs use 256-bit AES encryption to secure your data, some only set 128-bit as the default. Make sure you're using AES 256.
Protocol. Make sure you're using a secure protocol. I recommend using OpenVPN wherever possible. Avoid PPTP – it's an older protocol that isn't strong enough for safe torrenting.
Kill switch. Turn this on if it's not on by default.
Leak protection. Enable both DNS and IP leak protection.
Split tunneling. This feature means you can send some of your traffic through the VPN, and leave some unencrypted. In other words, you can encrypt your torrenting traffic and also access local sites through your regular internet connection. You'll be able to file share securely while leaving other apps that need a local IP address (like a takeout service or your bank's site) unprotected.
4. Select a server or server location. Make sure to choose a torrent-friendly server from a list of P2P-enabled servers where relevant. Choose a server in a country where torrenting is legal and the torrent sites you want to use are not censored or blocked (for example, Spain).
5. Connect to the VPN. Your device will tell you when a secure connection has been established. You can now torrent anonymously.
Torrent Safely With ExpressVPN!
Why Is a VPN Necessary for Safe Torrenting?
VPNs are essential for safe torrenting because they help to minimize or even overcome some of the risks of torrenting.
VPNs Protect Your IP Address
When you download or upload files through a torrent client, your IP address is visible to everyone else connected to that file. Your VPN gives you a different, anonymous IP address. This hides your real identity and location and protects you against hackers and copyright trolls.
VPNs Bypass ISP Throttling
When your internet connection is unprotected, your ISP can see everything you do online, including when you torrent. If torrenting is illegal or falls into a legal gray area where you live, your ISP may "throttle" your connection by reducing your bandwidth or speeds. VPNs encrypt all your internet traffic. Your ISP won't be able to see what you're downloading or where the files are from, so will have no reason to throttle you.
VPNs Bypass Content Restrictions
Your country may block torrent sites. Even if torrenting is legal in your country, your school or employer may choose to block them anyway.
VPNs route your connection through their own servers. You can bypass national content restrictions by connecting to a server in a country where torrents are legal. You can also bypass local restrictions by using your VPN connection to connect to a server outside of your school or work network.
Get the Best VPN for Torrenting!
More Things You Can Do to Stay Safe
Using a VPN is a really good way to torrent safely. Here are some more ways your can protect yourself when you torrent:
Use an antivirus. Torrent files often contain viruses that can infect your device (or entire network). A good antivirus with reliable real-time monitoring will scan files as you download them, helping you avoid viruses and other types of malware. I'd also advise you to steer clear of EXE and BAT files as they are more prone to viruses.
Download legal torrents. The easiest way to avoid legal issues with copyright holders is to stick with legal torrents. These may include open-source software, public domain content, and independent movies and music which have been released for free.
Choose your torrents carefully. Torrent files with lots of seeders are less likely to be infected with viruses (and will probably download faster). You can also read up on the torrent site and check the comments to see what other people are saying.
Configure your torrent client. You can't file share directly through your browser. You need to use a safe torrent client, too. Some clients include built-in security features like encryption, so you can hide your torrent traffic from your ISP. You can also consider IP binding. This stops all torrent traffic to and from your device unless you're connected to a specific IP address. Some VPNs offer dedicated or static IP addresses, which can help keep you safe.
The Best VPN for Downloading Torrents Safely
P2P support on all servers
Excellent download speeds
Zero-logging policy and TrustedServer technology guarantee anonymity
30-day money-back guarantee
Unblocks: Netflix, Hulu, HBO, Amazon Prime Video, Showtime, Sling TV, DAZN, BBC iPlayer, and more
Works with: Windows, macOS, iOS, Android, Android TV, Linux, Chrome, Firefox, smart TVs, gaming consoles, and routers
ExpressVPN is a powerful VPN that makes it easy to torrent safely and anonymously. It operates 3,000 servers spread across 94 countries worldwide, so you can find a nearby high-speed VPN server no matter where you live. Its entire network is optimized for P2P traffic.
ExpressVPN uses proprietary TrustedServer technology and a no-logs policy to ensure there's no record of your online activity. This means that no one, including your ISP, the government, or ExpressVPN itself, can see what you're doing or downloading online. You can learn more about ExpressVPN's commitment to privacy in our ExpressVPN review.
Powerful 256-bit AES encryption protects your private information from hackers. Its built-in DNS/IPv6 leak protection and Network Lock (kill switch) work together to protect your identity from spying eyes at all times.
ExpressVPN's geo-spoofing abilities mean you'll be able to access international Netflix libraries, Hulu, and more. Its user-friendly apps are great for beginners, and it also offers the kind of customization that experienced users love.
You'll be able to connect up to 5 devices at the same time with unlimited bandwidth and great speeds. Its 24/7 live chat support will help you solve any issues that come up.
You can also use ExpressVPN's no-questions-asked 30-day money-back guarantee to test it out risk-free.
Torrent Safely With ExpressVPN!
What Is BitTorrent and How Does P2P File Sharing Work?
BitTorrent is a file sharing technology that is different from conventional file transferring. Unlike websites that rely on a central server to store files, BitTorrent stores files on the computers of all the people in a file-sharing network. This is known as peer-to-peer computing.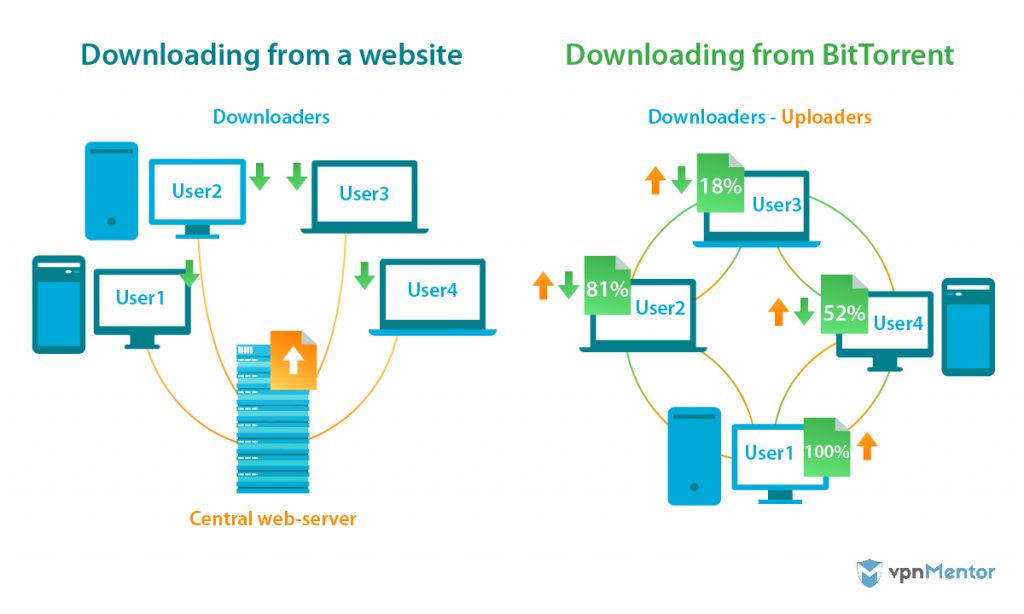 The computers in the network (sometimes called a swarm) break each file down into very small chunks. They are then put back together by anyone who downloads a particular file. In other words, any file that's being downloaded is simultaneously being uploaded for other people to use.
This is what makes torrenting such a fast way to share files: the workload is distributed between an entire network of computers rather than a single server, and you don't have to wait for an entire file to download before you start uploading it.
It's also one of the reasons torrenting can be so risky. Your BitTorrent client exposes your IP address to thousands of other users who are downloading the same file. This threatens your privacy and can make you an easy target for distributed denial-of-service (DDoS) attacks and other malicious hacking strategies.
Glossary of Key BitTorrent Terms
Here are some key terms you should know before you start torrenting:
BitTorrent clients: The software application you need to participate in P2P file sharing.
Indexes: An index is a website where you can find lists of torrents to download.
Leechers: A leech is a peer who is downloading a torrent file. If the torrent you want has a large number of leechers and not enough seeders, it takes much longer to download.
Peer: In the torrenting world, a peer is a BitTorrent client that's sharing and downloading files with the network. When you start torrenting, your BitTorrent client becomes a peer.
Seeders: A seed is a peer who already has the file that you want to download and is able to share it with you. The higher the number of available seeders, the faster your torrent will download.
Swarm: A collection of all of the peers in the BitTorrent network who are sharing a specific file.
Torrent: A.torrent file acts like a road map for your BitTorrent client. It helps your client find peers with the file you want so you can start downloading.
Torrent Safely With ExpressVPN!
FAQs on How to Torrent Safely
Is torrenting legal?
Torrenting is just a method of sharing files, and is completely legal in most countries. However, it's almost always illegal to download files containing materials which are protected by copyright without receiving permission and paying the required fees.
Even if you plan on downloading files that are perfectly legal, there is always some risk involved. It's easy to click the wrong link by accident, which could cause your ISP to flag you or even report you to the government. That's why I recommend always using a trustworthy VPN while torrenting. ExpressVPN is my top choice for safety and security.
How do people get caught using torrents?
Torrent files use a special type of file transfer, which requires a particular port (often the 6881-6889 TCP port). This means it's easy for your ISP to identify torrent traffic, especially if you're using an unprotected internet connection.
As I explained above, file sharing leaves your IP address exposed to everyone in your swarm. ISPs can easily identify both the content you're sharing and your identity, and this can have serious consequences. This is why it's always a good idea to protect yourself with one of the best VPNs for torrenting.
What happens if you get caught torrenting?
It depends on where you are and what you're torrenting. If you're sharing legal torrents like open-source software and public domain media, nothing will happen. If you're in a country that enforces its copyright laws and are caught sharing illegal material, you could face cease and desist letters, fines, or even imprisonment.
How does my ISP know I'm torrenting?
As well as being able to identify the type of file you're downloading and the port your connection is using, torrents are very heavy on your bandwidth. Your ISP can detect surges in data use, showing them that you're torrenting.
The good news is that with a top VPN like ExpressVPN, not even your ISP will be able to see your online activity. This is the best way to get around bandwidth throttling.
Will using a VPN affect my torrenting speed?
Maybe. It depends on a lot of factors, including your regular connection speed, your VPN provider's network size, and your location. ExpressVPN is fast enough that you shouldn't notice any lags or buffering while you torrent.
The best VPNs come with good refund policies. ExpressVPN offers a money-back guarantee, so if you're not happy with its speeds you can claim a refund within 30 days. But since it's also the fastest VPN we've tested, you're not likely to face any issues.
Can I use Tor for anonymous torrenting instead of a VPN?
No. The Tor network has many great uses, but it isn't designed to handle P2P file sharing. The creators of The Tor Project have repeatedly asked the public to avoid using BitTorrent with Tor. They've clearly stated that it isn't safe, and that the Tor network can't handle the volume of traffic that torrenting requires – it's slow at the best of times.
The Bottom Line
A VPN is the safest, easiest way to protect yourself and your device while you torrent. A high-quality VPN masks your IP address and encrypts your data to protect you from hackers and copyright trolls.
My top recommendation for safe torrenting is ExpressVPN because it's really fast, highly secure, and offers really good value for money. You can find some other great options on our list of the best VPNs for torrenting.
To summarize, the best VPN for safe torrenting is:
Privacy Alert!
Your data is exposed to the websites you visit!
The information above can be used to track you, target you for ads, and monitor what you do online.
VPNs can help you hide this information from websites so that you are protected at all times. We recommend ExpressVPN — the #1 VPN out of over 350 providers we've tested. It has military-grade encryption and privacy features that will ensure your digital security, plus — it's currently offering 49% off.