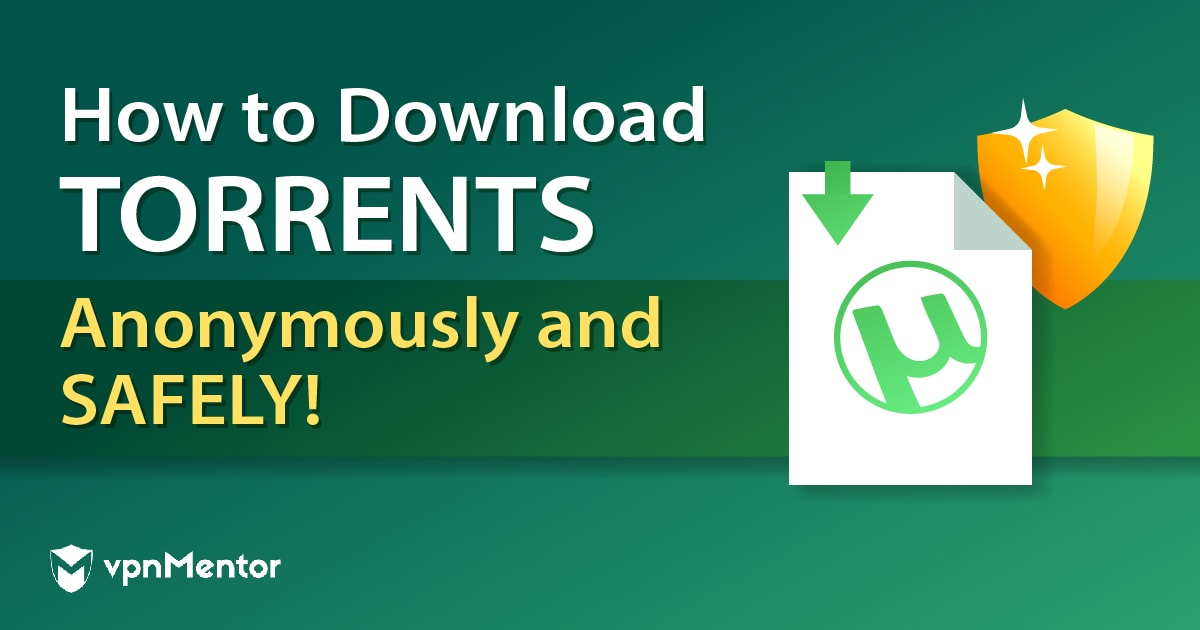 How to Torrent Safely & Anonymously — Updated Guide 2023
Downloading torrents can be a dangerous business — every time you download a torrent using an unprotected internet connection, you're taking a big risk. Without proper protection, you could infect your device with malware, spyware, and viruses. Also, hackers and unwanted third parties could exploit your private information.
The easiest way to stay safe and anonymous when torrenting is to use a reliable VPN. It encrypts your traffic and anonymizes your connection, which means no one can see what you do online. And since hackers can't penetrate your encrypted connection, your data won't fall into the wrong hands.
My favorite VPN for safe torrenting is ExpressVPN. Its robust security features, no-logs policy, and fast speeds make it a fine addition to your torrenting tools. You can even try ExpressVPN's torrent-friendly features completely risk-free because it's backed by a money-back guarantee. If it doesn't work out, just ask for a refund within 30 days.
Torrent Safely & Anonymously Today!
Quick Guide:
How to Download Torrents Safely & Anonymously in 2023
Download a VPN. I recommend ExpressVPN because of its P2P-optimized servers and fast speeds.
Connect to any server. This keeps you secure and anonymous when torrenting.
Start torrenting now! Download a torrent from a trustworthy torrent site and extract the file on a reliable torrent client.
How to Torrent Safely and Anonymously in 2023 – The Ultimate Guide
Step 1: Get a reputable VPN
Using a reliable and trusted VPN is the best way to torrent safely and anonymously. It works by redirecting your data through one of its private servers, making it look anonymous to other users. If you don't use a VPN, your personal data, online identity, and activity will be exposed to unwanted third parties.
For example, hackers can target you with attacks, and your ISP can see everything you do online without hiding your IP and encrypting your traffic with a VPN. ISP's sometimes even cap your download speeds if they see you're downloading a lot of large files. A VPN makes your traffic unidentifiable, so you can bypass speed throttling for faster downloads.
To torrent safely, make sure you pick a VPN that has military-grade encryption and hides your IP address. This makes your connection impenetrable and conceals your identity and location from prying eyes. A reliable VPN will also have a large server network with P2P-optimized servers so that you can download torrents quickly without any bandwidth throttling.
Step 2: Always have your VPN connected
Forgetting to connect to your VPN before opening your torrent client could jeopardize your safety. Torrent clients will immediately begin seeding when you open them, which fully exposes your IP address. Don't forget to close your torrent client properly when you're done too, as closing the window alone isn't enough. Also, make sure you're 100% certain that your torrent client is closed before disconnecting from your VPN.
Step 3: Get a reliable torrent client
To download a torrent, you need to use a reliable torrent client. Since one torrent consists of many files from different locations, you can't just download a torrent from the internet and be over with it. The torrent client's job is to manage and bring all the files together, so you can obtain the complete package after downloading.
When choosing a torrent client, you want one that is easy-to-use, lightweight, and customizable. It should enable a decent degree of customization and functionality so that you can torrent safer. Here are some torrent clients I recommend:
uTorrent — The most popular torrent client with a clean and simple interface. It also allows you to customize its features, although it does come with ads.
BitTorrent — Comes with a user-friendly interface that has a drag and drop feature, making it ideal for beginners. But like uTorrent, it has ads.
Deluge — An open-source client that is compatible with many extensions. However, it's no the easiest to use.
qBittorrent — Allows plenty of customization and is free of ads. Unfortunately, it doesn't enable extensions.
For more information on finding the right torrent client, check out this article.
Step 4: Configure your VPN and torrent client
Properly configuring your VPN and torrent client will eliminate any privacy and safety risks while torrenting. Your IP address won't be exposed, and your connection will be encrypted, which prevents hackers from uncovering your identity and obtaining your data. ExpressVPN has all of these handy security options, but generally, these are the settings to enable/configure on whichever VPN you choose:
Kill switch — This disconnects you from the internet if your VPN suddenly drops out. It's sometimes turned off in your default settings, so make sure it's on.
Advanced protocol — Enable the OpenVPN protocol, which is the best protocol for torrenting. It provides a great balance of speed and security, which serves torrenting well.
AES-256 bit encryption — The strongest level of encryption that scrambles your data. When your data is scrambled, it becomes impenetrable and unreadable to third parties.
DNS leak protection — A DNS leak will accidentally expose your browsing activity to third parties, so this feature prevents that from happening.
Split Tunneling — This lets you choose the apps that use and don't use your VPN connection. It's not necessary but handy if you want to keep some sites on your real IP when torrenting.
The primary setting to configure on your torrent client is IP binding. It lets you approve connections from specific IP addresses and blocks all others. In this sense, it's pretty similar to a kill switch. You should also use a torrent IP address checker if it's available, as it ensures that your actual IP address is hidden.
Step 5: Install an antivirus software
Good antivirus software provides an extra layer of protection in addition to your VPN. It scans all the files you've downloaded for any malware, spyware, or viruses. If any of them are uncovered, the antivirus removes or isolates the problem before it worsens.
Prominent antivirus providers include Norton, McAfee, Windows Defender, Avira, and Malwarebytes, all of which are affordable and easy to install.
Step 6: Download a safe torrent
Downloading a safe torrent is crucial because the wrong one can be filled with malware. Hackers usually fill torrents with malware and disguise them to wreak havoc. Therefore, make sure you only download torrents that have been verified for safety.
A good place to start is to use a trustworthy torrent site that's well established. Don't download a torrent from an obscure site that you found off a Google search, as Google often displays the URLs of fake sites.
Some reliable torrent sites include:
The Pirate Bay
YTS
1337x
RARBG
Limetorrents
Another issue is that a lot of torrents are protected by copyright, especially new ones. Since they're illegal to download, I don't recommend downloading them. To stay protected from this threat, it's best to downloaded torrents from legal sites like the Internet Archive and Public Domain Torrents.
When a torrent has been downloaded, examine its files, get rid of any.exe files, and look up any unfamiliar extensions before opening them.
Torrent Safely & Anonymously Today!
Additional Tips to Help You Torrent Safely & Anonymously
In addition to the steps above, you can take these extra measures to ensure a greater level of safety and anonymity:
Look out for a high seeder/leecher number — In torrenting, a seeder shares a full copy of a file with other users. On the other hand, a leecher is someone that downloads those files. If a torrent has many seeders and leechers, it's more likely to be safer because of its regular activity. It'll also be faster to download too, which is another plus.
Read reviews and comments — Most torrent sites allow users to leave comments and reviews for each torrent. Be sure to take note of these as they will warn you of any dangerous torrents. But don't just rely on this alone, as hackers will sometimes leave fake comments to lure suspects.
Use a private torrent site — Private torrent sites work on an invite-only basis and regularly moderate their torrents. They act as a community where users only share files between members. Notable private torrent sites include IPTorrents and PassThe Popcorn, and invitations can be obtained by being active on places like Reddit.
Download files into a sandboxed environment — A sandboxed environment isolates your files so that you can check them for malware without risk. Being sandboxed prevents any malware from leaking and infecting your device. The way to do it is to use a sandbox program like Sandboxie, which is easy to install and use. Another option is to install a virtual machine on your device, which acts as another operating system.
The Best VPNs to Torrent Safely and Anonymously
The best VPNs for safe and anonymous torrenting come with world-class security and privacy features, fast speeds, and optimized P2P servers. They also have trusted money-back guarantees, so you can test them without risk before committing to an ongoing subscription.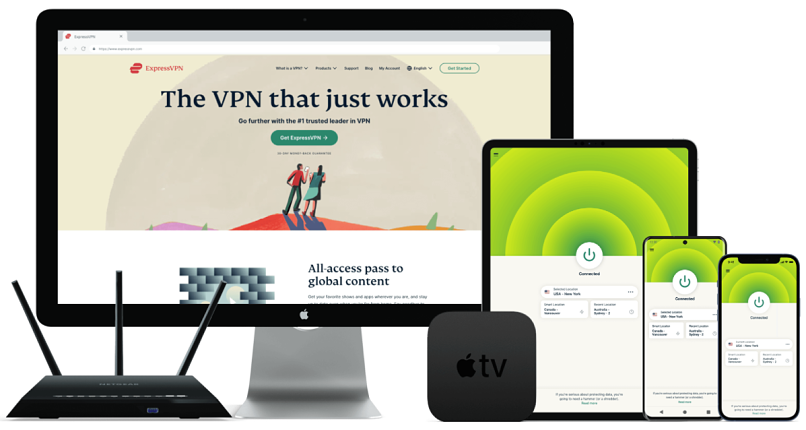 Editor's Choice
Editor's Choice

Tested February 2023
Try Risk-Free for 30 Days
Available on:
Chrome
Router
Smart TV
More
www.ExpressVPN.com
Lightning-fast speeds for downloading torrents
Military-grade encryption, automatic kill-switch, and DNS leak protection keep you safe
Strict no-logs policy to keep you anonymous when torrenting
Split tunneling to conserve bandwidth
5 simultaneous device connections
30-day money-back guarantee
Compatible with: Windows, Mac, iOS, Android, Linux, routers, Apple TV, and more
ExpressVPN's torrenting speeds are lightning-fast — regardless of your location. When I tested 4 of its US servers, my download speeds maintained an average of 48.5 Mbps. This allowed me to download a 2 GB file in under 3 minutes. Since the US servers I used are 10,000 kilometers from my actual location, I was rather impressed. With fast speeds like this, you can download large files safely in just a few minutes. 
Its state-of-the-art security features will keep you well protected. Top security agencies use AES 256-bit encryption to protect sensitive data, while its kill switch called "Network Lock" protects your data when your VPN drops out. With features like these, you can ensure that your data won't be safe and secure when torrenting.
None of your torrenting activity will be recorded either, thanks to its no-logs policy. If authorities were to investigate ExpressVPN, then there would be nothing to get hold of. Its TrustedServer technology also helps, as it wipes all of the data on its system after every reboot. In short, hackers and ISPs can't uncover your identity and collect data about you.
Even though ExpressVPN is great for torrenting, I found it to be a bit expensive. But you can get in on its current sale and save 49% on your subscription.
Also, it's backed by a 30-day money-back guarantee so that you can test its features without any risk. After I used ExpressVPN for 27 days, I asked their 24/7 live chat team for a refund. I told the customer service rep that it wasn't for me, and she went ahead with my request. After 5 business days, I was fully refunded.
Unlimited P2P connections mean no restrictions when torrenting
Military-grade encryption and kill switch to keep you safe on torrent sites
Strict no-logs policy keeps you anonymous when torrenting
Split tunneling to choose which traffic to encrypt
Unlimited simultaneous device connections
30-day money-back guarantee
Compatible with: Windows, macOS, iOS, Android, Linux, and more
IPVanish enables an unlimited number of device connections under one subscription. When I tested this out, I connected my MacBook Pro, Android tablet, smartphone, and old Windows laptop while torrenting and streaming shows simultaneously. I didn't notice any interruptions or drop in my speeds the whole time.
It keeps you safe and anonymous when torrenting with its military-grade encryption and no-logs policy. Military-grade encryption makes your data undetectable to third parties by scrambling it, while a no-logs policy keeps you anonymous. The no-logs policy also stops your online behavior from being recorded, which makes you undetectable when torrenting. But keep in mind that it doesn't come with a built-in ad-blocker.
What makes IPVanish ideal for torrenting is that all of its 2,000+ servers are P2P optimized. This means you can torrent without bandwidth restrictions, switch servers as many times as you want, and hide your IP address. I didn't have any problems downloading torrents with its US servers, and I even noticed a slight increase in speeds.
But I was a bit disappointed with IPVanish because it doesn't accept cryptocurrency payments. However, it made up for it by accepting credit cards, online gift cards, and PayPal. There's even an online sale right now, where you can save 66% on your subscription.
You can even try IPVanish completely free before committing as it comes with a 30-day money-back guarantee. I didn't even have to contact customer support to get a refund. All I had to do was submit a refund request online without giving a reason. After 4 business days, I was fully refunded.
Ad-blocker for Windows and Android that block ads on torrent sites
9,753 servers in 91 countries, including optimized servers for P2P sharing
AES 256-bit encryption and multiple security protocols to secure your connection
Split tunneling helps improve device performance when torrenting
7 simultaneous device connections
45-day money-back guarantee
Compatible with macOS, Windows, Linux, Android, iOS, and more
CyberGhost has its own ad-blocker for Windows and Android, which is great for torrenting. When I tested it on my Windows laptop, I noticed that it blocked ads on both the torrent site and the client I was using. Not only does it enhance your experience, but it's good for privacy because advertisers can't collect your data.
It also offers specialized servers for torrenting, which are part of its network of 9,753+ servers in 91+ countries. The benefit of them is that they prevent bandwidth throttling and ramp up your security against online threats. And since they're easy to find, you can optimize your torrenting experience with one click.
You can torrent safely and anonymously with ease, too, thanks to its robust security and privacy features. CyberGhost uses AES-256 bit encryption, which is impossible to penetrate, while it hides your IP address and adheres to a no-logs policy. It means you can hide your activity and identity while torrenting.
Just know with CyberGhost that its short-term plans are pretty expensive. But you can get a better deal with a long-term plan, which also comes with a generous 45-day money-back guarantee. You can also get 84% off your subscription right now too.
And since it's backed by a 45-day money-back guarantee, you can test it completely free. I tried to get a refund by asking live chat, who asked me 1 question before going ahead with my request. After 5 business days, I got my money back.
29,650+ servers in 84+ countries that are P2P optimized
Customizable security features, including military-grade encryption and protocols
Strict no-logs policy that doesn't record your torrenting activity
Split tunneling helps keep your device running smoothly while torrenting
10 simultaneous device connections
30-day money-back guarantee
Compatible with: Windows, macOS, iOS, Android, Linux, and more
Private Internet Access (PIA) enables customizable security features that are suited to torrenting. For example, you can choose between AES-128 or 256-bit encryption and from several advanced protocols. In particular, its SOCKS5 protocol is great for torrenting because it increases your download speeds.
Its massive server network of 29,650+ servers worldwide consists of servers that are optimized for P2P sharing. When you use them, you can download torrents quickly from anywhere. When I tested its US and UK servers, I noticed an increase in speeds when downloading a couple of torrents. Since I'm far away from both places, I was very impressed.
You can also stay 100% anonymous when downloading torrents, thanks to its strong no-logs policy. This feature hides your IP address, activity, and location from unwanted third parties, which prevents a digital footprint from being left behind.
PIA concerns me because it's based in the US, which is home to the 5 Eyes Alliance. However, its no-logs policy proves that it doesn't store user data, making me more at ease. Also, PIA has a sale right now where you can save 83% on your subscription.
It's also possible to test PIA's features without risk too, thanks to its 30-day money-back guarantee. I tested this out by asking them for a refund after 30 days. After they asked me 1 question, they proceeded with my request, and I was fully refunded in 5 business days.
Try Private Internet Access Now!
Unlimited bandwidth that lets you torrent without throttling
200 servers worldwide in 63 countries for fast, stable connections
DNS leak protection and an automatic kill switch safeguards you when torrenting
Uses split-tunneling to encrypt selected traffic when downloading torrents
10 simultaneous device connections
7-day free trial or 30-day money-back guarantee
Compatible with: Mac, Windows, Android, iOS, Linux, and more
PrivateVPN lets you torrent without restrictions by hiding your IP address. When your IP address is hidden, your ISP can't throttle your bandwidth when you're downloading torrents. During my tests, I connected to 3 of its US servers to download some torrents, and they increased my speeds by 17%.
Its servers are all optimized for torrenting, too, as they are compatible with all the major P2P clients. This means you'll always find a reliable server for downloading torrents and stay well protected from online threats. Regardless of where your server is located, you can enjoy a fully optimized experience with PrivateVPN.
Your data won't fall into the wrong hands either, thanks to its military-grade encryption and automatic kill switch. Military-grade encryption scrambles your data and makes it unreadable to third parties, who won't be able to get hold of it. Meanwhile, a kill switch will stop your data from being exposed accidentally.
Just note that PrivateVPN doesn't accept payments through Google Pay, but it widely accepts credit cards, PayPal, and even cryptocurrency. It also has a sale right now that lets you save 85% on your subscription.
You can even test PrivateVPN for free before committing because it's backed by a 30-day money-back guarantee. I tested it by asking them for a refund after 30 days. They went ahead with my request when I told them it wasn't for me, and I was refunded by the end of the week.
FAQs on Torrenting Safely and Anonymously
Is torrenting legal?
The method of downloading torrents is legal, but the file you download might be protected under copyright. That means if you don't have permission to download it, it's illegal to do so. This is just one reason why torrenting can be a dangerous online activity, so you need to make sure you aren't downloading any files that could get you in trouble. You can also use a VPN to stay protected from the dangers of torrenting, as it keeps you anonymous and encrypts your connection.
Is torrenting safe with a VPN?
Yes! Torrenting with a VPN is very safe. A powerful VPN will encrypt your data and hide your IP address, which significantly increases your safety. When you use military-grade encryption, your data becomes unreadable to hackers, which means they can't exploit it. And when your IP address and torrenting activity are hidden, it means no one can uncover your identity, target you with attacks, and see what you're doing.
What is a copyright troll?
A copyright troll is an individual or company that tries to take action against people that are downloading illegal torrents. They are able to identify targets through their IP addresses, so even if your intention is to download legal files, it's always best to stay anonymous by using a VPN. Copyright holders often hire copyright trolls to go after people that are illegally distributing their content as well. When they identify the lawbreakers through their IP address, they'll send a settlement letter and use scare tactics to make them pay the full fine.
Do I need to hide my IP address when torrenting?
I strongly recommend hiding your IP address when torrenting. The best way to do this is to torrent with a powerful VPN. Its ability to mask your real IP will keep you safe from numerous online threats, such as cyberattacks and malware, and let you download torrents anonymously. Another benefit is that it'll stop your ISP from throttling your bandwidth, which gives you faster speeds.
How does P2P file sharing work?
P2P file sharing works by creating a virtual network that allows multiple users to share files with each other. But P2P file sharing reveals your IP address to other parties, who can use it to target you with attacks. Therefore, it's best to use a VPN to hide your IP address. Each torrent consists of several files that are hosted on different computers rather than a singular server.
So when you request a file download from a P2P network, every computer works together to upload it onto your device. Once all the different parts are uploaded, then the full download is complete. The benefit is that you can download files much faster than downloading them from one server.
Can I use a free VPN to torrent safely?
It is possible, but I'd strongly advise against it. The truth is that you're much better off using a top-tier VPN that comes with a money-back guarantee. Unfortunately, many free VPNs enforce daily data caps, which are usually very small (around 500MB/day). This only lets you torrent for a minimal time. Added to this are the restrictions they put on speed.
Another downside is that they are known to collect and sell their users' data. This is done to make a profit, however, it can land you in serious trouble when torrenting. It also means that free VPNs will bombard you with annoying ads too, a lot of which are infected with viruses. If you're serious about safety and anonymity when torrenting, then a free VPN must be avoided.
Torrent Safely and Anonymously Today!
Torrenting is a great way to download large files much faster. However, there are always security and privacy risks involved with torrenting, but a reliable VPN can help solve these issues. It'll replace your actual IP address and encrypt your data so that you can torrent safely and anonymously.
The VPN I recommend for safe torrenting is ExpressVPN. It hides your IP address and uses military-grade encryption, which results in faster download speeds and a safer torrenting experience. And since it's backed by a 30-day money-back guarantee, you can try all of its security features without any risk. If you don't like it, you can ask them for a refund.
To summarize, the best VPNs for torrenting are…
Privacy Alert!
Your data is exposed to the websites you visit!
The information above can be used to track you, target you for ads, and monitor what you do online.
VPNs can help you hide this information from websites so that you are protected at all times. We recommend ExpressVPN — the #1 VPN out of over 350 providers we've tested. It has military-grade encryption and privacy features that will ensure your digital security, plus — it's currently offering 49% off.