TunnelBear Not Working With Netflix? Here's What to Do
Updated on 23rd February 2021
Like the majority of the free VPN providers, TunnelBear is unable to unblock Netflix. If you are an avid Netflix series junkie, this will be a critical problem. Fortunately, there are ways to resolve this problem and unblock all the streaming content you love. Share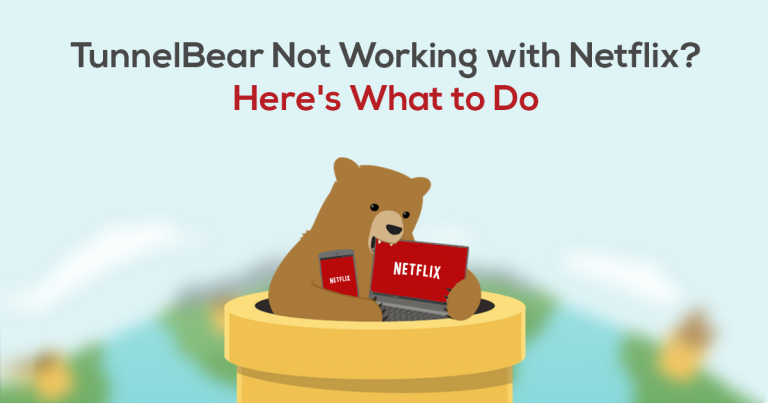 Like most free VPNs TunnelBear doesn't work with Netflix, Hulu, and other streaming sites. The quick solution is to install NordVPN,which is one of the only VPNs that consistently unblocks Netflix, and which provides super fast streaming. For details and more options, keep reading.
TunnelBear is a Standard VPN with a Decent Free Version, But Doesn't Reliably Unblock Netflix
TunnelBear offers everything a complete VPN beginner needs to get started. That said, it has some downsides.
One of those downsides is that, more often than not, TunnelBear does not unblock Netflix, Hulu, or other streaming sites. We've been monitoring its performance, and although it does occasionally work (except on BBC iPlayer, which never works), it's a gamble.
TunnelBear even has a short guide on how to configure the VPN to get it to work, but they do not guarantee that you will succeed. More likely than not, when you try to access Netflix, you'll see this error message:
"Whoops, something went wrong… Proxy Detected. You seem to be using an unblocker or proxy. Please turn off any of these services and try again."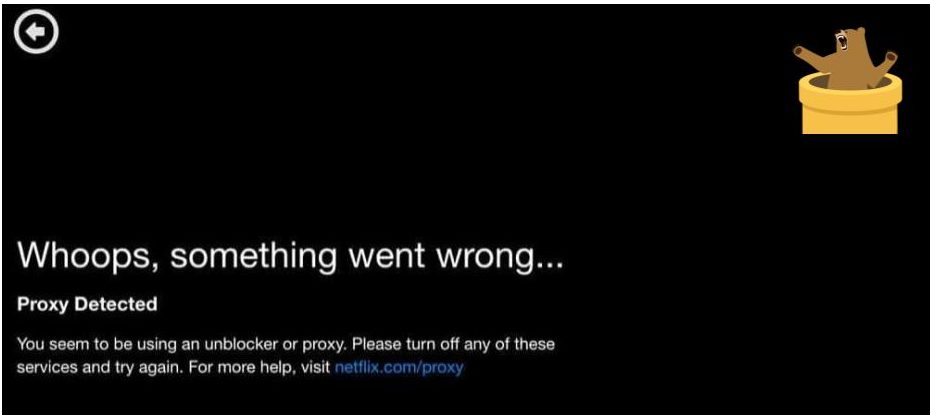 Getting this message when you're all settled in to watch your favorite show is a huge bummer.
Fortunately, there exist VPNs that you can count on to always get you access to the Netflix you love.
One of the most popular ones is NordVPN.
Why Can't TunnelBear Always Unblock Netflix?
In order to understand why TunnelBear doesn't reliably unblock Netflix, you first have to understand how VPNs work.
Basically, a VPN works by routing your internet data through one of their servers, thus changing your IP address to one of theirs. So when you're connected to a server in the US, Netflix thinks that's where you're located, and gives you access to their US site.
However, in an effort to crack down on VPNs, Netflix crawls the internet in search of these IP addresses, and then blacklists them.
While TunnelBear is a great VPN for encrypting your web traffic and staying anonymous, its server network is really small, so it's pretty easy for Netflix to figure out which IP addresses belong to them. In fact, with so few servers, the fact they manage to even occasionally unblock Netflix is actually really impressive.
How does NordVPN Manage to Unblock Netflix?
The main way NordVPN outsmarts Netflix is by having a massive server network that's always growing. Over the past year, NordVPN has expanded its server roster to mammoth proportions. With over 6,000 servers currently online, no other VPN even comes close to what they offer.
By constantly adding new IP addresses, they always stay one step ahead of the Netflix blacklist.
Moreover, as one of the most popular VPNs on the market, NordVPN is uniquely able to commit the manpower and resources to getting their customers access to the streaming sites they want.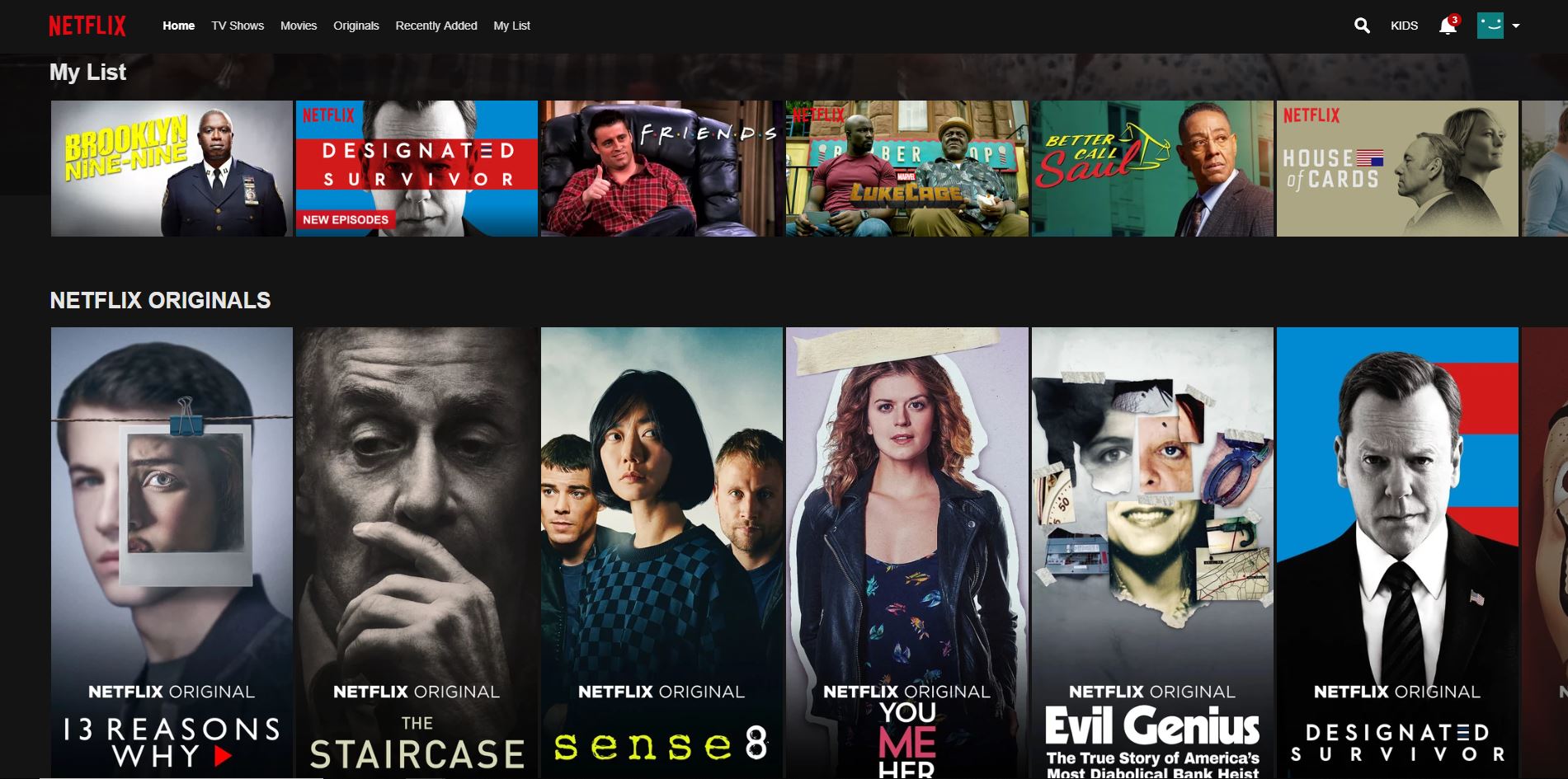 And besides being one of the most reliable VPNs for accessing Netflix, NordVPN is also one of the fastest VPNs on the market – so you won't experience the lags and buffering that can ruin a streaming experience. Don't believe us? Check out these user reviews.
Want to check more options that will get you Netflix? Check out the best VPNs that work with Netflix list here.
You Don't Have to Compromise on Price
One of the reasons you likely chose TunnelBear is because they have a free version. That's obviously a huge selling point, and with it's easy-to-use interface, and compatibility with so many devices, Tunnelbear is definitely one of the best free VPNs out there.
That said, besides not being able to reliably get passed the block, the free version of TunnelBear limits the amount of data you can use, so even if you succeed in accessing Netflix, you won't be able to watch more than two movies a month.
If you want more data, you'll have to upgrade to the paid plan, and at that point, you may as well pay for a VPN that you know will always get you Netflix.
Fortunately, with their regular discounts, NordVPN's prices are not just comparable to TunnelBear's, but – if you commit to a long term plan – they're actually cheaper. Not sure yet? They also have have a 30-day money-back guarantee(which we tested).
You can also compare prices by checking out these other awesome VPNs. We tested them all, and know that like NordVPN, they reliably unblock Netflix, Hulu, BBC iPlayer, and basically any other streaming site.
The Bottom Line: A Great VPN for Everything Else
TunnelBear is an extremely easy and well-designed VPN. If you're looking for security and anonymity, it's a fantastic choice. (And no other VPN interface comes close to matching the charm of that cute grizzly bear.)
But, if you want a VPN that can stream all of your favorite content (and that can torrent, too), you'll need a different option.
Did you successfully stream Netflix on TunnelBear? Let us know! >>
Privacy Alert!
Your data is exposed to the websites you visit!
The information above can be used to track you, target you for ads, and monitor what you do online.
VPNs can help you hide this information from websites so that you are protected at all times. We recommend NordVPN — the #1 VPN out of over 350 providers we've tested. It has military-grade encryption and privacy features that will ensure your digital security, plus — it's currently offering 68% off.
Privacy Alert box - content - Popular posts