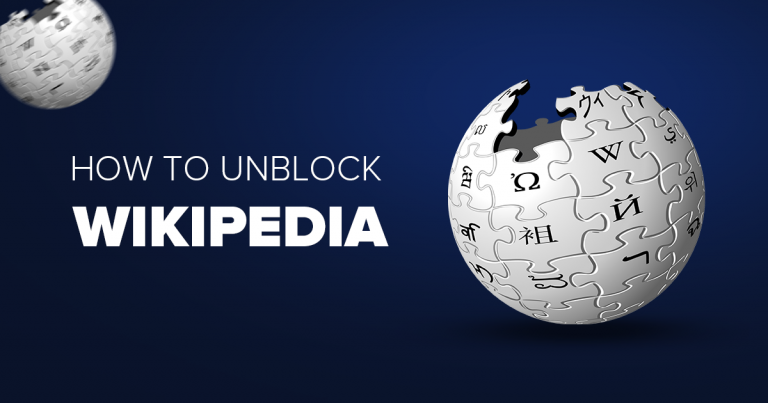 Is Wikipedia Blocked? Here's How To Access It In 2021 [Easy Hack]
Wikipedia is a great source of information. It practically has material for every possible thing under the sun. The website is used by almost everyone from students to office goers and from stay-at-home parents to travelers.
With more than 5.5 million English articles and an edit rate of 10 edits/second, Wikipedia is probably the world's largest repository of information. However, it is not as freely accessible as it should be.
Wikipedia is blocked in many countries. For example, Turkey blocked Wikipedia because the website refused to delete certain articles that alleged links between the Turkish government and terrorist organizations.
Russia and China also blocked Wikipedia at different times.
Because of this block, users are unable to get the required information on several important topics. Below, we show you how to unblock Wikipedia.
How to unblock Wikipedia with VPN
If you live in Turkey or any other country where Wikipedia is partially or fully blocked, there is a simple way to unblock it with a VPN.
A VPN changes your geolocation so that it appears as if you are in a different country. There are many other added features that come with a VPN. You can learn more about it here.
There are many people who use an anonymous proxy to unblock Wikipedia. The problem with proxies is that they are not stable. The ones that worked earlier do not work now, so the only viable solution is to use a reliable VPN.
There are several VPNs in the market but if you want to bypass government restrictions, you need a trusted VPN that does not give your details away. This is why it is recommended to use a paid VPN service that does not keep logs and masks your identity completely.
How a VPN lets you access Wiki
A VPN encrypts your traffic and changes your IP address so your ISP cannot see the pages you open.
Users who try to access Wikipedia in any of the countries where it is blocked will see a "Connection timed out" message. This happens because your ISP knows that you tried to open a blocked page.
With a VPN, your ISP cannot monitor you, so you can easily open any Wikipedia page.
On top of that, a VPN creates a secure tunnel for all your traffic so the government cannot keep tabs on your online activity. This is especially important if you are a journalist who reports on sensitive material.
The Best VPNs for Unblocking Wikipedia
Stay connected from anywhere in the world
It's not just Turkey that censors content. Several countries including North Korea, China, Saudi Arabia, and Iran censor their content.
If you live in a country that does not allow you to access the global internet, you'll need to find a way to bypass the restrictions. And this can be done safely by using a VPN.
Check out our list of recommended no-logs VPNs that can help you bypass the Wikipedia block in Turkey or any other country.
Privacy Alert!
Your data is exposed to the websites you visit!
The information above can be used to track you, target you for ads, and monitor what you do online.
VPNs can help you hide this information from websites so that you are protected at all times. We recommend ExpressVPN — the #1 VPN out of over 350 providers we've tested. It has military-grade encryption and privacy features that will ensure your digital security, plus — it's currently offering 49% off.