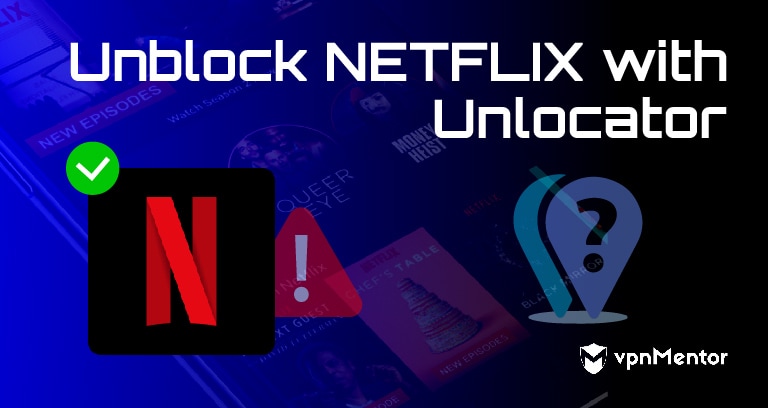 Unlocator Does Not Work with Netflix? Here's What to Do
You heard about the latest exciting Netflix release, logged on to your account, but can't find the show you want anywhere. Confused and frustrated, you realize that it's not available in your country.
This is a common problem, as Netflix restricts certain content to different regions, such as the US and UK. In a practice called 'geoblocking', international viewers access, based on their location.
Netflix geoblocking is a huge issue if you live in a country with strict broadcasting and censorship laws. Or, you might visit a foreign country and discover your favorite shows are blocked there.
There is an easy solution. A VPN is the perfect tool to get around geoblocks from anywhere in the world. Netflix blocks most VPNs, however, so you need one that specializes in bypassing strong geoblocks. It will also need fast connection speeds and robust security features.
Unlocator combines DNS and VPN technology to offer you super fast streaming and unrestricted access to the internet - including Netflix.
Install Unlocator and you never have to worry about missing a show again.
How to Use Unlocator to Access Netflix Content from Anywhere
Unlocator helps you access Netflix content from any region, including the US, UK, and any other country. Just follow these steps and you'll be connected in minutes.
Sign up for Unlocator, install the software, and set up your DNS address (set up guides provided).
Use either the DNS or VPN to hide your IP address. (If using VPN, connect to a server in the country with the Netflix content you want, such as the UK or US.)
Sign up/log in to your Netflix account and enjoy your favorite shows!
Why Choose Unlocator to Unblock Netflix?
Netflix is constantly fighting back against VPNs to stop them bypassing geoblocks. They are very effective, targeting VPNs with limited IP addresses or servers, and restricting their access to the site.
Unlocator can solve this problem by combining VPN and DNS technology on their Hybrid setting.
Their Smart DNS feature masks your real IP address and makes it seem like you are in multiple locations at once. At the same time, using their VPN service, you can move your IP address to a specific country.
These tools together give you access to geoblocked content from any country, while still browsing local internet content in your home country. Netflix will not be able to tell the difference, and you get the best of both worlds.
Speed Is Key to Watching Netflix
Accessing restricted Netflix content is only part of the battle. Once connected, you need to make sure your connection is fast enough for streaming. To enjoy Netflix to the fullest, your VPN needs to meet it's speed requirements:
Standard quality video – 480p – speeds of 3 Mbps
High definition video – 720p – 5 Mbp
Ultra HD – 1080p – 25 Mbps
A VPN adds many layers of encryption to data, often slowing down your connection. For this reason, most VPNs struggle to achieve the speeds needed to stream high quality video.
However, Unlocator separates your streaming from your regular browsing. You can use Smart DNS for streaming and the VPN for regular internet usage. Or, switch it around, depending on your needs.
The Many Benefits of Using Unlocator 
The advantages of using Unlocator go far beyond just streaming Netflix. Alongside high speeds and unrestricted access, there are many reasons to install the software on your devices.
Better security – Unlocator makes you anonymous online and hides your location.
Combined security of a VPN and convenience of a DNS.
User-friendly apps across all major devices and operating systems, including some game consoles.
Easy installation and great customer support.
30-day money-back guarantee.
Combined with excellent subscription packages, Unlocator is a great choice for accessing Netflix in any region.
Further Reading
If you're still not sure if Unlocator offers everything you need, check out our #1 rated ExpressVPN.
See which VPN providers impressed us in the 2023 VPN Awards.
Interested in more than just safe streaming? Check out our expert recommendations for the best no-log VPNS.
Privacy Alert!
Your data is exposed to the websites you visit!
The information above can be used to track you, target you for ads, and monitor what you do online.
VPNs can help you hide this information from websites so that you are protected at all times. We recommend ExpressVPN — the #1 VPN out of over 350 providers we've tested. It has military-grade encryption and privacy features that will ensure your digital security, plus — it's currently offering 49% off.