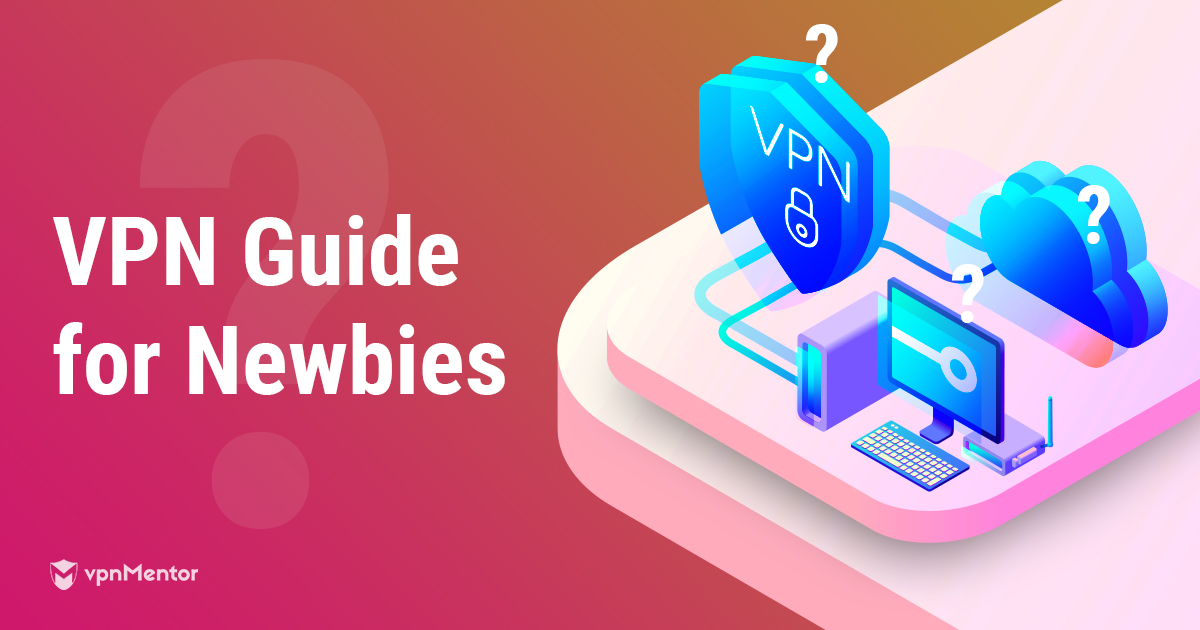 What Is a VPN and Why You (REALLY) Need One in 2023
A VPN (Virtual Private Network) is a simple app that's purpose is to enhance your online security and privacy. VPNs encrypt your traffic and send your online activity through one of their private servers. This process hides your IP address and other identifiable data, like your location, browsing activity, and browsing patterns.
But VPNs are often used for more than just security and privacy reasons. Many people also use them to access regionally-restricted content. For example, choosing to send your data through a VPN server in the US gives you access to apps and services only available there (think HBO).
Many people live in countries with strict internet restrictions and can't even access sites like Google or Facebook without the help of a VPN to mask their true location.
VPNs are very simple to set up and use — if you're ready to get started, I recommend giving ExpressVPN a try. Out of the 150 VPNs my team and I regularly test, it's one of the most user-friendly and all-rounded, making it well-suited for any purpose. It comes with a solid money-back guarantee, as well — if you find it's not for you, you can get a full refund within 30 days.
Short on Time? Here Are The Best VPNs for Beginners in 2023
Why Do I Need a VPN?
The internet is full of unwanted dangers that threaten your online privacy and security. Most notably, malicious parties can collect your data, track your online activity, and intercept your connection. Some networks also have restrictions blocking certain websites, significantly reducing your online freedom.
A VPN is a worthy investment if you take your online privacy and security seriously. It keeps you safe from privacy breaches and provides access to blocked websites. It also prevents third parties like Google, Facebook, or your ISP from tracking your online movements. With that in mind, here are some reasons why you should get a VPN.
VPNs Encrypt All of Your Data
A VPN encrypts your connection when you connect to its private servers. To put it briefly, encryption uses a secret key (or code) to transform your regular data. It's not possible to read it without the original key, which can be used to decrypt it. This makes your online behaviors and activities unreadable to outsiders. Since most VPNs use military-grade encryption, it's basically impossible for anyone to see what you're doing online.
Therefore, no one can see your browsing activity or intercept your connection — including your ISP — because it looks like a random string of numbers. It also means your ISP can't throttle your speeds if you're engaged in high-bandwidth activities like gaming. But it's even more crucial on public WiFi networks because hackers can easily penetrate your traffic to acquire passwords, credit card numbers, and more.
Most VPNs use AES 256-bit encryption, the strongest encryption level available. 256 is the longest encryption key, and the longer the key the more time it takes to decrypt. It's used by leading security agencies and governments to protect highly sensitive data.
VPNs Hide Your Actual Location
Your actual IP address is visible without a VPN, which means unwanted parties can use it to determine your actual location. (Your IP address is kind of like your phone number, but for your internet connection.) This is dangerous when combined with other personal data because it becomes easy to identify you, making you vulnerable to online attacks. Intrusive parties like advertisers can also use this information to target you with ads, while your ISP could store it and hand it over without your knowledge.
A VPN hides your actual IP address by replacing it with another one, protecting your online privacy. Therefore, you can use a VPN to conceal your real location and online identity, regardless of your location. But keep in mind that illegal activities are still prohibited with a VPN, so always be careful.
Access Geo-Restricted Content
Due to licensing regulations, streaming sites like Netflix have different shows available in different countries. For instance, you can't access titles specific to Netflix US through Netflix Germany (or any other global library). You only have access to the Netflix library of the country you're physically located in.
Similarly, some streaming sites can't be accessed at all outside of certain countries. For example, Hulu is only available in the US and Japan. If you try to watch a show on Hulu from outside these countries, your IP address will give away your real location and you'll be blocked instantly.
As already established, VPNs change your IP address and make it seem like you're using the internet in a different location (of your choosing). Connecting to a VPN server in a different country helps you bypass geo-restrictions on streaming sites. That way, you can watch your favorite content irrespective of your physical location.
Unblocking streaming sites is one of the most common reasons for using a VPN, but a VPN can also give you access to other types of region-locked content. For example, it can also help you access international gaming servers or regionally-restricted games.
Get Around Government Censorship
A VPN can also provide users with free and open access to the internet. Some countries (like China and Russia) block access to popular sites and apps, including Facebook, Google, YouTube, and WhatsApp. This makes it tricky to enjoy global content, communicate freely with those you care about, and keep up with global news while traveling to certain places.
Some VPNs have special features (like obfuscation or "stealth mode") designed to allow access to these services, even on the most restrictive networks. But please note that using a VPN or accessing banned websites in places that impose heavy internet restrictions can be illegal. The team at vpnMentor doesn't condone the illegal use of VPNs. Please always do your research and check the most recent local laws to prevent accidentally getting into trouble.
Torrent Anonymously
A VPN also helps you maintain anonymity when torrenting. By encrypting your connection and hiding your real IP address, VPNs ensure that no one on the P2P network (or even your ISP) can see your real IP or detect your torrenting activity. But please be aware that downloading copyrighted content is illegal whether you use a VPN or not.
When you use a VPN, you typically share the same IP address with hundreds or thousands of other users. This makes it much harder for third parties to trace your torrenting activity back to you.
Block Ads and Malware
Some VPNs have built-in ad, malware, and/or tracker blockers to protect your privacy and prevent your device from getting infected. These features can usually be turned on in your VPN settings. They let you enjoy websites like YouTube without annoying ads and further protect you against hackers and tracking, which is also very handy for torrenting.
How Does a VPN Keep Me Secure?
A VPN's main security functions are to encrypt your connection and route your traffic through a private server. You're usually sharing a VPN server's IP address with other users as well, which adds another layer of anonymity since a single IP can't be linked to a single user.
These are just the essential functions that every VPN should offer. Below, I've summarized a few additional ways a VPN can keep you safe online.
Privacy Features
Getting a VPN that's serious about your privacy is crucial because it has full access to your online activity. The most important privacy feature is a strict no-logs policy, which guarantees your VPN won't track or collect your data. It means there won't be anything to hand over if government authorities request it as part of an investigation or if its servers are compromised.
Many VPNs claim to be a no-logs VPN, but only some of them actually are. The most trustworthy VPNs undergo regular audits, where security companies analyze the VPN's privacy policy against its practices. This ensures the VPN provider really does abide by its promises to keep your data private.
Another factor to consider is where the VPN is located, as it's always subjected to the data retention laws of its home country. It's best to choose a VPN in a place with friendly privacy laws and not located in the 14-Eyes Alliance. This means even if a government requested that a VPN hand over your data, the VPN wouldn't have to comply.
Data Leak Prevention
All reputable VPNs offer DNS/IP leak protection to prevent your personal data from being exposed online. Keeping your IP and DNS address private ensures that third-parties won't get ahold of sensitive info, such as your location and browsing activity.
It's easy to test your VPN for DNS/IP leaks. Simply head over to a website like ipleak.net after connecting to a server. Then, wait for a few seconds until it reveals the IP address your device is connected to. As long as it only shows you the IP of the VPN, it means you're fully protected.
Another way a VPN protects you from accidental data leaks is through the kill switch function. A kill switch automatically blocks your internet access if your VPN connection fails, preventing any data leaks from occurring while the VPN is disconnected. This feature is especially important when torrenting or using a public WiFi network.
Just a little tip: not every VPN comes with the kill switch already enabled, so it's best to check the settings menu to make sure it's turned on.
Secure Connections
VPNs use protocols to determine how a VPN transmits data between your device and the VPN server. They're a set of rules that determine security and stability. A decent VPN will let you choose from different protocols, which provide different balances of speed and security. Some are more advanced and better than others, so selecting the right one is essential.
Some VPNs have designed their own protocols to offer better security, privacy, or speeds. For instance, ExpressVPN's Lightway protocol is speed-optimized and lightweight without compromising security, while NordVPN's NordLynx is built around WireGuard, but is more secure.
Here are some of the most common protocols of a VPN (ordered from safest to not as safe):
OpenVPN — An opened-source protocol that's well-known for its reliability and security. Being open-source means that its coding is public and anyone can recommend modifications to make it more secure. It's very popular and encrypts usage on both ends, meaning only the sender and receiver have the encryption key. It's also regularly upgraded and improved upon, which enhances security.
WireGuard — Another open-source protocol that's faster than OpenVPN and just as secure. It's highly recommended for streaming, gaming, and video calls. But it might have some undiscovered vulnerabilities because it's still relatively new.
IKEv2 — A reliable protocol that has similar speeds to OpenVPN. It can protect you while you change from a mobile network to WiFi because it's very stable. However, it's less secure than OpenVPN and WireGuard, so it's best used as a backup option.
SSTP — An older protocol for Windows that's similar to OpenVPN because only the receiver and sender can decrypt the connection. It's good for bypassing firewalls, but its speeds aren't great.
L2TP/IPSec — An outdated protocol that's mainly used on smartphones. It doesn't provide encryption, and its speeds are slow, so you should avoid it.
How Does a VPN Work?
Here's an explanation of how a VPN works in a few steps:
When you connect to the VPN app, it creates a secure and encrypted connection between your device and the chosen server. It's like building a secret tunnel for your internet traffic.
Your traffic is sent through this encrypted tunnel to the VPN server that acts as a middleman between your device and the websites you want to access. It masks your real IP address and assigns you a temporary one associated with the server's location.
Your encrypted data travels from the VPN server to the destination website or service, making it difficult for others to spy on or intercept your online activities.
The website or service sends the requested information back to the VPN server, which encrypts and sends it back to your device through the secure tunnel.
Your device receives the encrypted data, and the VPN software decrypts it, making it readable for you to access.
Are There Any Disadvantages When Using a VPN?
First of all, you should know that the benefits of using a VPN strongly outweigh any potential disadvantages. That said, there are a few things you should be aware of before connecting to a VPN server.
It might reduce your speed. Some VPNs will slow your internet speeds more than others. This is due to encryption and the distance your data travels to reach the VPN server — the further the server, the bigger the slowdown in most cases. However, the best VPNs have fast servers to keep speed loss minimal.
Some VPNs can compromise your privacy. Free VPNs are especially guilty of this, but even some paid VPNs have been caught lying about being "no-logs" VPNs. It's best to choose a VPN that adheres to a strict no-logs policy that's been independently audited by security firms.
VPNs cost money. It's no secret that VPNs are subscription-based services that charge ongoing fees. However, most VPNs are only a few dollars per month, so they're really affordable. Plus, they usually offer money-back guarantees that let you test out the service first and get a refund within a specific timeframe. That way you don't have to commit to a subscription until you're sure you're happy with it.
Poor VPNs have limited servers and IP addresses. Some VPNs have small server networks or outdated infrastructures. If a VPN doesn't update their IPs and servers, you'll likely run into poor connections and limited capabilities. Reputable VPNs (like ExpressVPN) constantly update their networks. Say Netflix blocks one of the VPN IPs, and it stops working — ExpressVPN will replace that IP with one that does work within a few days.
Some countries restrict or ban VPNs. Certain countries like China, Russia, and Iran either restrict or outlaw VPNs, so it can be tricky or even risky to use one in these locations. These countries also usually block VPN websites entirely, so you might have trouble downloading one if you don't do so before travel. That said, my team and I don't condone using a VPN illegally, so be sure to read up on the local law and use VPNs responsibly.
How Much Do VPNs Cost?
The cost of a VPN can vary greatly from one service to another depending on multiple factors, including the VPN itself — reputable VPNs offering advanced features are typically more expensive.
Plus, you usually get different prices depending on how long you want to commit to the VPN. Monthly subscriptions are often more expensive than long-term plans. You can usually get significant discounts and savings on yearly and 2-year plans. Although, there's one small catch — you have to pay the entire subscription upfront.
Generally speaking, a VPN shouldn't cost you more than $5-7 a month if you choose to subscribe annually. If you want to pay on a month-to-month basis, the price can reach up to $13, depending on the VPN. Unless you're looking for a short-term VPN service, I don't recommend paying monthly, as these costs quickly add up.
Can I Use a Free VPN?
Free VPNs tend to not be as safe or reliable as premium VPN services, so I don't recommend using one. Even though most claim to have strict no-logs policies, some have been proven to collect and sell user information for profit. Most free VPNs also profit by displaying ads, which can disrupt your experience while using the service and even infect your device with malware.
Plus, most free VPNs place strict data caps on their free plans, so you'll probably face speed limitations that can make high-bandwidth activities like streaming or torrenting nearly impossible.
Premium VPNs offer much better speeds and security. Plus, they often come with free trials or money-back guarantees, which means you can try out the VPN for a certain amount of time (usually 30 days) and get a full refund if you're not happy with it.
Tips on Choosing the Best VPN for You
You should choose a VPN that suits your online needs. VPNs have many uses, so depending on the situation, you might want different features. However, no matter what your specific needs are, you should always look for a VPN that offers reliable customer support (especially 24/7 live chat). You should also make sure the VPN is compatible with all the devices you want to use it on and offers enough simultaneous connections to cover them as well. Lastly, it's best to get a VPN with a money-back guarantee, so you can test it risk-free to ensure it suits your needs and is a good value for the money.
Below are some common uses for VPNs and the features most useful for each one. You can use the listed criteria to narrow down your options and select the best VPN for you.
What to Look For in a VPN for Streaming
Since shows and movies are protected under different licensing agreements in different countries, what you can watch varies depending on your location. A VPN for streaming lets you bypass geoblocks to access streaming platforms unavailable in your region (or opens new region-specific libraries of content).
If streaming is your priority, then look for a VPN with the following features:
Fast speeds — It's normal for a VPN to reduce your speeds due to your increased encryption. But a streaming VPN should be able to produce speeds well above 25 Mbps, which is the minimum required for smooth Ultra HD streaming. Speeds of at least 5 Mbps are fast enough for HD.
A vast network of global servers — You'll need to use a VPN with servers in the location where the content you want to watch is available. If you need to access your Netflix US or Hulu accounts, then you need a VPN with servers in the US. If you want to access your BBC iPlayer account, then you need servers in the UK. The more servers the better since that leads to less congestion and better streaming speeds, too.
Streaming device compatibility — In addition to working with laptops, tablets, and smartphones, you should go for a VPN that is compatible with media players like Apple TV, smart TVs, and Amazon FireStick. Smart DNS is a feature that makes unblocking streaming platforms on gaming consoles and smart TVs easy (since these devices don't work with VPN apps).
Streaming optimized servers — Some VPNs make it extra easy to find servers for streaming by specifically marking and maintaining servers to access specific streaming platforms. This is especially helpful if you're new to VPNs or don't want to spend time searching for servers based on location.
What to Look For in a VPN for Privacy and Security
A VPN with top-notch security and privacy features is crucial if you're serious about protecting your online identity. Without adequate protection, your personal data is visible to anyone who might want access to it, including hackers and cybercriminals.
These features are also vital if you want to protect your anonymity, as unwanted third parties like your ISP can easily see what you do online and collect that data.
If privacy and security are your priority, then get a VPN with the following features:
Military-grade encryption — This includes either AES-128 or 256-bit encryption, which are the strongest encryption standards. Both are essentially impossible to break and are used by top security agencies, but 256-bit is the strongest.
No-logs policy — It ensures your browsing activity won't be recorded by your VPN, further protecting your online movements. Some VPNs claim to be "no-logs", but have been proven not to be in the past. So it's also important to choose VPNs with no-logs policies that have been audited and verified to be trustworthy.
Advanced protocols — These let you customize your connection, so you can increase or decrease security accordingly. Some of the safest protocols include OpenVPN, WireGuard, and IKEv2.
Kill switch —This feature prevents the accidental exposure of your data if your VPN suddenly disconnects. In other words, it's your final line of defense if your VPN malfunctions. It also protects your connection when you switch servers.
DNS/IP leak protection — Your DNS requests and IP address can be accidentally revealed at any time, which is the result of a malfunction in the VPN software. But a solid VPN prevents any DNS/IP leaks with its built-in leak protections.
WiFi Protection. Some VPNs will automatically connect when they detect a public WiFi network or send you notifications about unsecured networks. This will ensure your safety on public networks, so it's a must-have if you're planning to use the internet outside of your home.
What to Look For in a VPN for Torrenting
Torrenting is risky since you're sharing files with plenty of strangers, who can easily identify your IP address through the P2P software you use. Therefore, you need a torrenting VPN to hide your actual IP address, so no one can trace your IP address back to you.
Keep in mind that using a VPN to hide your torrenting activity doesn't make downloading copyrighted content legal — you shouldn't break any laws. However, in some cases your ISP could flag you even if you're downloading legal files. In that case, using a VPN will prevent that from happening.
If torrenting is your priority, then get a VPN with the following features:
Torrenting and P2P support — Get a VPN with dedicated P2P servers or one that enables P2P sharing on all of its servers. Either way, you should be able to torrent without any restrictions on P2P clients like uTorrent and websites like Popcorn Time.
Robust security features — These include military-grade encryption, advanced protocols, and a kill switch, which all protect your data while torrenting.
Reliable speeds — Fast upload and download speeds are essential for torrenting, so make sure your VPN provides unlimited bandwidth and has plenty of servers near your actual location for faster download speeds.
No-logs policy — This ensures that your VPN provider takes your privacy seriously and won't record your torrenting activity, either.
Split tunneling — This is an extra feature some VPNs offer that allows you to choose which apps use the encrypted VPN connection. By connecting the VPN only to your torrent software, it can boost speeds since it won't be encrypting every app on your device.
Torrenting-specific extras — Some VPNs come with extra features that allow you to boost your torrenting speeds, such as port forwarding or SOCKS5 proxy access. Port forwarding allows you to connect to a larger number of seeders for better speeds, while SOCKS5 hides your IP, but uses less encryption. Neither of these are as safe as using the regular VPN connection, though.
What to Look For in a VPN for Overcoming Network Restrictions (or Censorship)
VPNs allow you to bypass restrictions set by your network, whether it's public WiFi or your school or workplace. For example, some workplaces will block social media sites and apps.
VPNs can also overcome internet restrictions in countries that highly censor online content. Keep in mind that in countries like this (China, Russia, and the UAE are a few examples), VPNs are often illegal or heavily regulated as well. So you need to use caution and inform yourself of local laws — always choose a VPN that comes with strong security features and privacy policies.
If bypassing internet restrictions is your top priority, choose a VPN with the following features:
Obfuscation technology — Some restrictive networks block VPN connections to prevent users from accessing the blocked content. Obfuscation (sometimes called Stealth) masks the fact you're using a VPN, making it much easier to overcome this. This feature is essential if you want access to the open internet in a country where online censorship is rampant, so make sure you choose a VPN that offers it.
Top security features — Don't settle for anything less than 256-bit encryption and everything listed in the privacy and security section above. You should also have access to multiple secure protocols, like WireGuard, OpenVPN, and IKEv2. This is especially important if you're in a country that censors online access and regulates VPN use because sometimes entire protocols can be blocked there. A VPN that allows you to change ports (how the protocol travels) can also be helpful in overcoming these limitations.
Proven no-logs policy — This ensures that your online activities won't be recorded. Be sure to choose a VPN that's no-logs policy has been audited or proven in real-life scenarios. Any VPN can claim not to log your data, but there's no way to know for sure without these added measures.
5 Best VPNs for Beginners in 2023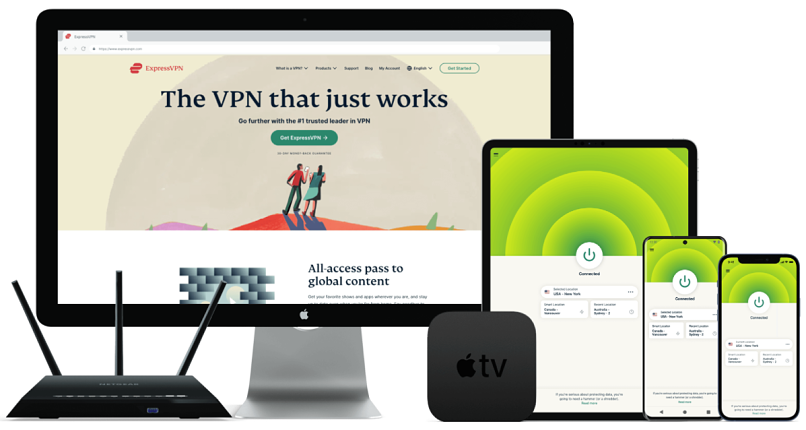 Editor's Choice
Editor's Choice

Tested September 2023
Try Risk-Free for 30 Days
Available on:
Chrome
Router
Smart TV
More
www.ExpressVPN.com
| | |
| --- | --- |
| Best Feature | Fast and dependable for various activities, like streaming, torrenting, and browsing |
| Number of Servers | 3,000 in 94 countries |
| Security and Privacy | AES 256-bit encryption paired with Perfect Forward Secrecy, DNS/IP leak protection, Network Lock kill switch |
| Can Access | Netflix, Disney+, HBO Max, Hulu, Amazon Prime Video, BBC iPlayer, and more |
ExpressVPN is one of the best VPNs today, as it offers impressive speeds, easy-to-use apps, and strong security. It's one of the most reliable VPNs I've ever used for any online activity, including streaming, gaming, or torrenting.
It's the fastest VPN I've tested. ExpressVPN only reduced speeds by 4% during tests on local servers in the UK, France, and Germany. On the faraway New York server, it only experienced a 9% speed loss, which is impressive since some VPNs drop speeds by 40-70% over long-distance connections.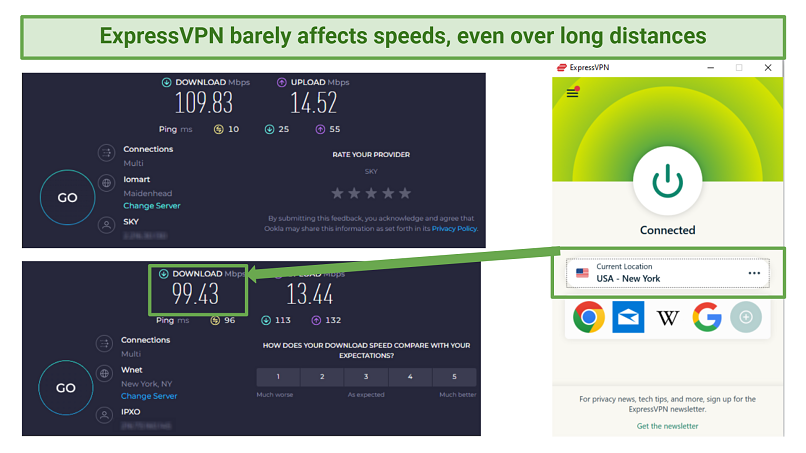 There was no noticeable slowdown or connection drops while testing ExpressVPNExpressVPN also reliably bypasses geo-restrictions on streaming platforms. It works with 15+ Netflix libraries (including the US, UK, Canada, and Japan), Disney+, Hulu, BBC iPlayer, Max, and more. With its fast speeds and reliable connections, I can enjoy my favorite content without lag.
ExpressVPN is also very easy to set up and use. It has dedicated apps for all the major platforms and devices, so it took less than 5 minutes to set up on my Windows PC. The apps are sleek and intuitive, and the key settings come pre-configured, so you don't need to adjust anything. Simply connect to a server, and you can begin using it immediately.
ExpressVPN is pricier than some services, but it frequently offers discounts and coupons on its site. It also comes with a 30-day money-back guarantee, so you can try ExpressVPN risk-free. To test this, I contacted a support agent through its 24/7 live chat to request a refund. I got my money back in 3 days, without any questions asked.
Useful Features
Privacy-friendly. ExpressVPN is based in the British Virgin Islands, where there are no data retention laws, so you know your personal info is safeguarded. It also follows an audited no-logs policy.
Automatic obfuscation. This feature is what makes ExpressVPN one of the only VPNs that works in China. It's built-in and automatically kicks in if it detects a restrictive network. It makes your VPN connection look like normal internet traffic, so you can effortlessly overcome blocks.
Shortcuts. You can add shortcuts to your most commonly-used apps and websites on ExpressVPN's interface, so you always have easy access.
MediaStreamer. ExpressVPNs Smart DNS service helps you easily set the VPN up on devices that don't support VPN apps, like smart TVs and gaming consoles. It currently works with some popular US, UK, and Australian-based streaming platforms.
| | |
| --- | --- |
| Best Feature | Dedicated servers for streaming, gaming, and torrenting |
| Number of Servers | 9,300 in 93 countries |
| Security and Privacy | Military-grade encryption, leak protection, automatic kill switch, audited no-logs policy |
| Can Access | Netflix, Disney+, HBO Max, Hulu, Amazon Prime Video, BBC iPlayer, and more |
CyberGhost's specialty servers make it simple to find the best connection for your needs. Its streaming servers are designed to work with specific platforms, like Netflix and Hulu, while the gaming and torrenting servers are built for fast speeds and strong security. They are also clearly marked and easy to find, so you can access them without hassle.
These optimized servers also mean CyberGhost is one of the best streaming VPNs out there. Each server I tested gave me instant access to its respective platform. I frequently use CyberGhost to stream Netflix US, Hulu, BBC iPlayer, Disney+, and more. Not once have I struggled to unblock any of these sites with its specialty servers.
It also has NoSpy servers for extra privacy protection. These are located in its privacy-friendly headquarters in Romania, and can only be accessed by CyberGhost's staff. By eliminating the chance of third-party interception, NoSpy servers keep your data safeguarded.
Overall, CyberGhost is fast, but its speeds are sometimes inconsistent. For instance, its speeds dropped by 27% on a New York server, while there was only a 10% drop on the LA connection, which was further away. Luckily, it has a huge network, so you can easily switch to a different connection for better speeds.
CyberGhost's long-term subscriptions include a generous 45-day money-back guarantee, so you can try CyberGhost for free. Alternatively, you only get 14 days to test it with a short-term plan.
Useful Features
Dedicated IPs. For a small extra fee, you get a dedicated IP address that only you can use. As they're not shared by thousands of users, dedicated IPs are much less likely to be detected and blocked by geo-restricted sites.
Block Content. CyberGhost's ad blocker protects you against malicious sites while browsing.
WiFi Protection. This feature lets you set CyberGhost to launch automatically when it detects an unsecured WiFi network.
Smart Rules. You can set up different rules to control how CyberGhost behaves. For instance, you can configure the VPN to launch automatically when you open a specific app or website.
| | |
| --- | --- |
| Best Feature | Massive server network for overcoming geoblocks |
| Number of Servers | 29,650 servers in 84 countries |
| Security and Privacy | DNS/IP leak protection, customizable kill switch, court-proven no-logs policy |
| Can Access | Netflix, Disney+, HBO Max, Hulu, Amazon Prime Video, BBC iPlayer, and more |
Private Internet Access (PIA) has one of the biggest server networks, with more than 29,650 connections worldwide. During my tests, I had no issue finding a fast, nearby server. Plus, PIA displays the latency next to each server, which is helpful, especially for smooth gaming (the lower the latency the better speeds you will get).
PIA's customizable security lets you find a balance between speeds and security. For instance, it lets you choose between AES 256-bit and AES 128-bit encryption. While 128-bit is slightly less secure, it gives you better speeds — so it's great for casual activities like streaming.
PIA also offers SOCKS5 and Shadowsocks proxies add an extra layer of security to your connection. These options are built-in with the VPN, so there's no configuration required. It's similar to double VPN, since it passes your data through 2 servers. But since one of the servers is a proxy, it doesn't slow your speeds as much.
With so many options and features, the app may seem a little overwhelming for first-time VPN users. The good news is that PIA comes ready to use "out of the box", so you don't really need to customize it unless you want to.
PIA is very affordable and comes with a 30 day money-back guarantee. If you're not happy with it, getting a refund is quick and easy.
Useful Features
Streaming-optimized servers. Like CyberGhost, PIA also offers streaming-optimized servers — there aren't as many to choose from, and they're not platform-specific like CyberGhost's. Instead, they're location based.
Great speeds. With an average speed drop of only 6% on nearby servers, PIA a great choice for activities like streaming and torrenting. Long-distance connections produced around 20-30% speed losses, which is decent.
MACE. PIA has a powerful ad blocker that stops ads, trackers, and malware from infecting your device. With just 1 click, you can enable it.
Advanced Kill Switch. Set PIA to automatically block all internet traffic to your device, (even when the VPN is turned off) to prevents accidental leaks.
| | |
| --- | --- |
| Best Feature | Powerful ad and malware blocker |
| Number of Servers | 5,810 servers in 60 countries |
| Security and Privacy | 256-bit encryption, DNS/IP leak protection, specialty security servers, strict no-logs policy |
| Can Access | Netflix, Disney+, HBO Max, Hulu, Amazon Prime Video, BBC iPlayer, and more |
NordVPN offers Threat Protection, a powerful ad, malware, and tracker blocker. It successfully protects you against these annoyances, making streaming, browsing, and torrenting hassle-free. You can enable it with one click and forget about it — it will run in the background, even when you're not using the VPN.
NordVPN has security-focused specialty servers that you won't find with most VPNs. This includes double VPN, which routes your traffic through 2 VPN servers instead of 1 for added protection. Plus, its obfuscated servers allow the VPN to work on restricted networks, like at work or school — although, it doesn't work in China, like ExpressVPN.
It's also very fast. Speeds on both nearby and international servers were impressive during tests. Speeds reached up to 82 Mbps on the overseas Los Angeles servers — a 22% speed drop. This is more than enough for streaming, browsing, and torrenting without interruptions.
The only problem is that NordVPN can take awhile to connect to a server, long-distance connections. For instance, I waited nearly 3 minutes to connect to the Tokyo server, which wasn't the case with other VPNs. Sometimes you need to force-quit the app and try again to establish a connection.
NordVPN is backed by a 30-day money-back guarantee, so you can try it completely risk-free. If it's not suitable for you, you can get a full refund.
Useful Features
Customizable kill switch. You can choose between two kill switch options based on whether you only want to shut down specific apps when the VPN connection fails or disable all internet access.
Server map interface. NordVPN makes it easy to find and connect to a server with its intuitive map interface.
Onion Over VPN servers. These servers hide the fact that you're using a VPN to access the dark web and allow you access to.onion websites from any browser.
| | |
| --- | --- |
| Best Feature | Strong security features that aren't tricky to use |
| Number of Servers | 3,200 servers in 100 countries |
| Security and Privacy | 256-bit encryption, leak protection, a kill switch, Clean Web ad and malware blocker, audited no-logs policy |
| Can Access | Netflix, Disney+, HBO Max, Hulu, Amazon Prime Video, BBC iPlayer, and more |
Although Surfshark offers some advanced security features, they're simple to use. Each of Surfshark's security features comes with an easy-to-understand description right underneath it. This will help you enhance your security without having to research what each feature means first. There's also a feature dictionary within the app if you click the 'i' icon.
Simply toggle on Rotating IP to change your IP address every few minutes. This gives you ultimate stealth to avoid getting tracked or blocked by the sites you visit. There's also NoBorders Mode, which detects if you're facing a restricted network (like at work or school). It narrows your server list down to those that are equipped to overcome the blocks.
Surfshark performed really well during speed tests, losing only 8% with local connections. There was some lag on some distant US servers, but most offered decent speeds. Plus, the app has a built-in speed test tool, making it easy to find which servers are the fastest.
The only thing is that Surfshark is based in the Netherlands, which is a member of the 9 Eyes Alliance. Still, it has a proven no-logs policy, which guarantees it doesn't collect or store private data.
Surfshark offers a trustworthy 30-day money-back guarantee, so you can sign up risk-free.
Useful Features
Unlimited device connections. Surfshark allows an unlimited number of connections under a single subscription, making it a great option for large households.
Free static IPs. You can use the same IP address each time you log in to the VPN, but you'll have to share it with other users.
GPS Spoofing (Android only). This makes it seem like you're physically located in the same country as the VPN server you connect to. This gives you easy access to apps that are geo-restricted to certain locations.
How to Get a VPN on Your Devices
Downloading and installing a VPN is a straightforward process that usually takes under 3 minutes. In most cases, you just need to create an account, download the app, and connect to a server. But it can get a bit trickier for devices that don't support native apps, such as home routers, gaming consoles, or streaming devices.
Regardless of your device, the VPN I recommend is ExpressVPN because it has vast compatibility. It works with tons of devices and operating systems (and it's easy to use on all of them). Plus, it has a special MediaStreamer feature that provides a simple setup for devices that don't support VPN apps, like gaming consoles and smart TVs.
The subsequent instructions demonstrate the process of installing a VPN on different devices. Although ExpressVPN is used as an example here, the steps are typically the same no matter which VPN you choose to install.
How to Get a VPN on Desktops and Laptops (Windows & macOS)
Choose a VPN. All of the VPNs I've listed above are great options for any online activity, but make sure to choose one that suits your needs.
Sign up for a subscription. Head to the VPN's website and sign up.
Download the app. Make sure you choose the correct operating system (Windows, Mac, Linux).
Follow the installation prompts. You'll need to log in with the same credentials you used when you signed up. Some of the common things that many VPNs will ask are if you'd like it to launch on startup and share crash reports. Select your preferences, and installation should complete.
Start using your VPN. Load the app and connect to a server to protect your privacy, stream geo-blocked content, and torrent safely.
You can also install our top VPNs on various Linux distributions. In most cases, you'll need to use the command-line to install and run the VPN. However, PIA offers a graphical user interface for Linux, supporting popular distributions such as Ubuntu, Debian, Fedora, and more. You can install and use the VPN without ever touching the command-line, making it the easiest option for Linux.
How to Get a VPN on Smartphones (Android and iOS)
Choose a VPN. I'd recommend one that comes with a lightweight app and security features to preserve battery life. ExpressVPN's Lightway protocol was designed with phones in mind, so it's a top choice.
Sign up for a subscription. It's best to do this directly through the VPN website. Signing up through the Google Play or Apple App stores can disqualify you from the money-back guarantee (you have to then abide by Google/Apple's refund policy).
Go to the App Store. Search for the VPN's name in your App Store on your phone and download the app.
Install the VPN. This usually happens automatically, but you might have to tap a couple prompts allowing the VPN to alter your network settings.
Use your VPN. Open the app, log in with the credentials you got during sign up, and connect to a server to protect your iPhone or Android device.
How to Get a VPN on Your Home Router
When you set up a VPN on your home router, all the devices linked to that network will be connected to the VPN. Interestingly, this includes devices that do not have a VPN installed, such as smart TVs, streaming devices, and gaming consoles like PlayStation and Xbox.
Should you intend to proceed with this, ensure that your router supports VPN functionality. Many ASUS, Linksys, and Netgear models are compatible, but there are also other brands that function well. Installation steps can vary based on the VPN and router pairing, but detailed instructions are typically available on the website of your VPN service provider.
Here's a general guide:
Get a VPN and a VPN-compatible router. If you're certain you want to install a VPN on your router, choose a VPN that has a native app for them. It makes it much easier to navigate and configure the VPN once it's set up.
Download the VPN's router firmware. This will usually be available in the dashboard of your VPN account page. Each VPN will have detailed guides that show you how to download and install the firmware.
Install the firmware. Make sure your router is connected to the internet, then open the router configuration page by typing "192.168.1.1" into your browser's search bar. There should be an option to "Upgrade Firmware". Just upload the firmware you downloaded, follow the prompts, and you're set.
Most VPNs also offer routers with the VPN software already installed, so if you want to skip the setup (and have some extra cash), you can just purchase one. In addition, some VPNs are easier to use on routers than others. ExpressVPN has a native app for routers that makes it easy to change servers and settings. Many other VPNs require manual setup and server switching (and don't offer as many features as their VPN apps).
How to Get a VPN on Devices That Don't Support VPN Apps (Smart TVs, Roku, Apple TV, gaming consoles)
Aside from installing a VPN on your home router, you can also set up a VPN on your smart TV through the Smart DNS service. This feature is not as secure as using a VPN, as it doesn't encrypt your connection. It's still useful for streaming, as it lets you unblock streaming sites like Netflix and Hulu on devices that don't support VPN apps, like smart TVs, Roku, and gaming consoles.
Smart DNS works by rerouting your DNS requests through a proxy server, allowing you to get around geo-restrictions on streaming sites. The service is offered by most VPNs today and is typically a part of the VPN subscription, so you don't have to pay anything extra.
Most VPNs have detailed guides on how to set up smart DNS, but here are the general rules you need to follow:
Enter your IP address on the VPN's DNS Settings page.
Copy the Smart DNS IP address provided by your VPN service.
Enter the Smart DNS IP address into your device's Network Connection settings.
This will activate the Smart DNS service on your device.
How to Set Up a VPN and Use It
Once you've installed a VPN on your device, there's not much to do other than find a server and connect to it. But some servers will be better than others depending on your needs, so knowing how to find the right one is important.
You can also customize your security settings to enhance your experience, but this isn't usually necessary. Most VPNs come with pre-configured settings that secure your connection automatically.
How to Choose the Right VPN Server
Not all servers are equal, as some are better suited for certain activities than others. Here are a few examples to help you choose the best VPN server depending on your online activity:
For security and privacy: Any server will provide you with the same level of privacy and security protection. So, the best option is to choose a VPN server closest to your location to maximize speed and performance.
For streaming: If you're trying to unblock a streaming site, then you'll need to connect to a server that's in a licensed country of your site. For example, a US server is required for US Netflix. Some VPNs have streaming-optimized servers like CyberGhost, so you should use them if possible. It's also best to connect to a nearby server if you can, as close distances produce faster speeds for better streams.
For torrenting: Make sure you choose a P2P-enabled server to be able to download torrents. Another option is to use a P2P-optimized server, which is specifically used for torrenting only. Like streaming, you should choose a nearby server to get the fastest download speeds. Or, if you're concerned about privacy, then connect to a server in a privacy-friendly nation like Switzerland.
For bypassing firewalls: Select an obfuscation server, which uses a special algorithm to bypass firewalls and restrictions. This algorithm jumbles your data to hide your VPN use, so even the fact you're using a VPN is hidden. These servers are often labeled as "stealth" servers and usually need to be toggled on under the VPN's security settings.
How to Configure VPN Settings
There's usually no need to significantly change your VPN settings since they're already pre-configured in most cases. But if you want to customize and enhance your connection, then it's worth considering. Here are a few common settings that most VPNs have and some tips on configuring them:
Kill switch — A last line of defense that disconnects you from the internet if your VPN isn't connected, preventing accidental leaks. It's especially handy when changing networks or using public WiFi. It's usually on by default, but some VPNs do require you to activate it manually through the VPN settings.
Encryption — The best VPNs offer AES-256-bit encryption, which is the highest level available and is used by the military and government agencies. This ensures your data remains 100% safe and secure. Some VPNs, like PIA, let you adjust your encryption level, letting you optimize for speed or security.
Protocols — VPN protocols refer to a set of processes that generate a secure path between your device and the VPN server. Some VPNs have several protocols to choose from, like OpenVPN and WireGuard, which differ in speed and security. You can easily switch between protocols in the VPN settings. A VPN's default protocol usually offers a good balance of speed and security, so you shouldn't need to change anything.
Split tunneling — A feature that lets you choose what traffic goes through your VPN and what doesn't. For example, you can use the VPN to browse region-locked content while gaming on your faster, low-latency local connection. In the VPN settings menu, just select the apps you want to use with the VPN connection and which ones you want to be excluded.
Ad/tracking blockers — These settings prevent you from being bombarded with annoying ads and stops advertisers from being able to track you. It can even improve your browser's performance since it's not being slowed down by pop-ups. Not all VPNs offer this service, but if they do, it's usually toggled on by default.
Auto-connect — Most VPNs have an auto-connect feature you can enable through its settings. This ensures you automatically connect to the VPN when you start up your device. Some VPNs also allow you to set your VPN to auto-connect when you're on untrusted networks, like unrecognized public WiFi.
Multi-hop — A multi-hop connection, also called a double-VPN connection, is when your traffic is encrypted more than once and sent through 2 or more VPN servers. This feature is only offered by a few VPNs, but it makes your data even more secure. However, this feature usually slows your speeds dramatically. Unless you need maximum privacy protection, you don't need to enable this feature.
Should you require assistance in modifying your settings, you can either consult the help section of your VPN or directly inquire with them. Numerous VPNs provide 24/7 live chat support and feature comprehensive guides and tutorials on their websites to walk you through the process of altering your settings.
FAQs on VPNs
Are VPNs really necessary? Is a VPN worth it?
If you're at all concerned about your online security and privacy, then VPNs are definitely worth it. Since a VPN encrypts your connection and hides your IP address, it protects sensitive data and stops third parties from tracking your online activity. This alone has many huge benefits — you're protected from cybercriminals and government surveillance, allowing you to freely and securely browse the internet. Additionally, it can bypass geoblocks by rerouting your traffic through a private server in another country, which also masks your actual location.
VPNs are also very affordable. You can get a great VPN for around $6/per month or less and you can save a lot when you take advantage of discounts and sign up long-term. For example, ExpressVPN is offering 49% off right now. With such massive benefits to your online privacy for such a low price, it's hard to say that a VPN isn't worth it.
What devices can I use a VPN on?
VPNs are compatible with most WiFi-enabled devices, including:
| | | | |
| --- | --- | --- | --- |
| Mac | Windows | Mobile (iOS, Android) | Certain routers |
| Linux | Smart TVs | Roku | Amazon Fire Stick |
| Game consoles (Xbox, PlayStation) | Apple TV | Kodi | Browsers (Chrome, Edge, Firefox, Opera) |
If your device can run VPN apps, such as a PC or smartphone, then you can just install the app directly. These apps are beginner-friendly and do not require any technical knowledge to use. They only take a few minutes to install, and you can connect to a VPN server with just one click.
If your device doesn't support VPN apps (such as a game console or smart TV), you can install it on your home router. Routers protect all WiFi-enabled devices connected to them. However, not all routers support VPNs, and even if yours does, it can be tricky to install the necessary VPN firmware.
Alternatively, you can set your PC up as a VPN hotspot, which will also protect all devices connected to it. This is easier to set up, but requires your devices to be near your PC for a reliable connection..
Many VPNs also offer VPN browser extensions to boost your online privacy. They hide your IP address so you can browse privately. The best VPN browser extensions connect to streaming services and offer servers in a number of locations. However, many VPN browser extensions offer less security features than the VPN app. In addition, it will not protect all traffic from your device — just your browser traffic.
Does a VPN keep you anonymous online?
The simple answer is no. A VPN can give you privacy, but not total anonymity. A VPN hides your location and IP address and assigns you a new one from a server in a different location. It also protects you from cybercriminals and government/ISP surveillance, thanks to its military-grade encryption. But the VPN company would still have access to your real IP address and information about your online activity — this is unavoidable and required for the servers to work.
This is why it's crucial to choose a VPN with a strict no-logs policy, so it won't have any data to share if it's compelled to by a government agency. But even this isn't enough if true anonymity is the goal. There's always a risk that your personal information could be intercepted if the VPN server itself is compromised, by hackers, government agencies, or third-party data center employees. Plus, your VPN will also require an email address and payment information in order to create your account, take payments, or refund you.
However, there are some ways to protect your anonymity while using a VPN. For example, you can pay for your VPN with a cryptocurrency like Bitcoin, so that you don't need to give your VPN company payment information and other sensitive data.
You could also use a multi-hop connection, which protects your personal information from being intercepted even if one of the VPNs in the chain has been compromised. This is thanks to the additional layers of encryption and IP masking, giving the interceptor nothing to work with.
Does a VPN bypass blocked websites?
Yes, you can get a VPN to access blocked websites from anywhere. Whether the site is unavailable because of a firewall, network restrictions, or geo-restrictions, a reliable VPN will be able to bypass the block allowing access. In all cases, the VPN's ability to encrypt your traffic and mask your IP is what does the trick. Some VPNs even offer special stealth (obfuscation) features that are designed specifically to bypass even the toughest firewalls and network restrictions.
One of the most popular reasons to use a VPN is to access different streaming content on Netflix, for example. Since the shows and movies available differ by region, a VPN can change your virtual location and open up content normally not available to you. In addition, it works to access streaming platforms (and websites) only available in certain countries. Hulu is only available in the US, but connecting your VPN to a server in the US can give you access to it even if you're not currently located there.
Are VPNs safe?
It depends, but a truly trustworthy VPN will be completely safe to use. Each of them offers military-grade encryption and a strict no-logs policy that has been audited several times, proving the VPN doesn't collect any personally identifiable information. For added security, all of our recommended VPNs come with advanced features like a kill switch, split tunneling, leak protection, and RAM-only servers.
That said, there are some VPNs you should avoid, as they may store and log your personal data and sell your internet activity for profit. Most of the time, free VPNs are guilty of this, so you should stick to the well-known premium services listed above. They are safe and reliable and all include money-back guarantees, so you can try each of them without any risk.
Is using a VPN legal?
VPNs are legal in most countries, but there are exceptions. Countries with strict censorship laws like China, Russia, and Iran have outlawed or restricted VPNs. They usually only allow the use of government-approved VPNs, which don't protect your privacy since you can still be tracked using them.
If you're traveling to one of these countries, then it's best to download a reliable VPN before setting foot in your destination. Places like China ban VPN websites so it's not possible to get a VPN while you're there. If you plan to use a VPN in a country with a lot of internet censorship, I advise that you look into the most up-to-date local laws first so you don't accidentally break them.
Should I get a VPN router?
You should get a VPN router because it's the best way to protect all the devices on your home network. This means there's no need to install a VPN on each device and connect separately. You can either install a VPN on your existing router (if it's compatible), or buy a router with the VPN pre-installed on it.
VPN routers are especially handy if you use devices that can't run VPN apps, like gaming consoles and smart TVs. However, a certain amount of configuration is required when installing a VPN on your router. Each router and VPN will have different setup methods, but the VPN provider will usually have instructions for this on its website, which makes the process a lot easier.
If you want to change servers, then you'll usually need to manually change servers in the router firmware. Or, some VPNs (like ExpressVPN) have native apps that let you change servers more easily.
Does a VPN slow down your internet?
Normally, yes. You can usually expect a 10–20% drop in speeds with a VPN. If you connect to a location really far away, then speeds will drop even more (but shouldn't be more than 50%). Basically, the farther your data has to travel, the slower your speeds tend to be.
However, the best VPNs won't slow down your connection too much due to their premium features. Good VPNs use the best hardware for their servers. They also use optimized VPN protocols that are designed to give you fast speeds without cutting corners on security. For example, the WireGuard protocol is available with most quality VPNs and it provides faster speeds than most alternatives, while remaining highly secure.
A VPN will almost always impact your speed in some way. This is because your data has to go through the VPN server instead of going straight to its online destination. Also, the VPN encrypts and decrypts your data to keep it secure, which takes even more time.
Can I use a VPN with Tor?
Yes, you can use a VPN with Tor and it's easy. All you need to do is connect to your VPN, open the Tor browser, and start using it normally (this is sometimes referred to as "Tor Over VPN"). The benefit of combining the 2 is the increased privacy because it prevents the first Tor server (the entry node) from seeing your actual IP address. But keep in mind that using a VPN with Tor is usually slower than using Tor without a VPN. This is because a VPN adds more encryption, which slows speeds.
Is a VPN different from a proxy server?
VPNs are different from proxy servers because they use military-grade encryption and proxy servers generally don't. Both of them can be used to bypass geoblocks since your IP address is changed, but only a VPN will encrypt your data and protect you under a no-logs policy. This means no one can see what you do online, including your ISP. In contrast, a proxy server will hide your actual IP address but won't provide strong encryption. Proxies tend to only work in your internet browser as well, whereas a VPN protects every app on your device that uses the internet.
Protect Your Online Privacy Today
As the internet becomes more prevalent in our lives, the need for proper security and privacy measures continues to grow. A VPN is one of the most reliable and cost-effective ways to protect your personal data and privacy while online. It can also access blocked websites, prevent bandwidth throttling, and keep you safe when torrenting.
Of the 150 VPNs my team and I regularly test, ExpressVPN is the top choice whether you're new to VPNs or not. It's user-friendly, superfast, and one of the most reliable VPNs I've tested. And thanks to its 30-day money-back guarantee, you can try ExpressVPN without any risk. If it's not for you, then you can get a full refund.
To summarize, the 3 best VPNs for beginners are…
Privacy Alert!
Your data is exposed to the websites you visit!
The information above can be used to track you, target you for ads, and monitor what you do online.
VPNs can help you hide this information from websites so that you are protected at all times. We recommend ExpressVPN — the #1 VPN out of over 350 providers we've tested. It has military-grade encryption and privacy features that will ensure your digital security, plus — it's currently offering 49% off.
We rank vendors based on rigorous testing and research, but also take into account your feedback and our commercial agreements with providers. This page contains affiliate links.