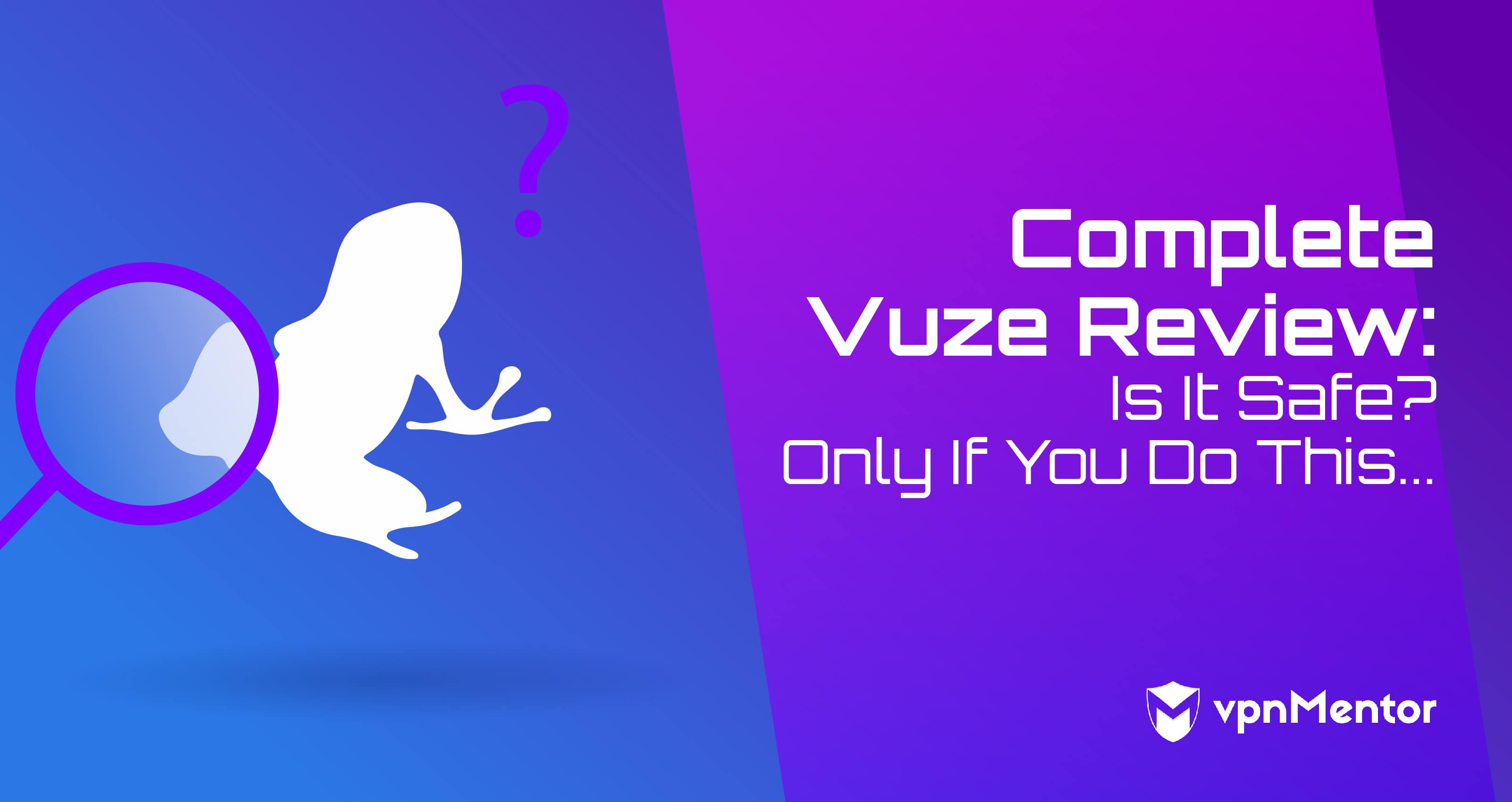 Complete Vuze Review | Updated 2023: Is It Safe? Only If You Do This...
The all-new and improved version of Azureus, Vuze, is an easy-to-use torrent client that is full of helpful features, tools, and plugins.
Ideal for both beginners and more advanced users, this well-equipped client is free to download. But is Vuze safe?
Read our complete Vuze review to find out more about setup, user experience, blocking ads, and how you can protect yourself and your device as you torrent.
Remember that torrenting is a legal gray area and that laws can vary depending on your location.
vpnMentor does not condone the illegal use of torrent clients. Our only concern is your safety when torrenting.
The only way to guarantee your safety is to use a trusted, P2P-friendly VPN like
ExpressVPN.
ExpressVPN has secure dedicated torrent servers so you can torrent in anonymity and safety.
How to Set Up Vuze
1. Go to the Vuze website and click 'Free Download'.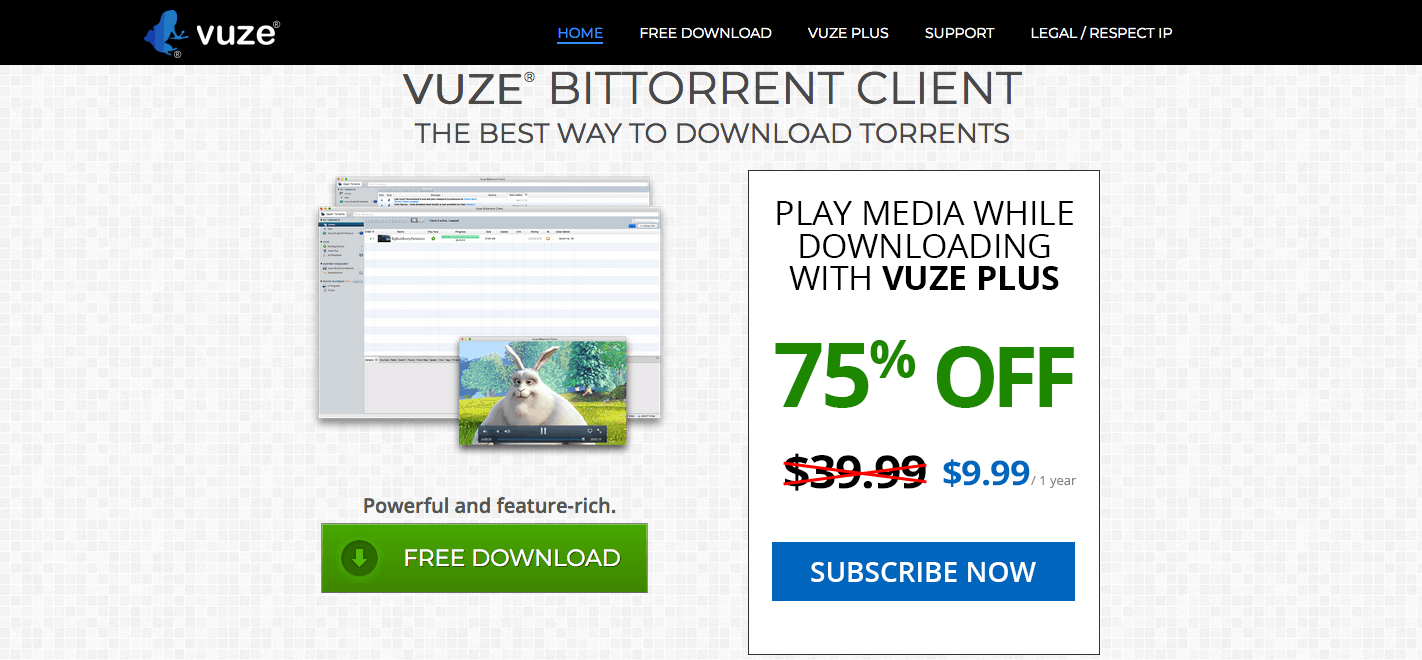 2. When it has downloaded, click on the Vuze Installer icon to initiate the installation process.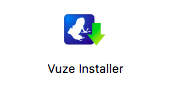 3. Wait for Vuze to open automatically then follow the 'Getting Started' instructions to begin finding your way around.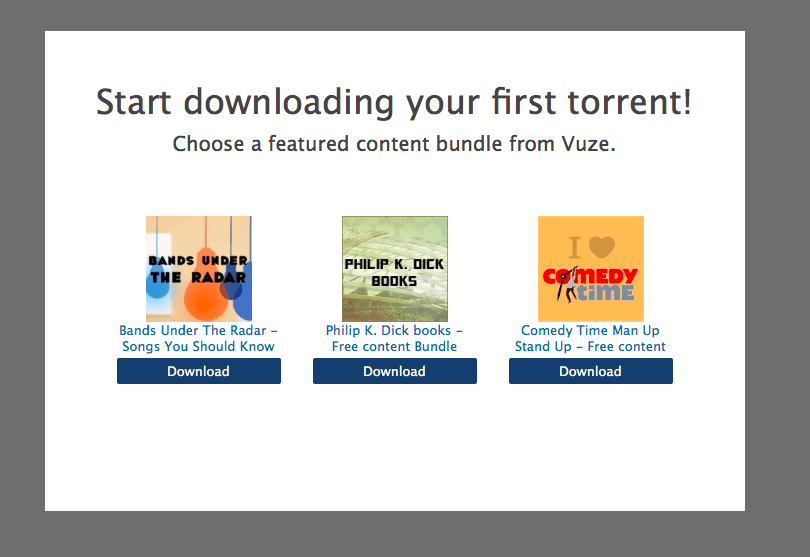 Once you're familiar with the settings, you can configure Vuze to make sure you're getting the best download speeds.
Vuze provides you with a built-in speed test, so you can check your speeds before you begin configuration.
Once you've got your speeds, go to the 'Transfer' tab in your Vuze preferences and restrict your upload speed to around 80% of your total upload capacity.
You should also cap your maximum upload slots per torrent. If you're not sure which number to cap these at, you can use the Azureus Upload Settings calculator for tailored results.
Under the 'Connection' tab, ensure all boxes under 'Peer Sources' are checked. Then go to 'Transport Encryption' and check the following:
Require encrypted transport
Allow non-encrypted outgoing connections if an encrypted connection attempt fails
Allow non-encrypted incoming connections
These settings will make sure you can connect to as many peers as possible, increasing your download speeds.
If you're having trouble finding these settings, you might need to go to the 'Mode' tab and make sure your 'User Proficiency' is set to Intermediate or Advanced.
User Experience
Vuze is incredibly easy to download and install. Its quick and uncomplicated Installation Wizard should provide no problems, even if you're a torrent beginner.
One issue to look out for is that the Vuze Installer can attempt to bundle bloatware into its download. This depends on which version you install, and for which operating system. Just remember to click 'Decline' on any additional software offers.
Once downloaded, the Vuze interface is clean and easy to navigate with a very useful 'Getting Started' step-by-step guide.
This simplicity is deceptive, though. Under the hood, you'll find that Vuze is exceptionally feature-heavy.
Popular features include remote control, automatic transcoding, a built-in video player, a handy drag-and-drop download basket, and a reliable built-in search function.
You can also control just how complicated you want Vuze to be with its 'User Proficiency' setting. Choose from Beginner, Intermediate, or Advanced to adjust your user experience. Vuze can be further customized with a range of tools and plugins.
Can You Block Ads from Vuze?
Since Vuze is free, it makes up revenue by showing you ads while you torrent.
One way to remove these ads is to pay for Vuze Plus, the ad-free subscription version of the client.
If you don't want to pay, you can also manually remove ads using Vuze settings.
Go to Tools > Plugins > Uninstallation Wizard.
Check the box next to 'Promo View'.
Click 'Finish'.
In the next box, you'll see 'Uninstall:' followed by the location of the plugin on your hard drive. Select this then click 'Remove'.
Once the Uninstallation Wizard has finished processing, you should find that the ads box on Vuze has disappeared.
A word of warning, though. It can be risky to delete or edit files if you are not familiar with their function.
If you're not comfortable with manually removing ads, you can always use software like AdBlocker to do the job for you. The best VPNs also come with ad-blocking technology.
Does Vuze Support RSS?
Vuze offers full support for broadcatching.
Broadcatching is when you connect a torrent client to an RSS feed in order to automatically download new files as soon as they are published.
You can enable the RSS feature under the 'Subscriptions' tab in your preferences. Just check the box next to 'Create RSS Feeds from subscriptions'.
Is Vuze Safe?
Vuze implements a couple of safety measures to protect you while you torrent.
Firstly, there is a robust ratings and comments system. This allows you to verify the quality and safety of a file before you start downloading.
You can find this information under the 'Ratings' table in your Vuze interface.
Secondly, Vuze Plus comes with built-in anti-virus protection. Unfortunately, however, this protection is not offered to users of the free version.
Apart from the attempt to bundle bloatware in with your download, the Vuze client and software is generally considered to be safe and malware-free.
How to Stay Safe When Using Vuze
There's a lot you can do to stay safe when torrenting, like always checking ratings and comments before you download.
However, there is also a lot that's out of your control. It's very easy to accidentally download copyrighted material or malicious software.
The only real way to stay safe on Vuze is with a VPN.
A VPN offers you both privacy and anonymity while you torrent. It encrypts your traffic to prevent anyone from snooping on your online activity and hides your IP address to protect you from cyber-attacks.
Reliability and Support
Vuze is fast and reliable but its mass of apps can make it very resource-hungry. It can also sometimes provide slower download speeds than other clients.
Should you come across any problems while using Vuze, the client provides a very thorough Help & Support section on its website. It even has its own incredibly detailed Vuze Wiki.
If you require more one-to-one support, there is a Vuze Community Forum — although we received a 'Warning: Potential Security Risk Ahead' message when we tried to access it with Firefox.
Remember to Use a VPN with Vuze
To guarantee your safety while you torrent, it's vital to use a VPN with Vuze.
ExpressVPN is our favorite VPN for torrenting. It allows P2P transfers on all its 3,000 servers.
Rapid uploading and downloading are no problem with ExpressVPN's lightning-fast speeds. It will also guarantee your anonymity and safety while you torrent with military-grade security, double VPN, DNS leak protection, and a kill switch.
Not only is ExpressVPN our most recommended VPN for torrenting, it's also our highest-rated VPN overall.
Start Torrenting with ExpressVPN!
Conclusion and Further Reading
Vuze may not be the most lightweight torrent client around but it makes up for it with a huge range of useful features.
Power users will love this substantial client. However, if you're unlikely to use all of Vuze's numerous tools and plugins, you might want to save your CPU and opt for a leaner torrent client like Deluge or qBittorrent.
If you like the sound of our top recommendation and want ExpressVPN to be your Vuze VPN, make sure you check out this ExpressVPN discount hack to enjoy a huge 49% off the subscription price.
Rather find a free Vuze VPN? We tested free VPNs for torrenting.
If you're new to torrenting, you should also take a look at our updated guide to torrenting anonymously and safely.
Privacy Alert!
Your data is exposed to the websites you visit!
The information above can be used to track you, target you for ads, and monitor what you do online.
VPNs can help you hide this information from websites so that you are protected at all times. We recommend ExpressVPN — the #1 VPN out of over 350 providers we've tested. It has military-grade encryption and privacy features that will ensure your digital security, plus — it's currently offering 49% off.