Watch the 2020 PDC World Darts Championship From Anywhere
It's time for the PDC World Darts Championship, but you may miss it if you're traveling. A premium VPN, like NordVPN, connects you no matter what. With a VPN, you can avoid geoblocks and keep up with the HD stream and enjoy security online. Share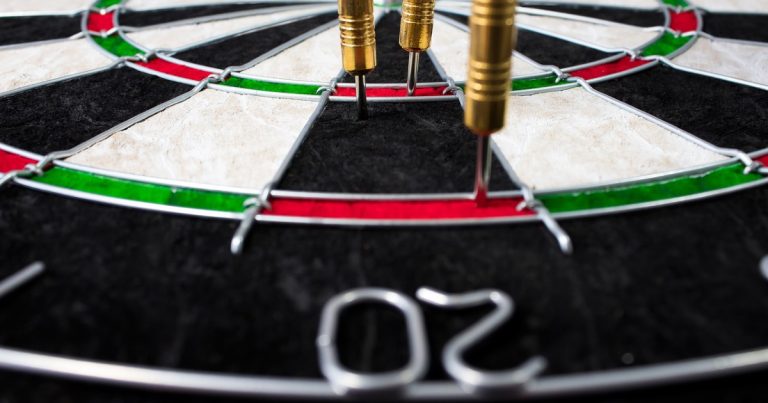 From December 13, 2019, to January 1, 2020, the PDC World Darts Championship will gather at the Alexandra Palace in London to showcase the best in the world. Among a 96-person field, a champion will arise. Depending on where you are when the first dart flies, geo-restrictions may prevent you from seeing the action.
Don't worry, I can help. With my quick guide, you can see every throw that makes a dart champion.
Quick Guide – Watch the UK and Ireland Broadcast on NOW TV
You can use NOW TV to stream Sky Sports without a Sky account. To stream the dart matches on NOW TV, you must enter a UK address. Here's what to do to watch the PDC World Darts Championship on NOW TV:
Select a VPN provider with servers in the UK or Ireland. I suggest NordVPN for its a high-speed network that's also trustworthy at breaking through geoblocks.
Download your VPN and then log in to connect to a UK or Ireland server.
Go to nowtv.com and purchase a day or month pass for Sky Sports. If you don't have a UK credit card, purchase a NOW TV gift card at currys.co.uk and then follow the instructions to redeem to the gift card.
Log in to NOW TV and stream the tournament!
Watch the PDC World Darts Championship Now!
Quick Guide – Watch the UK and Ireland Broadcast on Sky Sports
Sky Sports is broadcasting the PDC World Darts Championship in the UK and Ireland. To stream on Sky Sports, you must be a Sky TV customer. To watch the PDC World Darts Championship on Sky Sports:
Choose a high-speed VPN provider with UK or Ireland servers. The NordVPN service maintains smooth, steady streaming connections and offers advanced security features.
Sign up and download the VPN app, log in, and then choose a server in the UK or Ireland.
Go to www.skysports.com and create an account on the website.
Go to www.sky.com and link your Sky account to your website account. You need your Sky account number.
When you're ready, log in to Sky Sports and enjoy!
Watch the PDC World Darts Championship Now!
Why You Need a VPN to Watch the PDC World Darts Championship
For fans of darts, this is the tournament you need to see. The best players in the world come to Alexandra Palace for the chance to be the world champion on January 1. But you might not be able to watch the tournament if you're abroad.
This is because broadcasters are often required to block anyone in other countries from watching their streams. Or, you may be in a certain country that doesn't allow you to watch the world broadcast. Either way, your location is preventing you from watching the PDC World Darts Championship.
But if you can seem like you're in a different country, you can watch the tournament from anywhere. For example, if your network traffic routes through a server in another country. This is exactly what you can do with a VPN.
With a VPN, you can run your network communication through a location you choose. Then that location acts like it's your location. Streaming sites see your chosen VPN location and then they allow you to watch their broadcasts.
Freedom to stream from anywhere is yours with a VPN. And so is network security.
When you connect to a VPN, it encrypts your communication. This means anyone who gets a hold of your data won't be able to read it. This encryption protects you from anyone, like governments, third parties, or cyberthieves.
When you use a VPN, you get internet freedom and internet security. So sign up for a VPN and get the internet you've always wanted.
Take a look at my top recommendations for streaming the 2020 PDC World Darts Championship.
3 Best VPNs for Watching the PDC World Darts Championship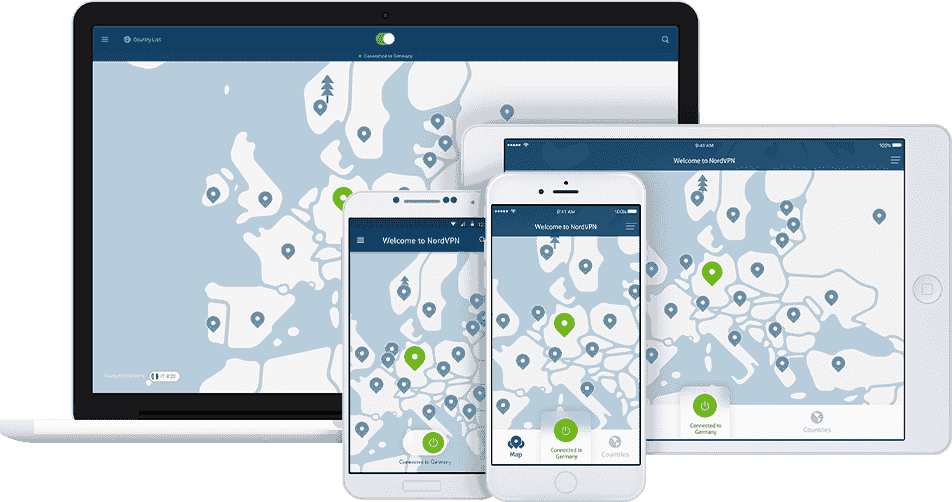 A fast, secure service with plenty of features, NordVPN is my #1 recomonded VPN.
The SmartPlay feature helps you cut through geoblocks and maintain a steady connection to your stream. The NordVPN network has plenty of speed to keep up with HD streams on sites like NOW TV.
An easy-to-use interface makes it simple to use any of NordVPN's 5,200+ servers. Worldwide, there are 59 countries to choose from. All you need to do is pick a country on the map and all your network traffic runs through there.
AES 256-bit encryption protects your data while connected to the VPN. With this military-level encryption, no one can access your online activity.
If you want more security, the Double VPN feature wraps your data in another layer of encryption, running it through two secure servers.
CyberSec defends your device against botnet control, malicious sites, and annoying ads, keeping it safe from dangerous content.
You also get the advanced protection of a strict no-logging policy and an automatic kill switch. Yet more safeguards for your data and online anonymity.
If you need help, support is available through email or 24/7 live chat. Try it risk-free, and if you decide to go with a different service, you can get a full refund within 30 days.
With your subscription, you can connect on up to six devices at the same time. Let the whole family watch the dart champions fight it out on the big stage.
If you want to learn more about NordVPN's features, our comprehensive review tells you more!
Money-back guarantee: Anytime 30 days after signing up.
NordVPN can unblock:
Sky Sports, NOW TV, Amazon Prime Video, BBC iPlayer, Hulu, Sling TV, YouTube, HBO GO, and Showtime.
Supports torrenting:
You can choose P2P-customized servers.
NordVPN works on these devices:
Some routers, iOS, Windows, Firefox, macOS, Linux, Chrome, Android TV, and Android.
Watch the PDC World Darts Championship With NordVPN Now!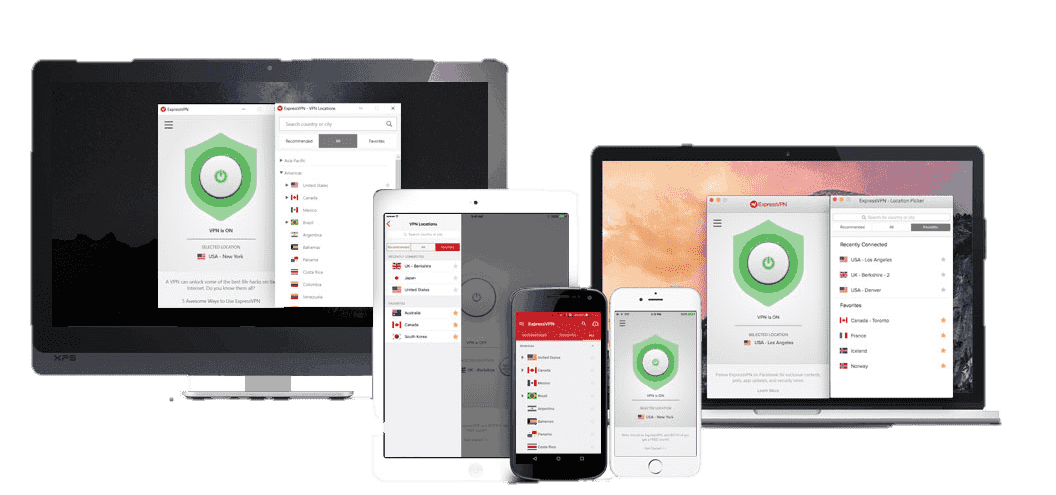 ExpressVPN's network is designed around one thing: speed. It has some of the fastest network speeds available, helping you keep up with sports in HD.
ExpressVPN's network offers over 3,000 servers to choose from around the globe in 160 locations. You're spoiled for choice to stream the dart championship.
With a network as fast as ExpressVPN's, you don't need to worry about connection hiccups or buffering problems. You can see all the details that make the difference when two greats are throwing darts. Witness every moment of each bullseye shot!
Need to stay connected to local sites? The ExpressVPN app allows you to split your network traffic. With the split tunneling feature, watch the championship across the world on your VPN, while also browsing local sites through the regular internet.
In addition to being fast, ExpressVPN is secure. Military-grade encryption keeps your information safe from anyone trying to access it, whether it's third parties or hackers.
The zero-logs policy ensures that the server never stores any of your browsing or streaming history.
If you need help, live chat support is available 24/7. Try out the service for 30 days and get a full refund if it's not for you. If you do sign up, you get to use up to five simultaneous device connections.
You can learn more about ExpressVPN's security protocols when you read our in-depth review.
Money-back guarantee: Within 30 days.
ExpressVPN can unblock:
NOW TV, Sky Sports, ESPN, BBC iPlayer, Hulu, YouTube, Sling TV, HBO GO, Amazon Prime Video, and Netflix.
Supports torrenting:
P2P allowed on all servers.
ExpressVPN works on these devices:
Firefox, Android TV, iOS, Windows, Android, Linux, Chrome, macOS, and certain routers.
Watch the PDC World Darts Championship With ExpressVPN Now!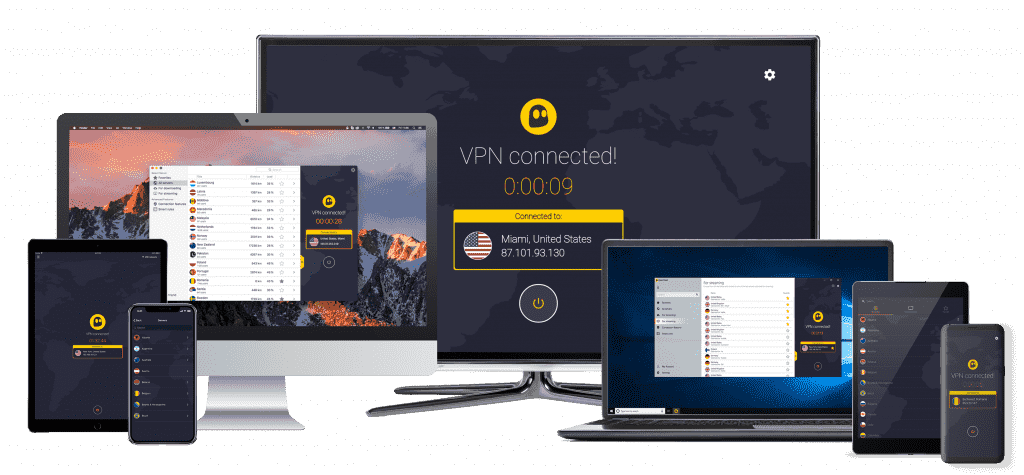 An excellent VPN with a fast network and plenty of specialized servers, CyberGhost offers speedy and secure service to stream the PDC World Darts Championship. Choose from over 5,500 servers worldwide.
When connecting to major broadcasters, CyberGhost provides specialized servers configured for that certain broadcaster. All you need to do is choose the server for your broadcaster and you are sure to get a fast, steady stream.
If you want to torrent on your VPN, CyberGhost offers servers customized just for torrenting.
With AES 256-bit encryption defending your data, you have military-grade protection securing your private online data, keeping anyone from trying to access it or see what you're up to.
Its zero-logs policy adds another layer of security and anonymity, which ensures all logging activity never sticks with the server and that your data is never compromised.
CyberGhost blocks trackers, ads, and malware from your system. This means no annoying popups to get in your way of watching dart's greats and no malicious content to infect your device.
CyberGhost's NoSpy servers sit outside the 14 Eyes Alliance–no government snoops can see or share your data. 
If your internet connection experiences interruptions or hiccups, the kill switch jumps into action and cuts you off, not allowing your data any exposure, not even for an instant.
Help is always ready for you, with live chat support. Plus, you can take advantage of the 45-day money-back guarantee when you try it risk-free.
You get CyberGhost's streaming and security features on seven of your devices and you can use them simultaneously. Stream and browse whenever, wherever.
Be sure to read our full expert review to find out what else CyberGhost has to offer.
Money-back guarantee: Within 45 days of signing up.
CyberGhost can unblock:
ESPN, Sky Sports, NOW TV, Eurosport, Amazon Prime Video, Netflix, BBC iPlayer, and YouTube.
Supports torrenting:
Servers dedicated for torrenting.
CyberGhost works on these devices:
Windows, Chrome, iOS, Android, Amazon Fire TV Stick, Android TV, Firefox, macOS, Linux, and some routers.
Watch the PDC World Darts Championship With CyberGhost Now!
Summary
Darts will have a new world champion on January 1. Sign up for a VPN now to make sure you can see every dart thrown at Alexandra Palace in London.
If you're having trouble deciding, the SmartPlay feature on NordVPN makes it a great choice for getting past geoblocks and streaming the PDC championship. Its security features are hard to beat, too.
No matter what service you choose, be sure to visit our deals and coupons page to save money!
Further Reading
If you want to find the best BBC iPlayer VPNs to watch abroad online, we can help.
Find a good VPN to install on your router when you learn about the best VPNs for routers.
Want help watching ITV Hub while traveling? Take a look at how to watch ITV Hub from Ireland or anywhere outside the UK.