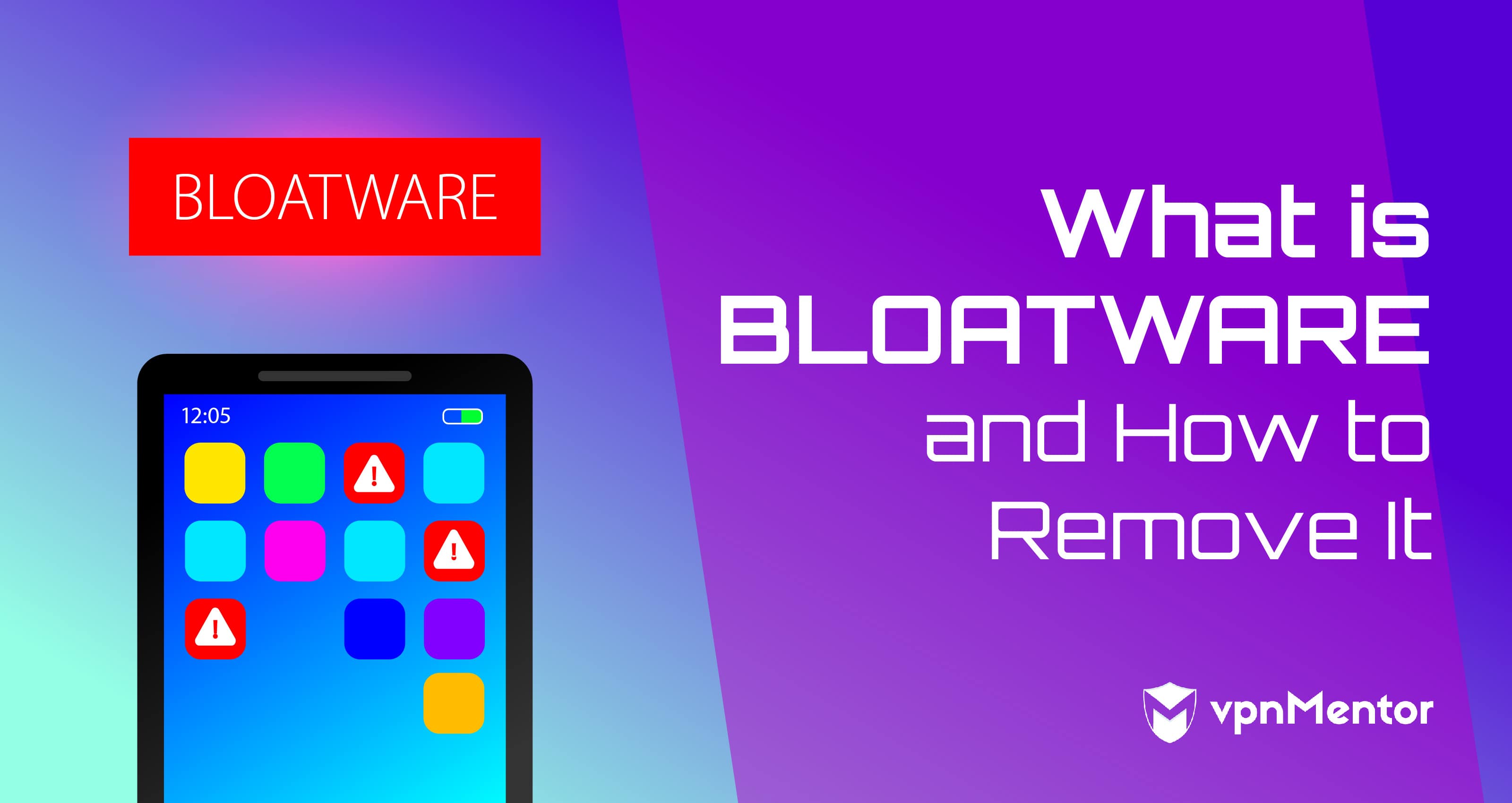 What Is Bloatware & How to Remove It in 2023 [IN SECONDS]
Have you noticed that your phone or computer is running a lot slower? If you've ever tried to investigate, you may have found that your device is packed with apps or software that you don't remember installing.
This is bloatware—and it can be annoying at best, or dangerous at worst.
Read our guide to find out how bloatware got onto your device and how you can get rid of it.
How to Remove Bloatware: Quick Guide
Download free anti-bloatware software. We recommend Should I Remove It?
Run a system scan.
Uninstall the apps or software identified as bloatware in the scan.
What Is Bloatware?
Bloatware refers to any apps or software on your device that are so large or inefficient that they slow down your system and/or drain your battery life.
For example, some software continuously updates until it is overloaded with features, taking up huge amounts of room on your device and preventing it from working properly.
Other bloatware comes preinstalled on your device—whether you like it or not—such as music apps or video editing software created by your device's maker,  or trialware created by third-party companies, which you can use for a certain amount of time before being asked to pay.
More ominously, bloatware can make its way onto your device by more malicious means. You can unknowingly download bloatware onto your device by visiting suspicious websites or clicking on links and ads from unsecured sources. It can also sometimes be hidden in other seemingly legitimate downloads.
Usually, bloatware is simply annoying. It takes up space in your device memory and can result in poor performance. The malicious type can include nasty spyware such as malware or adware.
How to Remove Bloatware
Getting rid of bloatware depends on your device and the kind of bloatware you're dealing with.
If the bloatware is visible, the process can be simple. For example, trialware and other third-party apps can often be uninstalled in your device settings.
If you're looking to remove a preinstalled app from a smartphone, however, you may find that manufacturer-made apps cannot be uninstalled. The best you can do in these circumstances is to disable the app. Depending on your device, you should be able to do this via your settings.
Some tech companies do sell "clean" devices, such as the Windows Signature Edition PCs. These are promised to arrive free from annoying add-ons or unwanted third-party apps. However, you can expect to pay quite a bit more.
The best idea is to check your apps and run an anti-bloatware scan on any new device to make sure nothing is slowing you down from the beginning.
If your device performance is really taking a hit, we recommend that you check out our top free recommendations for anti-bloatware software:
Any of these programs will run a scan of your device to identify potential bloatware. You can then remove the bloatware via the program, or manually.
Stay Protected from Malicious Bloatware
Antivirus software can go a long way to protecting you from any accidental downloads.
You can also opt to use a VPN that comes with built-in anti-malware and adware capabilities. For example, CyberGhost comes with built-in features that block any suspicious websites or downloads and protect you from spyware.
Prevent Bloatware with CyberGhost!
Conclusion and Further Reading
Bloatware is mostly a matter of annoyance—until it threatens your cybersecurity. Make sure to remove any unwanted software that's slowing down your device, and protect yourself from malicious bloatware by using a good VPN.
Worried that malware has already made its way onto your device? Read our in-depth guide to spyware and how to remove it in minutes.
If you'd like to know more about CyberGhost, you can read real user reviews here.
Want help picking a VPN to protect you from bloatware? Read our guide to choosing the best VPN.
Privacy Alert!
Your data is exposed to the websites you visit!
The information above can be used to track you, target you for ads, and monitor what you do online.
VPNs can help you hide this information from websites so that you are protected at all times. We recommend ExpressVPN — the #1 VPN out of over 350 providers we've tested. It has military-grade encryption and privacy features that will ensure your digital security, plus — it's currently offering 49% off.