12VPN Review & Test 2020- Keep This in Mind Before Buying
12VPN doesn't hold back with claims. But can it really keep you secure and bypass geo-restrictions simultaneously? And what about the speeds? I decided to do some digging and put 12VPN through every test possible, so you don't need to.
Just want to know if 12VPN can unblock Netflix? Yes. You've found a VPN that easily unblocks Netflix US and with steady speeds, too.
Without giving too much away, I can say that 12VPN is good, but it's not great. While it does have some impressive features, it falls short in a lot of areas. For the ultimate all-in-one package, I'd recommend NordVPN instead, because it guarantees speed, reliability, and security.
Streaming – Can 12VPN Unblock Netflix?
Yes, but only if you watch Netflix US or UK. 12VPN can't unblock libraries from other regions because the IP addresses are blocked.
12VPN uses SmartDNS technology designed to bypass geoblocks easily, especially streaming sites. And it does deliver, to an extent, but I expected more from a VPN with SmartDNS.
I tried a number of other streaming sites, too:
BBC iPlayer: No. BBC iPlayer knew straight away I was using a VPN.
Hulu: Yes.
HBO GO: Yes.
Disney+: Yes, I could easily access Disney+.
NBC: Yes.
If you want a VPN that can access any Netflix library, plus all of the sites listed above, I recommend NordVPN instead, because it's guaranteed to get past Netflix's geoblocks – and that's any library.
Speeds – How Fast is 12VPN?
First, it helps if you know my base speed. I started with a download speed of 5.20 Mbps and an upload speed of 0.55 Mbps.

I connected to a server in France, since this is closest to my location in the UK. Since my data didn't have to travel far, I expected less speed loss – and it delivered!

As you can see, my download speed barely decreased at all, which is impressive. My upload speed was slow to begin with, but it decreased by 80%. This made uploading any large files to emails and Skype video calls irritatingly slow.
I then connected to a US server to see how far I could push my speeds.

Again, my download speed didn't drop below 5 Mbps, so when I tried streaming on Netflix it was fast and high quality.
My upload speed dropped to zero, so video calling was impossible. My ping also increased to 396 ms. If you're a gamer, 12VPN might cause you to lose your game with poor reaction times.
12VPN's Server List
You have just over 30 servers in 20 locations to choose from. While they're well spread around the globe, it's hardly worldwide server coverage.
12VPN has servers in China, though, and you don't see that very often. Most VPNs are banned in China by the government, so they don't work.
12VPN's server list includes:
Australia
China
UK
US
Israel
Japan
South Korea
New Zealand
Singapore
Turkey
Taiwan
Austria
Belgium
Switzerland
Germany
Denmark
Netherlands
Poland
Russia
Sweden
Is 12VPN Good For Torrenting?
Torrenting is allowed, but only on the Sweden server. It's better than no torrenting at all, but just one out of 30 servers means you risk servers becoming overloaded with users. And that means slow speeds while you're downloading and sharing files.
If you're looking for a VPN for P2P sharing, try NordVPN instead. It has servers optimized for torrenting across several locations, so you're safe and always have fast speeds.
How Secure is 12VPN?
It uses 256-bit encryption to secure your data and online traffic. This level of encryption is near-impossible to break. There's no risk of hackers or your ISP getting their hands on any of your information your browsing activity.
There are a number of security protocols to choose from – OpenVPN, IKEv2, L2TP/IPsec, PPTP and SSTP. If you aren't sure which one is right for you, read our guide to help you decide. Or, just go with my recommendation, which is OpenVPN. You're guaranteed maximum security with minimal impact on your speed and performance with this protocol.
Does 12VPN Keep Logs?
12VPN stays true to its word and doesn't keep any logs. It doesn't keep any information regarding your device, the websites you visit, or even your email address. It does store cookies in your browser, but these are only to give you access to your own data and settings, and definitely not to track you. These cookies remember your username and password so you can log in to the site easily.
It's based in Hong Kong, which is outside the 5/9/14 Eyes Alliance. This means that 12VPN is not required to give any of your information to the government.
Does 12VPN Have a Kill Switch?
Yes, but it's well-hidden within the app, and there's a catch. The kill switch is only available if you use the OpenVPN protocol.
I don't like that the kill switch isn't automatically enabled within the app, because if you're a VPN newbie, you might not even know that you need to turn this on for maximum anonymity. But, I do like that you can select a connection failure notification to appear, so you know if your connection has been interrupted and can stop it yourself.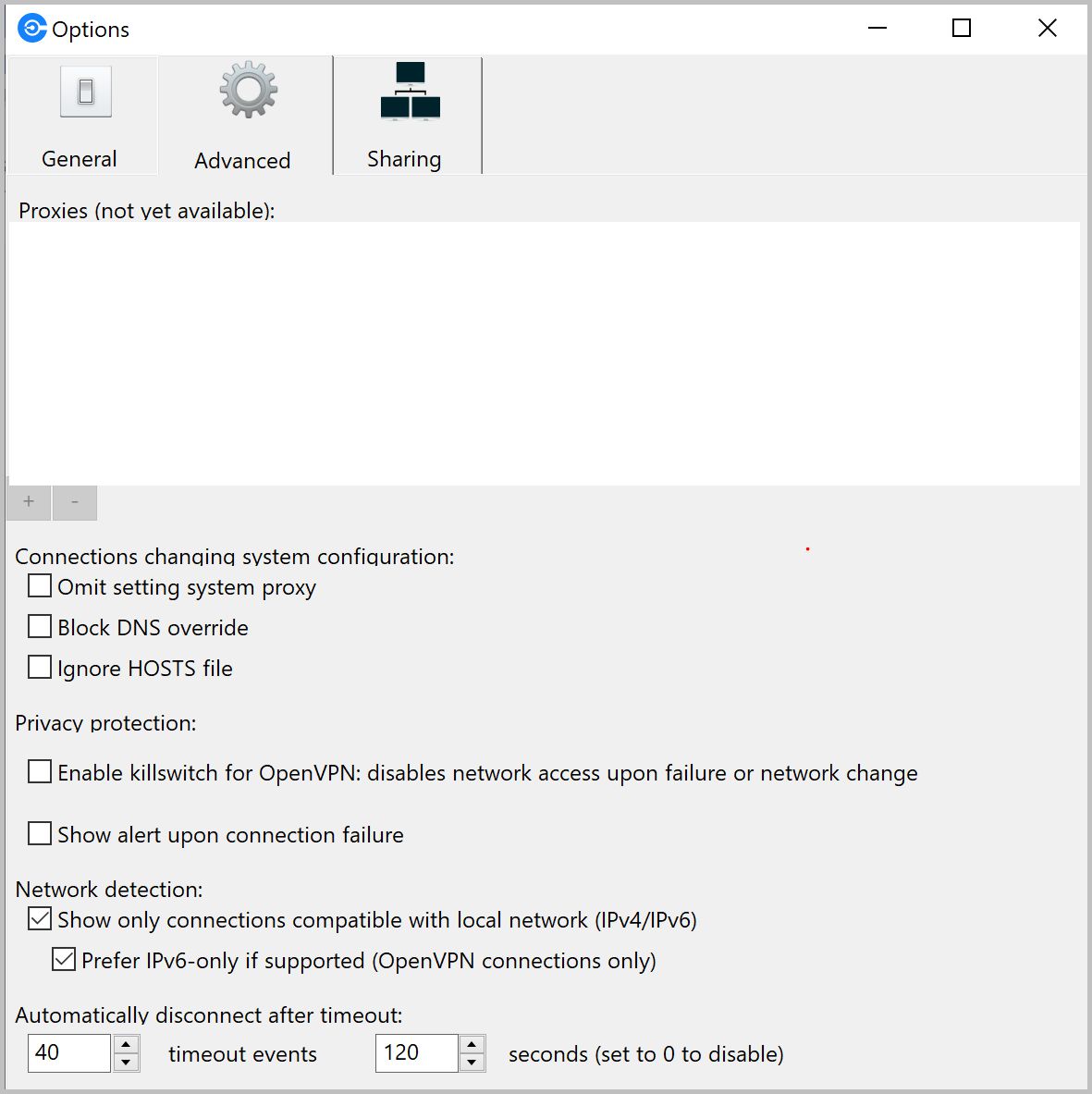 Does 12VPN Have an Ad Blocker?
No, there's no ad blocker. If you're streaming on YouTube, for example, you're still going to see relevant and tailored ads. Same with social media and other sites you visit.
It's compatible with 3rd party ad blockers, though. You can install an ad blocker to your browser and use 12VPN at the same time. Check out our review of the best ad blockers to find one for you.
Does 12VPN Work in China?
Yes, 12VPN works in China. It also has servers within China which is rare, especially for a VPN of this size. So, it works on the reverse too if you need to access geo-restricted China-based content.
Although 12VPN uses high-level encryption, it doesn't have extra security features like obfuscation, which is important in China. The kill switch can only be used with OpenVPN, too, so you run the risk of being leaked if you use any other security protocol. I wouldn't recommend it for China, even though it works there.
Is 12VPN Compatible With my Device?
12VPN offers varied compatibility and it works with most popular devices, including:
Windows
macOS
Linux
iOS
Android
Certain routers
There are also browser extensions for Firefox and Chrome. If you don't want to encrypt all of your traffic, browser extensions offer a flexible solution, because only your browser goes through the VPN. This means you can still use your other apps as usual, but remember, they aren't secure.
Is 12VPN Easy to Use?
The app is dull, small, and not great to look at, but it functions just fine. Finding and connecting to servers is easy, and I do like that you can see your new IP address in the app, too.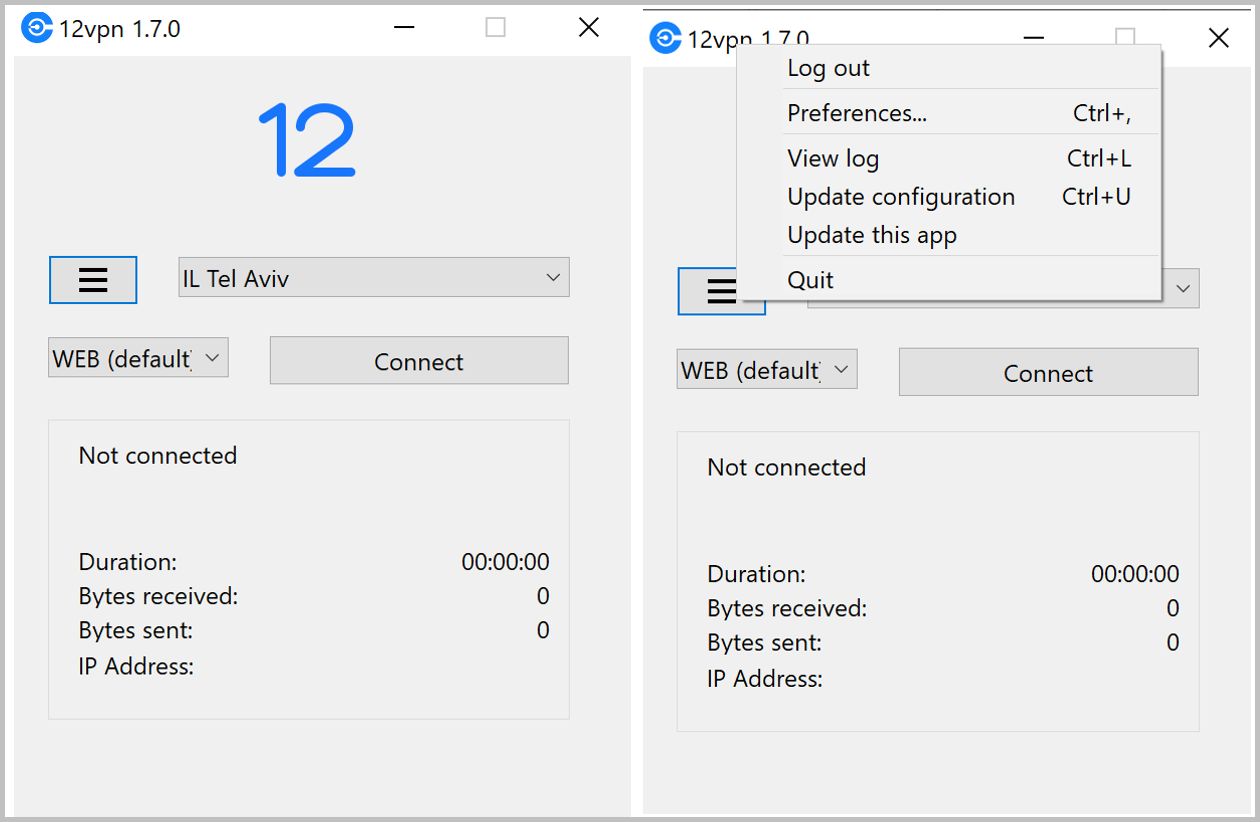 From the dashboard, you can alter your settings, like adding on the kill switch. You can also select for the VPN to launch on start up, which is always a good add-on if you want to use a VPN every time you use your device.
It's simple, but it could definitely be improved.
12VPN Customer Service
There's no live chat, but you can use the ticketing system to get in touch. I used it several times and had a response promptly – in fact, within the first two hours. You can reply via an email chain, too, which I like, and see your messages in the dashboard when you log in.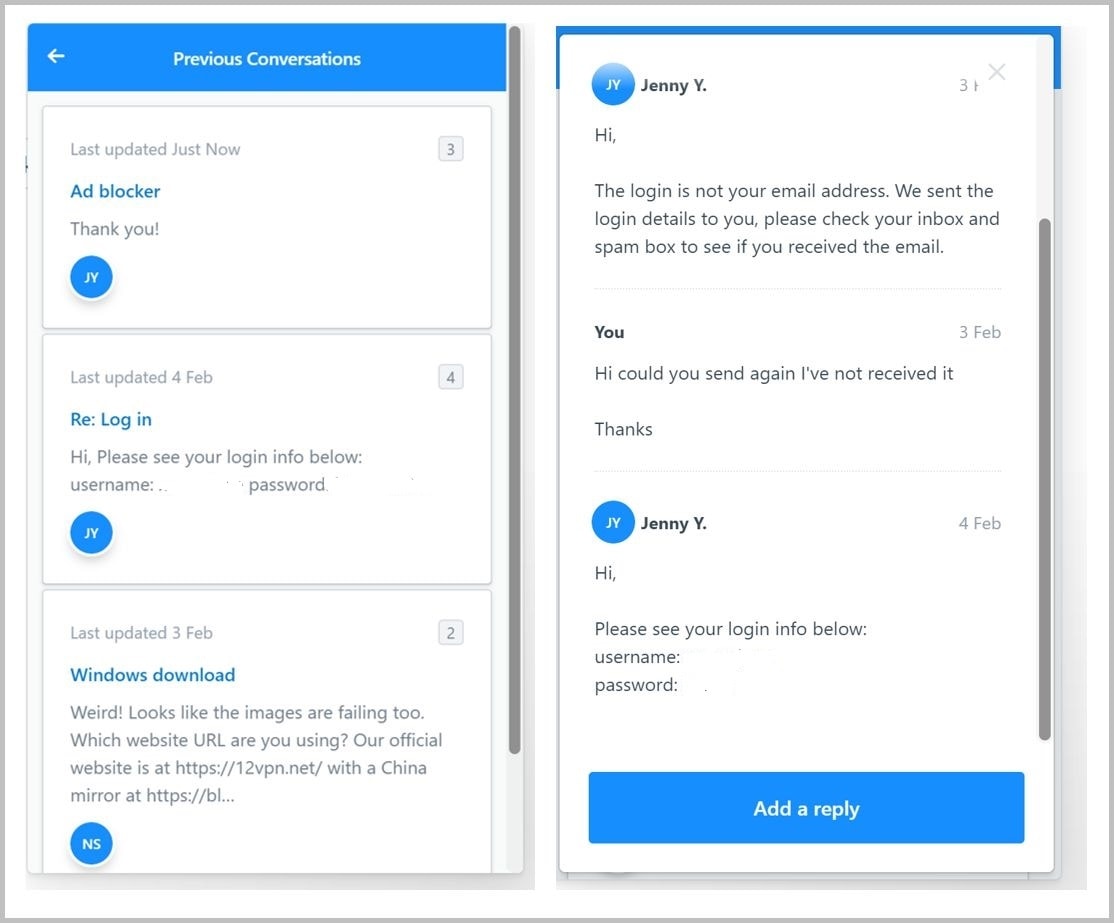 Pricing and Plans
You can either choose from a one-month, six-month, or one-year plan with 12VPN. As with most providers, it gets cheaper the longer you sign up.
I think 12VPN's pricing is quite steep, considering its lack of extra features. Other than the VPN basics, you don't get much for your money.
You have 14-day money-back guarantee, though, so you can try it out first to see if you agree. But there's no free plan on offer.
Another thing you should know: the 14-day money-back guarantee is only valid if you've used less than 5GB bandwidth. 12VPN is clever at hiding this deep in its terms and conditions, so beware. If you go over, there's no refund.
| Features | Details |
| --- | --- |
| Number of countries with servers | 20 |
| Number of servers | 31 |
| Does VPN keep logs? | No |
| Does VPN include a kill switch? | Yes |
| Number of devices per license | Unlimited |
When it comes down to it, 12VPN is fine for the very basics.
It can unblock Netflix US, and the speeds are OK, but it's no match for the industry-leading VPNs out there. There's a lot missing, from the actual app design and interface, through to features that provide added anonymity and security. There's no DNS and IP leak protection, automatic kill switch, and obfuscated servers. Yet, it charges as if it already has these on offer.
If you're looking to unblock global content and don't want to run into any roadblocks, I'd recommend NordVPN. It's reliable, speedy, and guarantees high-quality streaming.
Is 12VPN up to premium vendor standards? I don't think so. I suggest you check out our review of the most popular, global vendors before purchasing.
Unlocks Netflix US
Works with smartphones, tablets, PC, and Mac
Support staff ready to help
14-day money back guarantee
No hidden fees
Money Back Guarantee (Days) :
14
Mobile app :
Number of devices per license :
Unlimited