Buffered VPN Review 2020 - Keep This in Mind Before Buying
Buffered VPN has a lot to offer due to its user-friendly interface, fast connection speeds, and reliable security. One thing it can't do is unblock Netflix, you'll need a premium vendor like NordVPN for that.
In addition to dedicated apps available for all major platforms, Buffered VPN also offers router compatibility. There are 40+ servers available in 37 different countries, including three server locations within the US.
Here is a detailed overview of Buffered VPN's performance and features:
Streaming - Does Buffered VPN Work with Netflix?
Unfortunately, Buffered VPN was unable to bypass any tough geoblocks on popular streaming sites during our tests. We tried connecting to Netflix through the UK, Canada, and all three US server locations but Buffered was caught by the VPN ban each time.
We had similar luck with other popular streaming sites. Buffered was unable to get through the VPN bans on Hulu, BBC iPlayer, and HBO GO.
On the bright side, our connection speed was fast enough that we were able to stream HD YouTube videos with no buffering delay.
Buffered VPN Speeds
Buffered VPN claims that they always score highly among the top five fastest VPNs during speed tests. To find out if that claim is true, we ran some tests of our own. We started out with a base speed of 70 Mbps.
Overall, we were impressed with the results when connecting to Buffered VPN's nearby servers. We barely saw a decrease in speed when connecting to the US East Coast server.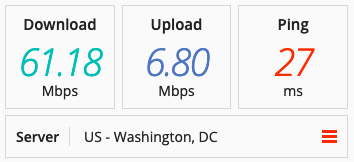 We were similarly pleased with our speed results when connecting to Buffered's UK server.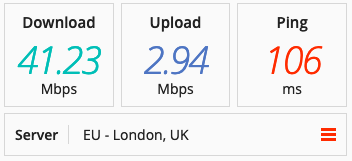 However, there was a big decrease in speed when we tried to connect to servers farther away in Japan and Australia. Both locations averaged under 5 Mbps download speed.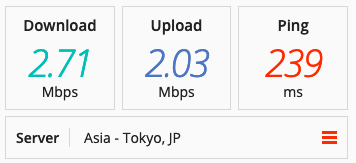 Despite these last few results, we found that Buffered was able to provide consistently fast connection speeds in all but the most distant server locations.
Is Buffered VPN Good for Torrenting?
Buffered is a torrent-friendly VPN that does not restrict P2P activity on any of its servers. Since all of Buffered's servers allow torrenting, you should be able to achieve good torrenting speeds when connected to nearby servers.
Security - Is Buffered VPN Safe?
Buffered VPN offers robust security with 256-bit AES encryption, DNS leak protection, and an automatic kill switch (once activated in the settings) on Windows and MacOS platforms. No leaks were detected during our testing.
For an extra layer of protection, Buffered VPN also provides Perfect Forward Secrecy, which generates a unique encryption key for each session. This means that even in the very unlikely case that one of your encryption keys is compromised, your past and future data is still secure.
Buffered VPN exclusively supports OpenVPN protocols and allows you to choose between UDP and TCP. OpenVPN protocols are widely considered to be the most secure, meaning that your connections are safe from any of the vulnerabilities that can be found in older protocols.
Does Buffered VPN Keep Logs?
According to their privacy policy, Buffered VPN does not keep any records of user activity. However, they do keep partial connection logs for up to 30 days.
These logs include the following information:
Your real IP address
The duration of your connection
The amount of data transferred during your session
The privacy policy also states that some information about your device may be collected for troubleshooting purposes, but you have the option to opt out of this data collection in the app's settings.
While collecting partial logs is not ideal if your goal is total anonymity, Buffered VPN's privacy policy is likely good enough for most users.
Buffered VPN also recently moved its headquarters from Hungary to Gibraltar, where there are no mandatory data retention laws. Although Gibraltar is a British Overseas Territory, it is actually fully autonomous, privacy-friendly, and free from the eyes of the 5/9/14-Eyes Alliance.
Price and Value for Money
Buffered VPN offers a choice of different length pricing plans. Each of the plans includes the same features.
Although there is no free trial, Buffered VPN does offer a 30-day money-back guarantee on all subscription plans.
You can purchase a Buffered VPN plan using any of the following payment methods:
Major credit cards like Visa, Mastercard, Discover, and American Express
PayPal
Bitcoin for the highest level of anonymity
Is Buffered VPN Compatible with My Device?
Buffered VPN is compatible with all major platforms. In addition to their dedicated Windows and MacOS apps, Buffered VPN recently released dedicated apps for Android and iOS as well. That means no manual configuration is needed.
Buffered VPN is compatible with the following devices:
Windows
MacOS
Android
iOS
Linux
Tomato- or DD-WRT-enabled routers
The VPN's features are similar across platforms, with the exception of no automatic kill switch available for mobile devices.
You can connect up to five simultaneous devices with a single Buffered VPN subscription.
Buffered VPN Customer Service
We were pleased with our experience with the Buffered VPN customer support team. You can contact support through an email form or their 24/7 live chat service. Both methods are responsive and helpful.
The Buffered VPN website also provides a lot of information and resources to help with common issues. You can find extensive FAQ section, troubleshooting guides, set up tutorials, and a lot of detailed information about VPNs and cybersecurity in general.
User Experience
The Buffered VPN app has an intuitive layout that makes it very easy to navigate. The app opens to a list of server locations, and connecting is as simple as clicking on the one you want.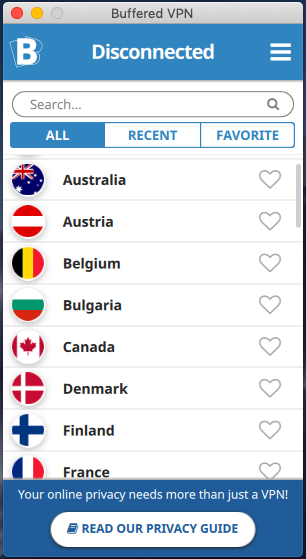 You can also easily view your recent server locations or create a list of favorites. Once you're connected to a server, the Buffered app displays some basic information about your data transfers and connection duration. It also displays whether the kill switch is currently activated, which is nice.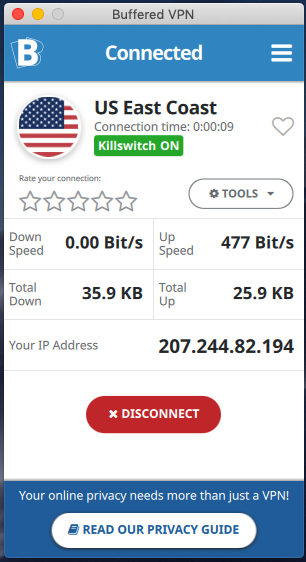 You can allow the app to automatically select a port for you or you have the option to manually select one from a list of options. Other nice features include the ability to test your current bandwidth and firewall protection within the app.
Buffered VPN has plenty to offer if you are looking for a simple, easy-to-use VPN with robust security and fast connection speeds. Since this provider is focusing on quality over quantity of features, VPN beginners can take advantage of Buffered VPN's secure protection without being overwhelmed by advanced options. It's also a good choice for torrenting.
On the other hand, we were disappointed by the lack of a kill switch on mobile devices. We also would not recommend Buffered VPN for streaming since it was unable to bypass the geo-restrictions on most popular streaming sites.
If you're looking for a reasonably-priced VPN that is great for torrenting and offers industry-leading security across all major platforms, we recommend going with one of our top-rated providers like NordVPN.
| Features | Details |
| --- | --- |
| Number of countries with servers | 37 |
| Number of servers | 30 |
| Does VPN keep logs? | No |
| Does VPN include a kill switch? | No |
| Number of devices per license | 5 |
Buffered VPN is very easy to install and set up. The user-friendly website makes it simple to choose a plan, pay, and download the correct software for your device in only a few minutes.
After an easy installation process, Buffered VPN's dedicated app displays a list of server locations to choose from. Although there is no way to auto-detect the fastest available server, connecting to any location only takes a single click.
There aren't many advanced options, but the settings that are available are easy to navigate. You also have to manually turn on the automatic kill switch in the settings since it's deactivated by default.
One thing to be aware of is that when you change a setting, it doesn't take effect until you start a new connection.
Buffered VPN offers a range of different length subscription plans to choose from, each with the same features. Longer plans give you a better overall cost value.
This VPN does not offer a free trial, but you can take advantage of a 30-day money-back guarantee to try out the service.
They accept multiple payment methods, including:
Major credit cards like Visa, Mastercard, Discover, and American Express
PayPal
Bitcoin for the highest level of anonymity
Reliability & Support
4.2 / 5.0
Buffered VPN offers several support options if you run into any issues with the service. There are various helpful resources available on the website, including a comprehensive Definite Guide to VPNs, extensive FAQ section, troubleshooting guides, and detailed setup tutorials.
If none of those resources answer your question, you can also contact the support team 24/7 via email or live chat. We found the support team to be responsive and helpful.
Fast, secure, and user-friendly, but not ideal for streaming
Buffered VPN provides fast, reliable connections and strong security with a user-friendly interface. The two main downsides are the lack of a kill switch for mobile and Buffered VPN's inability to bypass geoblocks on popular streaming sites like Netflix.
What is geoblocking and why does it matter if your VPN can bypass it? Read our comprehensive guide that includes everything you need to know about geoblocking.
24/7 customer support
Unlimited bandwidth and server switches
Easy to install for Windows, Mac, and Linux
No logging of activity
Money Back Guarantee (Days) :
30
Mobile app :
Number of devices per license :
5
Buffered VPN

User Reviews
Stephanie Rose
Jan 9, 2020
If I could give zero stars I would. I was a customer for three years overpaying but double the amount. Shortly after I had signed up, they dropped their price in half and never informed me. I only realized this after buying a new computer and having to download the application on my new device. I reached out to their customer service, who told me they did not have to inform me of such and if I wanted the new price I had to cancel my automatic renewal and wait to sign up again. Such poor customer service, these people are true scammers and do not care about their customers. I will be switching vpn and finding another service. I would not give these people any of your money. Aside from their awful customer service, the vpn blocking did not work many times and when I checked my own IP address it still showed up as my own and the connection was extremely slow. So many better services out there!
---
See Plans
Reply to this review
Did you know? We approve all user reviews. Companies can't pay to include or exclude any.
Don Bartlem
I considered a number of VPN's before going with Buffered which I find excellent.
No issues in any aspect, On the rare occasions that I required assistance (in the initial set up stage), the Help Desk was outstanding. Would highly recommend Buffered to anyone considering using a VPN
---
See Plans
Reply to this review
Harm
Reliable VPN, quickly responding CS
I've had Buffered VPN for a couple of years now, and it proved to be very reliable. It just works, on the very few occasions it doesn't I always get an immediate response from the helpdesk. The other thing I like about Buffered, is that it is not part of some big, dominant firm, they're independent.
---
See Plans
Reply to this review
Compare Buffered VPN with the top alternative VPNs