Kaspersky is an industry-leading cybersecurity company, so you'd expect its VPN to offer top-of-the-line security features. But is it safe to use? And is it fast and powerful enough to help you stream and torrent? 
I tested Kaspersky VPN for two weeks, so I can all of these questions for you.
My review raises some concerns over Kaspersky Secure Connection's privacy policy, and I'll tell you why it's not the best VPN for streaming (spoiler: it can't help you access Netflix – you need a streaming-optimized VPN, like NordVPN, for that).
Streaming – Does Kaspersky Secure Connection Work with Netflix?
In my research, I read reviews from some customers who reported being able to access Netflix on some of Kaspersky Secure Connection's servers. However, during my tests, I was not able to unblock Netflix at all.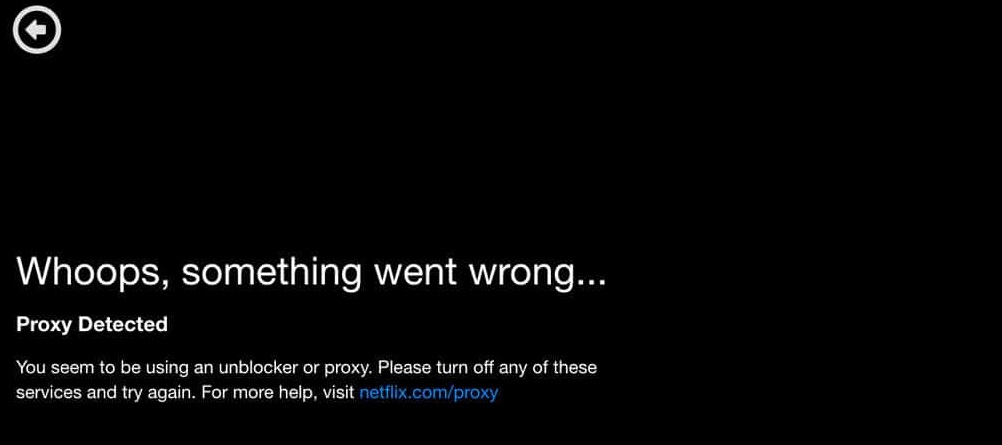 I tried several different servers but still received Netflix's infamous 'proxy detected' message.
I wasn't able to stream any of the other services I tried, either. I couldn't access Amazon Prime Video, Hulu, HBO GO, BBC iPlayer, or Kodi. The only streaming site Kaspersky Secure Connection works with is YouTube.
Looking for a service that can reliably unblock all the best streaming sites? Try NordVPN. NordVPN has a larger, more powerful server network.
Speeds – How Fast is Kaspersky Secure Connection?
Kaspersky Secure Connection is nowhere near as fast as other VPNs I've tested, like ExpressVPN.
It's not annoyingly slow, but my connection speed was average. It took me 2-3 minutes to load a high definition YouTube video, but I was able to load websites without too much lag.
I found that Kaspersky Secure Connection is faster if you connect to a local server (this makes sense because your data doesn't have to travel so far). However, when I connected to a server that was further away, my connection slowed down a lot

It was impossible to access geoblocked sites because my connection was so low on international servers.
Overall, I would like to see more consistent speeds across Kaspersky Secure Connection's network. Its local servers are quick, but it's not a reliable choice if you want to connect to international servers.
Is Kaspersky Secure Connection Good for Torrenting?
There are some gray areas around Kaspersky Secure Connection's privacy and logging policies that make it a risky choice for use with torrenting. Its terms of service make it clear that any illegal activity – including torrenting copyrighted files – can lead to Kaspersky reporting you to the authorities.
It claims not to log your online activity, but this policy suggests that it monitors your activity. It's not safe for torrenting at all. You can read more about Kaspersky Secure Connection's privacy and logging policies under my safety assessment below.
Even if you do want to take the risk of torrenting with Kaspersky Secure Connection, you might find its speeds too slow for P2P traffic anyway.
Is torrenting important to you? Take at the best VPNs for torrenting for a safer and faster alternative.
Security – Is Kaspersky Secure Connection Safe?
Kaspersky is a globally well-respected cybersecurity company, so I was surprised to find that its VPN is missing several basic security features.
Kaspersky Secure Connection does use military-grade 256-bit AES encryption. It also provides DNS leak protection, which prevents your DNS requests from being accidentally leaked to your ISP.
However, there is no kill switch or IPv6 leak protection. Your true IP address will be leaked if you access an IPv6-enabled website while you're connected to Kaspersky Secure Connection.
A kill switch is a staple VPN security feature, so its omission here seems unusual, especially in a VPN geared towards online privacy and security. It means that your sensitive data will be exposed if your VPN connection fails. You can read more about why this is such an important feature in our complete guide to kill switches.
Kaspersky Secure Connection also has no ad-blocker or anti-malware features – again, surprising for a company famed for its antivirus software.
You can bundle your Kaspersky Secure Connection VPN with other Kaspersky antivirus software, but this costs you more money. Other VPNs like CyberGhost and Surfshark  offer built-in ad, tracking, malware, and phishing protection at no extra cost.
Does Kaspersky Secure Connection Keep Logs?
Kaspersky Secure Connection states that it has a no-logs policy. This should mean that it doesn't have any information to hand over about you, even if it is obliged to by law.
A quick look at its terms and conditions sadly proves otherwise. Kaspersky Secure Connection logs some of your data, like your MAC address, hardware information, user session ID, and traffic information.
One important thing to know about Kaspersky Secure Connection is that it is based in Russia. In one respect, this is a positive as it means it's not located in a 14-Eyes Alliance country.
Still, Russia does not have the best record when it comes to privacy – especially regarding VPNs. The government has a record of forcing VPNs to hand over user data.
Kaspersky claims that this data is anonymized. However, under its strict list of  'Application Usage Restrictions', it claims that any violation of this list 'will be reported to the appropriate authorized executive agencies, and we will assist such agencies in revealing your identity'.
This suggests that Kaspersky Secure Connection logs and stores identifying information that could be passed on to government agencies.
Since the VPN's list of violations includes any activity that might be considered illegal in any country, I can't recommend Kaspersky Secure Connection as a safe or secure VPN to use.

Servers
Kaspersky Secure Connection's unreliable streaming record and slow speeds might be down to its limited server network.
It only gives you access to 18 servers in 18 countries – including the US, UK, Germany, France, Canada, Sweden, Spain, Japan, Hong Kong, and Russia.
Its network is not large enough to keep up with blacklisting by streaming providers or give you access to geoblocked content from around the world.
Price and Value for Money – is Kaspersky Secure Connection Worth It?
Kaspersky Secure Connection is competitively-priced. You can opt to pay monthly, or for one year upfront. The year-long package is much cheaper and can reduce the price by up to 50%.
If you choose to buy a complete Kaspersky package with the VPN included, you can opt for an extra secure browser that kicks in when you access online banking or internet shopping sites. However, considering the VPN's record on privacy, this doesn't feel like it's of much additional value.
If you want to test Kaspersky Secure Connection for yourself, you can try the service with a -day money-back guarantee.
Although Kaspersky might seem affordable, I would recommend a cheap VPN like PrivateVPN that has better security and a better record on privacy instead.
Does Kaspersky Secure Connection Have a Free Version?
Kaspersky Secure Connection offers a free VPN that it calls 'Basic Protection'.
You're limited to 200MB per day with the free version. That's not even enough to watch one hour of YouTube in standard definition.
The free version of Kaspersky Secure Connection doesn't allow you to choose your server. A location is picked for you automatically. That is frustrating if you're trying to access content in a specific country or region.
Is Kaspersky Secure Connection Compatible with My Device?
Kaspersky Secure Connection is compatible with Windows, macOS, iOS, and Android.
It doesn't offer Linux support, and it's not compatible with routers. That means you can't use it on game consoles or smart TVs.
If you need a VPN for gaming or for your smart TV, check out our list of the best VPNs for routers.
Kaspersky Secure Connection's Customer Service
Kaspersky offers a good range of customer service options.
There is an online knowledge base that contains tutorials, tips, and troubleshooting guides. It covers all of Kaspersky's products, so you have to do a bit of digging to find information relevant to Secure Connection.
There is also a helpful community forum and ticket-based technical support if you need more personalized assistance. When I tested the ticket system, the response was prompt and helpful.
User Experience
I found Kaspersky Secure Connection incredibly user-friendly. The download and installation process was fast, smooth, and even comes with a quick guide to VPNs and how they work.
Apps across all four platforms are very simple and easy to navigate with one-click connect to get you up and running in the shortest time possible.
The interface design is clean and clear. The main user interface shows you an on/off switch and server list so you don't have to negotiate complicated settings to get started.
| Features | Details |
| --- | --- |
| Number of countries with servers | 18 |
| Number of servers | 18 |
| Number of IP addresses | 18 |
| Does VPN keep logs? | No |
| Does VPN include a kill switch? | No |
| Number of devices per license | 5 |