SpyOff VPN Review 2020 - Keep This in Mind Before Buying
SpyOff VPN is a new kid on the block, but it's made a name for itself in rapid fashion. However, I'll just get to this point now (covered in more depth below): customer support leaves a lot to be desired. There are some downfalls there, so you may want to consider a more consistent provider like ExpressVPN or Surfshark.
It brings a ton of functionality at a very reasonable price, and its status as a "fresh face" has so far allowed it to fly under VPN blacklists while offering outstanding privacy, security, and accessibility. Even better, it can unblock Netflix.
It's not all sunshine and roses, though. SpyOff is a shining example of a VPN that emphasizes on the technical side of things, leaving something to be desired in other areas.
Don't worry — we'll go over all the important bits. But first, the strengths.
SpyOff supports three essential VPN protocols — PPTP, L2TP, and, most importantly, OpenVPN. It's compatible with all major operating systems, and you can even install it on your router or gaming console.
This VPN's connectivity is up there with the best of them. Sporting over 390 servers in 21 locations, it makes roughly 14,000 IP addresses available to you at any given time. The best part? You have unlimited switches between servers.
SpyOff has Starter and Premium plans. The naming implies a distinction in the level of service. In reality, you get the full package no matter the subscription type. The only difference is in runtime — and the fact that Premium is often the cheaper option in the long term.
Thanks to its massive IP range, SpyOff's is very useful for content unblocking. Although there are no dedicated servers and static IPs, our unblocking tests were successful across the board — even with notoriously tricky platforms (ahem Netflix). Let's put it this way: geographical restrictions won't be an issue. But, other leading vendors have even more to offer when it comes to streaming. Our #1 recommended VPN, NordVPN, unblocks Netflix, has dedicated servers and IP addresses, and offers speeds that are hard to beat.
You won't be strapped for speed with this VPN, either — another strong point of SpyOff is that it doesn't hinder your connection. Sure, there's the unavoidable increase in ping, but download/upload speeds remained impressive in the USA, Hong Kong, Australia, and the UK.
In fact, our tests showed an increase in download for some regions and better upload on mobile with SpyOff active. Of course, we expect nothing less from a provider advertising itself as "the fastest VPN alive."
When it comes to your internet security, SpyOff has you covered with a tried-and-true no-logs policy — your data isn't at risk of being stored with this VPN.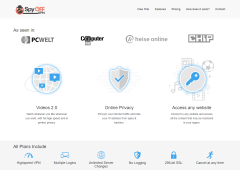 On top of that, it has a kill switch for the occasional connection drop, so there's no need to worry about accidental info leaks.
With its excellent performance, SpyOff would easily be a top pick in our book. But there are a couple of major drawbacks.
One of them is the unintuitive client. SpyOff works like a charm once it's configured, but achieving that takes quite a bit of skill and time. We can see how it can be discouraging for some — SpyOff offers great value with a host of splendid features, but newcomers looking for a "plug-and-play" VPN will have their work cut out for them, to say the least.
The other issue we had was the lagging support. SpyOff is a lightning-fast VPN, but not when addressing customers. We asked fairly straightforward questions via email and ticket, and responses still took over 24 hours. That's without mentioning the lacking quality of the answers and the somewhat careless handling of issues.
For example, after deciding to test out the 30-day money-back guarantee (which is a great extra to have), we were initially refused a refund. After some back-and-forth discussion, customer support apologized for misreading our emails and the matter was resolved. However, it still took a tad too much time and effort for a process that should be over and done in a matter of minutes.
In conclusion, SpyOff is a very capable VPN performance-wise. With a bit of work on the client and adequate customer support, it can become an all-around powerhouse. We recommend it to experienced users looking for a good deal on a long-term VPN, but there are better alternatives for the novice crowd. If you get flustered with the company's customer support, a reliable choice may be Surfshark or ExpressVPN.
If you want to enjoy top-notch customer service and reliable, speedy streaming, why not check out our top picks for the best VPNs for Netflix?
| Features | Details |
| --- | --- |
| Number of countries with servers | 40 |
| Number of servers | 1000 |
| Number of IP addresses | 1000 |
| Does VPN keep logs? | No |
| Does VPN include a kill switch? | Yes |
| Number of devices per license | Unlimited |
SpyOff is simple to get running, but somewhat difficult to navigate.
On desktop, you download the client from your account page. Nothing special to do here — just run the .exe and it will take care of itself.
There is no automatic configuration, so you'll need to set everything up by yourself. It's nothing experienced users can't handle, but newbies may have some trouble.
Everything needs to be done manually — from launching a VPN connection to choosing a server and copying the IP address onto the client: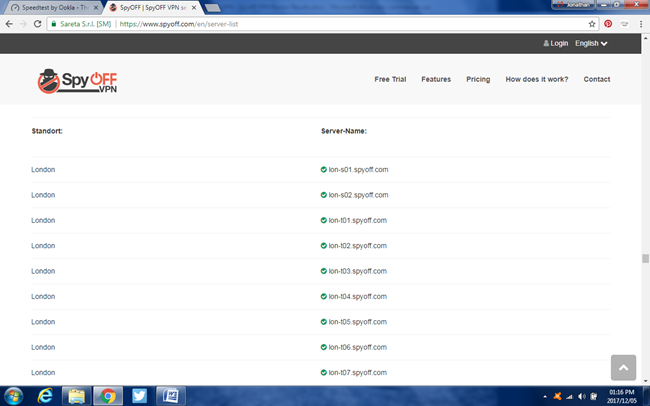 Some reassurance: It's an easy task once you get the hang of it. However, a more intuitive, hands-off approach would be appreciated by many.
The complexity of the SpyOff VPN client coupled with the rather lacking customer support means you may be in for a long wait to get things cleared up — provided you don't find the answer in the FAQ section or somewhere on the Internet.
You can choose between a monthly (Starter) or annual (Premium) SpyOff subscription. Both options come with a 30-day money-back guarantee — you'll have to commit to take advantage of SpyOff , but you can cancel your subscription at any time.
Payment methods for SpyOff include credit cards — Visa, Mastercard, American Express; PayPal; Bitcoin; BitPay; and coupons.
Reliability & Support
3.2 / 5.0
SpyOff is a bit on the slow side when it comes to customer support. We observed longer-than-average response times for emails and tickets — over a day in both cases. The answers to our questions weren't up to par, either.
Allegedly, SpyOff is more active on social media, but those with more technical questions may be redirected to email or the contact form instead.
For general inquiries, SpyOff provides a solid FAQ section.
Fast, dependable, and secure — but not the best choice for beginners.
A good interface and dedicated attention to customers are just as important as guaranteed privacy and fast, reliable speeds. SpyOff is a VPN that has all the latter, but little to none of the former.
As far as performance, SpyOff passes the tests with flying colors. Boasting a mind-blowing number of servers, a kill switch functionality, and 256-bit SSL encryption, this is a VPN that will quickly get you anywhere you want, wherever you are located. It will also ensure none of your data is collected thanks to its zero-logs policy, which we tested and found to be working flawlessly.
However, the potential SpyOff offers is diminished partly by a convoluted client, and mostly due to sub-par customer service. VPN veterans most likely won't care much for these drawbacks, but new users can easily get confused between the manual configuration and the prolonged bouts of waiting for responses.
Noticeably fast speeds
Doesn't keep any logs
Kill switch
395 servers and over 14,000 IP addresses
Simultaneous logins on up to 3 devices
Money-back guarantee
Money Back Guarantee (Days) :
30
Mobile app :
Number of devices per license :
Unlimited