TorGuard is best known for its large server network and strong torrenting support.
Is TorGuard really privacy-friendly? How does TorGuard perform in other areas, such as streaming?
We tested TorGuard's VPN service across a number of categories to find out its strengths and weaknesses.
TorGuard's best features include robust security, a built-in adblocker, P2P support, a strict no-logs policy, responsive customer service, and the ability to bypass tough censorship without being detected.
TorGuard can unblock Netflix, but only if you pay an additional monthly fee to purchase a dedicated IP address. If you're looking for a VPN for Netflix, we recommend ExpressVPN instead. It's fast enough to stream in UHD, and you don't need to purchase any add-ons to stream.
Other downsides include below-average connection speeds and an interface that isn't very user-friendly.
Streaming - Does TorGuard Work with Netflix?
When we first tried to access Netflix while connected to TorGuard, we were blocked by Netflix's VPN ban on each server that we tried.
However, we soon realized that TorGuard can unblock Netflix. It just can't do so with a standard VPN subscription.
If you want access to streaming services, you have to purchase a dedicated TorGuard streaming IP address for an additional monthly fee.
Dedicated streaming IPs are offered in the US and the UK. The dedicated streaming IPs can successfully access Netflix, Hulu, Amazon Video, and BBC iPlayer.
TorGuard claims that if you purchase a streaming IP and are still unable to access your desired streaming content, you can contact customer support to receive access to a new unblocked IP address.
To find a VPN that can unblock Netflix easily and without any additional costs, check out our best VPNs for Netflix.
Server Network and Speeds
TorGuard has a very large server network of 3,000+ servers in 68 locations across 50 countries.
A larger server network is typically good news for connection speeds, and the website claims that TorGuard is the "fastest VPN and Proxy Network powered by 3K+ Gigabit Servers with unmetered bandwidth".
Before connecting to TorGuard's network, our base speed was 60 Mbps.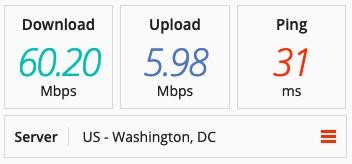 We can compare our starting speed with the connection speeds that we got while connected to TorGuard to see whether the VPN slowed us down.
Unfortunately, we weren't very impressed with the results, in spite of TorGuard's large server network.
All five servers that we tested in the US gave us download speeds of under 10 Mbps, which is pretty bad compared to our starting speed.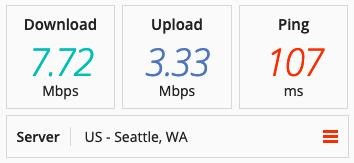 Our speeds with TorGuard's UK servers were around 20 Mbps, which is better but still not ideal.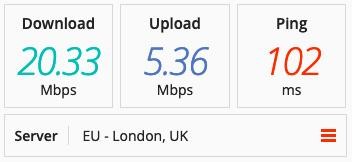 Our speeds across the world in Hong Kong were all the way down to around 5 Mbps.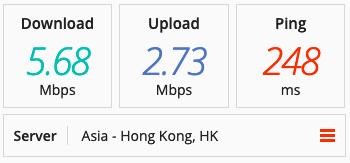 We had high expectations for TorGuard's speeds because of their large server network, but overall we were disappointed by TorGuard's relatively low speeds across the board.
The one positive is that we found the connections to be stable and reliable over time, without large jumps and dips in speed.
Is TorGuard Good for Torrenting?
Torrenting is one of TorGuard's strengths. The "Tor" in the provider's name actually refers to torrents, which goes to show that secure torrenting is a core part of TorGuard's service.
TorGuard supports P2P file sharing on all servers in its large network. The provider recommends using the TorGuard VPN for the most secure torrenting, but if you are looking for a more lightweight option, you can also use the proxy service to torrent with the SOCKS5 proxy.
TorGuard claims to be fully compatible with BitTorrent, uTorrent, Vuze, qBittorrent, and more.
TorGuard also supports port forwarding, which can improve your torrenting file transfer rate.
Security - Is TorGuard Safe?
TorGuard protects your privacy with some robust security. The VPN masks your IP address and protects your data with secure encryption.
The service has built-in DNS and IPv6 leak protection, as well as an STunnel obfuscation feature that helps to hide the fact that you are using a VPN. The STunnel feature is great for escaping tough censorship and bypassing VPN bans.
TorGuard also offers an automatic kill switch, which will keep your data secure even if your VPN connection unexpectedly drops.
In addition to a master kill switch, TorGuard allows you to set up an app kill list. This will immediately close all apps on the list when the VPN disconnects.
We did not detect any DNS leaks while connected to TorGuard.
Encryption
TorGuard gives you a lot of freedom to choose your preferred encryption method and secure protocol.
The most secure option available is AES 256-bit encryption, but you can also choose to use the faster but slightly less secure AES 128-bit or Blowfish 128-bit encryption.
TorGuard supports multiple security protocols, including OpenVPN, L2TP/IPsec, and OpenConnect VPN, which is a fast protocol that disguises your VPN traffic to look like normal SSL traffic. It even offers ultra-secure WireGuard protocol on its Windows, macOS, Linux, iOS, and Android apps.
Does TorGuard Keep Logs?
TorGuard takes a strong stance on privacy. The provider promises not to collect or log any data of any kind from its VPN or proxy services.
When you provide TorGuard with your email or other contact information as part of payment or troubleshooting, they claim that this information is only ever used for correspondence.
You also are never required to provide them with identifying information. Although TorGuard claims not to store private payment information like credit cards, the best way to ensure your anonymity is to pay with Bitcoin, which TorGuard accepts.
The downside is that TorGuard is based in the US, which is one of the founding members of the 5/9/14-Eyes Alliance.
This means that TorGuard falls under US jurisdiction and data retention laws, and any information gathered by US government surveillance can be shared with other countries.
However, if TorGuard truly sticks to its privacy policy as it claims, this shouldn't matter. TorGuard promises that even if they were to be legally compelled to hand over information, they would have nothing to give because of their strict no-logs policy.
Does TorGuard Have an Adblocker?
TorGuard does offer a built-in adblocker as part of the VPN service, although enabling the adblocker in the settings can be a little confusing.
Within the advanced menu, if you navigate to the DNS settings, under "Use these nameservers" you can find an option that says "- when VPN is connected".
Select "Ad blocking DNS" from the drop-down list. After you save the settings, the adblocker is enabled.
When we tested the adblocker on several websites, the VPN was successfully able to block all advertisements that we encountered.
Does TorGuard Work in China?
TorGuard includes several built-in features that make the VPN a great choice for use in China.
The VPN's stealth feature, which TorGuard calls STunnel, is optimized to bypass Deep Packet Inspections (DPI) and hide your VPN use. This allows you to fly under the radar of the Great Firewall of China.
In addition to TorGuard's STunnel feature, the OpenConnect protocol is also good for bypassing censorship and VPN bans by disguising your traffic to look like regular SSL traffic.
Price and value for money
TorGuard charges a bit more than average, but on the surface the cost is still reasonable for what the service has to offer.
However, things get expensive when you consider that some important services must be purchased as an add-on.
For example, if you want to use one of TorGuard's streaming IP addresses to access Netflix, you will have to pay a hefty monthly fee in addition to the basic subscription cost.
You are given a lot of freedom to customize your service package. Although this review is about the VPN, TorGuard actually offers three distinct services: a proxy, a VPN, and an email service. You can also purchase bundles that include all three services.
Here is an overview of the features included in each service:
With each of these services, you can choose from several different-length subscription plans. As is typical, discounts are offered on longer plans, making them more affordable.
As previously mentioned, you have the option to choose from several add-on services with your VPN subscription.
These add-on services include support for additional simultaneous devices, access to a premium 10-Gbit network, and dedicated IP addresses for streaming, sports, and regular use.
All plans come with a 7-day money-back guarantee. When we requested a refund to test out the guarantee, we received a full refund within two hours of submitting the request.
TorGuard also technically offers a free trial as part of their Fresh Start discount, but you have to jump through some hoops to gain access.
If you are currently subscribed to a different VPN service, you can send TorGuard a copy of your most recent VPN bill. TorGuard will then provide you with a 7-day free trial.
If you then email TorGuard proof that you have cancelled your old service, they will give you 30 days free on any TorGuard subscription plan.
We would have rather seen a traditional free trial and a longer money-back guarantee, but it's still something.
Is TorGuard Compatible with my Device?
TorGuard is compatible with the following devices:
Windows
Mac
Android
iOS
Linux
Router (DD-WRT and Tomato)
TorGuard's VPN is also available as a browser extension for Chrome and Firefox.
Features and interface are similar across devices. The main difference is the iOS app, which we actually found to have a much more attractive and user-friendly interface than the other dedicated apps.
The downside for both Android and iOS devices is that OpenVPN connections can't be created through the TorGuard app. Instead, you must manually configure a connection through third-party software.
On the bright side, there are easy-to-follow instructions available on the TorGuard website to set up OpenVPN connections on mobile devices.
TorGuard provides its subscribers with the ability to connect to up to 8 simultaneous devices with each subscription.
You also have the option to pay a small fee for each additional simultaneous connection, which is useful.
TorGuard Customer Service
Customer service is a strong area for TorGuard. There are three main channels for getting in touch with customer service: 24/7 live chat, email tickets, and a toll-free phone number (only available in the US).
We had a pleasant experience with the 24/7 live chat support. Within five minutes of reaching out with a question, a representative responded to us. Our questions were fully answered by the knowledgeable support team.
The live chat is definitely the best way to get a response, but for in-depth technical questions you may be asked to open a ticket instead so that you can include more details and screenshots, if applicable.
User Experience
TorGuard has some room for improvement when it comes to creating a smooth user experience.
The TorGuard app's interface is stripped-back and overwhelming at the same time. The main screen asks you to select your encryption and protocol settings before connecting to a server.
The server selection menu has neither an auto select feature nor any indication of which servers are the fastest.
However, you can sort servers by their proximity to your physical location, as well as by region.
One annoying feature is the need to log in every time you connect to a server. While there is an option to remember your login information, it took us a few times of logging in manually before we noticed this setting.
In terms of advanced settings, the app offers no guidance so it can be challenging to understand what many of the options will do even if you are an experienced VPN user. You can see this in the earlier example about the adblocker feature.
Even on the app's main screen, it was unclear to us what the STunnel setting would do until we reached out to customer support for information.
We like that TorGuard gives you a lot of freedom to customize your settings, but it feels like some amount of user-friendliness was sacrificed in the process.
It's possible to provide a large number of advanced settings in an intuitive and user-friendly way, but unfortunately TorGuard missed the mark for us.
Conclusion
TorGuard has some great strengths. The VPN is privacy-friendly, and its robust security features give you a lot of freedom to customize your experience. TorGuard can bypass tough censorship even in China, and also offers great torrenting support.
The main downside is that you have to purchase a dedicated IP address for an additional monthly fee if you want to stream Netflix. There are other premium VPNs that let you access streaming sites without any extra costs in our best VPNs for Netflix guide.
On the other hand, we weren't impressed with TorGuard's speeds despite its large server network, and the interface leaves much to be desired. We also would like to see better streaming support included in the basic VPN service rather than as a pricey add-on feature.
We've reviewed (and ranked) the best VPNs in the world and while there's a lot of good to say about TorGuard, it's not as robust as we'd normally like. Bottom line: a service like ExpressVPN may be more reliable and better suited for consistency, speed and ease of use.
TorGuard Features — Updated in January 2022
8.8
💸

Price
$5/month

📆

Money Back Guarantee
7

📝

Does VPN keep logs?
No

🖥

Number of servers
3000

💻

Number of devices per license
8

🛡

Kill switch
Yes

🗺

Based in country
United States