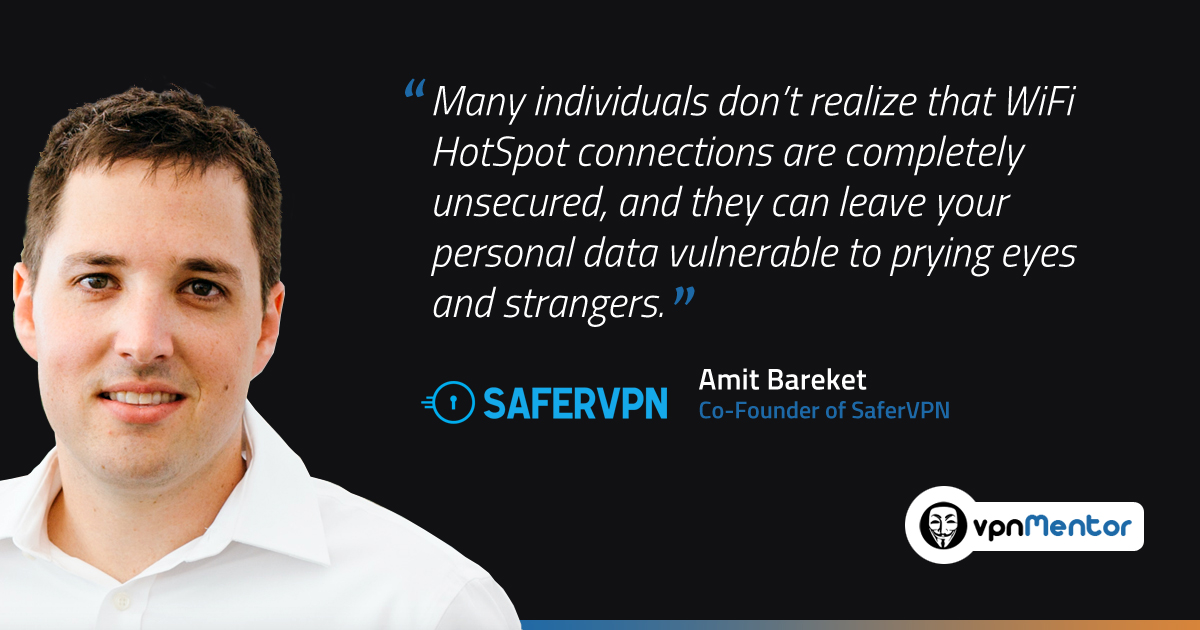 Amit Bareket, Co-Founder of Safer VPN, Makes Complicated VPN Services Simple, Fast and Easy
SaferVPN Co-Founder Amit Bareket is the brilliant engineer behind a VPN service designed to do two things for you: keep you safe, do it quickly and with simplicity. Amit takes on the highly complicated programming projects necessary to make your online experience simple, fast and easy as you travel beyond geo-blocks and avoid price discrimination. The secret to SaferVPN's reliability lies within their story, which you can read here. Share
Amit Bareket knows that consumers who want to browse the internet safely with VPN, like their systems fast, simple and easy.
He and his co-founder Sagi Gidali began SaferVPN in 2013, and they now have 150 servers in more than two dozen locations around the world. Because SaferVPN has developed apps for Windows, Mac, iOS, Android, Chrome and routers, their clients will find that they can seamlessly jump onto the internet.
The result is secure and uncensored access to global internet.
vpnMentor: Tell us about your background. What made you who you are today?
I am a very technical guy. I was a computer geek when I was a kid. Technology and its accessibility fascinated me. My perception was that the internet was wide open — connecting people from around the world.
When I became an adult, I knew that I wanted to live in Tel-Aviv and study computer science. As part of a work-study program, I was able to gain experience working with big enterprises like BigBand, IBM and IDF. It was in these arenas that I learned how to collaborate and grow further in this industry.
Collaboration is the key to success, and it's how SaferVPN works too.
vpnMentor: How did you become interested in IoT and especially VPN services?
SaferVPN began by chance —I met my business partner at the university, and we began working on a mobile app together. We won the Microsoft Imagine Cup with that first app.
We soon discovered, however, that the app market was a difficult one to crack, but we didn't let go. We created a company to develop security measures for social apps, and our first project was an antivirus for Facebook.
The market for mobile apps is tricky and doesn't have a clear economic edge — it's hard to justify, so we quickly pivoted toward online security. One thing led to another, including the founding of our company Safer Social Ltd, whose first product is SaferVPN.
vpnMentor: What can you share about your co-founders? How is it working together on a startup with them?

Working together is really great. We wouldn't be where we are today without each other.
The team we have is the most important thing as we collaborate on product professionalism. We complement each other well as we create the simplest and fastest VPN service.
My cofounder Sagi is from the user experience world, and my background is in infrastructure and storage that is both fast and reliable. We tried to combine our experience for optimum success.
vpnMentor: You have four U.S. patents (Push Notifications of System Events in a Restricted Network, Built-in search indexing for NAS systems, Synchronizing user states across multiple clients of a NAS system, and Content enriched application text translation. Which was your favorite, and why?
My favorite is the one for Push Notifications because it connects something that is considered rather complex to something people use every day. I also like it because the title is the easiest to understand.
vpnMentor: You've done a lot of work with NAS systems. How does the encryption for these systems differ from VPN encryption?
In the end, encryption is encryption. Both methods are very strong.
Every industry standard is military grade encryption, but the success of encryption lies in how you do it. You cannot take shortcuts or you will experience pitfalls; improper implementation can put your clients at risk.
You cannot make mistakes.
vpnMentor: What advice do you have for other entrepreneurs looking to become involved in IoT, especially if they have a background in software engineering?
Think carefully about your MVP - your Minimum Viable Product. What features are needed and what features are not needed? Then think from day zero how to take it into the market. The bottom line is that it should prove that every dollar you invest can make you more money rather quickly in order to justify its commercial existence, unless your goal is an exit strategy.
vpnMentor: What do you consider the primary focus of your company?
We do our absolute best to provide the most secure, simplest and best high end solution to internet security, but we need to educate learners to do it right.
Take, for instance, your local WiFi hotspot. Many individuals don't realize that these connections are completely unsecured, and they can leave your personal data vulnerable to prying eyes and strangers.
At SaferVPN, we send an information email every two weeks about the latest developments in the VPN market and how users can protect their privacy online — including what measures they need to take. For example, a new feature that we are pushing from SaferVPN is an alert to our users that they must connect to a VPN, when using public networks. Customers are not always aware when they should switch to VPN. Education is a big part of what we do.
Fortunately, our system is easy to use if clients keep current.
vpnMentor: Why do consumers need SaferVPN?
We came with a clear mission to provide borderless internet. What drives economics is basically price discrimination, and the way to discriminate among individuals all over the internet market is by your IP address. This discrimination, I think, is not right.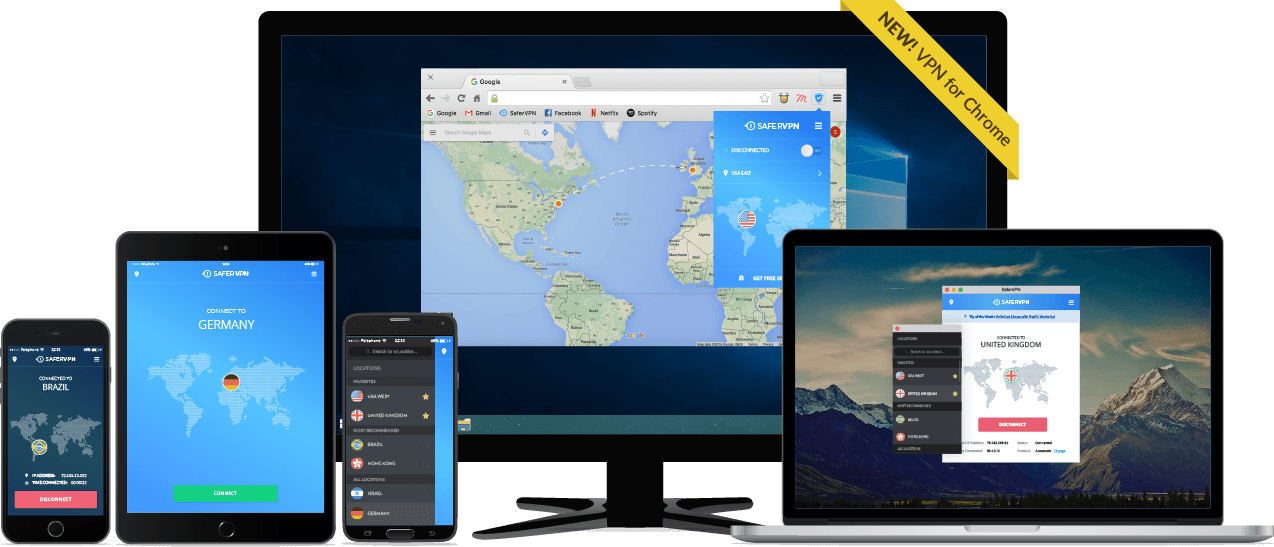 SaferVPN supports all major platforms
vpnMentor: Cyber security is one of your specialty areas. What do you want the average person to know about SaferVPN's cyber security?
In the end, we are making tremendous efforts to be a very reliable, top of the line security company, and we respect our users' privacy. Our service is highly secure because of multiple measures we have taken to ensure online safety and security. When users want to be secure, they should use the highest levels of encryption possible. That's what SaferVPN provides.
The methods used by hackers, snoopers and governments are becoming increasingly sophisticated, and there are more and more windows of opportunity for them to take advantage of insecure data.
We have a dedicated team here that is responsible for producing updates to services or infrastructure to our clients as well as apps for clients. We are doing our absolute best effort to provide the most secure VPN in the market.
vpnMentor: Why should consumers be concerned about military-grade 256 bit encryption?
There is always Big Brother, which is a big concern in my point of view, and VPN keeps others from intruding on privacy. Consumers should not have to worry about companies and even governments keeping track of their online movements.
vpnMentor: Should Apple keep their iPhone encryption secure?
Yes, it should remain secure. A mobile phone is a private thing, a matter of trust within the company, and Apple should do its absolute best to keep their users' privacy protected, just like we do.
It's a big concern to have a back door into a private phone. Your phone is the most personal technology you have.
vpnMentor: You compete with giants like HMA that is now part of AVG and other brands. What is the competitive advantage of SaferVPN?
We own, engineer and manage our own VPN with a focus on high reliability, speed and ease of use. Other companies rely on third party VPN services.
Also, we are constantly working on adding new locations, and we have given every new location a lot of consideration and thought, performing stress testing and making sure we choose the best place possible to install our servers.
Our special system conducts a stress test once an hour using load balancing between the servers. SaferVPN doesn't offer as much in location as the giants do, but from what we understand from our customers, they don't care about the number of locations. They care that the major ones will be there and perform seamlessly.
SaferVPN delivers one of the fastest and most simple services around. Because of the high-end servers we own, engineer and monitor, we know that a fast connection is paramount when choosing a VPN service.
vpnMentor: SaferVPN just launched their new Chrome VPN extension. How will this help your clients?
The Chrome extension is literally a great extension of our fast, simple and easy to use service. Light and intuitive, it allows all the benefits of using VPN.
Customers want to enjoy limitless and unrestricted VPN access that is the simplest and fastest service possible; the Chrome VPN extension provides that.
vpnMentor: SaferVPN is compatible with iOS, Android and PC. What plans exist for including Linux systems?
We have plans for providing apps in Linux; however they are supported already. Linux users can configure much of the system themselves. Linux users are relatively tech-savvy, so it should be very simple for them.
It's still good to know that SaferVPN is a very big company with extensive marketing development and excellent customer support on several levels. We invested a lot in providing a very effective self-service customer service area, and we also offer excellent customer support, resulting in a customer-centric company.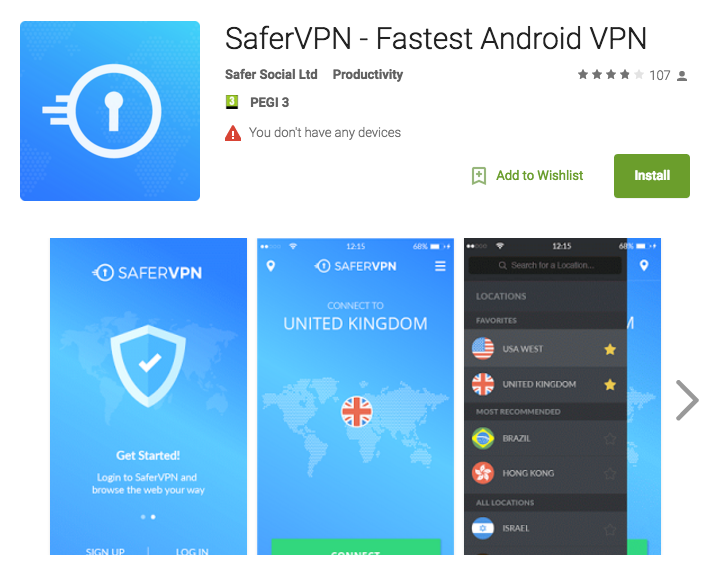 SaferVPN Android app - 4 stars by 107 users
vpnMentor: Netflix and other organizations are trying to fight back the VPN industry and block users. Who will win this battle and how can you fight giants like Netflix and the Chinese government?
Basically it's a cat and mouse game. VPN is a common and commercial tool that lots of companies give their employees to connect with the world. It's very hard to block VPNs completely.
With SaferVPN, we can provide the best experience with services in countries like China that constantly try to block VPN usage.
I must stress that VPN is a fundamental tool that can be used for a variety of reasons, and VPN usage should not be blocked completely.
Selecting a country to surf from, SaferVPN Windows Task Tray icon
vpnMentor: What else is in SaferVPN's future?
We could achieve more if we didn't have to play the cat and mouse game.
Ideally, most of our customers living in China are British and American ex-pats who want and need internet. The Chinese government must understand they should provide access, and there's no good reason to block it.
Everyone is suffering because they have these blocks, and that includes false-positives, the people who are not using VPN services. They suffer, too.
There are lots of things coming in the future. We are launching a new home extension, a new app for the iPhone, and providing Android updates. But all of these could have been done four months earlier if we hadn't been dealing with Netflix and China.
vpnMentor: How do you think VPN will evolve in the next 2 years? 5? 10?
Think of the internet getting its start as a village and growing into a highly segmented geography.
The internet will become even more segmented, and VPN will become more and more essential. Based on similar technology, you can build lots of products that provide specific user end products.
I think that overall, the infrastructure of the internet will take more than twenty years to change, if it changes at all, but there will be an increased need for VPN as a user end product rather than a solution. Ultimately, VPN will be much more accessible for everyone to use.
vpnMentor: What differentiates you from other companies that provide similar services?
We try to remain focused by providing a fast and simple solution. High quality, reliable, seamless apps and excellent customer support make up who we are. It's all about how you treat your customers. We invest a lot of effort within the company to being customer-centric.
We get good feedback that we are.
vpnMentor: If you weren't at work right now, where would you be and what would you be doing?
Honestly, I would be somewhere else physically but still thinking about SaferVPN and how to make our customers happier.
I am always thinking of how to improve what we do.
vpnMentor: SaferVPN offers several reasons for using VPN services, including getting around geo-blocks and increasing safety, security, and savings. In your opinion, what's the most common reason for using VPN, and what other motivation is trending?
Safer VPN allows you to jump in the click of a button between different segments, and end users can experience huge benefits by using SaferVPN.
For example, you can access services while you are away from home or buy flight tickets for half of the price. By providing borderless internet, we can provide tremendous services for persons using SaferVPN. This is a big thing in today's internet.
Ultimately, consumers are most interested in a seamless experience. Their internet experience should work with no disconnections. SaferVPN has tried to make the experience as seamless as possible.
Check out what SaferVPN has to offer
*The interview was conducted by Debi Christensen on behalf of vpnMentor.