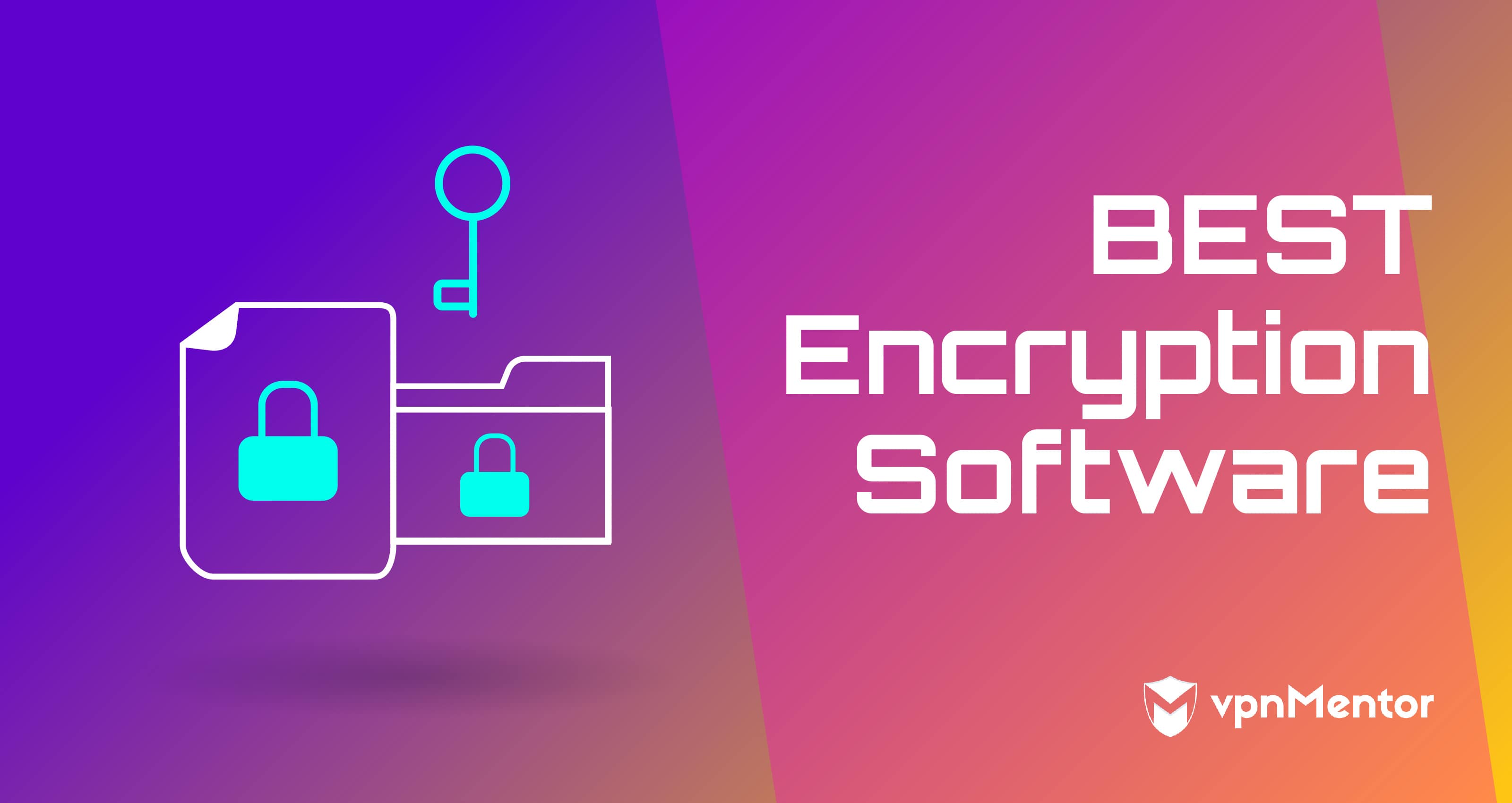 Best Encryption Software in 2023 | Protect Yourself Online Now!
Encryption is an essential part of any plan for digital security and privacy. There are numerous apps and services that you can download - sometimes for free - to encrypt your files and folders. If you're keen to protect your digital data, read on to learn more about encryption and to find our recommendations on the best encryption options out there.
What is Encryption?
Encryption can refer to any means of sending information so it can't be read by third parties. In the computer age, it means running your data through a complex algorithm on both the sending and receiving ends.
Using encryption software, a very long string of numbers operates as a key to lock and unlock that data.
When you encrypt a file, the information is scrambled by complex math using that key. It cannot be read again until it has been decrypted by the same device, or by another device that also has the key.
This kind of encryption can be used to send data with a high degree of security. It can also be used to keep individual files, or an entire disk, safe on a device that could fall into the wrong hands.
With encryption software, you enjoy a lot more security than you would get from a simple password. It requires hackers to unravel an amazingly complex web of numbers, instead of just figuring out a string of 8 to 24 characters.
But despite the complexity going on behind the scenes, most encryption software is very easy to use.
That's definitely true of the recommendations we offer below. In each case, it just takes a few clicks to lock up your data tight. Then, whether you're sharing it or storing it, you can follow the same few steps to make that data readable again.
Why You Need Encryption Software
Before we get to the recommendations, let's look at some of the reasons why encryption is a valuable investment.
While some encryption software is free, your best options may require a modest subscription. For most users, the cost is far outweighed by the possible consequences of leaving your data exposed.
Also, data exposure is becoming more common. With the rising popularity of cloud storage, many people don't think twice about leaving their personal files out in the open.
Many cloud storage services will encrypt your data when transferring it, but there's no guarantee that it will remain under lock while it's not in use.
This situation may be more dangerous than you realize. The risks are obvious if you're storing sensitive financial information or personal details that could be used for identity theft.
But even if you're just storing personal documents in the cloud, there's a strong possibility of someone getting access to your intellectual property.
Personal photos and audio/video recordings can expose private or embarrassing information that you aren't even fully aware of until it's gone.
Of course, you don't have to use cloud storage to benefit from encryption. It can also be a valuable way of securing data that remains on your computer, tablet, or smartphone. It also represents a secure way of sending files from any one of those devices to another.
Some of the best encryption software can be used along with various forms of digital communication, including e-mail, Dropbox, and P2P sharing.
This makes for an important professional tool if you ever have to share sensitive information with colleagues. Encryption software lets you enjoy all the convenience of online communication without having to worry about professional hackers, corporate spies, or general snoopers.
Best Encryption Software
There are a number of solid options currently available for all encryption needs. As this aspect of cybersecurity continues to develop, there will be more options in the future.
Your particular choice may depend on several factors, including your device, operating system, and the specific ways you plan to use the software.
These are the most reliable and user-friendly examples of encryption software that we've encountered so far:
If you're using a computer with Windows, there's a chance that you already have BitLocker. This full-disk encryption tool is built into some newer versions of the operating system.
Its primary purpose is to protect against unauthorized access to your entire hard drive. But it can also be used to add encryption to USB drives and other removable media.
In either case, BitLocker gives you the opportunity to apply multiple authentication methods to your data. This includes - but is not at all limited to - ordinary passwords and PINs. The encryption that those methods unlock has proven very difficult to crack.
However, there are unsubstantiated rumors that Microsoft has left backdoor access open to government agencies. BitLocker may be a very accessible way to protect against lawless hackers, but these rumors might raise red flags for the privacy-conscious.
This is another encryption tool for which accessibility is a selling point.
7-Zip is actually better known as an archive utility tool. It allows you to compress files into smaller forms for ease of storage or for sending over slower internet connections. But it also provides the option for powerful encryption of those compressed files.
This utility is free to download, and that's a big part of what makes it accessible. It is officially designed for Windows, but there are also versions that work on OS X and Linux systems.
If you're using 7-Zip to send encrypted files to friends or colleagues, the accessibility extends to the recipient. They don't have to have the same software to decrypt and decompress the file.
You can direct 7-Zip to keep files in a protected form while they're in transit, but then open on their own when they reach the correct recipient. Or you can protect the encryption with a traditional password.
This option works if you're new to encryption software, but if you're a more advanced user, you may find its user interface falls short of what you expect.
This option has a few more bells and whistles, and it can be described as more versatile. Official versions are available for Windows, OS X, and Linux. These can be downloaded for free, although there is also a premium version for users who want a little extra.
VeraCrypt supports the most popular encryption format, AES, as well as two other ciphers. And this is just one of the ways in which the software offers flexibility to its users.
Hidden, encrypted volumes can be nested inside other encrypted volumes, meaning that VeraCrypt recognizes that different data has different levels of sensitivity.
But regardless of those differences, all files that are encrypted with VeraCrypt remain that way whenever they aren't being used. The software can be trusted to keep your data safe when it's at rest as well as when it's being sent to another user.
Available on Windows and OS X, this encryption software comes in a highly limited free version, but it's premium full suite is recommended.
It can be run in multiple languages, which shows that AxCrypt is designed for secure worldwide communications.
This option is fast and flexible, and it allows you to encrypt files individually or in large groups.
You can then set them to either decrypt permanently when opened or to automatically re-encrypt once they are no longer in use.
The 128-bit and 256-bit encryption options are applicable to files on your system, or to cloud storage. Documents you upload will be automatically protected on vulnerable third-party servers.
AxCrypt also boasts special multi-device compatibility. It can be linked to a smartphone app that allows you to access your encrypted files from anywhere.
Instead of encrypting files that you upload to other cloud-based services, CertainSafe provides its own cloud-based encryption and storage. It asks you: why bother with Google Drive or Dropbox if you have to add separate security measures?
CertainSafe is built for collaboration and professional use. You can store various types of files safely on its servers, then provide colleagues with the key to access and modify them.
There is also a system for direct communication through private messages, and these are also encrypted. CertainSafe is an overall secure place for you to do business online.
There is a free trial available for this cloud-based encryption service, but if you're interested in long-term use you'll need to sign up for a paid monthly subscription.
Conclusion
There are many software options available for encrypting your sensitive data. The options we recommend use the most up-to-date encryption methods to make your data effectively invisible to anyone who isn't supposed to see it.
There are differences in the specific features offered by each app or service. These may become more important as you develop personal preferences about how to use encryption.
With a growing number of encryption software options on the market - and many of them free - there's just no reason to leave your personal information open to hacking and theft.
Further Reading