8 Best REALLY FREE VPNs for Linux (Tested + Updated in 2020)
Updated on 16th October 2020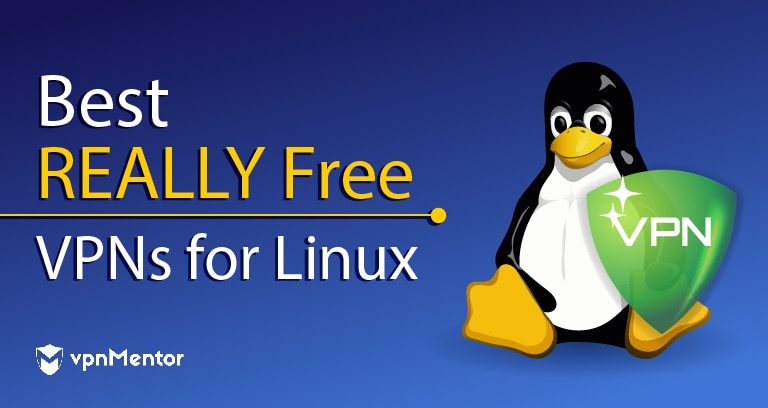 Love the speed and privacy of Linux? These VPNs add the same high-speed performance and security to all your internet activity, without costing you a fortune.
I've tested 45 free VPNs for Linux, and I found that most didn't work as well as they claimed. They had annoying catches, slow speeds, and congested servers. Some even compromised my security.
However, I was able to find eight VPNs that are safe and fast enough to use with Linux. Because they're free, they do have some limitations, but they are the best free VPNs available. If you want a VPN without restrictions, I recommend that you go with a low-cost premium provider like NordVPN.
The Best Free VPNs for Linux (Updated 2020)
Whatever Linux distro you use, you need a VPN that can offer easy installation, strong security, and, most importantly, fast speed. I've carefully tested 43 options to bring you the best on the market so you can safely use the internet from anywhere.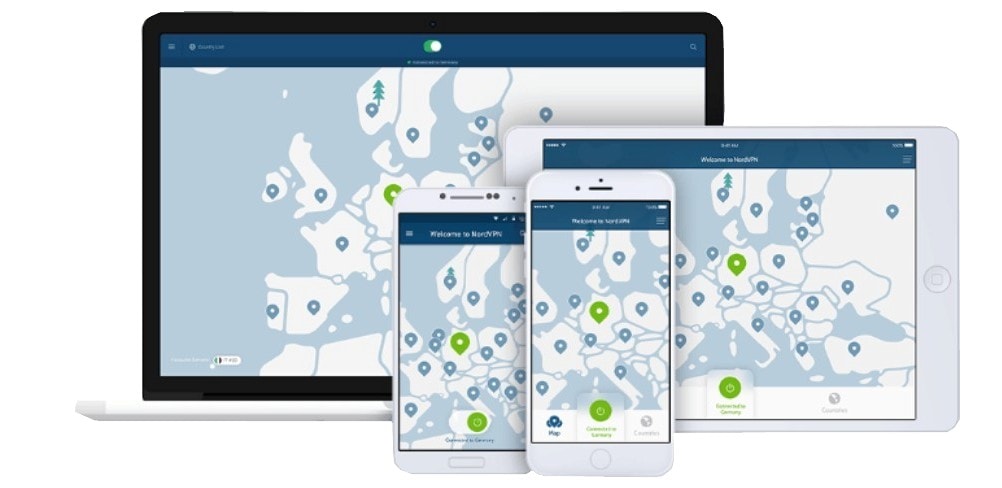 256-bit AES encryption, kill switch, and Double VPN protection
Over 5,200 high-speed servers in 59 countries
Step-by-step guides for Linux distros
Dedicated P2P servers
Enjoy free for 30 days when you use its money-back guarantee
Works with: Netflix, HBO, Hulu, Showtime, BBC iPlayer, Amazon Prime Video, and Sling TV
Compatible with: Linux, Windows, macOS, Android, iOS, Android TV, Chrome, Firefox, and most routers
Although NordVPN is a premium service, I've included in my top Linux picks because of its handy 30-day money-back guarantee.
Unlike a lot of free options, NordVPN is full of industry-leading features that make it so much nicer to surf the web, download files, and stream your favorite content.
There are no differences between the Linux and Windows/macOS versions of NordVPN so that you can enjoy access to over 5,200 high-speed servers in 59 countries. The most significant benefits of so many servers include greater unblocking of geo-restricted sites and faster performance.
You can also take advantage of Linux-specific perks, including NordLynx. This Linux-friendly protocol combines Wireguard VPN with NordVPN's Network Address Translation. In short, the combination of systems allows for excellent speeds without putting your identity at risk. 
If streaming is your main concern, you'll be pleased to hear that my tests regularly unblocked Netflix, Hulu, and Amazon Prime. That's thanks to NordVPN's built-in SmartPlay DNS feature. This smart DNS proxy service gives you quick and easy access to geo-restricted content from around the world. 
Torrents are covered, too, courtesy of NordVPN's dedicated P2P servers. Plus, with a no-logs policy and an automatic kill switch, you can stay completely anonymous, no matter where in the world you are.
That security is bolstered by NordVPN's military-grade 256-bit AES encryption and a unique Double VPN feature that encrypts data twice. You won't have to worry about ads and malware either as NordVPN's CyberSec feature keeps pop-ups at bay.
Installation is easy because of NordVPN's native Linux VPN client. It uses OpenVPN protocols as standard, but you can enter your own command lines for a configuration that suits you. Either way, with handy Linux setup guides and 24/7 customer support, you're more than covered.
Want to find out more about NordVPN's geoblocking capabilities? Check out our full review. Or, try the service today with that 30-day money-back guarantee.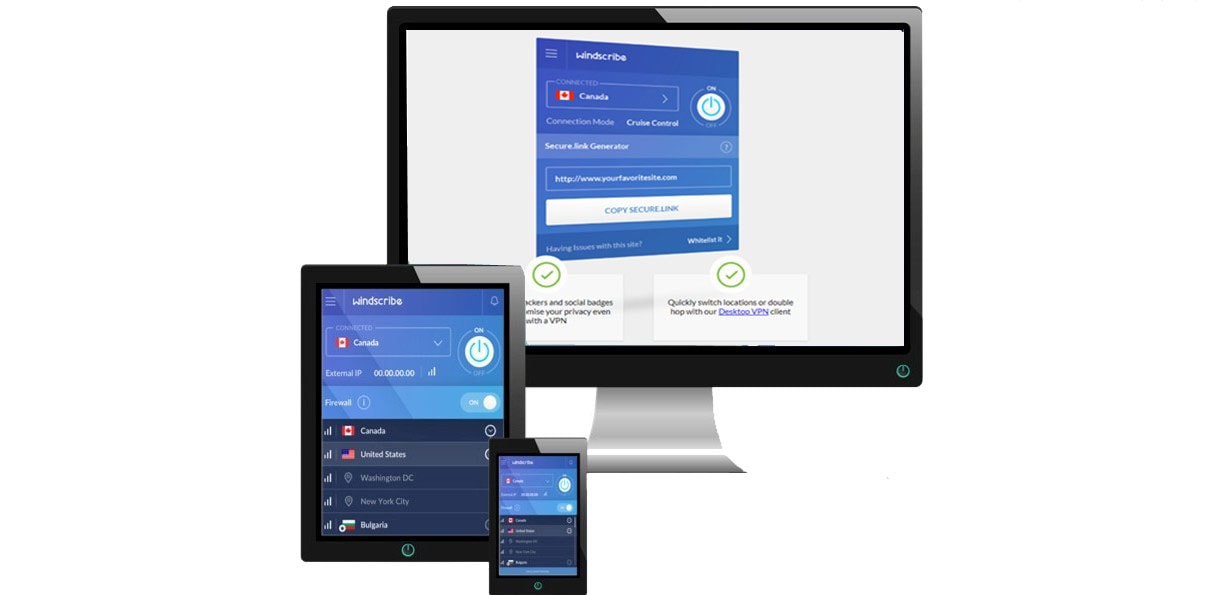 10GB monthly data limit
Unlimited device connections
Access to 10 server locations
No session logs or IP timestamps
Works with: Netflix, Amazon Prime Video, Hulu, BBC iPlayer, and Kodi
Compatible with: Linux, Windows, macOS, iOS, Android, web browsers, and routers
Windscribe comes in the form of a free command line that allows you to browse privately on the following Linux distros:
Ubuntu
Fedora
Debian
CentOS
While Windscribe for Linux may not run as smoothly as its apps for Windows and Mac, it still offers a dedicated setup guide for Ubuntu on its website. It also supports IKEv2 and OpenVPN, so you shouldn't run into any usability issues.
Windscribe has one of the largest free data allowances on the market at 10GB a month. But considering HD streaming can use up to 3GB an hour, you may find your data disappears after a few episodes of your favorite show.
The biggest issue with Windscribe's free version is its streaming restrictions. In my tests, I was unable to unblock Netflix or BBC iPlayer, even though I could access both on the premium plan.
It's better for torrenting, though. The free plan gives you access to servers in 10 locations and fully supports P2P sharing. However, if you're sharing large files, that 10GB data cap could get in your way.
Security-wise, Windscribe has you covered. AES 256-bit encryption keeps your data away from any snooping eyes. Plus, a strict no-logs policy and a built-in malware blocker protect you from trackers and hackers.
Windscribe has an array of price plans to fit your budget, but you can sign up today and enjoy 10GB free of charge. Check out how it performed in our tests by reading the full review.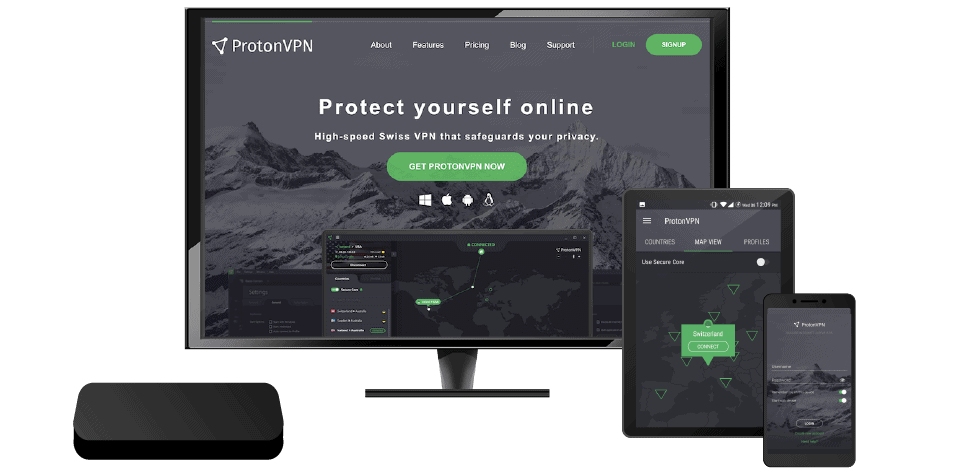 No data limits but slower speeds
Server locations in only three countries
Allows one connection at a time
Strong security features, including a no-logs policy
7-day free upgrade to the premium plan
Works with: Netflix, Hulu, and Amazon Prime Video, but streaming isn't an option on the free plan
Compatible with: Linux, Windows, macOS, iOS, Android, and some routers
Proton is one of those rare VPNs where Linux compatibility doesn't feel like an afterthought.
You have to use its OpenVPN package with the appropriate configuration files to set up your connection. But ProtonVPN's website has handy guides to walk you through, particularly for Ubuntu distros.
Either way, ProtonVPN has addressed the DNS leaks that were common on its Linux package to give users a better all-round experience. However, don't be surprised if your speeds drop as the free plan limits connection speeds.
You'll have access to servers in three countries so you can battle geoblocking, but note that none of the servers support torrenting. P2P sharing is available on all of ProtonVPN's premium plans, though.
Streaming on the free plan is difficult, too. Although ProtonVPN offers unlimited data usage, its dedicated Netflix servers are only available to Proton Plus customers. However, it's a great option for accessing other geo-restricted or censored materials like articles, music, and videos.
My advice would be to enjoy the 7-day free upgrade to test out ProtonVPN's premium features. All you have to do is sign up for a free account and follow the instructions. The first time you connect to a ProtonVPN server, you'll get seven days access to a premium plan so you can enjoy secure streaming, P2P support, and excellent speeds.
Whether you upgrade or not, you still enjoy AES-256 encryption and DNS leak prevention, so your data and browsing habits stay safe. However, you need to sign up for a paid plan to access ProtonVPN's unique Secure Core protection. It automatically routes your traffic through an unrestricted country to give you even more privacy.
Want to find out more? Check out our in-depth ProtonVPN review; or sign up today for your free package.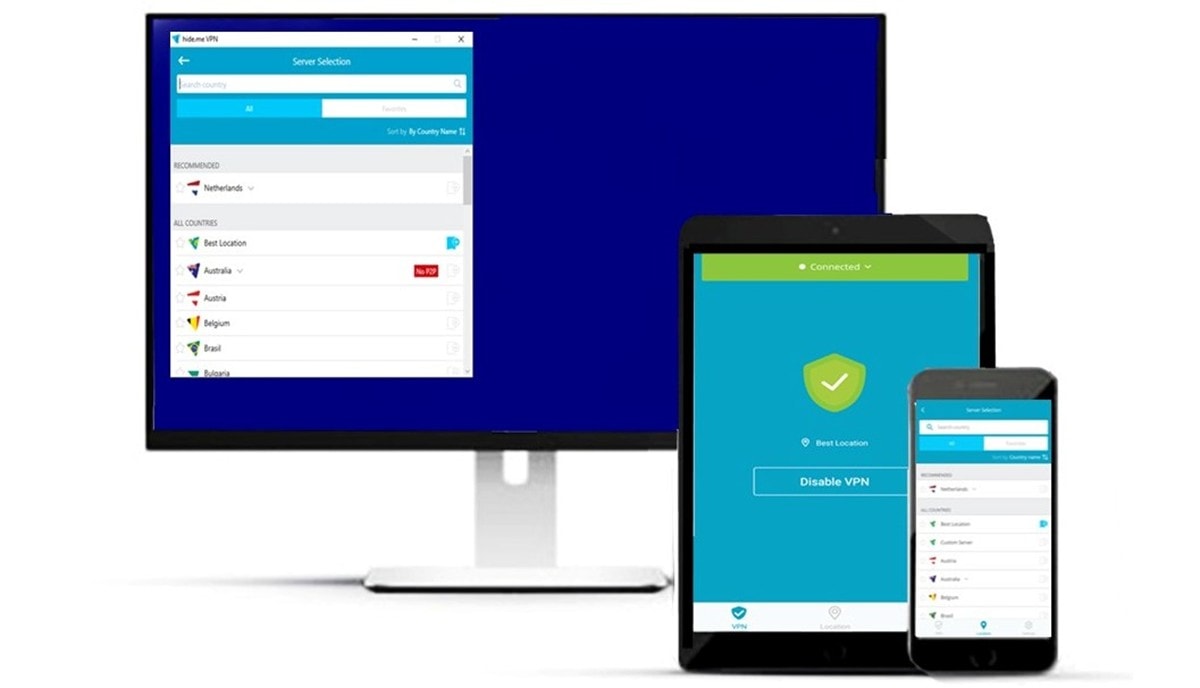 2GB of free data per month
IKEv2 and Ubuntu support
Unlimited bandwidth
IP leak protection
No ads or pop-ups
30-day money-back guarantee
Works with: BBC iPlayer, Amazon Prime Video, Sling TV, Showtime, Crackle, HBO GO, Kodi, and Sky Go
Compatible with: Linux, Windows, macOS, iOS, Android, Chrome, FireFox, Windows Phones, and some routers
If you're looking for a free VPN that doesn't compromise your safety, hide.me is your best bet. Your data stays secure thanks to 256-bit AES encryption, IP leak protection, an automatic kill switch, and a no-logs policy. 
While many free VPNs fund their freemium plans with ads, hide.me does no such thing. Its easy-to-use design is great for Linux users on any device.
So far, so good, right? The bad news is hide.me's free plan comes with some serious restrictions.
You only have access to servers in five locations worldwide. That makes torrenting incredibly difficult. Plus, you're limited to 2GB of data transfer a month. That's enough for four hours of music streaming but not suitable for everyday use.
The premium plan opens up a lot more possibilities. You'll have access to 1,400+ servers in 57 locations worldwide with no caps on data usage. While the free plan only allows for one connection, hide.me's premium plan allows for up to ten devices simultaneously.
hide.me also offers a handy setup guide for Linux (Ubuntu) users. Unfortunately, Ubuntu's integrated VPN client only supports the now-obsolete PPTP (Point-to-Point Tunneling Protocol), which has some serious security issues.
So to keep your browsing safe and secure, hide.me recommends using OpenVPN or IPsec IKEv2. As such, a bit of manual configuration may be necessary.
Find out more about hide.me's geoblocking capabilities in our full review, or download the free service today. If you're intrigued by the premium plan, try it now with a risk-free 30-day money-back guarantee.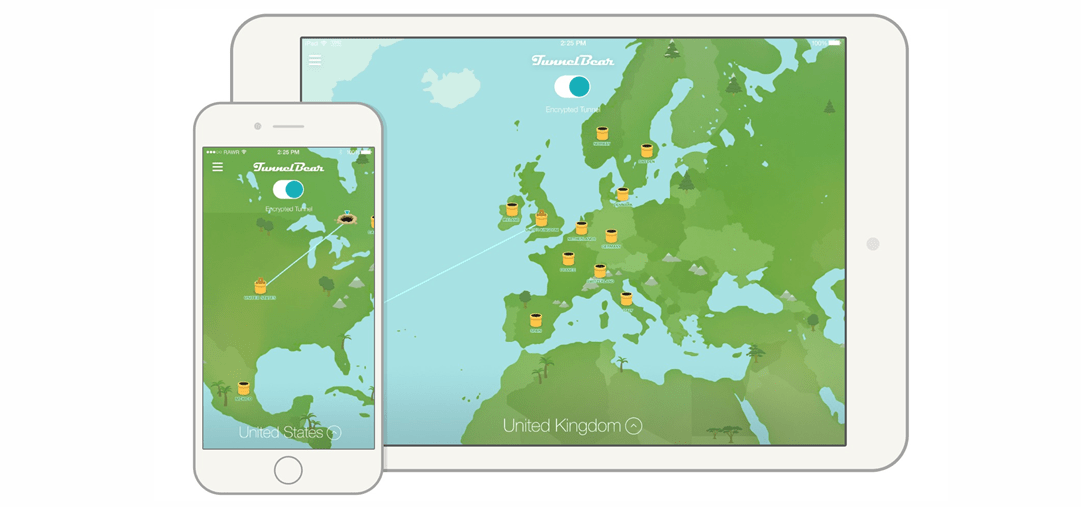 Monthly data cap of 500MB
Servers in 22 countries
AES-256 bit encryption
Compatible with Linux but limited setup support
Works with: HBO Go; in my tests, I couldn't unblock Netflix US, Hulu or BBC iPlayer
Compatible with: Linux, Windows, macOS, iOS, Android, Chrome, Firefox, and Opera
Don't let the cute bear fool you. TunnelBear packs a punch. But its free account comes with some major drawbacks. The biggest issue is the tiny 500MB monthly data cap. That's barely enough for a half-hour episode of your favorite show.
During my tests, I couldn't connect to Netflix US, Hulu, or BBC iPlayer, but other users have been able to unblock these sites on occasion. Unfortunately, TunnelBear's specialized geo-restriction feature GhostBear is only available to Windows, Mac, and Android users.
TunnelBear isn't optimized for Linux. Its basic protocols are supported on Ubuntu's standard desktop and Fedora's Workstation. But Linux users on Gentoo, Slackware, and Mint will be disappointed here.
However, TunnelBear offers a step-by-step installation guide for its Linux packages, including all the necessary commands. You'll need to have an active account before you try installing it, though.
But let's get back to the good stuff.
TunnelBear has some great security features, including AES 256-bit encryption, a malware-blocking Vigilant Mode, and a no-logs policy. Unlike some free VPNs, your data is secure here. You'll also enjoy access to high-speed servers in 20+ countries across the world to get around geo-restrictions.
Its speeds are decent, too. TunnelBear's award-winning performance should allow you to stream videos in high definition without buffering. However, that 500MB data cap is a real stumbling block.
Find out more about TunnelBear's download speeds in our comprehensive review, or sign up for a free plan today.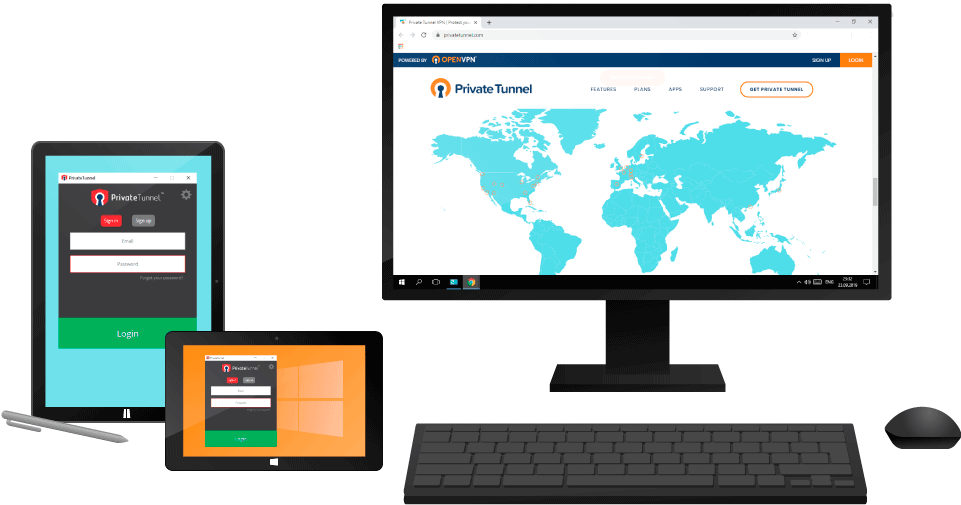 7-day free trial
Servers in 12 countries
24/7 customer support
No data caps
Step-by-step Linux setup guide
Works with: Some geo-restricted services, but not Netflix, Hulu, or BBC iPlayer
Compatible with: Linux, Windows, macOS, iOS, Android
Private Tunnel is one of my favorite free VPNs for Linux. Its 7-day free trial allows you to access all of its features without spending a penny. But if you're looking for a long-term free VPN, you'll have to look elsewhere or consider a premium plan as Private Tunnel doesn't offer an ongoing free service.
Linux setup is nice and easy. PrivateTunnel has a useful step-by-step guide for installing the service via your terminal. Plus, PrivateTunnel has 24/7 customer support on hand for any installation problems.
Once installed, you have access to secure servers in 12 locations. My tests showed strong download speeds with minimal buffering on video content. Unlimited data is a big plus, too. However, I was unable to unblock streaming sites like Netflix, Hulu, and BBC iPlayer.
Security is no issue here. 128-bit AES-GCM encryption and added DDoS attack protection keep your browsing hidden from view. However, PrivateTunnel does keep some logs for monitoring performance and maintenance. This can be troublesome as that data could fall into the wrong hands in the event of a hacking or data breach.
Find out more about Private Tunnel's strong encryption on our full review, or start your 7-day free trial now.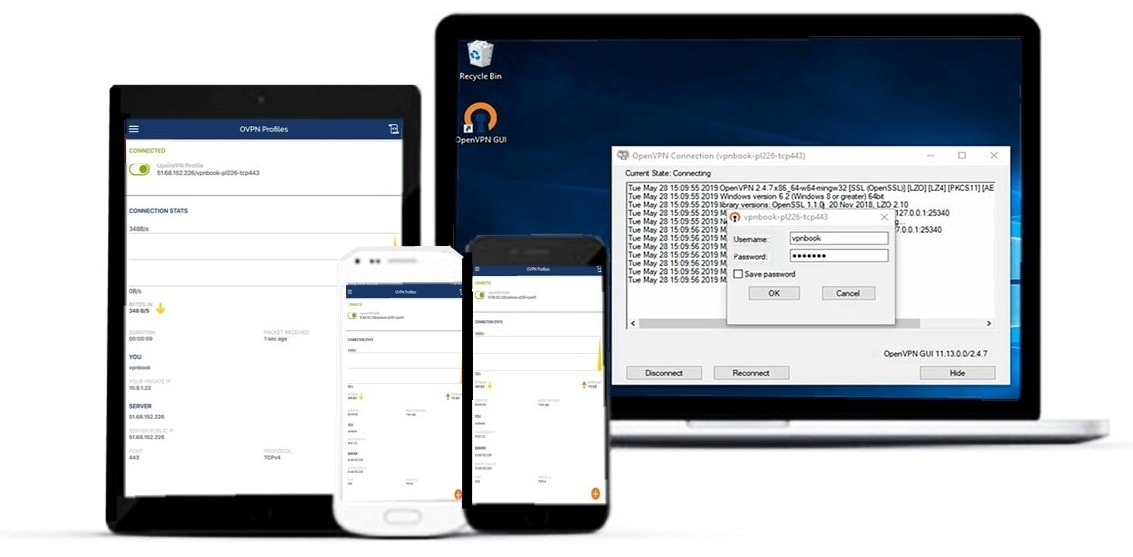 Six servers in five countries
Unlimited data allowance but regular ads
Great for unblocking US Netflix
Dedicated Linux setup configurations
Works with: Netflix, Hulu, and Amazon Prime Video
Compatible with: Linux, Windows, macOS, iOS, and Android
A free-of-charge OpenVPN client, VPNBook works brilliantly with Linux. It even offers a step-by-step guide for installing its OpenVPN profile on Ubuntu. With excellent customer support, including Facebook and Twitter contacts, there's always someone to help out with any installation issues.
VPNBook's free service doesn't cost a penny, but you have to put up with regular in-app ads and popups. For its impressive performance, that seems a small price to pay.
In my tests, I was able to access restricted content on Netflix US, Hulu, and Amazon Prime Video. However, download speeds were an issue. VPNBook's free service only offers six servers in five countries, so don't expect the speeds of a premium provider.
Security is my major concern. VPNBook uses 128-bit key AES encryption rather than the more-secure 256-bit. It also keeps connection logs, including IP addresses and timestamps, for one week, so I can't say that your privacy is assured.
Still, VPNBook is a great free service. Check out the full review to see why we were so impressed. Or download its OpenVPN package, and start browsing without limits.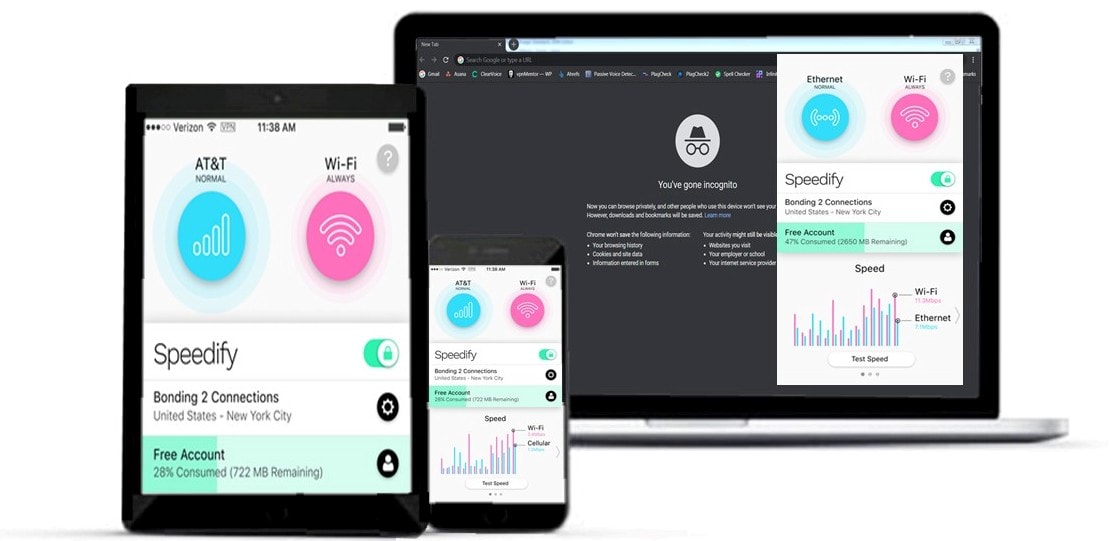 Channel bonding alternative to premium VPNs
Enjoy 2GB of free data per month with no signup
Access to over 200 servers
No-log policy for improved privacy
Works with: US-only YouTube and BBC iPlayer
Compatible with: Linux, Windows, macOS, iOS, and Android
Speedify is something a little different. It's a channel bonding service that combines connections like wi-fi, ethernet, and tethered smartphones into one fast and secure connection. But it still performs many of the same tasks as a traditional VPN.
Its free plans offers AES 128-GCM encryption and a no-logs policy, so your data is safe. In my tests, I experienced good download speeds, especially in the US. And for a free service, Speedify offers good server choice with 200+ servers in 50 locations worldwide.
The best news is that it's highly compatible with Linux. It offers support for Debian-based Linux distros on ARM and Intel, including Ubuntu and Raspbian for the Raspberry Pi.
The bad news is Speedify's 2GB monthly data cap restricts you to a few hours of streaming. What's more, I was unable to access US Netflix, but I could stream restricted YouTube content and BBC iPlayer.
Speedify has a range of price plans to suit your budget, but its free version offers all the features of the premium packages, just with a data cap. To find out more about Speedify's channel bonding technology, check out our in-depth review.
How We Ranked and Tested These VPNs
I tested each of these VPNs across two devices: a laptop running Mint, and a desktop running Ubuntu.
I compared their security features, speed, and ability to stream and torrent.
Security
I only recommend VPNs that use 128-bit encryption or higher. 256-bit is ideal, but 128-bit is enough to protect you when you're browsing, streaming, and torrenting. I read each VPN's privacy policy to verify the encryption it uses, and that it doesn't keep any logs.
Then, I ran a DNS/IPv6 leak test on each VPN to make sure it masked my IP and routed my DNS requests correctly. I also examined any other security features they offer, like automatic kill switches. I have given preference to well-rounded services that offer leak protection and malware blockers.
Speed
I ran speed tests for each VPN on several different servers during peak and off-peak times. I have only recommended VPNs that are fast enough to torrent and stream in high definition.
Streaming
I have checked each service to see which streaming sites it can unblock. I tested their compatibility with Netflix US, Hulu, BBC iPlayer, and HBO GO. I also tested to see if they can unblock international YouTube videos and Kodi add-ons. I've included a list of compatible streaming services with each review.
Torrenting
I used the results of my security tests to determine if each VPN is safe enough for torrenting. I talked to customer support to confirm P2P support on the free versions before using them to share some photos and home videos with my family via P2P.
What's the Catch with Free VPNs?
The services I recommend are safe, but many free VPNs post serious security risks. These providers use a lower level of encryption than their premium counterparts, so your data is easier to steal. They also tend to leave out essential security features, like kill switches, leak protection, and WebRTC blocking.
The most common problem I found during my testing was that most free VPNs limit your data, speed, and bandwidth. They make the free service frustrating to use so that you might upgrade to a premium tier. I made sure that all the VPNs I recommend are fast enough to use without any buffering. 
Additionally, most free VPNs are only compatible with Windows and macOS. They don't configure to Linux distros. Setup help is more readily available for Ubuntu, but free VPNs to other distros like Mint, Fedora, and OpenSUSE is much harder.
You'll find better support for Linux and all other platforms when you choose a premium VPN.
FAQs
🤓

Is it Difficult to Install a VPN on Linux?

There are several simple ways to install a VPN on your Linux device. 

It's easiest to use OpenVPN, but most providers offer their own repositories via the Linux installation guides on their websites. Then, you just need to install the repository via the terminal.

I made sure that each of the VPNs I have recommended has a thorough, easy-to-understand Linux installation guide.
😅

Will a VPN Slow My Connection Down?

VPNs act as a middleman between your device and the website you're trying to access. Routing your traffic through a VPN server causes, on average, a 5% reduction in your connection speed. 

If your connection runs at about 90Mbps, a VPN might reduce it to 85.5Mbps, which isn't a noticeable loss.

If your ISP is congested or throttling your line, your speed is likely to increase as your traffic bypasses your local network and uses the faster VPN network instead.
😎

What is OpenVPN for Linux?

Some of the VPNs I recommend offer setup instructions for OpenVPN.

OpenVPN is an open-source VPN app for Linux. If compatible, your provider will offer a custom OpenVPN package that you can use to install your VPN. You can read more about using OpenVPN on Linux here.
Bottom Line
Don't be fooled by the tempting price tag. Free Linux VPNs can leave you paying in other ways through data leaks, slow speeds, and dangerous malware.
By using a free VPN, you could be putting your Linux device at risk from hackers, scammers, and man-in-the-middle-attacks. As many VPNs prioritize other operating software, finding a solution when things go wrong could be much harder. So to keep your device running as efficiently as possible, choose a VPN with dedicated Linux profiles and lightning-fast speeds.
If you only need a VPN for a little while, such as when traveling, keep in mind that a premium VPN is still an option. Several choices, including NordVPN and Private Tunnel, offer money-back guarantees or free trials that allow you to enjoy all their protections and features at no cost.
If you're leaning towards a premium service, read our handy guide on the best VPNs for Linux. And for all the latest offers and savings, visit our coupon page.
The Best Premium VPNs for Linux 2020 are…
9.8

/10

9.8

/10

9.4

/10

9.6

/10

9.2

/10
Privacy Alert!
You are exposing yourself to the websites you visit!
The information above can be used to track you, target you for ads, and monitor what you do online.
VPNs can help you hide this information from websites so that you are protected at all times. We recommend NordVPN — the #1 VPN out of over 350 providers we've tested. It has military-grade encryption and privacy features that will ensure your digital security, plus — it's currently offering  68% off.