Top 5 (100%) FREE VPNs for uTorrent | Updated February 2021
Updated on 23rd February 2021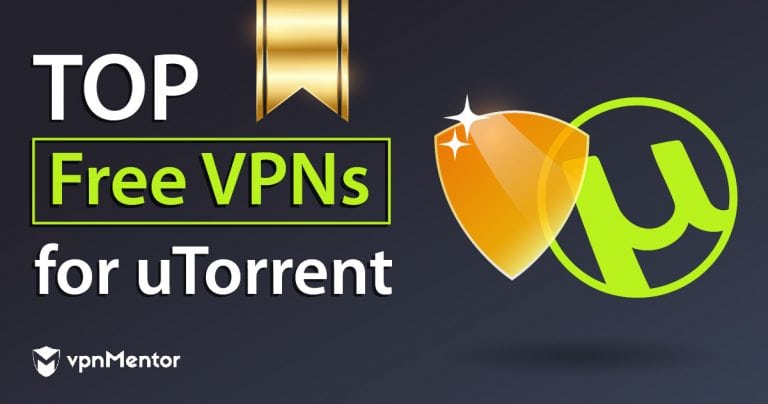 Finding a free VPN that lets you cloak your IP address and keeps you safe while using uTorrent is easier said than done. Free VPNs are usually limited, so they rarely offer features like no-logs, leak protection, and P2P specialty servers. I recommend using a premium provider like NordVPN to ensure your torrenting habits aren't being tracked.
I've extensively tested 27 free VPNs and found 5 solid choices for torrenting. Even though these VPNs are limited, they are safe and fast enough to use with uTorrent. Want to see which ones made the list? Let's dive in!
Short on time? Here are the best VPNs for uTorrent
The Best Free VPNs for uTorrent (Updated 2021)
I've done extensive research to bring you the top free VPNs for uTorrent so that you can torrent safely and anonymously from anywhere.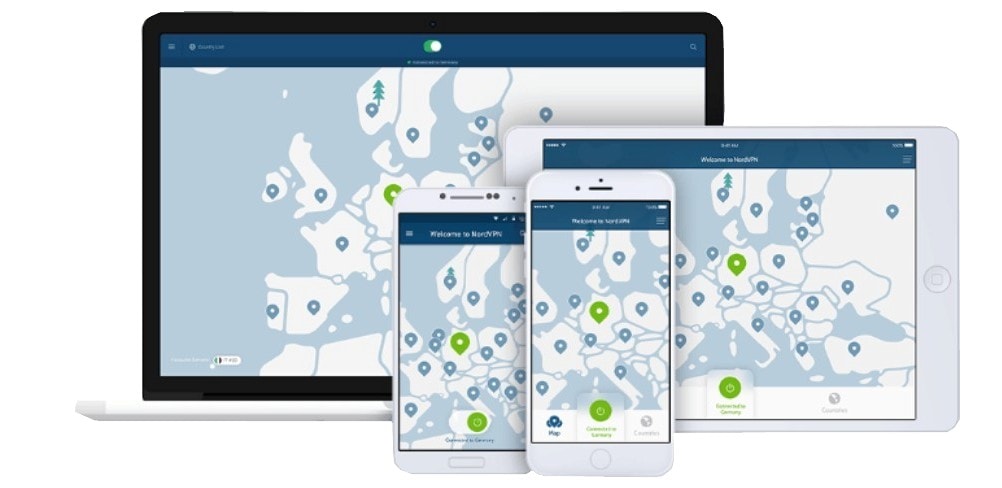 P2P-optimized servers
DNS/IPv6 leak protection
OpenVPN and IKEv2/IPSec protocols
Onion over VPN
AES 256-bit encryption
Zero-logging policy
Works with: BitTorrent, uTorrent, Netflix, Hulu, BBC iPlayer, HBO GO, Showtime
Compatible with: Windows, Linux, macOS, iOS, Android, Blackberry, Raspberry PI
NordVPN's lightning-fast speed is made for torrenting. Granted, it's a premium VPN, but it offers a risk-free 30-day money-back guarantee. That's plenty of time to test out its torrenting potential. Plus, you get access to all 5,100+ servers in 60 countries, which means less congestion and faster speeds.
NordVPN offers P2P-optimized servers and Onion over VPN for Tor. Using Onion over VPN gives you an advanced privacy solution for torrenting, by routing internet traffic through both the VPN server and the Onion network. This service is usually only available in the Tor browser, but NordVPN has built it into its app to make torrenting more convenient.
It uses military-grade AES 256-bit encryption, which means you won't need to worry about hackers gaining access to your uTorrent account information.
The built-in traffic kill switch automatically disconnects you from the internet if the VPN fails. Since uTorrent shows your IP address to other users, you'd be exposed if your VPN connection is disrupted. But the kill switch maintains your anonymity.
You can also customize the kill switch to sever connections to specific apps, so you can stay connected to other online services if the VPN fails.
It also features DNS and IPv6 leak protection, which stops your IP address or website traffic being exposed within the uTorrent tracker or to other users.
I was able to unblock Netflix US, Hulu, Amazon Prime Video, Spotify, and YouTube. The SmartPlay feature helps you unblock 150+ streaming sites and services. You can connect up to six devices to one account, so you can cover all your devices without purchasing extra subscriptions.
The FAQ section is extremely easy to navigate, and I found answers on plans and basic features quickly. NordVPN also offers 24/7 live support. 
Want to know more? Explore our NordVPN review to see the full results of our research and testing.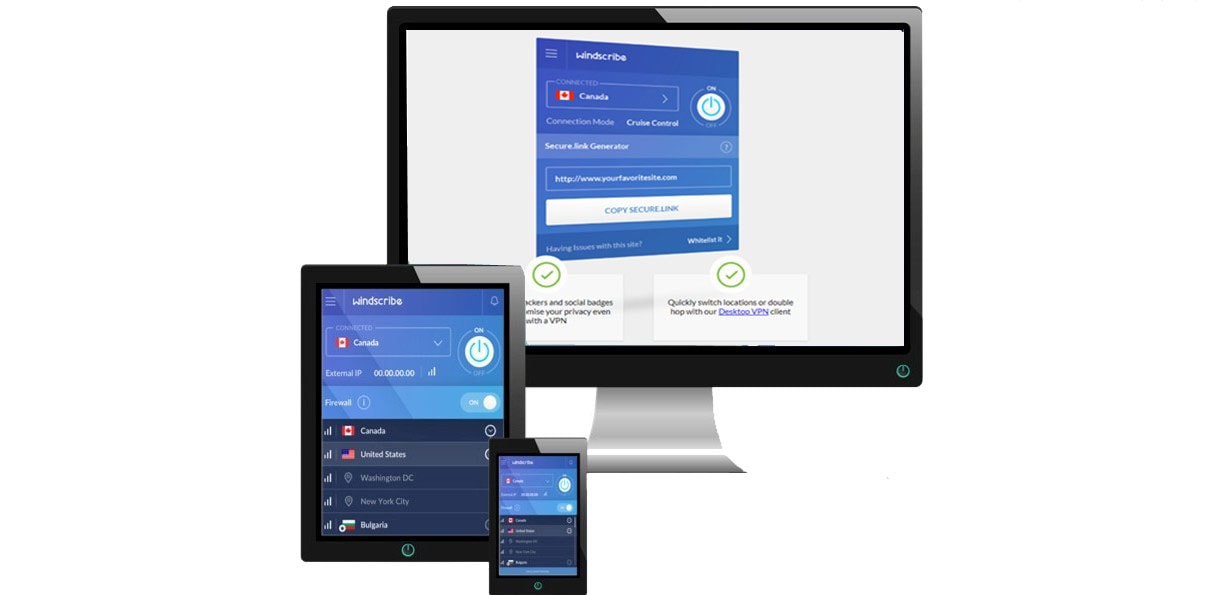 10GB of free data monthly
Lightning-fast speeds
DNS/IPv6/WebRTC leak protection
Supports SOCKS5 web proxy
Stealth mode to bypass extremely restricted areas
Works with: uTorrent, Vuze, Netflix, BBC iPlayer, Amazon Prime Video, Hulu, HBO GO
Compatible with: Linux, Windows, macOS, Android, Windows Phone, iOS, Chrome
Windscribe is a secure service that gives you 10GB of free data per month. That's enough to watch around 10-hours of SD videos or listen to around 2,000 songs. It's not enough to download lots of large files, though, and if you don't provide your email address on sign up, you only get 2GB. But you can earn up to 5 GB more each month by tweeting about the VPN.
It offers DNS, WebRTC, and IPv6 leak protection to shield your IP address and stop you being exposed if there is a security fault with your browser.
Stealth Mode makes your data look like regular traffic under deep packet inspection (DPI), allowing it to bypass censorship in even the most restrictive regions. It also features a strict no-logs policy to further protect your anonymity.
Windscribe allows torrenting on most of its servers. A P2P icon with a slash through it is visible if a server doesn't work for torrenting.
The combination of SOCKS5 and a VPN provides better speeds and stability for torrenting. SOCKS5 also adds an extra level of obfuscation by running your torrenting activity through a third-party proxy server, making it harder to trace it back to you.
You can only access Netflix using Windscribe's streaming-optimized servers, which are only accessible with a paid subscription. It can unblock torrenting sites like uTorrent, VUZE, qBittorent, and Deluge, though.
The chatbot feature is extremely intuitive – it can answer most basic question about plans and features. I also found the FAQ section very easy to navigate, and it answered a few of my more technical questions about setting up the SOCKS5 proxy for use with uTorrent. If you'd rather talk to a human, Windscribe has a live chat, too.
Want to know more? Explore our Windscribe review to see the full results of our research and testing.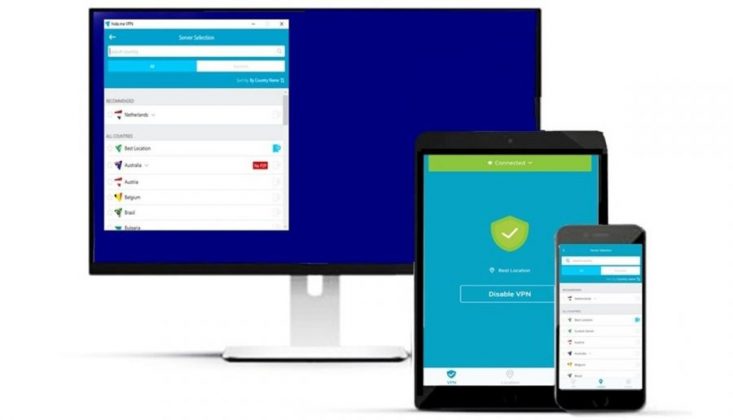 10GB of free data monthly
Supports SOCKS5 web proxy
IP leak protection
Automatic kill switch
Split tunneling
Works with: uTorrent, BitTorrent, Hulu, Netflix, YouTube, Kodi, Amazon Prime Video
Compatible with: Windows, macOS, Linux, ChromeOS, iOS, Android, Blackberry
hide.me offers 10GB of data monthly on its free plan. That's enough data to stream around 2,000 songs or watch 10 hours of SD video, but it isn't enough to download multiple large files.
It uses 256-bit encryption to protect the data you enter online from hackers and identity thieves. IPv6 leak protection prevents your ISP, hackers, and IPv6-enabled sites from seeing your real IP.
hide.me offers split-tunneling, so you get to decide which apps route through the VPN, and which ones use your local IP address. This can also help preserve your data, since you don't have to route your regular traffic through it.
You can torrent via hide.me's Netherlands server on the free plan, and it doesn't throttle your speeds like most free VPNs. During testing, I was able to download files quickly.
hide.me bypasses geoblocking and censorship restrictions, and I was able to unblock services like Netflix, Hulu, and YouTube easily. The free plan isn't the best for downloading large files though, as you'll run out of data quickly, and maybe even before you've finished.
You can only install the free plan on one device, so it isn't good if you need to protect several devices.
Want to know more? Explore our hide.me review to see the full results of our research and testing.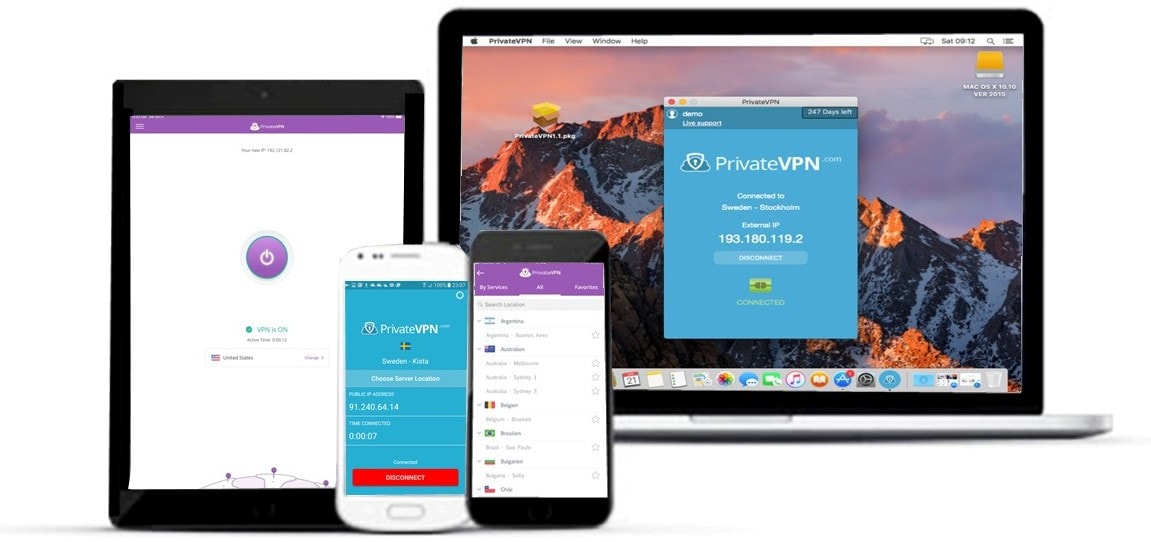 7-day free trial
Multiple secure protocols including OpenVPN and IKEv2/IPSec
Unlimited speed and bandwidth
No-logs policy
Supports port forwarding
Works with: BitTorrent, Vuze, uTorrent, Netflix, BBC iPlayer, YouTube, Hulu
Compatible with: Windows, macOS, iOS, Windows 10 Phones, Android, Chrome, Firefox
PrivateVPN gives you unlimited data and bandwidth with its 7-day free trial. You need to provide your email address and choose a password to create a free trial account.
It supports port forwarding, which reroutes incoming connections to bypass the NAT firewall and increase torrenting speeds. This is important for you when you're torrenting because NAT firewalls can block you from uploading seed files.
PrivateVPN uses OpenVPN, L2TP, IKEv2/IPSec, and PPTP protocols to protect your anonymity and ensure secure connections during torrenting. It also features 256-bit AES encryption to help keep your sensitive data safe as it travels over the internet.
Connection Guard is a customizable kill switch – it lets you choose which programs to shut off if the VPN connection fails. This allows you to disconnect your torrenting or streaming service without losing access to your local IP.
You have access to 150+ servers in 60 countries, so there are plenty to choose from if another server gets blocked by a torrenting site.
I was able to unblock most popular streaming services during testing, including Netflix and BBC iPlayer. You can use one account on up to six devices simultaneously, allowing you to cover all of your devices on one plan.
PrivateVPN supports all P2P activity, and the speeds are impressive. I did notice it took longer to download files during peak times because the server selection was so small, though. It's unable to bypass the Great Firewall of China.
Developers provide customer support, and it offers a useful getting started section if you're new to VPNs.
Want to know more? Explore our PrivateVPN review to see the full results of our research and testing.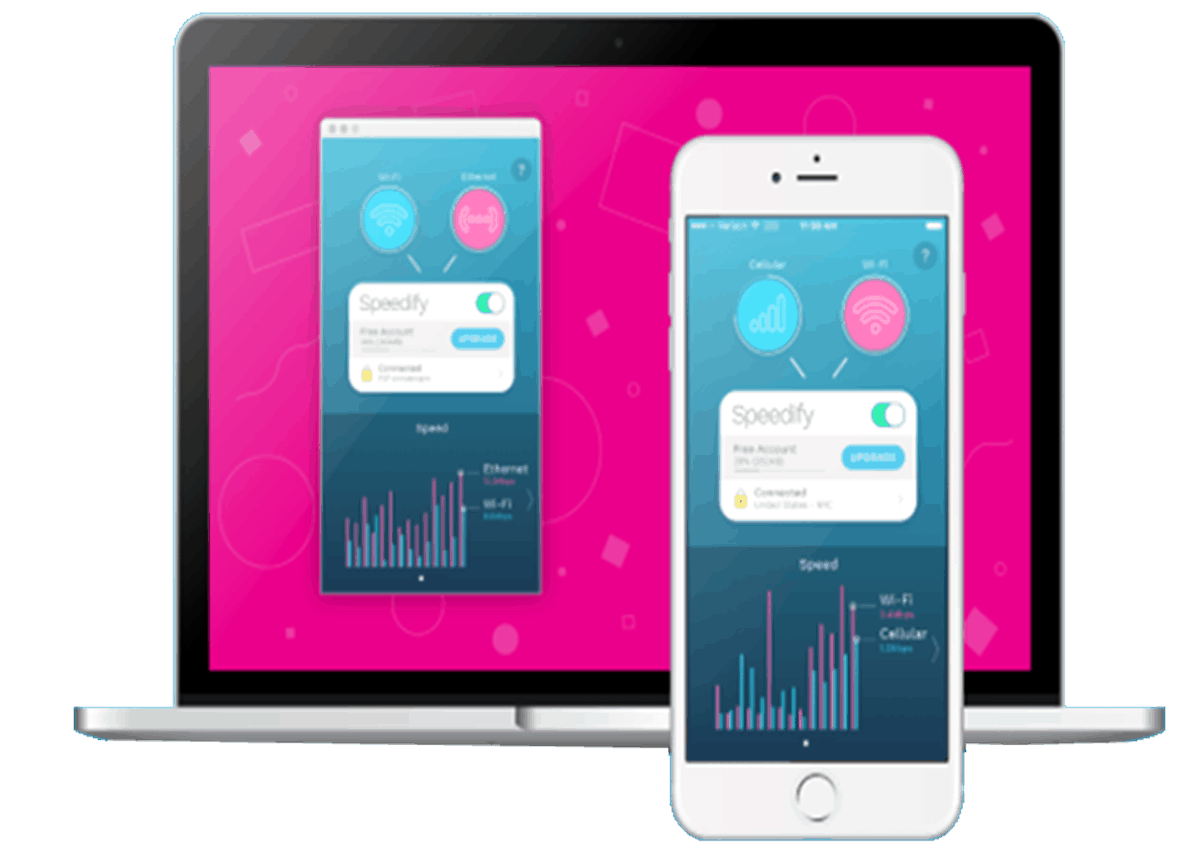 1GB of free data monthly
AES 128-GCM encryption
Dedicated P2P servers
DNS leak protection
Works with: uTorrent, Vuze, Netflix US, Hulu, YouTube, BBC iPlayer
Compatible with: Windows, macOS, Linux, Android, iOS
Get access to all 200 servers in 50 countries with Speedify's free plan. Unfortunately, you only get 2GB of free data per month, so you can't share home movies, but you can send photos.
DNS leak protection, a no-logs policy, and AES-128 encryption keep your digital footprint hidden. AES-128 encryption isn't as strong as 256-bit encryption, but it's secure enough to prevent third-parties from accessing sensitive information.
It unblocks most popular streaming services, including Netflix US, and has dedicated P2P servers.
You have to choose a torrent-friendly server option on the Speed Selection screen before using torrenting clients, like uTorrent or Vuze. This is probably for the best anyway, because dedicated P2P servers offer the best speeds for file sharing.
While Speedify offers channel bonding, I don't recommend using it on the free plan. Channel bonding combinesWiFi, mobile, and Ethernet to give you the best connection, but it takes up to twice as much data as normal torrenting. If you are on a mobile plan with a lower data limit, you may run out of data quickly.
I do like its support section; it's well-organized and very intuitive. You can find answers to common questions for both mobile and desktop versions of Speedify, as well as information on plans. Search by entering criteria, selecting an FAQ link, or clicking a box related to a specific topic.
Want to know more? Explore our Speedify review to see the full results of our research and testing.
How We Tested and Ranked These Free VPNs
First of all, you need a VPN that actually allows torrenting – free VPNs that offer this functionality are few and far in-between. Beyond that, here are the main areas I tested:
Encryption: You need to be secure while you're torrenting, so I was looking for AES 128-bit encryption or higher. Anything less than this, you risk data leaks and potential hacker attacks.
Leak protection: DNS, WebRTC, and IP leak protection are critical while you're downloading and sharing files, as they ensure you stay anonymous, even if something causes your connection to be disrupted and potentially expose your location or traffic.
Dedicated P2P servers: Not every VPN has this feature, even premium VPNs. But specialty P2P servers are actually designed for torrenting, so they come with better speeds and sometimes, even higher security.
Speeds and data: You don't want to sit around and wait for ages for your file to download, or run out of data before you've finished. While free VPNs do usually have limits on both speeds and data, the ones on this list are on the more generous side.
Compatibility: A majority of free VPNs only cover the most popular desktop and laptop operating systems, and very few have apps for mobile devices. That makes it difficult to find one that will cover your phone or tablet, or even a Linux-based system.
Our Recommendations for Affordable Premium VPNs for uTorrent
The free VPNs on this list offer privacy, security, and other features that allow uTorrent users to file share safely, but they're not up to premium VPN standards. Let's take a look at my choice for the most affordable premium VPN options for uTorrent.
What's The Catch With Free VPNs?
The free VPNs on this list are completely safe to use with uTorrent and similar torrenting clients, but many aren't worth the risk.
While these free VPNs all offer advanced privacy features, that usually isn't the case. You often end up missing out on essential features for torrenting like clear privacy and no-logs policies, IPv6/IPv4, and DNS leak protection.
You also miss out on extra features like obfuscated servers so you can stay hidden in restricted areas or specialty P2P servers that are designed for torrenting. However, after extensive research, I've even found some free VPNs that offer both. Of course, you won't get the service you would with a premium provider, though, like lightning-fast speeds.
Free VPNs limit access to servers. Fewer servers increase the load on available servers, and this can reduce your speed. Data limitations also severely impact P2P sharing by reducing the number, size, and quality of the files you can download.
Speed and bandwidth limitations can cause slow upload and download times as well as lost connections, none of which are ideal for torrenting.
FAQs
😀 Are torrent clients and VPNs illegal?
No. In most parts of the world, both torrenting and VPNs are legal. There are specific parts of the world like North Korea, Iraq, Russia, and China that place heavy restrictions on VPNs or ban use altogether.
😄 Why should I use a VPN for uTorrent?
Anyone can upload to uTorrent, Vuze, or BitTorrent, which means not every download is secure or legal. 
A VPN can help protect you if you accidentally download an illegal file. Advanced obfuscation features like stealth modes and DNS/IPv6 prevent authorities from tracing downloads back to you. Torrent clients leave your real IP address exposed to other users, and using a VPN masks your local IP and location to prevent doxxing and DDoS attacks.
🙂 What are the risks of using free VPNs on my devices?
The free plans on my list offer advanced privacy and security options, but most free VPNs don't.
You could be subject to data logging, spyware, and other gaps in security that threaten the integrity of your device software. Your browsing habits may unknowingly be sold to third-party providers if you don't carefully check a free VPN's privacy practices. Worse yet, lack of security leaves plenty of room for identity thieves to gain access to your sensitive information.
Summary
Hidden restrictions, lack of crucial security features, and limited servers make it hard to find a free VPN worth using. With a premium service, you can forego all of these issues.
If cost is what keeps you from trying a premium provider, many offer free trials or extended money-back guarantees. Plus, it offers advanced security and privacy features for torrenting and streaming. There's no need to limit yourself to a free VPN when you can try a premium service like NordVPN risk-free for 30-days.
Check out more options for torrenting in our 10 Best VPNs for Torrenting guide. Discover how premium VPNs can protect you across multiple torrenting clients. Or, if you're ready to try a premium VPN, take a look at our best deals and coupons to save yourself some money.
Provider
Our Score

9.8

/10

9.8

/10

9.6

/10

9.4

/10

9.2

/10
Privacy Alert!
Your data is exposed to the websites you visit!
The information above can be used to track you, target you for ads, and monitor what you do online.
VPNs can help you hide this information from websites so that you are protected at all times. We recommend NordVPN — the #1 VPN out of over 350 providers we've tested. It has military-grade encryption and privacy features that will ensure your digital security, plus — it's currently offering 68% off.
Privacy Alert box - content - Popular posts