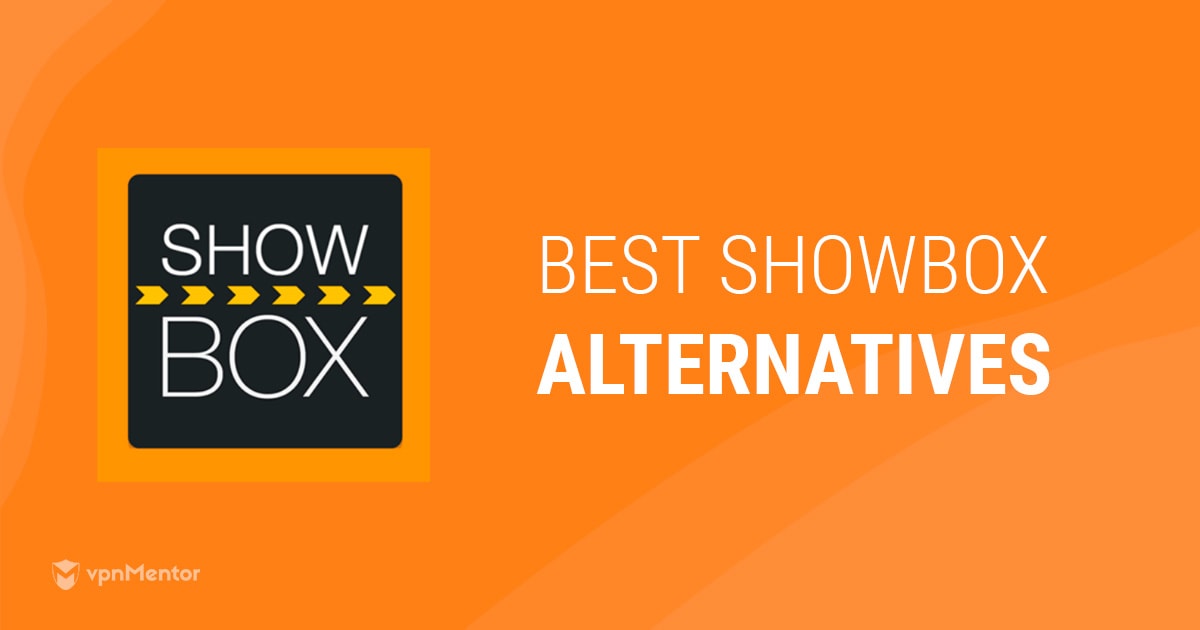 5 Best Apps Like Showbox | 2023 Updated List of Alternatives
Updated on 26th December 2022
Due to pressure from producers and movie studios worldwide concerning copyright issues, Showbox is shut down. Many clones have been popping up, but most of these services have malware, which threatens your online safety. But even if Showbox no longer works, there are many great alternatives to watch movies and shows for free that are equally as good.
After testing dozens of streaming sites for safety, usability, and speed, I found 5 free apps similar to Showbox that worked best. Still, streaming and torrenting on free platforms is never 100% safe. Even the best ones can be dangerous because they may compromise your privacy or infect your device with a virus.
A premium VPN will maintain your safety when streaming and torrenting, thanks to its strong security and privacy features. I recommend ExpressVPN for its top-tier protection and super-fast speeds. Plus, it comes with a 30-day money-back guarantee that lets you try it without risk.
Stream Showbox Alternatives With ExpressVPN
Important! Torrenting is legal in most regions. But it may be illegal to torrent specific files if they are protected by copyright. To prevent that, governments in certain countries have put restrictions and bans on torrenting sites. My team and I do not support illegal file sharing and strongly recommend torrenting the legal way. It's crucial to check and familiarize yourself with the rules and regulations in your country to ensure that you don't break the law.
Short on Time? Here Are the Best Alternatives to Showbox That Work in 2023
Best Alternatives to Showbox That Work Right Now
The Showbox alternatives I recommended are safe, have good video quality, and have a huge number of titles you can watch for free. Plus, you can use these apps on most modern operating systems, including Windows, macOS, Linux, Android, and iOS.
1. Pluto TV — Great Choice of Live and On-Demand Content in HD
I found Pluto TV to be the best Showbox alternative because of its content quantity and streaming quality. You can watch anything from the latest hits, classics, full seasons of on-demand shows, live sports, and news, most of it in HD. It offers 250+ free live TV channels, including the most popular cable networks like CBS, MTV, and Comedy Central, and thousands of free movies.
The first thing that caught my eye when I opened the site was how intuitive the website design is. I could easily find the movies and shows that I wanted to watch. On the top menu, you will see the option to choose live TV or on-demand content. It also has a very clear search bar, so you can quickly look for the title you prefer.
I also liked that you can access the content directly from your browser, and through various devices, including smart TVs, Chromecast, and Amazon Fire TV. Plus, you don't need to download anything since this service isn't torrent-based — you can start streaming as soon as you open the site.
Pluto TV is available in Australia, Europe (the UK, Germany, Austria), and Canada, meaning you can't stream outside these regions. Also, you can't access the US library if you don't have a US IP address. Suppose you want to access US content while outside the US, in which case you need a reliable VPN to get a US IP address. Plus, it's always beneficial to use a VPN to protect yourself against various online threats.
2. Crackle — Watch Hollywood Shows and Original Content for Free
Crackle is another great Showbox alternative, with plenty of popular movies and TV shows. It's also one of the rare free streaming platforms that offer original content — Crackle Originals. The size of the original collection might not be as big as Netflix's, but it's still significant for a free online platform. It's an official on-demand streaming site owned and managed by Sony and has millions of active monthly users.
Crackle also comes with a sleek user interface, so it's super easy to find your movie by genre or use the search bar. You don't even need to sign up to access the entire Crackle content library. You can tune in any time, with or without an account, and stream as much as you want. However, if you choose to create an account, you can also enjoy other perks, such as the ability to create a personal watch list.
The only tricky thing is that Crackle is available only in the US. If you are traveling abroad, you need to use a VPN to get a US IP and access the site. I recommend you try ExpressVPN because it gave me the fastest speeds for high-quality streaming during testing.
3. Stremio — Gives You Content Recommendations Based on Your Viewing Habits
Stremio is the only one on this list that can suggest movies and shows that might interest you, including platforms where you can watch them. It's a media center, which means it focuses on collecting content and making it easy to find. Stremio has many app add-ons like PirateBay, YouTube, and Netflix to boost your streaming experience.
Unlike some of the other Showbox alternatives on this list, Stremio uses torrents to stream. It's a peer-to-peer (P2P) platform and supports BitTorrent as a streaming protocol. It even allows you to customize the BitTorrent engine settings if you want to tweak its performance for speed or security, depending on your priorities.
The app boasts an extensive catalog of movies and shows you can easily access without limits. It works great without glitching, plus I could stream movies directly from the app with zero issues.
You can use Stremio in any part of the world on Windows, iOS, Linux, routers, and Android devices. It isn't geo-restricted to a specific country, unlike some of the Showbox alternatives in this list. However, I still recommend using a VPN with the app to protect your online activities while torrenting your favorite movies and TV shows.
However, Stremio might require you to sign in before accessing and streaming the content. You can either sign up for a dedicated Stremio account or log in using your Facebook account. However, if you don't want to leave any of your information online, you can log in as a guest by clicking on "Log In" and then choosing "Guest Login."
4. Cinema APK — Stream Online or Download Any Title to Watch Later
Cinema APK is another great Showbox alternative that allows you to watch content online or download it to view offline. It has an impressive media library, offering a wide selection of high-quality links. Plus, it is available for Android, Amazon Fire TV, Fire Stick, and Fire TV Cube so that you can access your movies and shows on your preferred device.
It is also one of the few free streaming platforms that are updated very often, so you may even find a piece of content just a few days after its release. This is because this service has invested in top-grade scrapers that scan the web and find dozens of working links at a go.
Generally, Cinema APK has great streaming quality. It can get even better with Real-Debrid — a paid unrestricted downloader that allows you to download and stream faster. Plus, the user interface is very intuitive. You don't need any technical experience to use it.
You can access Cinema APK from anywhere in the world — the service is not geo-restricted to a specific region. However, if you decide to download some content, it's best to connect to a VPN server beforehand to protect your online data and avoid ISP throttling.
Keep in mind that the Cinema APK app might start lagging and glitching if you don't have the most up-to-date version. Therefore, you need to keep track of the updates so that you can download the latest version as soon as possible.
5. Tubi TV — Appealing and Easy-to-Navigate User Interface
I noted that the user interfaces across all Tubi apps are appealing and well-organized. This allows you to find and stream your preferred content quickly and easily. For instance, on the top, you will find various search options — Browse, Tubi Kids, and Live TV. There is also a standard search bar if you need to search for a title. When I clicked on Tubi Kids, I liked that the homepage that appeared had only kid-friendly content with PG or lower ratings, as it should.
Thanks to its weekly updates, Tubi TV is another Showbox alternative with a rich collection of free streaming content, including the latest hits. Its content library has a large assortment of more than 40,000 classic and quirky movies and shows, including K-drama and anime.
What's more, you don't even need to sign up to access it. You can simply open the app and start watching and downloading your favorite titles. But there's an option to sign up if you need to track your shows and get updates when new content is uploaded.
However, as is the case with all free apps on this list, Tubi is ad supported. Also, it is geo-restricted to the US. So if you want to access its entire library from outside of the US safely, you will need a VPN.
How to Stay Safe When Using Showbox Alternatives
Even with the safest sites, there are many risks associated with free streaming and torrenting. For example, you might mistakenly click on a bad link and download a virus or other malware. Worse still, torrenting sites can expose your IP address and online activities to third parties, such as your ISP and hackers.
A reliable VPN with world-class security features is the best way to stay safe while using a Showbox alternative. It hides your real IP address, encrypts all your traffic, and protects your data from various cyber threats. Some premium VPNs also have ad and malware blockers that work against malicious pop-ups and ads.
Additionally, a VPN can bypass geo-restrictions and help you access content from back home while outside the country. It does this by effectively redirecting your online traffic through its servers in the region where the content is available. This helps make it look like you're still streaming from within that region.
Here are some extra measures you can take to stay safe while using free streaming platforms:
Examine the page layout — Check the design and general appearance of the website. Copycat sites usually have a poor layout, grammatical and spelling errors, or other unreadable material.
Read the "About Us" page — The "About Us" page of a legitimate website tells a lot about the company. A fake streaming website doesn't offer a lot of details about it.
Look out for an unreasonable amount of ads — Copycat pages want to make money in every way possible through pay-per-click by placing ads everywhere they can.
Be careful if the site is apparently full of the latest hits or blockbuster movies — To quickly gain a following, ambitious fake streaming sites may claim to have the most recent and popular titles. These links may, in fact, be malware.
Watch out for warnings on your web browser — In most cases, your browser will warn you when you try to open a suspicious website. Pay attention to these warnings, as they can help you identify malicious sites.
Make sure the content you torrent is copyright-free — To stay safe, check if the movie you want to download is from the public domain. Most platforms don't specify if the content is legal or not, so you may inadvertently download copyrighted material.
Torrent Safely With ExpressVPN
Quick Guide:
How to Use Showbox Alternatives Safely in 3 Easy Steps
Download a VPN. I recommend ExpressVPN because of its lightning-fast speeds for torrenting and streaming.
Connect to a server. If the Showbox alternative you are using is geo-blocked to the US, for example, connect to a server in that country. If the streaming platform is available in your region, use a nearby server for better speeds.
Best VPNs to Use With Apps Like Showbox in 2023
The VPNs I've recommended have the best security features and the fastest speeds to help you stream safely and smoothly. They are also compatible with most modern devices and operating systems and have reliable customer support. Plus, they all come with money-back guarantees, so you can try them out without risk.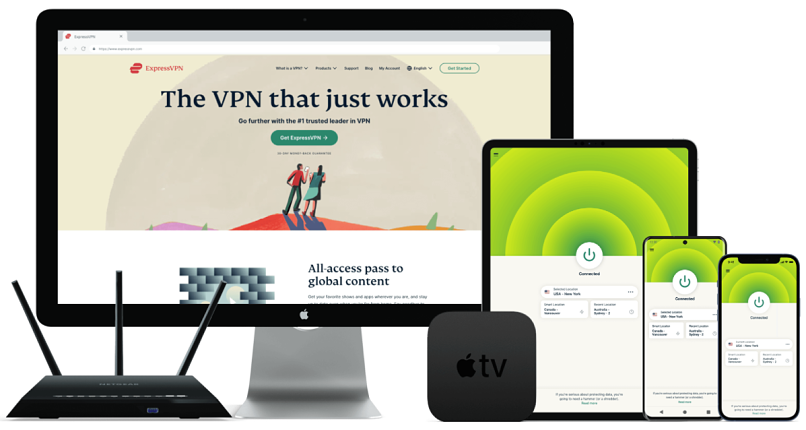 Editor's Choice
Editor's Choice

Tested January 2023
Try Risk-Free for 30 Days
Available on:
Chrome
Router
Smart TV
More
www.ExpressVPN.com
Super-fast speeds for you to watch your favorite movies in crystal-clear quality
3,000 servers in 94 countries, including many US server locations
Audited no-logs policy ensures your data is never stored or shared
Watch different movies on up to 5 devices simultaneously
Works with: all Showbox alternatives, Netflix, Disney+, Hulu, HBO Max, BBC iPlayer, Kodi, and more
ExpressVPN gave me the best speeds for streaming movies and shows in HD during testing. I tried it with all the Showbox alternatives and didn't experience any long loading times or interruptions. While connected to several servers in Miami, London, and New York, I had an average speed of 142 Mbps. This was only an 8% drop from my base of 155 Mbps. Typically, it's normal to experience about a 20% drop with a VPN.
It has 3,000 servers in 94 countries, with 24 locations in the US alone, which gives you plenty of options for accessing sites like Showbox. This allows you to use your account even when outside the country. For instance, since Tubi TV and Crackle are geo-restricted, you can use ExpressVPN's US servers to access them while traveling. During my tests, I connected to a server in Chicago and could watch Tubi TV while abroad.
You can stream and torrent without worries, thanks to ExpressVPN's powerful security features. Its almost impenetrable AES 256-bit encryption, strong DNS leak protection, and a kill switch (Network Lock) work to ensure your data stays confidential. Even if the VPN drops suddenly, the Network Lock prevents any IP leaks. To test this, I randomly switched between servers, and every time I got a browser notification that my internet was briefly disconnected. I also tested its New Jersey server on ipleak.net, and there were no leaks detected.
However, I should also mention that it's more expensive than the other VPNs on this list, with prices starting at $6.67/month. But ExpressVPN often has great deals and discounts that allow you to save up to 49% on your subscription. I got 3 months of free service when I bought my 12-month subscription.
Also, all of ExpressVPN's plans come with a 30-day money-back guarantee. To check its legitimacy, I contacted the 24/7 live chat support and asked for a refund. I received money back into my PayPal account in 4 working days.
Watch Showbox Alternatives With ExpressVPN
Specialized servers so you can torrent safely on any platform similar to Showbox
Fast speeds for streaming and torrenting without interruptions
7 simultaneous connections to stream on more devices
AES 256-bit encryption, a kill switch, and a no-logs policy to protect your online data
Works with: all Showbox alternatives, Netflix, Disney+, Hulu, HBO Max, BBC iPlayer, Kodi, and more
CyberGhost has servers optimized torrenting, which are designed to give you better download speeds and keep your data safe. They are a part of its global network of 9,758 servers in 91 countries. When you go to the expanded view, you'll see the "For torrenting" tab with a list of servers. During my tests on its torrenting servers, my speeds were about 139 Mbps on average, which was only 10% less than my starting speed.
CyberGhost's content blocker makes it safer to torrent and stream movies using Showbox alternatives. It offers it for Windows and Android, and this feature blocks domains used for ads, trackers, and malware. This reduces the number of pop-ups you might see (but not in-video ads). I switched on the ad blocker to test it, and it successfully blocked the annoying pop-ups on Tubi TV and Cinema APK.
I was also impressed by how easy it was to use the app. The user interface is simple, with a big power button, making it straightforward to navigate and connect to a server even without prior experience. It took me a few clicks to find and connect to my preferred server. I also liked that it allows you to 'favorite' your frequently used servers, so you don't have to search for them every time.
It's a little disappointing that CyberGhost's short-term plan is pricier and comes with only a 14-day money-back guarantee. But the extended plans are more affordable, starting at $2.19/month, and come with a longer money-back guarantee.
The long-term plans are also backed by a 45-day money-back guarantee, which allows you to try CyberGhost risk-free and see if it works for you. I contacted customer support to test this, and they promised I would get my refund within 7 working days. I received my money back in my PayPal account on the 5th day.
Watch Showbox Alternatives With CyberGhost
29,650 servers across 84 countries, including 53 locations in the US alone
10 simultaneous connections to protect your home devices
Decent speeds for streaming in good quality
Military-grade encryption, a kill switch, and a no-logs policy to secure your data
Works with: all Showbox alternatives, Netflix, Disney+, Hulu, HBO Max, BBC iPlayer, Kodi, and more
Thanks to its huge US server network, Private Internet Access (PIA) is a great choice for streaming on any of the US-based Showbox alternatives. I tried its US East Streaming Optimized and Chicago servers to watch movies on Crackle, and the video quality was crystal clear. Having that many servers also means your speeds should stay consistent and fast because they won't be overcrowded. During my testing, my speeds reached 137 Mbps, on average, which was only 12% lower than my base speed.
Similar to CyberGhost, PIA has an in-built ad blocker, MACE, which blocks pop-ups and alerts you when accessing malicious sites. Even though this can't remove in-video ads, this protects your data and your device from known threats and trackers. I didn't receive any pop-up ads when I used Crackle and Cinema APK with MACE switched on. It also successfully stopped a few suspicious sites from loading as I was testing some other torrenting sites.
However, I noticed this VPN's apps were not very user-friendly. This might be because the many customization options PIA offers might not be ideal for beginners. However, it comes pre-configured and works just fine even without reconfiguring. Plus, the many security options give you the freedom to tweak the settings the way you want, especially if you're an experienced VPN user.
PIA offers 3 payment plans, with the lowest-priced one starting at $2.19/month. Longer-term plans are the most affordable and the best option if you plan to use the VPN for a while. Depending on its active deals, you can also get up to 83% discounted.
Also, all its plans come with a 30-day money-back guarantee, so you can test out PIA without risk and get a refund if unsatisfied. I contacted customer support to request a refund, and my request was promptly processed. I got my money back in my bank account in 5 working days.
Watch Showbox Alternatives With PIA
Tips on Choosing the Best VPNs to Use With Showbox Alternatives
My team and I followed the following criteria to come up with the list of best VPNs for Showbox alternatives. All the VPNs on my list have these features that make them the safest and most reliable for free streaming and torrenting:
Large server network — You need to use a VPN with servers in regions where sites like Showbox are available to access them while staying abroad or traveling. Not all VPNs have a worldwide network.
Fast speeds — Your VPN needs to have the necessary speeds to allow you to torrent or stream quickly or without buffering. Although it's normal for your speeds to slow down with a VPN (due to encryption), the drop is barely noticeable with a premium VPN.
Advanced security features — A VPN with military-grade encryption, advanced security protocols, a kill switch, and DNS leak protection is necessary to ensure your safety while streaming and torrenting.
Privacy protections — To protect your data while torrenting online, your VPN should have a strict no-log policy and preferably be based in a privacy-friendly jurisdiction.
P2P servers — Some VPNs offer P2P-optimized servers for better speed and security, while others allow torrenting on all (regular) servers. Certain VPNs don't allow torrenting at all, though.
Ad and malware blocker — Free streaming sites are often full of pop-ups and trackers, so having a VPN with a built-in ad or malware blocker certainly helps.
Reliable 24/7 customer support — You should always be able to get help when you need it — through phone, live chat, email, or a resourceful FAQ section.
Diverse device compatibility — You should be able to access your favorite content from your devices. The best VPNs have native apps for all major devices and operating systems.
Trustworthy money-back guarantee — Choose a premium VPN that guarantees your online safety by offering a reasonable money-back guarantee. This allows you to try the VPN at no financial risk.
Try ExpressVPN Risk-Free Today
FAQs on the Best Showbox Alternatives
Is Showbox still active?
No. Showbox is no longer working. Due to copyright issues, many TV producers and movie studios from around the world pressured the platform to shut down for good. There have been copycats popping up, but these are not safe. But there are 5 Showbox alternatives that are relatively safe that you can use today. However, although they are fairly safe, using them with a reliable VPN is always recommended.
Why do I need to use a VPN with apps like Showbox?
Using a reliable VPN with sites like Showbox protects you from cyber threats that you may encounter on free streaming services. Many torrenting platforms can expose your traffic and data. Encryption, security protocols, a kill switch, and DNS leak protection features protect your personal information from leaking. Without a VPN, you leave yourself vulnerable to all kinds of online threats that a VPN could easily help you avoid. On top of that, it can help you access your preferred streaming platform's account while traveling in case it is geo-restricted to your home country.
Is watching movies from torrents safe?
Watching movies from free streaming and torrenting sites isn't 100% safe. There's always a risk of exposing your IP to strangers or leaking your personal data. That said, it's recommended you use a VPN while accessing these sites. A reliable VPN helps you stay safe and maintain privacy while watching movies online. This means that third parties won't see your real IP or snoop on your data.
Can Showbox alternatives be used on Fire Stick, smart TVs, Android, and other devices?
Yes. Most platforms like Showbox work with a wide range of modern devices and operating systems. They have native apps for Android, Linux, routers, Windows, macOS, iOS, and more. Still, make sure to always use a VPN while torrenting or streaming on free sites to protect your personal data. All the VPNs on my list are compatible with these devices. Some of the Showbox alternatives are also geo-restricted. So if you're traveling abroad to a country where they're not available, a VPN can help you get back on your account.
Can I use a free VPN for Showbox alternatives?
Possibly, but not advisable. Most free VPNs are not P2P-friendly and have slow speeds, small server networks, and data caps, so you can't download or stream as much as you want. Also, they rarely have robust security features that can keep you safe. Premium VPNs can protect you and come with reliable money-back guarantees to allow you to try them out.
Using free VPNs also puts you at risk of hackers and snoops. Many contain malware and may sell your data to third parties for a profit. That can be a real issue — especially when torrenting.
Start Using Showbox Alternatives Now
Free streaming and torrenting are never 100% safe, even with the Showbox alternatives I have recommended above. A VPN is essential to protect your personal data and enjoy these sites without worries.
I recommend ExpressVPN for its lightning-fast speeds, robust security features, and huge server network, which lets you torrent and stream safely and buffer-free. What's more, it comes with a 30-day money-back guarantee, so you can try ExpressVPN out risk-free. If it doesn't meet your expectations, you can easily get a full refund.
To summarize, the best VPNs for apps like Showbox are…
Privacy Alert!
Your data is exposed to the websites you visit!
The information above can be used to track you, target you for ads, and monitor what you do online.
VPNs can help you hide this information from websites so that you are protected at all times. We recommend ExpressVPN — the #1 VPN out of over 350 providers we've tested. It has military-grade encryption and privacy features that will ensure your digital security, plus — it's currently offering 49% off.