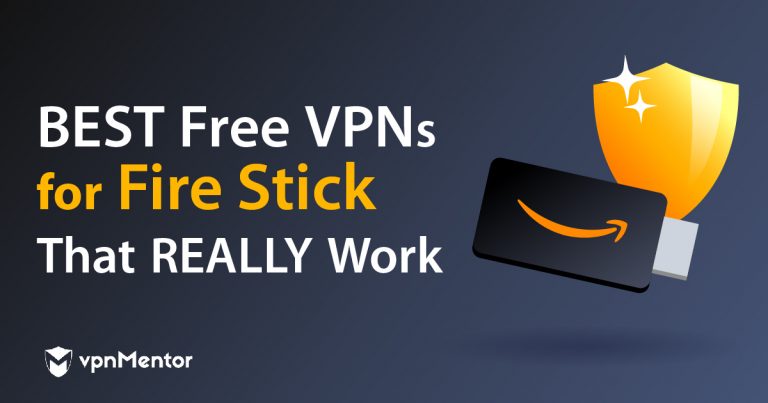 4 Best Free VPNs For Fire Stick That Really Work in 2022
Updated on 9th April 2022
Want to get more out of your Fire Stick by unblocking international streaming libraries without paying more than you already do for your streaming services, like Netflix?
I get it. This is why I spent weeks testing 92 different free services to bring you the three best free VPNs for Fire Stick.
My recommendations are safe to use, have dedicated Fire Stick VPN apps, and give you a decent amount of streaming time. However, like every free VPN, they all have their limits, too.
From restricted speeds to data caps, a free VPN just can't give you the unlimited service you get with a low-cost VPN. That's why I recommend ExpressVPN. It provides unlimited streaming and lightning-fast speeds. Plus, you can test it out completely risk-free — if you don't feel satisfied, you can claim a full refund using its 30-day money-back guarantee.
With that said, the VPNs on my list are safe and easy to use with Fire Stick. They're limited, but they're free and they work. Let's see what they are!
Short on time? Here are the best free VPNs for Fire Stick
Try ExpressVPN Risk-Free Today!
The Best Free VPNs for Fire Stick – Full Analysis (Updated May 2022)
I tested 92 free VPNs over 6 weeks to find out which ones are compatible with Fire Stick, safe to use, and give you decent speeds and unblocking abilities for streaming. I was only able to find four that are fast and secure enough to use.
I've noted the limitations that come with each free VPN, and I will continually check and update this list to bring you the most relevant recommendations.
Pro Tip: If you come across a blocked server while using any of these VPNs, simply disconnect and reconnect to a different one to get started again.
Unlimited Premium VPN with a 30-day money-back guarantee
3,000 servers in 94 countries
Superfast connections for uninterrupted streaming
Military-grade encryption
24/7 live chat support
Router compatible
5 simultaneous device connections
Works with all major streaming sites, including Netflix, Disney+, HBO Max, Hulu, BBC iPlayer, Vudu, and more
Compatible with all major devices and platforms, including Windows, Mac, iOS, Android, Linux, routers, Apple TV, and more
ExpressVPN is my top choice for streaming on Fire TV Stick because it's fast, secure, and compatible with all of the latest Fire devices.
During my tests, I recorded speeds of up to 58 Mbps. My standard connection speed is 52 Mbps, so ExpressVPN actually made my connection faster. This is great for Fire Stick because it means you can stream in the highest definition.
It's a premium VPN, but there's good news: it's backed by a refund policy which gives you 30 days to get your money back if you don't find it's right for you. I tested this policy and my request was processed quickly and without issues.
While testing ExpressVPN with my Fire Stick, I connected to 8 different server locations. I was impressed to find that each server worked flawlessly for streaming. With the UK server, I had no problem unblocking BBC iPlayer. It worked just as well when I connected to US servers to access Hulu and HBO GO — ExpressVPN effortlessly bypassed restrictions on every Netflix and Amazon Prime Video library I tried.
Your bandwidth and data are unlimited, so you can stream as many of your favorite shows and movies as you like. I even watched seven episodes of Modern Family back-to-back without any buffering.
Using the highest level of military-grade 256-bit AES encryption, ExpressVPN ensures your traffic is virtually unhackable. Additionally, it boasts Network Lock — a kill switch that temporarily shuts down your traffic in case of VPN disconnection to prevent your device from defaulting back to (and exposing) your true IP address.
With its zero-logs policy, ExpressVPN guarantees that none of your records are stored or passed on to third parties, like advertisers or government agencies. I did some digging into its privacy policy and can confirm that it is watertight.
Even better, it's based in the privacy-friendly British Virgin Islands. This means it's located outside of the 5, 9, and 14 Eyes Alliance.
I ran ExpressVPN through several leak detection tests and found no DNS or IPv6 leaks. Your DNS requests and location are always protected and hidden. This is helpful for streaming since a leak can reveal your real location to Netflix, and stop you from watching international shows.
You can use ExpressVPN on up to 5 devices at the same time. I connected my Fire Stick, phone, and laptop simultaneously and still enjoyed excellent speeds and buffer-free streaming.
The 24/7 live chat feature is very helpful in case you have questions regarding the use of ExpressVPN with a Fire Stick — from my experience, the agents were very knowledgeable and gave detailed answers to my queries.
Want to know more? Explore our ExpressVPN review to see the full results of our research and testing.
24 hours of free access to the full service
Unlimited bandwidth
Servers optimized for unblocking Netflix on Fire Stick
Fast speeds for lag-free streaming
Strict no-logs policy
AES 256-bit encryption, leak protection, and an automatic kill switch
Works with: Netflix, BBC iPlayer, Disney+, Hulu, Amazon Prime Video, HBO Max, and more
Compatible with: Fire Stick TVs, Windows, Mac, iOS, Android, Linux, Routers, and more
CyberGhost gives you 24 hours to use its premium service for free. This means you'll have access to all of its features with zero restrictions for a full day. Since it has unlimited bandwidth, you'll have plenty of time to test it out with all your favorite streaming platforms.
It's fully compatible with Fire TV Stick. All you have to do is download the app from the Amazon Store. With some other VPNs, you can only hook up your Fire Stick with Smart DNS. This method won't encrypt your traffic, so having the full app on your Fire Stick TV will let you stay safe while you stream.
There are servers optimized for accessing Netflix on Fire Stick. Locations are available in France, Germany, Italy, the UK, and the US. I was able to unblock Netflix libraries with each one. These specialized servers do a great job of unblocking Netflix regions on your Fire Stick TV.
Other servers are designed to unblock Hulu, Disney+, Amazon Prime Video, HBO Max, BBC iPlayer, and more. These optimized servers give you a different IP each time you connect. This makes it more difficult for streaming platforms to find these IPs and ban them. Every optimized server I used unlocked the platform it was listed under. So, they reliably unblock streaming platforms.
Specialty servers also give you great speeds for buffer-free streaming. During my tests, the optimized servers were 15% faster on average than regular locations. Watching Netflix on my Fire Stick TV, I didn't experience any buffering or annoying load times.
You'll get great speeds for a smooth streaming experience on non-optimized locations too. I tested 7 standard servers and had an average speed of 49 Mbps. This was only a 6% drop from my base speed of 52 Mbps. You only need 5 Mbps to stream in HD, which explains why I was able to watch shows and movies without interruptions.
A strict no-logs policy ensures that your data is safe with CyberGhost. When you use a VPN, your information is hidden from everyone except for the VPN company. This is why it's so important for you to find a service that you trust. CyberGhost's privacy policy states that it will never save any of your vital information.
Since it's located in privacy-friendly Romania, CyberGhost won't be asked by governments to give up customers' data. This is a country outside of the 5, 9, and 14 Eyes Alliance. It even has No-Spy servers that are located at its headquarters in Romania. These give you extra protection because there's no middleman involved in handling your data.
On top of that, CyberGhost has great security features. It has military-grade encryption, a kill switch, and leak protection. In all of my leak tests, my location was never revealed.
To find out even more, read our full review of CyberGhost here.
Free VPN with 10GB monthly data allowance
Servers in 10 countries
Built-in ad and malware protection
Unlimited simultaneous connections
Works with: Amazon Prime Video, BBC iPlayer, Netflix, FOX Go, HBO Go, Disney+, YouTube
Compatible with: Fire Stick, Windows, Android, macOS, iOS, Linux, most browsers
Windscribe is a truly free VPN that requires no payment details to install. I downloaded its Fire Stick app quickly, easily, and anonymously.
The drawback is that your monthly data allowance is limited to 10GB with a free account. That's around 3 three hours of HD streaming or 10 hours of streaming in SD. You can also get an additional 5GB of free data if you mention '@Windscribecom' on Twitter. I gave them a quick shout out, and they were happy to add the bonus data to my account.
You can use Windscribe without providing your email, but you only get 2GB of monthly free data if you don't want to input your email address. That's only enough to watch two hours of Netflix in standard definition. My trick? Set up a separate email account just for this purpose, and keep your personal email private.
During my tests, I recorded around a 70% drop in speed, even when I was using Windscribe's 'Best Location' feature. This is supposed to connect you to the nearest server, but because there are so few free servers, I struggled to find one nearby. It was still fast enough for streaming in standard definition, but most of my videos buffered for a while before they played.
Windscribe has Netflix-optimized servers known as 'Windflix' – unfortunately, these are only available to premium users. That being said, I decided to test the free servers anyway. I was able to access Netflix with my free account, plus BBC iPlayer and Amazon Prime Video.
You are limited to servers in just 10 countries out of Windscribe's network of 69. That includes the US, the UK, and Canada, so I was able to access most of the content I wanted on my Fire Stick, but if you want to watch libraries from smaller countries, you will find this restriction annoying.
Windscribe uses AES 256-bit encryption to lock down your traffic against snoopers and hackers. A kill switch and leak protection ensure that information like your true IP address and DNS requests are never exposed. I tested all its free servers and didn't detect any DNS or IP leaks.
I dug into Windscribe's privacy policy to confirm that it doesn't log any of your usage information. It only records connection timestamps and the amount of data used so that it can keep track of your monthly allowance. There's also built-in ad and malware protection. 
Windscribe gives you Unlimited simultaneous connections. There's no 24/7 live chat, just a chatbot – if you request to speak to a human, the chatbot will help you create a support ticket. I received a response to my request via email in just under 24 hours.
Want to know more? Explore our Windscribe review to see the full results of our research and testing.
10GB of free data per month
No signup or payment details required
Servers in four countries
Good speeds, but some buffering
24/7 live chat
Works with: Netflix, Hulu, Amazon Prime Video, HBO Go, Sling TV, ESPN, YouTube
Compatible with: Fire Stick, Windows, macOS, Android, iOS, Linux, browsers
hide.me is a completely free VPN that gives you 10GB of free data every month. That's quite generous for a free VPN, and it's enough for around 10 hours of streaming movies or TV in standard definition. If you're like me, though, 10 hours per month isn't quite enough to keep me entertained.
The app is easy to find and install by searching 'hide.me' from your Fire Stick home screen. You can start using it on your Fire Stick without inputting any login information or payment details. I liked this feature because it let me get started straight away, and I knew I couldn't be accidentally charged.
In my speed tests, hide.me came out marginally faster than Windscribe with a 68% drop in speeds. I was able to stream videos with only minor buffering.
Unfortunately, server restrictions limit how much content you can stream with your Fire Stick. You only get access to servers in Germany, Canada, the Netherlands, US East, and US West. This was disappointing because I really like watching BBC iPlayer.
I was able to access Netflix US, Hulu, Amazon Prime Video US, and HBO Go on my Fire Stick, but couldn't stream content in other countries. There are no free UK servers, so I couldn't access BBC iPlayer, All 4, ITV Hub, or Sky Go. I also missed out on Hotstar India.
I was disappointed to find that my free account was limited to one connection at a time. If you want a free VPN just for your Fire Stick, that could work for you, but I like to be able to protect my other devices at the same time.
One area where hide.me performs well, though, is security. It uses the highest level of encryption and has an automatic kill switch that prevents your Fire Stick from defaulting back to your true IP address if you lose connection to the VPN.
I contacted hide.me's customer support to confirm that it has a strict no-logs policy and will not store or pass on any information about you. I was pleased with the instant response from its 24/7 live chat team.
I also ran the VPN through independent DNS and IPv6 leak testing and was satisfied that its leak protection measures are watertight. Your traffic and location are not vulnerable to being exposed while connected to the VPN.
Want to know more? Explore our hide.me review to see the full results of our research and testing.
Research Methodology
I ran a variety of tests on 92 different free VPNs to identify the best services for Fire Stick. I analyzed all the free servers within each VPN's network to ensure my results represent the service as a whole.
During my tests, I looked for:
A native Fire Stick app to ensure easy installation with limited setup
Generous (or no) data limits to allow a decent amount of streaming
Reliable, unrestricted speeds and streaming-optimized servers for buffer-free viewing
The ability to bypass geoblocks and anti-VPN software, to give you access to as many Fire Stick channels in as many regions as possible
Helpful customer service options to provide you with assistance at any time, no matter where you're based
A safe and secure service that does not log or sell your identifying information or user activity
What's the Catch With Free VPNs?
Running a VPN is not cheap. Even the smallest VPN company has to cover the cost of renting or buying its own servers, paying staff, and creating a website and advertising material.
When it comes to free VPNs, you need to know how the service you choose covers these costs. The free VPNs I recommend are actually freemium services; they are limited versions of premium VPNs. They are funded by the premium service's subscription fees, which means the provider has no need to sell your data or use nefarious methods to make extra money.
Freemium VPNs can be great if you want to test out a service before committing to a paid subscription, but you will always be limited. They might use time restrictions, as in a free trial. More often, restrictions apply to bandwidth, data, speeds, and servers.
So, what about truly free VPNs? Most non-freemium VPNs make their money through advertising. At best, this means you're stuck with annoying pop-ups. At worst, these ads could contain malware and links to malicious sites. Some free VPNs make money by logging and selling your identifying information to third parties.
To guarantee a safe, unrestricted, and reliable service, I would always choose a low-cost premium VPN, like ExpressVPN instead.
FAQs
How do I install a VPN on my Fire Stick?
The VPNs on my list have their own Fire Stick apps, which makes installation super easy.
All you have to do is use the search function on your Fire Stick Home screen to find your chosen VPN. Then install the app, connect to a server, and go.
For a more detailed look at the installation process, take a look at our Fire Stick guide.
Which free Fire Stick VPN gives you the most data?
hide.me gives you 10GB of free data every month. Windscribe gives you 10GB if you sign up with your email address, plus an extra 5GB if you mention the company on Twitter.
10GB is enough for 3 hours of high definition streaming or 10 hours of streaming in standard definition.
But, ExpressVPN gives you the best deal. It offers unlimited data, so you can stream as much as you like.
Will a free VPN slow me down?
It's normal for there to be some delay when you're using a VPN because your traffic passes through an additional stop on its way to and from your device.
However, the best VPNs are so fast that this delay is barely noticeable.
Sadly, free VPNs are rarely the best VPNs. They often limit you to a handful of servers, which then become overcrowded and slow. They may even restrict your speeds intentionally to manage overcrowding.
Only a premium VPN can maintain – or even improve – your connection speeds.
Are free VPNs safe?
All the VPNs on my list use military-grade encryption to hide your traffic and data, plus other security measures, like automatic kill switches and leak protection.
The same can't be said for other free services. Running a VPN costs money and free VPNs have to make up revenue somewhere. Sadly, some free VPNs make money by logging and selling your data to third parties.
My colleague covers this danger in more depth in our free VPN safety guide.
The Bottom Line
Whether it's limited speeds, capped data, or logs, free VPNs always come with restrictions – and, sometimes, even dangers.
Only a premium VPN like ExpressVPN gives you the lightning-fast speeds, unblocking abilities, security, and unlimited data you need to get the most out of your Fire Stick. And, with its 30-day money-back guarantee, you get plenty of time to test out its abilities completely risk-free.
Thinking a low-cost subscription sounds like a better option? You can get my favorite VPN for less with our latest ExpressVPN coupon.
Top VPNs for Fire Stick that you can try risk-free with money-back guarantees...
Privacy Alert!
Your data is exposed to the websites you visit!
The information above can be used to track you, target you for ads, and monitor what you do online.
VPNs can help you hide this information from websites so that you are protected at all times. We recommend ExpressVPN — the #1 VPN out of over 350 providers we've tested. It has military-grade encryption and privacy features that will ensure your digital security, plus — it's currently offering 49% off.