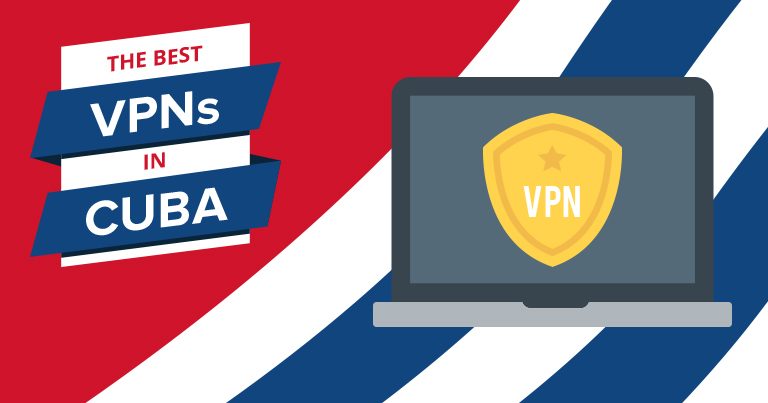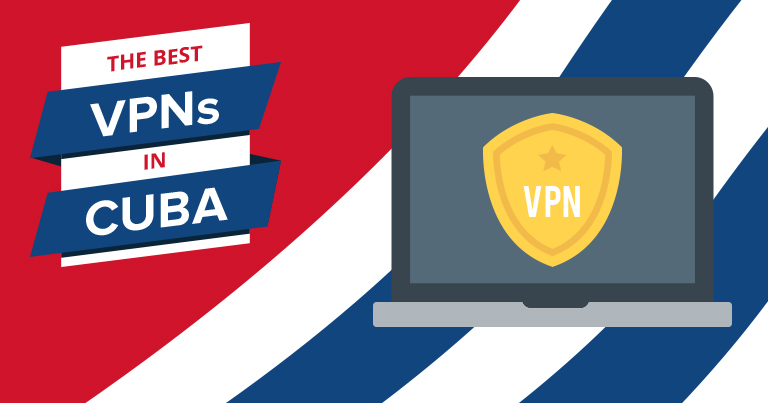 Best VPNs For Cuba – For Safety, Streaming & Speeds in 2021
Updated on 30th June 2021
Cuba has gained a reputation over the years as a country with some of the worst internet access in the world. The country's internet challenges stem in part from a lack of infrastructure.
However, the political climate of Cuba has also played a large role. The Cuban government has a long history of censoring its citizens and limiting their access to information. The internet is no exception.
Cuban law only allows freedom of speech as long as it conforms to the goals of the socialist society. The government closely monitors all internet users who connect through Cuban servers. Websites that are critical of Cuba or the socialist party are blocked.
Even more frightening is that according to Cuban law you could receive up to 20 years in prison if the government sees you doing any activity that they believe threatens the socialist society.
With Cuba's recent initiative to expand internet access, finding a good VPN to use in Cuba is more important than ever.
Whether you are a Cuban citizen or just visiting the country, a high-quality VPN is the only way to make sure your internet connection in Cuba is safe, secure, and anonymous. It can also allow you to bypass government censorship and geoblocks.
Here are three VPNs to choose from that will free you from government monitoring and allow you to access the internet without censorship in Cuba.
Short on Time? Here Are the Best VPNs for Cuba
ExpressVPN — In Cuba, it is important to pick a VPN that won't add any additional lag. Express VPN is a great option because of its high speed and premium security.
CyberGhost — With its first-class security and encryption, CyberGhost is committed to maintaining your privacy. It offers an easy-to-use interface and can bypass even the toughest VPN blockers.
PrivateVPN — This VPN will give you the strong security and privacy you need to access the internet in Cuba without slowing you down. It also has a remote service to help you with the installation.
What You Should Look for in a VPN for Cuba
Choosing a VPN for use in Cuba is different from many other countries. Generally, you would want to find a VPN provider that hosts servers in the country you are located in because that will lead to the highest speed connection. But the opposite is actually true when accessing the internet in Cuba.
Using a VPN from a country outside of Cuba will allow you to bypass Cuba's geoblockers and free you from government censorship of the internet. For the fastest and most reliable connection, it is best to look for a VPN with servers outside of Cuba but close by.
In case you're unfamiliar with the process of accessing the internet in Cuba, let's briefly review it.
All internet services in Cuba are provided by ETSECA, a state-owned telecom company. Wi-fi is offered under the brand name "Nauta."
The only way for tourists and most residents to get online is to travel to an ETSECA office and purchase a scratch-off card. The cards include a login and password that can be used to access a public wi-fi hotspot for a limited period of time. They cost around $2 per hour.
The connection is extremely slow, especially compared to what most tourists are likely used to. Even relatively simple apps such as Facebook Messenger may be unbearably slow at 1 Mbps.
This is not enough for fast and reliable service, especially when you are sharing the wi-fi hotspot with many other people. For comparison, in the US you can expect an average connection speed of 18.7 Mbps.
It is difficult to know exactly how much content is filtered by the Cuban government because there is simply not enough data at this point in time. Although Cuba does not appear to currently be blocking or censoring most major websites, it is important to keep in mind that the government reserves the right to monitor all internet use.
Cuba reserves the legal right to censor any information that goes against the government or the socialist agenda. This is no laughing matter. The government regularly threatens and even jails people who speak out politically, sometimes even when they did so unintentionally.
This is why it is not recommended that anyone access the internet in Cuba without a VPN. In particular, Cuba is not a country where it is worth trying to get by with a free or low-quality VPN.
A high-quality VPN can allow you to bypass government censorship by connecting you securely through a server outside of Cuba. This is the only way to make sure you can access your favorite sites while in Cuba.
A VPN can also encrypt your data and make sure that your internet activity is private and anonymous. That way you don't have to worry about the government monitoring what you say while you speak to friends and family online.
The Best VPNs for Cuba
ExpressVPN leads the industry in speed. This is a particularly important consideration when choosing a VPN for Cuba, because the internet connection there is already so slow that any additional downtick in speed would make your internet connection pretty much unusable.
Another reason to pick ExpressVPN while in Cuba is that the easy-to-use interface allows you to quickly select a server location across its 94 supported countries by a specific city. This will allow you to easily connect to a Miami server, which is your best option to avoid losing speed.
Speed isn't the only thing you will get with ExpressVPN. This VPN also offers competitive security features, including a strict no-logs policy and a kill switch that will instantly stop your internet connection if the VPN cuts out. This will almost certainly be useful while using Cuba's irregular internet and will ensure that you are protected from government monitoring at all times.
ExpressVPN offers a 30-day money-back guarantee, and if you are a mobile user you can also take advantage of a 7-day free trial. There is a 5-device limit per subscription, but you also get the benefit of 24/7 live chat support for no additional charge. Great customer support is only one of many reasons that ExpressVPN is a consistent fan favorite.
ExpressVPN can unblock:
Netflix, Hulu, HBO, Amazon Prime Video, Showtime, Sling TV, DAZN, and BBC iPlayer.
Supports torrenting:
Yes, all servers support P2P activity.
ExpressVPN works on these devices:
Windows, macOS, Android, iOS, Android TV, Linux, Chrome, and Firefox. It also offers an app for use with certain routers.
While CyberGhost's service comes with easy-to-use preset options to choose from, one thing that makes it a great choice for use in Cuba is the wide range of advanced user options. Safety and anonymity is such a huge concern while accessing the internet in Cuba, so the freedom to customize your security protocols on up to 7 devices is a big plus.
CyberGhost offers AES-256 encryption — along with OpenVPN, L2TP/IPsec, and PPTP — to protect your internet activity from government monitoring. The security features also include an automatic kill switch and DNS leak protection to keep your IP address completely hidden at all times.
In addition to its high speeds, strong security, and consistently positive user reviews, CyberGhost also offers a 7-day free trial and an impressive 45-day money-back guarantee. CyberGhost hosts 43 servers in the city of Miami alone, and makes it easy for you to select your location to make sure you are getting the best possible speeds while using the internet in Cuba.
CyberGhost can unblock:
Dedicated streaming profile with servers optimized for: Netflix, BBC iPlayer, Sky Go, Comedy Central, Eurosport, ESPN, and others.
Supports torrenting:
Yes; dedicated profile shows countries and number of users.
CyberGhost works on these devices:
Windows, macOS, Android, iOS, Amazon Fire Stick, Android TV, Linux, and Chrome.
The most important concern when using the internet in Cuba is safety, and that's why PrivateVPN's commitment to maintaining your privacy makes it a great choice for Cuba. This VPN offers 2048-bit encryption with the protection of AES-256, and includes all the important security features that users love, like a no-log policy, IPv6 leak protection, and an automatic kill switch.
A unique feature of PrivateVPN that may come in handy in Cuba is its TeamViewer customer support system. If you happen to have any problems while installing this VPN, this service will remotely assist you. PrivateVPN also offers a 7-day free trial and a 30-day money-back guarantee.
A single subscription comes with access for 6 simultaneous devices. Although PrivateVPN's 100 servers may not rival some of the other big names, they do offer a server location in the city of Miami, which is a good choice for people in Cuba to bypass the government's geoblocks without sacrificing speed.
PrivateVPN can unblock:
Netflix, Hulu, HBO, Hotstar, Amazon Prime Video, and BBC iPlayer.
Supports torrenting:
Yes, all servers support P2P activity; list of P2P-optimized servers available through the app.
PrivateVPN works on these devices:
Windows, macOS, Android, and iOS.
Summary and Further Reading
The Cuban government's strict control of freedom of expression and constant monitoring make VPNs a necessity in this country, not just an option. It simply isn't worth taking the risk of not having your online activity protected.
Luckily, there are high-quality VPNs out there that can guarantee your privacy, safety, and anonymity. All of the services that we recommend are thoroughly tested and extremely trustworthy, so you can be sure your online activity in Cuba is as secure and problem-free as possible. The right VPN for your needs will allow you to easily bypass geoblocks and government censorship in Cuba while ensuring your privacy and safety.
Our budget-savvy experts have compiled a list of the best VPN deals and coupons to save you money on your service.
You May Also Like:
To summarize, the best VPNs for Cuba in 2021 are…
Privacy Alert!
Your data is exposed to the websites you visit!
The information above can be used to track you, target you for ads, and monitor what you do online.
VPNs can help you hide this information from websites so that you are protected at all times. We recommend ExpressVPN — the #1 VPN out of over 350 providers we've tested. It has military-grade encryption and privacy features that will ensure your digital security, plus — it's currently offering 49% off.