5 Best VPNs for Dubai & UAE – For Safety, Streaming & Speeds in 2020
Updated on 10th August 2020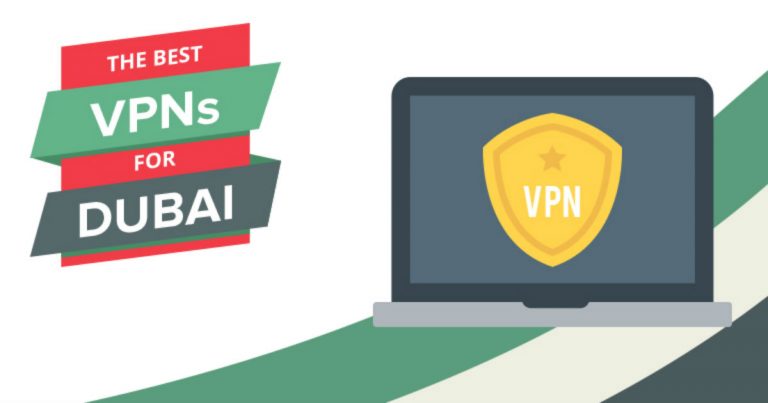 If you've been to Dubai in the past five years, or you're already living there, you may be aware of the popularity of VPNs in the UAE. From Skype to Netflix, they've been used to bypass censorship and unblock all sorts of restricted content.
Unfortunately, things have changed for VPN users in the gulf country. Today, it's much harder to find a reliable service for Dubai – and even though VPN usage remains popular, there are a few important things to know, and a big challenge to overcome.
We'll help you out with a carefully researched, up-to-date list of the best VPN services to rely on in Dubai (and anywhere else in the UAE), whether you're a long-time resident or simply visiting. We'll also take a look at some of the major issues with VPN usage in the UAE, as well as debunk some myths regarding VPNs and their legality there.
We'll start with a quick rundown of the best VPNs you can currently get for Dubai. Stick around for more valuable info and detailed overviews!
Quick Look: The Best VPNs for Dubai
Why You Need a VPN for Dubai
Before you take a closer look at your options, there are a couple of things you should know about the VPN situation in Dubai.
Since mid-2017, the Telecommunications Regulatory Authority (TRA) and major telecom operators have been cracking down on VPNs in the UAE. The reasons for that have a lot to do with religion and business.
The UAE's stance on content blocking forbids the access of any content that goes against the "ethics and morality of the UAE". Examples include pornography, gambling, and anti-religious websites. But that's not all – many Wikipedia articles and Israeli websites are also blocked, as are VoIP services. Skype used to be a major reason for the use of VPNs in Dubai, but doing that nowadays is considered a crime under UAE law.
The punishment for such cybercrimes is very serious on paper. Amended in 2016, the law now stipulates "a fine of no less than Dhs 500,000 and not exceeding Dhs 2,000,000", which translates to six-figure sums in US dollars. Even worse, there's also the threat of jail time, which may accompany the hefty fine.
The other major obstacle is UAE telecom companies. Etisalat and du are the two major service providers in Dubai, and they really don't like people using VPNs on their networks. This is mainly because these companies lose a lot of revenue when free VoIP alternatives are used instead of their own services – coincidentally, the big VPN crackdown in 2017 happened right as Etisalat and du were releasing new apps for talking to friends, relatives, and business partners.
Is VPN Use Legal in Dubai?
It's crucial to understand that while the use of a VPN to commit fraudulent activity is definitely illegal, simply using a VPN is not. The myth of VPNs being outright banned in the UAE isn't a reality – but you need to be very careful not to break any rules, and it can be difficult to do so.
There are other rumors surrounding VPN usage in the UAE – the laws are very rarely enforced, you can only use government-approved VPNs, authorities only care about serious crimes, foreigners get preferential treatment, etc. None of these can be objectively confirmed or denied by anyone, so your best bet is to do extensive research, read what other VPN users in Dubai have to say, and tread carefully. The bottom line – these laws exist, they are somewhat clear, and they can be used against you if you become a target for UAE authorities.
All of this results in a massively unfavorable situation for VPN users in Dubai, and elsewhere in the UAE. It's not uncommon for VPN websites to be blocked, with many reporting on-site that they can't even download a VPN service. And while there's still a strong VPN community in the gulf country, things aren't as simple as they used to be.
What You Should Look for in a VPN for Dubai
In short, you'll need more than just an average VPN if you want to use it reliably in Dubai. Here's what you need to look for:
Advanced encryption and obfuscation. Your number-one priority when looking at VPNs for Dubai should be anti-censorship measures. A vast server network and blazing speeds won't matter one bit when your VPN is detected and blocked. Look for obfuscated servers, SSL encryption, and anything else that resembles a "stealth" mode – you'll need it.
Lots of servers. Assuming you've taken care of your top priority, you should shift your search towards a big server roster. Having thousands of servers at your disposal remains a crude, but effective solution for bypassing VPN blocks. Plus, you'll have more options to find the optimal, fastest server for your needs.
Free trials. VPN blocking is something that changes constantly – therefore, no one can fully guarantee that your VPN will work flawlessly in Dubai. In order to avoid any headaches and wasted money, make sure your VPN isn't only reliable, but upfront about its service. The best way to get that is with a free trial or money-back guarantee.
Servers in the UAE. If you specifically want to access your favorite content in the UAE or watch Dubai TV effortlessly while you're abroad, you'll want a VPN that offers the UAE as a server location. As always, the more servers available, the better – but make sure you aren't breaking any laws first, especially if you're a UAE resident.
And now, for the most important tip…
Get a VPN for Dubai BEFORE You Arrive
If you're traveling to Dubai, it's a very good idea to download, install, and set up your VPN while you can still easily do so. There's always the risk of making yourself a target for those monitoring VPN downloads in the UAE – that risk can be eliminated if you come prepared.
As mentioned, VPN websites seem to be blacklisted by service providers in the UAE on a regular basis, so you may not even be able to figure out a solution to this problem during your short stay. If you're a visitor and not a local, make sure your VPN is ready to go before setting off for Dubai.
The Best VPNs for Dubai – in Detail
Now that you're aware of the situation with VPNs in Dubai, it's time to find the services that will help you browse safely and in complete privacy. We've prepared a detailed list of our top-five VPN picks for Dubai – check it out below.
NOTE: Each of these VPNs have valuable features and settings for circumventing censorship. In some cases, extra configuration is required. While we'll mention the tools needed, we won't be including detailed guides on how to set them up, as VPN-related websites and forums are likely monitored by those who wish to block VPN access. If you need help with your setup or are experiencing issues, we strongly suggest doing research on your specific problem or contacting your VPN's support team for a private chat.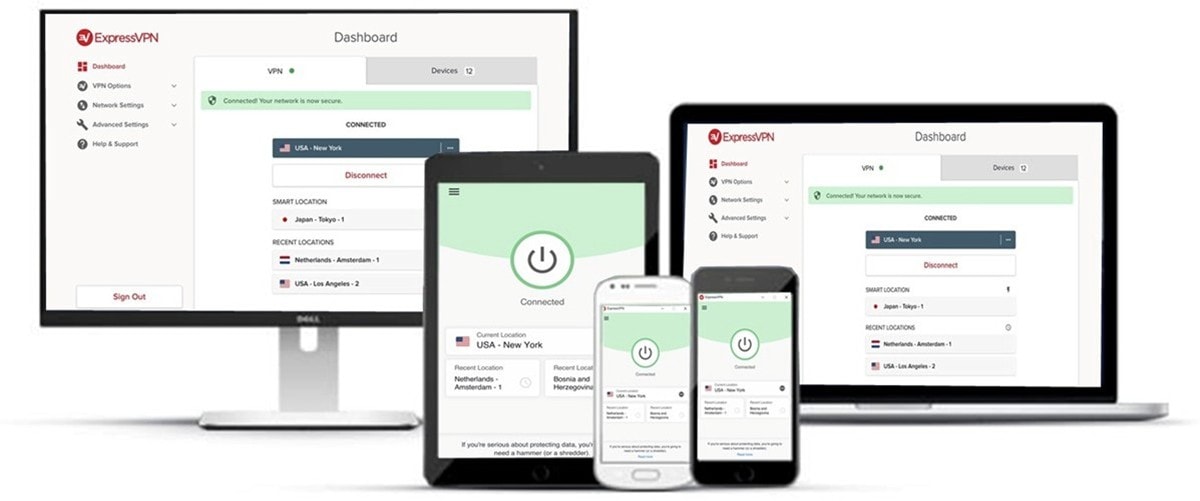 ExpressVPN is another amazing choice for Dubai. The highlight of this VPN is speed, but it offers a top-shelf service in all other aspects as well – including anti-censorship features.
ExpressVPN's stealth servers were originally implemented for the Great Firewall of China, but they are an ideal solution for any destination with heavy censorship. Currently, the VPN works reliably on du networks, but Etisalat is notoriously trickier – the native client may be detected, so a manual configuration is recommended.
With ExpressVPN, you enjoy thousands of servers in over 90 countries, as well as unmatched speeds and handy features like split tunneling. Live chat support is friendly and responsive, and all the apps are polished to perfection. But don't just take our word for it – check out what users have to say about this top-shelf VPN.
Money-back guarantee:
30 days, full-satisfaction
ExpressVPN can unblock:
Netflix, Hulu, HBO, Amazon Prime Video, Showtime, Sling TV, DAZN, and BBC iPlayer.
Supports torrenting:
Yes, all servers support P2P activity.
ExpressVPN works on these devices:
Windows, macOS, Android, iOS, Android TV, Linux, Chrome, and Firefox. It also offers an app for use with certain routers.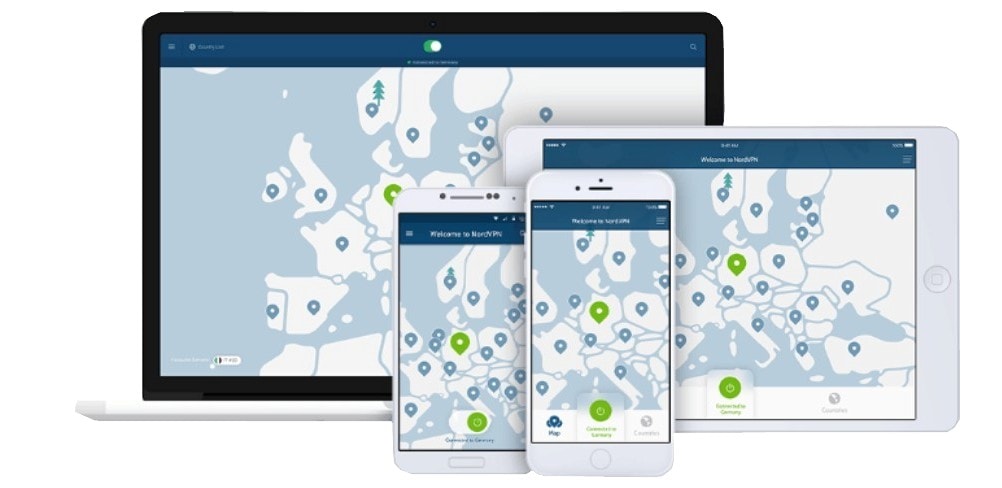 NordVPN is famous for its vast server network (currently at over 5,100 servers in 62 countries), as well as unmatched performance for its price. But this VPN has a lot to offer against censorship, too.
Using the obfuscated servers in the client, you can get past VPN blocks and continue using the VPN while you're hidden from ISPs. The best part is you aren't limited to Windows or Mac – NordVPN has excellent clients for all major platforms, so you can use it without a worry on mobile as well.
You also get a few obfuscated servers in the UAE, so you can have full access to your favorite websites and services back home, even if you're currently away.
Additionally, NordVPN can be set up with Obfsproxy, an anti-censorship solution developed by Tor. This will require some expertise, but it should be your last resort if you're having trouble with the obfuscated servers – and you probably won't.
Lastly, NordVPN has excellent customer support and regularly introduces service updates with new servers and valuable improvements. It's fast, capable, and easy to use, which is why it takes the #1 spot as a crowd favorite.
Money-back guarantee:
30 days, full-satisfaction
NordVPN can unblock:
Netflix, HBO, Hulu, Showtime, BBC iPlayer, Amazon Prime Video, and Sling TV.
Supports torrenting:
Yes, P2P specialty servers available.
NordVPN works on these devices:
Windows, macOS, Android, iOS, Android TV, Linux, Chrome, and Firefox. It's also compatible with routers.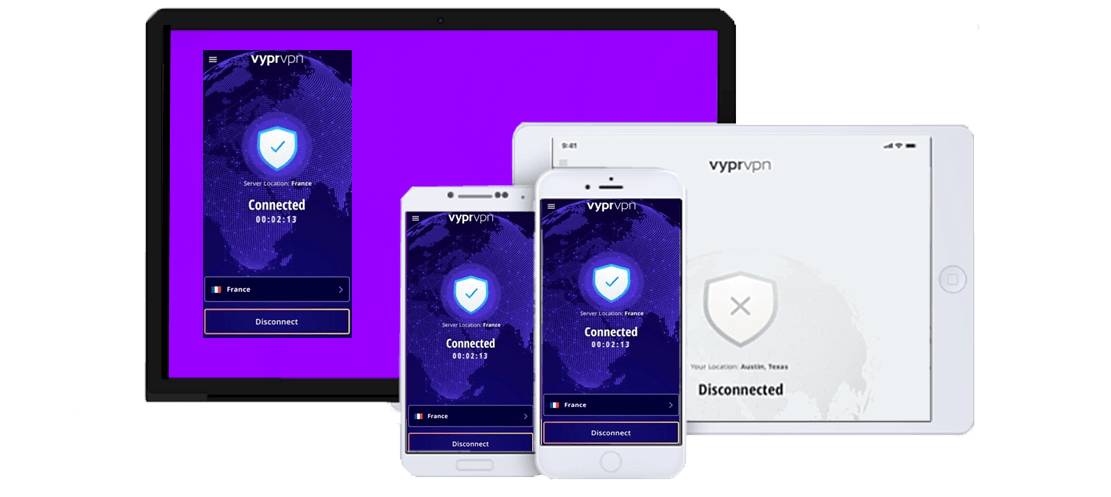 VyprVPN already has a reputation for its solid performance and unblocking – especially in China. This VPN can help you stay safe and secure in Dubai, too.
It's all about the proprietary Chameleon protocol here. Designed specifically to tackle deep packet inspection, this OpenVPN-based protocol comes with the Premium plan. This increases the cost of the VPN, but it's very much worth it.
It's worth noting that the Chameleon protocol isn't available on VyprVPN's iOS client, so if you're planning on primarily using your iPhone, you'll be better off with another VPN on the list.
Vypr puts over 700 servers (totaling at 200,000+ IP addresses) in your hands, with impressive speeds and all the essential features. You even get a VPN server in Dubai for all your unblocking needs! All of that comes at a price, however, and you don't have the option of a refund. Still, VyprVPN is hailed as a reputable service, as you can see in our user reviews.
Money-back guarantee:
VyperVPN can unblock: 
Netflix, Hulu, BBC iPlayer.
Supports torrenting: 
Yes, all servers support P2P activity.
VyperVPN works on these devices:
Windows, macOS, Android, iOS, Routers, Android TV, QNAP, Blackphone, Anonabox.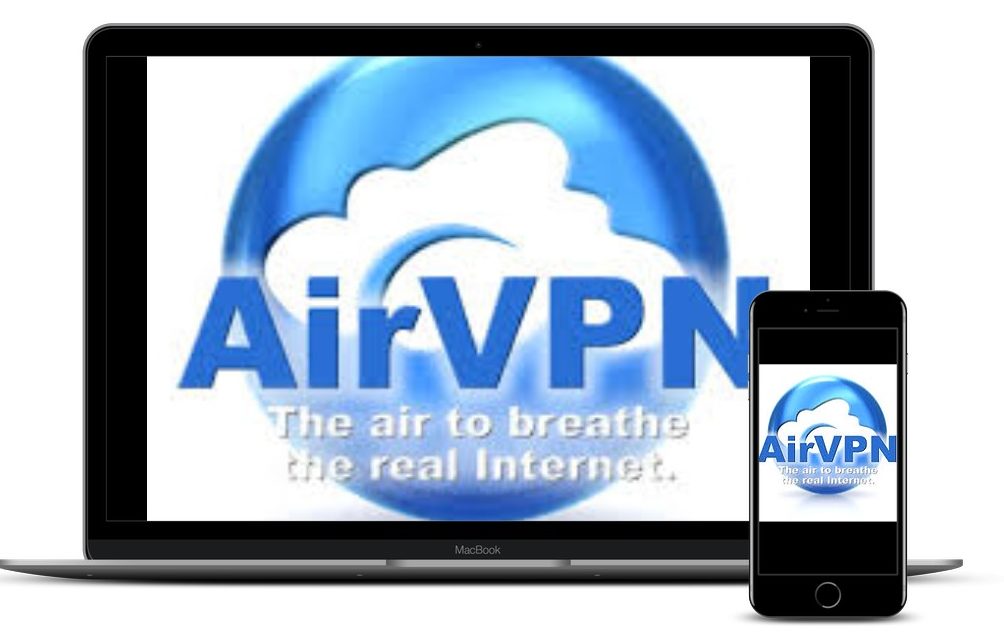 AirVPN may not offer the most user-friendly service around, but it's a real champion on the technical side of things.
If you want to make sure censorship doesn't affect you, you can configure AirVPN to work with SSL Tunnel. It makes the OpenVPN protocol connect over SSL, hiding you ever better from your ISP and letting you keep all the benefits of OpenVPN. The price is a minor drop in performance.
AirVPN also gives you a decent choice of servers, reliable performance, and flexible pricing including a 3-day plan. With that said, there's no live chat and the VPN doesn't make things easy for beginners – but that doesn't stop it from being praised by users in their reviews.
Money-back guarantee:
3 days, must be under 5GB of bandwidth used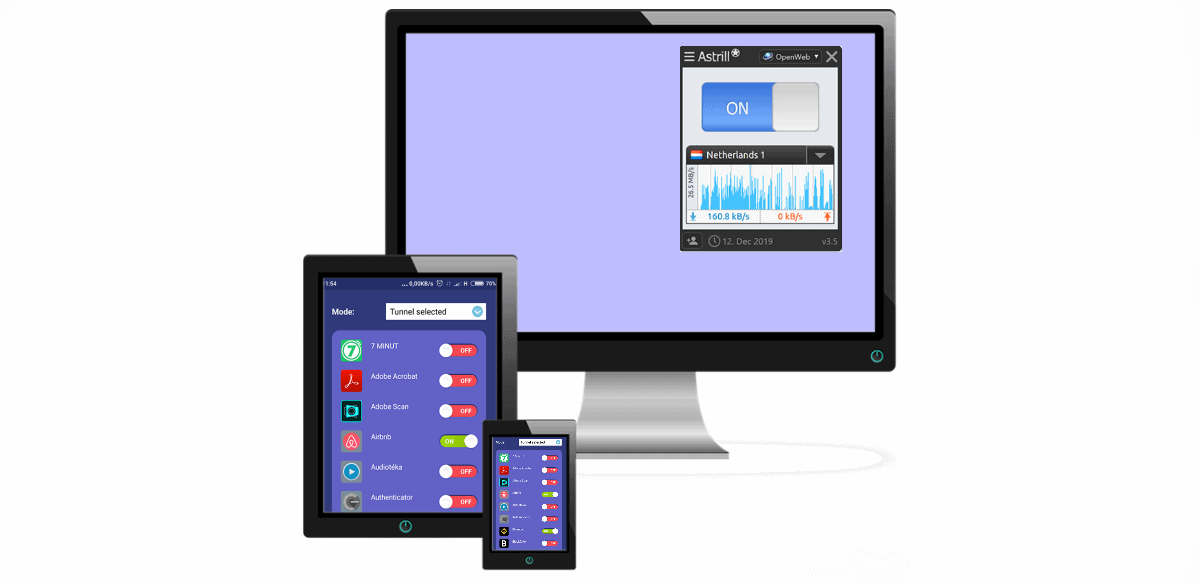 Astrill VPN is popular in Asia, mainly because it takes stealth protocols very seriously. You have not one, but two options here – the StealthVPN proprietary protocol works great against censorship, and OpenWeb is very effective against deep packet inspection.
In addition to a compact but capable network (330+ servers in over 60 countries), Astrill VPN offers a VIP add-on that improves speeds and reduces latency for users in Asia. However, this bumps up the cost considerably – and this VPN is already on the pricey side. Furthermore, the other available clients aren't on the same level as the Windows client, so you may want to look at one of the other VPNs on this list if you aren't a fan of Microsoft.
If you can justify the price, Astrill VPN is a worthwhile VPN for Dubai. UAE residents abroad will also appreciate the available servers in Dubai. Feel free to check out the opinions of users if you're having doubts.
Money-back guarantee:
7 days, but only if you haven't redeemed the free trial
Summary
VPN users have it tough in Dubai, but that hasn't stopped them from maintaining a big presence. If you know the risks, play by the rules, and get a solid VPN, you can have a great time anywhere in the UAE, all while keeping your online activity to yourself.
DISCLAIMER: We are not lawyers or legal specialists on the finer details of UAE laws. Although we've carefully researched the subject to provide you with working, up-to-date solutions, none of the content in this article should be considered legal advice.
Looking for a premium VPN at a budget price? You're sure to find it in the hottest VPN deals going on right now! Remember to check back often – new bargains are coming all the time.
To summarize, the best VPNs for Dubai in October 2020 are …
Provider
Our Score

9.8

/10

9.8

/10

8.8

/10

8.0

/10

8.0

/10
Privacy Alert!
You are exposing yourself to the websites you visit!
The information above can be used to track you, target you for ads, and monitor what you do online.
VPNs can help you hide this information from websites so that you are protected at all times. We recommend NordVPN — the #1 VPN out of over 350 providers we've tested. It has military-grade encryption and privacy features that will ensure your digital security, plus — it's currently offering  68% off.