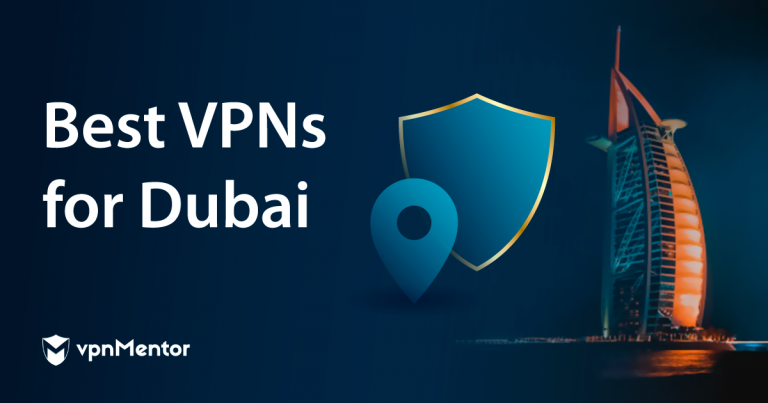 3 Best VPNs for Dubai & The UAE – Safe & Fast in 2021
If you live in Dubai or have been there in the past five years, you may already be aware of the popularity of VPNs throughout the UAE. From Skype to Netflix, VPNs have been used to bypass censorship and unblock all sorts of restricted content.
Unfortunately, things have changed for VPN users in the gulf country. Today, it's much harder to find a reliable service for Dubai — although VPN usage remains popular, there are a few important things you need to know in order to remain safe and secure while surfing the web.
I have carefully researched and put together an up-to-date list of the best VPNs for Dubai (and elsewhere in the UAE). After concluding my tests, whether you're a long-time resident or simply visiting, there is no better VPN for surfing the web anonymously in Dubai than ExpressVPN.
Start Using A VPN in Dubai Now!
Short on Time? Here's a Quick List of the Best VPNs for Dubai
ExpressVPN — Thanks to its "stealth" servers, ExpressVPN is a highly-reliable solution to the problem of geo-blocking. Add a versatile server network, easy setup, and amazing speeds into the mix, and you have one of the most impressive VPN services on the market.
CyberGhost — A kill switch disconnects the VPN (and all connected apps) should your server fail, and DNS leak protection prevents DNS requests from being revealed to your ISP and other third-parties.
Private Internet Access — Strong encryption combined with an automatic kill switch keeps you safe while torrenting.
Start Using A VPN in Dubai Now!
The Best VPNs for Dubai — Full Analysis (Updated November 2021)
Since mid-2017, the Telecommunications Regulatory Authority (TRA) and major telecom operators have been cracking down on VPNs in the UAE — the reasons for which have a lot to do with religion, politics, and business.
The UAE's stance on content blocking forbids access to any content that goes against the "ethics and morality of the UAE". Examples include pornography, gambling, anti-religious websites, and much more. Even Wikipedia articles and Israeli websites have been blocked — as are VoIP services like WhatsApp and Skype. Skype used to be a major reason for the use of VPNs in Dubai, however, using Skype nowadays is considered a crime under UAE law.
3,000+ servers
90-day money-back guarantee
5 simultaneous device connections
Zero-logs policy
Works with: Netflix, Amazon Prime Video, BBC iPlayer, Hulu, Vudu, HBO GO, Disney+
Compatible with: Windows, Android, iOS, macOS, Ubuntu, Linux, Router, Chrome, Edge, Firefox.
When it comes to speed combined with security, ExpressVPN is one of the best choices available for use in Dubai.
Although ExpressVPN's stealth servers were originally implemented for bypassing the Great Firewall of China, they are an ideal solution for any destination with heavy censorship.
ExpressVPN is equipped with an automatic kill switch — a great way for protecting all of your sensitive information, including your true IP address, if the VPN gets disconnected. It also has a strict, zero-logs policy (meaning no data or history is stored).
ExpressVPN is compatible with all macOS, Windows, Linux, iOS, and Android devices and allows you to use one subscription on up to five devices. Whether I was surfing the web on my phone or my laptop, I was completely protected at all times.
I could easily access geo-blocked streaming services including Netflix US, Amazon Prime Video, BBC iPlayer, and more.
ExpressVPN also features a 30-day money-back guarantee, which I had to try out. After a few attempts to get me to stay, they gave up and deposited the money back into my account — no problems at all. If you're still feeling a little unsure security-wise, you can further hide your identity by paying with Bitcoin.
Over 7,450 servers in 90 countries — over 12 located throughout the UAE
45-day money-back guarantee
7 simultaneous device connections
Streaming and torrenting-optimized servers
Works with: Netflix, Amazon Prime Video, BBC iPlayer, Hulu, Vudu, HBO GO, Disney+
Compatible with: Windows, Android, iOS, macOS, Ubuntu, Linux, Router, Chrome, Firefox.
Boasting over 7,450 servers (at least 12 servers located in Dubai), CyberGhost is both incredibly fast and highly reliable when it comes to unblocking and streaming content in Dubai.
Making use of 256-bit AES encryption, a built-in kill switch, and leak protection software for maximum security, CyberGhost is another VPN that takes security seriously. In addition, a no-logs policy is firmly in place to make sure none of your personal data or history is stored.
I really like how CyberGhost's servers are labeled based on which streaming providers they provide access to best — this way, you don't have to cycle between servers, searching for the best fit.
CyberGhost offers a whopping 45-day money-back guarantee, which is almost unheard of when it comes to VPNs of this quality. I literally waited until the 44th day then contacted them via their 24/7 live chat support — without even a question asked, I had the money safely back in my bank account in less than a week.
More than 29,650 servers in 70 countries
30-day money-back guarantee
10 simultaneous device connections
High-speed
Works with Netflix, Hulu, BBC iPlayer, Amazon Prime Video, Sky Go
Compatible with: Windows, Android, iOS, macOS, Ubuntu, Linux, Router, Chrome, Firefox.
Due to its vast number of servers spread throughout the world, Private Internet Access is a popular choice when it comes to unblocking content and streaming services, such as Netflix US, Amazon Prime Video, HBO, and more.
Speaking as someone who prefers torrenting to streaming — this VPN has it all. With the insane number of servers aside, Private Internet Access features first-class encryption, an automatic kill switch, and a strict no-logs policy, making it an amazing option for downloading your favorite torrents with speed and privacy.
Aside from torrenting and streaming, it's high speeds make it a great option for gaming and video-calling, too.
Although Private Internet Access features 24/7 live chat support, I found it to be a little slow. The good news is their website is jam-packed with tons of useful troubleshooting information.
Try Private Internet Access Today!
How To Unblock Websites In Dubai Using A VPN
Choose a VPN service that has servers both inside and outside of the UAE. I recommend ExpressVPN, as it allows you to unblock international content including Netflix US, Amazon Prime Video, and many more.
Install the VPN application and connect to a server in your target location.
That's it — you're now fully connected and your desired websites/services have been unblocked.
How I Tested The Best VPNs For Dubai
In order to gain unlimited access to geo-blocked content both inside and outside of heavily censored countries, like Dubai, a VPN needs to be lightning-quick, security-focused, and highly reliable. After many sleepless nights spent vigorously testing VPN services, I determined the following features to be absolutely necessary for use in Dubai.
State-of-the-art encryption: Security is something that every VPN on my list takes seriously. As online security within Dubai cannot be overstated, look for a VPN that utilizes industry-leading 256-bit AES encryption (such as ExpressVPN). This will ensure your browsing habits, personal information, and more, remain safe from any unwanted third-party attention.
Obfuscated Servers: A vast server network and blazing speeds won't matter one bit should your VPN be detected and blocked. Look for obfuscated servers, designed to obscure your Internet traffic, hiding the fact that you're even using a VPN.
No-logs policy: This feature guarantees that your personal information will not be stored and handed over to third-parties. Even if the government were to request a copy of this private information, a copy could not be handed over as, with a no-logs policy, the data simply doesn't exist.
Kill switch: This feature automatically disconnects you from the Internet, to help prevent tracking should your VPN connection drop.
Worldwide server network: Server location is essentially what allows you to gain access to geo-blocked content in a specific region. In other words, the more servers a VPN has spread across the globe, the more regionally-restricted content you can access. All of the VPNs that made my list can bypass geo-blocks — the final factor in unlocking true freedom when surfing the web with the UAE.
Servers located within the UAE: In order to access local content from outside of Dubai, there must be servers located near, or within the UAE. This way, when you're traveling outside of Dubai, you can easily access your favorite web content from anywhere in the world. All of the VPN services on my list have servers located near, or directly within the borders of the UAE.
High speed: If you're into gaming, torrenting, or streaming, then speed is going to be a top priority for you. High speed equals less buffering, lagging, and helps eliminate poor image/video quality.
What You Need To Know About Using A VPN In Dubai
As VPN websites within the UAE are often prone to blacklisting, If you're traveling to Dubai, I always recommend downloading, installing, and making any personalized adjustments to your VPN before arriving in the UAE. This way, upon arrival, you'll be ready and able to access your favorite content back home.
Because the UAE has banned such free VoIP services such as WhatsApp, Skype, and FaceTime, many people have turned to basic VPN services in order to avoid the networks' monopoly when it comes to chatting with friends and family inside and outside of Dubai. Although a basic VPN will allow you to make some quick calls, if you wish to remain free from government and hacker surveillance and stream exclusive geo-blocked content from around the globe, then you need one of the VPNs on my list.
FAQs About VPNs For Dubai
Are VPNs legal in Dubai?
Although VPN use is not technically illegal in Dubai, it is a bit of a grey area. As long as you're not using your VPN to break any "ethics and morality" laws, including the viewing of pornography, gambling, and accessing anti-religious websites, you'll be just fine. That being said, although I don't condone breaking the law, I also believe in freedom of information. For this reason, should you choose to use a VPN in Dubai, I recommend you assess issues relating to legality and privacy concerns.
Can you use a free VPN in Dubai?
Although a free VPN may sound attractive, I would absolutely not recommend using one — especially in Dubai. Security issues aside, free VPNs often can't cut it when it comes to streaming, video-calling, torrenting, and gaming due to data caps and network congestion. Furthermore, as many countries have begun implementing anti-VPN technology, many free VPNs are simply not equipped with the technology required to by-pass these measures.
Is online shopping safe in Dubai with a VPN?
Absolutely! A VPN provides an extra layer of security when banking and shopping online no matter where you are in the world. As all of the VPNs on my list encrypt your data, even if someone were to intercept your Internet traffic, they couldn't read its contents. VPNs are especially necessary for those of us who tend to access our banking information using public WiFi — a favorite hangout for online criminals and hackers looking to steal data.
The Bottom Line
VPN providers have it tough in Dubai, but that hasn't stopped them from maintaining a big presence. If you know the risks, play by the rules, and use one of the VPNs on my list, you can browse the web, safely and anonymously from anywhere in the UAE. For this, consider ExpressVPN — of all of the VPNs that I tested, it stood out from the rest in terms of speed, privacy, and security while browsing the web in Dubai.
To summarize, the best VPNs for Dubai in November 2021 are…
Privacy Alert!
Your data is exposed to the websites you visit!
The information above can be used to track you, target you for ads, and monitor what you do online.
VPNs can help you hide this information from websites so that you are protected at all times. We recommend ExpressVPN — the #1 VPN out of over 350 providers we've tested. It has military-grade encryption and privacy features that will ensure your digital security, plus — it's currently offering 49% off.