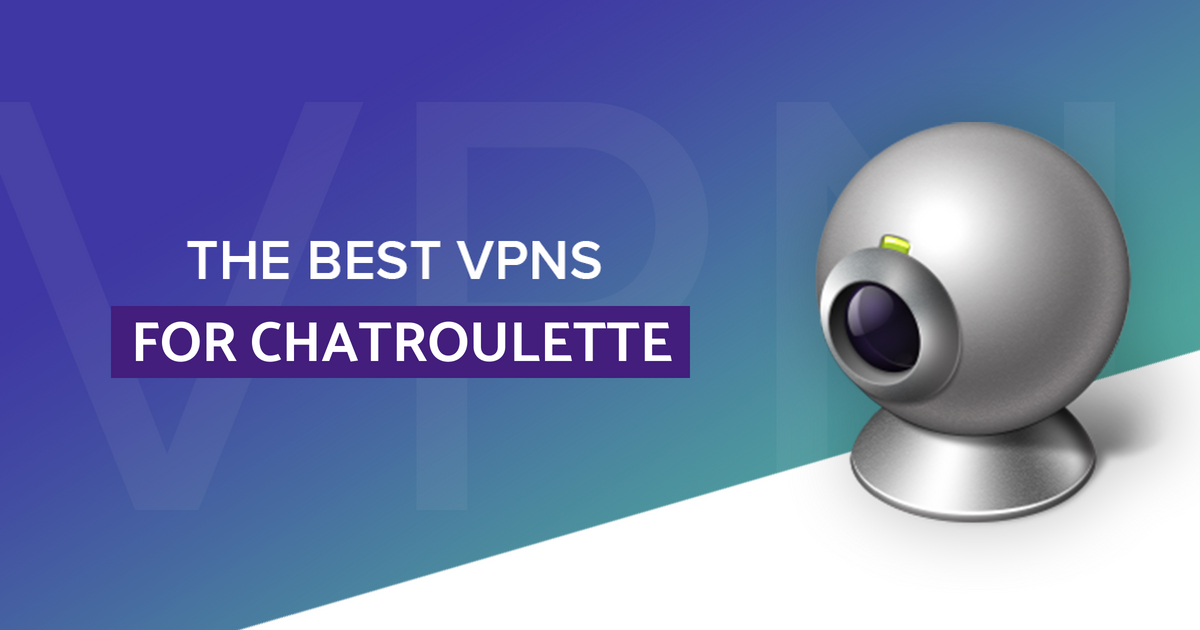 4 Best VPNs for Chatroulette in 2023 - Fastest and Cheapest
Do you want to get on Chatroulette from your school or university, but blocks are in the way? Feel like meeting complete strangers and making unexpected friends, but your country's heavy internet censorship won't allow it? Don't worry – you can easily access this online chat site from anywhere with the right tool for the job.
Because of Chatroulette's somewhat notorious reputation, it's often blocked on certain networks. Furthermore, users can easily get an undeserved ban over harmless arguments with staff – or get automatically suspended due to intentional abuse of the report system.
The good news is that with a solid virtual private network (VPN) by your side, you won't have to worry about restricted access to Chatroulette ever again! As an added bonus, you'll be able to keep your identity safe and enjoy extra protection on the internet.
Check out our summary below for a quick solution to your problem! If you'd like to learn more about why you want a VPN for Chatroulette, we invite you to read on.
Short on Time? Here Are the Best VPNs for Chatroulette
Why You Need a VPN for Chatroulette
Although the days when Chatroulette was one of the most popular online chat hubs are long gone, it's still visited by thousands of users around the world.
We won't pretend that chat sites like Chatroulette or Omegle are 100% innocent places for a bit of harmless fun – while the rampant problems with "adult content" have died down in recent times, these chat services are still a little like the Wild West.
This is a valid reason for many schools, universities, and workplaces to block Chatroulette on their networks. Some countries (Pakistan, China) are also known for regularly blacklisting the online chat site.
Another issue many face with Chatroulette is arbitrary banning. While we agree that many bans on this site may be fully deserved (due to obscenities, spamming or breaking the law), it's not unusual for a user to be suspended over petty reasons like arguing with moderators. Sometimes, you may even be targeted by pranksters, resulting in an auto-ban after a few reports.
Lastly, here's probably the most serious problem: the privacy risk. Because Chatroulette is so basic, there really aren't any advanced measures to protect your identity. And even though you aren't required to register, your chat logs can be easily hijacked in a phishing attack. If you made the mistake of revealing any personal information, you can be in big trouble.
Using a VPN can help with all of the issues we highlighted above. Here's how:
You can use Chatroulette much more safely. By hiding your real IP address and encrypting your connection, you'll be safe from hackers and websites/ISPs who want to sell your browsing data.
You'll be able to unblock Chatroulette wherever you are. If Chatroulette is restricted by your school, university, workplace, or ISP, you can simply connect to a VPN server in another country and bypass any blocks in your way. If your VPN is well-equipped, you can even deal with the Great Firewall of China!
You won't have to worry about bans. VPNs offer a quick and easy solution to Chatroulette bans – simply change your IP address and start chatting again! Some VPN servers may already be blacklisted by Chatroulette, so you'll want a bigger network.
If you aren't familiar with VPNs and want to learn more, check out our beginner's guide.
Keep in mind that we do not condone using a VPN for evading justified bans. We support the right to freely access any website on the internet, but we don't encourage using VPNs for illegal purposes or activities that go against the respective site's terms of use.
We'd also like to advise against using Chatroulette if you're under 18 years old. While the chats are moderated and the site tries to enforce the rules as best as possible, graphic sexual content is still a common sight.
What You Should Look for in a VPN for Chatroulette
In order to make sure your VPN works flawlessly with Chatroulette, you need to look for a few important qualities:
Variety in servers. As we mentioned, Chatroulette often bans VPN servers, like many other websites. To ensure you have smooth access every time, choose a VPN with a big, global network. The more servers, the better.
Speed. While Chatroulette isn't as demanding as live streams, having a fast connection will guarantee smooth chat sessions. Some VPNs are incredibly sluggish – avoid those and opt for one that's known for its high, reliable speeds.
Security. Strong encryption separates the best VPN services from the rest. In addition, every solid VPN has essential features like leak protection and a kill switch. If you care about the safety of your network traffic, pick a VPN that doesn't play around with your security.
It may seem like a challenge to find the ideal VPN for your needs, but it's easy with a little help. We've listed the best VPNs for Chatroulette below – take a look!
The Best VPNs for Chatroulette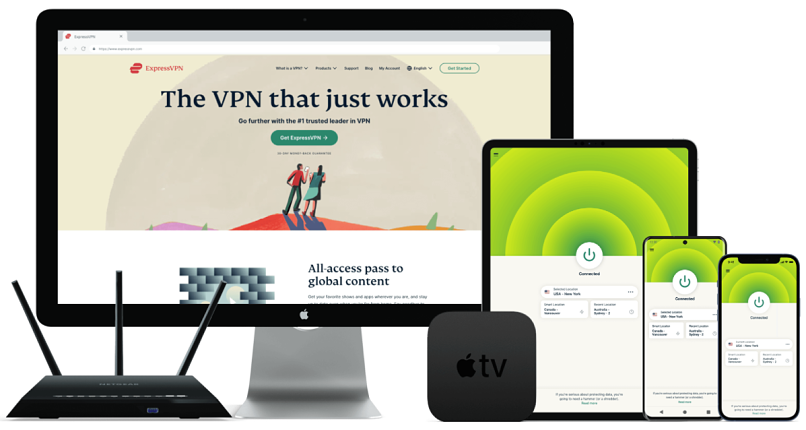 Editor's Choice
Editor's Choice

Tested January 2023
Try Risk-Free for 30 Days
Available on:
Chrome
Router
Smart TV
More
www.ExpressVPN.com
ExpressVPN has all the qualities of a leading VPN service – strict privacy, thousands of servers, and some of the fastest speeds around. Add great features like split-tunneling to the mix, and you're looking at one of the best VPNs on the market.
This VPN certainly isn't cheap, but it has plenty of great deals. Plus, you can always try it for a whole month without risking anything, thanks to its 30-day money-back guarantee. ExpressVPN is definitely worth it, but don't just take our word for it – see what users have to say!
CyberGhost offers dependable VPN protection, great speeds, and one of the easiest to use interfaces you'll find. The 9,753 servers give you plenty of choice, and the premade profiles can instantly configure the VPN according to your needs.
CyberGhost has all the essential features, and you can use it simultaneously on up to 7 devices. What's more, it comes with a 7-day free trial for mobile devices along with a 45-day money-back guarantee for every plan. This VPN is one of the crowd favorites.
If you want an affordable, yet reliable VPN, take a look at this one. PrivateVPN maintains a low profile, so its modest network of 200 servers still works for unblocking popular websites – including Chatroulette. This VPN is also maintained very well, so expect great speeds and solid uptime.
PrivateVPN isn't as big as other services on this list, but it gets the job done with ease. You get a 30-day refund guarantee (only if you've used less than 100GB of bandwidth), in addition to a 7-day trial – but you'll need to contact support and explain why you need it beforehand. Not sure if this is the VPN for you? Check out what users think about it.
Want a budget VPN with a huge number of servers? PIA gives you that, and a lot more. You'll have 29,650 servers in 84 countries, as well as plenty of useful features – and all of that at a very cheap price!
PIA isn't the ideal VPN service – its company headquarters are in the United States, so it's under the jurisdiction of the 5/9/14-Eyes Alliance. Plus, customer support can be a bit sluggish at times and not all servers perform up to expectations (although most do). But over the years, this provider has shown that it cares about its users. There isn't another VPN that offers so much at such a cheap price, and you even get a 30-day money-back guarantee. If you're still having doubts, feel free to check out PIA's user reviews.
Final Words
Even if Chatroulette is blocked for you, you can easily solve this problem with the right VPN – and you'll be chatting away securely in no time! Simply launch, connect, and enjoy!
Grab a premium VPN for pocket change by checking out the best VPN deals you can get right now! New offers are coming soon, so watch this space.
To summarize, the best VPNs for Chatroulette are...
Privacy Alert!
Your data is exposed to the websites you visit!
The information above can be used to track you, target you for ads, and monitor what you do online.
VPNs can help you hide this information from websites so that you are protected at all times. We recommend ExpressVPN — the #1 VPN out of over 350 providers we've tested. It has military-grade encryption and privacy features that will ensure your digital security, plus — it's currently offering 49% off.