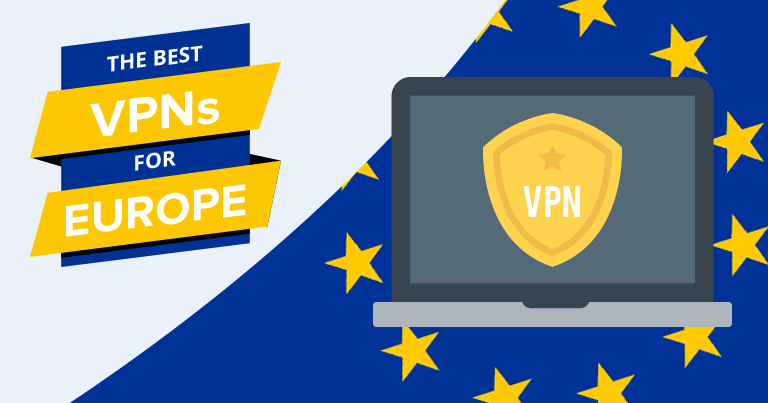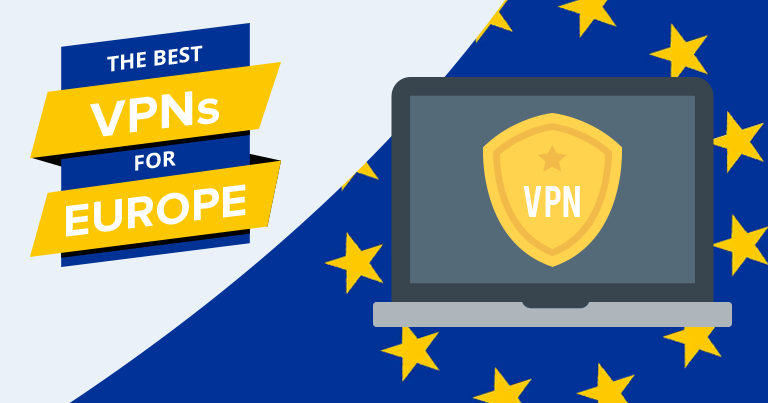 3 Best VPNs for Europe in 2021: Fast, Safe & Reliable
Updated on 16th June 2021
As a citizen of Europe, I can tell you from first-hand experience that online fraud is a growing concern throughout the region. Regardless of whether you're a visitor using public Wi-Fi, or a lifelong resident of a European country looking to torrent safely and access geo-blocked content — a VPN is a must.
A VPN allows you to secure your connection and reduce the risk of online fraud and cyber attacks. You can hide your location, surf anonymously, and stream local, national, and international programs without having to worry about hackers, malware, and viruses.
I've done the research — I tested over 86 VPNs and hands down, the best VPN to safely and anonymously surf the web in Europe is ExpressVPN. It even features the same encryption used by the US Government and security experts worldwide.
Short on Time? Here's a Quick List of the Best VPNs for Europe
ExpressVPN — Boasts incredible geo-unblocking capabilities, allowing you to access international content both inside and outside of Europe.
CyberGhost — Kill switch and DNS leak protection hides your browsing activity from the government.
Private Internet Access — Strong encryption combined with an automatic kill switch keeps you safe while torrenting.
Start Using A VPN in Europe Now!
The Best VPNs for Europe — Full Analysis (Updated July 2021)
A VPN secures your internet connection, changing your IP address to protect your privacy. For residents of European countries, this means you can torrent safely without putting your data at risk or your activities being watched. It also provides you with access to your favorite local streaming channels (whether Pantaya or RTVE in Spain or HRT and Klasik TV in Croatia) and allows you to view geo-restricted services like Netflix US, too.
I spent weeks running speed tests, analyzing leak protection data, and reading over privacy policies. Out of the 86 VPNs that I tested, three stood out from the rest in terms of their ability to bypass GEO-restrictions, protect user privacy, and deliver high-speed performance.
3,000+ servers across 94 countries, including 49 countries in Europe
30-day money-back guarantee
Supports up to 5 devices with one connection
TrustedServer technology guarantees all servers are equipped with the most up-to-date software available
Works with: Netflix, Amazon Prime Video, BBC iPlayer, Hulu, Vudu, HBO GO, Disney+
Compatible with: macOS, Windows, Linux, iOS, Android, browsers, routers
With ExpressVPN, I could safely browse the web with complete privacy and anonymity. By using only the highest levels of encryption, all of your internet traffic remains camouflaged, making information-deciphering virtually impossible.
I really like their automatic killswitch that protects all of your sensitive information, including your true IP address, if you get disconnected. ExpressVPN also follows a strict, zero-logs policy, meaning no data or history is stored — it's like you were never there in the first place.
ExpressVPN is compatible with macOS, Windows, Linux, iOS, and Android devices and allows you to use one subscription on five devices. Whether I was browsing the web on my phone or my laptop, I was completely protected at all times.
ExpressVPN is equipped with a split-tunneling feature that allows you to access international content without losing access to local services. I love this feature as constantly switching servers can be aggravating.
ExpressVPN offers 24/7 live chat support, complete with troubleshooting, instructional, and video tutorials.
ExpressVPN also features a 30-day money-back guarantee. Again, I tried it out and although they made a few attempts to get me to stay, after I assured them I wasn't interested, they deposited the money back into my account within a week's time. If you're still feeling a little unsure security-wise, you can even hide your subscription by paying with Bitcoin.
Over 7,004 servers across 34 European countries
45-day money-back guarantee
Supports up to 7 devices with one subscription
Streaming and torrenting-optimized servers prevent buffering
Works with: Netflix, Amazon Prime Video, BBC iPlayer, Hulu, Vudu, HBO GO, Disney+
Compatible with: Android, iOS, macOS, Linux, Windows, browser extensions, routers
Boasting over 7,004 servers (34 spread throughout Europe), CyberGhost is both incredibly fast and highly effective when it comes to unblocking and streaming content in Europe.
I really like how CyberGhost's servers are labeled based on which streaming providers they provide access to best — this way, you don't have to cycle between servers, searching for the best fit.
CyberGhost is equipped with P2P-optimized servers making it a highly suitable choice for streaming and torrenting both inside and outside of Europe.
CyberGhost also makes use of 256-bit AES encryption, a built-in kill switch, and leak protection software for maximum security. On top of that, a no-logs policy is firmly in place. Unlike the other VPN services on my list that include a 30-day money-back guarantee, CyberGhost offers a 45-day money-back guarantee. To test this, I literally waited until the 44th day then contacted them via their 24/7 live chat support — no issues whatsoever. After a few questions, I had the money safely back in my bank account in less than a week.
35,550 servers in 78 countries, including 3,512 located in Europe
30-day money-back guarantee
10 simultaneous connections with a single subscription
High speeds make it a great option for torrenting, streaming, and gaming
Works with: Netflix, Amazon Prime Video, BBC iPlayer, Hulu, Vudu, HBO GO, Disney+
Compatible with: iOS, Android, Windows, macOS, Linux, routers, browsers
When it comes to accessing geo-blocked material in Europe, Private Internet Access checks all of the boxes in terms of security, speed, and confidentiality.
Private Internet Access killed every speed test I threw its way and proved to be a stable option for torrenting, streaming, gaming, and video-calling, too.
With one subscription I could use Private Internet Access on up to 10 separate devices.
Although I found the 24/7 live chat support to be a little slow, their website is chock-full of useful troubleshooting information.
Try Private Internet Access Today!
How To Unblock Websites In Europe Using A VPN
Choose a VPN service that has servers both inside and outside of Europe. I recommend ExpressVPN, as it allows you to unblock international content including Netflix US, Amazon Prime Video, and many more.
Install the VPN application and connect to a server in your target location.
That's it — you're now fully connected and your desired websites/services have been unblocked.
How I Tested The Best VPNs For Europe
In order to gain unlimited access to geo-blocked content both inside and outside of Europe, a VPN needs to be lightning-quick, security-focused, and highly reliable. Luckily for you, I spent a couple of months rigorously putting each VPN service to the test. Here's what I looked at:
State-of-the-art encryption: Security is something that every VPN on my list takes seriously. For best results, choose a VPN that utilizes industry-leading 256-bit AES encryption (including ExpressVPN and CyberGhost), which makes it virtually impossible for your true identity to be revealed.
Kill switch: This feature automatically disconnects you from the Internet, preventing any leaks should your VPN connection drop.
No-logs policy: This feature shields your identity so well, it's almost as if you were never there — a perfect feature for anyone wanting to remain anonymous in Europe.
Worldwide server network: The more servers there are peppered across the globe, the more access you'll have to geo-blocked websites and content. All of the VPNs that made my list can bypass geo-blocks — the final key to unlocking true freedom when surfing the web in Europe.
Servers in or near the European country you reside in: This means access to local content with anonymity — all of the VPN services on my list have plenty of servers located throughout various European countries.
High speed: If you're into gaming, torrenting, or streaming then speed is going to be a top priority for you. High speed equals less buffering, lagging, and poor image/video quality.
What You Need To Know About Using A VPN In Europe
By encrypting your internet connection, a VPN prevents your Internet Service Provider (ISP), and the government from spying on your online activities. As hackers love to target unprotected Wi-Fi hotspots — like those found in cafes, airports, hotels, etc — in search of bank and bill-paying details, subscribing to a VPN service is not only wise, it's a must.
Aside from security, as you can mask your actual geographical location making it appear as if you're in the country of your choice, a VPN allows you to access content that is geographically blocked to that specific region or country.
FAQs About VPNs For Europe
😊 Can I watch Netflix US in Europe?
Although Netflix is widely available throughout Europe and most of the world, the content that is available varies from country to country. A VPN allows you to "spoof" your actual geographical location so you can gain access to Netflix content from virtually any region or country of your choice.
😊 Can I use a free VPN service in Europe?
You can use a free VPN service in Europe, but I don't recommend it. While conducting my speed tests, I found that free VPNs often perform poorly due to network congestion and data caps, meaning they aren't great for streaming and gaming.
Even if you manage to find a free VPN with good performance, they almost always fail to unblock streaming services such as Netflix, due to the fact that many streaming services have begun implementing anti-VPN measures. Only the best VPN services can get around this — like the ones featured on my list.
😊 Can I watch my favorite European sports channels abroad on my TV?
Although most big matches (depending on the sport) are available in many regions of the globe, specific matches are often only available for viewing inside of their home viewing area. Via the assistance of a VPN app on your Smart TV or home router, you can view matches from literally all around the world on the big screen.
Bottom Line
When choosing a VPN for use across Europe, whether it's for torrenting or safely accessing your online bank, privacy and security should be on the top of your list. All of my top VPNs for Europe meet these criteria and offer so much more.
After concluding all of my tests, concerning speed, privacy, and security, there is no better VPN available for use in Europe than ExpressVPN.
If you're still curious about VPNs for Europe, there are more top choices available here. If you would like to learn more about the benefits of a VPN, then read our VPN Guide for more information.
To summarize, The best VPNs for Europe in July 2021 are…
Privacy Alert!
Your data is exposed to the websites you visit!
The information above can be used to track you, target you for ads, and monitor what you do online.
VPNs can help you hide this information from websites so that you are protected at all times. We recommend ExpressVPN — the #1 VPN out of over 350 providers we've tested. It has military-grade encryption and privacy features that will ensure your digital security, plus — it's currently offering 49% off.