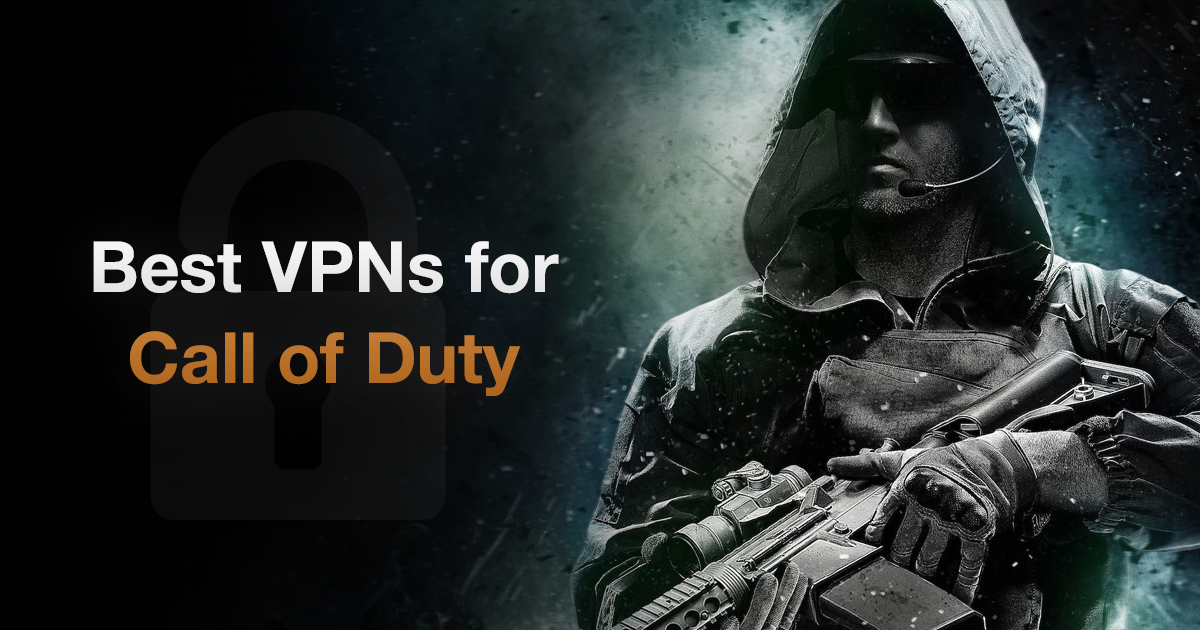 5 Best VPNs for Call of Duty in 2023 (Works With COD Mobile)
Updated on 20th January 2023
Although it's an epic game franchise, Call of Duty has its limitations, and it's hard to know which VPN will help you overcome them. For one, you may find yourself unable to play with friends in other regions. Furthermore, Call of Duty's skill-based matchmaking (SBMM) can make every lobby annoyingly difficult. Finally, it's possible for in-game hackers to trace your IP and DDoS your home network, interrupting your gameplay.
The best Call of Duty VPNs give you access to an international network of servers, so you can switch to a region where the game isn't unpopular to get easier lobbies. This also helps you unlock different regional game packs. Plus, VPNs protect your home network from DDoS attacks, ensuring your game won't be interrupted by hackers.
After testing 100+ VPNs on both desktop and mobile, I recommend ExpressVPN for any Call of Duty game. Its lightning-fast speeds, extensive server network, and robust security features can significantly improve your gameplay all while helping you bypass SBMM. You can test ExpressVPN with Call of Duty risk-free as it's backed by a 30-day money-back guarantee. If you don't like it, you can get a full refund.
Try ExpressVPN Risk-Free Today
Important! While COD's Terms & Conditions do not state anything about VPN use, using software to gain an unfair advantage or inflate your stats is prohibited. Using a VPN to access easy lobbies could fall under this, though as of yet, there is no evidence anyone has been banned for doing so. Still, you may be risking action against your account if you plan to use a VPN for this purpose.
Short on Time? Here Are the Best VPNs for COD in 2023
The Best VPNs for Call of Duty Multiplayer – Full Analysis (Updated 2023)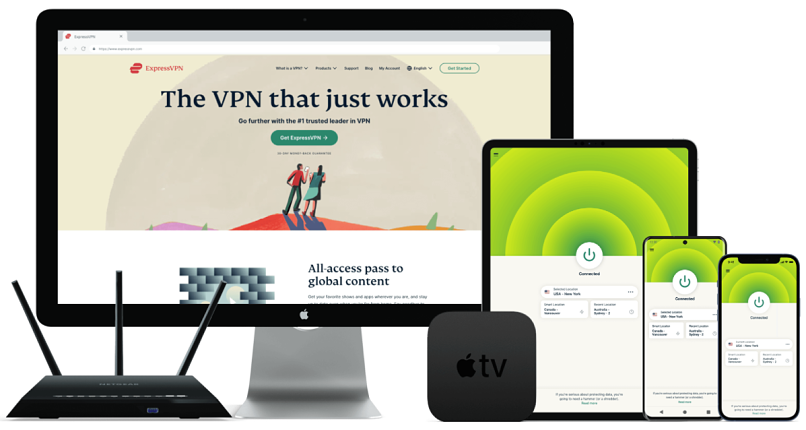 Editor's Choice
Editor's Choice

Tested February 2023
Try Risk-Free for 30 Days
Available on:
Chrome
Router
Smart TV
More
www.ExpressVPN.com
Lightning-fast connections and low ping to play COD without lag
3,000+ servers in 94 countries to get easier lobbies
5 simultaneous device connections
Works with: Call of Duty (Warzone, Modern Warfare, Black Ops, Mobile), Apex Legends, Fortnite, PUBG, and more
Compatible with: PlayStation, Xbox, Windows,  macOS, Android, iOS, Linux, Chromebook, routers, and more
ExpressVPN offers lightning-fast speeds and low ping, so you won't have to worry about lag while you game. While playing COD on its US servers, I recorded an average download speed of 48.5 Mbps (only a 3% drop from my base connection) and a ping rate of 29 ms. You should have a ping of less than 100 ms for COD. This not only let me play without annoying lag but I could also download updates within minutes.
Its extensive server network lets you play Call of Duty in many different regions of the world. When I tested its network, I connected to its US and UK servers and encountered a bunch of different players from those countries. Another benefit was that I could get downloadable content (DLC) that's only available in those regions. Plus, it let me access bot lobbies when I connected to servers where the game is less popular.
It's also possible to connect to ExpressVPN's servers on game consoles, which don't support native VPN apps. ExpressVPN can be installed on compatible routers, and it's one of few VPNs that has a native router app — this makes it super easy to set up and change server locations.
Alternatively, you can easily set up a virtual router on a Windows or Mac device. With the simple instructions on its website, I shared my Windows laptop's VPN connection in just 5 minutes. This did cause a bit of lag, but it allowed me to get easy bot lobbies on my PlayStation.
ExpressVPN also offers easy split tunneling. This allows you to control what apps are routed through the VPN and which ones stay on your usual connection. I was able to farm bot lobbies on Call of Duty: Warzone using the VPN while simultaneously streaming Netflix on my normal high-speed internet.
Its world-class security features hide your real IP and protect you against DDoS attacks when playing Call of Duty. These include 256-bit encryption, a kill switch, and DNS/IP leak protection. Added to this are its advanced protocols, which include OpenVPN, IKEv2, L2TP/IPSec, and Lightway — ExpressVPN's own protocol. You can choose from any of its protocols to get the right balance of speed and security. I got the fastest speeds with Lightway, despite it also being one of the most secure protocols.
The cheapest plan costs $6.67/month, which is a bit pricier than other VPNs. Fortunately, ExpressVPN had a deal going on that let me save 49% when I signed up, so I saved quite a bit. Additionally, all of the plans are full-featured, which makes ExpressVPN's 12-month plan the best value. This option is much cheaper than short-term plans.
ExpressVPN also comes with a hassle-free money-back guarantee. So even if you're not sure, you can test ExpressVPN with Call of Duty risk-free. If you're not happy with it, then you have 30 days to claim a refund. I tested this out by canceling my subscription after 27 days. The live chat representative asked me a couple of questions about my experience before proceeding, and I had my money back after 3 business days.
Dedicated gaming servers to easily find a low-ping server for COD
A user-friendly interface makes it easy to navigate the app for VPN beginners
7 simultaneous device connections
Works with: Call of Duty (Warzone, Modern Warfare, Black Ops, Mobile), Apex Legends, Fortnite, PUBG, and more
Compatible with: PlayStation, Xbox, Windows, macOS, Android, iOS, Linux, Chromebook, routers, and more
CyberGhost has over 9,753 servers in 91 countries, which includes a selection of gaming-optimized servers. These are available in the US, the UK, Germany, and France, and are designed to deliver fast speeds and low ping. When I played Call of Duty: Warzone on its US gaming servers, my average ping rate was 39 ms. This allowed me to play the game with zero interruptions. You'll have smooth gameplay, ensuring you're never at a disadvantage.
CyberGhost's app is easy to use and is compatible with most devices. Downloading and installing it on my Windows laptop took me less than 30 seconds, and connecting to a server was straightforward. For example, I could easily find its dedicated gaming server listed under the "For Gaming" category. Plus, it also displays the ping on its gaming servers, so you'll have no problem finding the ideal location for COD. I particularly liked that I could use the "Smart Rules" feature to set up CyberGhost to automatically connect to a server of my choice every time I booted up Call of Duty: Warzone.
If you're playing Call of Duty on a gaming console, then you can install CyberGhost on your router. By following some instructions from its website, I set it up and connected to a gaming-optimized server in just 10 minutes. This allowed me to play lag-free on my Xbox One S.
You'll be well protected from DDoS attacks since CyberGhost has some excellent security features. Its military-grade encryption and leak protection keep your IP address hidden from malicious parties. Furthermore, it comes with a built-in NAT firewall and a kill switch, which safeguards your connection should the VPN fail for any reason. You can also choose between multiple VPN protocols including WireGuard, OpenVPN, IKEv2, and more. WireGuard proved to be the best mix of speed and security in my tests.
On the downside, CyberGhost's long-distance connections can sometimes be slow. When I connected to its Brisbane server, my speed dropped to 40 Mbps, and the ping rose to 126 ms. This was a 20% speed drop — I only experienced a 9% drop with ExpressVPN's long-distance connections. That said, there was only minimal lag and Call of Duty remained playable.
You can get a CyberGhost subscription for just $2.19/month with its long-term plan. It also offers short-term plans, but these are worse value for money. As a bonus, with plans longer than 6 months, you get an extended money-back guarantee period (45 days vs. 14 days).
Its money-back guarantee allows you to try CyberGhost's features for up to 45 days and claim a refund if it's not for you. To test this myself, I asked a 24/7 live chat representative to cancel my subscription. After I gave my reason, they went ahead with my request and I was fully refunded after 3 business days.
Highly customizable to find the right balance between speed and security
29,650+ servers in 84 countries for reliable access to different COD regions
10 simultaneous device connections
Works with: Call of Duty (Warzone, Modern Warfare, Black Ops, Mobile), Apex Legends, Fortnite, PUBG, and more
Compatible with: PlayStation, Xbox, Windows, macOS, Android, iOS, Linux, Chromebook, routers, and more
PIA gives you customizable security features, which lets you optimize your connection as per your needs. You can choose between WireGuard and OpenVPN. If you choose OpenVPN, you have the option of using weaker 128-bit or more secure 256-bit encryption. This lets you boost gaming speeds at the expense of some security, or vice versa.
However, WireGuard is the preferred protocol for COD in most cases. That's because it's faster than OpenVPN while remaining just as secure. During my tests, WireGuard was 5% faster than OpenVPN — I got a download speed of 41.5 Mbps as opposed to 39 Mbps. This allowed me to more quickly download updates for Call of Duty: Warzone. In addition, I had slightly better latency, with only 40ms ping on WireGuard compared to 50ms on OpenVPN.
Of all the VPNs I tested, PIA has the largest server network. This means that you can easily find a low latency server close-by, no matter where you live. What's more, you'll have plenty of choices when it comes to servers in different regions, which is useful if you wish to get easier lobbies. And if you ever experience slowdowns on a server, you'll have lots of alternatives to choose from.
You can set up PIA on multiple devices, including popular gaming consoles. To connect a gaming console, you will need to install PIA on a compatible router. PIA has several guides on the subject covering multiple router brands. I followed one of these and successfully installed PIA on my router, which allowed my PS4 to use the VPN connection and connect to PIA's entire catalog of servers.
PIA is more complex than other VPNs since it offers so many customization options, so it's not the easiest to use. However, it comes pre-configured in a working state, so you don't have to customize it if you don't want to.
Plans are affordable — you can get a subscription for just $2.19/month with its long-term plan. I also got 2 months of extra service for free when I signed up, making it a steal at the price. The monthly plan has the same features, but you'll end up paying much more.
Its 30-day money-back guarantee lets you test PIA risk-free with Call of Duty to see if it's suitable for you. If you aren't happy with it, you can get a full refund within the guarantee period. To test this policy, I requested a refund after 28 days and the process was simple. After answering a couple of questions, the live chat representative proceeded with my request. It only took 4 business days to get my money back.
NordLynx security protocol provides competitive speeds on massive multiplayer maps
Pick an optimal region for gaming from over 5,384 servers across the globe
6 simultaneous device connections
Works with: Call of Duty (Warzone, Modern Warfare, Black Ops, Mobile), Apex Legends, Fortnite, PUBG, and more
Compatible with: PlayStation, Xbox, Windows, macOS, Android, iOS, Linux, Chromebook, routers, and more
Gaming is smooth with NordVPN's super-fast NordLynx tunneling protocol. The speeds averaged 41Mbps on long-range servers — great for bandwidth-heavy games and UHD streaming. My connection barely changed while testing NordVPN on nearby locations. I didn't have latency spikes or data packet losses even during Call of Duty: Warzone 2.0 Battle Royale matches. That's impressive, considering that the mode hosts up to 150 players.
Nothing limits your gaming sessions or the amount of data you download, as this VPN has uncapped bandwidth.
An extensive network in 60 countries means you can easily find a closeby server. Unlike CyberGhost, NordVPN doesn't offer optimized gaming servers. However, there are obfuscated servers that bypass the limitations of school and work networks. The obfuscation also lets you access gaming sites in restricted countries like China and Russia. You can always connect to the international versions of Steam, Activision, and the App Store.
Your traffic is safe with AES 256-bit encryption and security protocols. In addition to gaming-ready NordLynx, I use OpenVPN while buying in-game items in Call of Duty: Mobile and Fortnite. When enabled, the Double VPN mode improves your security by routing data via two servers (at the cost of speeds). Additionally, Threat Protection blocks malware, ads, and potentially harmful sites you browse from Android.
I had no IP/DNS/WebRTC leaks during testing. NordVPN is also headquartered in Panama, which is outside the Eyes Alliance. The provider has a strict zero-logs policy and RAM-only servers that regularly erase your web data. You can connect to the Tor network (Onion servers) for extra security, but this isn't recommended for lag-free gaming. Finally, its kill switch keeps you protected from accidental data exposure.
My biggest issue was that NordVPN sometimes takes a while to connect to servers. However, I found that restarting the app or disabling Threat Protection solves this issue. If that doesn't help, you can quickly troubleshoot your problems with a 24/7 online chat. Besides, all apps are beginner-friendly and have in-depth guides for each feature.
The most affordable NordVPN subscription is available from $3.49/month. Choosing the 2-year plan (standard) helped me save the most money overall. You may also get a dedicated IP address for an extra cost, which helps with games that prohibit account sharing.
Getting your money back is easy if you're not satisfied with NordVPN. To test its 30-day refund period, I used the live chat. After answering some simple questions, my money was automatically sent to my PayPal account in 5 days.
Obfuscation (Camouflage mode) to play CoD safely in restricted environments
Top-grade tunneling protocols (WireGuard and OpenVPN) for fast and safe gaming
Unlimited simultaneous device connections
Works with: Call of Duty (Warzone, Modern Warfare, Black Ops, Mobile), Apex Legends, Fortnite, PUBG, and more
Compatible with: PlayStation, Xbox, Windows, macOS, Android, iOS, Linux, Chromebook, routers, and more
You can play Call of Duty on any network with Surfshark's Camouflage mode (obfuscation). It makes your encrypted traffic look like regular internet data, so system admins and ISPs can't identify and block your activities. There's also a No Borders mode that detects blocks and automatically finds the best servers to bypass them. I got around all restrictions while testing Surfshark on my office network to play games undetected.
Servers are located in 100 countries for easier lobbies and different teams. Even on more distant servers, ping remained acceptable. My speed dropped by only 20% — I played Team Deathmatch and Domination in Call of Duty: Modern Warfare II lag-free.
High-grade AES 256-bit encryption, a kill switch, and tunneling protocols (OpenVPN and WireGuard) keep all web data tightly protected. For less traffic-intensive games, you can use the MultiHop to double your encryption. Finally, I ensured the VPN passed all my IP/DNS/WebRTC leak tests.
The apps are intuitive, so using the VPN is easy if you're a newbie. Connecting to the fastest nearby server or finding a specific server takes a few seconds. Like ExpressVPN, Surfshark offers a great selection of guides and 24/7 online chat support.
I didn't like that Surfshark is based in the Netherlands (a part of the 14 Eyes Alliance). On the bright side, it has a strict no-logs policy and RAM-only servers. For extra privacy, this VPN processes all your DNS requests instead of your ISP (Private DNS).
You can get a long-term Surfshark plan for just $2.30/month. I found the 24-month subscription to be more cost-effective than the monthly one.
It's possible to try Surfshark for free with its 30-day money-back guarantee. My test showed that getting a refund is straightforward. I briefly explained why I wanted to cancel via a 24/7 live chat. In a week, my credit card was fully reimbursed.
Quick Comparison Table: Call of Duty VPN Features
The following table compares important features of a Call of Duty VPN. You'll see each VPN in terms of its server network, average speeds on nearby servers, simultaneous device connections, and the lowest monthly price. No matter which COD game you play, these VPNs are good options. However, I've also put together a list of the best Warzone VPNs, so have a look there if you want a VPN for Warzone specifically.
Tips on How to Choose the Best Call of Duty VPN for You
These were the factors I considered when choosing the best VPNs for Call of Duty multiplayer games. Feel free to use them as a checklist to help find the best COD VPN for you.
Large server network. This ensures that you can play the game in different regions, letting you play with friends, access bot lobbies, and obtain region-locked DLC. It also lets you access the game if you're somewhere it's not available. I checked each VPN to make sure they offer an extensive global network.
Robust security features. So you can protect yourself from DDoS attacks in COD and safely make in-game purchases. Each VPN in this list masks your real IP and offers DNS/IP leak protection, 256-bit encryption, and a kill switch. I used a free online tool to check each one for leaks (and found none).
Fast speeds and unlimited bandwidth. Look for plenty of local servers and unlimited bandwidth. An average of 15 Mbps is recommended for lag-free gaming with a maximum of 100 ms ping; I used an online speed testing tool to record and compare the VPN's speeds and chose the fastest ones with the best latency.
Easy-to-use apps for popular gaming devices. Make sure your VPN offers user-friendly apps for most modern devices. This includes Windows, Android, iOS, macOS, and Linux. Router support is crucial for setting any VPN up on a PlayStation or Xbox, so is also crucial for console gamers. Each VPN on this list offers native apps for popular operating systems and are easy to use.
Multiple simultaneous device connections. This ensures you won't have to kick off one device to connect another. You could also play COD securely with friends and family, each of them on their own device. Each VPN on this list offers at least 5 simultaneous device connections, so you can play COD games without interruptions.
Responsive customer support. Look for a VPN that offers reliable customer support over a variety of channels. Live chat is preferred over email or contact form, as it's the easiest and fastest way to get help when you need it.
Trustworthy money-back guarantee. You should test a VPN with COD before committing to a subscription, so make sure your provider offers a risk-free money-back guarantee. This way, you'll have time to test and see if the service is right for you.
Quick Guide:
How to Use a VPN to Get Easier COD Lobbies
Get a VPN. I recommend ExpressVPN because it has an extensive and reliable server network to bypass SBMM. Plus, it delivers fast speeds and low ping for lag-free gaming.
Connect to a server. Choose a location that has easier lobbies (like Argentina or Egypt). Be sure to choose as near a server as you can for low-ping, lag-free gaming.
Start playing. Launch the game and enjoy easier lobbies.
FAQs on VPNs for Call of Duty
Can I use a VPN with CODM?
Yes. As long as you use a VPN that's compatible with mobile devices, you can use it to play Call of Duty Mobile from anywhere. This even includes locations where CODM is banned (like China, Vietnam, and Belgium).
Just keep in mind that CODM may ban players for using VPNs to access easy lobbies and inflate stats, so please look into the rules surrounding VPN use in-game to make sure you don't lose access.
What if my VPN isn't working with Call of Duty?
First, you should make sure that your VPN works with Call of Duty. Not all VPNs work with COD due to their weak security features. So, it's important to choose a VPN with robust security, like leak protection and a kill switch. This ensures that COD won't find out your real location and start throwing you into games in your usual region through SBMM.
If you've chosen a secure VPN and you're still not able to access easier lobbies, try the following:
Switch to a different server. It's possible that there are some issues with the server you're connected to. In that case, switching to a different location may resolve the issue.
Make sure your VPN is up-to-date. If you're running an outdated version, you're bound to run into issues. Therefore, it's important to use the latest version of the app.
Re-install the VPN app. An essential file may have been corrupted. Deleting and then re-installing the app will rewrite the corrupted file and fix the problem.
Contact customer support. If all else fails, you can ask your VPN's customer support for help. Many of the top VPNs offer 24/7 live chat support, which will get you the quickest response.
Can I use a VPN for COD on PlayStation, Xbox, and other consoles?
Yes, but some VPNs require you to install the VPN on your home router instead of directly on your PlayStation and Xbox. This is because VPNs don't normally offer native apps for consoles.
This is usually only possible for routers that are compatible with the VPN software. However, ExpressVPN lets you create a virtual router on a Windows or Mac device. By connecting this with your game console, you will be able to use the VPN connection to play Call of Duty in the region of your choice.
Can I play Call of Duty using a free VPN?
It's possible, but I wouldn't recommend it. A much better option is to use a reputable VPN with a money-back guarantee that offers top-notch security features and unlimited speeds and bandwidth.
Free VPNs usually limit your gameplay with small server networks and slow speeds. They also limit the amount of data you can use to about 2-10 GB per month. On top of this, they don't offer key security features to keep you protected. Some have even been known to share your personal information with advertisers. It's simply not worth it when you can try out any of the listed VPNs above with a money-back guarantee.
Will a VPN slow down my internet and cause high ping?
A VPN may slow down your internet and increase ping, as your traffic needs to be routed through the VPN server and encrypted before reaching the game server. However, you won't notice a difference with COD if you use a top-tier VPN with fast speeds.
If your ISP throttles your bandwidth, a reliable VPN could even improve speeds and reduce lag. Plus, in some cases, it may even lower your ping by creating a more direct route between you and the game server.
For the best ping rates, I'd advise following one of the below methods:
Connect to a VPN server close to COD's gaming servers.
Connect to a VPN server close to you.
Connect to a VPN server that's directly between you and COD's gaming servers.
Test each of these and see what gets you the lowest average ping.
Can I get banned for using a VPN with COD?
There are no rules stating you can't use a VPN with COD. However, as per Call of Duty's Security and Enforcement Policy, a user may be permanently suspended if they're using unauthorized software to gain an unfair advantage or manipulate stats. Using a VPN to enter bot lobbies could be an example of this. There's no evidence that a player exploiting this has ever been banned, but it's a possibility you should be aware of.
So, while it's okay to use a VPN to stabilize and secure your gaming, using one to get easier lobbies could lead to action against your account. If you're a professional, high-profile gamer, you may be at a higher risk. It's best to do your own research on this to ensure that you don't get banned.
Get the Best VPN for Call of Duty Multiplayer Today
A top-tier VPN can vastly improve your Call of Duty gameplay in many ways, whether you play Warzone, Modern Warfare, or CODM. It can protect you from malicious attacks, secure your data and identity, and avoid ISP throttling. You can also use a VPN to connect to a server in a country where the game isn't as popular, which lets you compete against bots for easy lobbies.
My favorite VPN for Call of Duty games is ExpressVPN. Its global server network, top-notch security features, and fast speeds make it well-suited for COD. Plus, its native router app makes setting it up and using it on consoles way less complicated than most other VPNs. And since it comes with a 30-day money-back guarantee, you can test all of ExpressVPN's features risk-free. If it doesn't work out, then you can get a full refund.
To summarize, the best VPNs for COD in 2023 are…
Privacy Alert!
Your data is exposed to the websites you visit!
The information above can be used to track you, target you for ads, and monitor what you do online.
VPNs can help you hide this information from websites so that you are protected at all times. We recommend ExpressVPN — the #1 VPN out of over 350 providers we've tested. It has military-grade encryption and privacy features that will ensure your digital security, plus — it's currently offering 49% off.