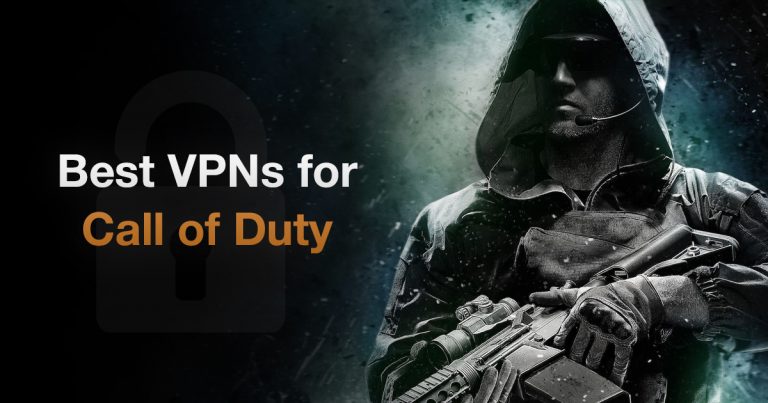 4 Best VPNs for Playing Call of Duty Multiplayer in 2021
Updated on 11th August 2021
For anyone who's a gamer at heart, there is nothing quite as fun and adrenaline-pumping as an online multiplayer Call of Duty session with your clan. Well, except if, like me, you can't compete with the best players or team up with your friends in different regions because of the game's geo-restrictions.
Many of us also play in fear of vengeful DDoS attacks cutting off our internet connections entirely.
The good news is that by using a virtual private network, or VPN, you can switch regions to play against international opponents, expand your clan, or reconnect with players back home while you're traveling. A VPN also protects your connection from cyberattacks and unlocks geoblocked DLCs and game packs for unrestricted access.
It's crucial for your security and gameplay that you choose one of the best VPNs available, and luckily, we've done all that hard work and research for you. Simply follow our quick and easy guide to the best VPNs for playing Call of Duty multiplayer, and you'll be back to slay your opponents before the next round!
Quick Guide:
How to Play Call of Duty With a VPN
Choose a VPN service that offers lightning-fast speeds, unlimited bandwidth, and multiple layers of privacy protection. (Recommendations below – ExpressVPN is our #1 choice.)
Install the VPN an connect to a VPN server located within the region you want to play in.
Have fun playing Call of Duty Multiplayer with your friends!
Why You Need a VPN to Play Call of Duty Multiplayer
The territorial restrictions on Call of Duty Multiplayer limit your choices of both teammates and opponents. Using a VPN to play Call of Duty will allow you to change regions and play with or against players anywhere in the world. And if you're traveling, you'll be able to use a VPN to play with your friends back home.
Also remember that online gaming involves a lot of data going to and from your device, leaving your router and personal information exposed and vulnerable. A VPN will shield your connection against malicious attacks from vengeful players and other cybercriminals by masking your IP and location entirely.
You'll also be able to access any geoblocked DLC from around the world. You can even download newly released content that isn't available in your region yet. Even more importantly, if you live in a country where violent video games are sometimes banned or heavily edited, your VPN will get you past the censorship.
A VPN can also decrease in-game lag by reducing your connection's latency. Choosing a VPN server in the same region as the Call of Duty server you want to play on shortens the distance that the data needs to travel, which can reduce loading times. In addition, you'll be able to bypass ISP throttling or congested local networks.
Not all VPNs work well for gaming, so you should look for one with the right features to keep your game safe and running smoothly. You'll need a VPN provider that operates a server in every region you want to access and offers unlimited data and high-speed connections. There's nothing worse than your connection dropping out mid-game because you're out of bandwidth!
The Best VPNs for Playing Call of Duty Multiplayer
Unsurpassed connection speeds aren't the only "express" feature of this VPN. ExpressVPN also offers a fast and easy setup process, so you can have the service up and running and be back to your game in no time at all. It has servers in 90 different countries, giving you a massive array of virtual locations.
With ExpressVPN, your bandwidth and downloads are unlimited, and 24/7 online customer support is always a click away! ExpressVPN offers a 30-day money-back guarantee on all of its services, and a 7-day free trial for its mobile apps. If that's not enough to convince you that this VPN is worth its price, see what real users have to say about it!
CyberGhost employs top-of-the-line security features to keep your connection private and safe, while allowing you unrestricted access to Call of Duty from almost anywhere in the world. Its unlimited bandwidth and lightning-fast speeds will keep your game running smoothly no matter what.
CyberGhost offers a 7-day free trial for mobile apps and a 45-day money-back guarantee, so you can try its services risk-free. CyberGhost is compatible with Windows, Mac, iOS, Android, Linux, and routers, and gets enthusiastic high ratings from users of all devices.
VyprVPN is highly celebrated in the world of gaming for its high speeds and reliable network. Unlike most VPNs, it owns and maintains 100% of its server network, rather than using third-party hardware. That gives it a distinct edge for connection speed and reliability.
VyprVPN has over 700 servers in more than 70 locations across the globe, so you can connect to any lobby in any region hassle free. Its Chameleon VPN technology can bypass VPN blockers, a capability that many budget and free VPNs lack.
VyprVPN offers new users a 30-day money-back guarantee, along with 24/7 online customer support.
IPVanish VPN offers everything that you will ever need in a VPN for gaming: superfast speeds, more than 1,900 servers in 70 locations, and advanced security features. Not only that, with over 40,000 IP addresses at your disposal, you can play Call of Duty for years and never have the same IP twice!
IPVanish's 30-day money-back guarantee is shorter than those offered by the VPNs above, but still gives you plenty of time to test its performance for gaming. This VPN is also compatible with one of the broadest ranges of devices in the business, including Windows, Mac, iOS, Android, Fire TV, Windows Phone, Linux, Chromebook, and routers. Its impressive service has earned it excellent reviews from its customers.
FAQs About Playing Call of Duty Multiplayer With a VPN
Will Call of Duty ban me for using a VPN?
Call of Duty's Security and Enforcement Policy does not list VPN use as a bannable offense. As long as you want to use a VPN to protect yourself while playing COD or get rid of lag rather than cheat at gameplay, you shouldn't get banned for using a VPN with the game.
However, some players have complained that Activision's automated anti-cheat system is wrongly identifying VPNs as third-party cheat software. If you're worried about getting an unfair ban, opt for a VPN with obfuscated servers like ExpressVPN. Obfuscated servers mask VPN traffic to make it look like normal traffic, so COD won't be able to tell that you're using a VPN.
Can I use a VPN with Call of Duty Mobile?
Yes! All of my recommended Call of Duty VPNs have dedicated apps for Android and iOS.
However, Call of Duty Mobile does list VPN use as a bannable offense so you need to be careful if you want to avoid a ban. Go for a VPN with obfuscated servers to prevent the game from seeing that you're using a VPN.
Why is my Call of Duty VPN not working?
The VPN server you're using might have gone down. This is easy to fix! Just disconnect and reconnect to a different server to start playing COD with your VPN again.
Bottom Line
If you're looking for a way to enjoy everything that Call of Duty has to offer without lag, security threats, geo-restrictions, or censorship, a top VPN is the way to go. You can say goodbye to ISP throttling and vengeful players sending DDoS attacks your way, and hello to endless enjoyment of multiplayer gaming with your friends (and enemies) all over the world.
If you're still unsure which VPN will work best for you, take advantage of our huge collection of guides to learn more about what separates the best from all the rest. And since we're committed to helping people get the protection and access they want at a price they can afford, we are always on the hunt for the best special offers available on top VPNs.
Play Call of Duty with ExpressVPN Now!
To summarize, the best VPNs for Call of Duty multiplayer 2021 are…
Privacy Alert!
Your data is exposed to the websites you visit!
The information above can be used to track you, target you for ads, and monitor what you do online.
VPNs can help you hide this information from websites so that you are protected at all times. We recommend ExpressVPN — the #1 VPN out of over 350 providers we've tested. It has military-grade encryption and privacy features that will ensure your digital security, plus — it's currently offering 49% off.