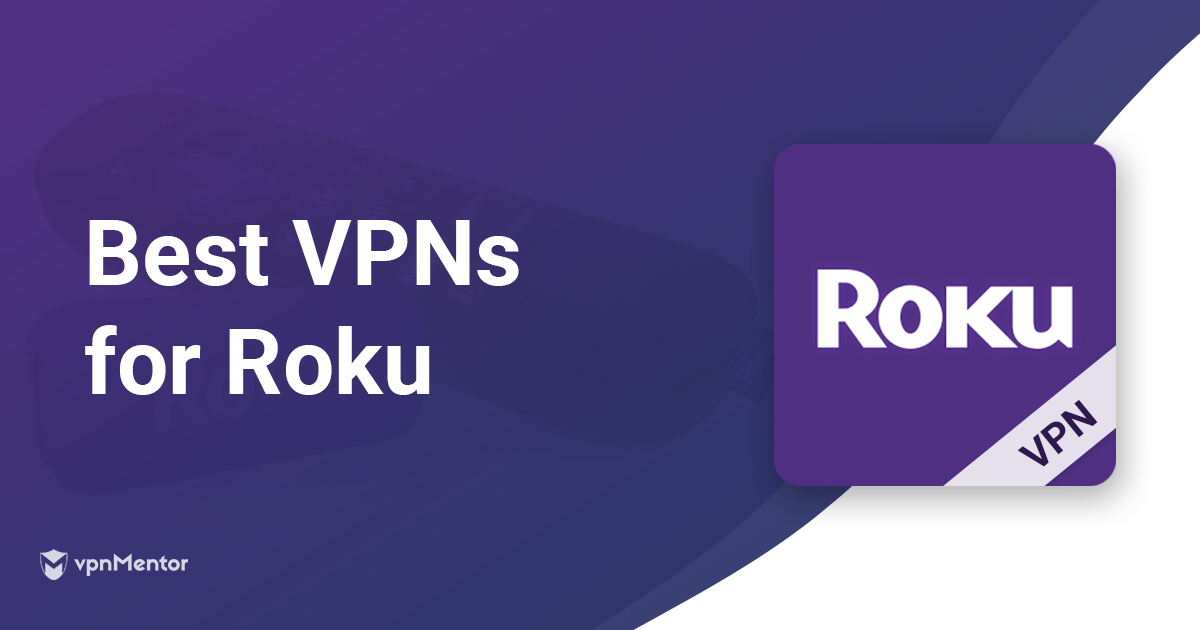 8 Best VPNs for Roku – Fastest and Easiest to Install in 2023
Roku media players offer access to tons of apps and streaming services, but your location and IP address can limit you from enjoying all the content you want to see.
The solution to this problem is a VPN. The right VPN can overcome geoblocking so you can enjoy movies and TV shows that would otherwise be out of reach. There are many to choose from, but my top pick is ExpressVPN because it blasts through geo-restrictions and offers incredible speeds.
Finding a VPN that's compatible with Roku can be frustrating and time-consuming because you can't just pick a service and go. I've expertly explored and rigorously tested dozens of VPNs to find those that will really work.
Why do you need a VPN?
Most of the streaming services on Roku, including Amazon Prime Video, BBC iPlayer, and Netflix, use geoblocks to control what you watch based on your location.
This means that if you live in the US, your access is limited to US-based content. Likewise, if you live in Australia, Hong Kong, or the UK, you can't watch anything from the US, including the US Netflix library.
You can use a premium VPN to bypass these blocks. VPNs mask your IP address to make it look like you're streaming from another country. So if you're in Canada and want to stream BBC iPlayer, you just need to connect to a UK server.
Another benefit of using a VPN is that it can prevent throttling, which is when your ISP slows down your connection based on what you're doing. If you often encounter slow speeds and buffering because you stream a lot, a VPN can help.
Start Streaming with ExpressVPN now
Quick Guide –
How to Access Roku with a VPN
 Choose a VPN, my recommendation is ExpressVPN.
 Install the VPN on your router, start your Roku, and connect to a server in your target country.
 Start streaming all your favorite shows on Roku!
The Best VPNs for Roku in 2023
I've rigorously tested 31 premium services to narrow down this list to the 8 best VPNs for Roku. We'll keep an eye on these VPNs and keep testing new ones to ensure this list is always up to date.
An important note to remember: If you're unable to access a streaming service, it's possible that the vendor's IP address has been blocked. Try switching to another server to get around the restriction.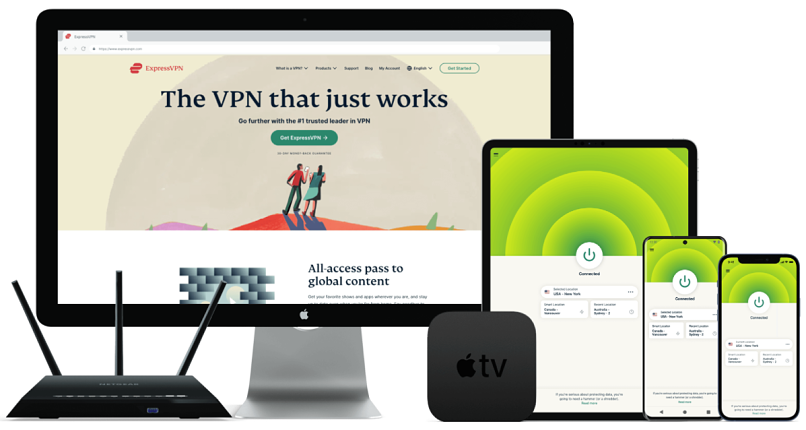 Editor's Choice
Editor's Choice

Tested January 2023
Try Risk-Free for 30 Days
Can access:
Netflix
Disney+
APV
HBO Max
Hulu
BBC iPlayer
Sky
More
www.ExpressVPN.com
3,000 VPN servers worldwide
Incredible speeds
Automatic kill switch
5 simultaneous connections
State-of-the-art encryption with a zero-logging policy
Works with: Amazon Prime Video, Netflix, CBC, NBC, HBO GO, Hulu
Compatible with: Roku, macOS, iOS, Apple TV, Windows, Android, Chrome, Firefox
ExpressVPN is a reliable VPN with 3,000 servers across 94 countries. It pairs this with incredible speeds. My connection speed didn't slow at all, even when I connected to a US server from Australia.
ExpressVPN offers leading security features, including best-in-class encryption. It uses the OpenVPN protocol and military-grade 256-bit encryption.
It also has a zero-logging policy, an automatic kill switch, and DNS leak protection. This means it won't store any of your info; and if your VPN connection drops, your IP address, internet activity, and personal info won't be exposed.
ExpressVPN regularly refreshes its VPN IP addresses. This helps avoid detection by streaming services like Netflix, which often block VPNs.
ExpressVPN offers apps for all popular devices and platforms, so you can also use it directly with cell phones, laptops, smart TVs, and more. 5 simultaneous connections allow you to protect other devices that may not connect to the internet through your router.
As you'll receive unlimited bandwidth, you'll never have to worry about data limits, so you can stream for hours at a time.
You can try ExpressVPN with no risk with its 30-day money-back guarantee. If you need help, you have access to 24/7 chat.
Want to know more? Explore our ExpressVPN review to see the full results of our research and testing.
9,758 VPN servers worldwide
Streaming-optimized servers and easy set-up
Incredibly fast speeds
Highest security encryption
Automatic kill switch and no-log policy
Dedicated IP addresses
Connect up to seven devices simultaneously
Works with: Amazon Prime, Netflix, HBO Now,
Compatible with: Roku, macOS, iOS, Android, Windows, Linux, and even routers
CyberGhost has one of the largest global networks with 9,758 servers, with hundreds alone in the US, the UK, the Netherlands, France, and Canada. This means you can log in without worrying about overcrowding or lagging issues.
Are you new to VPNs and slightly intimidated by them? I found CyberGhost to be simple to set up and use, with a clear, intuitive interface. As a matter of fact, everything about this VPN is easy.
Its streaming-optimized servers ensure reliability, speed, and stability so you can use Roku to view content from around the globe.
Its quick speeds will keep you streaming with no lags or buffering. It even offers data compression to reduce your data usage and increase loading times.
CyberGhost offers the highest security encryption, 256-bit AES, to meet your privacy needs. Staying anonymous is vital for protecting your online identity, so it also includes features like DNS leak protection, an automatic kill switch, and a no-log policy for added security.
Streaming services work hard to restrict VPNs, so some IP addresses you come across may be blocked. To help you overcome this issue and stream on Roku without hassle, CyberGhost offers dedicated IP addresses. Using the same, static address lets you bypass anti-VPN software through what's essentially a private connection.
Want to help friends and family who also enjoy streaming on Roku? With up to 7 simultaneous connections, you can add their devices to your subscription.
If you've decided CyberGhost is the right VPN for you, save some cash by checking out active coupons. You can also test out the service courtesy of its 45-day money-back guarantee.
Want to know more? Explore our CyberGhost review to see the full results of our research and testing.
200 VPN servers in over 63 countries
Reliable speeds and user-friendly interface
Military-grade encryption, an automatic kill switch, and a no-logs policy
Connect up to 10 devices simultaneously
24/7 live chat and free remote assistance
Works with: Netflix, Hulu, HBO, Amazon Prime Video
Compatible with: Roku, macOS, iOS, Android, Windows, browsers, and routers
PrivateVPN has 200 VPN servers in over 63 countries. This isn't a lot, but the smaller network doesn't impact performance, so it's still a good option as a Roku VPN.
One thing that really sets this VPN apart from others is its commitment to customers. PrivateVPN's interface is simple and user-friendly for beginners. But it also allows you to choose between easy or advanced modes in case you have more experience.
The service's commitment continues through installation. If you run into any issues, you can use its live chat 24 hours a day. Still need help? PrivateVPN will connect with you remotely through TeamViewer to get set up.
Connection speed is very important when using a device like Roku, and PrivateVPN does a decent job. During my tests, I experienced fast speeds when I connected to servers in the US, Asia, and Europe. However, I found servers in other countries, like Australia, were a little slower.
PrivateVPN uses 256-bit AES encryption, which is one of the highest levels of encryption available. It's so tough that many government and military agencies use it. This guarantees that your online identity will remain secure and hidden.
It also features an automatic kill switch and a no-logs policy, so your data won't be leaked or shared with any surveillance agencies, hackers, or third parties.
Although PrivateVPN is located in Sweden, which is part of the 14-Eyes Alliance jurisdiction, it's strongly committed to its no-logging policy and allows you to stream anonymously.
Need to protect devices not connected through your router? PrivateVPN allows up to 10 simultaneous connections, so you can use it at home, at the office, and anywhere in between.
As part of its commitment to the customer, PrivateVPN offers a free trial, plus a 30-day money-back guarantee. This allows you to try it out with no risk.
Want to know more? Explore our PrivateVPN review to see the full results of our research and testing.
700 global server locations
Military-grade encryption
Chameleon protocol to bypass geo-restrictions and censorship
Works with: Netflix, Hulu, Amazon Prime Video, BBCiPlayer
Compatible with: Roku, Windows, macOS, iOS, Android and smart TVs
VyprVPN boasts over 2 million users worldwide with 700 global server locations. With access to over 300,000 IP addresses, you can easily connect to local servers and stream on Roku.
I found that the VyprVPN app is user-friendly and quick to set up. I tested US servers to see if I could access Netflix, and I had no issues.
This was thanks to VyprVPN's Chameleon protocol, which makes your traffic undetectable so you can bypass VPN blocks. It blasted through Netflix's geo-restrictions quickly.
However, I did initially experience slower speeds as I am located very far from US servers. Despite this, I could stream on Roku with minimal buffering.
Another security feature you can count on is an automatic kill switch that cuts off your connection if there is a VPN disruption. You're also protected by 256-bit encryption so your online identity is impenetrable.
If you don't want to commit to VyprVPN just yet, check out its 30-day money-back guarantee. There's also 24/7 customer support if you need help with setup or anything else.
Want to know more? Explore our VyprVPN review to see the full results of our research and testing.
2,000 anonymous VPN servers in 75+ locations
Unlimited bandwidth
256-bit encryption and a no-logs policy
Connects with: Netflix, Hulu, CNN, Amazon Prime
Compatible with: Roku, Windows, macOS, iOS, Android, Fire TV, and routers
IPvanish has 2,000 servers with over 40,000 shared IP addresses, which means you can count on reliable and fast connections.
If you're looking to endlessly stream on Roku, I found IPvanish was pretty consistent with few buffering issues. With its unlimited bandwidth, you can access all your favorite streaming services and watch episode after episode.
During my thorough tests, it successfully bypassed geo-restrictions for several services. All I had to do was connect to a US server for US Netflix and a UK server for BBC iPlayer, and I was instantly streaming on my Roku device.
What about your privacy? Does IPvanish protect your anonymity? Yes, it does. I looked into its privacy policy and can confirm that it keeps no logs. Your metadata and browsing activity is never stored.
It also uses 256-bit encryption, so your data is virtually impossible to read, and includes an automatic kill switch and DNS leak protection, so your information is protected and safe at all costs.
If you want to try IPvanish today, you can use its 30-day money-back guarantee. If you have any lingering questions, just use its 24/7 live chat.
Want to know more? Explore our IPvanish review to see the full results of our research and testing.
4,800 servers in 81 countries
Fast speeds and easy installation
Dedicated streaming profiles
Top-grade encryption
Works with: Netflix, SHOWTIME, HBO GO, Amazon Prime Video
Compatible with: Roku, Windows, macOS, iOS, Android, Firefox, Chrome
Zenmate has 4,800 servers in over 81 countries, including the UK, the US, Romania, Germany, and Hong Kong.
It has an incredibly easy setup and installation process, and when it's time to connect, you can do so with just one click.
With dedicated streaming profiles, you can pick from a server optimized for each streaming service, which I found convenient and reliable.
As for security, Zenmate encrypts your desktop and router traffic with 256-bit encryption, one of the strongest protocols available. For added protection, it also includes DNS leak protection, an automatic kill switch, and a no-logs policy.
If you want to try Zenmate today, check out its 7-day free trial and 30-day money-back guarantee. This VPN already has low prices, but you can browse our Zenmate coupon page to see if there are additional savings.
Want to know more? Explore our Zenmate review to see the full results of our research and testing.
500 VPN servers around the world
User-friendly and reliable speeds
Military-grade encryption, automatic kill switch, and a no-logs policy
Works with: Netflix, Hulu, SHOWTIME, Amazon Prime Video
Compatible with: Roku, Windows, macOS, iOS, Android, FireTV, and routers
UltraVPN has 500 VPN servers on every continent but Antarctica. This is significantly less than what other premium VPNs have to offer. While the coverage is fair, covering major countries like the US, the UK, Spain, Greece, and Australia, it's not as inclusive as I'd like.
The major drawback to having access to fewer servers is that you may encounter heavy traffic or not have any to connect to in certain countries.
However, I found that UltraVPN's installation process is user-friendly and reliable. If there's a server in the country of your choice, you just have to click to connect — there's no need to manually configure anything.
Speed is important when searching for a good Roku VPN, and UltraVPN delivers. During our speed tests, we found that using UltraVPN only resulted in small drops to connection speed, even when we connected to a US server from Australia.
Like most of the premium VPNs I've tested, UltraVPN uses 256-bit AES encryption to protect your online identity. It also features an automatic kill switch and a no-logs policy. It's clear that UltraVPN makes your online safety a priority.
If you want to try UltraVPN risk-free, take a look at its 30-day money-back guarantee.
Want to know more? Explore our UltraVPN review to see the full results of our research and testing.
950 VPN servers in 35 countries
Designed for optimized streaming
High-grade encryption, automatic kill switch, and no-log policy
Works with: Netflix, Hulu, Sling TV, Amazon Prime Video
Compatible with: Roku, Windows, macOS, iOS, Android, FireTV, routers, and browsers
SaferVPN has 950 servers in 35 countries, including specially designed servers for streaming. These optimized servers make streaming on Roku quicker, easier, and more reliable.
All you have to do is load the VPN, click "Connect", and choose a location. From there, you'll be streaming in seconds.
You can also mark your favorite servers so you can connect even more quickly, making this vendor one of our most user-friendly and reliable choices for streaming.
Privacy and security are important while streaming, and SaferVPN has you covered. You'll avoid IP and data leaks thanks to its military-grade 256-bit AES encryption.
You'll also get an automatic kill switch that cuts traffic as soon as the VPN connection is lost and a no-logs policy that promises your data is never stored.
SaferVPN offers a step-by-step guide on its site, although you probably won't need it. I also found its agents to be incredibly helpful when I checked out the 24/7 live chat. With a 30-day money-back guarantee, SaferVPN is definitely worth a risk-free try.
Want to know more? Explore our SaferVPN review to see the full results of our research and testing.
How to Install and Set Up Your VPN on Roku
Roku streaming sticks don't have built-in VPN configuration capability. In order to use a VPN, you must connect your Roku device to a VPN-enabled router or virtual router.
You also need to create an account for the country where you want to access content. This means creating a US Roku account to access American content.
Don't worry, it sounds more complicated than it is. Just follow these steps, and you'll be ready to watch in no time.
Note: To create this tutorial, I used ExpressVPN as my provider. The steps are similar for all our recommended VPNs.
How to Set Up a VPN on Your Router
Log in to your account on your VPN's website.
Download the manual OpenVPN configuration files for the server location you want to connect to. Choose a US server if you want to access US content. Note: You'll be given a unique username and password that you'll need later, so write them down.
Ve al panel de control de tu rúter. Normalmente, tendrás la dirección 192.168.1.1 por defecto, que es la que introduces en la barra de direcciones de tu navegador.
Inicia sesión con las credenciales de tu rúter. El usuario y la contraseña por defecto son "admin", a no ser que los hayas cambiado.
En configuración avanzada, haz clic en VPN.
Clica en la pestaña cliente VPN y luego en añadir perfil.
Selecciona la pestaña OpenVPN y rellena la información de la siguiente manera:

Descripción: Asigna un nombre a tu conexión VPN, como por ejemplo "ExpressVPN".
Usuario: utiliza el usuario que tu proveedor de VPN te haya asignado.
Contraseña: usa la contraseña que te haya asignado tu proveedor de VPN.
Importar archivo.ovpn: busca el archivo OpenVPN que has descargado y haz clic en subir.

Haz clic en aceptar y después en activar para activar la conexión VPN.
Your VPN is now installed on your router, which means it's ready to take your Roku experience to a whole new level! To make sure that you're connected to your desired server location, you can run a simple DNS leak test.
Before we finish the setup process by connecting your Roku stick to your VPN, let's look at how to create a US account to access American streaming services. (If you already have a US Roku account, skip this section.)
Setting Up a US Roku Account to Access US Content
First, use any device to connect to a US VPN server.
Open your browser, and go to the Roku configuration section (owner.roku.com).
Set up an account as usual, but when you reach the country section, set it to US.
Enter an American zip code. (This should consist of five digits, e.g. 90210.)
Reset your Roku device by pressing and holding the Reset button on the back of the device for 15 seconds.
When your Roku restarts, log in with your new US Roku credentials.
Almost there! Now you just need to connect your Roku device to your VPN-configured router
Connecting Roku to Your Router with a VPN Installed
From the Roku main menu, go to Settings and then Network.
From the Network menu, select Wireless (Wi0Fi).
From the Choose your network section, select your router (this should be the name you gave to the VPN connection when you configured it earlier).
Enter the password you gave your VPN connection and click on Connect.
Once the connection is established, you'll be ready to stream the entire Roku library, including US content, with just a few clicks on your remote!
What We Looked For in a VPN For Roku
When looking for the best VPNs for Roku, my major concerns were speed and reliability.
Streaming requires fast connections. Otherwise, you may spend your time staring at a buffering screen. I tested my top ten premium VPNs from Australia, and I connected to servers in the US, the UK, and other countries. I barely noticed any delays in streaming.
Another important component you need in a Roku VPN is reliability. Your connection needs to bypass any geo-blocks so you can stream from whichever provider you wish. These VPNs can unblock the most popular streaming services, including Netflix, Hulu, and BBC iPlayer.
FAQs
Can I Use My Roku Anywhere?
Roku devices are geo-restricted to their country of origin. So if you buy a US-locked Roku player, you can only access US-based content while you're in the US. If you take it with you to the UK, China, or Australia, you'll be blocked from streaming US Netflix, HBO GO, and other services. The same goes for devices from any other country. To get around this issue, you need to use a VPN that can bypass geoblocks.
How Can I Install Roku VPN?
Roku doesn't support VPN apps, so you need a work-around. To bypass geo-restrictions and protect your privacy, you need to install a VPN on your router and then connect your Roku to that router. Check out our VPNs for routers guide above for more info.
Do These VPNs Keep Log Files?
All the VPNs covered on my top 10 list keep strict no-logs policies. You can be assured that your browsing activity, IP address, or other personal information is never stored or shared.
The Bottom Line
I spent many hours testing and comparing services to create this list of the best VPNs for Roku. All of these VPNs offer the speed, reliability, and security you need to bypass geoblocks and protect your identity while streaming on Roku.
Of these VPNs, my top choice is ExpressVPN because it offers the best speeds and has an incredible server network that spans nearly 94 countries.
Need help using services that actively work to block VPNs? Learn how to easily bypass VPN blocks by reviewing our guide.
If you've already picked a service and want to save some money on your new VPN, check out this month's best VPN deals and coupons.
To summarize, the best VPNs for Roku in 2023 are...
Privacy Alert!
Your data is exposed to the websites you visit!
The information above can be used to track you, target you for ads, and monitor what you do online.
VPNs can help you hide this information from websites so that you are protected at all times. We recommend ExpressVPN — the #1 VPN out of over 350 providers we've tested. It has military-grade encryption and privacy features that will ensure your digital security, plus — it's currently offering 49% off.