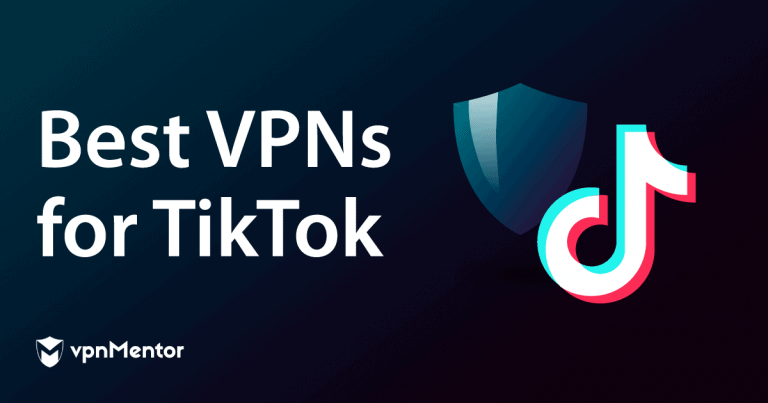 3 Best VPNs to Beat the TikTok Ban (Tested + Working in 2022)
Updated on 30th March 2022
I spend hours watching and creating TikTok videos — so when I heard some countries are banning the app because of concerns over Chinese government surveillance, I wanted to get the best VPN to unblock it just in case. At the same time, I didn't want anyone to be able to track me (or monitor what I watch), so I knew I needed a really secure VPN.
I tested more than 20 services — but most VPNs don't work with TikTok because they're too slow. I decided to run some tests of my own to find a VPN that's safe to use and can unblock TikTok in India, the US, and other countries where it might get banned.
I found that ExpressVPN is the best VPN for TikTok. It gives you strong security features so nobody can track you and its fast speeds mean you don't have to wait for TikTok videos to load. Plus, you can give it a test risk-free. If you don't like it, you have 30 days to request a refund.
Unblock TikTok With ExpressVPN Now!
Short on Time? Here Are the Best VPNs for TikTok (That Work on Android, iOS, and More)
ExpressVPN — Military-grade encryption protects your privacy and hides your location on TikTok, but TikTok takes longer to load.
CyberGhost — Easy-to-use apps and fast speeds for watching TikTok, but can be a bit pricey.
Private Internet Access — 10 simultaneous connections for using TikTok on all your devices, but complicated setup.
Unblock TikTok With ExpressVPN Today!
Best VPNs to Watch TikTok From Anywhere — Even If It's Banned
Fast speeds for watching TikTok videos without buffering
3,000 servers so you can access TikTok from anywhere
5 simultaneous connections so your whole household can enjoy TikTok safely
Try it with its 30-day money-back guarantee
Also works with: Instagram, Twitter, Facebook, Snapchat, Tinder, Pinterest, and more
Compatible with: macOS, Windows, Linux, Android, iOS, Chrome, Firefox, routers, and more
ExpressVPN has lightning-fast speeds so you can watch TikTok with no loading time between videos and upload your own TikTok videos in minutes. As well as being fast, the servers I tested unblocked TikTok without any issues. ExpressVPN has 3,000 servers around the world — so if the one you're using stops working, it's easy to find another.
I was equally impressed with ExpressVPN's attention to safety — it's secure enough to keep you safe on TikTok. It uses the highest level of encryption to protect you from surveillance and make your uploads untraceable. Its zero-logs policy means that the VPN physically can't store any of your data either, so there's no risk of leaking any information about your TikTok activity. The no-logs policy is backed up by TrustedServer technology that regularly wipes ExpressVPN's servers clean.
As I was testing ExpressVPN, I noticed that its subscription prices are higher than some other top services. However, you can get ExpressVPN for up to 49% off with the most recent discount. You can also test ExpressVPN out before you commit by using its 30-day money-back guarantee. I used the 24/7 live chat to ask for my money back — and the refund process is quick and easy. The customer support team told me my refund would take 5-7 business days, but it actually came into my account just 3 days later.
Unblock TikTok With ExpressVPN Now!
Fast speeds for hassle-free uploading and watching
Easy-to-use apps so you can start using TikTok with no complicated setup
7,909 servers around the world so you can unblock TikTok in your country
7 simultaneous device connections
45-day money-back guarantee
Also works with: Snapchat, Twitter, Instagram, Facebook, Reddit, Pinterest, and more
Compatible with: macOS, Windows, Linux, Android, iOS, Chrome, Firefox, routers, and more
CyberGhost is easy to use and quick to install so you can start using TikTok right away. Throughout my tests, I found CyberGhost's apps to be incredibly user-friendly — I was able to access TikTok within 5 minutes of downloading the app.
It's more than fast enough to watch TikTok videos without long loading times. I tried uploading my own TikTok video using CyberGhost and was really happy with how quick it was.
I did some digging into CyberGhost's privacy policy and found that it doesn't log or store any of your information either, and it uses military-grade encryption to protect your internet connection while you browse TikTok. That means no one can monitor you or trace your videos back to you — and that CyberGhost doesn't have any of your data to hand over, even if the government requests it.
If you want to be sure before you commit to a subscription, you can try CyberGhost out first with its 45-day money-back guarantee. Its refund process was one of the fastest and easiest I tested. The 24/7 live chat team agreed to process my refund with no questions asked, and the money was returned to me within a few hours of my request. You can also save up to 82% on your CyberGhost plan by making the most of its current discount.
Unblock TikTok With CyberGhost Now!
Fast speeds for lag-free TikTok videos
29,650 servers worldwide, including countries where TikTok isn't banned
10 simultaneous device connections so you can watch and upload TikTok videos on any device
30-day money-back guarantee
Also works with: Snapchat, Twitter, Facebook, Instagram, Reddit, and more
Compatible with: macOS, Windows, Linux, Android, iOS, Chrome, Firefox, routers, and more
Private Internet Access gives you up to 10 simultaneous connections so you can stay logged in to TikTok on multiple devices without worrying about your safety or privacy. This also means you can make sure that the rest of your household is safe when using TikTok.
I used speedtest.net to make sure PIA is fast enough for you to watch and upload TikTok videos on so many devices at the same time. I got the best results with the Canadian server I tested and I could watch and upload TikTok videos with no buffering. It has a fairly large network of 29,650 across lots of TikTok-friendly countries so you can get around the TikTok ban no matter where you're based.
PIA uses AES 256-bit encryption to prevent anyone from tracking you while you browse TikTok. However, I had to enable 256-bit manually as PIA uses a less-secure level of encryption by default. It wasn't too hard to do this, but it was annoying and time-consuming.
Private Internet Access has a discount at the moment that lets you get up to 82% off your subscription. You can also try it out with its 30-day money-back guarantee. The refund process was straightforward. They asked me why I wanted to cancel but agreed to process my request shortly after. I received all of my money back within 10 working days.
Best TikTok VPNs — Quick Comparison Table
| | | | |
| --- | --- | --- | --- |
| VPN | Encryption | Number of Servers | Money-Back Guarantee |
| ExpressVPN | 256-bit AES | 3,000 servers | 30 days |
| CyberGhost | 256-bit AES | 7,909 servers | 45 days |
| PIA | 128-bit AES (default, with optional 256-bit AES) | 29,650 servers | 30 days |
Quick Guide:
How to Use a VPN to Unblock TikTok in 3 Easy Steps
Download a VPN. ExpressVPN is the fastest VPN I tested with TikTok and it lets you watch and upload videos with no delays (plus, you can test it out risk-free before you commit).
Connect to a server in Canada. To get around the TikTok ban you need to appear as though you're in a country where you're allowed to access the app.
Get back to watching TikTok! You're ready to upload new TikToks and watch all the latest videos from your favorite creators.
Get Around the TikTok Ban Now!
How to Choose a Safe VPN for TikTok
VPN companies use a ton of industry jargon that makes it hard to understand what their features do (and what you actually need). I've come up with a quick set of insider tips that make it easy to find exactly what you need for TikTok without wasting time looking at irrelevant features.
Look for Military-grade encryption (also known as 256-bit encryption). This prevents government agencies tracing your videos and makes sure that your identifying information (like your home address) is hidden from other TikTokers.
You need a no-logs policy. Your VPN should never record or store your browsing activity — if it does, there's a chance that information could be leaked (and the government could find out you're using TikTok).
Make sure your VPN has powerful unblocking abilities. Government bans are notoriously tricky to bypass. You need a VPN with a proven ability to and get around them.
Look for a large server network. Your VPN needs to have lots of servers so that you can always find one that works with TikTok, no matter where you are in the world.
The Risks of Using Free VPNs With TikTok
Free VPNs are not safe or fast enough for TikTok. Even the best free services limit your bandwidth and they only give you a tiny amount of data (it's not enough to upload or watch more than a few TikToks per month). These limitations are intentional — they want to force you to sign up for the paid version by making the free version impossible to use. The free VPNs I tested couldn't unblock TikTok because of their small server networks and poor unblocking abilities.
Even worse — some of them log and sell your information. This is really dangerous for you because it means that anyone can trace your TikTok and find out where you live. The whole point of using a VPN with TikTok is to protect your privacy and online safety — using a free VPN is counterproductive and they risk your safety.
Unblock TikTok With ExpressVPN Today!
How To Install TikTok If It's Been Removed From the Google Play Store and Apple App Store
If your government has removed TikTok from your app marketplace, you can still download it by creating a new Apple ID or Google account that's based in a country where TikTok isn't banned.
For the Apple App Store:
Get a reliable VPN and connect to a server in a country that hasn't banned TikTok.
Go to the Apple sign in page and click "Create Your Apple ID."
Enter your details to create a new account. I recommend using the address of a hotel in the new country you've chosen.
Enter your real phone number. Apple will send you a confirmation code by text message and email. You'll need to enter both codes to activate your new Apple ID.
Go to the settings menu on your iOS device. Click "Apple ID" and then select "iTunes & App Store."
Log out of our old Apple ID and sign in using the new one you just created.
Open the App Store and search for TikTok. When it loads, click "Get." This will open a new window asking you to type in your payment details to confirm your new Apple ID. Set your payment method to "None" and continue.
That's it! You're good to go back to TikTok.
For the Google Play Store:
This method worked for me in the past, but it isn't working right now because Google makes you confirm your phone number when signing up for a new account. It seems to miss this step sometimes, so you should keep checking to see if it works. I'll update this guide if it changes, but here are the instructions anyway.
Get a reliable VPN and connect to a server in a country that hasn't banned TikTok.
Open the Google Play Store and click on your username in the top right corner.
Click "Add another account," then click "Create an account."
Enter your details to set up your new account — make sure to use the address of a hotel in your chosen new country.
Sign in to your new account.
Type "TikTok" into the Play Store search bar, then click "Install" when the app pops up.
That's all — you're ready to watch TikTok!
Unblock TikTok With ExpressVPN Today!
FAQs on TikTok VPNs
Why do I need a VPN for TikTok?
TikTok's being banned in lots of countries and you need a VPN to make sure you can still access it if your government decides to block it. The VPNs apps I tested change your virtual location to make it look like you're watching TikTok from a country that hasn't banned it. This lets you get around the ban.
Because your VPN encrypts your traffic, your ISP and government can't see that you're using TikTok — so they can't block you. It also means you can't be penalized for using TikTok because nobody knows you're using it.
Will a VPN slow down my TikTok uploads? Which is the fastest VPN for TikTok?
A good VPN will only slow down your upload time by a few seconds. TikTok videos are usually between 100MB and 300MB — using the VPNs on my list, it took me 2-3 minutes to upload to TikTok.
VPNs have to reroute your traffic through one or more of their private servers. Think of it like adding an extra stop on a bus route. Since the bus has to make a stop before reaching its destination, it's always going to take longer than if it were traveling from A to B with no additional stops. But if you choose a VPN with fast enough speeds, these stops won't be noticeable at all. I found that ExpressVPN is the fastest VPN for TikTok.
Are VPNs safe to use with TikTok?
Yes, it's safe to use a VPN with TikTok. TikTok can't tell you're using a VPN, so you won't be banned from using the app. Using a VPN to access TikTok is actually safer because it keeps information like your IP address and location hidden. That means no one can monitor what you watch or trace your TikTok videos back to you — including stalkers and government agencies.
However, not all VPNs are equal — some VPNs can't unblock TikTok and some aren't safe to use. That's why I rigorously tested my recommendations to make sure they work with TikTok and will keep you safe.
Using a VPN, in which countries can I access TikTok?
You can use the VPNs on my list to unblock TikTok in India, the US, Australia, Bangladesh, and Pakistan – plus a whole range of other countries that have threatened to ban the app. All you have to do is connect to a server in a country where TikTok is still available. All of the VPNs I've recommended have servers in TikTok-friendly countries.
Why is TikTok getting banned?
Some countries have banned TikTok because they're concerned it has links to the Chinese government. A US investigation into the app claimed to have found evidence that it sent private user data to servers in China that are owned by government-controlled corporations. Other countries have claimed that the Chinese government has implanted surveillance software directly into the TikTok app to spy on foreign citizens. TikTok has denied these claims, but governments still choose to ban TikTok to limit the information that you can share with the app by not letting you access it at all.
So far, India, Pakistan, and Bangladesh have all banned the app. Other countries have threatened to follow suit. But don't worry if it gets banned where you live because I found an easy way to get around the ban so you can still watch TikTok.
How can a VPN get around the TikTok ban?
VPNs hide your internet activity and mask your IP address, which bypasses the TikTok ban.
There are two ways the TikTok ban might be enforced in your country. When a government bans an app like TikTok, it usually forces Internet Service Providers (ISPs) to block the app using a firewall. A VPN helps you get around the TikTok ban by masking your online activity so you can get around the firewall and your ISP can't see that you're on TikTok.
In some cases, the app itself complies with the government and uses geoblocks to stop you from accessing it. VPNs solve this problem by masking your IP address so that it looks like you're in a TikTok-friendly country.
What can I do if my VPN doesn't unblock TikTok?
Don't worry — there are a few steps you can try to access TikTok if your VPN isn't working. Note that you shouldn't try to uninstall the app because it may have been removed from the App Store and Play Store in your country (so you won't be able to reinstall it). If you've already uninstalled TikTok, you can change your App Store region manually to download it again.
Make sure you're using a VPN that works with TikTok. Lots of them don't work, and the following steps won't help if you're using an incompatible VPN.
Turn off your GPS. If your GPS is switched on, your VPN won't work because TikTok can still see your location.
Close the TikTok app and reopen it.
If this doesn't work, change to a different VPN server. Sometimes a server will go down, and using a new one will fix the problem.
If you're still having trouble, restart your phone. Then, make sure your GPS is off, connect to the VPN, and open TikTok. This will reset everything and close any apps that are running in the background that might be exposing your real IP.
The Bottom Line
A VPN is the easiest way to make sure you can safely access TikTok – whether it's already banned in your country or your government is threatening to ban it soon. VPNs also make sure that no one can monitor you while you use the app or trace your videos back to you.
After weeks of testing, I found ExpressVPN to be the best VPN for TikTok because of its reliable unblocking abilities and strong security measures. Plus, you can give it a try risk-free before you decide. If you're not happy with it, you can ask for a refund within 30 days.
To summarise, the best VPNs for TikTok are…
Privacy Alert!
Your data is exposed to the websites you visit!
The information above can be used to track you, target you for ads, and monitor what you do online.
VPNs can help you hide this information from websites so that you are protected at all times. We recommend ExpressVPN — the #1 VPN out of over 350 providers we've tested. It has military-grade encryption and privacy features that will ensure your digital security, plus — it's currently offering 49% off.