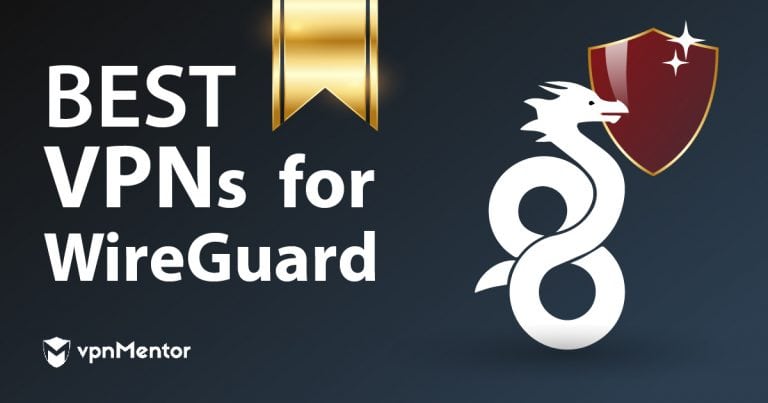 Best VPNs That Support WireGuard [May 2022 Update]
Updated on 21st May 2022
Are the rumors about WireGuard true? Can this new VPN protocol really boost your streaming speeds while simultaneously doubling down on security? And is there a dark side to these new abilities?
WireGuard is so new that out of the 300 VPNs I've researched, only 3 have started implementing it safely. I've reviewed their WireGuard abilities, and ExpressVPN's Lightway Protocol performed the best. The performance leap is huge, but I can also understand why other leading VPNs are not adopting this fresh technology yet.
Short on time? Here are the best VPNs that support WireGuard
ExpressVPN — The best all-around VPN has a Lightway Protocol which makes it even faster for browsing, gaming, and streaming.
CyberGhost – Easy-to-use VPN with WireGuard for Linux and iOS.
Private Internet Access – Strong security features and WireGuard support for anonymity and fast speeds.
Get the Best WireGuard VPN Now!
WireGuard Pros and Cons
WireGuard is an incredibly sleek protocol. Where OpenVPN requires roughly 400,000 lines of code, WireGuard has under 4000. That makes it more lightweight and easier for VPNs to implement, reduces the risk of flaws or vulnerabilities, and makes the code easier to audit.
WireGuard also uses the very latest super-fast cryptographic primitives (the algorithms used to encrypt your data).
This combination of simplicity and high-speed encryption methods allows for excellent performance and reliability. Where the complexities of OpenVPN or IPSec sometimes lead to slowed connections, WireGuard can actually boost your speeds.
It also allows you to connect or reconnect to your VPN almost instantaneously, with fewer disconnections.
This is especially useful if you use your VPN on your smartphone or other mobile devices. With WireGuard, you experience no downtime from your VPN even when switching between networks (i.e. when you move from using your WiFi to your cellular network).
But this new technology isn't perfect. For starters, WireGuard admits that it's not entirely finished. It's still undergoing testing and has yet to be independently audited.
Next, the way WireGuard assigns you an IP address could contradict the strict no-logs policies employed by most VPNs.
Unlike OpenVPN or other tunneling protocols, WireGuard can't dynamically assign IP addresses. Instead, it assigns you a static IP address.
That means your assigned IP address doesn't change every time to connect to the VPN. It also means your public IP address and timestamps have to be stored at server level so the protocol knows which IP address to connect you to and whether it can reuse that IP address when you no longer need it.
All of this is bad news for your privacy. None of your identifying information should ever be logged or stored on a VPN server. If a third party was able to link your true address to your static VPN IP address, it could, theoretically, trace everything you did while you were connected to the VPN.
The Best VPNs that Work With WireGuard - Full Analysis (Updated 2022)
I researched over 300 premium VPNs to see which services are safely implementing WireGuard support. I looked at how each VPN deals with WireGuard compatibility, as well as their general speeds, reliability, and security.
Since the situation with WireGuard is ever-changing, and more VPNs are implementing the protocol by the minute, this list is constantly checked and updated to reflect the latest announcements.
Superfast speeds for streaming without lag
3,000+ servers in 94+ countries to bypass geoblocks
5 simultaneous device connections
30-day money-back guarantee
Can unblock: Netflix, Disney+, HBO Max, Hulu, BBC iPlayer, Vudu, and more
Compatible with: Windows, Mac, iOS, Android, Linux, routers, Apple TV, and more
ExpressVPN is already fast, but its Lightway protocol made it even faster. Before connecting to ExpressVPN, my speed was 65 Mbps. After that, I connected to 10 of its servers across the globe with its OpenVPN protocol and got an average of 55 Mbps. This is normal, considering that my traffic had to travel to a far-away server and get encrypted. However, when I connected to ExpressVPN's servers using Lightway protocol, my speeds shot up to 68 Mbps which is impressive.
| | | | |
| --- | --- | --- | --- |
| Connection | Ping (ms) | Upload Speed (Mbps) | Download Speed (Mbps) |
| Base speeds in AU | 10 ms | 15.42 Mbps | 65.89 Mbps |
| AU Server — Open VPN | 14 ms | 15.11 Mbps | 55.34 Mbps |
| AU Server — Lightway | 11 ms | 15. 98 Mbps | 68.62 Mbps |
Lightway protocol is also very secure. It uses wolfSSL encryption which has been vetted by third parties. And if you use it on a battery-powered device, you might notice that it uses less of your battery life.
On top of that, ExpressVPN has excellent security features. You can protect yourself with a kill switch that blocks all traffic if the VPN connection drops. Its DNS leak protection and AES 256-bit encryption minimize the chances of your data leaking and being exposed to third parties or hackers. I tested its DNS leak protection and found that my IP address remained hidden.
And even though ExpressVPN is a bit more expensive, I found a workaround to make it more budget-friendly. You can save up if you take advantage of its 49% discount.
It's backed by a money-back guarantee so you can try it risk-free and claim a refund within 30 days if you don't like it. I wanted to test this out to make sure it works, and the process was surprisingly easy. All it took was a short chat with customer support (it took less than 5 minutes) and my request was processed (I got refunded in 3 days).
RESTful API ensures your traffic isn't logged
7,909 WireGuard servers in 91 countries
7 simultaneous connections
45-day money-back guarantee
Works with: Netflix, BBC iPlayer, Hulu, Vudu, HBO Go, Showtime, DAZN
Compatible with: Linux and iOS (beta)
CyberGhost is an easy-to-use VPN that's tailored to streaming. While it doesn't support the new protocol on all of its apps, WireGuard is available to Linux users and on the CyberGhost beta iOS app. Calling WireGuard "a step in the right direction", CyberGhost has also made public donations to the team behind the protocol to support its continued development.
WireGuard is easy to set up on the CyberGhost iOS app. All you have to do is select WireGuard in the app's Protocol settings. Setup on Linux is a bit more complicated and I had to contact the VPN's 24/7 live chat to ask how to enable the new protocol. The answer was fairly simple though: just add "--wireguard" in the CyberGhost command-line app to get started.
CyberGhost's WireGuard announcement wasn't particularly clear on how the VPN was mitigating the protocol's privacy concerns so I went back to the customer support team. After making some inquiries, I discovered that—like PIA— CyberGhost runs a RESTful API protected by an RSA certificate to protect your privacy. This makes sure your traffic is never logged, backing up CyberGhost's strict no-logs policy.
CyberGhost also uses an additional daemon that works as a middle-man between you and WireGuard, assigning dynamic IP addresses so that none of your activity can be traced back to you. The daemon then deletes these IP addresses every few minutes, to make sure no record of your session is stored.
I ran CyberGhost through a speed test with both WireGuard and OpenVPN. While my speeds with OpenVPN were good, WireGuard managed to improve on my base connection speeds. I tested these fast speeds by streaming my old-time favorite The Sopranos on HBO Go and torrenting a few movies with BitTorrent. I experienced no buffering and my files downloaded quickly—these speeds are real.
CyberGhost's additional security features include blockers for ads, malware, and trackers, DNS and IP leak protection, and a kill switch to safeguard your data in the event of a dropped connection—although this should be less of an issue when connected with WireGuard.
If you want to test out CyberGhost with WireGuard first, you can try it risk-free using the 45-day money-back guarantee.
Want to know more? Explore our CyberGhost review to see the full results of our research and testing.
RESTful API for privacy protection
3,381 WireGuard servers in 41 countries
10 simultaneous connections
30-day money-back guarantee
Works with: Netflix, Amazon Prime Video, HBO Go, Showtime, DAZN
Compatible with: Windows, Android, iOS, macOS, Linux
Private Internet Access (PIA) offers one of the most comprehensive WireGuard solutions I trialed. PIA initially only made WireGuard available to its beta testers while the VPN explored different ways of mitigating the protocol's privacy issues. However, WireGuard support is now out of beta and available on all PIA Windows, Android, iOS, macOS, and Linux apps.
Connecting was easy - all you have to do is select WireGuard in your protocol settings. Just make sure you have the latest version of the PIA app installed to access WireGuard. If you run into any problems, there's a useful 24/7 live chat on hand to help you get started.
Private Internet Access has taken several steps to address privacy concerns regarding WireGuard support. First, it uses an RSA certificate protected RESTful API as an extra layer of privacy on top of WireGuard. The addition of the API means your traffic is not logged or stored by the VPN. PIA already has a watertight no-logs policy and this add-on means the VPN's privacy policy is not invalidated by WireGuard.
PIA also created a daemon that deletes all of your connection data after three minutes of inactivity. I didn't notice these drops; they just happened automatically in the background.
Alongside these additional privacy methods, PIA shores up WireGuard's world-class encryption with built-in blockers for ads, adware, and malicious websites. I checked its DNS, IPv6, and WebRTC leak protection with an independent leak test and didn't detect any leaks.
Its speeds are good with OpenVPN, but with WireGuard, I achieved an increase in my usual connection speeds—which is unusual for a VPN. During my tests, I could unlock Netflix, Amazon Prime Video, HBO Go and more, although I couldn't access BBC iPlayer, Vudu, or Hulu.
PIA offers a range of reasonably-priced subscriptions and a 30-day money-back guarantee if you want to test it out for yourself without making an initial payment.
Want to know more? Explore our PIA review to see the full results of our research and testing.
Research Methodology
To bring you the best VPNs currently supporting WireGuard, I tested more than 300 premium services for compatibility and general performance.
During my research, I looked for:
WireGuard support that also takes the protocol's privacy flaws into account and provides you with a safe and secure solution
Excellent existing speeds so that you can enjoy the full benefits of WireGuard's performance
Watertight security features that won't compromise WireGuard's encryption
Ease of implementing WireGuard on your VPN app or client
A dedicated customer support service that provides you with assistance when setting up and using WireGuard
FAQs
What is WireGuard?
WireGuard is a secure tunneling protocol, like OpenVPN or IPSec. Unlike its predecessors, however, WireGuard aims to be simpler, faster, and more secure.
Is WireGuard better than OpenVPN?
Both WireGuard and OpenVPN have benefits and flaws.
WireGuard is much simpler than OpenVPN and is, therefore, faster, easier to use, and less vulnerable to cyber attacks. It's also just as, if not more, secure when it comes to encryption.
However, OpenVPN can guarantee your privacy in a way WireGuard currently can't. Most VPNs are configured to work with OpenVPN and require additional solutions to implement WireGuard and combat the new protocol's privacy flaws.
Is WireGuard safe?
WireGuard's stripped-down code and state-of-the-art cryptography mean its incredibly safe when it comes to your online security.
It also provides increased reliability in the form of reduced disconnections and faster reconnections to your VPN, decreasing the amount of time in which you're vulnerable to detection, monitoring, or hacking.
When it comes to privacy, however, WireGuard is not so advanced. The way it assigns IP addresses currently requires your VPN to log identifying information like your true IP address or time stamps. If a third party manages to access your VPN's servers, they could potentially use this information to identify you and track your activity.
We take an even more in-depth look into WireGuard's security in our 2022 safety update.
Does WireGuard work on Android?  
Yes, WireGuard is compatible with Android. Both CyberGhost and PIA support WireGuard for Android.
The Bottom Line
WireGuard has been hailed as the future of VPNs. The speed and security tests I conducted on it yield very exciting results.
However, even the team behind WireGuard admits that the protocol isn't fully tested or complete. It seems like we'll have to wait a little longer before WireGuard is in good enough shape to be implemented in VPNs across the board.
That being said, some VPNs are ahead of the game and are either working with WireGuard or coming up with their own solutions to the protocol's current privacy issues.
To summarize, here are the best VPNs that support WireGuard in 2022...
Privacy Alert!
Your data is exposed to the websites you visit!
The information above can be used to track you, target you for ads, and monitor what you do online.
VPNs can help you hide this information from websites so that you are protected at all times. We recommend ExpressVPN — the #1 VPN out of over 350 providers we've tested. It has military-grade encryption and privacy features that will ensure your digital security, plus — it's currently offering 49% off.