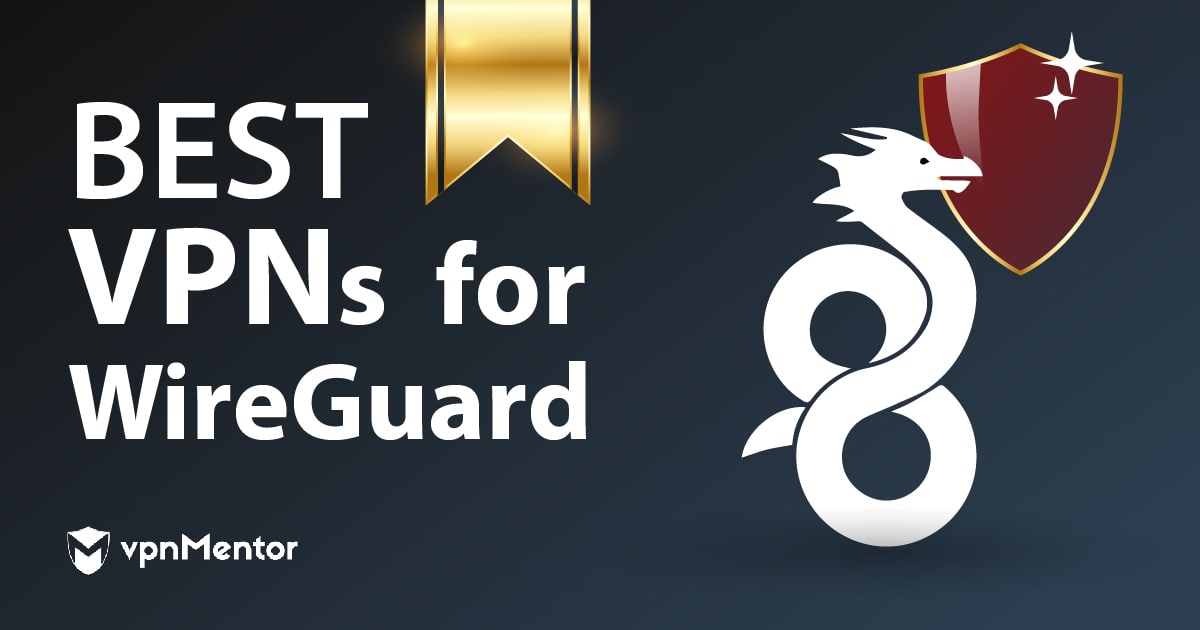 5 Best VPNs That Support WireGuard — Updated in February 2023
Updated on 25th January 2023
WireGuard has definitely had its privacy concerns. And since it's so new to the VPN scene, it can be difficult to trust that it fully protects you online — especially the way the industry-standard OpenVPN does.
My team and I tested hundreds of VPNs and selected the very best for WireGuard. These VPNs have safely implemented the protocol (or created their own WireGuard alternative) and have actively taken steps to mitigate the privacy issues. This way you can get the most out of this secure, fast, and efficient protocol without worry.
That being said, ExpressVPN's Lightway protocol is a faster, safer alternative to WireGuard. Lightway has been audited for security and had the fastest speeds of all the WireGuard VPNs we tested. Plus, using it means you don't have to worry about the concerns surrounding WireGuard at all. You can test ExpressVPN's Lightway protocol out risk-free as the service is backed by a 30-day money-back guarantee. So if you don't like it, it's easy to get a full refund.
Try ExpressVPN's Lightway Today
Short on Time? Here Are the Best VPNs for WireGuard in February 2023
Best VPNs For WireGuard — Full Analysis (Updated in February 2023)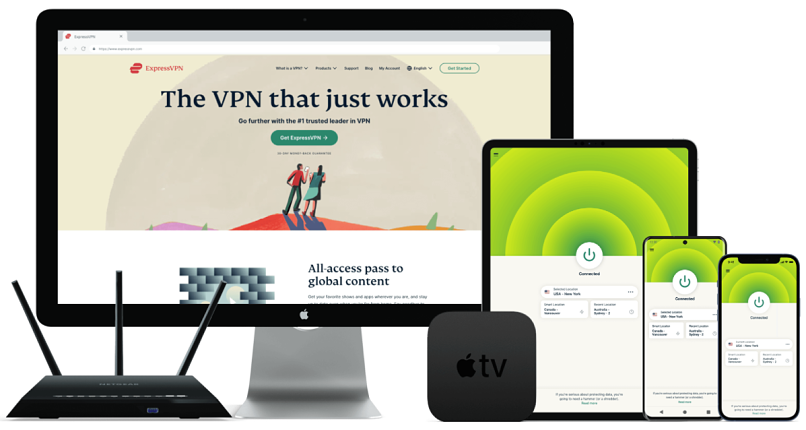 Editor's Choice
Editor's Choice

Tested February 2023
Try Risk-Free for 30 Days
Available on:
Chrome
Router
Smart TV
More
www.ExpressVPN.com
Lightway is lightning-fast and perfect for smooth streaming, gaming, and torrenting
Stores no identifiable logs, ensuring your privacy and safety
3,000 servers in 94 countries for access to global online content
Works with: Netflix, Disney+, Amazon Prime Video, HBO Max, Hulu, BBC iPlayer, and more
Lightway available on: Windows, macOS, iOS, Android, Linux, and routers
ExpressVPN created its proprietary Lightway protocol as a result of the privacy concerns surrounding WireGuard. While the company fully supports the development of the WireGuard protocol, ExpressVPN stated that Lightway would have all of WireGuard's benefits and more. It takes other important fronts a step further, such as privacy, UDP and TCP support, and obfuscation support. You can also choose between an AES accelerated encryption cipher, or ChaCha20 (which is better for mobile).
And Lightway definitely delivers. For example, one of the issues with WireGuard is that it uses static IP addresses and has to store those on a server until it's rebooted — meaning, your activity could be traced back to that IP, so it would be easier to identify you. Lightway removes the risk of using a static IP because it assigns a different one to you each time you use it.
The biggest difference I noticed between Lightway and WireGuard was when I tested ExpressVPN's speeds. My speed was 72.63 Mbps without a VPN. Using the Lightway protocol with a nearby server in Germany, my speed only dropped to 66.22 Mbps. One of WireGuard's many benefits is that it's super fast. But, averaging the speeds with the other VPNs in this list (using German servers and WireGuard), I got an average speed of 49.75 Mbps. This means Lightway was roughly 30% faster than WireGuard during my tests.
Lightway also only uses about 1,000 lines of code (compared to WireGuard's 4,000), which means it performs better. Less code means less processing power, leading to faster performance and less lag. Plus, it saves your battery life. I found this especially beneficial when I used it on my Android, as my battery tends to die quickly when using a VPN for streaming. The shorter code also makes it easier to audit, spot, and fix bugs.
Using Lightway also means you're protected with ExpressVPN's strong security and privacy features. Its unique TrustedServer technology ensures all information on its servers is deleted after each reboot. This means your sensitive information is never stored, so it won't end up in the wrong hands.
It also uses wolfSSL, a modern cryptographic library with military-grade 256-bit, and is the strongest level available. This makes your data unidentifiable. Plus, you're also backed by the VPN's kill switch, which will stop your internet if your VPN connection suddenly drops.
The only downside to ExpressVPN is that it's a little more expensive than other VPNs. For the best value, go for the long-term plan, which costs $6.67/month. However, one subscription allows you to use it on 5 devices at once. And ExpressVPN also regularly offers discounts and promotions so you can save money — I got 3 months of free service when I signed up.
You can test ExpressVPN out for yourself risk-free, and if you're not satisfied, you have up to 30 days to claim a refund. I tested this policy and made sure it was legitimate. After subscribing, I used ExpressVPN for 3 weeks and contacted support through the 24/7 chat. I just had to answer a couple of questions about my experience before my refund was approved. The money was back in my account in just 3 days.
Assigns dynamic IP addresses to overcome WireGuard privacy concerns
Military-grade encryption, a strict no-logs policy, kill switch, leak protection, and an ad and malware blocker for ultimate security
7 simultaneous device connections
Works with: Netflix, Disney+, Amazon Prime Video, HBO Max, Hulu, BBC iPlayer, and more
WireGuard available on: Windows, macOS, iOS, Android, and Linux
To combat WireGuard's privacy concerns, CyberGhost uses an additional daemon that assigns dynamic IP addresses. WireGuard requires your IP to be stored on the server until it's rebooted. To remove this risk, CyberGhost instead assigns you a dynamic IP before sending your traffic through the server, so your original IP address won't be logged anywhere. These IP addresses are also deleted every few minutes.
It also adds an extra layer of security to its WireGuard protocol by running a RESTful API backed by an RSA certificate, so your privacy is well protected while using it.
Using WireGuard with CyberGhost gave me impressive speeds, too. While testing it out, the speeds weren't quite as fast as Lightway, but still very good. Using a server in Germany, my speed was 56.69 Mbps (compared to 66.22 Mbps with Lightway). WireGuard is definitely your fastest option with CyberGhost. Using the same German server, my speed was 43.55 Mbps with OpenVPN. However, connected to the same server with WireGuard, it went up to 56.69 Mbps, which is 30% faster.
CyberGhost is also one of the most user-friendly VPNs I've used. You can easily switch between protocols in the settings menu. I also found combining WireGuard with its "Best Server Location" feature really useful. It allowed me to get the fastest connection speeds possible in a single click for both torrenting and streaming.
One of CyberGhost's most unique features is that it offers specialized servers for streaming and torrenting within its global network of 9,753 servers. This made it even easier to find the best server depending on what I was doing. To unblock US Netflix, I just had to search for "Netflix" in the "streaming" tab and select the "optimized for US Netflix" server. It then automatically connected me to the fastest server. These servers all work with the WireGuard protocol, so you can really make the most of its fast speeds.
The only downside to CyberGhost is that its short-term plans are quite expensive. However, you can save more with the long-term plan, so I was able to sign up for only $2.19/month. The long-term plans are also backed by a very generous 45-day money-back guarantee, while the short-term ones offer a much shorter 14-day guarantee period.
Either way, the guarantee means you can try CyberGhost out without financial risk. I used the VPN for 38 days and then claimed my refund by contacting its 24/7 live chat support team. The support agent asked a couple of simple questions, and I got the money back into my account in a few days.
Customizable options give you control over your WireGuard connection
29,650 servers in 84 countries for access to online content worldwide
10 simultaneous device connections
Works with: Netflix, Disney+, Amazon Prime Video, HBO Max, Hulu, BBC iPlayer, and more
WireGuard available on: Windows, macOS, iOS, Android, and Linux
PIA gives you tons of control over your security and privacy settings, which isn't something many VPNs offer. When I tested WireGuard with PIA, for example, I could change my MTU settings. This determines the maximum packet size allowed through the tunnel. If your packet size is too large for your connection, you could experience intermittent connection failures. I used the "small packets" option to access Japanese Netflix and got impressive speeds for streaming on such a faraway server.
Like CyberGhost, PIA runs a RESTful API protected by an RSA certificate to mitigate WireGuard's privacy concerns. I confirmed this with PIA's customer support, who assured me I would be covered by PIA's strict no-logging policy while using the WireGuard protocol as well. It also has a daemon that deletes your connection data after 3 minutes of inactivity.
Plus, its MACE feature is one of the best VPN ad, tracker, and malware blockers I've used. It gives you an extra layer of privacy when you use the WireGuard protocol since third parties can't collect information about your online behavior. I also liked that I didn't need to download an extension to use the adblocker, which is better for privacy. Plus, it passed my IP, DNS, and WebRTC leak tests, so you can rest assured your traffic won't be exposed.
The one downside to PIA is that it's based in the US, which is in the 5/9/14 Eyes Alliance, an intelligence-sharing agreement between countries. However, Private Internet Access adheres to a strict no-logs policy. This was verified in court when PIA was unable to share data about a customer with the FBI because it simply didn't have any.
PIA is one of the cheapest VPNs when you choose its long-term plan, which is $2.19/month. However, you can also choose a monthly plan if you don't want a long commitment. You also get a year of Boxcryptor cloud storage thrown in for free when you sign up.
All of PIA's plans are backed by a 30-day money-back guarantee, so you can try PIA risk-free. I tried PIA for 14 days and requested my money back by contacting its 24/7 online chat support. The agent processed my refund after asking some simple questions, and the money was back in my account in just 3 days.
3,200 RAM-only servers across 100 countries keep your data private
Strong security features, including a kill switch, split tunneling (Bypasser), and a malware/tracker/ad blocker (CleanWeb)
Unlimited simultaneous device connections
Works with: Netflix, Disney+, HBO Max, Hulu, BBC iPlayer, Vudu, and more
WireGuard available on: Windows, macOS, Android, iOS, and Linux
Surfshark operates RAM-only servers (complemented by double NAT) for more private WireGuard connections. All your data is regularly removed from them after each reboot. Also, for further protection, you can enable the Rotating IP feature. This lets you use different IPs periodically from the same location while using WireGuard. I always have it on while connected to the VPN.
Your real IP is safe from leaking with its kill switch option that automatically turns off your internet if the VPN connection drops unexpectedly. It's rare to get an IP leak but having this feature is definitely a plus. It makes sure that your WireGuard traffic remains encrypted with the strongest AES 256-bit encryption.
Its apps are very intuitive and easy to use. To find the protocol options, you just need to go to the VPN settings menu. WireGuard is available on Surfshark's Windows, macOS, Android, iOS, and Linux apps. I normally use the Automatic protocol option, which almost always defaults me to WireGuard as the best option.
While testing it with WireGuard, I got consistently fast speeds. Even on faraway servers, I averaged a drop of around 10%, which was almost unnoticeable. It also unblocked many streaming platforms, including various Netflix libraries, and let me watch in HD without buffering.
One minor drawback is that you can't use Camouflage mode for obfuscation with the WireGuard protocol. You have to select OpenVPN (UDP or TCP). However, it's not a big deal since you can use all other advanced features with WireGuard, including NoBorders and MultiHop.
You can get a Surfshark subscription for as low as $2.30/month. It also often offers discounts, so make sure to check for any. I got 82% off when I first subscribed.
Its plans are backed by a money-back guarantee, which lets you test out Surfshark with WireGuard for 30 days. Getting a refund is easy — I just contacted customer service via the 24/7 live chat, and after a brief discussion, they approved my request. I got all my money back in 4 days.
Secure Core servers add extra security when using WireGuard protocol
Double NAT system so your real IP address is never revealed
1,925 servers in 67 countries
Works with: Netflix, Disney+, Amazon Prime Video, HBO Max, Hulu, BBC iPlayer, and more
WireGuard available on: Windows, macOS, Android, iOS, Linux, routers
Proton VPN offers Secure Core servers, which add an extra level of privacy, encryption, and security to your WireGuard sessions. These servers are a sort of Multi-Hop function that sends your traffic through 2 servers instead of 1 — the first being one of its Secure Core servers located in safe data centers in Switzerland, Iceland, or Sweden, and the second is whichever server you choose.
With WireGuard, Proton VPN assigns a dynamic IP through double network address translation (NAT), so your personal IP isn't stored. Essentially, you're given a new IP before your connection reaches the VPN server, so there's nothing to worry about.
I tested WireGuard out on Proton VPN's Windows, macOS, and Android apps (it's also available on iOS). But it's one of only a few VPNs that offer WireGuard configuration files. This means you can connect to Proton VPN's WireGuard servers on a Linux device or router. You can download the manual configuration files and find detailed instructions on its website.
The one downside to Proton VPN is that it doesn't offer live support — you can only submit a support form. So if you have a query before buying it, you can't get an immediate response. However, its online support center covers most queries. I also tested its online support center and usually got a response within 24 hours.
Proton VPN offers a free plan, and you can use WireGuard with it, but I wouldn't recommend it. You don't have access to many servers, and I found it was too slow, even for simple browsing. The monthly paid plan is a little expensive, but it's much better value when you sign up for the annual or 2-year plan. Prices start at $4.99/month.
You can try Proton VPN totally risk-free because it has a 30-day money-back guarantee. However, Proton VPN will only refund your money based on the remaining days of your subscription, so you have to pay for the days you have used. I tested its policy by contacting its online support center. While I got the refund, the money took 2 weeks to go back into my account.
Quick Comparison Table: Best WireGuard VPN Features
This table compares the most important features you should consider when choosing a WireGuard VPN. These include speed, WireGuard availability, number of servers, and others. While ExpressVPN doesn't support WireGuard, I've added it to this list because its WireGuard-alternative, Lightway, performed better in my tests than the WireGuard VPNs.
Tips on How to Choose the Best WireGuard VPN
My team and I tested hundreds of VPNs to find the best that support WireGuard (or offer superior alternatives). To choose the best VPN for WireGuard, I recommend that you look out for the following:
Safe WireGuard implementation. In order to implement WireGuard in a way that adheres to no-logs policies, each VPN service has to put a system in place so WG can be used safely. You should make sure the VPN already has a robust privacy policy in place, and that it takes extra steps to ensure WireGuard's privacy flaws are properly mitigated. Even better if it has these measures published on its website.
Fast speeds and a reliable network. WireGuard is super fast, so you don't want a VPN with an old, slow server infrastructure to hinder WG's capabilities. The VPNs in this list all have high-speed servers to ensure you can make the most of WireGuard. They're all also super reliable for accessing popular streaming sites like Netflix, BBC iPlayer, Hulu, and more while you're using WireGuard.
Robust security features. And ones that don't compromise WireGuard's upgraded encryption. The Wireguard protocol has great security features by default. However, make sure your VPN also offers other secure protocols like OpenVPN in case you need to switch to another one.
Easy-to-use app. Make sure using the WireGuard protocol within the VPN app is as easy as selecting it and clicking "Connect".There's nothing worse than an ugly, confusing user interface or having to hunt to find the features you need.
Excellent customer service. Make sure you can contact them easily through live chat or email, 24/7 live chat being the best option.
Quick Guide:
How to Set Up WireGuard in 3 Easy Steps
Get a WireGuard VPN. I recommend ExpressVPN since its WireGuard alternative, Lightway protocol, was the fastest I tested. Plus, it doesn't have the same privacy concerns that WireGuard has.
Enable the WireGuard (or Lightway) protocol. You can do this via the VPN's security settings, usually labeled "protocol".
Start using your WireGuard VPN. Connect to a server and start browsing, streaming, gaming, or torrenting with WireGuard.
FAQs on the Best VPNs for WireGuard
Is WireGuard better than OpenVPN or IKEv2?
It depends. WireGuard provides the perfect balance between speed and security. It only falls short when it comes to privacy because it wasn't developed with privacy or VPNs in mind. Since WireGuard can't assign dynamic IPs, you're given a static IP address, so it's required to log and store your IP and timestamps until the server is rebooted. However, many VPNs have taken steps to address and mitigate these issues.
With WireGuard, you'll get the following benefits:
Faster speeds: WireGuard was 30% faster than OpenVPN during my tests.
Upgraded encryption: WireGuard was created with this in mind — it uses ChaCha20 with Poly1306.
More lightweight: with only 4,000 lines of code, WireGuard offers better performance and is much easier to audit, spot, and fix bugs. OpenVPN has about 70,000 lines of code.
However, if privacy is your top concern, you'll benefit from OpenVPN since WireGuard wasn't designed with privacy in mind as much as security.
IKEv2 works well for mobile devices. However, it's not as secure as OpenVPN or WireGuard since it's not open-source.
Does ExpressVPN support WireGuard?
No, but its Lightway protocol was developed as a faster, safer alternative. Lightway gives you faster speeds than WireGuard, and it's also more lightweight, meaning it performs better and can connect faster. It's also been audited by security experts for safety and since it's developed with privacy in mind (unlike WireGuard), you don't have to worry about whether the VPN has implemented it safely.
Is WireGuard the fastest protocol?
If you want top security, then it's the fastest widely-used protocol. However, I found that ExpressVPN's proprietary Lightway protocol was faster. Compared to other widely-used protocols, WireGuard's speeds are much faster than OpenVPN — it was 30% faster during my tests. It's usually not as fast as IKEv2, but only a little slower. I had speeds of 62.52 Mbps using IKEv2 compared to 56.69 Mbps with WireGuard on the same server.
What should I do if my WireGuard VPN isn't working?
First of all, you should make sure you're using a VPN that runs WireGuard reliably. If you've already got one, then try the following:
Check if your internet connection is okay. Make sure you're connected to a stable WiFi connection.
Try to connect to another server. Severs go down from time to time. Try another one in case it's just one that's not working.
Check for updates. Make sure you're using the most up-to-date VPN software.
Check the VPN's status page. This should be updated if the VPN is experiencing any technical issues.
Can you manually set up WireGuard?
Yes, some VPNs have WireGuard manual configuration files on their websites. Proton VPN has these as well as detailed instructions on how to use them. This is an option when your device isn't natively compatible with the VPNs' WireGuard protocol. You need to download the configuration files directly from the website and rent a server.
However, this isn't the simplest way of using WireGuard. It's easier to just use a VPN app that has WireGuard already integrated.
What is the best WireGuard VPN for P2P?
All the VPNs shortlisted here are great options for P2P. Since WireGuard gives you incredibly fast speeds, you can download files at almost the same speed you would without a VPN.
While it doesn't actually support WireGuard, I found ExpressVPN's Lightway protocol a better alternative to WireGuard. It consistently gave me faster speeds than WireGuard, and it allows P2P file sharing with unlimited bandwidth on every server. I tested its torrenting ability with its Lightway protocol, and I was able to download a 700 MB file in less than 10 minutes.
Is there a free VPN that supports WireGuard?
Yes. Proton VPN does offer a free plan that supports the WireGuard protocol. However, it only gives you access to servers in 3 countries. The free servers are always super crowded, which makes them slow. This defeats the purpose of using WireGuard if you're looking for speed. I recommend upgrading to its premium plan or using one of the other WireGuard VPNs on this list.
I also wouldn't recommend using a free VPN in general. They don't offer the same privacy and security benefits. Plus, you're often targeted with ads since some free VPNs make money that way. They also tend to have very sketchy logging policies.
Get the Best VPN For WireGuard Today
WireGuard offers some great benefits that other protocols simply can't compete with, like faster speeds and state-of-the-art encryption. Unfortunately, since it wasn't developed with privacy in mind, there are privacy concerns. This is why you need to use a top-quality VPN that mitigates these.
Many VPNs have addressed this and safely implemented WireGuard to keep in line with their high privacy standards and no-logs policies. However, while it doesn't support WireGuard, I still recommend ExpressVPN's Lightway protocol because it's a faster and safer alternative to WireGuard. You can test ExpressVPN out risk-free as it's backed by a 30-day money-back guarantee. So if you don't like it, it's easy to get a full refund.
To summarize, the best VPNs with WireGuard capabilities are…
Privacy Alert!
Your data is exposed to the websites you visit!
The information above can be used to track you, target you for ads, and monitor what you do online.
VPNs can help you hide this information from websites so that you are protected at all times. We recommend ExpressVPN — the #1 VPN out of over 350 providers we've tested. It has military-grade encryption and privacy features that will ensure your digital security, plus — it's currently offering 49% off.