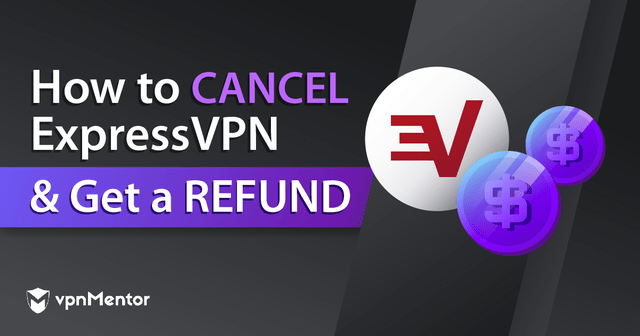 How to Cancel ExpressVPN and Get a Full Refund (Tested 2023)
Updated on 23rd January 2023
When I asked for a full refund after using ExpressVPN for 25 days, they stood by their money-back guarantee. It was really no hassle to get my money back and it didn't even matter that I used a deal to get
the cheapest plan
.
I rate ExpressVPN highly, but I understand if it's not for you. That's why I tested its 30-day money-back guarantee to make sure you can quickly and easily get a full refund if you don't love it.
However, it's not a good idea to be without a VPN for long. Every time you connect to the internet, your information is vulnerable. That's why I recommend Cyberghost as an alternative with similar speeds and streaming performance.
Now, all you need to do is take care of your old ExpressVPN account. It's really easy to cancel and ask for your money back from ExpressVPN, but only if you know the proper method.
Jump to see more great alternatives
Quick Guide: How to Cancel ExpressVPN and Get a Full Refund
Log in to your ExpressVPN account. Go to the ExpressVPN website, click the "My Account" tab at the top, and enter your login details.
Ask for a refund. Click on the live chat button on the bottom right and ask them to cancel your account and get a refund.
Confirm your refund. Once your refund is confirmed, you just need to wait for it to arrive in your bank account. It took me 3 business days to receive mine.
How to Cancel Your ExpressVPN Account and Get a Refund
ExpressVPN has a money-back guarantee that lets you test the service risk-free. You have up to 30-days to request a refund if you're not completely satisfied with it. All you have to do is ask for your money back through its 24/7 live chat function.
1. Sign in to ExpressVPN. Head over to the ExpressVPN homepage and click "My Account" on the top right. Then, enter your email address and password to sign in.
2. Open live chat. Click the button in the lower-right corner called "Need help? Chat with us!"
3. Start a chat. Ask the live chat agent to cancel your subscription and claim a refund. Make sure you provide your account details when asked, such as your email address.
4. Wait for approval. Go along with the chat until you get confirmation and approval of your refund.
The support team member told me it would take 5-7 business days to receive a refund. So, I was surprised when I got all of my money back after 3 business days. I also received a confirmation email once the refund was confirmed.
Until the process is complete, you will still have access to your account. You should also be aware that how fast you receive a refund may depend on your bank or the payment method you use; PayPal is the fastest.
Overall, it was an easy, straightforward process, and I especially like the 24/7 chat function. I appreciate not having to wait for an email response. In my experience, you normally get a response in under a minute.
How to Cancel an Android Subscription
You can cancel with the same method as desktop users.
In the past, if you purchased through the Play store, you'd have to cancel through there. However, ExpressVPN is no longer for sale in the Play Store. So, if you have ExpressVPN on your Android, it was purchased at some point through the ExpressVPN website. If you're looking for a suitable replacement, then you can find the top VPNs for Android here.
How to Cancel on an iPhone
If you've bought ExpressVPN through the App store, you'll have to cancel through Apple. Luckily, it's straightforward.
Go to "Settings." Once you've accessed your phone settings, find your name.
Select "Subscription." This will show you all the subscriptions you pay for.
Choose "ExpressVPN subscription." Now, you can see your ExpressVPN settings.
Tap "Cancel Subscription." That's it. You've canceled your subscription.
You'll also have to request your refund through Apple support. To do this, you'll need to visit reportaproblem.apple.com. Once you sign in, you'll see your ExpressVPN subscription, and you can click "Report a Problem'' to request your refund. You can tell them about ExpressVPN's 30-day money-back guarantee, but Apple won't be obligated to honor it. To find a VPN that's a better fit for you, check out this list of the top VPNs for iOS.
What is the ExpressVPN Money-Back Guarantee Policy
ExpressVPN is backed by a 30-day money-back guarantee so you can buy with confidence. If you aren't satisfied with it, you now know how to get a full refund. You are eligible for this policy no matter what length of subscription you choose or what your reason for cancellation is.
It's also important to remember that this is 30 days, not one month. That means if you signed up at noon on July 1st, it expires at noon on July 30th. In addition, if you change plans or upgrade, this will waive your money-back guarantee. Lastly, it's possible to receive a refund after 30 days. You'll need to prove the service was unusable in the time period and that you attempted to contact support.
I Canceled My ExpressVPN Subscription — Now What?
ExpressVPN might not have been the right service for you. If the price was your reason for canceling, I don't recommend testing a new service using a free trial to save money. They are usually super limited in their features and don't provide a good impression of how the VPN actually works in the long term.
That's why I've put together a list of the best alternatives to ExpressVPN. Each one offers great prices and comes with a money-back guarantee so you can test all the unique features out before you commit. Choose one today to make sure you stay protected online and get back to unrestricted streaming, gaming, and browsing as soon as possible.
Best Alternatives to ExpressVPN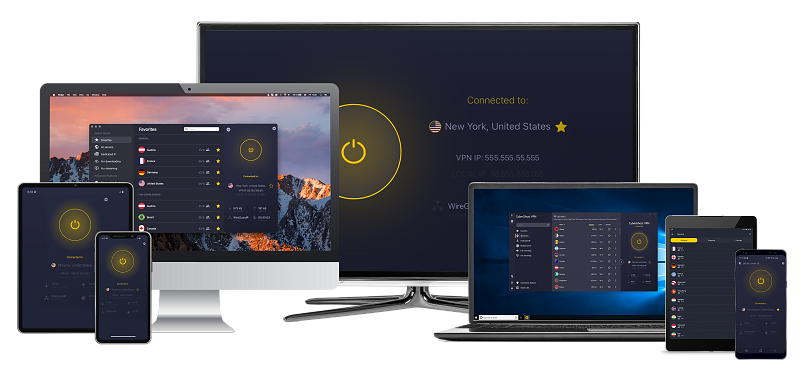 Editor's Choice
Editor's Choice

Tested January 2023
Try Risk-Free for 30 Days
Available on:
Chrome
Router
Smart TV
More
www.cyberghostvpn.com
Military-grade encryption and kill-switch
9,758 servers in 91 countries, including streaming-optimized servers
45-day money-back guarentee
Can unblock: Netflix, Disney+, HBO Max, Hulu, BBC iPlayer, Vudu, and more
Compatible with: Windows, Mac, iOS, Android, Linux, routers, Apple TV, and more
CyberGhost has streaming optimized servers for popular streaming sites. I bypassed geo-restrictions to stream on Netflix, Amazon Prime Video, HBO Max, BBC iPlayer, and Disney+ with no issues. CyberGhost constantly updates its streaming servers to make sure it removes banned locations. This makes CyberGhost one of the best VPNs for streaming.
The fast speeds it provides let you watch movies in buffer-free HD. I performed tests on 8 CyberGhost servers and was impressed with the results. CyberGhost never dropped my speeds by more than 25%. So, you'll be able to watch smooth streams with zero loading times.
It also offers NoSpy servers that provide extra security, but you need to be on at least a yearly plan to access them. NoSpy servers are housed in private data centers owned and operated by CyberGhost in Romania, outside the 14 Eyes Alliance. They cut out any third-party involvement to ensure that your data is never compromised.
Its strict no-logs policy makes CyberGhost a trustworthy company to handle your data. Information on your IP and online activities is never stored. You can even pay with cryptocurrency to keep all of your information completely anonymous during the transaction.
One negative is that its short-term plans are expensive and come with a 14-day money-back guarantee(14 days vs 45 days). However, CyberGhost's long-term plans are super affordable, as you can get a subscription for $2.19/month.
To test its 45-day money-back guarantee, I asked for a refund through its live chat. The support agent was very helpful and processed my cancellation after asking why I was leaving. In 5 days, I had the full refund back in my account.
Fast and reliable speeds
84 servers in 84 countries
30-day money-back guarentee
Can unblock: Netflix, Disney+, HBO Max, Hulu, BBC iPlayer, Vudu, and more
Compatible with: Windows, Mac, iOS, Android, Linux, routers, Apple TV, and more
Private Internet Access is compatible with every major device. This includes a full GUI for Linux, which Linux users know is rare. It also has apps available for Windows, Android, iOS, and browser extensions for Chrome, Firefox, and Opera. So, there's a great version of Private Internet Access available for you no matter what device or OS you prefer.
The military-grade encryption PIA utilizes will keep your data safe. It uses 256-bit encryption, which means the key to your data is hidden in a number 78 digits long. It would take the most advanced computers in the world thousands of years to crack that code. So, it's nearly impossible for anyone to find your crucial information when you're connected.
It has an enormous amount of locations with 29,650 servers available to unblock several streaming platforms. In my streaming tests, I accessed HBO Max, Disney+, Netflix, and Amazon Prime Video. Each one worked on the first try, and my videos loaded up in seconds. Having so many servers makes it a solid VPN for streaming that lets you watch platforms from all over the world.
A minor con is that it's located in the US, a country that's part of the 14 Eyes Alliance. However, PIA's strict no-logs policy proves it protects your online privacy, as it has been independently audited.
Upon looking at its pricing plans, I found the 3-year plan to be the least expensive at $2.19/month. It's no different from the short-term plans but saves you more over the long run.
It's even possible to test PIA for free as it's backed by a 30-day money-back guarantee. To see if it was legitimate, I asked a live chat agent for a refund. After providing my cancelation reason, she proceeded with my request, and I was fully refunded after 4 days.
Try Private Internet Access Now!
Unlimited simultaneous device connections
Reliable speeds
30-day money-back guarentee
Can unblock: Netflix, Disney+, HBO Max, Hulu, BBC iPlayer, Vudu, and more
Compatible with: Windows, Mac, iOS, Android, Linux, routers, Apple TV, and more
IPVanish has fast speeds that provide a smooth online experience. I performed speed tests on 7 different US servers, and my speeds didn't drop by more than 20%. Even with this drop in speeds, I didn't notice any difference when conducting my online activities. Wherever you are in the world, you can stream your favorite shows and play games without any lag.
Its server network lets me unblock a wide variety of platforms. I was able to unblock Disney+, HBO Max, Amazon Prime Video, and Netflix without any issues. Accessing each site took me less than 15 seconds each time. Therefore, you'll be able to watch your favorite streaming shows from anywhere.
It also has a strict no-logs policy, so you can trust them with your data. The company stores zero information on your connection or activity to ensure that your privacy is never compromised. This means you can be confident IPVanish will never share your information because it doesn't keep any of it.
I was disappointed when I found out IPVanish doesn't accept cryptocurrency payments. However, I could pay via credit card, online gift card, or PayPal. It offers long-term plans for as low as $3.99/month, which is great value. There's even an option to add cloud storage as an extra.
Additionally, you can try IPVanish for free as it comes with a 30-day money-back guarantee. I didn't have to contact customer service to cancel my account, as I simply logged into it and initiated everything from the dashboard. After 2 clicks and 4 business days, I got my money back.
FAQs on How to Cancel ExpressVPN & Get a Full Refund
Does ExpressVPN have a monthly subscription?
Yes, you can get a monthly subscription for ExpressVPN. However, its long-term plans are more affordable, as a yearly plan is roughly 35% less than a monthly one overall. But even with a yearly plan, ExpressVPN can still be pricey.If you find that's the case, then it's better to check out an ExpressVPN alternative that provides similar features at a better price.
How long does it take to get your money back after canceling ExpressVPN?
It depends on your bank, but ExpressVPN tries to refund you within 7 business days. When I asked for a refund, I received my money back in 3 days. Best of all, it only took me 5 minutes to get my refund approved via the 24/7 live chat, making the process quick and easy. Also, your payment method impacts the speed of your refund, with PayPal providing the fastest refunds of 1 business day.
Can you cancel ExpressVPN and get a refund at any time?
You can cancel ExpressVPN and get a refund as long as you're within the 30-day money-back guarantee period. This applies to all subscription plans. But please note that your subscription will end as soon as you do this, meaning you can't use your entire money-back guarantee period.
If you want to use your subscription until the end or think you might renew it at some point, then you can log in to your ExpressVPN account and turn off the automatic renewal setting. This method won't give you a refund, but it lets you use your subscription until it expires.
What are the reasons you might not get a refund from ExpressVPN?
The two reasons are if you cancel outside the money-back guarantee period or purchase ExpressVPN from a third-party app store, like the Apple App Store or Google Play. Payments through third-party app stores send no billing information to ExpressVPN, so it can't guarantee your refund will be granted. You will need to contact the app store in this instance. For this reason, it's always best to purchase EpxressVPn directly so you can cancel your subscription through its website.
Cancel ExpressVPN Now
I recommend ExpressVPN because of its fast speeds and excellent security, but I understand it's not right for everyone. Even if you use the latest ExpressVPN discounts, it's still not the cheapest VPN you can find. It doesn't come with an ad-blocker either, which can be quite inconvenient at times.
You don't have to stick with a subscription you don't want, thanks to ExpressVPN's 30-day money-back guarantee. I found its refund process quick and easy, as all I had to do was request a refund live chat.
Once you've got your ExpressVPN refund, you need to pick a VPN that suits your needs. If you're looking for a service with comparable speeds for streaming and gaming, you should try CyberGhost. It's super user-friendly, reliable, and secure – plus, you can get up to 84% off with its new deal.
The best alternatives to ExpressVPN in 2022 are…
Privacy Alert!
Your data is exposed to the websites you visit!
The information above can be used to track you, target you for ads, and monitor what you do online.
VPNs can help you hide this information from websites so that you are protected at all times. We recommend ExpressVPN — the #1 VPN out of over 350 providers we've tested. It has military-grade encryption and privacy features that will ensure your digital security, plus — it's currently offering 49% off.