Cyber Month Deals and Coupon Codes
October is Cyber Month, and that means great deals are happening! Scroll down to see some BIG discounts on VPNs for Cyber Month.  Share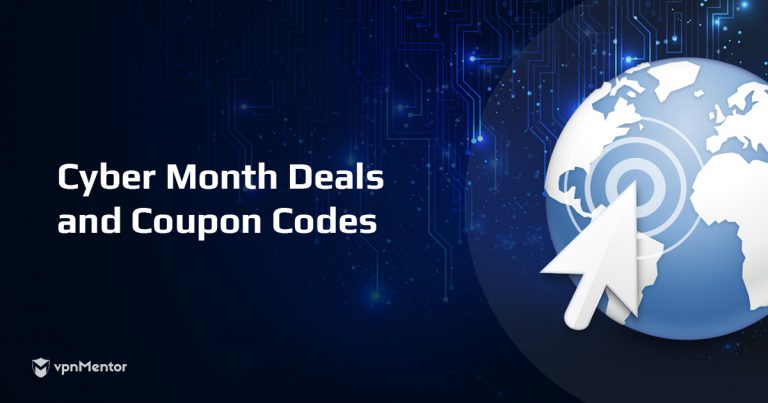 Save nearly 50% and get 3 extra months FREE!

Save 70% and Get 3 Years of NordVPN for Just $3.49/month.

Get an Extra 6 Months Free and Save 77%
Only valid on the one-year plan.

Get 63% off on ZenMate's Premium 1 year Plan.

Get a 30% discount with the code TOPSEC30

Buy 1 Year and get an additional year FREE.
You can also get an extra 5% off with the code PRIVACYPLEASE.

Get 5GB for just $100!
Get an additional $30 off any Residential Plan with the code CYBER_MONTH_30
This offer is only available for a limited amount of time and is valid for one month of use.

Save 78% on the 2-Year Plan

Get 3 years of BVPN for just $2.99/month and save 70%

Save 30%, 40%, and 50% on the 3 month, 12 month, and 24 month plans!
Valid October 1 – November 1, 2018

Get 20% off with the code VPNMENTOROCT18

Get an extra year free with the code CM2018

Get 2 years of Le VPN for just $69.60

Get up to 90% off the Global VPN Plan!

Get 50% off a one year subscription with the code COSBYSWEATER2600

Get 1 Year of SpyOff Premium for just $3.33 per month!

Get an 80% discount on all Single Country VPN Plans with the code CYBERMONTH18.