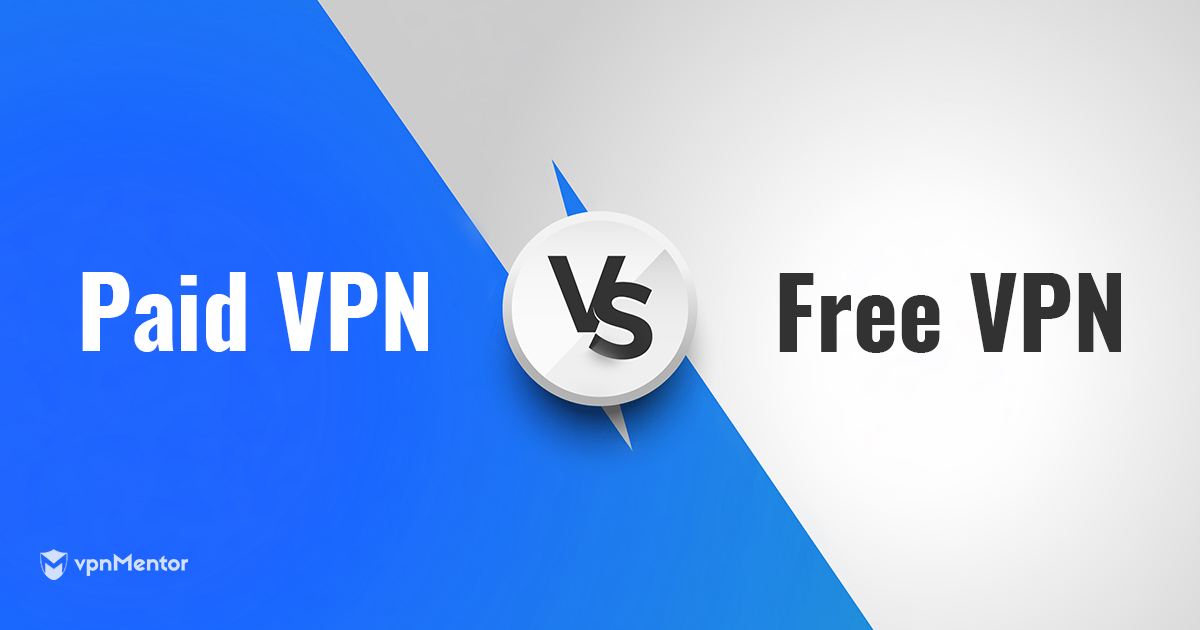 Free VPN vs Paid VPN – Which Is Right for You & Best of 2023
We don't expect perfection out of products we get for free – we just want to know if they're good enough for our purposes. If you're choosing between a new stove and the old, worn-down one your neighbor is giving away, the question isn't which one is better, but how often do you cook?
The same idea applies to VPNs. With millions of people using them every day, it's clear that free VPN services get some things right. They also have their flaws, so you need to know how to spot those flaws and decide if they'll get in the way of what you want to do online.
What are the differences between free and paid VPNs, and when does it make sense to pay for a VPN service instead of getting one for nothing?
Why Some VPNs Are Free and Others Are Not
The best VPNs keep you completely anonymous online, shield you from cyber threats, and give you access to geo-restricted websites. The thought of getting all that for free is amazing.
The problem is that running a reliable VPN service – which includes managing a global server network, developing client apps, and providing user support, just for starters – isn't free. And VPN providers aren't charity organizations; they're businesses.
While paid VPN services make their money from subscription fees, providers of free VPNs have to somehow generate income from your use.
In some cases, the company can make things work just by limiting the functionality of its free service. If you only need a VPN occasionally for privacy, a limited free VPN might work fine for you.
What about VPN providers that promise a complete, unlimited service at no cost? That's where you need to be more careful. Some free VPNs actually compromise your privacy and security to make money. That's the absolute last thing you want from a VPN.
Here's our guide to avoiding risky free services and getting the most out of the ones you can trust. We'll also explain what the best paid VPNs can do that free services can't, and how to know when it's time to upgrade.
What Are the Risks and Problems with Using a Free VPN?
The key question is, if companies are making money by letting me use a service for free, what do they know that I don't? We'll start with the worst things some free VPN providers do to turn a profit, then look at the minor hassles you can safely live with for occasional VPN use.
1. They track you online and sell your personal or browsing data.
Many free VPNs, inluding Betternet VPN, acknowledge that they share your session data with advertisers and blitz you with ads.
When third parties can access your private information and harvest your data, your online privacy is compromised, defeating one of the most important purposes of using a VPN.
In addition, some free VPNs even hijack your browser and redirect you to partner websites without your consent.
2. They give other users access to your connection.
Hola VPN and many other free providers operate as P2P networks, sending your data through another user's device and routing other users' traffic through yours. This setup immediately puts you at risk of malware and DNS attacks, but it gets worse.
Hola VPN actually sells your unused bandwidth on the global data market. That's how they make money, and it's downright dangerous.
3. They provide weak and easily crackable security.
As we said, operating a solid, secure network infrastructure is a costly process – unless you cut corners.
Unlike premium VPNs, many free VPNs use unreliable security measures and weak encryption that can act similar to malware. Often, this poor protection means that your data can be easily deciphered by hackers and spying agencies like the US NSA.
4. Your browsing will be constantly interrupted by ads.
Selling advertising is one of the most common ways for free VPN services to profit off your use. Even if the provider doesn't track your use or sell your data, the constant annoyance of ads might make you regret trying to save a few dollars a month.
It's also unlikely that any free VPN screens all those ads for malware and spyware, so one accidental click could bring you big trouble. On the other hand, top-rated paid service CyberGhost protects you from dangerous sites with its built-in ad and malware blocker.
5. They will slow down your internet connection.
If you're looking for a free VPN to stream videos, play games, or download torrents, you will almost certainly be badly disappointed. Use of any VPN involves some loss of speed due to the encryption process, but with the best paid VPNs, you'll hardly notice it.
It's a different story with free services. Because of their small networks, constant ads, or intentional speed throttling, they'll slow your web surfing to a crawl.
Fortunately, slow speeds are only an annoyance, not a threat to your security or privacy. If you just need to send a confidential email from a WiFi café, a little patience and a trustworthy free VPN will serve you well.
6. They offer limited features so you'll upgrade to a paid service.
If you manage to find a free VPN that doesn't collect data and keeps ads to an acceptable level, you'll likely be dealing with another problem: service limitations. However, depending on your needs, you may be able to live with the restrictions.
Free services are often offered by premium VPN providers that want to convince you it's better to pay for a plan. So while the free VPN won't put your data or devices at risk, the provider will make sure that it doesn't meet all your needs.
For example, most free versions of paid VPN services severely limit your usage (in many cases, to 500MB per month) and your network access (sometimes to a single, overworked server). They also won't unblock US Netflix or the BBC iPlayer.
But as with speed issues, service limitations are more frustrating than dangerous. If your browsing is light, they might never bother you at all.
For more insights from our experts on how a "free" VPN could end up costing you in the long run, see our comprehensive guide to the risks of free VPN use.
When Is It OK to Use a Free VPN?
In spite of their flaws, the safest free VPNs can work well for occasional, light use. If you're on a short trip and want to access a weakly geoblocked site back home, or just want a little protection while using public wi-fi, a limited free service could do the job nicely.
And yes, there are safe free VPNs available, as long as you're willing to accept their limitations.
First off, we strongly recommend that you avoid free VPNs that claim to provide unlimited services. Those are some of the riskiest options available.
Instead, look for premium VPN providers that offer restricted free plans, like TunnelBearVPN, WindscribeVPN, Hide.meVPN, or Hotspot ShieldVPN.
While these free VPNs might place limits on your bandwidth, speed, and server access, they offer most of the same security and privacy features as the providers' paid services. No stand-alone free VPN can compete with that level of protection.
Just don't expect these free VPNs to meet all your long-term needs, because the providers want you to upgrade. However, you can trust them to take your security and privacy seriously.
Remember, though, that our top-rated paid VPNs offer free trials and/or money-back guarantees. Why compromise for short-term use, when you can get everything you want from a VPN at no cost?
Paid VPNs – Complete Protection and Premium Features for Every Use
So we're stuck with the fact that no free VPN offers a complete, safe, high-quality service without limitations. What might surprise you, though, is how affordable many premium VPN subscriptions actually are. That leaves just one question…
What's so special about paid VPN services that makes them worth your money?
1. They offer genuine protection for your private data online.
When you disconnect from the web, your session data should disappear, and it will with a premium VPN. While some top VPN providers keep partial connection logs, usually for diagnostic purposes, none of them track your activity or share your data, ever.
Even better, our most highly rated VPNs don't keep any logs at all, so your activity online is truly anonymous – as it should be.
2. They have topnotch network security.
Paid VPNs need subscribers to stay in business, so they literally can't afford security failures. The best VPNs provide end-to-end, AES 256-bit encryption and support a variety of tunneling protocols, including the ultra-secure OpenVPN.
Some VPNs even take security to the next level with additional features like split tunneling, Double VPN, kill switches, and DNS and IPv6 leak protection. Your data won't be exposed even if you experience a sudden disconnection from your VPN server.
3. They do not impose bandwidth or speed limits.
ideal if you use your VPN for streaming online videos, P2P activities, or gaming.
In fact, elite VPNs offer optimized servers for each of these activities, so you can say goodbye to buffering and painfully slow downloads.
4. They give you access to more server locations.
Paid VPNs give you unlimited access to their entire server networks, which are often gigantic and span the entire world. Therefore, you will have access to more geo-restricted services and websites.
As a general rule, the more servers, the better for unblocking sites and for connection speed. However, a few of our top-rated VPNs amaze us with how much they can do with relatively small networks, because they manage those networks with such care.
5. They can unblock Netflix and even work in China.
Now this is where the very best VPNs truly shine. Even most paid VPNs don't reliably unblock Netflix or get past the Great Firewall of China because those blocks are reinforced with sophisticated VPN-detecting software.
Yet without draining your wallet, top premium VPNs will give you access to US Netflix and the BBC iPlayer, and even sneak past heavy filtering systems in notorious locations like China, Russia, and Turkey.
6. They offer a host of other features for a better experience.
In addition to better privacy, security, and worldwide content access, you get plenty of other good stuff with a paid VPN. For example, a lot of premium services allow you to use their software on multiple devices at the same time with just one subscription.
Others offer dedicated IPs, P2P servers, and built-in malware and ad blockers. Some have amazingly responsive customer support, and many have brilliantly user-friendly interfaces.
Best Paid VPNs & Why They're Worth the Price
Whether you need a VPN for online security, privacy protection, streaming restricted content, torrenting, or gaming, these VPNs do it all for a far lower price than you might expect.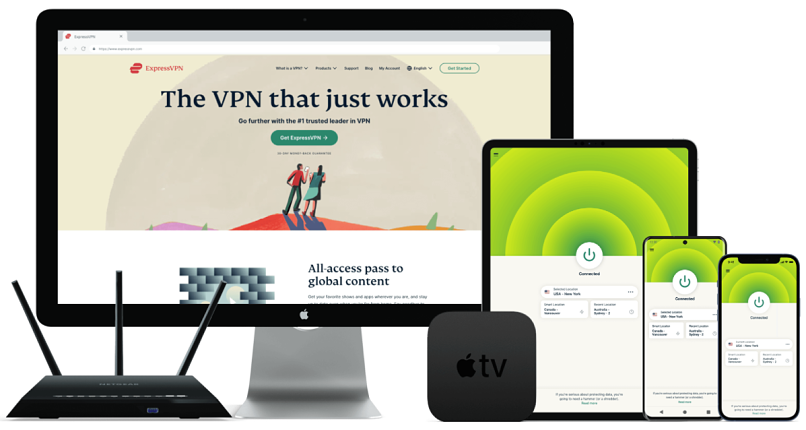 Editor's Choice
Editor's Choice

Tested February 2023
Try Risk-Free for 30 Days
Available on:
Chrome
Router
Smart TV
More
www.ExpressVPN.com
ExpressVPN is, without a doubt, one of the most popular VPNs on the market. While there are many reasons so many users love it, one reason stands above all the others: SPEED. This VPN remains undefeated in our network speed tests.
Best of all, ExpressVPN delivers those lightning-fast connections without sacrificing any of the other features you should expect from a premium VPN. It is an all-around solution for online security, privacy, and internet freedom.
ExpressVPN uses military grade 256-bit encryption, supported by multiple advanced security protocols. With one subscription, you can secure up to 5 devices simultaneously.
The British Virgin Islands-based provider doesn't keep logs of your online activity and has a built-in kill switch in all its apps. In addition, ExpressVPN gives you public WiFi protection and DNS/IP leak protection.
Mobile users get a free 7-day ExpressVPN trial, and all subscriptions come with a 30-day money-back guarantee.
ExpressVPN can unblock:
Netflix, Hulu, HBO, Amazon Prime Video, Showtime, Sling TV, DAZN, and BBC iPlayer.
Supports torrenting:
Yes, all servers support P2P activity.
ExpressVPN works on these devices:
Windows, macOS, Android, iOS, Android TV, Linux, Chrome, and Firefox. It also offers an app for use with certain routers.
CyberGhost is all about balancing ease-of-use, advanced security and privacy capabilities, and a competitive price. We salute the Romania-based provider for achieving exactly that.
CyberGhost was able to fit all its advanced VPN features in a visually welcoming, user-friendly app, available for all major platforms. You can connect up to 7 devices simultaneously.
The entire CyberGhost network is secured with AES 256-bit encryption and no logs are kept of your network traffic. Other features include an automatic kill switch and DNS leak protection.
There are many, many more features to this super well-designed VPN, making it a favorite choice of users around the world. You can give it a risk-free try with its 45-day money-back guarantee.
CyberGhost can unblock:
Dedicated streaming profile with servers optimized for: Netflix, BBC iPlayer, Sky Go, Comedy Central, Eurosport, ESPN, and others.
Supports torrenting:
Yes; dedicated profile shows countries and number of users.
CyberGhost works on these devices:
Windows, macOS, Android, iOS, Amazon Fire Stick, Android TV, Linux, and Chrome.
TunnelBear is a Canadian VPN provider, which we wouldn't usually love since Canada is a Five-Eyes Alliance member. But we do love that the company voluntarily underwent two independent security audits to identify and fix any weaknesses in its network.
As a provider of both a free and a paid VPN package, TunnelBear is an ideal choice if you're still undecided about paying for a VPN. The free package has data and server access limitations, but both versions include impressive features and reliable security measures.
TunnelBear's server network spans 47 countries and is secured with 256-bit encryption. You can connect up to Unlimited devices simultaneously with a single paid subscription.
In addition to a delightful bear theme, the TunnelBear app includes heavy-duty features like its unique GhostBear mode, a great option for bypassing tough geographic and censorship restrictions. A very strict no-logs policy keeps you anonymous.
There is no money-back guarantee with TunnelBear, so we recommend that you try out the free version first before investing in a paid plan. You can also check out what users have to say about it in our huge collection of customer and expert reviews.
Also based in Canada, Windscribe is another provider that offers free and paid versions of its VPN product. It offers feature-rich applications for all major platforms, in addition to browser extensions.
Windscribe has 170 servers in 69 countries around the world and uses advanced, military-grade encryption to secure this network. No personal information is ever recorded on these servers that could allow someone to trace your activity back to you.
Additional features include a built-in firewall and an ad blocker. You won't get Netflix with the free version, but the paid service includes access to dedicated Windflix servers for unlocking highly restricted streaming services.
For network size and overall speed, Windscribe can't compete with our top three VPNs, but it is nevertheless a solid service and the go-to VPN for many users.
Summary
The idea of a free VPN is naturally very appealing. But when the true cost of using the service is sacrificing your privacy, exposing your device to cyber attacks, or limited access and poor connections, the appeal disappears quickly.
On the other hand, a trusted paid VPN gives you far better security and performance and a huge variety of user-focused features.
What's really unfortunate is that not even all paid VPNs can be trusted to keep you safe or to deliver fast, consistent connections. That's why we constantly test every major VPN on the market to make sure the provider's promises are kept.
If you're in desperate need of a free VPN temporarily, play it smart and take advantage of the free trials or money-back guarantees offered by premium services. And what if we told you that you can save big on the top VPNs right now? Get the best current deals here.
To summarize, the best paid VPNs for 2023 are...
Privacy Alert!
Your data is exposed to the websites you visit!
The information above can be used to track you, target you for ads, and monitor what you do online.
VPNs can help you hide this information from websites so that you are protected at all times. We recommend ExpressVPN — the #1 VPN out of over 350 providers we've tested. It has military-grade encryption and privacy features that will ensure your digital security, plus — it's currently offering 49% off.