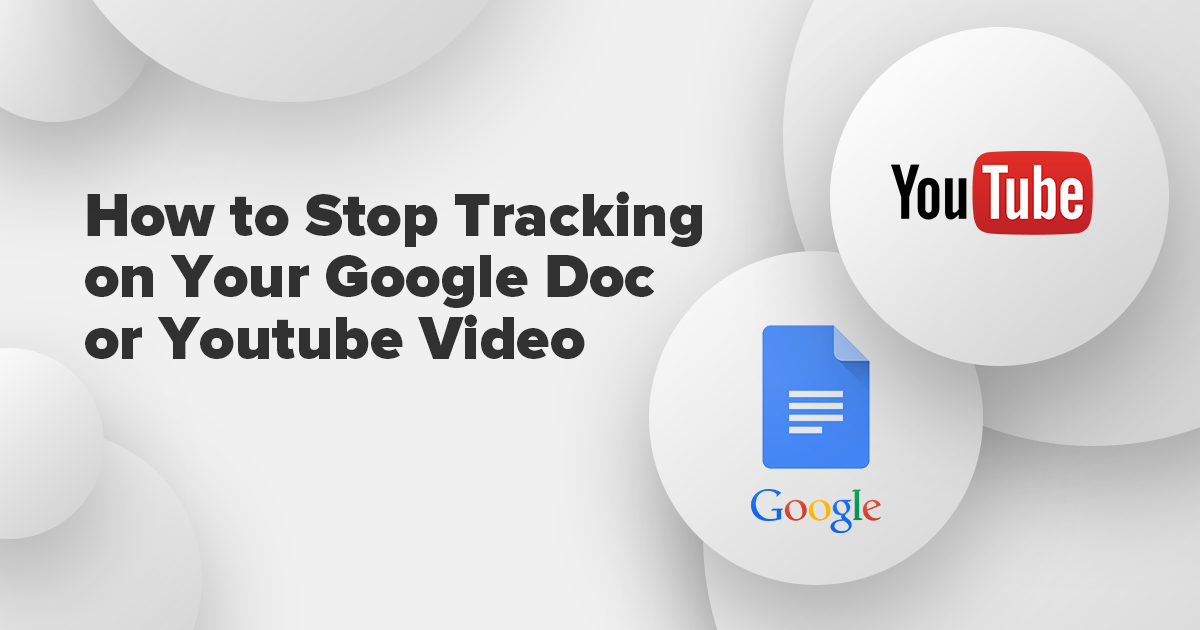 How to Shield Your Docs & Vids from Tracing (Even Unlisted)
Google Docs and Youtube videos are great platforms. But did you know your documents and videos can be traced and viewed by others? Find out how to secure your files and videos with a click of a button. Share
Google Docs and YouTube are among the many free Google products available. YouTube offers a wide variety of individual and corporate user-generated videos and allows users to view, comment and/or share them with others.
Similarly, Google Docs is a web-based software office suite within the Google Drive service that enables one to write, edit and share documents from anywhere in the world.
However, their sharing capabilities can lead to some undesirable security issues if private, sensitive information is unintentionally shared in an inappropriate manner.
Fortunately, Google provides visibility options to let you control how people access your documents and video contents. Knowing how, why and when to leverage these visibility options is key to protecting your privacy online and digital assets.
Read on to find out how to stop your Google Docs and YouTube videos from being traced.
Visibility options for Google Docs and YouTube
The visibility options in Google Docs and YouTube are pretty much the same – except for the "Scheduled" option available only in YouTube. The visibility options common to both are public, private, and unlisted (known as "Anyone with the link" in Google Docs). Please see Figure 1 and 2 below for details.
Public: The "Public" option is exactly what it is – documents and videos in this category are publicly available and will show up in search results. Anyone can search, view, or share them. It is the default setting for all YouTube videos.
Private: Documents and videos set to "Private" are only private to the creator and can only be accessed by those invited to view them by the creator. However, in order to be able to access documents or video contents in this category, an invitee must have an active Google account and must be signed in to that account. This is the default setting for documents created in Google Drive. Anything that you create, upload or sync in Google Drive starts out as private.
Private settings are suitable for corporate, family or individual content that is sensitive or confidential in nature. They are a great way to ensure the right people are the only ones who can view the private information. For example, using the private video setting ensures internal corporate messages posted on YouTube stay internal. With this setting, a company can create an entire library of video resources for in-house consumption.
Unlisted (Anyone with the link): The "Unlisted" visibility option known as "Anyone with the link" in Google Docs allows documents and video contents to be viewed and shared by anyone with the exact link to the document or video, or anyone who has access to a webpage that embeds that video or document. Unlisted contents under normal circumstances don't usually show up in search results (except in YouTube playlists), and a user is not required to have an active Google account or to be logged in to view or edit them.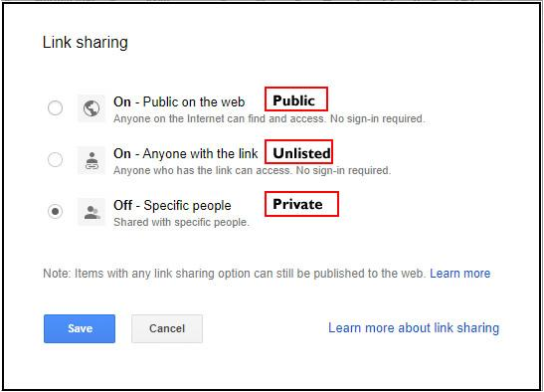 | | | | |
| --- | --- | --- | --- |
| Feature | Public | Private | Unlisted |
| Can share URL | Yes | No | Yes |
| Can be added to channel section | Yes | No | Yes |
| Shows up in search, related videos, and recommendation | Yes | No | No |
| Posted on your channel | Yes | No | No |
| Shows in Subscriber feed | Yes | No | No |
Figure 2: Table showing YouTube privacy settings
Privacy issues with unlisted items and how to mitigate them
Although items marked as "Unlisted" will not typically show up in search results, a subscriber's feed, or in suggestions, they can still be viewed by anyone with access to the link.
There are numerous ways an interested party or a hacker could possibly find and use the link without your consent. Your browsing activities and the sites you visit for example can easily be monitored and logged by third-party tracking agents or your ISP (in some countries).
There are also lots of browser plugins, desktop extensions, spywares and digital market intelligence agencies dedicated to crawling and logging your web activities.
There is even a site dedicated to publishing unlisted YouTube videos. Additionally, services like SimilarWeb can easily crawl and log your Google Docs URLs and find things you might not want them to find.
With Google's advanced search operators and other Google hacking techniques, hackers can find their way to classified unlisted Google Docs and YouTube videos without much difficulty.
It is not advisable to keep sensitive or confidential documents or videos "Unlisted" as the security of those items cannot be guaranteed. Such information should be set to "Private." Items in this category should be of little interest to those likely to stumble upon them through whatever means.
Unlisted video contents are a great option for individuals or companies that want to embed non-confidential contents on their blog or corporate websites, and keep them exclusive to that platform. Similarly, a school teacher who wants to share class materials with students could put that information into a document set to "Anyone with the link," and share the link with the students.
If you plan on utilizing unlisted videos for your online community, make sure you do not describe, title or tag the videos as Unlisted. This is a preventive measure against Google hacking techniques.
Use advanced sharing options to limit how people print, download, and copy within Google Drive, and where possible, set an expiration date for documents you share.
Finally, as an added security, consider using a VPN to encrypt your web traffic in real time. This will ensure anyone who intercepts the URLs you visit will not be able to make sense of them.