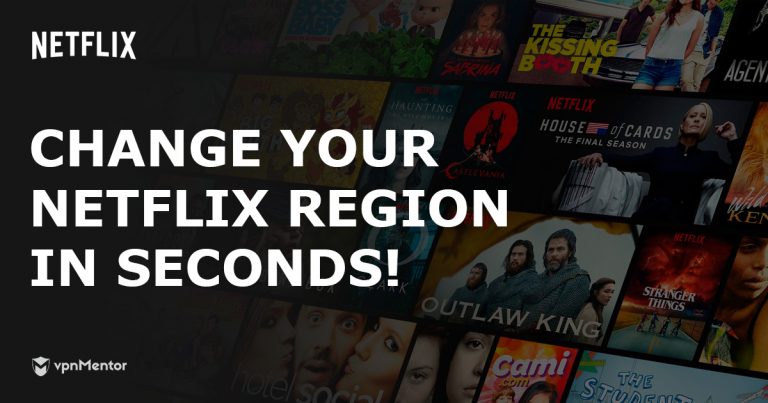 How to (EASILY) Change Your Netflix Region: March 2021
Published on 25th February 2021
Can't find anything to watch on Netflix? Believe me, I've been there. But then I discovered I could use a VPN to change my location and access shows and movies from other countries' libraries, and now I never run out of options.
It wasn't as easy as I thought, though. The first VPNs I tried claimed they could access different Netflix libraries, but all I got was an error message. I learned that Netflix is very good at blocking VPNs, and only a select few can get around that.
Not only that, but you need a VPN with fast speeds for high-quality streaming, unless you want to spend your evening staring at a buffering screen.
After testing dozens of providers to find the perfect solution, NordVPN is now my go-to VPN for Netflix. I also found a couple of other VPNs that can help you easily change your location.
Quick Guide:
The Easy Way to Change Your Netflix Location Right Now
Choose a reliable VPN that can unblock Netflix. I recommend NordVPN because it's fast enough for HD streaming.
Install the VPN, choose a server in the same country as the Netflix library you want to access, and click the Connect button. (For instance, to watch Netflix US, connect to a US server.)
Go to Netflix. You'll see your new shows and movies right on the home screen.
Why Do You Need a VPN to Change Your Netflix Region?
In a hurry? Jump down to read more about NordVPN or see which other VPNs I recommend for watching Netflix.
Due to licensing agreements, Netflix places geographic restrictions on many shows and movies. The platform knows where you are located based on your IP address, and displays only the content that is available in your region.
Not everybody knows this, but every country where Netflix is available has its own library. For instance, if you open Netflix in the UK, you see different content than you would if you were logging in from within the US. And even though Netflix is a US-based company, Netflix US doesn't have all the shows available in the UK, Germany, or Japan.
A VPN can change your IP address to hide your real location and make it look like you're connecting to Netflix from a different country. This means you can watch any Netflix content from any country in the world. If you're traveling abroad and you want to access your regular Netflix library from your home country, you can easily do that too.
This all sounds simple enough, but these days, Netflix and other popular streaming services can detect and block most VPN servers. That's why it's important to choose a VPN that changes its IP addresses regularly, or else all you get is an error page. I've tested the VPNs on my list over time, and I can confidently say that they are consistently able to unblock Netflix US and other Netflix libraries from all around the world.
As long as you have the right VPN, changing your Netflix region really is simple, even if you've never used a VPN before. Installing the software is just a matter of a few clicks, and then all you have to do is choose a server and click a button. Jump down for a detailed step-by-step tutorial.
Top 3 VPNs to Change Your Netflix Region
Lightning-fast speeds for high-quality streaming
5,480+ servers in 60 countries
Unlimited bandwidth and data
SmartPlay feature enhances your streaming experience
Up to 6 connections on a single account
Military-grade encryption and built-in ad blocker
Works with: Netflix, Hulu, Disney+, BBC iPlayer, Amazon Prime Video, MTV, ESPN, Sky Go
Compatible with: Windows, Android, iOS, macOS, Apple TV, Linux, routers
NordVPN is my top recommendation for streaming Netflix. It has over 5,480 servers in 60 countries, so you can switch between different Netflix libraries. That's right – never again will you run out of interesting shows to watch.
NordVPN also has the fastest speeds of any VPN we've tested (see the full results in our in-depth NordVPN review). You don't have to worry about lags and buffering, even if you connect to a country on the other side of the world. In fact, NordVPN can bypass throttling from your ISP and even increase your streaming speed. The SmartPlay feature runs automatically, connecting you to servers optimized for streaming for a truly seamless experience.
You don't want to have to pick and choose which shows to watch so you don't run out of bandwidth. All NordVPN's plans give you unlimited data transfer, which is essential, especially for the binge-watchers among us.
Want to stream Netflix from your smartphone or tablet while someone else is watching TV? No problem. A single NordVPN account allows you to connect up to 6 devices simultaneously.
Another awesome thing about NordVPN is that it secures your connection, keeping your private data safe from hackers and other online threats. There's also a built-in ad blocker that prevents any annoying interruptions while you're streaming.
The best part? NordVPN has a 30-day money-back guarantee, so you can try it out risk-free. But before you sign up, be sure to check our NordVPN coupon page to make sure you're getting the best deal.
Blazing speeds for streaming
3,000+ servers in 90 countries
Unlimited bandwidth and data
5 simultaneous connections
MediaStreamer lets you stream on your smart TV or gaming consoles
Works with: Netflix, BBC iPlayer, CBS, NBC, Lightbox, Disney+, Amazon Prime Video
Compatible with: Windows, Android, iOS, macOS, browsers, routers
ExpressVPN offers lightning-fast speeds and it can easily unblock Netflix. It has 3,000+ servers in 90 countries, giving you access to Netflix content from all over the world. It's not surprising that it achieved an impressive score in our performance tests.
Like with NordVPN, you get unlimited data and bandwidth. ExpressVPN also has a split tunneling feature, which gives you some flexibility. You can decide which data goes through your VPN connection and which doesn't, so you can stream Netflix through the VPN while still using social media and other apps with your local IP address.
ExpressVPN allows 5 simultaneous connections on a single account, and it's compatible with most popular devices, including routers. You can set up ExpressVPN's MediaStreamer on your router to optimize your streaming performance. This way, you can stream from any device that can connect to Wi-Fi, including your smart TV and just about any gaming console.
With ExpressVPN's high-end security, your internet connection remains private and anonymous, and you never have to worry about anyone snooping on your online activity or stealing your data.
You can try ExpressVPN out risk-free with its 30-day money-back guarantee. There's a no-questions-asked refund policy, so you can easily get your money back if you decide it's not for you. Either way, be sure to use our coupon when you sign up to get a great discount.
Want to know more? Explore our ExpressVPN review to see the full results of our research and testing.
Stream Netflix With ExpressVPN!
Unblocks 15 Netflix libraries
3,200+ servers in 65 countries
Unlimited data and bandwidth
Unlimited simultaneous connections
CleanWeb ad blocker
Military-grade encryption and a strict no-logs policy
Works with: Netflix, BBC iPlayer, HBO GO, Amazon Prime Video, Hulu, SHOWTIME, DAZN
Compatible with: Windows, Android, iOS, macOS, Chromebook, routers, Amazon Fire TV
Surfshark is a great all-rounder, especially if your whole family is after streaming Netflix. It allows unlimited simultaneous connections, so you can download the app to as many devices as you like, including smartphones and tablets.
Surfshark has 3,200+ servers in over 65 countries. These numbers may not be as impressive as what some other leading VPNs are offering, but it shouldn't matter much – when we tested Surfshark, we found that it could easily unblock 15 different Netflix libraries.
Besides, Surfshark's servers are fast, allowing you to stream in HD with zero buffering or lagging. And you get unlimited bandwidth and data transfer, so there are no restrictions on how much you can watch.
Surfshark also has a built-in ad blocker called CleanWeb, which not only blocks annoying popups, but protects your device from trackers, malware, and phishing attempts.
You can try out Surfshark risk-free with its 30-day money-back guarantee.
Stream Netflix With Surfshark!
How to Use a VPN to Access Netflix
After you choose a VPN, setup only takes a few minutes from start to finish.
Here's a detailed overview of what you can expect in each step:
1. Choose a top-rated VPN
Choosing the right VPN is the most important step. I recommend NordVPN, because of its impressive unblocking capabilities, server coverage in every Netflix location, and lightning-fast speeds. But since my favorite VPNs all come with money-back guarantees, you can also check out the other two providers I recommend.
Here is what I look for in a VPN to use with Netflix:
The ability to bypass Netflix's geoblocks
Regularly updated IP addresses so the servers can't be detected by Netflix's anti-VPN measures
High-speed, reliable connections for a smooth streaming experience
Servers in a wide range of countries so you can access Netflix libraries from all over the world
I tested all the VPNs on my list myself and can confirm that they are able to bypass Netflix's geoblocks. 
In this tutorial, I'm using NordVPN to show you how to change your Netflix region.
2. Install the VPN on your computer or mobile device
Go to NordVPN's website and select the plan you want.
Enter your information and select a payment method. You may also be asked to register for an account.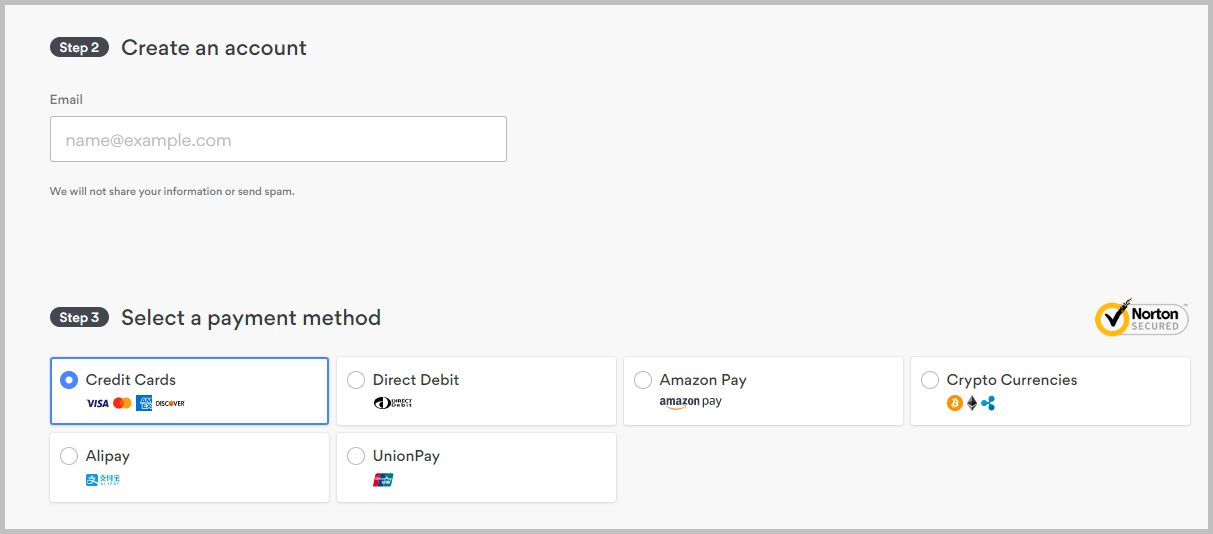 NordVPN offers a money-back guarantee, so you can try out the service risk-free.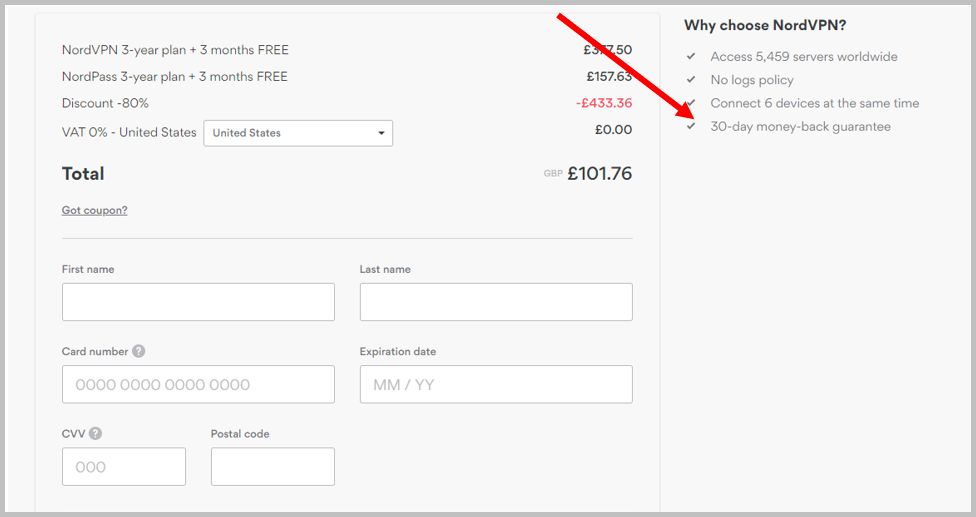 All you have to do now is download the VPN software and install it on your device. Installation is fast and easy – just click through the steps in the installation wizard.
3. Connect to a server in a country that has the Netflix content you want
Within your VPN app, you will find a list of server locations to choose from. Select the country or server location that you want.
If you're using NordVPN, every available country is listed on the left side of your dashboard. You can click the country you want to use or hover over the three white dots next to it and select a server in a specific city. It also shows you which servers are performing fastest.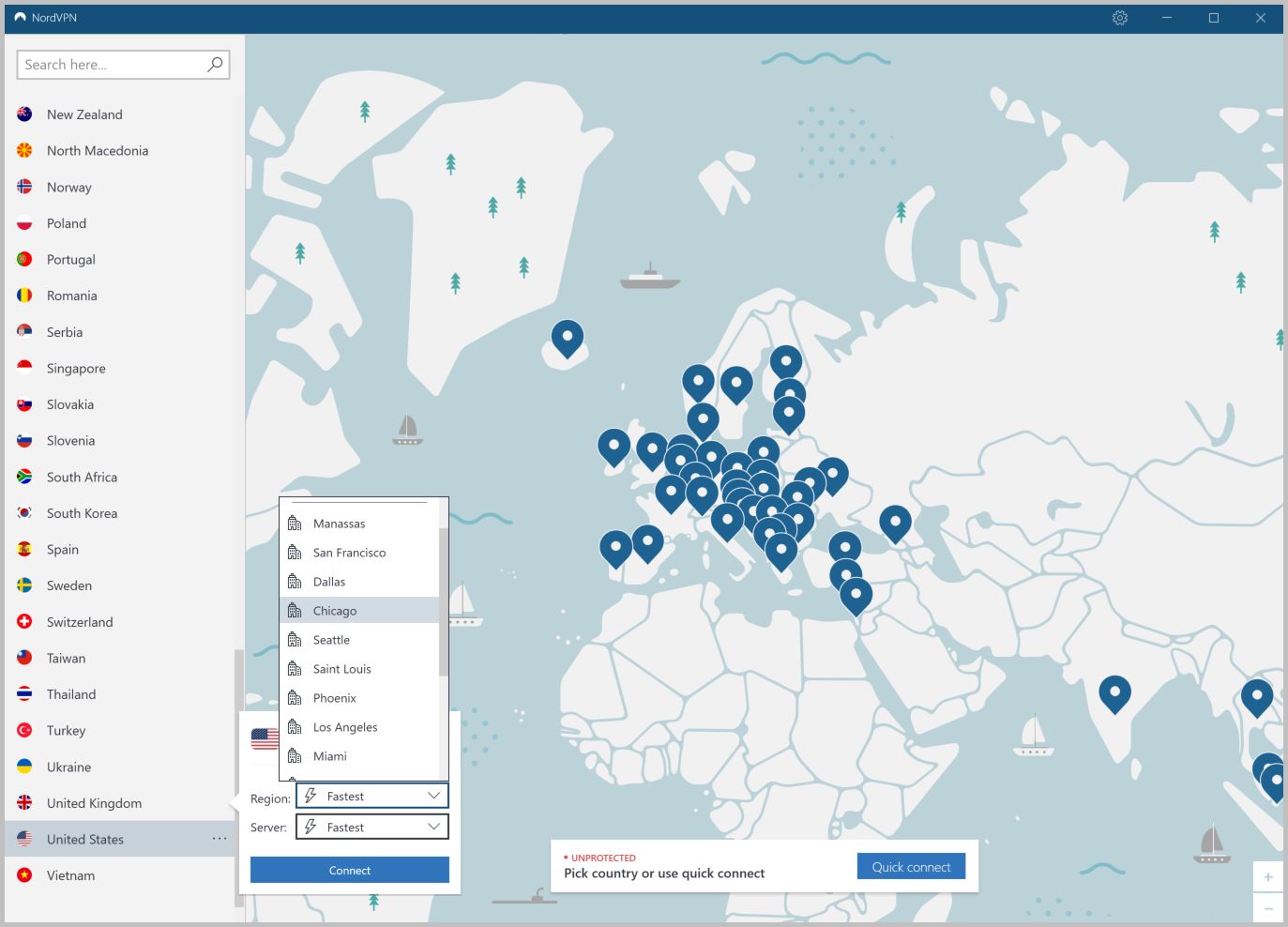 Simply click on the country or city you want and the VPN will automatically connect you to the best server there.
4. Open Netflix and enjoy your new shows and movies!
Navigate to Netflix as usual. You'll see that the content available to you has changed. Success!
Start Streaming Netflix with NordVPN!
FAQ
😀 Can I change my Netflix region without paying for a VPN?
There are some free VPNs out there, but I don't recommend using them. Most of them can't access Netflix at all, and even the ones that can are very limited in bandwidth so you can't really stream for more than a short while. Some free VPNs are known to sell your data to third parties (they have to make money somehow), so it's best to steer clear of them.
The good news is that the best VPNs come with money-back guarantees, so you can take advantage of their refund policy and use them for free. NordVPN, my top choice for Netflix, has a 30-day money-back guarantee, so you can use it for free for a whole month.
😄 Why has my Netflix changed region?
If you're traveling and trying to access Netflix from a different country, you'll see the Netflix library for that country instead of the one you're used to. You can use a VPN to get an IP address in your home country and keep watching the shows you love. Don't miss our list of the best VPNs for Netflix.
😊 How does Netflix know my location?
When you connect to Netflix, it can see your IP address, and this is how it knows where you are in the world. If you want to mask your IP and appear as if you're accessing Netflix from a different location, try one of the recommended VPNs above.
🙂 Which country has the best Netflix in 2020?
Unsurprisingly, the Netflix US library has the largest number of titles. However, Netflix Canada has the largest number of movies.
Other countries that have large Netflix libraries are the UK, Australia, and India. Japan is known to have an excellent library as well.
😃 Is it legal to use a VPN with Netflix?
Streaming Netflix over a VPN connection is perfectly legal, as long as you're in a country where VPN use is legal. If you're in a country where VPNs are restricted, such as China, Russia, or Iran, you'll want to check the legislation carefully. 
Bottom Line
With the right VPN, you can quickly and easily change your Netflix region as many times as you want. This frees you from Netflix's geoblocks and gives you access to all the shows and movies available in other countries around the world.
However, not all VPNs can unblock Netflix or connect you to the location you want, and not all VPNs can give you the speed and reliability you need for HD streaming.
I recommend NordVPN, thanks to its excellent unblocking capabilities, wide server network, and fast speeds.
To summarise, the best VPNs for Netflix are…
Privacy Alert!
Your data is exposed to the websites you visit!
The information above can be used to track you, target you for ads, and monitor what you do online.
VPNs can help you hide this information from websites so that you are protected at all times. We recommend NordVPN — the #1 VPN out of over 350 providers we've tested. It has military-grade encryption and privacy features that will ensure your digital security, plus — it's currently offering 68% off.
Privacy Alert box - content - Popular posts