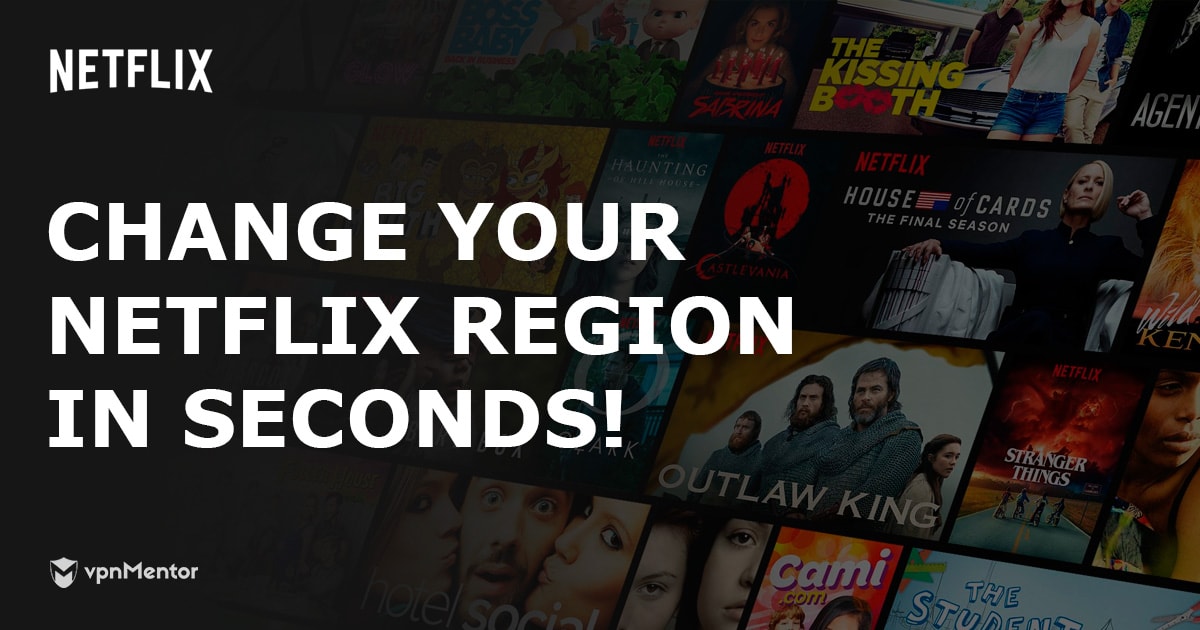 How to Change Netflix Region to Any Country — 2023 Update
Updated on 24th January 2023
I always find it frustrating that I can't access certain shows on Netflix while I travel. Netflix libraries differ depending on where you're located because of regional licensing agreements — if you're traveling abroad, you'll have to change your Netflix region to access the shows and movies you're used to at home.
The easiest way to change your Netflix region from any country is to use a reliable VPN. It is a simple app that changes your virtual location, resulting in that region's Netflix library becoming available to you (wherever you are).
After my team and I tested more than 100 VPNs, ExpressVPN proved to be the best for changing Netflix regions. Its extensive server network and fast speeds make it ideal for streaming on Netflix. And since it comes with a 30-day money-back guarantee, you can try ExpressVPN risk-free. If you're not satisfied, then you can claim a full refund.
Quick Guide:
How to Change Your Netflix Country in 3 Easy Steps
Download a VPN. I recommend ExpressVPN because of its fast speeds for streaming and global server network that can reliably access 20+ Netflix libraries.
Connect to a server in your chosen country. For example, if you want to access your US Netflix account, just connect to a server in the US — it only takes 1 click.
Start watching Netflix. Log in to your Netflix account and start watching your favorite shows.
Why You Need a VPN to Change Your Netflix Region
Netflix doesn't allow you to manually change your Netflix region. This is to protect its licensing agreements, as some shows aren't licensed in certain regions. Instead, it checks your IP address to reveal your geographical location, which is what then determines your assigned Netflix catalogue.
A VPN hides your actual location by temporarily replacing your real IP address with one from a country of your choice. It does this by redirecting your internet traffic through one of its private servers in your chosen region. This lets you use that server's IP address, which makes it look like you're accessing Netflix from that country.
For example, connecting to a US server will give you access to a US IP address. This automatically changes your Netflix region to the US, even when you're located elsewhere. You can then freely stream content from its US library.
However, Netflix knows that people use VPNs to access content from different regions and takes steps to stop them from doing this. Poor-quality VPNs are easily detected by Netflix, and their servers will be blocked from accessing other Netflix regions. But higher-quality VPNs invest more in ensuring they can always evade Netflix's countermeasures. That's why my team and I tested 35+ VPNs to find out which were most reliable for changing Netflix region — keep reading to see your best options.
Change Your Netflix Region Now
How to Change Netflix Regions on All Your Devices
How you change your Netflix region depends on the device you use. To follow the guides below, you'll just need your preferred device and a VPN that can reliably get around Netflix's VPN-detection technology. The most reliable VPN I used was ExpressVPN, which consistently unblocked more than 20 different Netflix libraries.
Desktops and Smartphones
Changing your Netflix region with a VPN on your desktop or smartphone requires the same 4 easy steps. The following guide can be applied to PCs (macOS and Windows), iOS devices, and Android phones (and Android TVs).
Download a VPN. All the VPNs in this list are compatible with Windows, macOS, iOS, and Android. Create an account through the VPN provider's website. Then, download the app for your device, follow the installation prompts, and run the app.
Log into your VPN account. Provide your account details when you're asked to log in.
Connect to a server of your choice. Select a server that corresponds to the Netflix library you want to access. If you need access to your Netflix US account while outside the country, then connect to a server in the US.
Clear your browser's cache and cookies. If you've used this browser with Netflix before, it's possible it has stored temporary cookies or location data that may prevent you from accessing another region's library. Clearing your cache and cookies will ensure you don't run into this issue.
Log in to your Netflix account. After you log in, you'll have access to your chosen Netflix library and you can start watching your preferred shows and movies.
Smart TVs and Gaming Consoles
To change Netflix regions on devices like Apple TV, PlayStation, Xbox, or some smart TVs, the easiest way is to use a Smart DNS feature. This method is quick and easy, but only a few VPNs offer it. In a couple of clicks, you'll receive a code and you just have to copy it into your device's settings and log in to Netflix to change regions.
If you want to change Netflix regions on a device that doesn't support VPN apps, then
I recommend trying out ExpressVPN
. It offers a Smart DNS service called MediaStreamer that only takes about 3 minutes to set up. I tested it on my PS5 and it easily let me change my Netflix region to the US and unblock the content of that specific library.
The instructions below are for ExpressVPN's MediaStreamer and they can be applied to Apple TVs, PlayStations, Xbox consoles, or any streaming device that allows you to edit its network settings.
Get ExpressVPN. Go to ExpressVPN's website, choose a plan, and create an account.
Register your IP address. After you're signed in to ExpressVPN in your browser, click on "My Account" and choose the DNS Settings tab. Click "Register my IP address". When that's done, you can enable the "Automatically register my IP address" setting so you don't have to repeat this step every time you use this feature.
Get your MediaStreamer code. After registering your IP, click "Setup Devices" in the left column, choose your device and make note of your MediaStreamer IP address.
Set up your device's network. Go to network settings and either set up a new internet connection or look for your current network. You should see an option to configure DNS settings in any case. Once there, enter the MediaStreamer code you got in step 3. Then, save the settings and restart your device to activate them.
Watch Netflix. Open Netflix and enjoy watching Netflix on your smart TV or gaming console!
All Other Devices
There are 2 methods that you can use to change your Netflix region on other devices that don't support the above-mentioned methods. These include streaming devices like Roku, Chromecast, and Amazon Fire TV. Some VPNs offer a native app for Fire TV, but if yours doesn't, you can try one of the methods below. Note that the following bullet points refer to separate methods — they are not step-by-step instructions.
Install your VPN on a router. With this method, you can change your Netflix region on all your devices on the same network, including streaming devices. Some VPNs are easier to use on a router than others. For example, ExpressVPN comes with a router app that lets you change your router location in a couple of clicks, rather than manually input server codes. Make sure that you first check whether your router is compatible with the VPN. However, if you don't want to do the router installation yourself, you can buy a pre-configured router, too.
Create a WiFi hotspot on your computer. Connect to your VPN on your PC or Mac, and create a WiFi hotspot. Then, connect your device to the new WiFi hotspot. This way, you'll be able to use your computer's VPN connection to change your Netflix region on your streaming device. Keep in mind, you need a VPN that supports connection sharing and this method could slow your streaming speeds, so Smart DNS is a better choice if you can use it.
Best VPNs to Change Your Netflix Region in 2023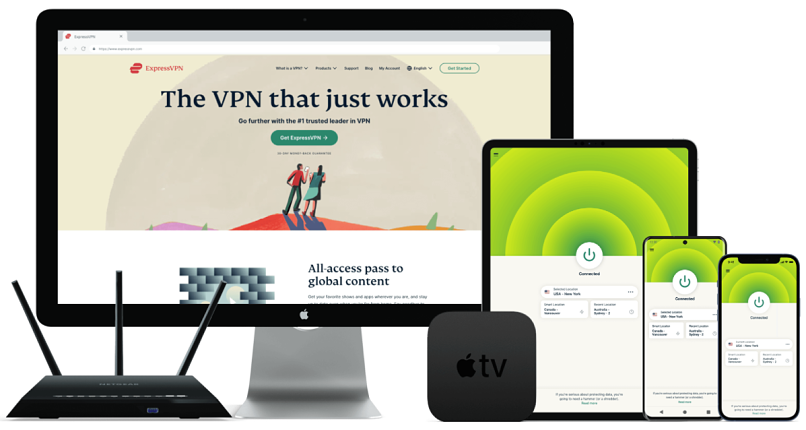 Editor's Choice
Editor's Choice

Tested February 2023
Try Risk-Free for 30 Days
Can access:
Netflix
Disney+
APV
HBO Max
Hulu
BBC iPlayer
Sky
More
www.ExpressVPN.com
Lightning-fast speeds for lag-free streaming, even for regions halfway around the world
3,000+ servers in 94 countries for access to Netflix libraries across the globe
5 simultaneous device connections
Compatible with: Windows, Mac, iOS, Android, Linux, routers, smart TVs, and more
ExpressVPN's ultra-fast speeds ensure a bufferless streaming experience on any Netflix region. During my tests, I connected to US, Canadian, and Japanese servers and got an average download speed of 62.71 Mbps. All VPNs impact your speed, especially on long-distance servers. But I only experienced a 10% drop in speed while testing its Tokyo server, which is over 9,000 km away. Most VPNs would halve your internet speed in a similar situation. I was able to watch 3 episodes of Summer Time Rendering on Japanese Netflix in UHD lag-free.
It's easy to change your Netflix region with its network of 3,000+ servers in 94 countries. As soon as I connected to its US and UK servers, I accessed those Netflix libraries and watched region-restricted shows like Rick and Morty and Top Gear. In total, I unblocked 20+ Netflix regions on the first try, including the US, the UK, Canada, Japan, South Korea, the Czech Republic, and Germany.
The app is also extremely easy to use. It took me less than 3 minutes to sign up, install, and connect to a server. It even automatically connects you to the fastest server in your chosen location. This means you don't have to hunt through servers to find the fastest one for streaming Netflix. In addition, you can add a Netflix shortcut to the ExpressVPN app so you can easily access different Netflix libraries with the press of a button.
Its MediaStreamer (Smart DNS) feature lets you easily access US Netflix on devices that don't normally support VPN apps, such as gaming consoles, media players, and smart TVs. I installed MediaStreamer on my Xbox in less than 3 minutes by just copying a code from ExpressVPN's website to my Xbox's network settings. It let me change my Netflix region to the US easily, and I could watch exclusive US content like Sing 2.
ExpressVPN is also simple to set up on your router, letting you access any Netflix library on all your streaming devices. It offers a streamlined installation for popular Asus, Netgear, and Linksys router models — it took me less than ten minutes to set up on my Asus router. Then, I was able to watch geo-blocked content on my smart TV. Not many VPNs have a dedicated router app and require manual configuration to switch servers, but ExpressVPN's app makes switching to any server simple.
ExpressVPN's minor drawback is that its short-term pricing plans are a bit expensive compared to other VPNs with plans starting from $6.67/month. But, ExpressVPN often offers generous discounts — when I signed up, I got 49% off of my subscription.
You can try ExpressVPN risk-free because it offers a 30-day money-back guarantee. I wanted to test the legitimacy of this policy, so I asked them to cancel my subscription over 24/7 live chat near the end of the 30 day period. The process was very straightforward — I just had to provide a reason for canceling, and then my account was closed with no further questions. I got my money back after 2 business days.
Optimized Netflix servers in 16 countries for reliable access to those regional libraries
Easy to use with a Smart DNS feature, so you can change Netflix country on all your devices
7 simultaneous device connections
Compatible with: Windows, Mac, iOS, Android, Linux, routers, smart TVs, and more
CyberGhost offers streaming-optimized servers dedicated to accessing different Netflix regions. I tested its streaming-optimized servers for the US and Germany and accessed both Netflix libraries without issue every time. This allowed me to watch region-specific shows like Friday Night Lights and The Bridge. It has streaming-optimized Netflix servers in 16 countries, including the UK, Canada, Japan, Korea, and more.
Its SmartDNS feature lets you change Netflix country on lots of devices, including gaming consoles and smart TVs. It's really easy to use and lets you access multiple Netflix libraries on most WiFi-enabled devices. To set it up on my smart TV, I just had to copy a unique DNS code from my CyberGhost account into my device's network settings. Within a few minutes, I streamed Netflix US. I was also able to access the UK, German, Dutch, and Japanese libraries this way.
CyberGhost's app is super easy to install and use and is compatible with most popular devices. It took me less than 20 seconds to download and install onto my Windows laptop. Then, I simply went to the "For Streaming" tab and searched "Netflix" to quickly narrow down my options to all the Netflix-specific servers.
It has superfast speeds that let you watch content from different Netflix libraries without interruptions. When I tested its speeds, I got an average of 58.12 Mbps and 56.08 Mbps on its US and German servers, respectively — an 18% drop from my baseline connection. While it's not as fast as ExpressVPN, it was more than fast enough to stream in UltraHD.
CyberGhost's disadvantage is that its short-term plans are on the expensive side and come with a shortened 14-day money-back guarantee. But you can get a long-term plan for just $2.19/month, which also comes with an extended 45-day guarantee.
To test CyberGhost's extended money-back guarantee, I asked a customer service representative to cancel my subscription on day 42. I didn't need to answer any questions — I just contacted the support team over 24/7 live chat and the representative proceeded with my request. After 3 business days, I got all my money back.
Huge network of 29,650+ servers in 84 countries to reliably change Netflix countries
Customizable settings let you optimize speeds for high-quality streaming
10 simultaneous device connections
Compatible with: Windows, Mac, iOS, Android, Linux, routers, smart TVs, and more
Private Internet Access (PIA) has the largest server network on this list, with 29,650+ servers in 84 countries. It offers plenty of servers within most countries, giving you reliable access to less popular Netflix regions. This can be beneficial — the US Netflix library, for example, loses a lot of content to competing US platforms, like AMC and HBO Max. Netflix libraries in less popular regions can usually license more content as there is less competition. PIA can let you reliably access Netflix libraries with a greater variety of content.
During my tests, I easily accessed the UK, US, Italian, Indian, and Brazilian Netflix libraries. I watched 6 episodes of Friends without any buffering. PIA's large server network also means that you're less likely to experience slowdowns and connectivity issues due to server overcrowding. I got consistently fast speeds of around 55.6 Mbps on its US server, which was a drop of just 24%. Its robust IP/DNS leak protection also ensured my true location was never revealed — I had consistent and reliable access to my favorite Netflix libraries.
PIA's app isn't as easy for beginners as ExpressVPN or CyberGhost because it has a lot of customization options. However, it comes pre-configured for fast speeds, so you don't need to manually change anything to change your Netflix region. Once you're confident enough, you can customize your settings to potentially get better speeds while streaming Netflix.
You can sign up for the long-term plan for just $2.19/month. It also offers short-term plans that come with the same features. However, the long-term plan saves you the most money in the long run. Plus, you get an additional free 1-year subscription to Boxcryptor — a third-party service that encrypts your cloud data on Google Drive, iCloud, and Dropbox.
PIA is backed by a legit 30-day money-back guarantee, so there's no risk in seeing how many Netflix regions you can access. To test this for myself, I contacted support to cancel my subscription over 24/7 live chat. After answering a few questions, my account was promptly closed, and I received my refund 4 business days later.
Intuitive app that's suitable for beginners, so you can start streaming Netflix in no time
Smart DNS lets you easily stream Netflix on smart TVs, game consoles, and more
6 device connections to watch Netflix on multiple devices
Compatible with: Windows, Mac, iOS, Android, Linux, routers, smart TVs, and more
I found NordVPN one of the easiest VPNs to use, making it a great choice for VPN beginners. The signup process was simple, and installing the app took less than 30 seconds on my Windows laptop and Fire TV Stick. Its app interface is also intuitive — to start streaming Netflix's US library, I just panned the world map to the US and clicked it. Within seconds, I was connected and could access US Netflix content.
NordVPN's Smart DNS lets you stream Netflix on smart TVs and game consoles, which aren't natively compatible with VPNs. When I tested it, I set NordVPN up to work with my smart TV in less than 3 minutes. All I had to do was follow its online step-by-step guide. Across all my devices, I recorded an average speed of 45.39 Mbps. This was a drop of 35%, but it was still fast enough to stream Netflix in UHD.
That said, NordVPN only offers servers in 60 countries, which is less coverage than the other VPNs in this list. However, I could still unblock Netflix in many of the countries with large Netflix libraries. In total, I unblocked 14 Netflix libraries, including those in the US, Canada, the UK, Germany, Japan, and more.
By choosing a long-term plan, you can get 57% off and sign up for NordVPN for just $3.49/month. It offers Standard, Plus, and Complete plans in short or long-term subscriptions. The Complete plan also comes with added features, like encrypted cloud storage and a password manager.
Thanks to its 30-day money-back guarantee, you can try it out risk-free. To test this policy, I asked for a refund through the 24/7 live chat. After a couple of questions regarding feedback, the support agent processed my refund. I got my money back in 5 days.
Unlimited device connections so your entire household can change Netflix region
Lots of US & UK servers for consistent access to their popular Netflix libraries
Protect all your devices with budget-friendly prices
Compatible with: Windows, Mac, iOS, Android, Linux, routers, smart TVs, and more
Surfshark lets you access different Netflix libraries on an unlimited number of devices. In my tests, I connected my Windows laptop, iPhone, and Android tablet to the same German server. I then streamed a variety of shows simultaneously on every device. I experienced no interruptions or slowdowns with any of my devices.
I also recorded fast speeds with Surfshark, so I was able to stream with no buffering or lagging. After testing its servers in the US, France, and Japan, I averaged 39.48 Mbps. This was the biggest speed drop I had at 43%, but it was still fast enough for streaming without lag. However, if you have slower baseline internet speeds, this drop might be more noticeable.
One thing I found a little disappointing is that Surfshark isn't quite as reliable as the VPNs above. Sometimes I had to try multiple servers to access my desired Netflix library. But despite this minor annoyance, I was still able to unblock over 10 Netflix libraries, including the UK, US, Japanese, French, German, and Canadian libraries. Once connected, I had no issue watching my favorite content.
Surfshark's plans start at just $2.30/month when you sign up long-term. It also offers the Surfshark One package, which only costs a little more but includes even more features like antivirus, a private search engine, and data breach alerts.
Since it's backed by a 30-day money-back guarantee, you can try Surfshark with Netflix risk-free. After 22 days, I contacted its 24/7 live chat to request a refund. The agent asked for my reason for leaving, and then my refund was processed. The money was back in my bank account in 5 days.
How We Chose the Best VPNs for Changing Your Netflix Country
There are several factors that determine whether any given VPN is a good option for changing your Netflix region. To find the very best, we evaluated 35+ VPN services with the following criteria.
Reliable server network for Netflix — A good VPN for changing Netflix regions needs to be able to reliably unblock a wide variety of different Netflix libraries. The top VPNs above all managed to consistently access several of the most popular Netflix regions without troubleshooting.
Fast speeds — Constant buffering and poor video quality can be a huge annoyance, and it's an indicator that your VPN is simply not fast enough for streaming. I ran all of my VPNs through comprehensive speed tests to make sure they produced speeds well above the 5 Mbps needed for HD streaming on Netflix.
Easy-to-use apps and wide-ranging device compatibility — I only selected VPNs that offer easy-to-use apps for most popular devices. You should be able to connect to a server and unblock your chosen Netflix region with 1 click, without wasting time configuring settings.
IP/DNS leak protection — All the VPNs I've included have IP and DNS leak protection, which ensures that your real IP address isn't exposed. Otherwise, Netflix will easily be able to detect your true location and block you from accessing other Netflix regions.
Reliable customer support — If you ever experience problems when using a VPN to watch Netflix, then a quality VPN should be able to provide you with help and recommendations. My recommended VPNs provide different support channels, including 24/7 live chat, email, and phone support.
Trustworthy money-back guarantee — This lets you test changing your Netflix region with the VPN without any risk for a set period. I tested all of the VPNs' guarantees on my list to make sure they stayed true to their word.
Value for money — All the VPNs on my list are among the best available for changing Netflix region, despite remaining highly affordable. Plus, they usually offer big discounts if you sign up long-term, helping you save even more money.
FAQs on Changing Your Netflix Region
Why does Netflix block content by region?
Some Netflix content is blocked by region (geoblocked) due to licensing agreements in place. The production company gives the distribution rights to Netflix and decides which countries can access the show. This is why your Netflix library changes when you move to another country and can't access content from home.
The easiest way to bypass these geoblocks is to use a VPN. All you need to do is connect to a server in your home country and watch your favorite Netflix shows as you usually would.
Can I change my Netflix region on Roku?
Yes, you can change your Netflix region on Roku with a VPN. Roku doesn't support native VPN apps, so one option is to screen mirror content from a VPN-protected device. These are the steps required:
First, you need to connect to your VPN on your computer (macOS and Windows) or smartphone (iOS and Android). Note that your macOS or iOS device has to support AirPlay 2.
Then, choose a server that corresponds to the Netflix region you want to access, and log into your Netflix account.
Finally, screen mirror to a TV in which your Roku is plugged.
Another option would be to set up the VPN on your router so you can change your Netflix region on any home device, including your Roku. This way, you don't need to screen mirror from another device to your TV with Roku. However, the router setup can be complicated and sometimes requires some technical knowledge. Luckily, some VPNs sell pre-configured routers, so you don't have to configure it yourself.
Is it legal to change my Netflix region?
Yes. It's entirely legal to change your Netflix region and access geo-restricted content. However, the method you use to change Netflix region can lead to issues in certain restrictive countries, like China or Russia. A quality VPN is the best method for changing Netflix region, but usage of VPNs are commonly restricted or outlawed in such territories.
I always recommend that you check the laws and regulations governing VPN use in the country you're in. My team and I believe in internet freedom for all, but advise that you always keep yourself informed so you don't accidentally break any laws if you're in a country where VPNs are restricted.
Can I change my Netflix region without a VPN?
Yes, there are other ways to change your Netflix region. However, none of them are as easy, safe, or reliable as using a tried-and-tested Netflix VPN.
For example, a Smart DNS is another popular way to change your online location. While Smart DNS services can unblock and stream Netflix libraries in high quality, they don't provide the same level of security as a VPN. For example, VPNs encrypt your connection to protect your data from being intercepted by cybercriminals, while Smart DNS leaves your connection vulnerable to attack and surveillance.
In addition, many Smart DNS services only offer a small selection of locations, so you're limited in which Netflix regions you can access. In comparison, the VPNs on this list all have hundreds, if not thousands, of servers worldwide. This gives you access to far more Netflix libraries than any Smart DNS service can compete with.
A proxy is another alternative, but these tend to run into the same issues as Smart DNS. The Tor browser could technically work, but your connection will be slowed considerably due to its heavy security and privacy features. This can make it near-impossible to stream without constant buffering.
Is it possible to change my Netflix billing country?
Yes. If you plan to move and want to update your billing information for your new country, there are 2 ways to do it. In both cases, you need to close and restart your Netflix account. Don't worry about losing your viewing history and favorited titles, as these are saved for 10 months and will be restored if you reactivate your account within that time.
If you want to sort it out before you arrive, you'll need to close your Netflix account under the "Membership and Billing" section in your account and wait for your final billing cycle to end. Once it has, connect to a VPN server in the country where you wish to pay for Netflix. Then, when you re-sign up for Netflix, it will assume you're located there. You can then use the VPN to watch content available in that region until you move (or to access shows and movies from back home once you've moved).
Otherwise, you can just cancel your account and wait until you move to sign up with billing information matching the new country.
Keep in mind that you don't need to change your Netflix billing country to simply watch content from another region. All you need to do is connect to a VPN server in your desired region and go to Netflix. From there, you will be able to access the Netflix library of the country you're connected to.
What if my VPN doesn't change my Netflix region?
First of all, make sure you're using a VPN that's been proven to bypass Netflix's geoblocks. Not every VPN works to access different Netflix libraries, causing you to encounter constant errors. In other cases, you might only have access to Netflix Original content, which is available in every region. If you're using a quality VPN and still having trouble changing Netflix region, there are a couple of simple solutions you can try:
Try connecting to a different server. Choose another server from your VPN's server list and connect to it instead. You can also just disconnect and reconnect the VPN to get a new IP address in the same country.
Clear your browser's cookies and cache. In your browser's security settings clear out your cookies and cache data.
Use Incognito mode. Open a new Incognito tab or window on your browser and try streaming Netflix through there. This works best in combination with the previous solution.
Update your VPN app. Make sure that your app is updated so you're running the most up-to-date software.
Disable IPv6 on your device. Although the VPNs I've included provide leak protection, not all services do. Some VPNs mask your IPv4 address successfully but leave your IPv6 exposed, revealing your real location. To fix this, uncheck "Internet Protocol Version 6" in your device or browser network settings.
Contact your VPN's customer support. Detail your issue to the support team and they'll let you know if there are any specific servers that work. They can also troubleshoot other solutions until you get Netflix up and running.
Which country has the largest Netflix library?
The Netflix library with the largest number of shows is the US library. It has over 5,000 different titles, however the numbers change over time as shows and movies are always added (and also removed!) depending on updated licensing agreements. Other countries with decent-sized libraries include Canada and the UK — both have more than 4,000 shows and movies. If you need to access your Canadian, US, or UK Netflix library while traveling, you can use a VPN with servers in those countries to regain access.
Can I get Netflix subtitles in my language?
It depends on your language and the show you're watching. Netflix says that it "shows 5-7 relevant languages on most devices based on your location and language settings." If you're using a VPN to unblock foreign Netflix content and you don't see your language as an option in the subtitles, then you can follow these steps to set your preferred subtitle language:
Go to your Account after signing into Netflix on a desktop or mobile browser.
Select the profile you want to change the language of and got to "Manage Profile".
Select your preferred languages. Under "Language", you can select the language for Netflix to be displayed in, and multiple preferred languages for subtitles and dubs.
Select "Save" to confirm your choices. You'll then be shown subtitles in your preferred language over others if they're available.
For iPhone, iPad, and desktop apps, all languages available for that content will be shown automatically, so there's no need to change the language settings.
However, remember that some Netflix shows only offer subtitles in a limited number of languages. If you do not see subtitles in your language for a show after following the above steps, it is likely no subtitles in that language exist for that particular show.
Will Netflix ban me for using a VPN?
No, Netflix will not ban you for using a VPN. However, it will try to ban IP addresses associated with VPNs. This is why it's essential to use a VPN that consistently maintains its servers for reliable access to Netflix.
Using a VPN to access other regions does go against Netflix's Terms of Use — the rule is implemented to protect Netflix's licensing agreements. However, there are no documented cases of Netflix banning users for using a VPN. Instead, Netflix tries to detect and block VPN IP addresses. This is why not every VPN works well with Netflix.
Can I access multiple Netflix regions simultaneously?
Yes, you can access multiple Netflix regions on different devices at the same time. For example, I used ExpressVPN to stream content from US Netflix on my Windows laptop and watch Japanese Netflix on my Android tablet simultaneously.
This means members of your household can stream content from different Netflix regions at the same time. However, this will only work if you have Netflix's Standard or Premium plan, which allows simultaneous streams.
Can I change my Netflix region with a free VPN?
Probably not. Even if you found a free VPN that actually works with Netflix, a lot of them are unsafe to use in any circumstance. You're much better off with a low-cost premium VPN that comes with a money-back guarantee. That way, you know you're not downloading a shady app that won't actually work and you can get a full refund if you find it's not worth it (usually within 30 days).
Free VPNs usually get blocked by Netflix because they lack the funds to regularly maintain and update their servers. Many of them also have smaller server networks, which results in overcrowding and slow speeds. This can cause a lot of lag while streaming Netflix, but it also limits your options for changing your region to different countries.
Another problem is the data caps of free VPNs, which are usually only enough for a couple of hours of SD streaming per month. And a further issue is around privacy and security, as plenty of free VPNs collect user data and sell it to advertisers to make money. The worst of them can even carry malware and spyware, posing serious threats to your online security.
Change Your Netflix Region Today
While plenty of VPNs promise to change your Netflix region to any country, not many actually can. They either fail to unblock the service in your chosen region or provide such slow speeds that you're stuck constantly buffering. Luckily, there are quality options out there — I've tested and proven that all the VPNs listed above reliably work with Netflix.
Of the 35+ VPNs I tested, the one I'd recommend for changing your Netflix location is ExpressVPN. Its huge server network provides thousands of VPN servers worldwide that give you reliable access to any Netflix library.
It also offers the best speeds for streaming, allowing you to watch geo-restricted Netflix content at the highest quality. You can test ExpressVPN with Netflix risk-free, since it comes with a 30-day money-back guarantee. If you're not satisfied, you can cancel within this period to get a full refund.
To summarize, the best VPNs for changing your Netflix region are…
Privacy Alert!
Your data is exposed to the websites you visit!
The information above can be used to track you, target you for ads, and monitor what you do online.
VPNs can help you hide this information from websites so that you are protected at all times. We recommend ExpressVPN — the #1 VPN out of over 350 providers we've tested. It has military-grade encryption and privacy features that will ensure your digital security, plus — it's currently offering 49% off.