How to Get a Saudi Arabia IP Address Anywhere in 2020 [+VIDEO]
Updated on 8th July 2020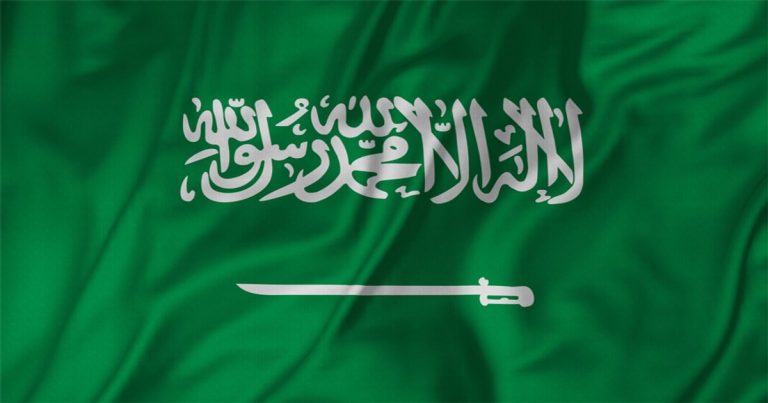 It's frustrating being shut out of media and financial websites in Saudi Arabia because you have a foreign IP address.
To get past the blocks, you need an IP address in KSA. However, it's critical to remember that your messages to loved ones in Saudi Arabia might be monitored by the Saudi government. Getting a new IP through an unprotected network puts you at greater risk.
You can use a quality VPN to get a Saudi Arabian IP address quickly and easily. The VPN will give you unrestricted access to Saudi websites and keep your internet activity anonymous and private.
Quick Guide: How to Get a Saudi Arabian IP Address with a VPN
Choose a VPN with servers in Saudi Arabia. HMA VPN is our #1 choice.
Install the VPN and connect to a server in Saudi Arabia.
Check your new IP address using our easy online tool.
Get a Saudi Arabian IP Address NOW!
Table of Contents
How a VPN Can Get You a Saudi Arabia IP Address
A VPN server in Saudi Arabia masks your real location by assigning one of its own Saudi Arabian IP addresses to all your internet traffic. Your new IP address convinces websites and authorities that you are accessing the internet from within Saudi Arabia.
A VPN does much more than just mask your true IP address, however. It also encrypts all your data, protecting your privacy and ensuring that government spies can't trace your browsing and messages back to you.
A VPN Also Keeps You Safe & Lets You Stream Almost Anything
You should assume that anything you do on Saudi Arabian websites, and any communication with people inside the country, will be monitored by the government. If your traffic carries a foreign IP address, it will draw even more attention.
This is true even if you simply want to access your Saudi Arabian bank account, speak to your family via VoIP, or watch your favorite team on KSA Sports. Don't forget that Saudi authorities tracked Jamal Khashoggi's activities by hacking his cell phone.
Using a Saudi Arabian IP address whenever you visit news, streaming, or financial sites in the country will help you avoid unwanted attention. The military-grade encryption used by top-rated VPNs ensures that Saudi authorities will never know who you are or what you do online.
The one drawback of using an IP in KSA is that many websites are filtered by Saudi authorities. Make sure to use a VPN with a large network that allows unlimited server switching.
Use a server in Saudi Arabia when you want to access Saudi Arabian TV channels and websites or communicate with your family privately. Then switch to servers in other countries to avoid censorship, watch US Netflix, or stream BBC News.
You should also urge your loved ones in Saudi Arabia to stay safe by using a VPN every time they go online. They'll gain access to websites blocked or censored by the government while remaining anonymous.
Although free proxy services and VPNs can also give you a new IP address, our experts strongly recommend against using them to access Saudi Arabian content. Most of them use weak encryption or poorly secured networks that don't keep you safe.
The few free VPNs that protect your data don't have Saudi Arabian servers, so you won't get the access you need. They are also slow and unreliable. Stick with VPNs that have the features listed below, and you'll reach any Saudi Arabian site without compromising your privacy.
What to Look For in a VPN
Servers in Saudi Arabia: The VPN must have at least one server in Saudi Arabia if you want a Saudi Arabian IP address.
Kill switch: Make sure that the VPN you choose has a built-in kill switch to automatically stop data transmission if your server connection is interrupted.
Server switching: Choose a VPN that allows you to use as many servers on the network as you need to (both inside and outside Saudi Arabia).
Advanced security features: For complete data protection, you need extra security features like DNS leak protection and multi-hop encryption, such as double VPN.
Customer support: Make sure you can access help agents 24/7.
The Best VPNs to Get a Saudi Arabian IP Address
Overall Rating: 4.6 out of 5.0 – The Premium VPN with the Largest Global Server Network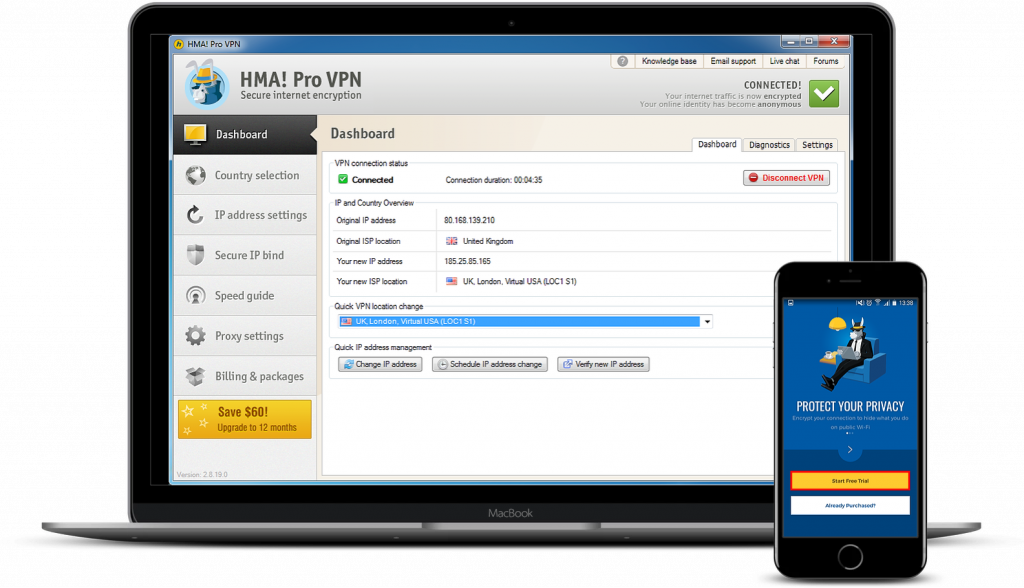 Grab Your 75% Discount on a Saudi Arabia IP Address with HMA 
HMA is the best VPN available with a server in Saudi Arabia. You'll have your choice of 2 Saudi Arabian server locations and 6 Saudi Arabian IP addresses.
Setting up HMA is easy, and your loved ones in Saudi Arabia will appreciate the provider's commitment to helping people in high-censorship regions. A preset Freedom Mode automatically connects you to a server in a country with free speech.
You can protect 5 devices at once, including Windows, Mac, iOS, Android, and Linux devices. It's easy to put the service to the test with the available 7-day free trial.
You will be billed at the end of the week-long trial if you don't cancel your subscription, but you'll still have 30 days to claim your money back if you're not satisfied with the VPN.
Need more info? Here's our detailed expert review of HMA
Overall Rating: 4.4 out of 5.0 – Get Past Tough Blocks with Chameleon Technology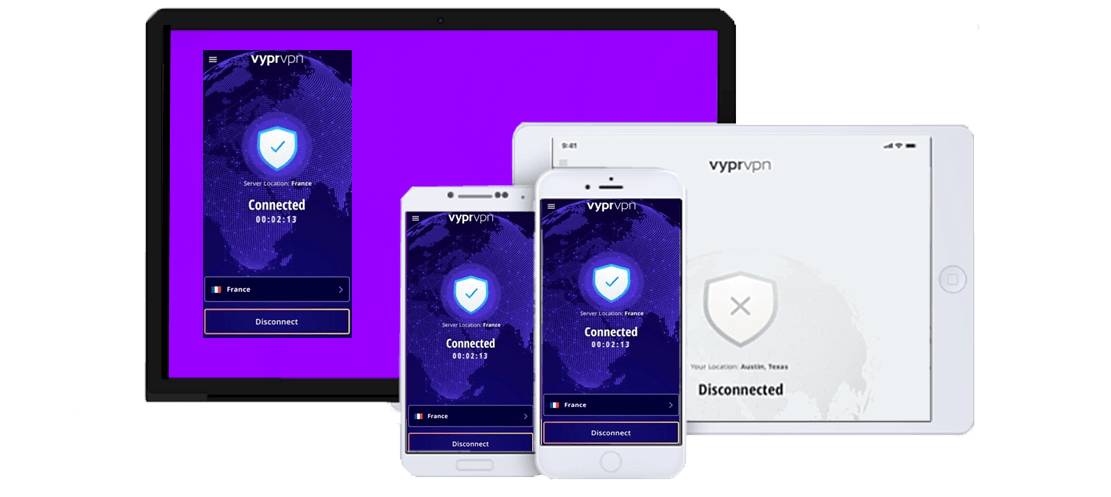 VyprVPN exclusively owns and manages its entire server network – rare among VPNs – including at least one server location in Saudi Arabia. Users love VyprVPN's Chameleon Technology, which helps make it an exceptional VPN for bypassing blocks.
Any information stored by VyprVPN (which is limited to technical details like connection times) is protected by strict Swiss privacy laws. That means all of your data will be kept beyond the Saudi Arabian government's reach.
You can set up the VPN and get your Saudi Arabian IP address in minutes, and protect up to 5 devices with one account. New VyprVPN subscribers get a 30-day money-back guarantee to test the service out, risk-free.
Need more info? Here's our detailed expert review of VyprVPN.
Further Reading
Get the best deals on the top VPNs on our deals page – updated weekly!
Learn more about the dangers of internet use in Saudi Arabia, and how to protect yourself, in our article on the 5 Best VPNs for Saudi Arabia.
Brush up on all the basics of online privacy with our VPN Guide For Newbies.
To summarize, the best VPNs for getting a Saudi Arabian IP address in 2020 are…
Provider
Our Score

8.2

/10

8.8

/10
Privacy Alert!
You are exposing yourself to the websites you visit!
The information above can be used to track you, target you for ads, and monitor what you do online.
VPNs can help you hide this information from websites so that you are protected at all times. We recommend NordVPN — the #1 VPN out of over 350 providers we've tested. It has military-grade encryption and privacy features that will ensure your digital security, plus — it's currently offering  68% off.